Psst! This post probably contains affiliate links, which means I earn a commission (at no extra cost to you) if you click through and make a purchase. As always, I only recommend products and services I trust.
Montenegro is green, mountainous, rugged, and asking to be explored. To rent a car in Montenegro is absolutely the best way to explore the country. Because it's small and accessible, nothing is out of reach with a car! You can visit Europe's deepest canyon, the world's oldest olive trees, and meet a diverse multicultural community of wonderful people.
Read next: Montenegro Travel Guide | Epic things to do, hotels and budget
When you rent a car in Montenegro, check out Sixt, a company with rental branches all over Montenegro, and RentalCars, a great source of price comparison.
Car Rental in Montenegro
I recommend checking out Sixt
and RentalCars, because they're the best deal finders for rental car companies in Montenegro, and I've used both of them before. Sixt is slightly more expensive, but I just love their customer service and the fact that everything goes so easy. I always feel in very good hands with Sixt, which I why we've rented through them the last many times.
This is why I can vouch for both Sixt and RentalCars:
RentalCars compare rates for car rental companies in Montenegro – both International and reputable local companies
They have 24/7 support and great reviews
They also offer low rate guarantee!
They're the biggest brands in car hire
Budget for Your Road Trip in Montenegro
So much of Montenegro is best seen by car, where you have the freedom to explore. But, as you explore, you'll need to budget your hotels, food, petrol, and more. So, here's a budget guide to help you prepare for your road trip.
Accommodation: $50-75 per night for a nice apartment
Food: $10-15 per day for eating out
Car rental: $35-55 per day for a car
Fuel: $1-1:40 per litre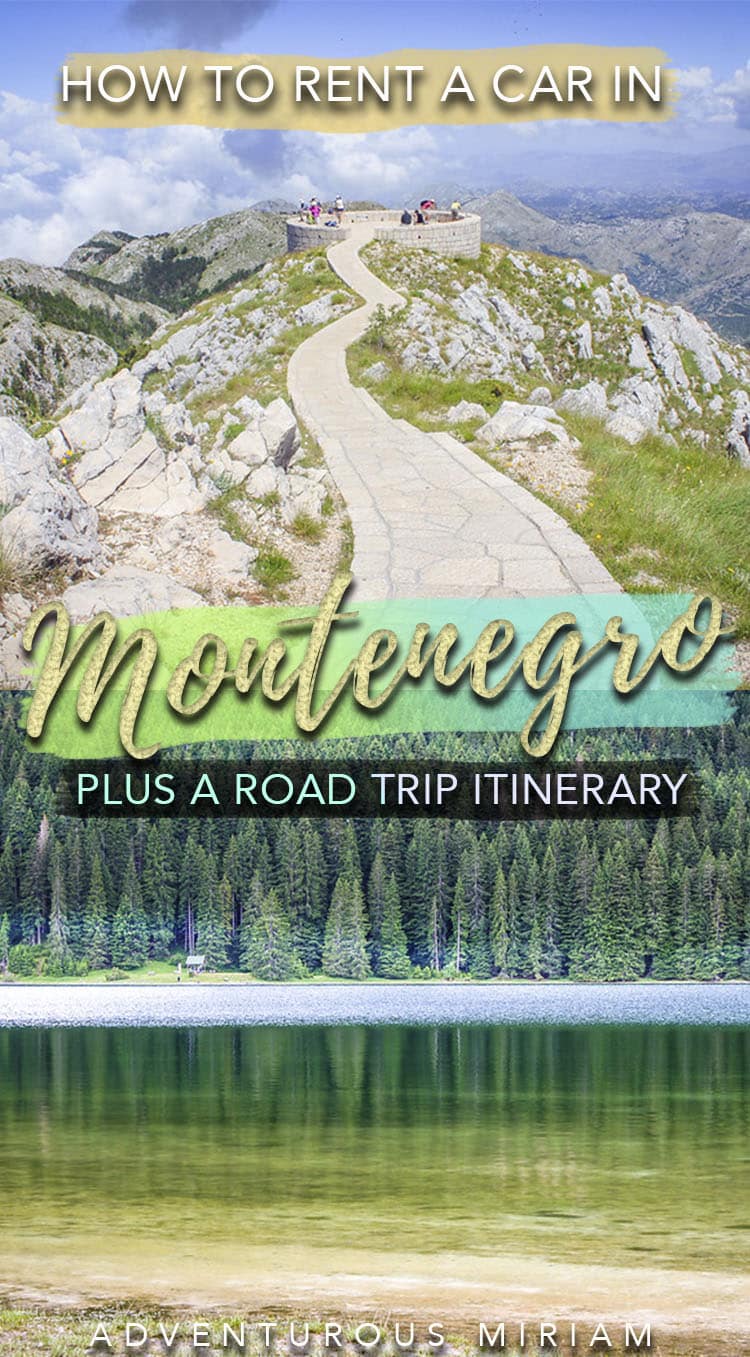 Rent a Car in Montenegro (FAQs)
Driver's Licence
As long as you have a valid, in-date driver's licence from your home country, you're fine to rent a car in Montenegro. However, some rental companies do require an international licence, which you can apply for easily at home before your trip.
Age
If you're renting a car in Montenegro, you need to be at least 21 years old. And you must have had your licence for at least one year before you rent your car.
Read next: 10 popular things to do in Montenegro
Payment Methods
Before you rent a car, Montenegro car companies, just like those in most countries around the world, prefer customers to use credit cards, not debit. So, make sure you have one!
Accidents
When you rent a car in Montenegro, you'll also take out insurance which covers you for accidents with a low excess, as well as information on how to reach a breakdown service if you need one.
Driving in Montenegro
Speed limits
When you rent a car in Montenegro, one of your first thoughts will be about making sure you follow the rules of the road. This is incredibly simple to do in Montenegro. Just remember the following: 50km/h in the cities and 80km/h on the open roads. And also remember that it's km/h in Montenegro, not mph like in the US and the UK.
Which lane is used for driving?
Montenegrins drive on the right side of the road and the left side of the car. If you're from the UK or Australia, this might take some getting used to. If you're not, you'll be fine. But even for Brits, this is an easy thing to overcome, and Montenegro is so much fun to explore by car, this is just one more part of the fun.
What's it like to drive in Montenegro?
It's pure excitement! Montenegro is a very small country made up mostly of twisting, turning, winding open roads. Driving the roads is safe and secure, but also engaging and can make you feel, at times, like a rally driver. The roads that criss-cross Montenegro take you from towns to lakes to mountains to valleys, adventuring across every kind of landscape! For all of that, it's certainly worth renting a car in Montenegro.
How to Choose the Perfect Car in Montenegro
Are you going on a short trip or a long road trip?
Given how small Montenegro is, these are really one and the same. So, it really depends on what kind of roads you'll be using. There are no tolls in Montenegro, so it doesn't matter which route you take. But the more rugged the roads, the tougher you'll want your car to be.
If you're sticking to the main roads and the city streets, an economy car is fine and will also save you some money. If you're going off the beaten track, consider a larger car with a bigger fuel tank, more gears, and space to carry your luggage.
Manual or automatic
This is all about personal preference. However, when you go to rent a car, Montenegro generally prioritises manual transmission. So, if you can drive a manual – which most people in the UK and mainland Europe can – you'll find that they're a little cheaper and there's a bigger selection on offer.
If you can't drive a stick, though, no worries! Companies like Sixt still offer automatics, just not in as much of a variety of options.
Car Rental in Montenegro
Where to rent a car
Rent a car, Podgorica – When you head into the city to rent a car, Podgorica has a Sixt rental branch in its centre, at Podgorica Train Station.
Rent a car, Podgorica airport – If you'd rather get sorted when you land, you can rent a car at Podgorica Airport from Sixt.
Rent a car, Budva – If you're heading to Budva to rent a car, Budva's Sixt branch is in the centre, across the park from Hotel Budva.
Rent a car, Tivat – When you rent a car in Tivat, their Sixt Branch is between the airport and the town itself. It's a slightly awkward location so, if you're flying into the airport, it might be better to rent your car there.
Rent a car, Tivat Airport – As soon as you land and you want to rent a car, Tivat Airport has a Sixt Branch just outside the main building.
Rent a car, Herceg Novi – If you head into Herceg Novi to rent a car, you'll find a Sixt branch just across from the Old Town.
Rent a car, Kotor – While there is no Sixt branch to rent a car, Kotor is very close to Tivat, so the best thing to do is rent a car in Tivat and head over to Kotor in your rental car.
One-way rental fee
One-way rental means renting your car in one location – Tivat Airport, for example – and returning it to another, such as Budva. This really frees up your options when it comes to road-tripping, but it does mean paying a lot extra.
A one-way rental fee is typically double the rental cost of returning your car to the same branch you got it from. So, if you're okay for money and you're happy to pay twice the rental price (probably $80 instead of $40) per day, then it's definitely a great choice to ensure you the utmost freedom when you travel.
Costs and extra charges
Your biggest extra charge is going to come from a one-way rental fee, if you choose to go that route. Otherwise, it's just the insurance, which you're expecting anyway, and the fuel which should cost you about $1-1.40 per litre.
Minimum age
Anyone can rent a car in Montenegro as long as they're at least twenty-one and have had their licence for at least one year. Those are the only requirements!
Taking the car on the ferry
When you rent a car in Montenegro, you can take a ferry to Albania, Bosnia, Croatia, and even Italy. You can take your rental car on the ferry to these countries, but your insurance won't cover any damages incurred on the ferry-ride, so keep that in mind! Also, just let your rental company know that you're planning to take the rental car from Montenegro on the ferry.
Documents you need for renting a car in Montenegro
If you want to rent a car in Montenegro, all you need is a valid driver's licence from your own country. As I've mentioned, some rental companies prefer you to have an international licence so check that before you go. If you do get an international licence, it's quick, cheap, and easy to do from home. Just get the process started a few weeks before your trip.
Do you need a special border-crossing card to enter other countries?
Yes, and it's called a Green Card. To cross borders between any of the Balkan nations, such as Montenegro, Croatia, and Bosnia, you need this Green Card. When you rent a car in Montenegro, mention your intention to cross borders and the rental company will provide you with a Green Card. These ensure that you're insured when you cross the border.
Read next: The Ultimate Balkan Travel Guide
So, when to visit Montenegro?
Montenegro can be a very hot, sticky, and sweaty place in the middle of summer, so it's best to avoid peak season (July and August). From April to June, and from September to October, the country's weather is perfect.
You get sunshine every day, a cooling breeze from the ocean, and enough warmth to ensure you only need your summer clothes. It's the perfect time to take a road trip from the beaches to the mountains and back again.
Essential packing list for visiting Montenegro
For a detailed packing list of all the absolute essentials, you can check out my Balkans packing list. But the things you absolutely mustn't leave home without are sunscreen (no matter the month) and an in-car phone charger for when you're relying on your phone for directions and road-tripping music.
Montenegro Road Trip Itinerary (7 Days)
Day 1: Kotor
Day 2: Kotor, Perast and Budva
Day 3: Ulcinj Beaches
Day 4: Sveti Stefan
Day 5: Tara River Canyon and Durmitor National Park
Day 6: Lovcen National Park, Ostrog, and Moraca Monasteries
Day 7: Skadar National Park and Cetinje
Day 1: Kotor
Kotor gives you a perfect introduction to the history, architecture, and atmosphere of Montenegro. It's like the gateway to Montenegro, teaching you everything you need to know about the country. After you've been mesmerised by the chiming church bells and you've explored its cobled streets, stay at the Historic Boutique Hotel Cattaro, found in the heart of the city.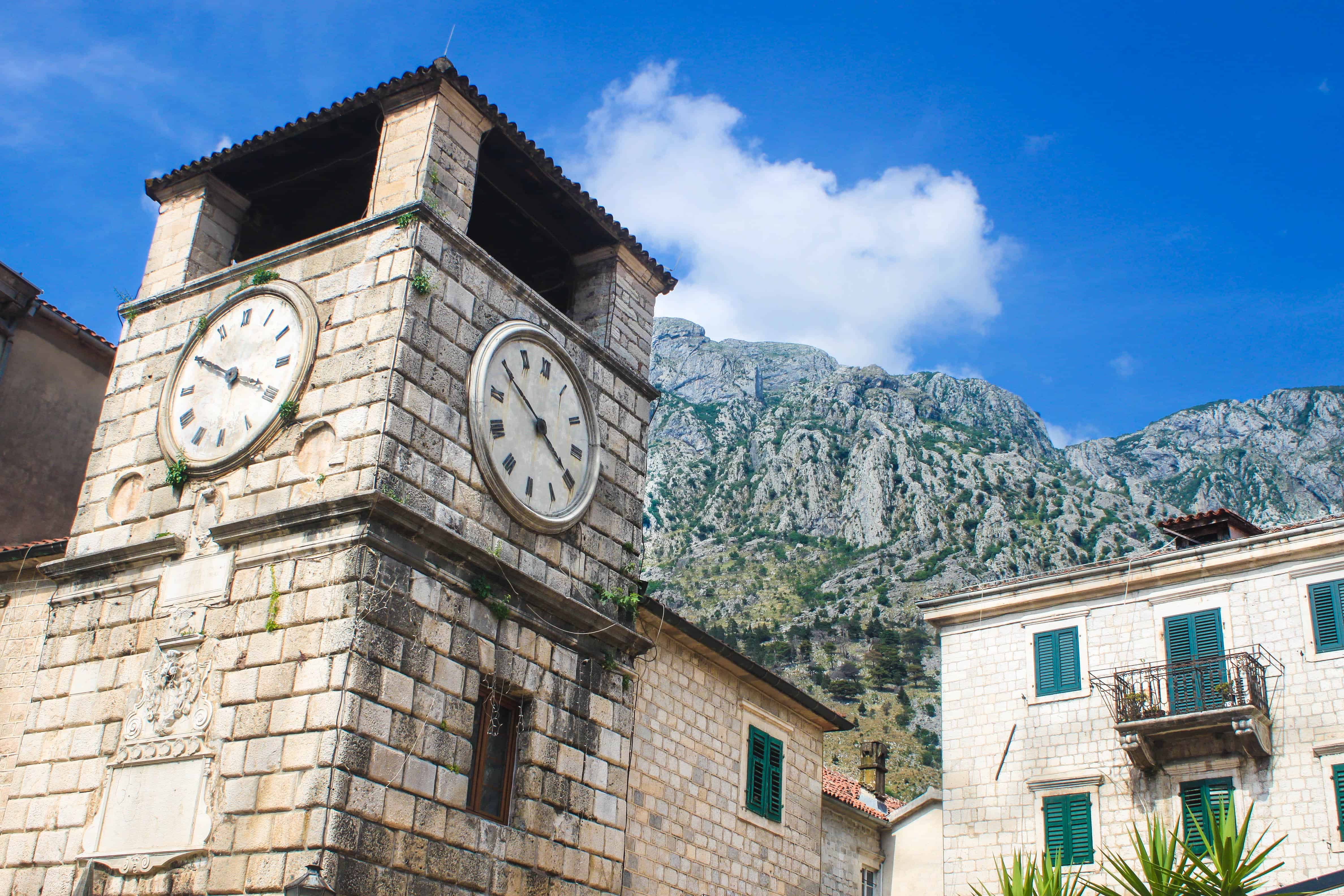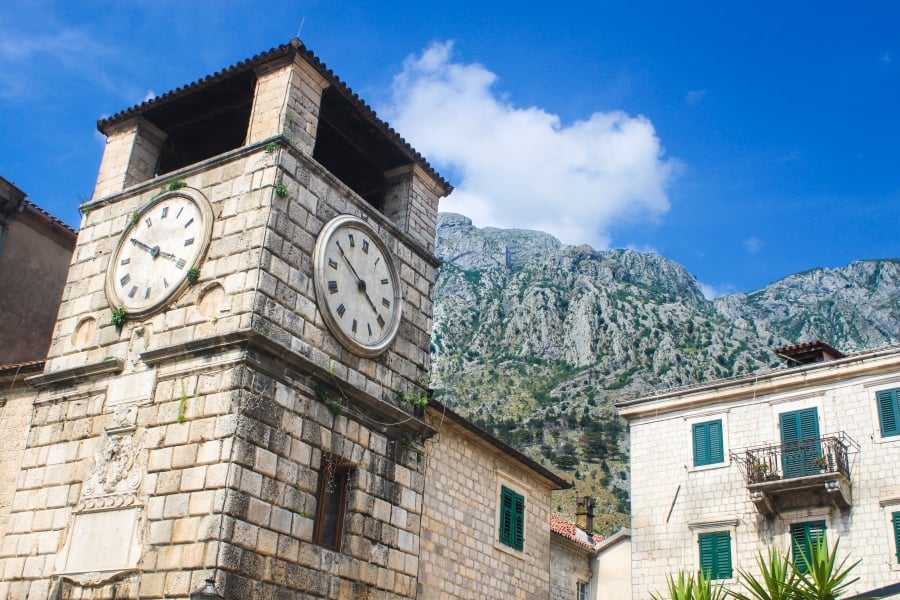 Day 2: Kotor, Perast and Budva
On your second day, head out of Kotor and head to Perast. It's a small town at the edge of the water. You can spend half a day here, moving from beautiful church to beautiful church. Make sure to visit the best church of all: Our Lady of the Rocks, a floating church on the water.
Next, head over to Budva. It's the most diverse and popular city in Montenegro; home to tombs you can explore and theatres you can visit. It has some amazing food to boot.
Day 3: Ulcinj Beaches
Day three is all about Ulcinj. This town is a fascinating place with a huge Albanian population, so plenty of Albanian food to try. It's also the Muslim centre of Montenegro so it has a very different culture to the rest of the country. Mala Plaža is the must-visit beach in Ulcinj. Head there during the evening to swim and enjoy the sunset over the water.
Day 4: Sveti Stefan
This small town is actually an islet with ocean on three sides. The resorts available here mean that day four is a day of relaxation. Spa days, relaxing by the pool, and finding a quiet place to eat. Stay the night here at Apartments Sunset Beach where you'll get a chill, breezy Moroccan aesthetic and an incredible private sea view.
Day 5: Tara River Canyon and Durmitor National Park
Tara River Canyon is the deepest canyon in Europe. Here, you can try your hand at rafting, or just hike and explore the landscape for yourself. Then head to Durmitor National Park, a rugged natural landscape full of wild creatures and the beautiful Black Lake. When you visit, stay at Apartments Durmitor to wake up the next morning in a wilderness paradise.
Day 6: Lovcen National Park, Ostrog, and Moraca Monasteries
From one national park to another. Lovcen is a land of mountains and rolling green hills. It also hides the mausoleum of Petar II Petrović Njegoš, a beloved cultural leader in Montenegro. Ostrog and Moraca Monasteries are peak examples of Montenegrin history and architecture, providing an atmosphere you won't find anywhere else.
Day 7: Skadar National Park and Cetinje
Mountains, mountains, as far as the eye can see surround Skadar Lake, an incredible piece of perfect natural beauty. Once you've explored, head to the old capital of Montenegro: Cetinje.
This is a beautiful city, a place dripping with cultural history and charm. Explore the city to your heart's content; it's the perfect place to finish your Montenegro road trip.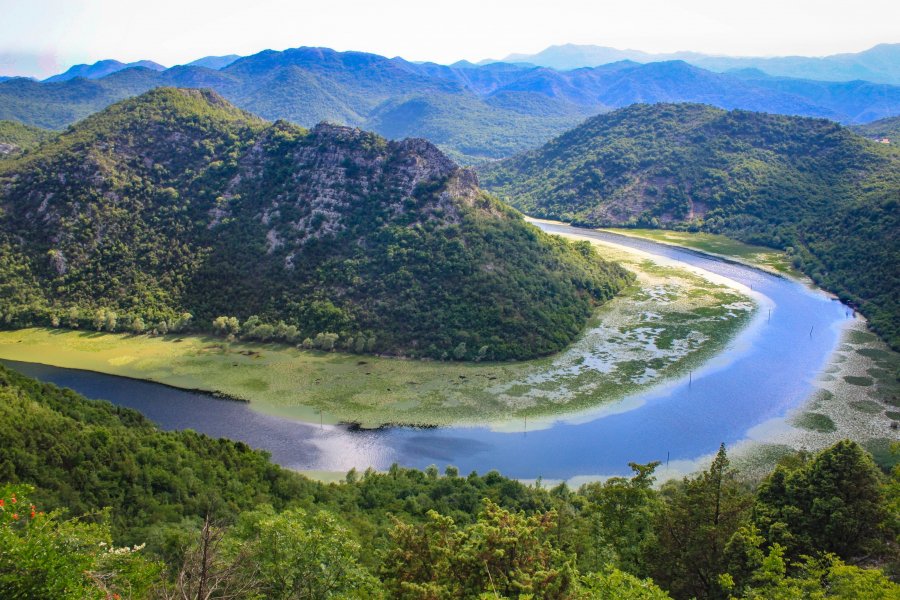 Ready to book your car rental in Montenegro?
There you have it. I hope this answered all your questions about Montenegro car rental. And if not, ask me anything in the comments or send me an email. If you're ready to go ahead with your booking, you can do it right here: