Black Lake Montenegro: Full guide to Durmitor National Park
Black Lake in Durmitor National Park is one of the most celebrated attractions in Montenegro. Here's how you can plan a day or multiple day trip.
When you plan your trip to Montenegro, make sure Black Lake Montenegro is on the itinerary. Located just a few hours from the bay area, it's a perfect Kotor day trip.
In this post, I'll share how to visit Durmitor National Park; including what to see, entrance fee and more relevant info.
Let's dig in. 
This post contains referral links for products I love. Adventurous Miriam earns a small commission at no extra cost to you if you make a purchase through my links. Thank you for your support ♡ Learn more
Why visit Black Lake Durmitor?
Black Lake Durmitor —> This, dear friends and readers, is the most beautiful sight in Montenegro.
There's a lot of impressive nature and landscape in Montenegro. In fact, it's packed with it.
But there's something special about Durmitor and Black Lake. Whether it's the endless hills of pine trees or the reflections in the glacial lake, I don't know. But Durmitor National Park is a wonderful place where you can go hiking, boating or simply take a stroll and enjoy nature.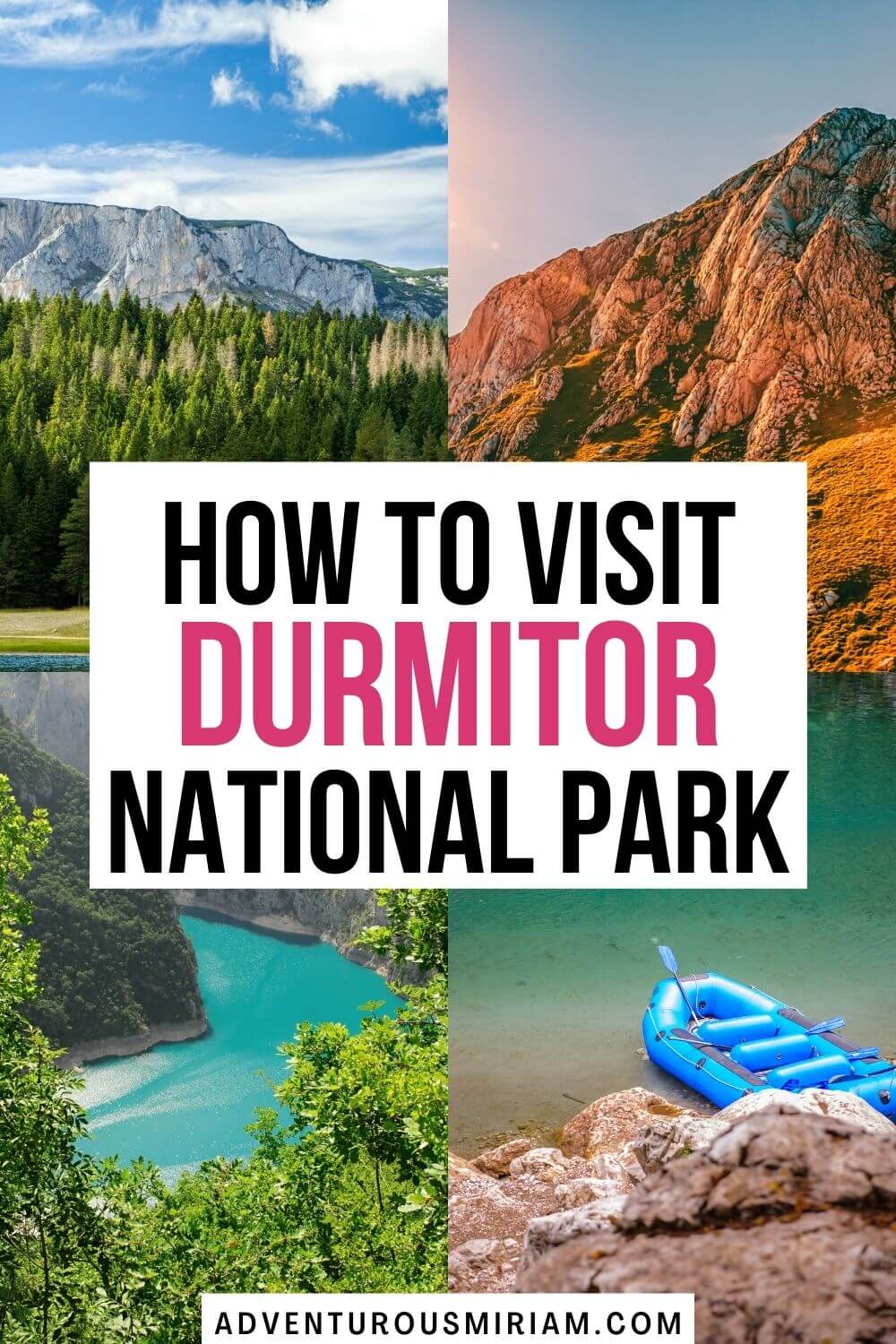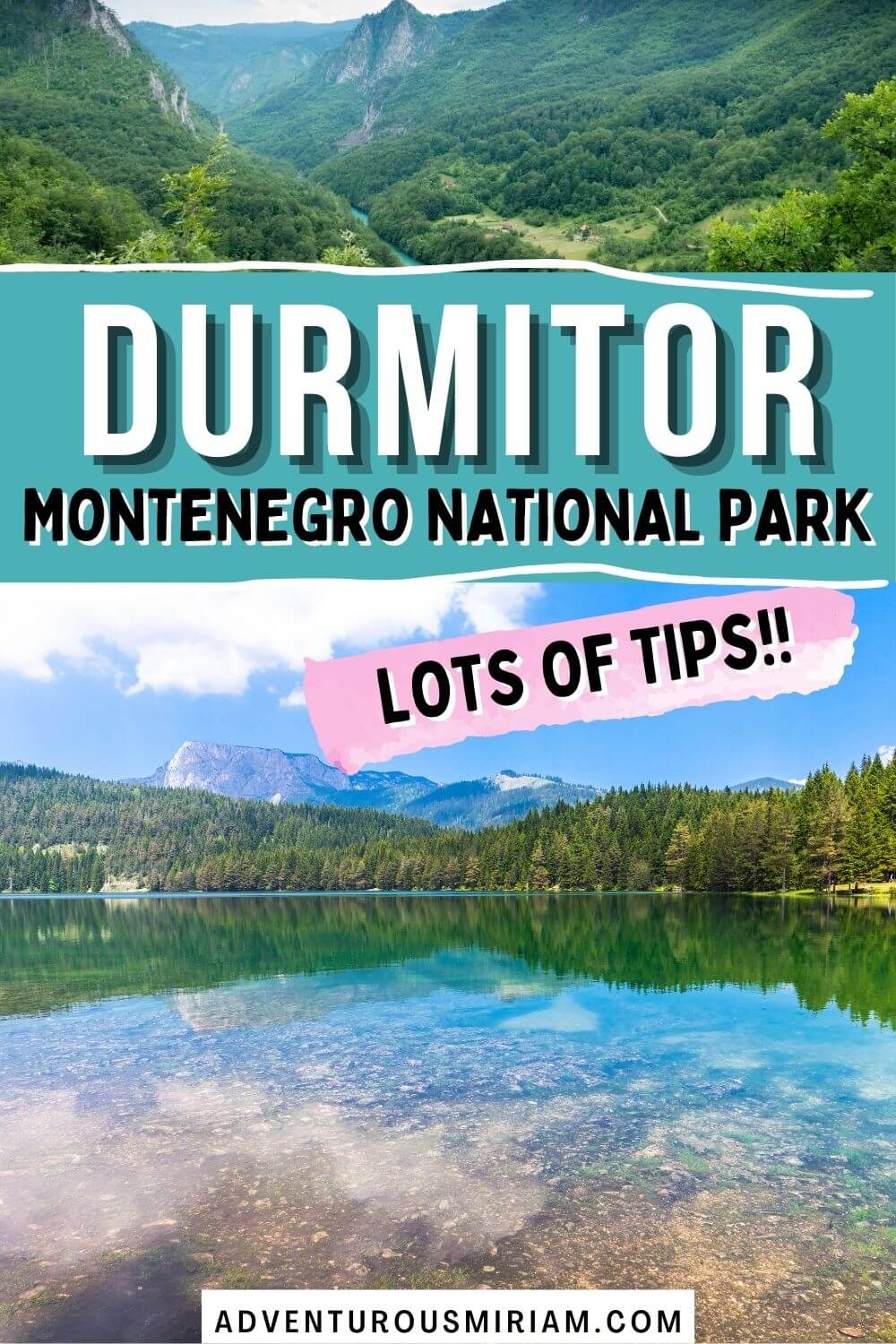 How to get to Durmitor National park
Durmitor is rather remote so you'll need to plan your trip in advance.
It's not possible to reach Durmitor with public transportation, so you have two options: rent a car or join an organised tour. Durmitor is located 2,5 hours drive by car from Kotor. There's a lot of see and look at on the way there, though!
Rent a car
If you're up for it, I highly recommend renting your own car. I LOVE the freedom and thrill of a road trip. You get to decide when to go, when to stop and what to see. I've written a couple of posts the subject:
Join an organised tour
Another option is joining an organised tour. You can either find a multiple day tour to the park or a day trip. I went with the latter and booked a Kotor day trip. UNFORTUNATELY, I didn't have the best experience with my tour operator so I don't have any recommendations.
From Zabljak
Black Lake Montenegro is located just 3 km from the town of Zabljak inside Durmitor National Park. It's an easy walk.
Black Lake Montenegro
Durmitor was added to the UNESCO World Heritage list in 1980.
Durmitor is thickly forested with pine trees, some of which are more than 400 years old and tower some 50 meters high. It's dotted with 18 glacial lakes, and the largest and by far the prettiest is Black Lake.
Black Lake (Crno jezero) is the highlight of Durmitor National Park! The name comes from the shadow created by the towering 2287m high Međed mountain, which provides the perfect backdrop to the spectacular scenery.
Black Lake consists of two lakes called Veliko Jezero (great lake) and Malo Jezero (small lake) and they're connected by a narrow path. The great lake is 25m deep while the small lake is 49m deep, so by volume, the little lake is much bigger!
Around the lake is a 3.5km trail. It takes 1.5hrs to walk around and is suitable for families with kids.
Things to do at Black Lake Montenegro
If you're looking for adventures, you can go hiking, mountain biking or swimming in the lake, only in summer, of course.
Boating
Another fun thing to do at Black Lake is renting a boat. You can hire one at the jetty for $9.6 per hour.
Walking
Follow the path around the lake and bring lunch! Benches and picnic sites are dotted around the lake, offering relaxing and beautiful spots to enjoy the lake and forest scenery.
Practical info
Durmitor National Park entrance fee
It costs 3 euro to enter the park.
Best time to visit
You can visit Durmitor and Black Lake all year round. During winter, Durmitor is popular for skiing and snowboarding. In summer, the activities shift to hiking, cycling, fishing and swimming.
How much time to spend
At least 3-4 hours. Preferably a few days to enjoy the scenery and nature.
What about wildlife?
Wolves and bears live in Durmitor National Park, but they tend to keep their heads down so as not to have them blown off!
You might come across a snake or two. While most of them are harmless, you should watch out for the horned viper. Reaching up to 95cm, it's the largest and most venomous snake in Europe. It has a zigzag stripe on its body, long fangs (up to 13 mm) and likes rocky habitats. The good news is that it's not aggressive so just watch where you walk.
Things to do in Durmitor National Park
While Black Lake is the highlight of any trip to Durmitor National Park, there are other beautiful and impressive sights there. Here are the main things to do in the park:
Hike to the highest peak in Montenegro
The highest peak in Montenegro is Bobotov Kuk, a majestic 2,523m mountain found in the heart of Durmitor. You can reach the peak from a number of paths, each tailored for hikers of different experience.
Visit Europe's deepest canyon
Durmitor is also home to the deepest canyon in Europe. At 80 km long and 1,300 meters deep, Tara canyon is also the second largest in the world, after the Grand Canyon. The canyon cradles the Tara River, which has the most beautiful emerald-green and sapphire blue colours.
So, so pretty!
It's a really scenic road trip with a knockout view, and I liked driving through the twisty mountain roads high over the canyon. As a major nature lover, this place hit me right on the spot. Waterfalls and caves abound as nature well and truly shows off – this is the best of Montenegro!
Zip lining at Đurđevića Tara Bridge
Đurđevića Tara Bridge is 172 metres high and located just a few kms from Black Lake. It's easily accessible and offers majestic views over the river and mountains.
If you want to try zip lining or rafting on Tara river, this is where to do it.
Rafting on Tara River
If rafting through the deepest canyon in Europe sounds like fun to you, you'll love this. Choose between a day-trip or multiple rafting day trip. It's a fun way to explore Montenegro and you can bring the family!
Go skiing
Visiting the Balkans in winter is supposed to be a beautiful sight. I've only visited in spring and summer myself, but I've seen photos and they speak for themselves (think snow-capped tress and frozen lakes)!
In Durmitor, you can go skiing or snowboarding in the winter season. There are 1.6 km slopes and two ski lifts available in Zabljak.
Durmitor National Park where to stay
If you decide to spend the night – great idea. You'll be based in nearby town, Zabljak where there's good accommodation to choose from.
Apartmani Prisoje – Within walking distance of the park, this apartment is super cosy and has nice owners. Find recent prices here.
Hotel Soa – This hotel combines elegant furnishings with modern design. Very clean and spacious rooms. Find recent prices here.
Ask me anything about Black Lake Montenegro!
Before you go – don't miss out on these posts: