Explore Montenegro: The Ultimate Montenegro Travel Guide
I've created this complete Montenegro travel guide with all the information you need to visit Montenegro for the first time.
Despite its tiny size and population, Montenegro is a very diverse and fascinating country. Montenegro is home to Europe's largest valley (Tara Canyon), the world's oldest olive trees, and a constitution which prioritises environmental protection.
It's a beautiful, green, and mountainous place that somewhat differs from other Balkan countries. And because of its tiny size, everything is within reach. You can see every part of Montenegro, from its deepest valleys to its tallest mountains, while you base yourself in Kotor (which to me is the best place in Montenegro).
Read next: The Ultimate Balkan Travel Guide
This post contains referral links for products I love. Adventurous Miriam earns a small commission at no extra cost to you if you make a purchase through my links. Thank you for your support ♡ Learn more
Montenegro Travel Planning
Rough Budget
Accommodation
Budget: $15-25 (Private room)
Mid-range: $35-70
Splurge: $100+
Food (For One)
Street food: $3-7
Restaurant: $10-15
Super nice restaurant: $30+
Transport
Bus: $2-5
Train: $10-15
Best Things to Do in Montenegro
Here are ten of the best things to do in Montenegro. I've covered them all in a little more detail in a separate post, if you want to get more tips for your trip.
Read next: 10 popular things to do in Montenegro
Visit Kotor – a UNESCO World Heritage Site
Your first stop should be Kotor. It's the most charming place in the country, and you can see why it has UNESCO status as soon as you pass the ancient walls and historic stone architecture. It's absolutely the number one city to visit on your travels. Kotor is the perfect place for a yoga retreat or staying at an old captain's mansion by the lake.
Party in Budva
Budva is the most popular town in Montenegro for tourists to visit, and with good reason. This town is the complete opposite to nearby Kotor, with its huge and loud nightlife scene, white sandy beaches, and fancy hotels.
See 4 countries from Lovcen National Park
Aside from being super beautiful, Lovcen is also a fun place to visit, because you can see four countries from the top: Croatia, Italy, Montenegro and Albania (at least that's what the guide said).
Lovcen is also famous as the resting place of Petar II Petrović Njegoš, a beloved cultural leader in Montenegro. You can visit his mausoleum on the top.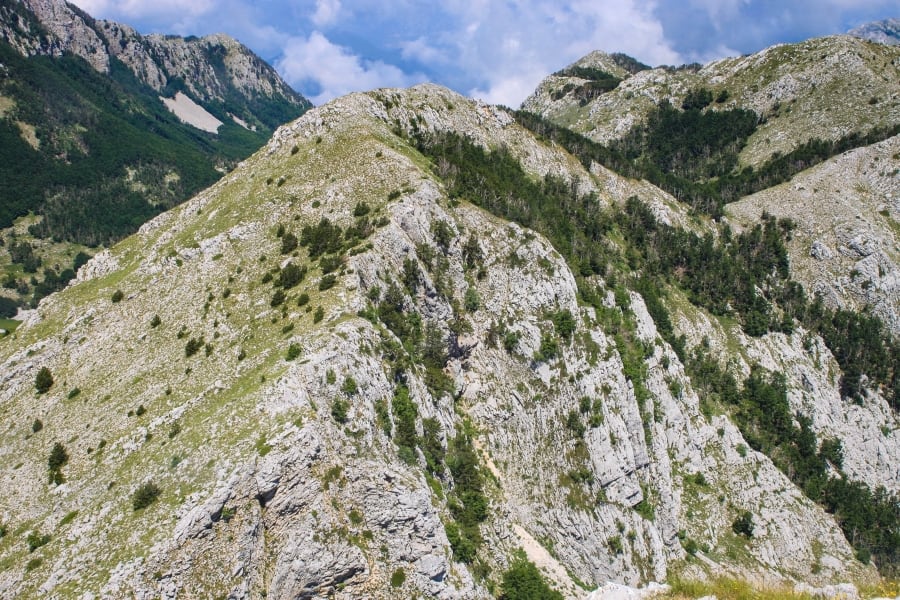 Visit Ostrog Monastery – a cliffside monastery
Carved into the side of a mountain, and almost completely flush and blended into the stone, is this magical monastery. It's an orthodox Serbian monastery and, as such, it's important to dress modestly when you visit (women are required to wear a head scarf out of respect).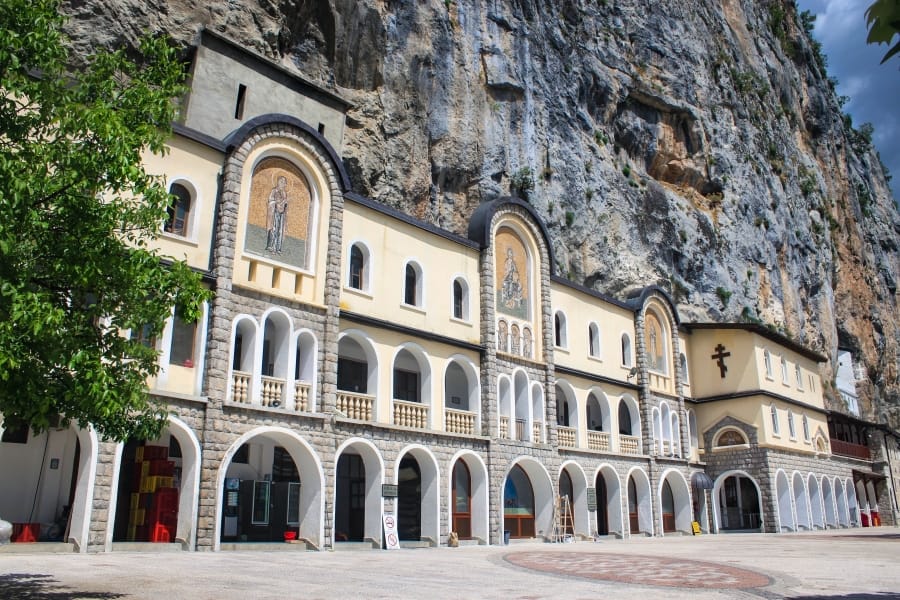 See the Peaceful Moraca Monastery
Another must-visit medieval monastery is Moraca. Monks are still living here, so it feels authentic. This monastery does not require women to cover their heads, but you should of course still be respectful.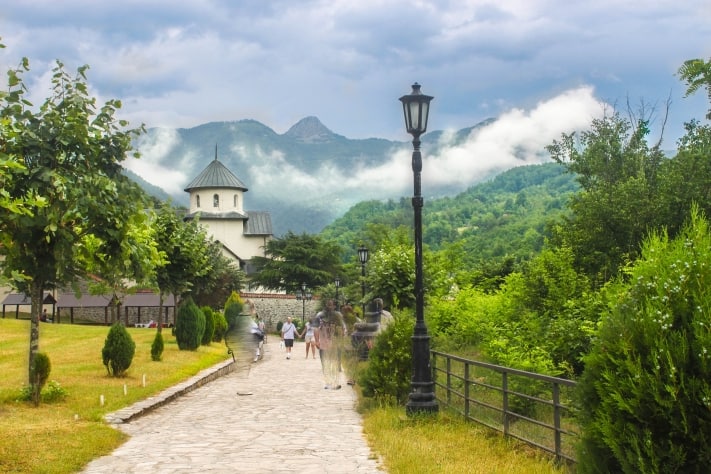 Explore Skadar Lake (at the horse-shoe bend)
Skadar Lake straddles two countries: Montenegro and Albania, but Montenegro got the better part. See below how the lake curves like a half-circle around the mountain? That's the Montenegrin side of Lake Skadar.
Locals considers it the soul of Montenegro, and it's easy to see why when you see it. The lake is surrounded on all sides by mountains as far as the eye can see, and within this area are fishing villages and monasteries to visit as well.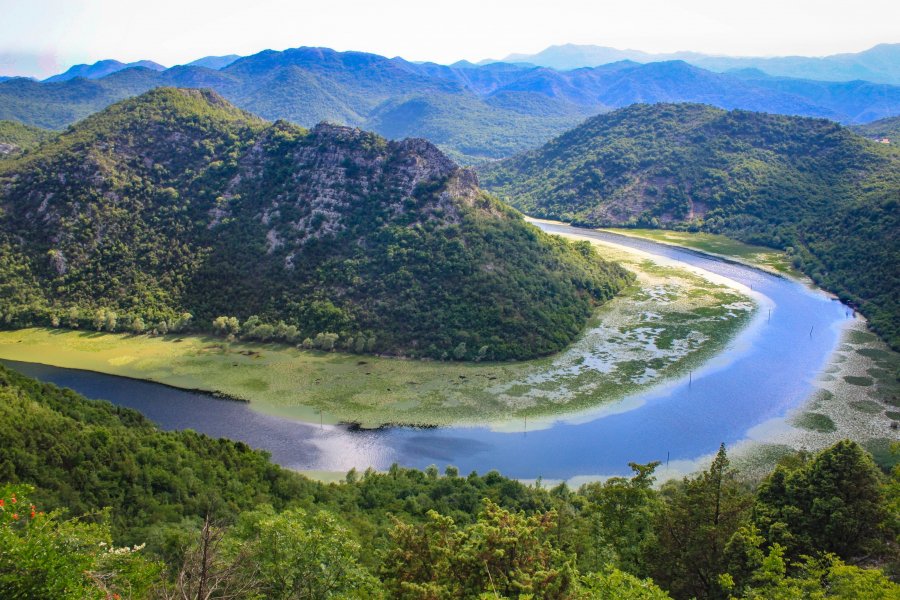 Visit Durmitor National Park – A UNESCO World Heritage Site
The most beautiful place in Montenegro? That would be Durmitor National Park, and more specifically: Black Lake. Beyond just the natural landscape, this area is also home to brown bears, eagles, wolves, and wild cats! It's a completely rugged and a living, breathing park of Montenegro.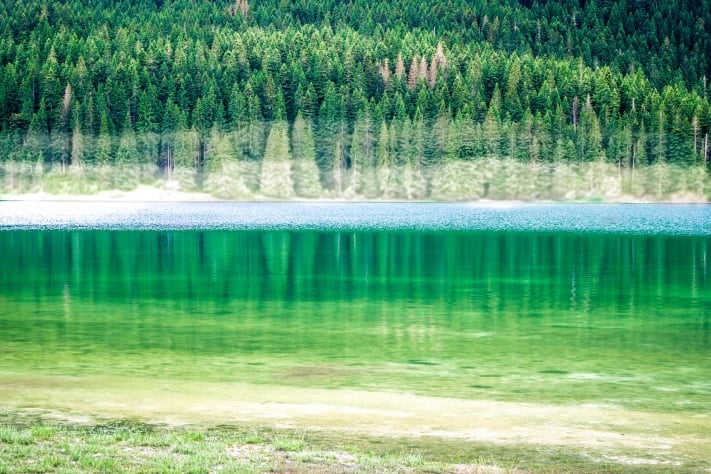 Explore Cetinje – The Country's Ancient Capital
Cetinje was the capital of Montenegro until the end of World War II. The city wears its history – and so also its beauty – on its sleeve. Far quieter and more beautiful than the new capital Podgorica, this is a must-visit town that holds the real cultural heart of Montenegro.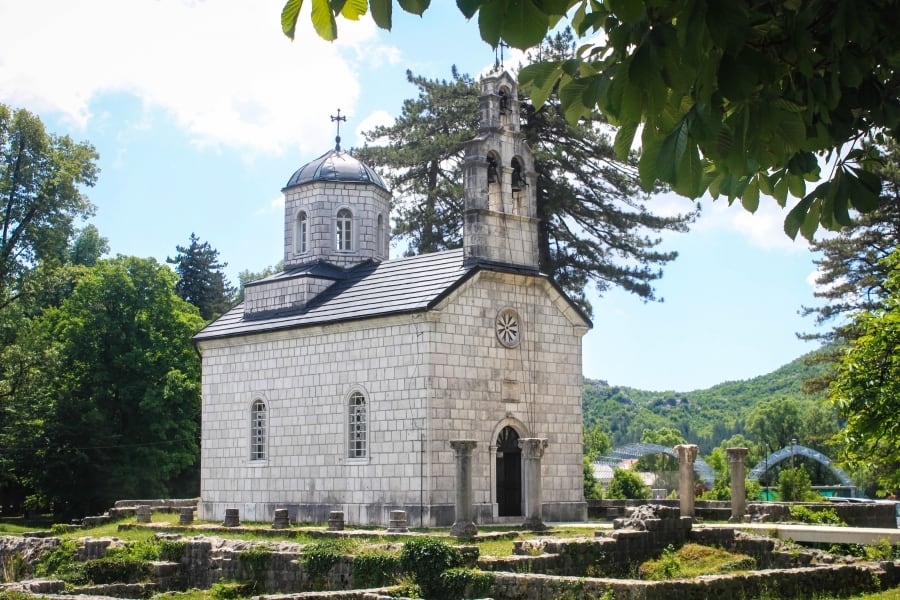 Drive through the Tara River Canyon
Did you know that Montenegro is home to the deepest canyon in Europe? Tara River Canyon is also the second longest in the world after Grand Canyon, at 78 kilometers long and 1,300 meters at its deepest. You can drive through it. Just look below on the photo – in the middle, there's sort of a crack. That's the road, guys.
Try River Rafting at Durdevica Tara Bridge
This awesome tall bridge is an experience in itself to cross, since there are some serious views of the landscape. Nearby you can also try river rafting and zip lining, if you have the confidence!
What to Pack for Traveling Montenegro
Montenegro is a beachy place. It's got some lovely beach resorts, port towns, and beaches. So, when you pack for summer, remember your sandals, your T-shirts and swimwear. Pack plenty of sunscreen because it's a warm, sun-soaked country. And don't forget your sunglasses.
I've written up a more detailed packing list for the Balkans, but summer clothes are the definite essentials. Also, this is a small country with plenty of hills, valleys and national parks to conquer. So, make sure you pack some comfortable walking shoes.
Montenegro
Travel Information
Currency
Montenegro's currency is actually a strange and interesting story. The country is not in the EU, and yet it doesn't actually have its own currency, so it uses the EU. Because it's not in the EU, it can't mint its own Euro notes and coins. Before it started borrowing the Euro, Montenegro used the German Deutschmark.
So, when you travel to Montenegro, you'll be able to exchange and use Euros – even though you won't be in the EU. An odd situation, but one that makes travel to Montenegro simpler!
Electricity Socket
Although it's not in the EU, Montenegro is still a European country, so it uses European plugs. These are two round pegs and they're one of the most common types of sockets in the world. A lot of countries outside of Europe also use them, so buying a converter is nice and easy. If you're traveling from another European country, you're fine. If you're not, just pick up a standard universal adapter.
Visa
If you're visiting Montenegro from an English-speaking country (USA, UK, Canada, Australia, etc), you don't need a visa to enter Montenegro. You can stay for 90 days with just your passport. But, since Montenegro isn't in the EU, be careful to check your visa requirements before you go. Many countries' citizens do require a visa, and you can check the complete list here.
Is Montenegro Safe?
Super safe! Montenegro is famous for its friendly, approachable, helpful people. You don't need to worry about violent crime, organised crime, or vehicle safety when you visit. Of course, you should be sensible and never be careless, just like when you go anywhere at all. But Montenegro isn't a scary or dangerous place. Still, every friendly country has its petty criminals, so keep a close eye on your purse or wallet.
The big cities have pickpockets and purse snatchers, so be mindful of them. And there are definitely scammers that can prey on tourists. Make sure your taxi is licensed before you get in, and that they start the metre running immediately. Still these tips are given out to anyone who visits anywhere at all! Montenegro has no more pickpockets or scammers than anywhere else in Europe or Asia.
Read next: World Nomads Travel Insurance (Review) – Do I REALLY Need It?
The only other thing to consider is travel insurance. Accidents happen, after all. If you're traveling to Montenegro and you get sick, lose your luggage, have it stolen, or even just fall down and break something, not having travel insurance can be terrifying. Believe me! So, get some. And the best people to head to are World Nomads. Being insured with them – which I always do, myself – means never having to worry about getting sick or injured anywhere in the world.
Essential Montenegrin Phrases
Being a Slavic language, you'll notice a lot of similarities between the Montenegrin language and those of its neighbours, such as Croatia, Bosnia and Herzegovina, and Serbia. In fact, Montenegrin and Serbian are almost identical. There's a good amount of English spoken in Montenegro, especially in the more popular and touristy areas, but it's always useful and polite to learn a handful of phrases that'll help you get by. Here are some basic ones to learn.
Hello – Zdravo
Please – Molim
Thank you – Hvala
Goodbye – Dovidenja
Yes – Da
No – Ne
Excuse me – Izvini
Sorry – Izvinite
Do you speak English – Da li pricate Engleski?
I don't understand – Ne razumijem
Help – Pomoc
How to Get Around in Montenegro
Rent a Car
Renting a car is a great option. The country is small and easy to explore from the road. It's a great way to see some of the incredible natural views as well. You can get from A to B quickly and easily. Though it is worth mentioning that local drivers in Montenegro can be aggressive. If you're going to drive, you need to be confident and assertive.
Read next: How to Rent a Car in Montenegro (Plus a Road Trip Itinerary)
So, if you do feel like driving across Montenegro and back again, you can book your car with Sixt and RentalCars. These sites are equally reasonable at their prices and the two best on the market.
Busses and Minibusses
Taking the bus is super popular in Montenegro. Taking the train is actually more expensive and slow, so almost everyone takes the bus. And because this is a small country of small towns and cities, the buses go everywhere. You can take them around the towns and between them. They're also cheap, which is always a great bonus!
Pro tip: I always use Rome2Rio when I search for transportation in Europe. It's such a great site because it shows all your options for getting from A to B, including how much it costs. Try it out here.
Montenegro Tours
There's a lot of things to do in Montenegro. From historic cities, towns, and villages to mountains, lakes, and rivers. If you want to make sure you see everything during your trip, take advantage of some tours. You can rent a car and see a lot of the country by yourself, but you can also use a few tours to ensure to really see it all.
The best site for this is Get Your Guide. These guys offer guided tours to eight different locations across Montenegro, including Kotor and Perast. Their Montenegro tours are engaging, informative, and interactive. I can't recommend them highly enough.
When to visit Montenegro
Montenegro is hot, covered in beaches and mountains, and bordering the beautiful blue Adriatic Sea. That means, summer is uncomfortably hot. So go for the late spring and autumn months. April and May or September and October.
If you hit any of these months, the sea is still warm enough to swim in and hiking up the mountains won't turn you into a puddle. It's the perfect temperature during these four months. Avoiding the summer months also means avoiding peak tourism season. You'll get cheaper flights, fewer tourists, and a more natural, relaxed atmosphere across the country.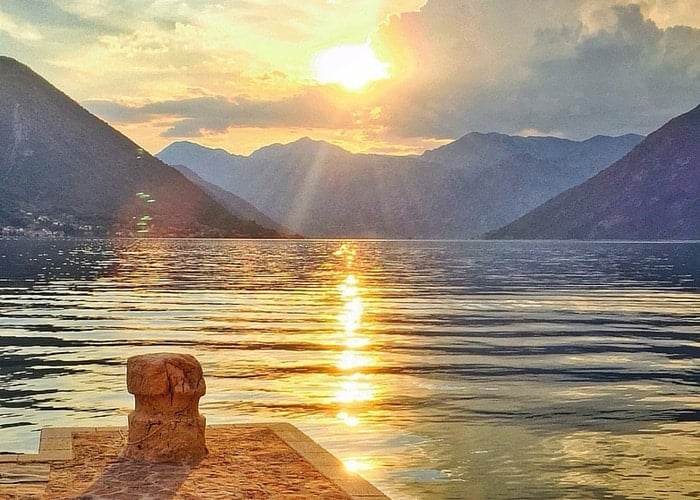 Top cities in Montenegro
Budva
The most popular city in Montenegro is Budva. It's a city with beautiful beaches and bay islands. It's also home to some of the best hotels in Montenegro, and it's full of historic churches, tombs, and theatres.
Kotor
Whereas Budva is more party-party and new, Kotor is all about history and serenity. It sits between steep mountains and the bluest ocean. Inside its tall walls are so many gorgeous medieval stone buildings. This whole town has been frozen in time, with ancient church bells chiming as you wander the cobblestones.
Herceg Novi
This waterfront town is overgrown with bright and colourful fruit trees that add to the area's wonderful cuisine. It's quieter and more peaceful than the bigger beachy towns, and so makes for the perfect getaway if you prefer your holidays quiet and stress-free.
Perast
A small town at the water's edge which is home to sixteen churches – all beautiful. Perast has got a Venetian atmosphere to it, and it's home to the popular tourist destination Our Lady of the Rocks. This amazing place is little more than a floating church (and gift shop). It's amazing.
Sveti Stefan
Sveti Stefan is a very unique kind of place. It's not so much a town as a small islet of beautiful buildings. These days it's used as a resort, making it the perfect paradise to stay at when you visit, surrounded on three sides by ocean and linked to the land by a strip of road.
Cetinje
What was once the capital of Montenegro is still one of its most charming cities. Gorgeous old architecture, from grand catholic churches to simple homes. Ancient statues sit beside modern art to make a perfect blend of the old and the new. A must-visit city.
Podgorica
The new capital of Montenegro. Podgorica has been the capital since the end of World War II and the beginning of Montenegro's socialist rule. It's a sweeping city that paints a vivid picture of the newer, modern side of the country.
Tivat
Tivat is a marina town and probably the most glitzy and glamourous place in all of Montenegro. Though there is some renaissance architecture to discover here, much of this city's beauty is in its glamour. The yachts, the promenades, the shops. It's all so alluring!
Read next: A day trip to Durmitor National Park and Black Lake
Ulcinj
This southern town is like a miniature Albania. Here, much of the population is Albanian and as such Islam is the dominant religion in the area. This gives the town a completely unique flavour, with food, architecture, music, and art not seen anywhere else in Montenegro
Bar
Bar is perfect if you want to avoid your fellow travelers on your holiday. It's a little-known coastal town that's quiet, off-the-beaten-track, but with a big heart. Roman ruins and ancient buildings sit alongside stunning modern shops and restaurants. A great town.
Food in Montenegro
When you have a country that's both by the sea and covered in mountains, you're going to get a wonderful range of delicious foods. The meats, vegetables, and spices will all vary depending on where you are. But, since this is a small country that's easy to explore in a short space of time, that means you can also try every traditional cuisine Montenegro has to offer. Here are a few I highly recommend.
Burek – Similar to a meat pie you'd find in England or Germany, this is a savoury pasty-type thing made from filo pastry and filled with meat, cheese, and spinach. Although It's better than a sandwich and something you'd normally want for lunch, this is actually a popular breakfast item, served with yogurt.
Buzara – Here's where the amazing seafood comes in. In grand Montenegrin tradition, a huge batch of prawns are served up in a dish and cooked with a red sauce of wine, onions and tomatoes. They're great for sharing and are usually enjoyed by a family.
Ispod Saca – A big pot full of roasted lamb, potatoes, carrots, and onions. It's a family tradition in many parts of the country and an absolutely delicious way to enjoy a good meal with family and friends.
Skadar Lake Carp – A local delicacy, this exact fish is only found at Skadar Lake. If you take a trip there, make sure to pop into a local restaurant and try the dish for yourself. The locals are very fond and very proud of it. As they should be – it's delicious!
Cevapi – These are hand-made sausages. You can get both pork and beef, and they go great with a sour cream dip (which is usually included if you get this from Montenegro's popular Cevabdzinica chain restaurant.
Best Hotels in Montenegro
Iberostar Grand Perast – Inside you've got a beautifully-lit pool, spacious and comfy rooms, and a great restaurant. Outside is all about the view. This hotel is an absolute 5-star experience on all fronts. The food, made up of local cuisine, is of amazing quality, and the rooms are so cosy and bright you'll probably never want to leave. Click here to get the latest prices.
Hotel Palazzo Radomiri (Kotor)– This historic stone Kotor villa has views of both mountains and lakes. It is surrounded with green vegetation and has its own jetty. The rooms are decorated with total luxury in mind, with wood furniture and chendeliers. It also has an outdoor pool to cool down in after you're finished exploring the local area. I love this place. Click here to get the latest prices.
Villa Gracia (Budva)– This 4-star luxurious guesthouse is found in the heart of Budva and it's great value for money. The rooms are super crisp, clean, and modern. It's such a pleasure to stay at this hotel, and to be in such a lively neighbourhood. Click here to get the latest prices.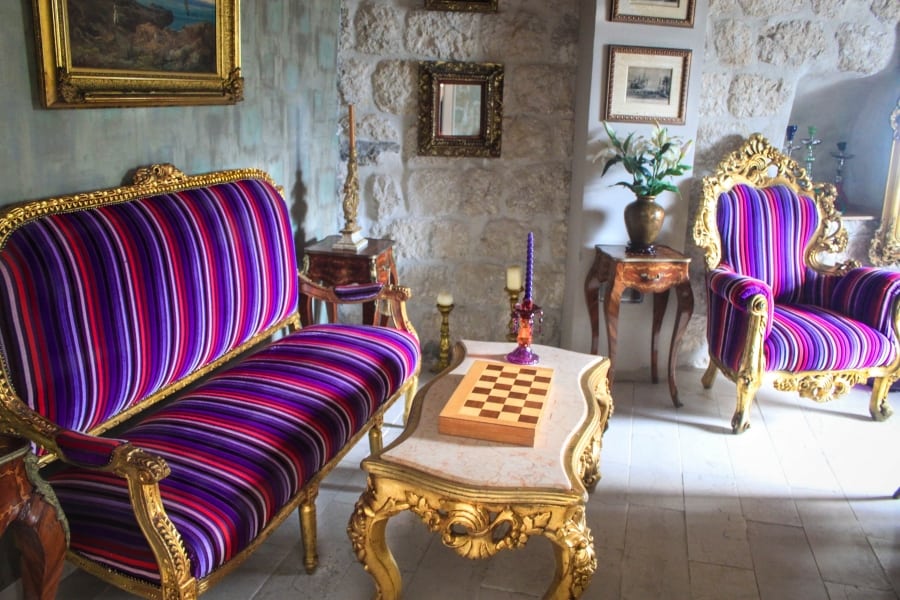 Books to Read on your Holidays to Montenegro
When you leave home behind and set sail for Montenegro, you're going to want a few books to keep you company. Let these be books about Montenegro. Books that will help and inform and guide you on your travels. There's so much to see, learn and do, so let these books be your guide when you go!
Lonely Planet Montenegro – Everyone knows that Lonely Planet print the most detailed, engaging, and fun travel guides around. Their guide to Montenegro should be stuffed into your pocket during every drive and hike across this country. Use it to make sure you see everything you want and need to see before your journey's end.
Montenegro: A Modern History – A lot has happened to Montenegro over the last hundred years. The country has transformed over and over, so rapidly it'll make your head spin. But the people have survived, and the country is now flourishing! Find out how it got that way with this terrific history book.
The Balkans: A Short History – Being part of the Balkans means being part of Balkan history. Religious strife, political corruption, the rise and fall of communism, the Cold War. There's so much to learn about the Balkans, and every bit of it is totally fascinating. So brush up on it all with this engaging history book!
The Mountains of Montenegro: A Walker's and Trekker's Guide – This lovely little book will guide you across all the hills and mountains of Montenegro. So strap on some strong hiking boots, keep this book close, and head out over the hills in search of the best views in Eastern Europe.
Before you go – don't miss out on these posts:
Pin it!