Psst! This post probably contains affiliate links, which means I earn a commission (at no extra cost to you) if you click through and make a purchase. As always, I only recommend products and services I trust.
When I told people I was going to Bosnia and Herzegovina, I got one of two reactions.
Either they'd look worried and say something like: "But is it safe?" Or they would look at me surprised as if I'd just said the weirdest thing ever, and ask: "But why? What's in Bosnia?"
If you're thinking the same, let me introduce you to a country that pretty much blew my socks off and exceeded my expectations BIG time.
In this post, I will list out the best cities in Bosnia for those who might be planning their own trip to Bosnia. And for the rest of you, may these pictures prove to you how Bosnia is sparkling with magic.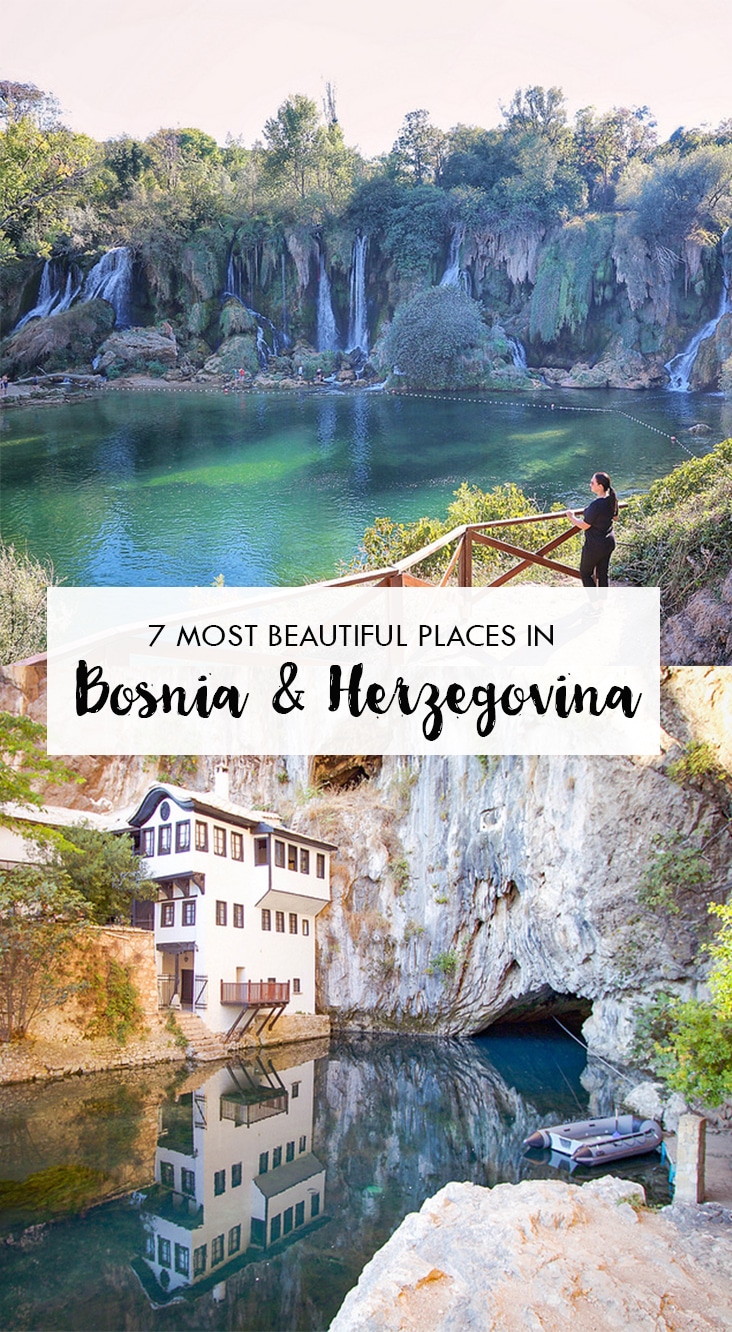 WHY YOU SHOULD VISIT BOSNIA
Nearby countries of Croatia and Montenegro have become tourist hotspots, but Bosnia and Herzegovina remains somewhat a hidden gem.
Although it's not completely uncrowded, Bosnia is still largely off the beaten path. Last year, 1.3 million tourists visited Bosnia and Herzegovina compared to Croatia, which got 18.5 million visitors. Numbers are blooming, so people are starting to realize that present-day Bosnia is a complete departure from the war-torn image they might previously have held in their mind.
I can tell you so many reasons why Bosnia is worth visiting.
For starters, it's packed with natural wonders like unspoiled natural parks, emerald-toned rivers and cascading waterfalls. People are so friendly and welcoming. The food is delicious (mmmhm, cevapi). It's extremely affordable, and the scenery is just wow!
And you know what?
Since I got home, I haven't been able to stop telling people how great Bosnia is. It might sound like a clicheé, but the country is so underrated. Like really. Most people visiting Bosnia only make it to Mostar on a day trip, but there's SO much more to see.
7 cities in Bosnia
The most interesting cities include Sarajevo, Mostar and the famous Stari Most bridge, the Blagaj Tekke monastery, Kravice waterfalls and the beautiful scenery. All of which I'll share with you here. First, let's take a look at Sarajevo.
1. SARAJEVO – CAPITAL
If I were to sum up Sarajevo in one word, it would be: underrated. Because this city does not get the hype it deserves. It has so much going on; it's full of beautiful sights, the food is amazing, it's authentic and super cheap.
Read next: 12 amazing things to do in Sarajevo
Sarajevo is more than just the capital in Bosnia. To think of what happened there during the siege just 20 years ago, and to see how it's thriving today – it touched me deeply. This unpretentious city , with apparent marks of the 1990's conflict,  knew how to stand up after all the suffering endured.
I live in a country that was occupied during World War II. Both my granddad's were freedom fighters, and most living Danes their age still talk about those dark times today. And that's 73 years ago. For the people of Bosnia, their war basically just ended.
2. MOSTAR – STARI MOST BRIDGE
While Sarajevo is underrated and authentic, Mostar is all kinds of pretty.
It is beautiful beyond beautiful.
Mostar is in the south of Bosnia; the sunny and lush Herzegovina region. It's known for its Stari Most bridge, but I dare say there are plenty more reasons to go than the bridge. If you like quaint fairy tale towns and azure blue water, this is for you.
Read my post about Mostar here.
3. BLAGAJ TEKKE
Next stop: Blagaj.
20 minutes drive or so from Mostar, you'll find this delightful little place called Blagaj Tekke. It's a Dervish monastery, nearly 600 years old, and it's built under a cliff. How about that?
Read next: The Ultimate Balkan Travel Guide
Absolutely gorgeous and a must-visit if you ask me.
You can visit the tekke and also take a brief boat ride into the cave which is the source of the Buna river. It costs a few marks.
4. KRAVICE WATERFALLS
If I could only go back to one of the cities in Bosnia, it would be Kravice waterfalls, hands-down. As much as I love the mountainous wonder that is everywhere in Bosnia, it is the mountainous wonder + cascading clear waterfalls that really puts stars in my eyes.
Also, swimming in these blueish green waterfalls … that doesn't hurt, either.
And YES, you can actually swim here! While swimming is usually strictly verboten, like in the nearby Plitvice Lakes, it is very much allowed in Kravice.
5. KONJIC – OLD BRIDGE
Located right between Sarajevo and Mostar, you'll find Konjic. It's this pretty little town with an old bridge from 1682, which is regarded the point where Herzegovina meets Bosnia. So, right in the middle.
I'd say definitely stop here, if only for 30 minutes, if you're passing by.
6. POCITELJ – MIDDLE AGE VILLAGE
Another of the best cities in Bosnia is Počitelj, a medieval walled village perched on a mountain side. What makes it unique is the picturesque mix of Ottoman and medieval architecture.
While it's easy to miss or just drive by, I say you should make the effort. And UNESCO seems to agree, because they've placed Počitelj on their tentative list.
It's a swift 30 minute drive from Mostar, and the roads are in very good condition.
7. JAJCE
The last of the best cities in Bosnia is Jajce (and if you have time, squeeze in a visit to nearby Travnik). One of Jajce's most favorable features is the Pliva waterfall, which is situated right in the centre of town.
And if the waterfall isn't amazing enough for you, the lakes (and the cevapi) are incredible. So many reasons to go there. So go!
Would you go to Bosnia? Yes/No? Tell me in the comments