How to visit the magical Plitvice Lakes in one day
Wondering how to visit Plitvice Lakes in one day? Here's everything you need to know.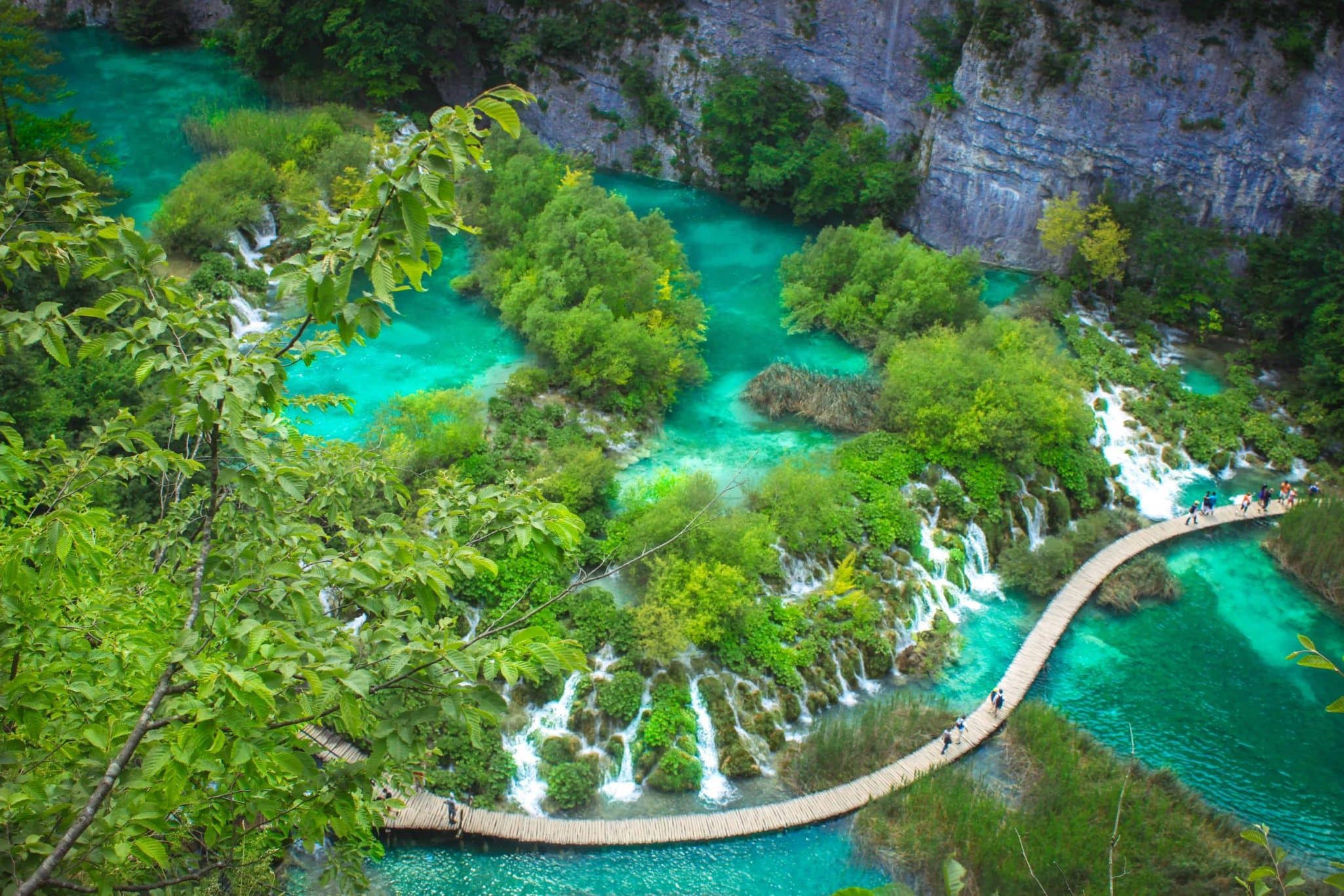 If I were to describe Plitvice Lakes, Croatia in one word, it would be: intoxicating. This spectacular National Park doesn't just have one or two waterfalls… it has SO many that you can't even keep track.
You walk around admiring the lakes for hours; the spectacular emerald-green and sapphire blue colours that make one waterfall prettier than the other. It feels like a never-ending parade of beautiful moments and awe-inspiring sights. That, my dear friends and readers, is Plitvice Lakes National Park.
Are you ready to be blown away? In this post, I'll share all the info and tips you need to visit Plitvice on a day trip.
Let's go!
❄️ Read next: How to visit Plitvice Lakes in winter
This post contains referral links for products I love. Adventurous Miriam earns a small commission at no extra cost to you if you make a purchase through my links. Thank you for your support ♡ Learn more
Plitvice Lakes in one day
Plitvice Lakes National Park is the perfect day trip from anywhere in Croatia. Although it's far from Dubrovnik, it's still worth visiting from other cities because it's so incredibly beautiful. It's the most beautiful waterfalls I've ever seen, and I've seen a few.
You'll need between 5-6 hours to explore the park, and there are some beautiful sights nearby, too. The caves are currently closed, but once they reopen, you can visit them as well.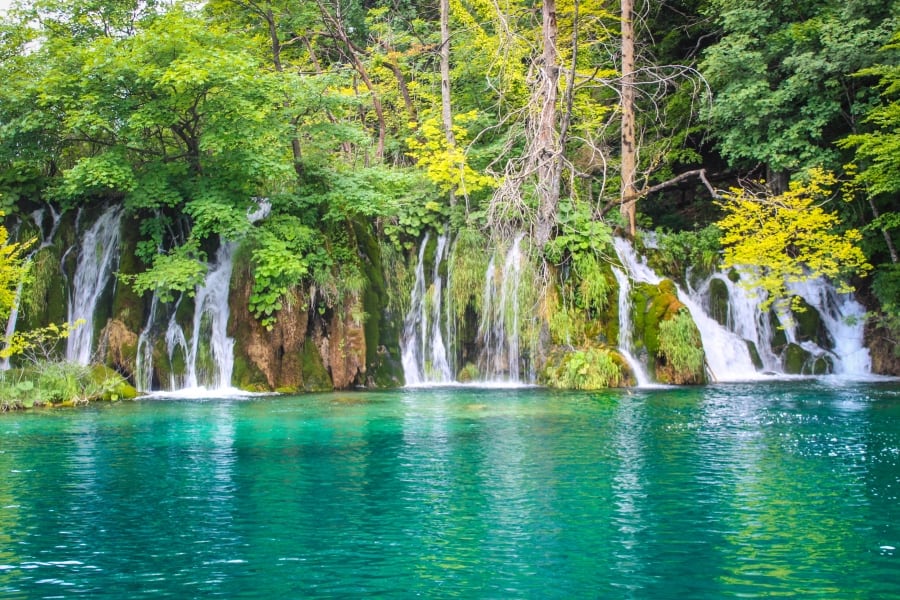 Plitvice Lakes day trip
What is Plitvice Lakes?
Plitvice Lakes National Park is a stunning natural wonder located in central Croatia.
The park comprises a series of 16 interconnected lakes and 90 cascading waterfalls with crystal clear waters and vivid colours. The park covers an area of approximately 300 square kilometres and is home to diverse flora and fauna, including rare and endangered species such as brown bears, wolves, and eagles (you're not likely to run into any, though).
The Plitvice national park is also known for its karst topography, with numerous caves, grottoes, and underground rivers.
Plitvice Lakes was declared a UNESCO World Heritage site in 1979 and more than 1.2 million people visit the park each year. It's by no means a hidden gem, in fact it's one of the most popular tourist attractions in Croatia. But still – Plitvice is one of those places that just takes your breath away.
So, if you can disregard the masses and instead focus on the amazingly beautiful surroundings, you'll have a great experience here.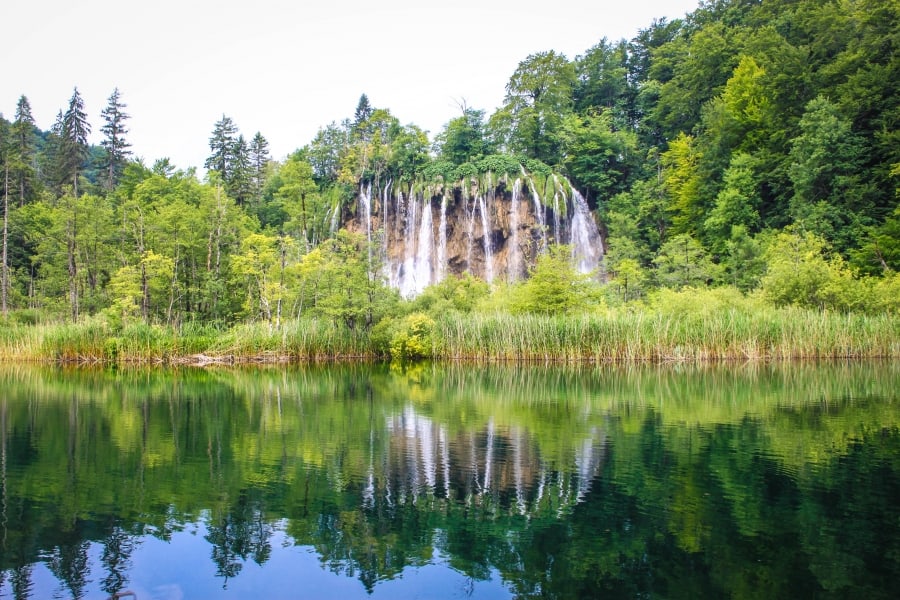 Map of Plitvice Lakes
Below, you can find a Plitvice Lakes map. I've also included an interactive map where you can find entrance 1 and 2 and also zoom in and out. You can also get a map at the entrances.
Plitvice Lakes opening hours
Plitvice Lakes National Park is open daily, all year round. Opening hours vary throughout the year so make sure to plan accordingly.
| Month | Opening hours | Last entry |
| --- | --- | --- |
| November to March | 08:00-16:00 | 14:00 |
| April & May | 08:00-19:00 | 17:00 |
| June to August | 07:00-20:00 | 18:00 |
| September & October | 07:00 / 08:00- 18:00 / 19:00 | 16:00 /17:00 |
Plitvice Lakes in one day
Plitvice Lakes entrance fees
The entrance ticket to Plitvice Lakes National Park changes depending on the season and ticket type. Expect to pay 10 – 39 euros, depending on the season.
You can buy tickets online in advance or at the park entrance when you arrive.
There are several ticket options available, including one-day tickets and two-day tickets. This is an overview of one-day tickets:
Jan – Mar
Nov – Dec
April – May
October
June – September
Adults
10,00 eur
75,35 kn
23,50 eur
177,06 kn
39,80 eur
299,87 kn
Children 7-18 years
4,50 eur
33,91 kn
6,50 eur
48,97 kn
15,90 eur
119,80 kn
Children up to 7 years
Free
Free
Free
Best time to visit Plitvice Lakes
Each season makes Plitvice unique, so I'd say all year round is a good time to visit.
The most popular time to visit Plitvice Lakes National Park, though, is from June to September, when the park has good weather, lush vegetation, and an ever-changing palette of lake-water shades. My favourite time to visit Plitvice is June, although I'd also love to visit in the winter months when it's covered by snow.
⏰ How much time to spend: 5 hours. Go early in the morning before the crowds arrive. Be aware that the entrances close 2 hours before closing time.
8 Plitvice hiking routes
Plitvice has 2 entrances and 8 hiking trails to choose from. My advice is to visit the Lower Lakes in the morning (Entrance 1) and the Upper Lakes later (Entrance 2) in the afternoon. Simply follow the main walking trail. This way you can get the best out of Plitvice and avoid the worst crowds.
Here's an overview of the 8 different routes at Plitvice Lakes:
This hiking trail is the shortest and easiest, ideal for families with children or for those who don't have much time to explore the park. It offers scenic views of the lower lakes, including the Great Waterfall.
This moderately difficult trail begins with a boat ride across Kozjak Lake and offers stunning views of the park's largest waterfall, Veliki Slap, as well as the lower and upper lakes.
The challenging trail C takes you through the rugged terrain of the park's upper lakes, passing by several waterfalls and offering some of the most stunning views in the park.
This easy route is perfect if you who want a relaxed hike that still offers plenty of natural beauty. It includes a boat ride on Kozjak Lake and passes by several waterfalls and the iconic Great Waterfall.
This moderately difficult trail begins with a bus ride to the upper lakes and offers views of several stunning waterfalls, including Milanovacki Slap and Galovacki Buk.
This relatively long and challenging route takes you through both the upper and lower lakes, offering some of the best views of the park's natural beauty.
This challenging and scenic trail takes you on a long journey through the park's upper and lower lakes, as well as several stunning waterfalls along the way.
This trail offers visitors a leisurely stroll through the park's lesser-visited upper lakes, showcasing the park's natural beauty from a different perspective.
One day Plitvice Lakes itinerary
You can enter Plitvice park from Entrance 1 (the lower lakes) or Entrance 2 (the upper lakes). Your starting point doesn't really matter as long as you make sure to visit both the upper and lower lakes.
The Lower Lakes
From the lower lakes, you get a panoramic view of the lakes from the various viewpoints along the trail. The steep shores are surrounded by cliffs and there are an abundance of grottoes and caves.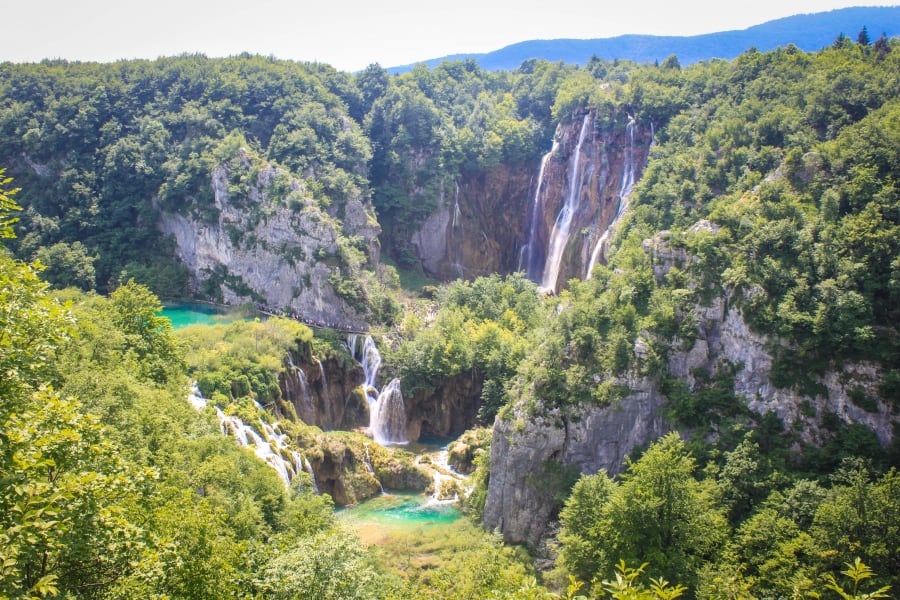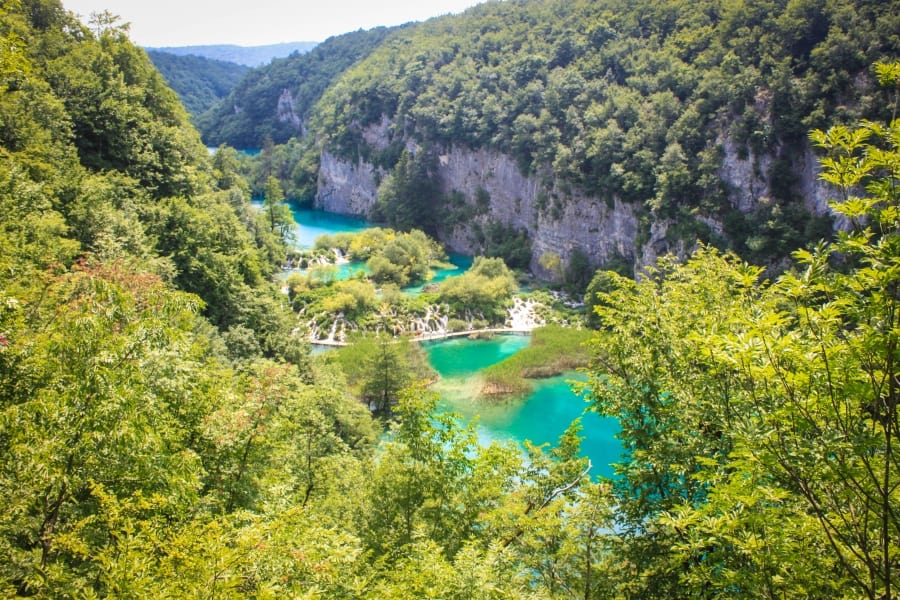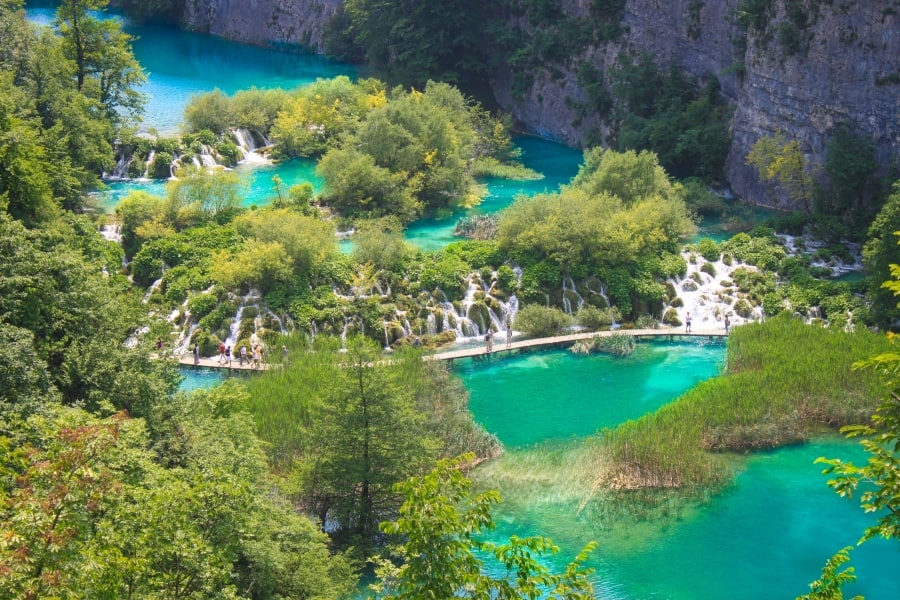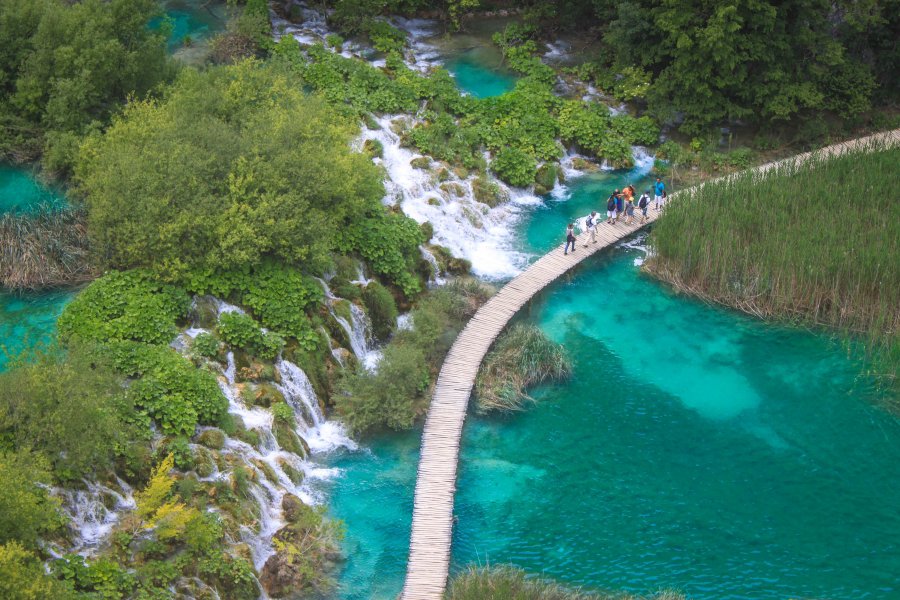 The Upper Lakes
It's a different feeling in the Upper Lakes, and the scenery is wilder and more spectacular. Here, you get really close to the waterfalls and walk across pathways of ponds and lakes filled with crystal clear water.
From a personal point of view, it's simply AMAZING to walk through this natural Eden.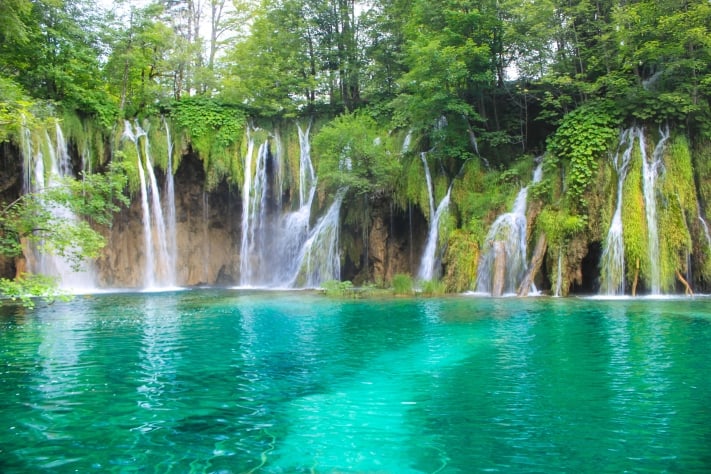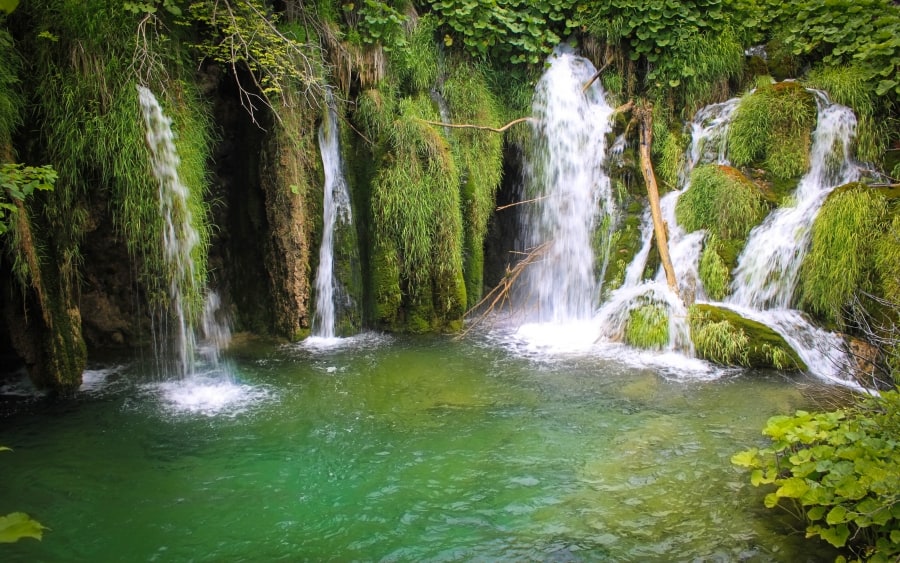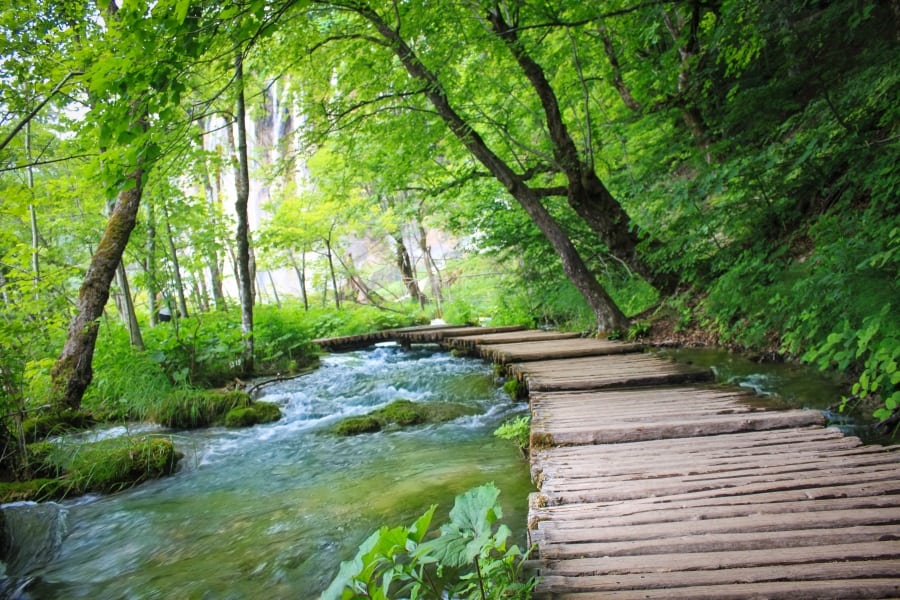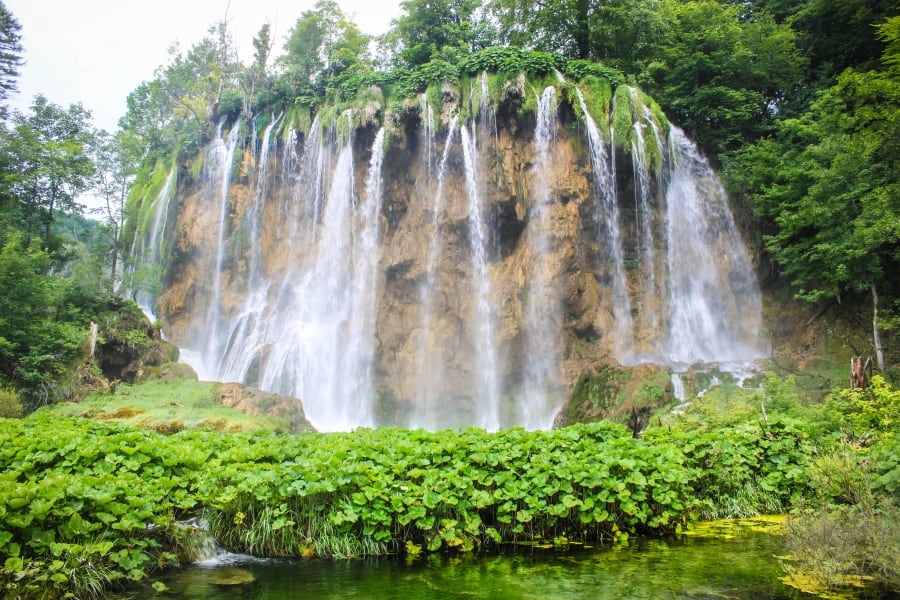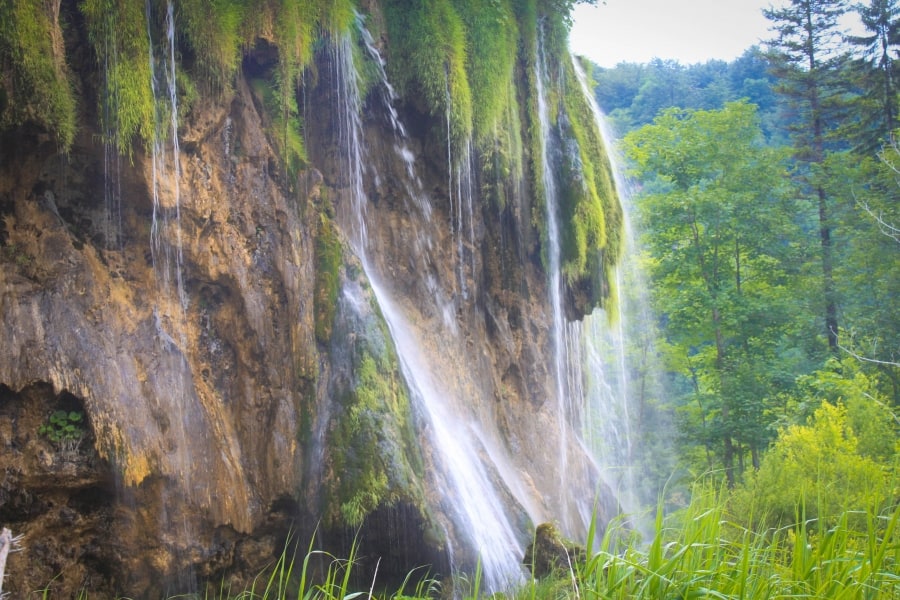 How to get to Plitvice Lakes
You can get to Plitvice Lakes by public bus, car or with a tour group. If you're traveling by bus, I recommend buying the bus ticket 2-4 days in advance, especially during peak season (June to August).
🚐 Zagreb to Plitvice Lakes
The bus trip from Zagreb to Plitvice takes between 2-3 hours. With 10 daily buses, one-way tickets are priced at around 100 HRK, which is roughly 12 Euros.
⭢ Check out the 7 best Plitvice Lakes tours from Zagreb
🚐 Split to Plitvice Lakes
The only way to get from Split to Plitvice by public transportation is by bus. During June to September, you'll find more frequent buses as compared to other times of the year.
There are a minimum of 9 buses per day (from 7 am to 8 pm) with varying route duration between 3 hours 30 minutes to 5 hours and 50 minutes. Tickets costs from 16 to 23 Euros (one-way) depending on the bus company, with some discounts on return tickets.
Your best bet, though, is to rent a car or join a day tour.
⭢ Check out the 3 best Plitvice Lakes tours from Split you can't miss
🚐 Zadar to Plitvice Lakes
At least seven buses run daily from 8 am to 11 pm from Zadar to Plitvice. The trip takes between 1 hour 45 minutes and 2 hours 50 minutes. A one-way ticket costs 13 euros, while a return ticket is priced at 25 euros.
The easiest way to visit Plitvice from Zadar is on a day tour where transport and tickets is taken care of.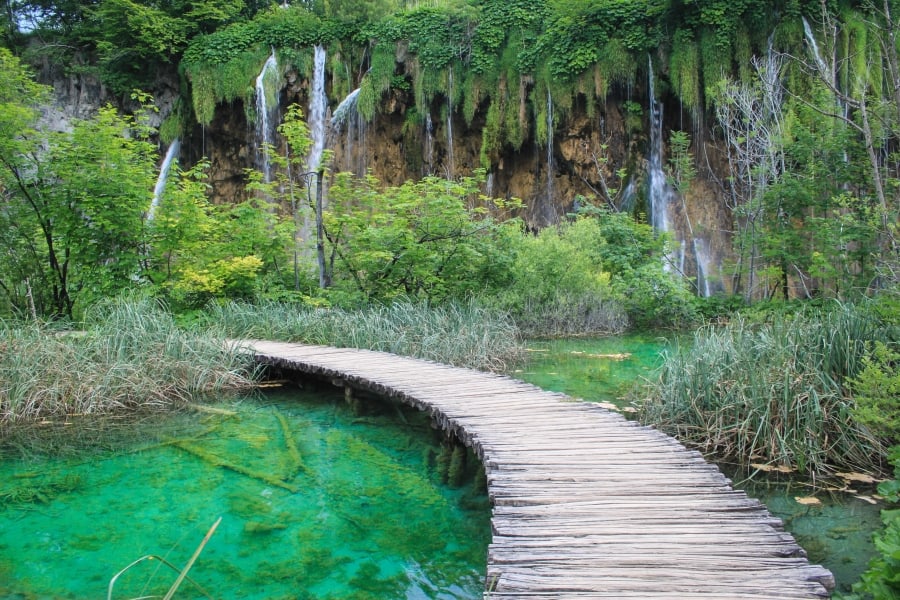 How to get around Plitvice Lakes
You can get around the park by bus, ferry, row-boat and on foot.
Plitvice Lakes has several trails, and the one I followed covered 6-7 km.
The ferry across Lake Kozjak and the shuttle bus tickets are included in the entrance fee, and I recommend taking the ferry on a few stretches unless you want to walk more than 7 km.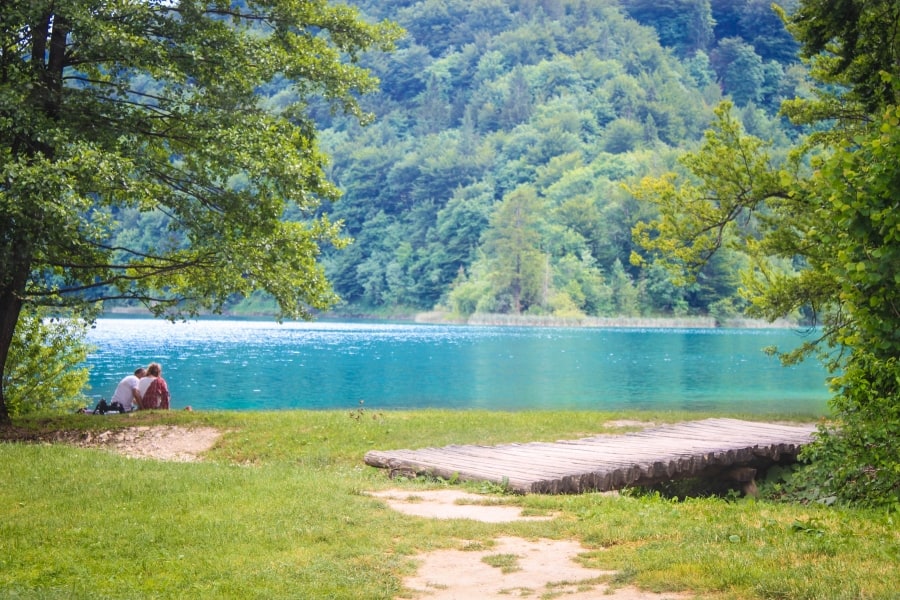 Where to stay in Plitvice
While most people choose to visit Plitvice Lakes on a day trip, you can also stay there for the night. I came from Porec in Istria and was leaving for Zadar the day after, so I decided to spend the night in Plitvice.
I stayed at the Pansion Danica (⭐ 9.3) which is a nice bed & breakfast. This guesthouse is only 700 meters from entrance 1 and the bus stop. I really liked it, and the staff is super friendly.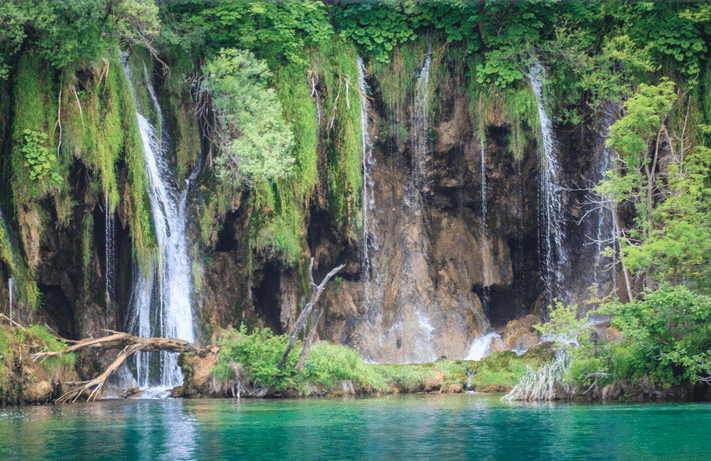 Can you swim in Plitvice Lakes?
No. Plitvice is a protected UNESCO site so it's not allowed to swim in the lakes. If you love waterfalls and really want to swim in one, head further south to Krka waterfalls. It's an hour's drive from Zadar and 1,5 hours from Split.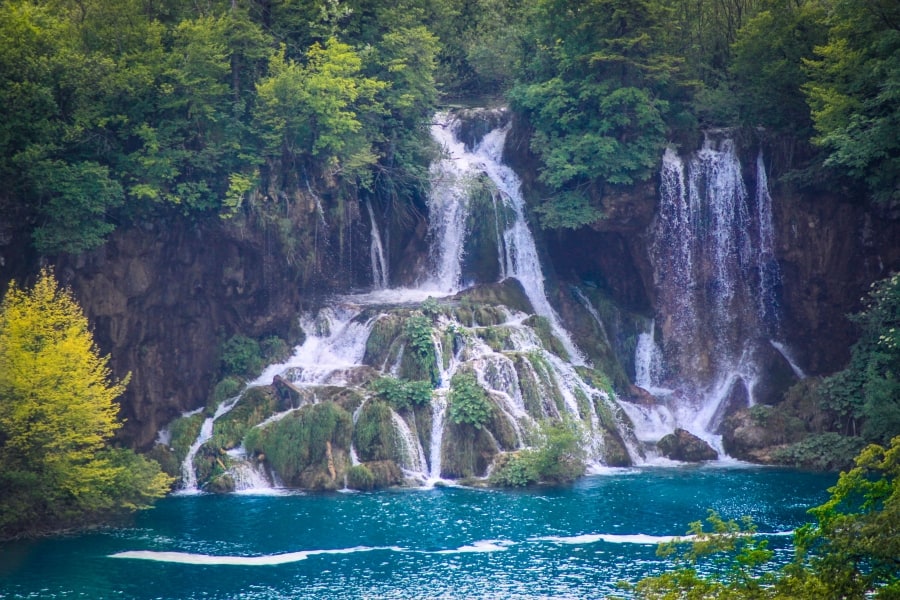 Guided tour of Plitvice
A guided tour of Plitvice is a great way to explore the national park. As long as you don't take a short tour! At Plitvice Lakes you'll want to take it all in, enjoy the nature at your own pace, and not be rushed through the park like cattle.
On this guided tour, you will have 3 to 6 hours in the park, which is perfect, and the group is no larger than 15 people. Also perfect.
Another benefit of a guided tour is that you'll skip the line and thereby not waste time queueing. Your guide will teach you about native plants and wildlife in the park.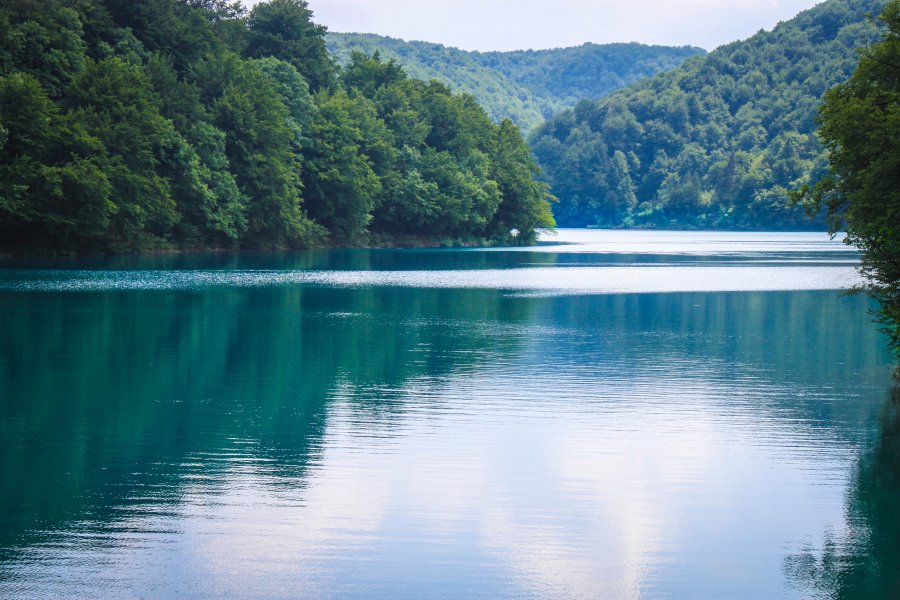 What to bring to Plitvice Lakes
Mosquito repellent. The upper lakes tend to have a swarm of mosquitos hanging around
Good walking shoes. You'll be walking 6-7 km so leave the flip-flops at home.
Rain poncho, especially if you're visiting during in spring, autumn or winter. I went there in the June and it rained a bit.
Water. You can buy water at the entrances and the ferry stop by the big lake.
Plitvice Lakes FAQ
Is Plitvice lakes worth visiting?
A thousand times yes! Plitvice Lakes is worth visiting. It's a beautiful place with stunning views, waterfalls, and turquoise water. It's one of the most unique places to visit in Croatia and attracts over 1 million visitors every year. 
What city is closest to Plitvice Lakes?
The two closest major cities to Plitvice Lakes are Zagreb (130 km) and Zadar (140 km).
How many days do you need in Plitvice Lakes National Park?
If you want to explore the 16 lakes and over 90 waterfalls in Plitvice Lakes National Park without feeling rushed, I recommend spending a full day there.
This will allow you to take your time and fully enjoy the park's many hiking trails.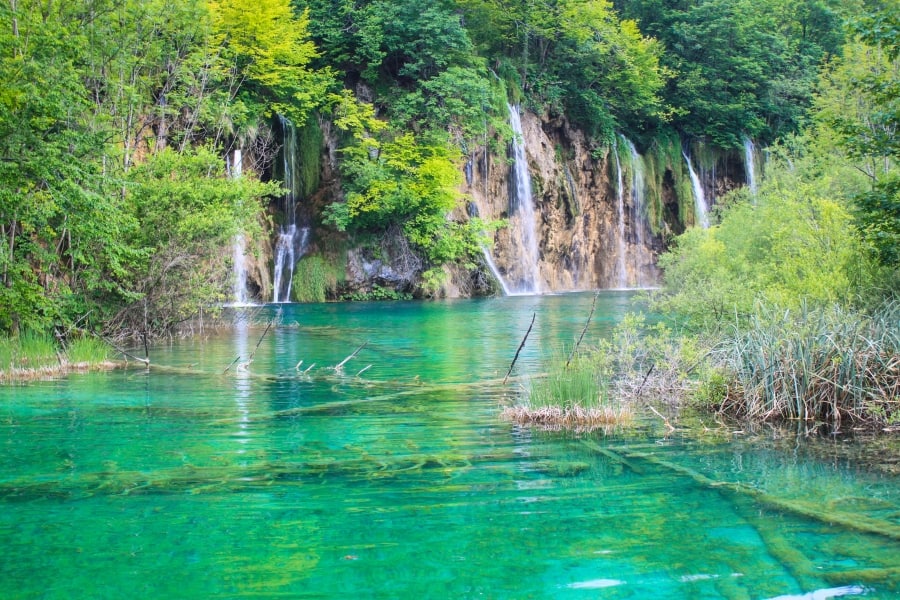 Why is Plitvice Lakes famous?
Plitvice Lakes national park is famous for its stunning natural beauty, including 16 interconnected crystal-clear lakes and numerous cascading waterfalls. It's also a UNESCO World Heritage Site and the oldest national park in Croatia.
Is one day enough for Plitvice Lakes?
Yes, one day is perfect to visit Plitvice Lakes National Park.
You can explore the park's main attractions, including its 16 lakes and numerous waterfalls, by following one of the recommended routes.
However, keep in mind that the park can get crowded during peak season, so it's best to arrive early to avoid the crowds.
Which entrance is better for Plitvice Lakes?
Entrance 1 provides direct access to the Upper Lakes, while Entrance 2 is closer to the Lower Lakes.
Many visitors choose to start at Entrance 1 and walk towards Entrance 2, but the opposite direction is also a popular route. Both entrances are a great as long as you make sure to visit both the Upper and Lower Lakes.
How long does it take to walk around Plitvice Lakes?
It takes between 4-6 hours to walk around the upper and lower lakes in Plitvice.
Why can't you swim in Plitvice Lakes?
Swimming is prohibited in Plitvice Lakes National Park to protect the natural ecosystem of the park.
The park has strict regulations in place to protect the crystal-clear waters, diverse flora and fauna, and the unique geological formations of the park.
Any form of contact with the water, including dipping your toes, is prohibited as it may disturb the fragile balance of the ecosystem.
Is Krka National Park the same as Plitvice Lakes?
No, Krka National Park is a different national park than Plitvice Lakes National Park. Both national parks are located in Croatia and have unique features and attractions.
While Plitvice Lakes is known for its interconnected lakes and waterfalls, Krka National Park features the Krka River and its Skradinski Buk waterfall, as well as numerous historic sites such as the Visovac Monastery.
If you have the opportunity to visit both, I highly recommend it!
Are there bears in Plitvice Lakes?
Yes, there are brown bears in Plitvice Lakes National Park. However, they're typically shy and tend to avoid contact with humans unless you get too close to their cubs.
The park has safety regulations in place and there has never been an attack in the park.
Read more about Croatia
Save it!