How to spend an amazing one day in Zadar (12 must-see sights!)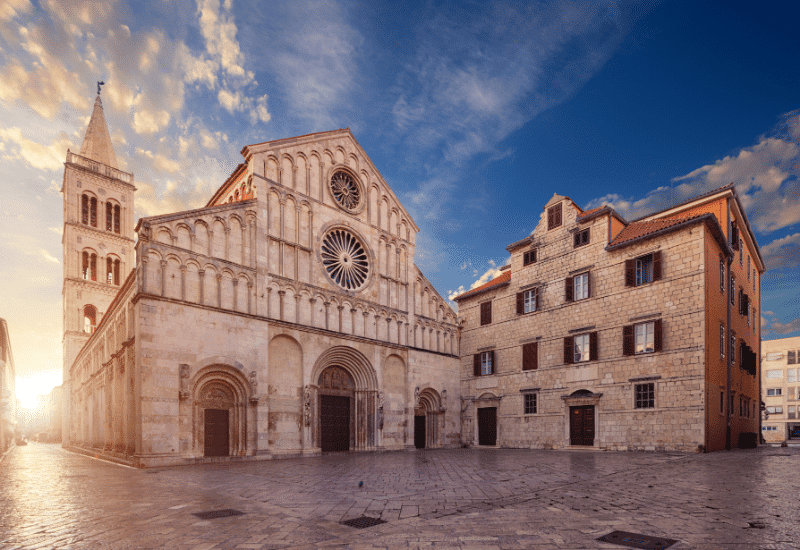 Alfred Hitchcock once claimed that the sunsets in Zadar are the most beautiful in the world.
If you spend one day in Zadar and make sure to venture out in the evening, you can see for yourself (I'll show you the best spot)!
Here's everything you need to know to plan your trip. From what to do in Zadar Croatia and where to eat to the best hotels if you're spending the night.
Let's dive in!
This post contains referral links for products I love. Adventurous Miriam earns a small commission at no extra cost to you if you make a purchase through my links. Thank you for your support ♡ Learn more
Is one day in Zadar enough?
Yes, one day in Zadar is enough to see the main attractions. A great way to experience the city is on a walking tour.
This 2-hour walking tour through the UNESCO old town centre takes you to all the highlights and includes Maraschino liqueur and Pag cheese tasting. It's very affordable!
If you want to soak up the Dalmatian coast and Zadar city vibe, you can easily spend a few days here too, though. Zadar is also eminent as an anchor for day trips to Plitvice Lakes, Split or Dubrovnik.
Introduction to Zadar Croatia
So, Zadar…. Let me introduce you to this charming and romantic little town in the Balkans.
Zadar is a small town by the Dalmatian coast in Croatia. It dates back to the 4th century BC and with only 75,000 inhabitants, it has that charming, homely atmosphere that only small towns have.
Zadar is famous for the Roman and Venetian ruins around the Old Town and also for the two enigmatic art installations; the sun salutation and Sea organ. And the sunsets, if you ask Alfred Hitchcock.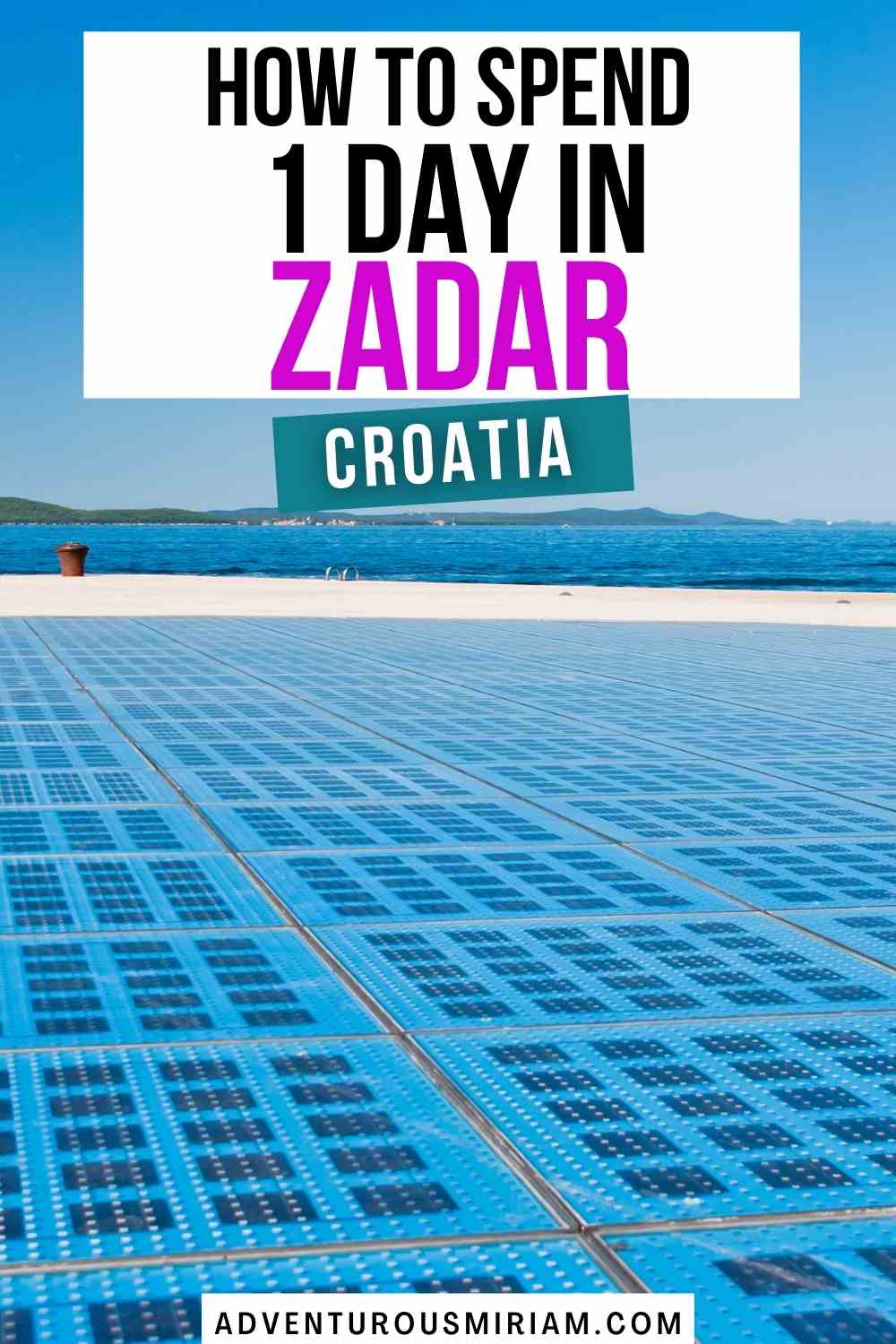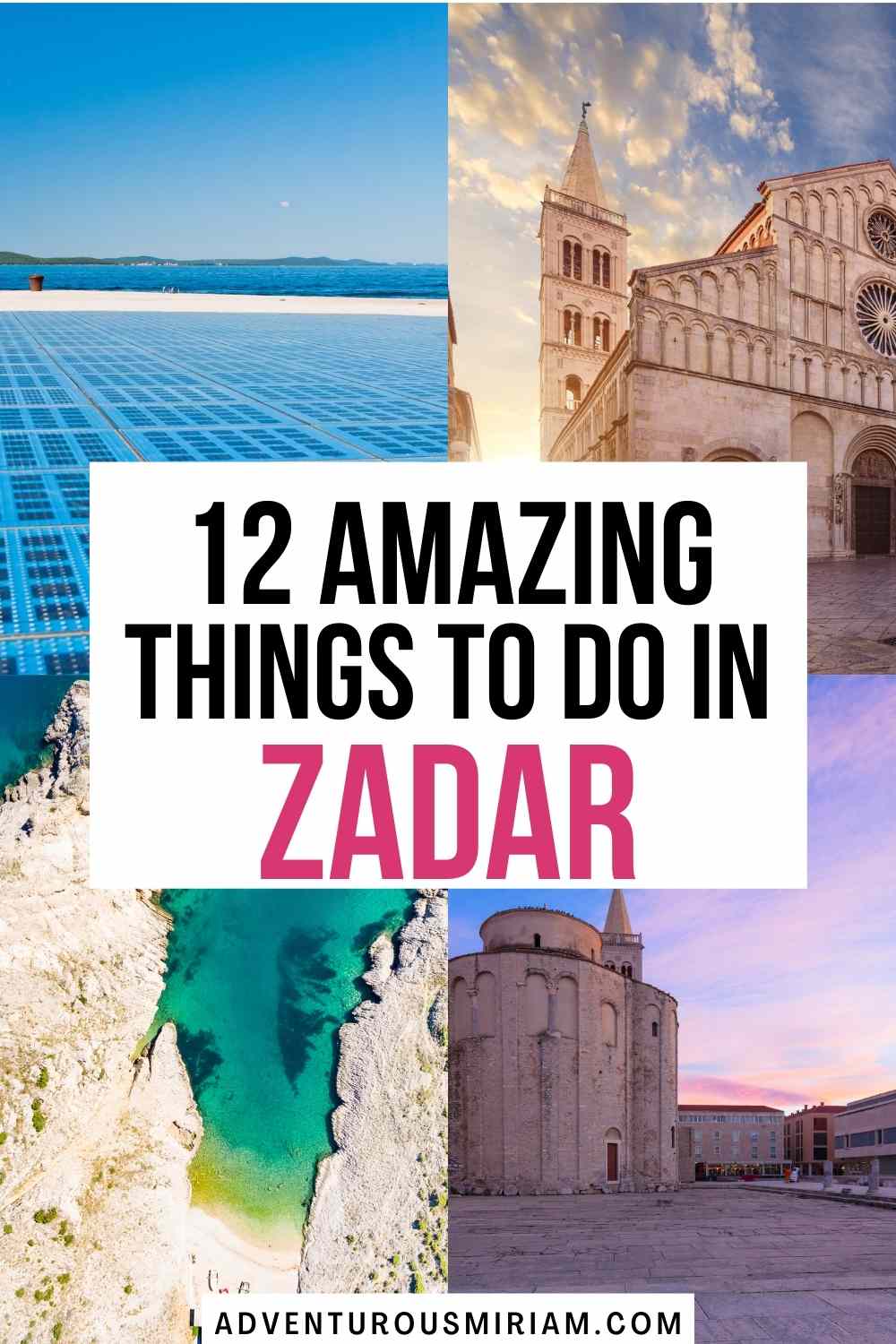 Is Zadar worth visiting?
Yes, absolutely!
Zadar is small enough to walk around, yet there are enough attractions to keep you busy for at least a day. If you're interested in beautiful beaches, museums, ancient history and delicious Croatian food, you'll love Zadar.
It took me exactly 0.0 seconds to like Zadar, because it's intimate and has several romantic spots. Even a sphinx from Egypt that supposedly grants love wishes.
12 things to do in Zadar
1. St Anastasia's cathedral and bell tower
Zadar's only cathedral, St. Anastasia, is Roman catholic and the largest church in Dalmatia. The current cathedral in Romanesque style was built between the 13th and 14th century.
Pro travel tip: Climb the bell tower for a great view of the town.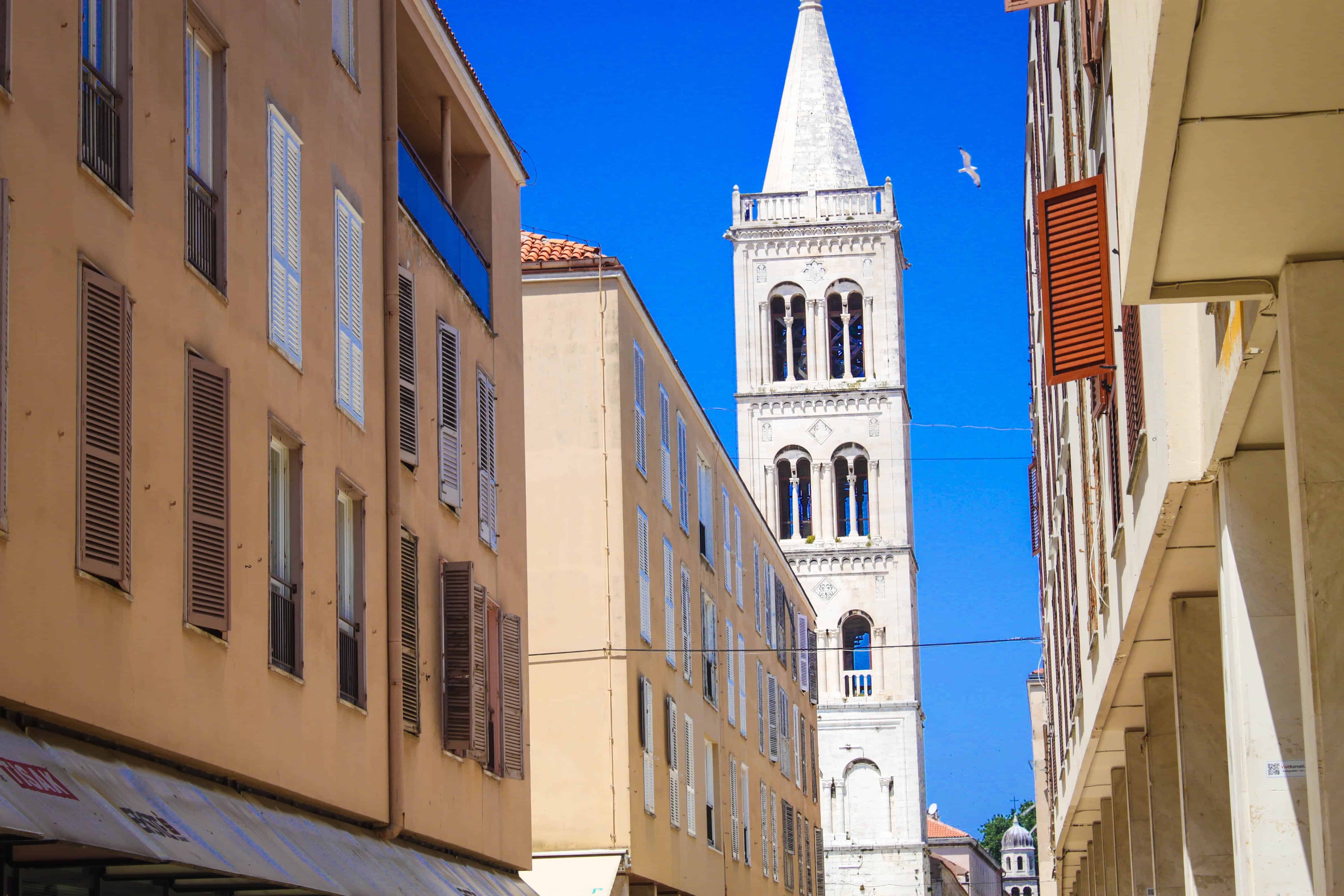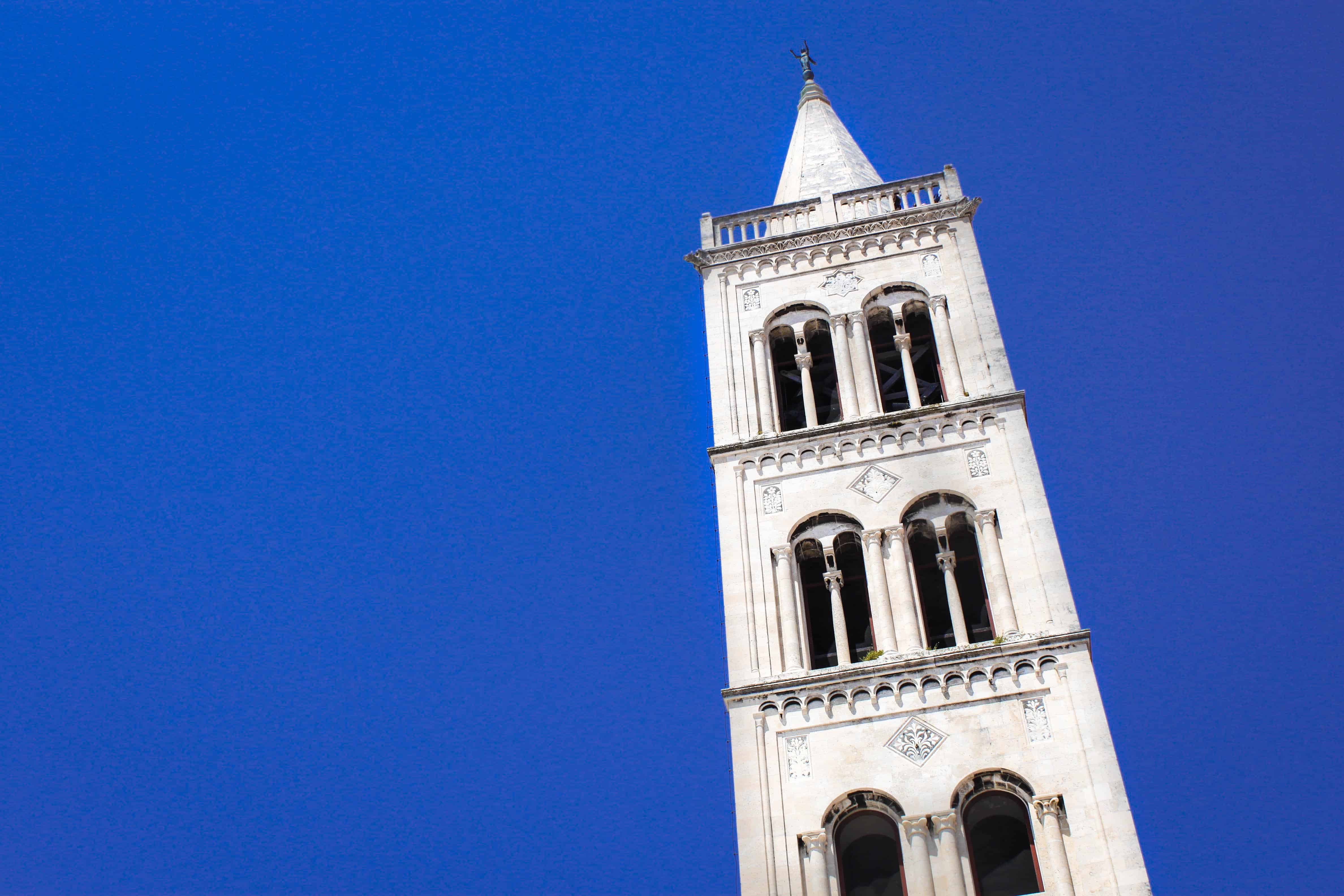 2. St Simeon church
St. Simeon church is probably best known for its sarcophagus of St Simeon! Commissioned in 1377, the medieval masterpiece is decorated with gold-plated silver reliefs and placed above the alter.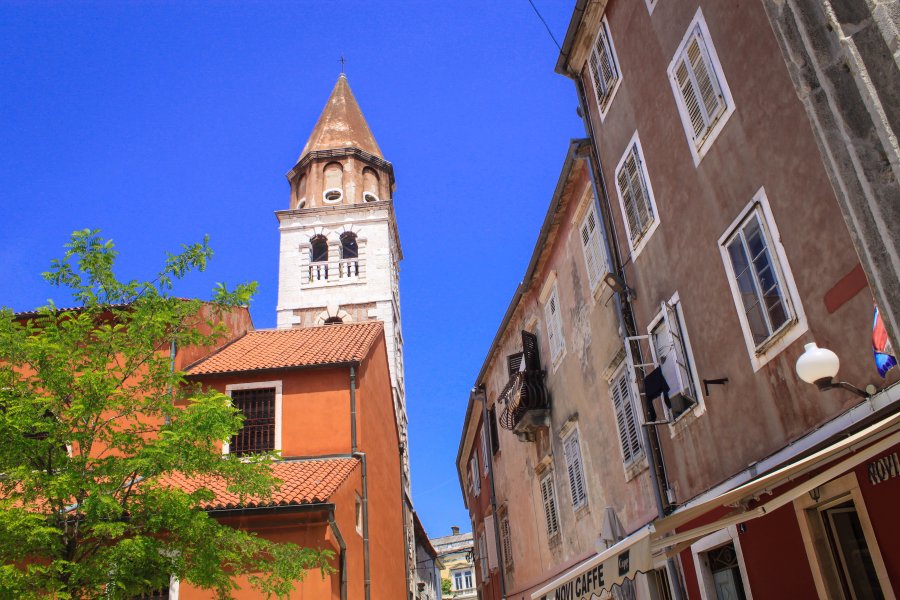 3. Five Wells Square
In the 16th century, the Venetians helped Zadar stand against Turkish attacks by building a huge water tank and five ornate wells lined up in a row. There's no water in the wells today, but it's still a sight worth visiting.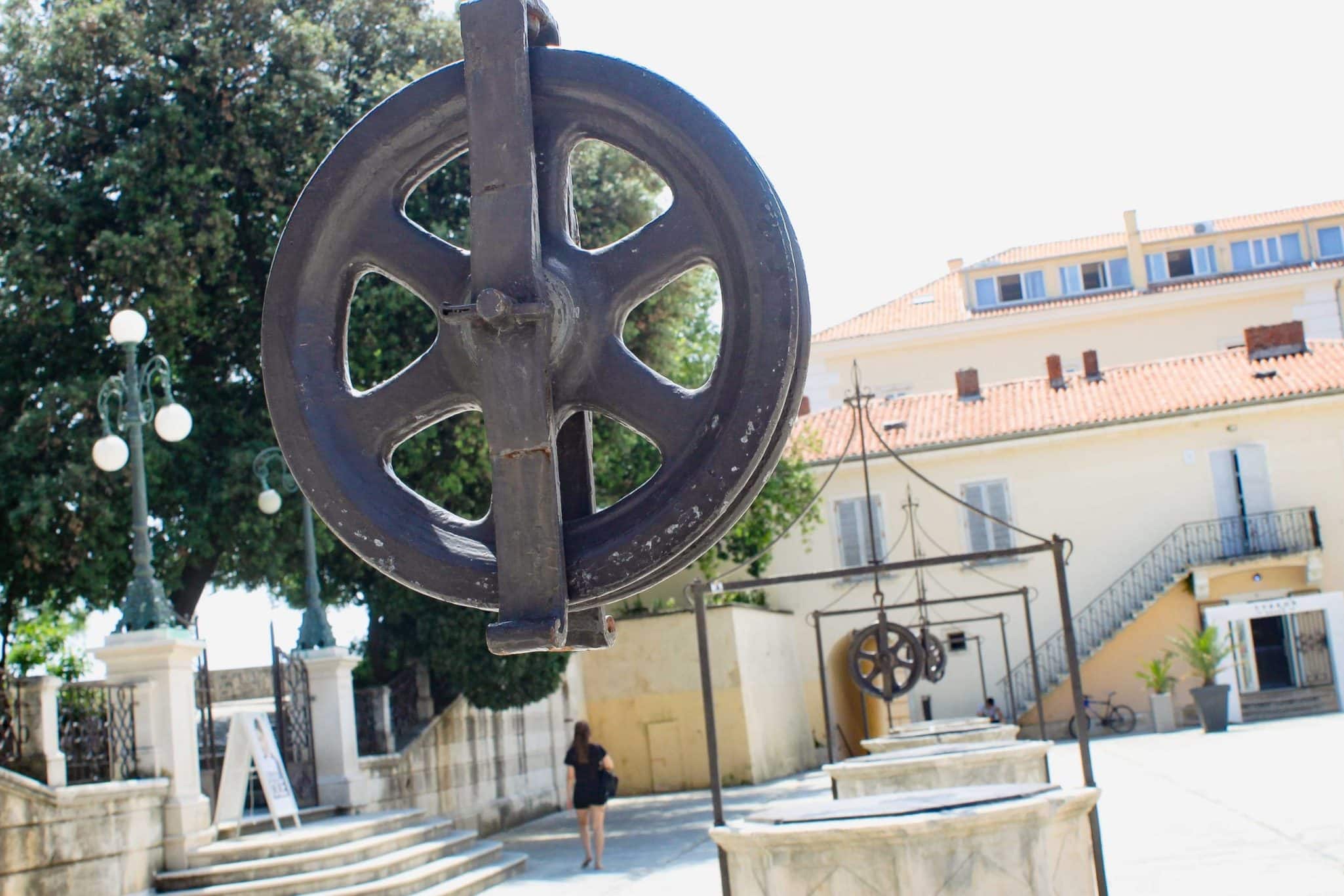 4. Roman Forum
Your one day in Zadar should include a visit to the Roman Forum.
This ancient Forum is constructed between the 1st century BC and the 3rd century AD and is the nexus of religious life.
St Donatus church on one side and St Mary church and monastery on the other. You can also see Roman ruins scattered around in the lawn in front.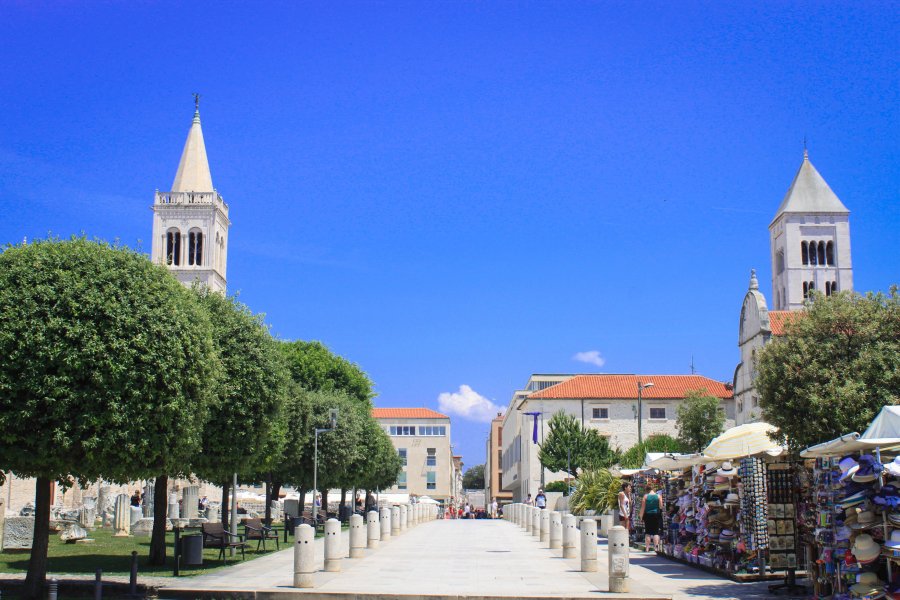 5. St. Donatus church
St. Donatus church is named after the bishop who commissioned it. This unique cylindrical church dates back to the beginning of the 9th century.
For the last 200 years years, it hasn't been used for services. Instead, due to its excellent acoustics, it's used as a concert hall or exhibition space.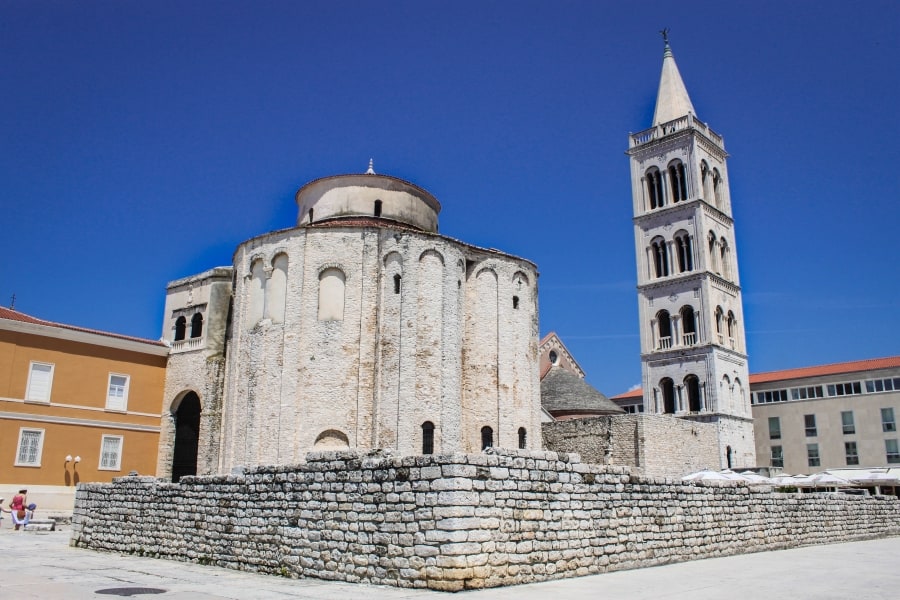 6. Church and monastery of St Mary
This 16th century Benedictine convent is a remake of a Romanesque church from 1066.
The treasury next door is run by nuns and holds religious 16th century Venetian art, Byzantine ornamentations and other fine artefacts.
Do visit!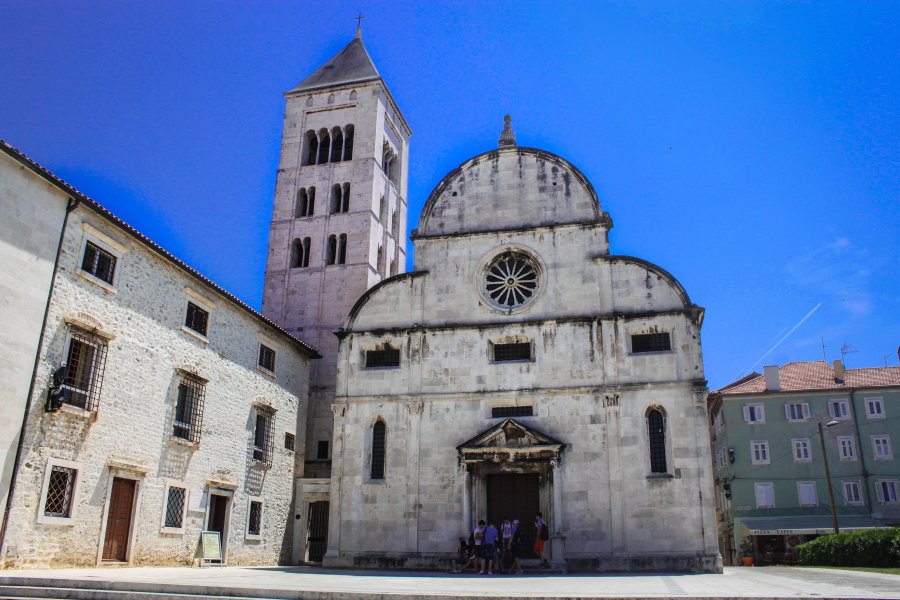 7. Narodni Trg (People's Square)
This pretty little square has been the centre of public life in Zadar for centuries. It still is today; buzzing with people at the many cafes.
Notice the late-Renaissance city guard building from 1562 on the western side and the clock tower from 1798.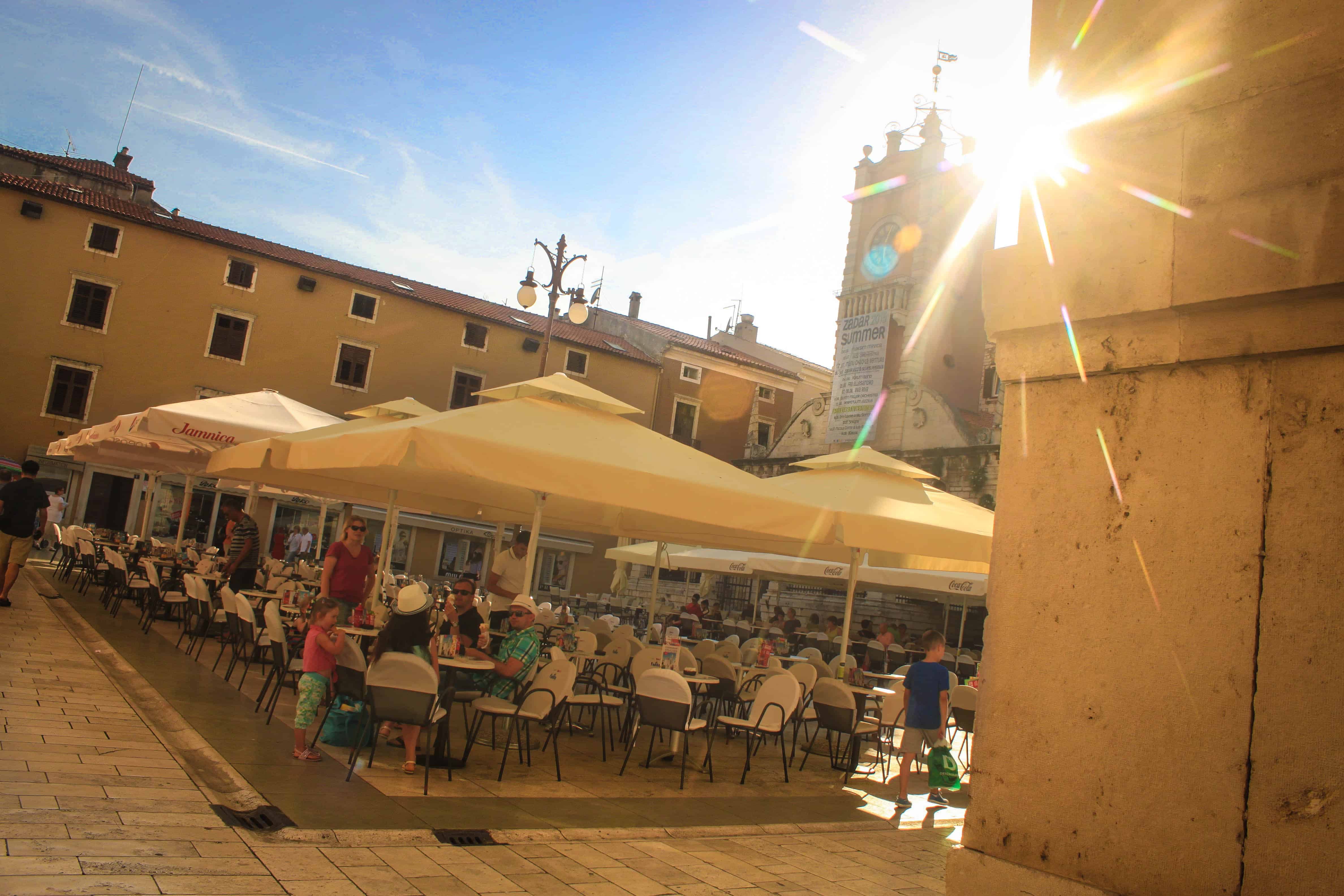 8. Zadar city walls and gates
Zadar used to be a large fortified city, but today only part of the walls and four gates remain. Here's where you can find them:
Land Gate on Fosa harbour from 1543 (the most impressive)
Sea Gate from 1573 is found behind the Church of Chrysogonus
Bridge Gate is the newest gate from 1930s
St Rocco Gate, the smallest from 1570, connects the Five Wells Square with the harbour
9. Best beaches in Zadar
Zadar is on the Dalmatian coast which has some of the best beaches in Croatia. These are the best Zadar beaches both in and around town:
Kolovare Beach
Located in Zadar, just 10 minutes walk from the city centre. The beach is pebbly and shaded by a forest that provides you with shade on a hot summer day. You'll find change rooms, beach chairs, ice cream shop and more here.
Borik beach
Just 4 km from the city centre, you'll find Borik beach. It's one of the most beautiful beaches in Zadar and there are restaurants nearby. Free parking.
Puntamika Beach
About 3,5 km from the city centre (5 mins drive from Borik beach) is this pebble beach with nice shallow water. Great for families.
Duboka Draga
A little hidden cove, about 20 km from Zadar city. There's little shade and you need to bring water (no shops nearby), BUT it's super beautiful and the water is crystal clear! Just take a look ↓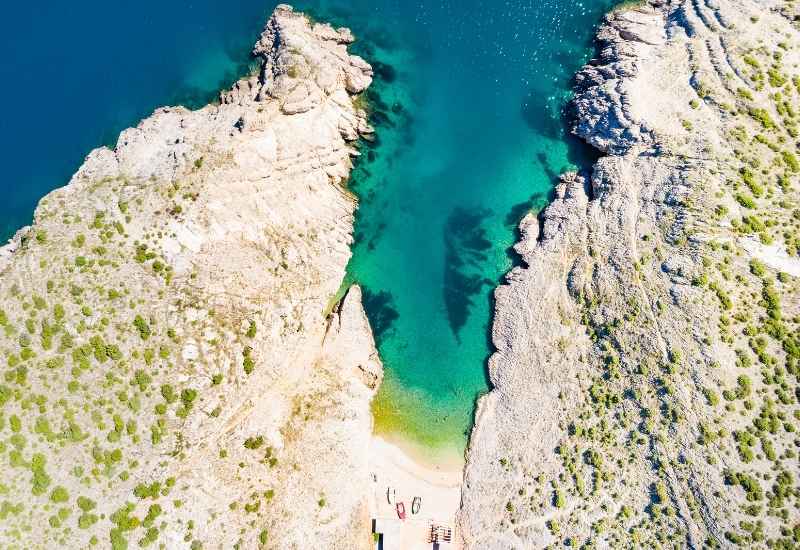 10. Stroll along the promenade
Spend some time at the promenade and find a nice spot to enjoy some prosciutto and wine while you watch the world go by.
The promenade seems to be the place to sit and hang out, either to swim or to lounge on the steps descending to water level.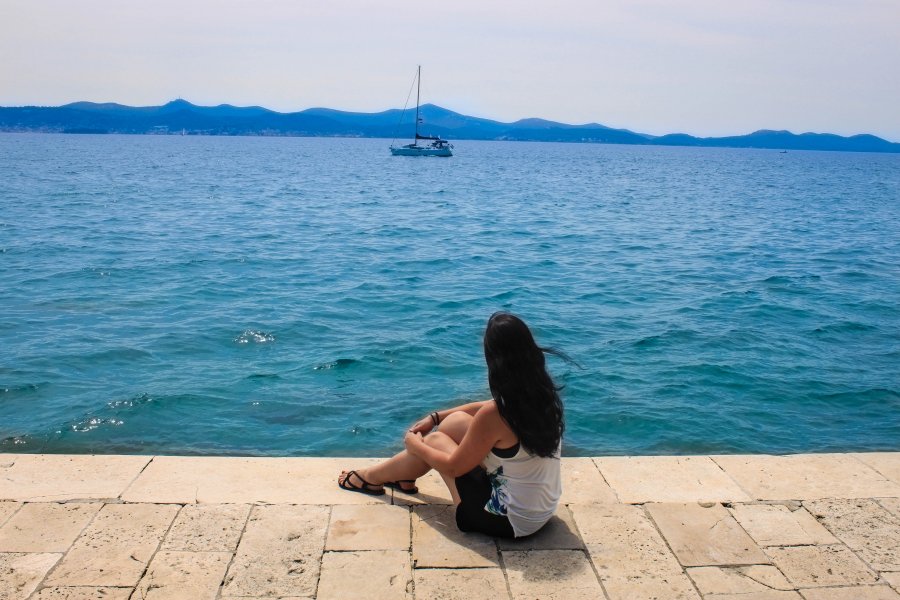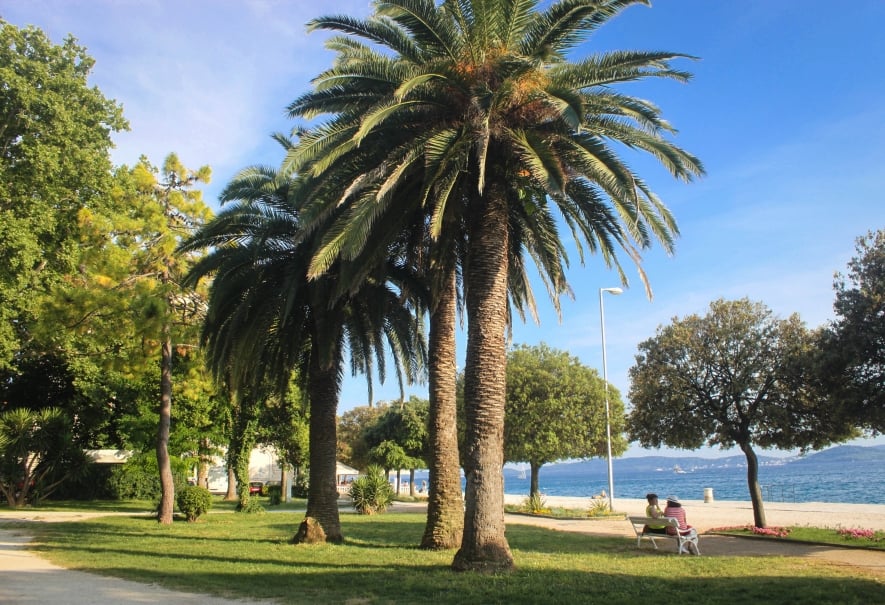 11. Zadar Sea Organ
Just before sunset, head to the most famous sunset spot in Zadar: the sea organ. Find sunset times here.
The sea organ is an art installation by Nikola Bašić. You can't actually see it, but underneath the steps are a series of musically tuned pipes and blow holes that create music when air is forced through by the waves. The windy melodies are similar to a pan flute, but deeper in timbre.
It's an incredibly impressive and wondrous thing. The tunes are calming and almost tranquil, and when the sun sets dozens people sit there on the steps in silence, listening to the music, watching the sky change in multiple colours.
With music in the background from Zadar's Sea Organ and the uninterrupted views over the Adriatic Sea, it is definitely a sunset that is hard to beat. I can honestly not think of a more romantic place to watch the sun go down.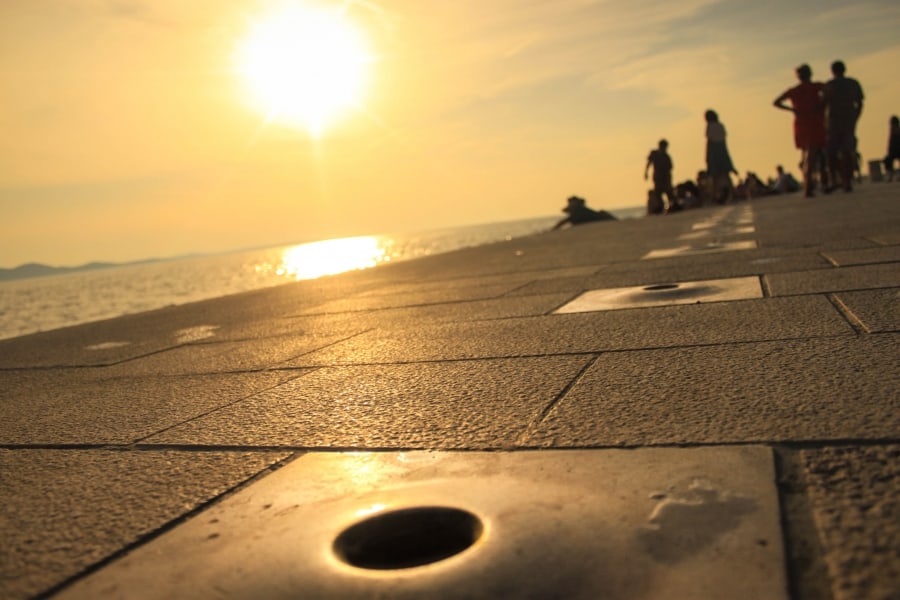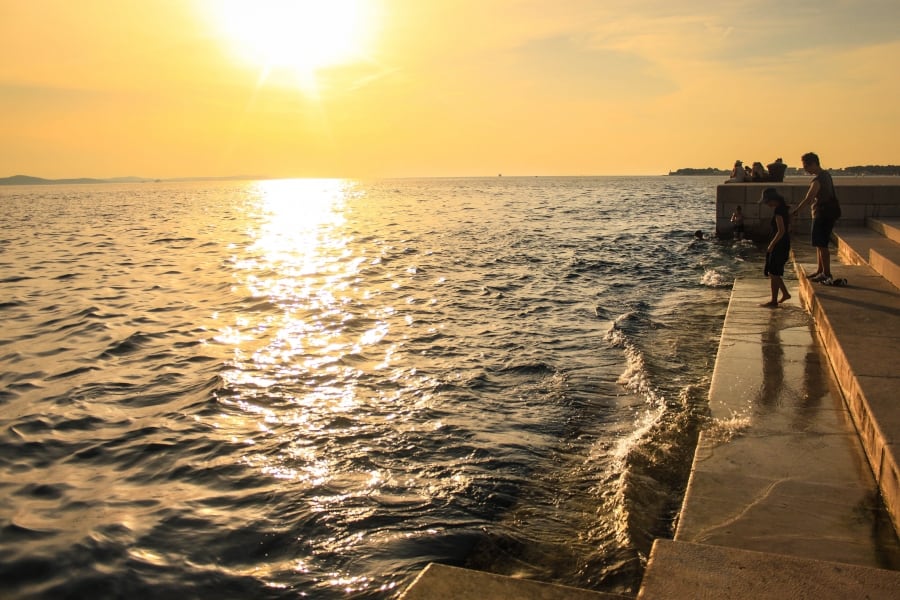 12. Zadar Sun Salutation
The last thing to do on your one day in Zadar is the sun salutation – another innovative creation by Nikola Bašić. It's right next to the Sea Organ.
The Sun Salutation is a 22 metre diameter solar panel formed from 300 multi-layered glass panels.
Underneath these glass conduction plates, there are a series of solar cells that store energy during the day, and after dark they produce a changing wave of beautiful colours.
It's like a giant disco floor.
Zadar is indeed a special place to watch the sunset. Hitchcock was right. For me, it wasn't the sunset alone because I have seen prettier in the Philippines and Thailand.
It was the lulling sounds of the waves through the sea organ and the shifting mesmerising lights of the sun salutation that did it for me and made this a unique experience.
These moments are what I love most about traveling, and I'm so glad I had the opportunity to experience this.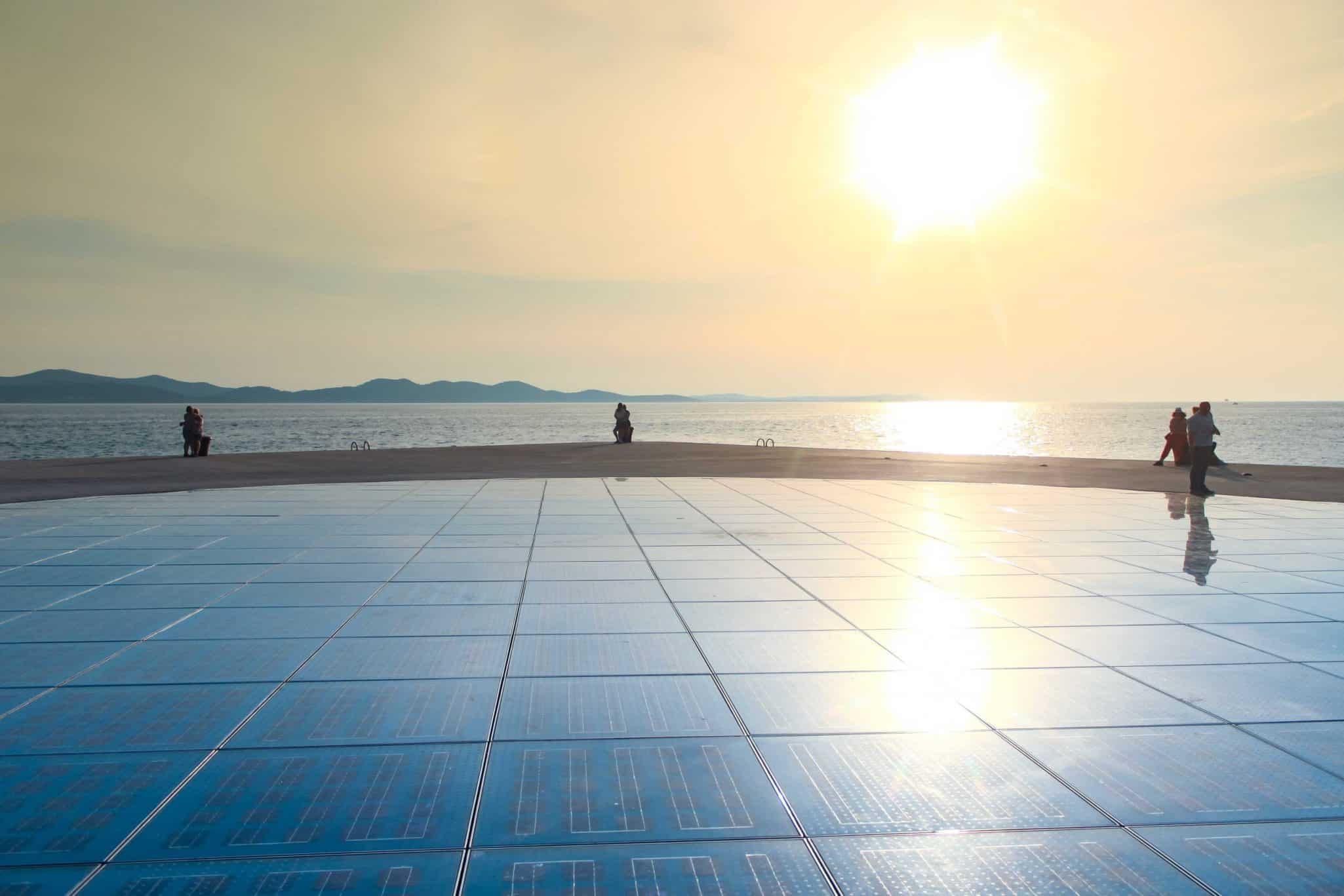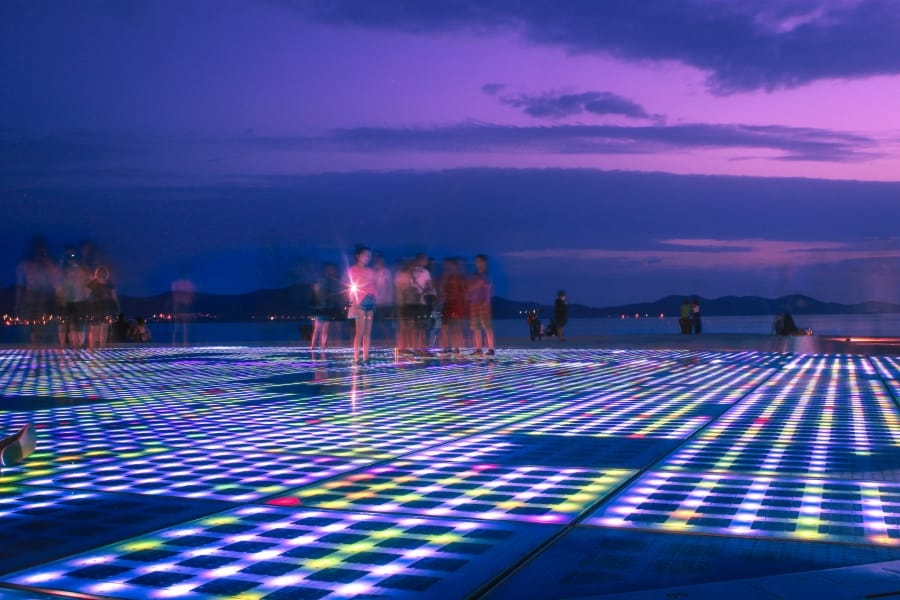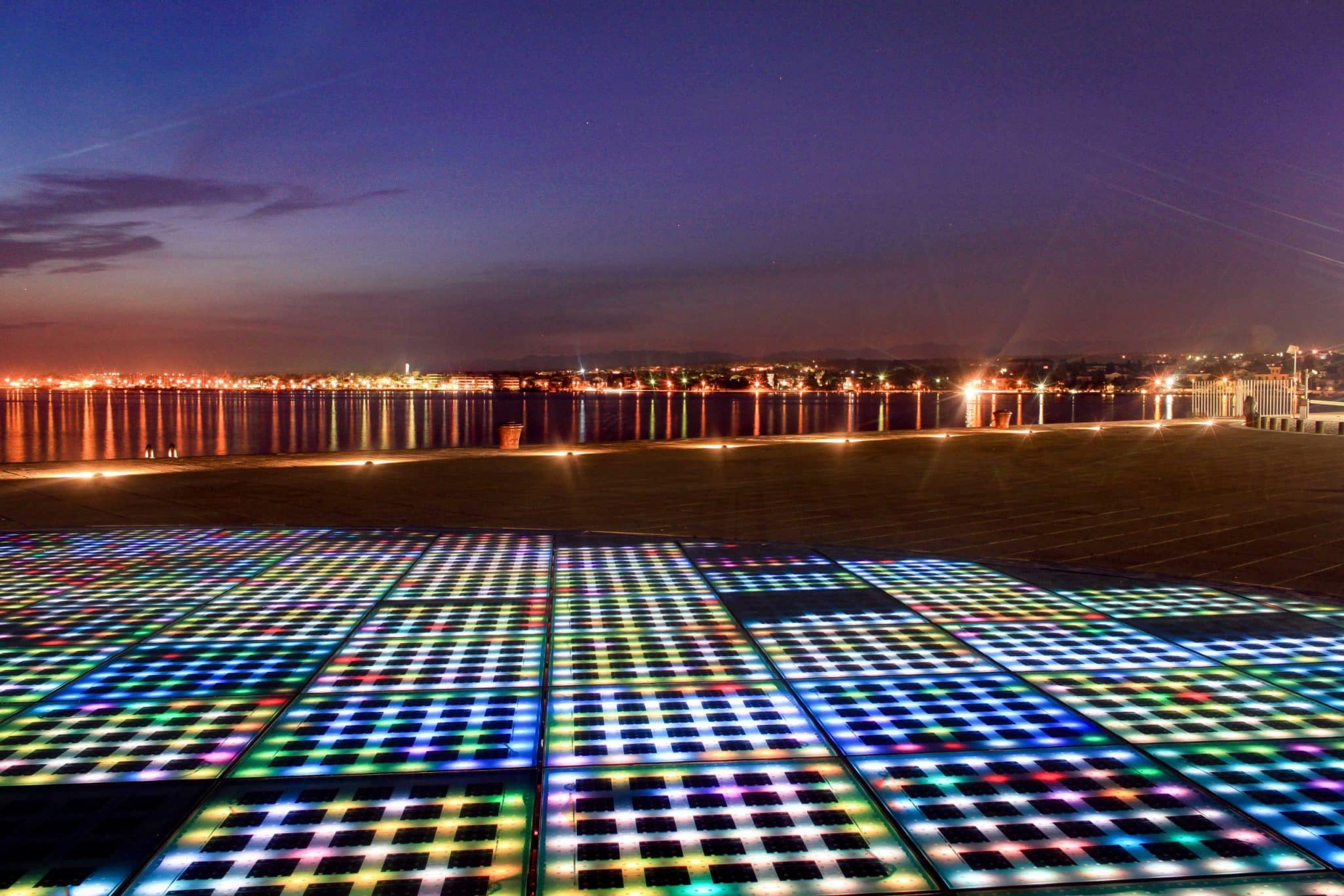 Best restaurants in Zadar
During your one day in Zadar, make sure to sample some of the delicious Croatian food. Here are some of the best restaurants in Zadar:
Pet Bunara – Local dishes, seafood and a kind staff. They also have Istrian truffles with homemade pasta (my all-time favorite!!). Great location in the Old Town.
Konoba Malo Misto – Delicious food and lovely, attentive service! Try the homemade gnocchi.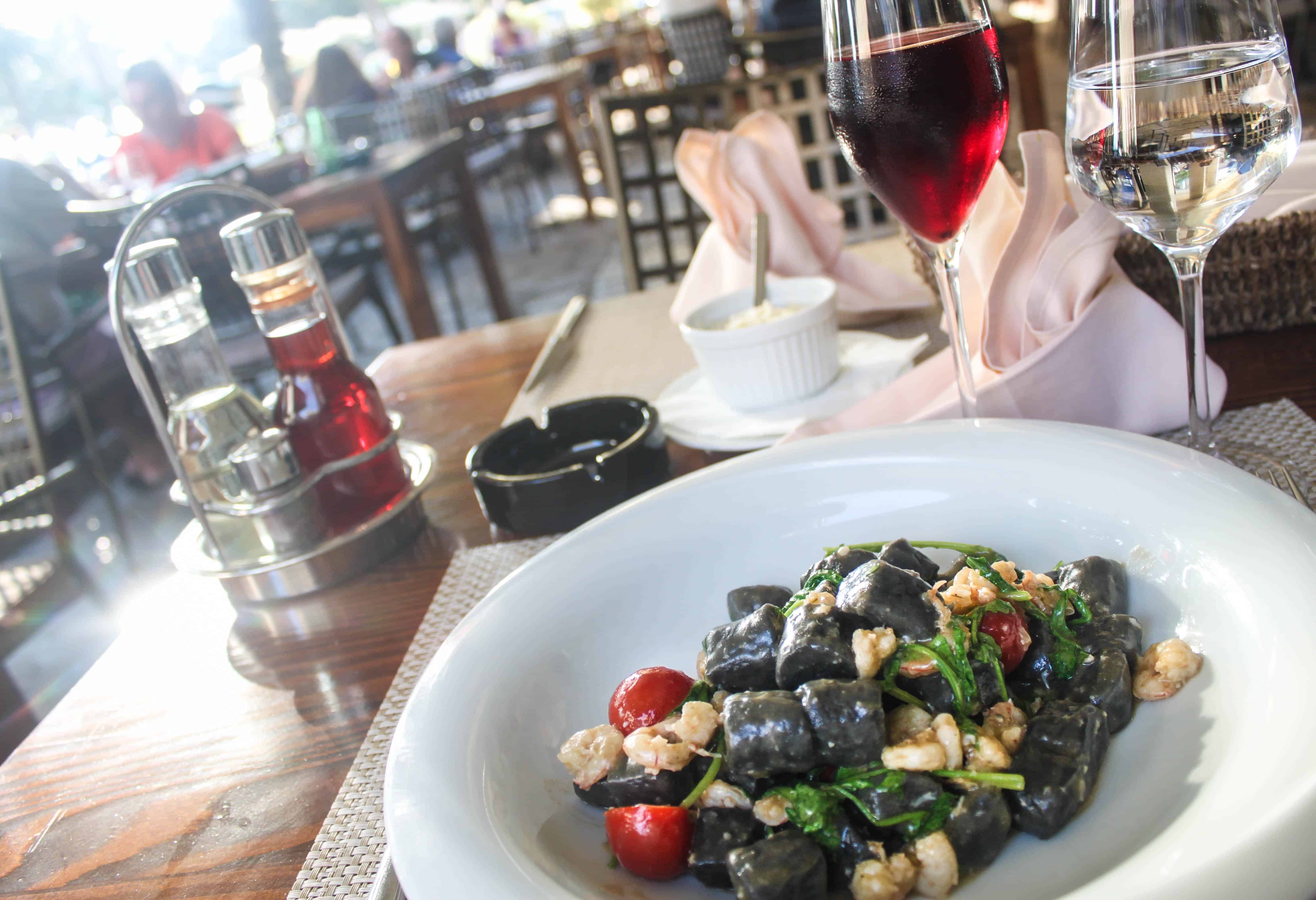 Where to stay in Zadar
If you're spending the night in Zadar, you're in luck. Zadar is great value for money so you'll get quality accommodation at very affordable prices!
I stayed at an apartment, which is a common type of accommodation in Croatia.
Allegro Exclusive Suite – A lovely apartment with air-con (a must from June-Aug). It's located just a few minutes walk from the Old Town and comes with parking. Click here to find the latest prices.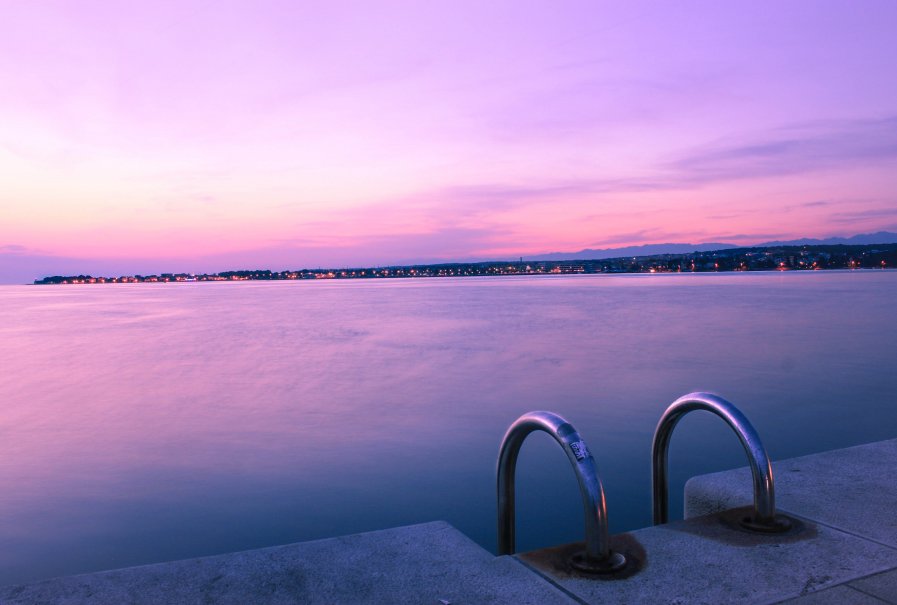 Ask me anything about your one day in Zadar!
One day in Zadar FAQ
Is 1 day enough in Zadar?
Yes. You can see everything Zadar has to offer in one day.
Zadar is a great base for exploring the rest of Dalmatia, so you can stay here while you visit Plitvice Lakes, Split or Dubrovnik.
How much time do you need in Zadar?
One day is enough to explore everything Zadar has to offer.
Which is nicer Zadar or Split?
That depends on what you're looking for.
Zadar is a smaller, less crowded city with a rich history and a more relaxed atmosphere.
It's known for its Roman ruins, medieval architecture, and the famous Sea Organ, an art installation that creates music from the waves.
Split, on the other hand, is a larger and more vibrant city with a lively atmosphere. It's home to the magnificent Diocletian's Palace, a UNESCO World Heritage site, as well as numerous restaurants, bars, and shops.
Split also serves as a transportation hub for exploring nearby islands like Hvar and Brač.
Is Zadar worth a trip?
Absolutely! There's a lot to see in Zadar and it's a beautiful city.
More stuff you'll love: