How to experience the insanely beautiful Boracay sunsets
Want to experience the unique Boracay sunsets? In this post, I'll share the best places to see them on the island.
Most of you know that I love sunsets. It's my favourite time of day, and for me it doesn't get much better than to sit at the beach with a cold beer and just enjoy how the skies change in stunning colours.
I was already wooed by Boracay with its beautiful white beach and turquoise water, but when the sun set in the horizon, I was completely blown away!
I have seen many beautiful sunsets in my life, but the ones on Boracay were insane! The sky literally looked like it was on fire with all those colours spanning across the sky. It left me speechless – which doesn't happen a lot – and in complete awe of the beauty I saw.
I will let the photos speak for themselves.
Read next: The perfect 10 day Philippines itinerary
This post contains referral links for products I love. Adventurous Miriam earns a small commission at no extra cost to you if you make a purchase through my links. Thank you for your support ♡ Learn more
Best places to enjoy the Boracay sunsets
If you're in Boracay, seeing the sunset is a must!
What you need to do is head west and make your way to the beaches hugging the western coast of the island, such as White Beach, Puka Beach, Diniwid Beach, or Manoc-Manoc for an amazing view.
It's a magical moment as you watch the sun dip into the horizon and see it cast its vibrant glow over Boracay. You can also choose to go even further and join a paraw, party boat, or helicopter to get an even more breathtaking view of the sunset!
Here are the best places to catch the sunset and be awed by its magical colours.
Sunset at White beach
Boracay's best beach is White Beach. This 4km stretch of powdery white sand presents a stunning panoramic view of the horizon, casting a colourful glow across the sky at sunset.
Find a beach chair or bring a towel to the beach. Or you can take advantage of the restaurants and bars along this beach for an evening out.
White beach was my favourite place to watch the sunset. I've seen the best Boracay sunsets here. Just see these photos below.
Sunset at Puka beach
If you prefer a quieter beach where you can watch the sunset, head to Puka Beach. With its small fragments of puka shells scattered throughout the sand, it has an elegant and serene atmosphere.
Make sure to bring your own mat or beach towel and don't forget to grab some local drinks like buko juice from nearby stalls while admiring one of Boracay's most beautiful sunsets!
Sunset cruise
One thing is watching the Boracay sunsets from the beach, another is from the ocean.
On a sunset cruise, you'll be able to enjoy the breathtaking sunsets while sailing and enjoying the unlimited drinks and water guns available during some private tours.
Party boat
Looking for a party? Join a Boracay Party Boat for a fun sunset cruise. These boats are usually equipped with a second floor, ideal for a view of the horizon, and often have amenities like inflatable slides making it easy to jump into the sea.
Packing list for Southeast Asia
Mount Luho
If you prefer to stay on land, head over to the highest peak – Mt. Luho! From here, you can watch the sunset and capture an unforgettable 360 view of the island.
Diniwid beach
Diniwid Beach lies on Boracay's north shore. With its serene and peaceful atmosphere, this beach is perfect if you're looking to escape the crowds of White Beach and witness a romantic sunset.
If you choose to stay here overnight, you can find several beachfront resorts nestled in the area.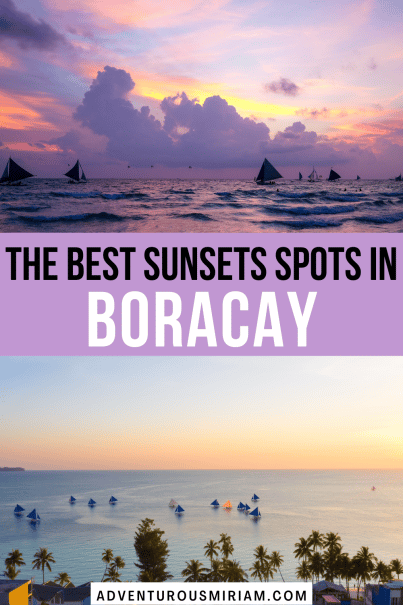 From a helicopter
Now, this is a great alternative. You can see Boracay in an all-new way with a helicopter ride! Capture photos before taking off and then, witness the sun cast warm shades of pink over White Beach and the palm trees that line the famed shore.
During this helicopter trip, you'll get to see sights like Puka Beach, Diniwid Beach, and Bulabog Beach during golden hour from a bird's eye view.
Manoc-Manoc Beach
Manoc-Manoc Beach is a local favourite spot.
Located on the southwestern tip of Boracay, it's often overlooked and serves as a getaway for many of Boracay's residents, who also take advantage of its exciting activities like kiteboarding and windsurfing. Grab your towel and head here for one of the amazing Boracay sunsets.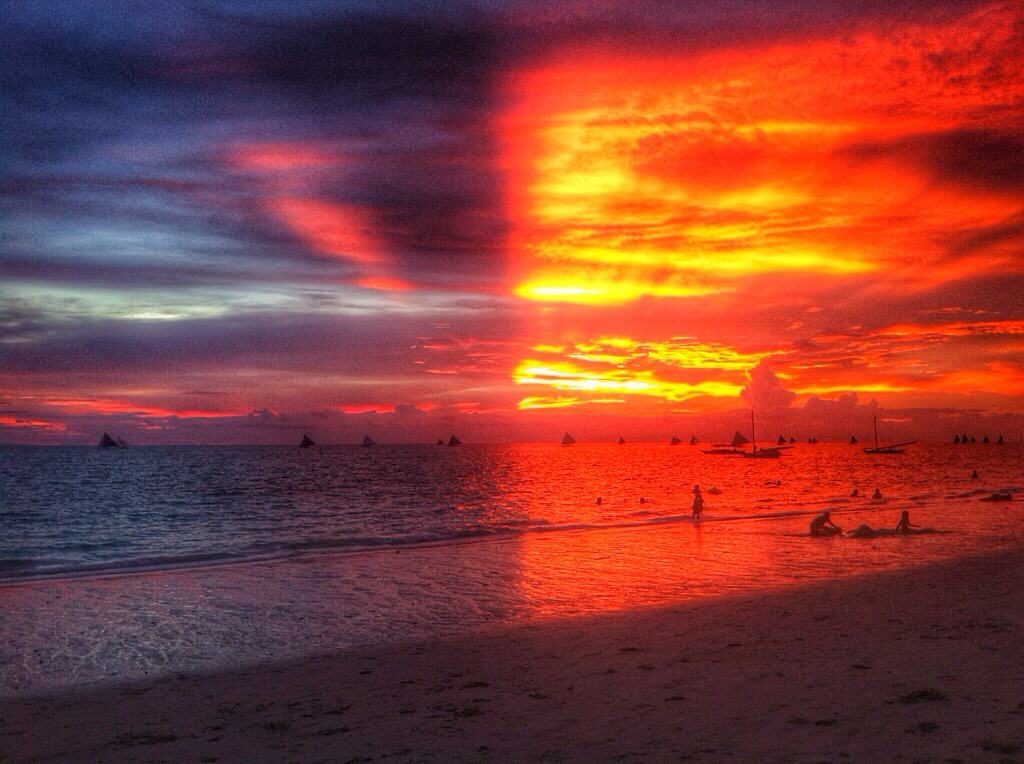 Paraw sailing
A paraw is the iconic boat of the Philippines, and in Boracay, you can try a sunset paraw sailing adventure.
This local outrigger boat features two sails and is steered by a designated boatman across the crystal waters, with nets that you can sit on or even lie down as you watch the sky transform into beautiful pink and orange hues.
Don't miss the epic sunsets of Boracay
Some places has epic sunset. They're just magical, there's no denying. Boracay is one of those places, so make sure you get to see at least one. I promise, you won't regret it!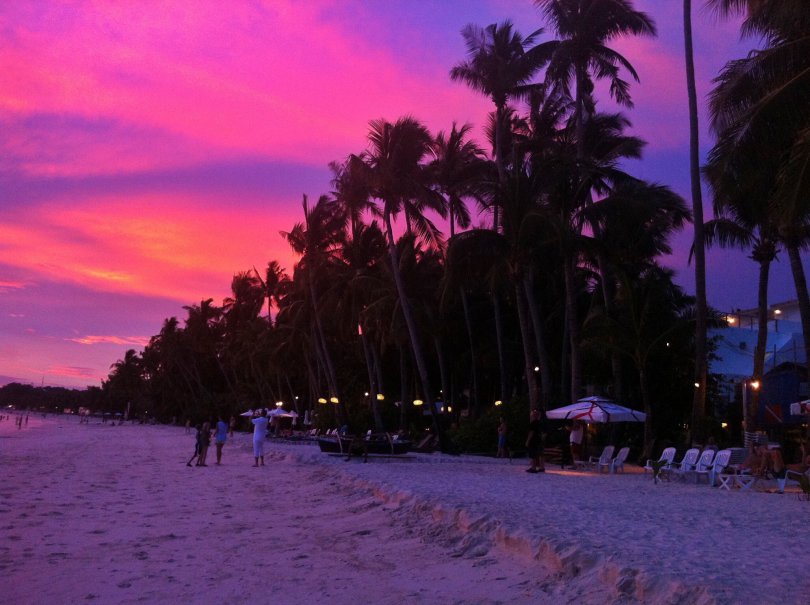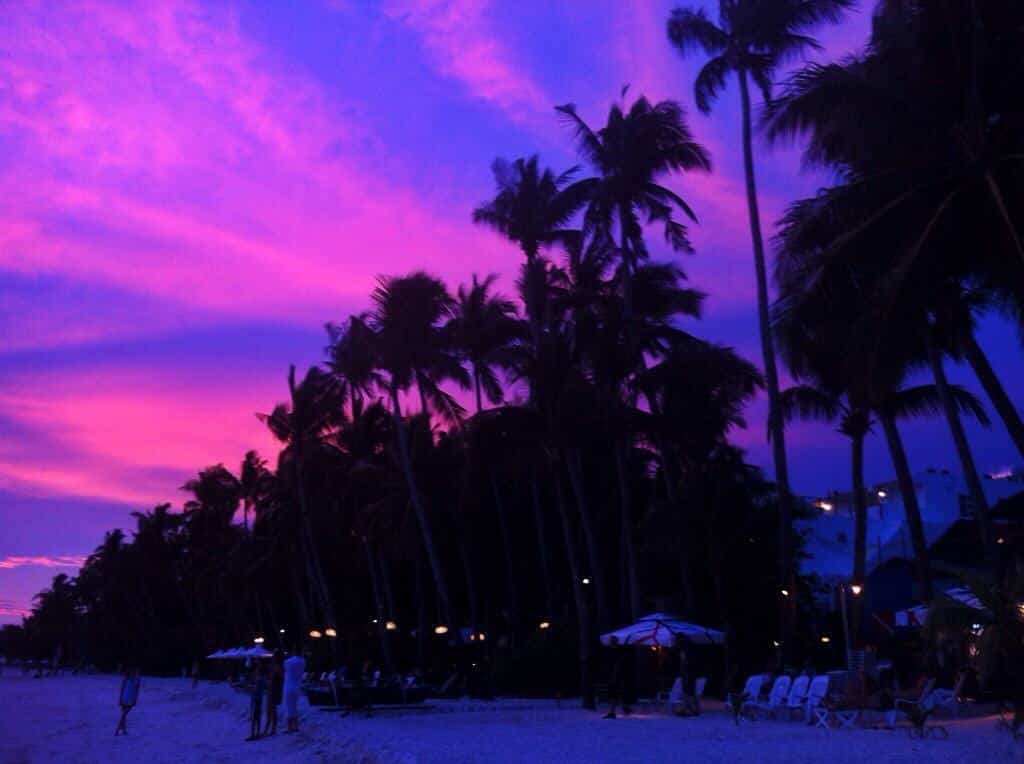 More posts from the Philippines you might like