Adventurous Miriam uses affiliate links, which means that if you make a purchase through my links, I may earn an affiliate commission.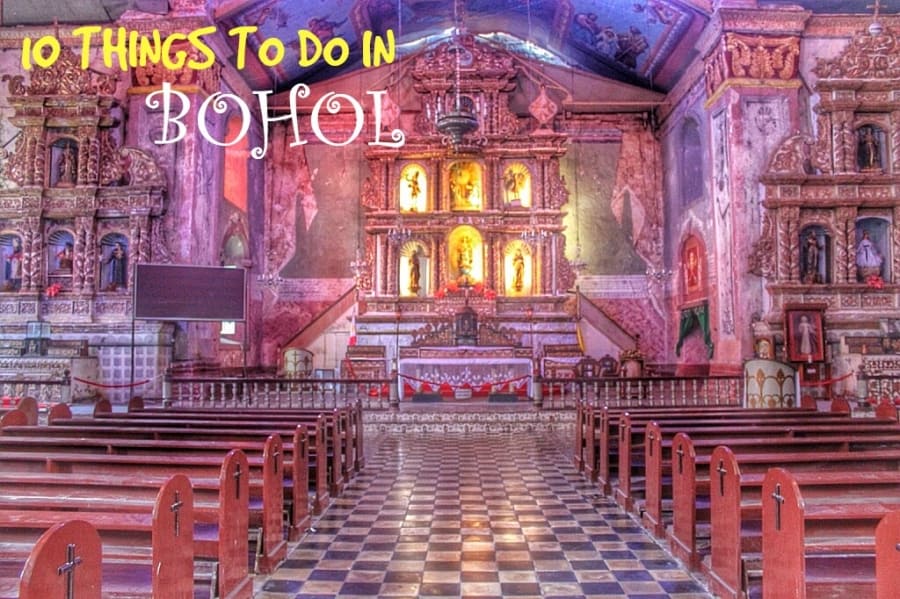 The list of things to do in Bohol is long, friends. And the best way to see everything is by renting a scooter, so that's what we did. The good thing about Bohol is that most sights are in a close range, which makes it easy to get from one place to the other. We drove from Panglao and spent a full day (8-9 hours) driving – which I might add – is a long time on a scooter. Seen in retrospective, it might have been better to do the tour over two days. My butt would've thanked me for sure!
Read next: Things to do in Panglao, Philippines.
1. RENT A SCOOTER IN BOHOL
8 hours: 400 pesos. 1 day: 600 pesos. 
First of all, you should rent a scooter and explore the island on your own. Sure, you can also take a tricycle (tuk-tuk) or jeepney (public transportation), but with a scooter you decide when, what and where. Plus, it's cheaper. We rented a scooter for 8 hours and it costed us 400 pesos. If you rent it for more than one day, you should be able to get a discount so make sure to bargain for it!

2. ISLAND HOPPING
Price: 1000-1500 pesos
The Philippines consists of over 7,000 islands, so if this is not the place for island hopping, I don't know what is. If you go from Panglao, you can get the tours for around 1,000 or 1,500 pesos for half a day. Simply go to the beach and talk to one of the guys offering them – there are plenty to choose from.
Read next: Why you should visit Boracay island, Philippines.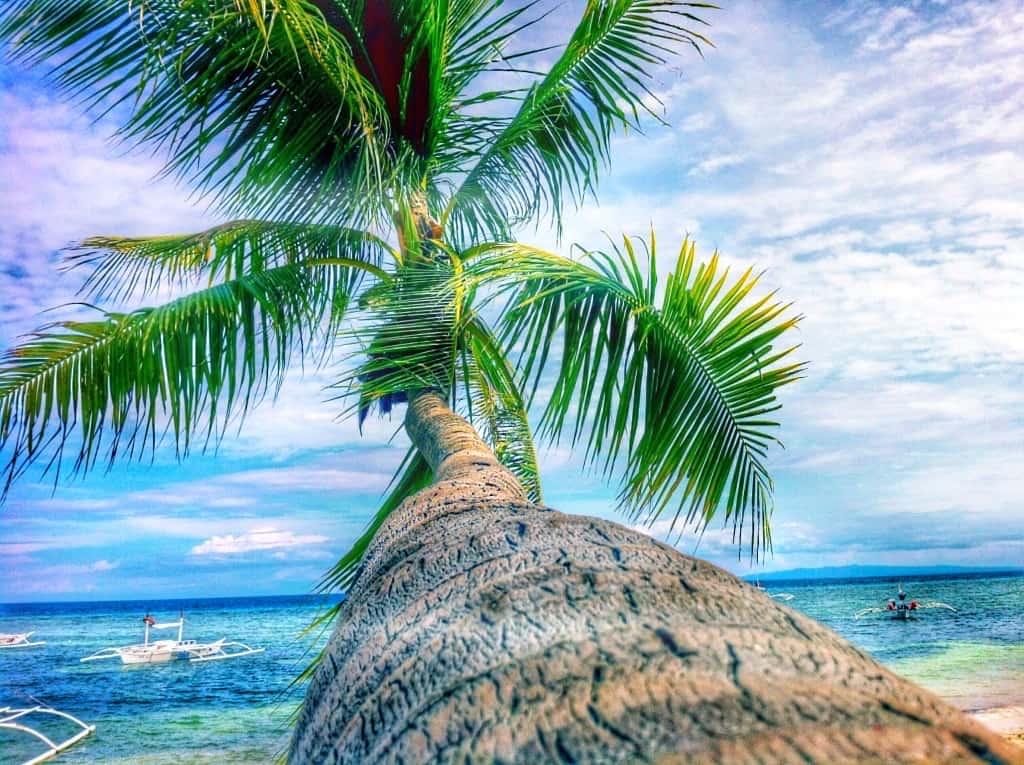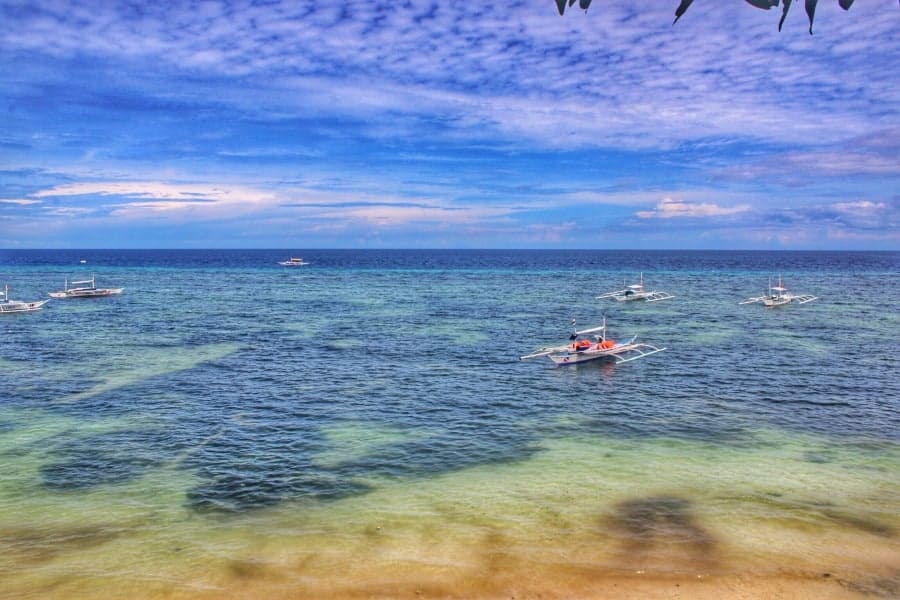 3. LOBOC RIVER
Free activity (unless you take a boat cruise which is 300 pesos)
On the south side of Bohol, you'll find Loboc River surrounded by lush vegetation. This is an excellent way to see some jungle and combine it with a boat ride and lunch. You'll be sailing in a boat like the one in the picture below for 45 to 60 minutes, and you will get a buffet during the trip. If you're not into sailing, simply follow the river from the street where you'll get a view, too.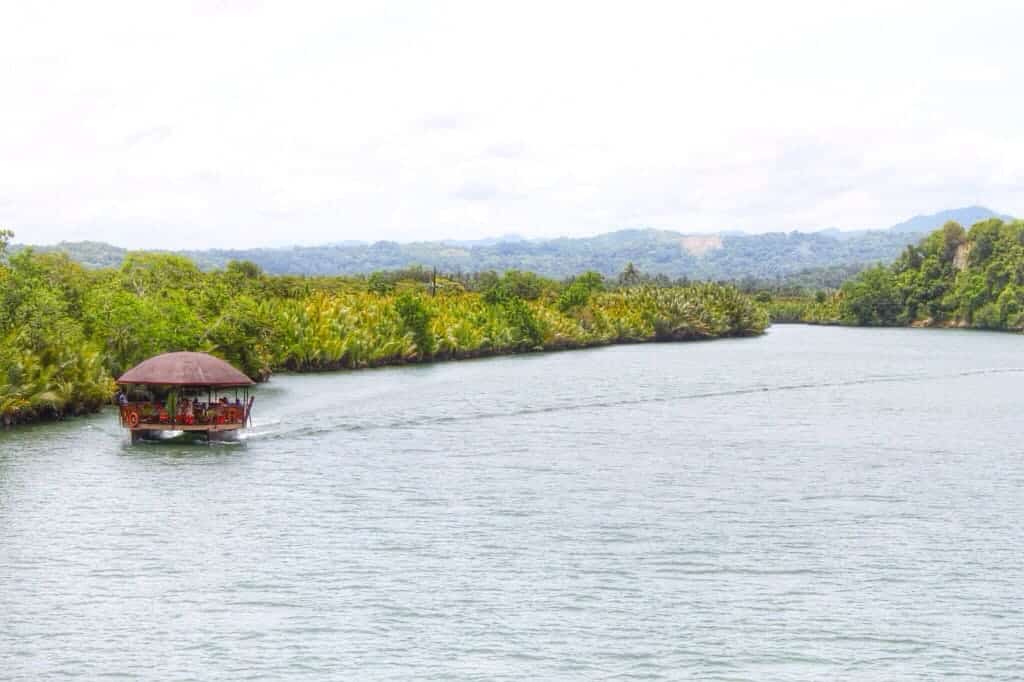 4. TARSIER SANCTUARY
Admission fee: 50 pesos
Visiting the tarsiers is one of the highlights of Bohol. These little animals are not much larger than a fist and they can only be found in the Philippines, Indonesia and Borneo. You can read my full post about visiting the Tarsier Sanctuary here.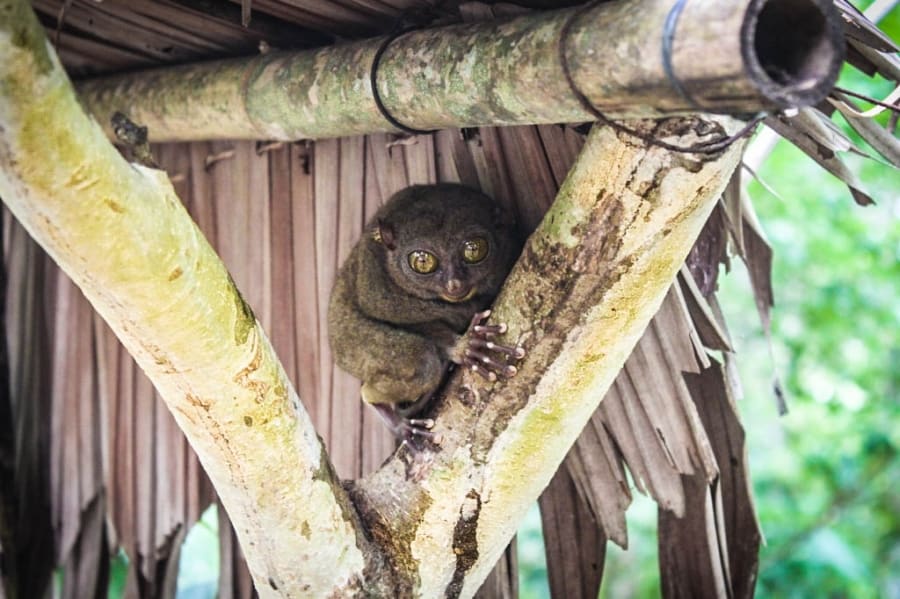 5. MAN MADE FOREST 
Free activity
While driving from the Tarsiers, you'll get to Man Made Forest, which is a dense forest made up of red and white mahogany trees stretching 2 kilometers. The tree tops almost block-out the light, making the forest a bit chilly and darker, but it feels nice when you're driving on this stretch.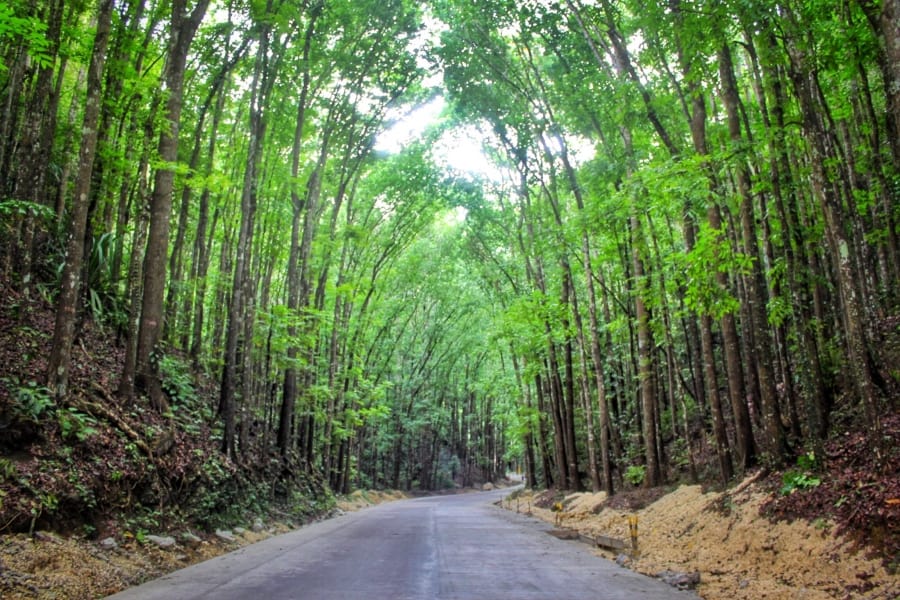 6. BUTTERFLY FARM
Admission fee: 40 pesos
Just 10-15 minutes drive from Man Made Forest, you'll find Bilar Butterfly Farm. At this place, there are hundreds of butterflies in different species, a nice garden with plants and flowers, plus a restaurant. The butterflies come in so many colors from red, blue to green and different sizes, too. It didn't take me long to locate them, and they're not too shy so it's possible to snap some close-ups.
Read next: Visiting a butterfly farm in Bali.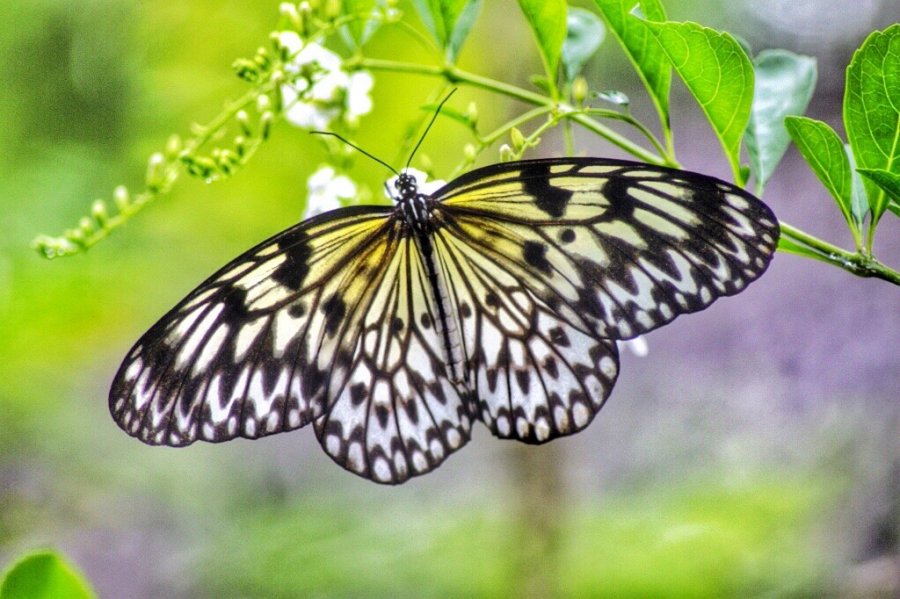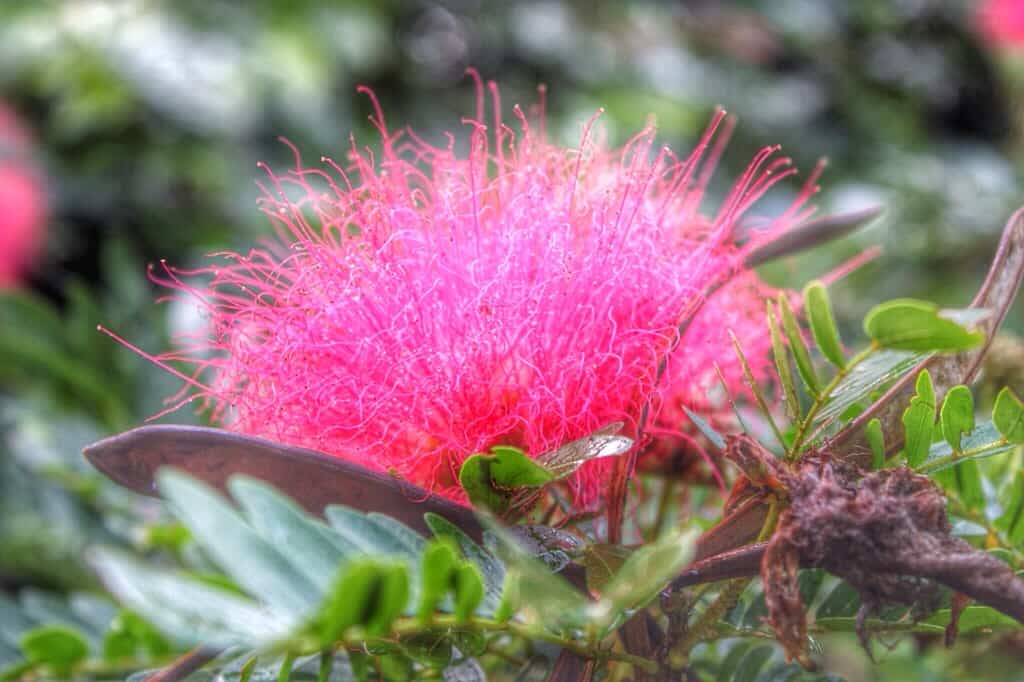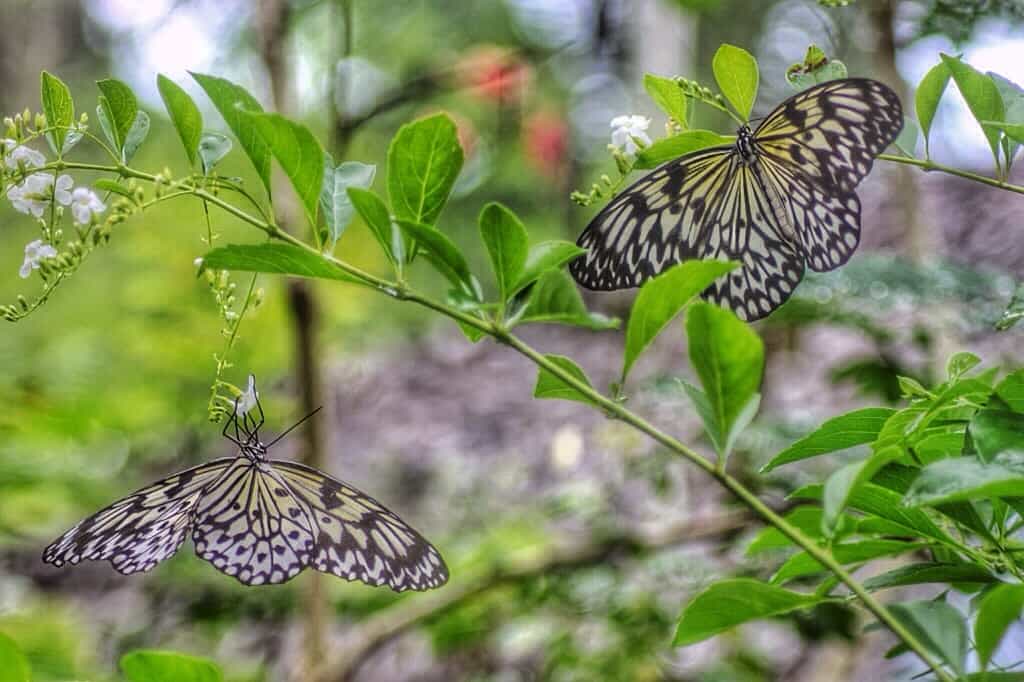 7. RICE FIELDS
Free activity
There are rice fields everywhere on Bohol so you can't miss them when you're driving around. In the rice fields there are birds looking for water, and water buffalos in the mud. Lots of locals are working in the fields, too, collecting rice and farming. When it's been raining, the sun reflects in the water in the fields which makes them extra beautiful.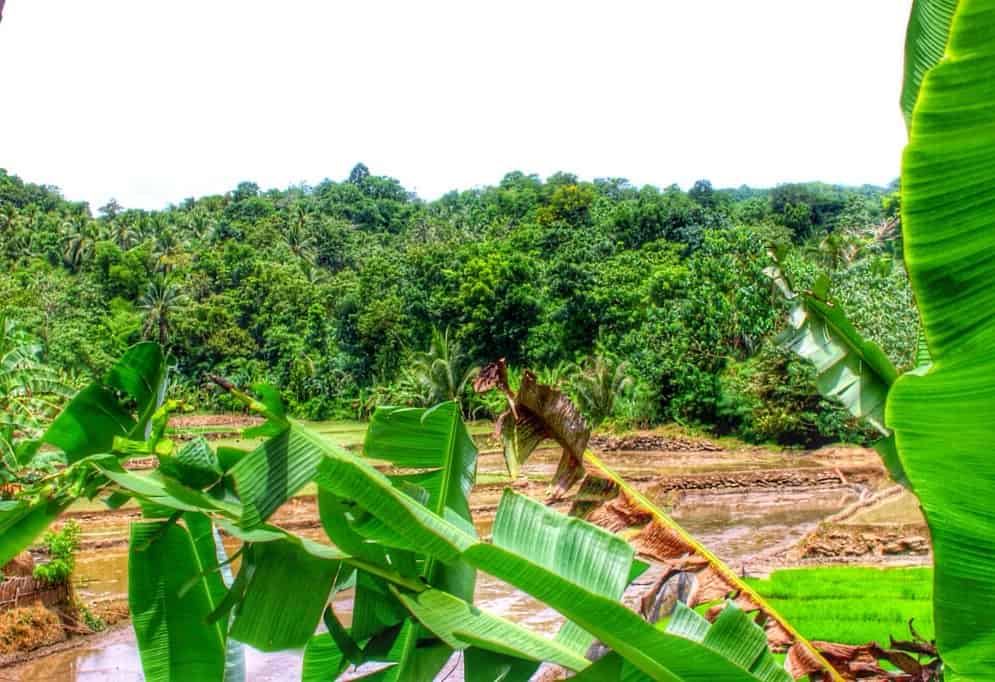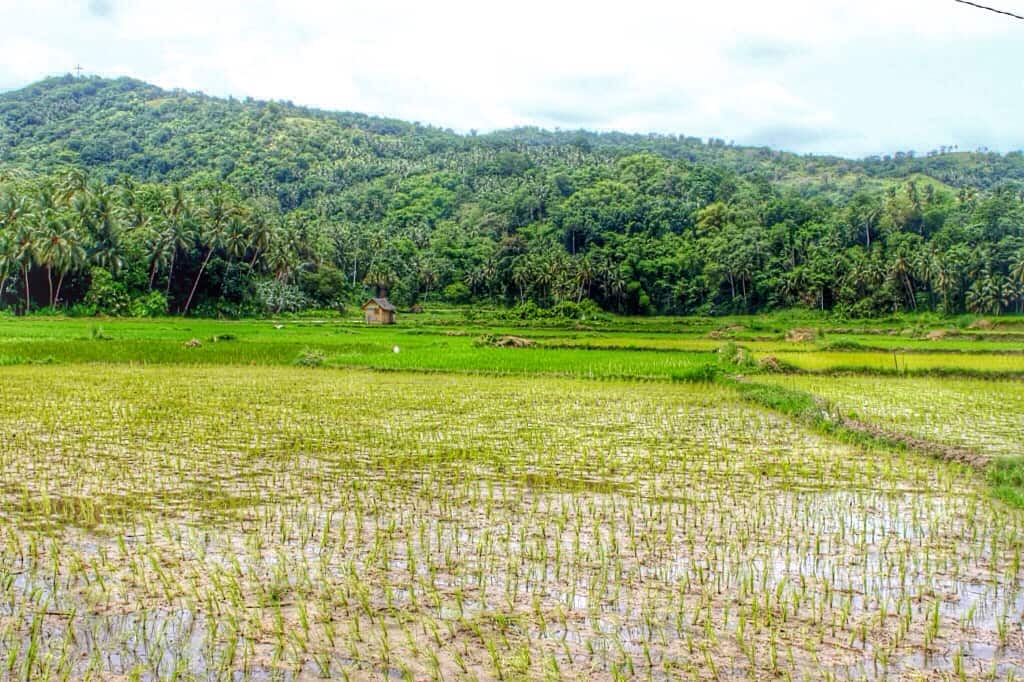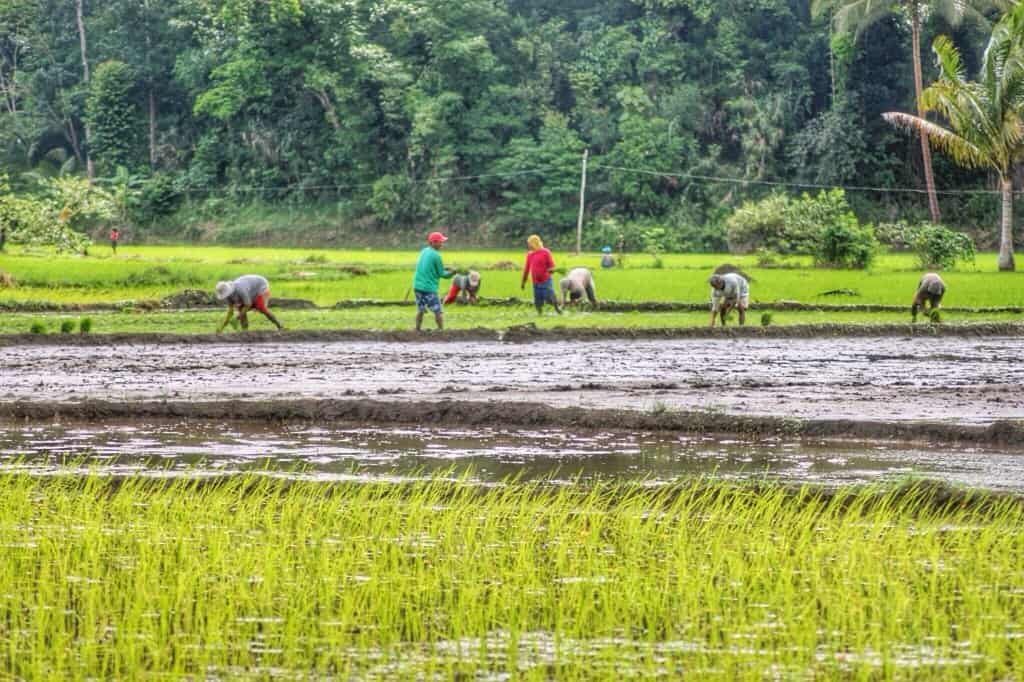 8. CHOCOLATE HILLS
Admission fee: 20 pesos
The two main things to do in Bohol are visiting the tarsiers and Chocolate Hills. The latter consists of approximately 1,247 hills spread over an area of more than 50 square kilometers. They are covered in green grass, but during the dry season they become brown (hence the name).
There are two main viewpoints to see the hills from: the Sacbayan and Carmen, and the pictures below are taken at Sacbayan peak. I would definitely recommend you to go to Carmen, which is more impressive and allows you to get a full view of the Chocolate Hills.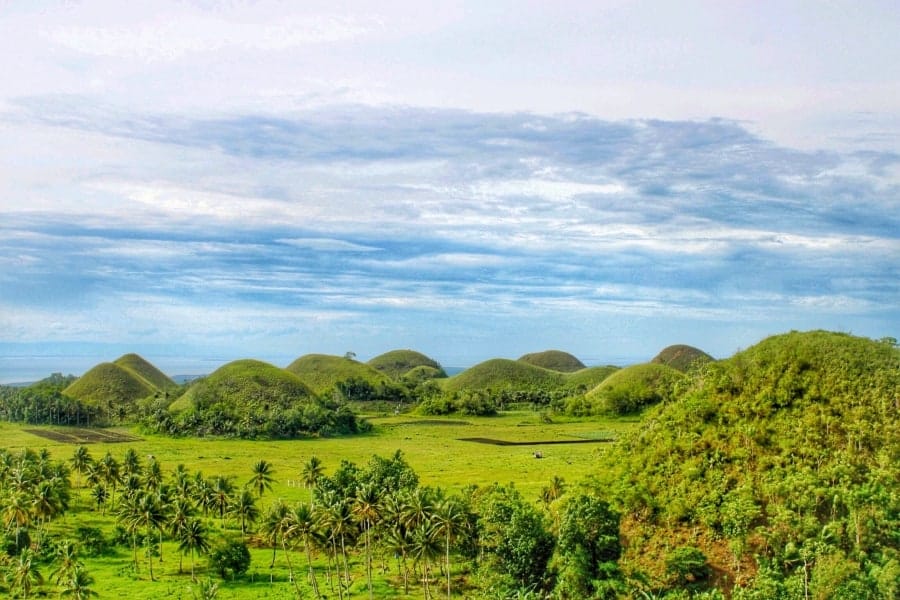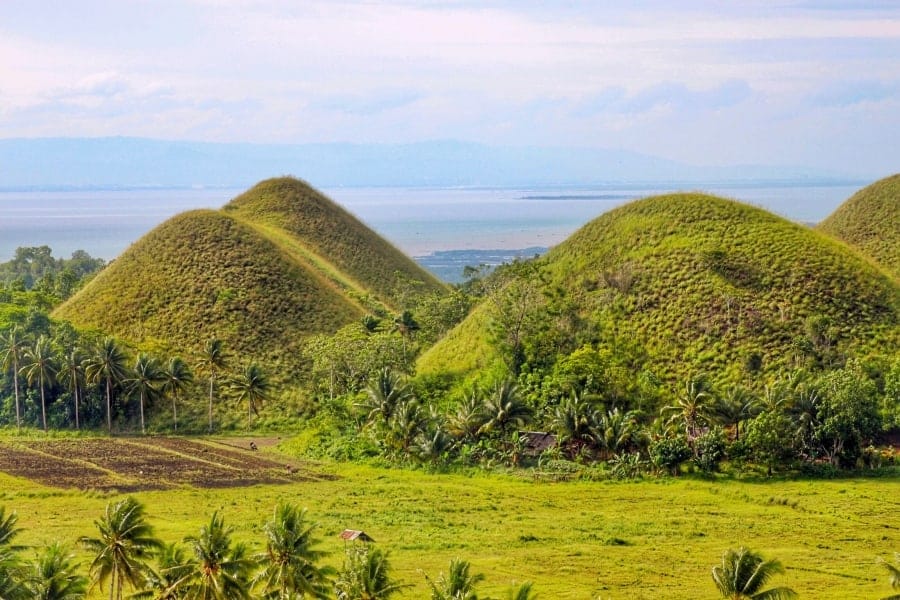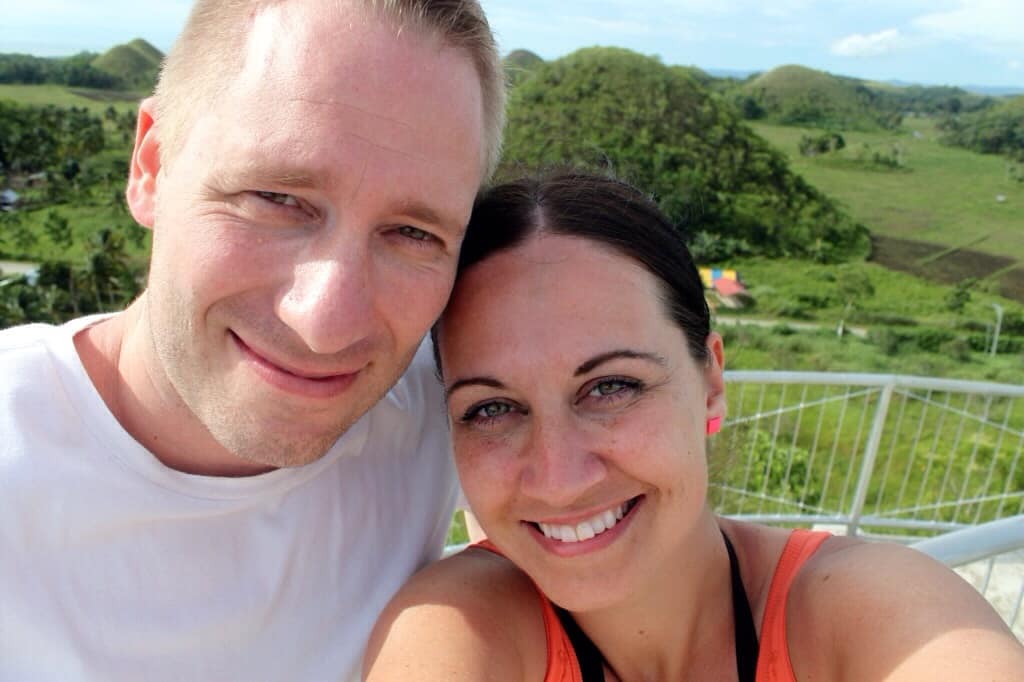 9. BACLAYON CHURCH
Admission fee: 50 pesos (goes to restoration of the church)
The Philippines has a vibrant Catholic culture and Bohol in particular. There are churches everywhere, both small town and village chapels and major churches like the one in Baclayon. Baclayon church is the second oldest stone church in the Philippines, constructed in 1595 by Jesuit priests and it is home to several artefacts and old scripts. Next to the entrance there is a small museum where you can view the relics.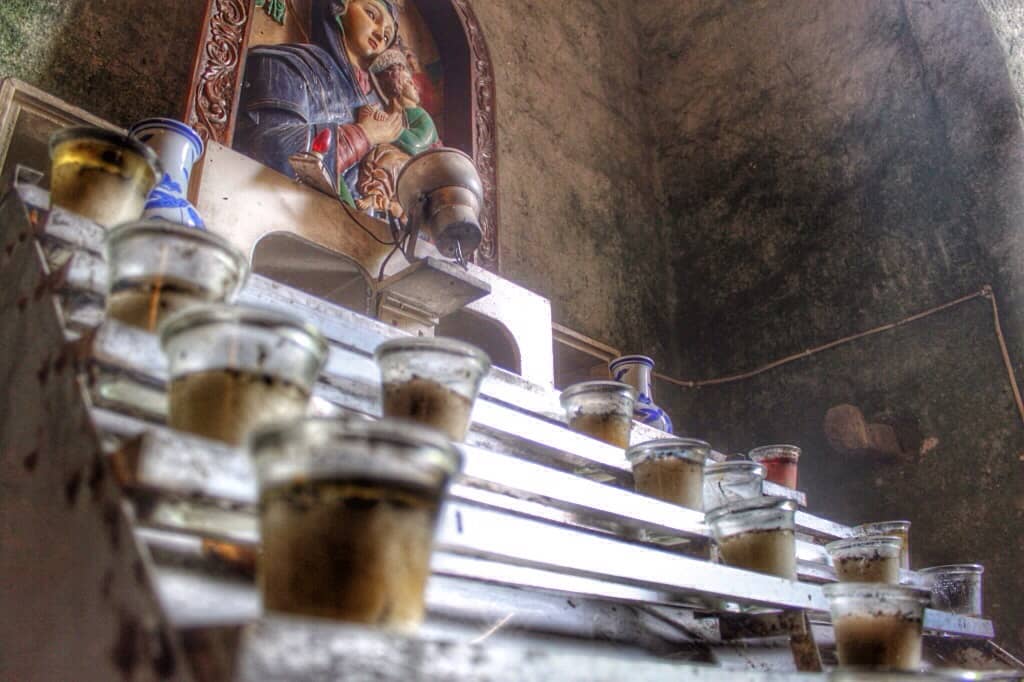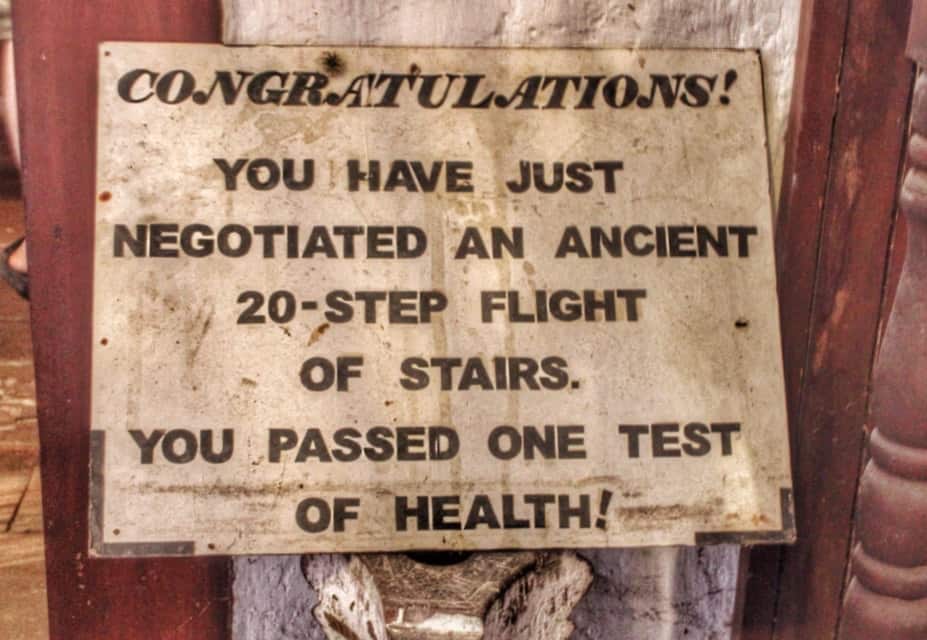 10. WHALE SHARK SWIMMING
Price: 1,200 pesos
Whale shark swimming is awesome and if you get the chance you should definitely go for it! I swam with whale sharks in Mexico and it was such a great experience. There were around 50 of them swimming around and under us while we were in the water and it was so much fun! Even though I didn't do this in Bohol and can't vouch for the quality, I'll recommend you to have the experience if not here then somewhere else!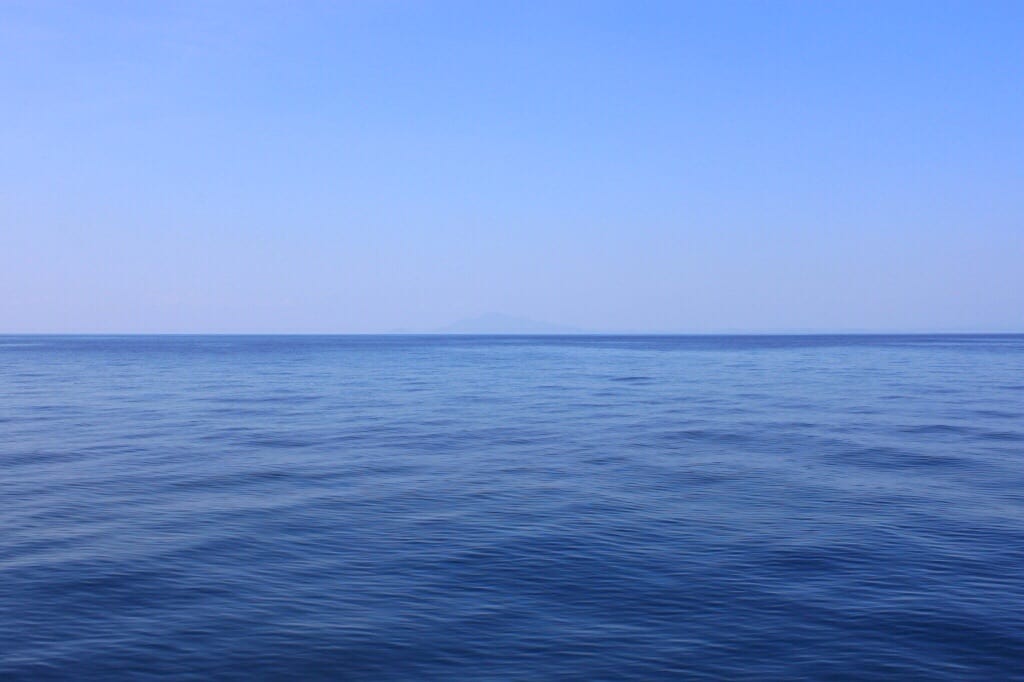 Have you ever been to Bohol? What did I miss?
Pin to Pinterest