The Philippines is amazing! People here are always so friendly and helpful, the prices are low and the nature is magnificent!
I have seen the most beautiful sunsets here, the most astonishing beaches and the cutest animal, the tarsier. The Philippines is definitely a place I'm going back to and I can't wait to explore this country much more in the future.
This post contains referral links for products I love. Adventurous Miriam earns a small commission at no extra cost to you if you make a purchase through my links. Thank you for your support ♡ Learn more
PLACES VISITED
FAVORITE PLACE
Boracay! From the second I stepped onto my first tricycle on the island, I knew I was hooked for good. You're probably all thinking "shut up about this island already", but I can't help myself. Sorry. (Naah, I'm not, really).
TRANSPORTATION USED
Jeepney, taxi, air plane, tricycle, scooter, ferry, slowboat, motorboat, local bus
PHOTOS TAKEN
619
FAVORITE PHOTO
I have so many favorites to choose from and they are all from the beach in Boracay (surprise, surprise). I will have to go with this one, though, as purple is my favorite color.
Only 7 minutes prior to taking this picture, the sky was grey and cloudy, but then suddenly a light shined through and lit up the entire heaven. Everyone on the beach went oohing and aawing while looking up as it changed into a palette of colors.
Sheer perfection.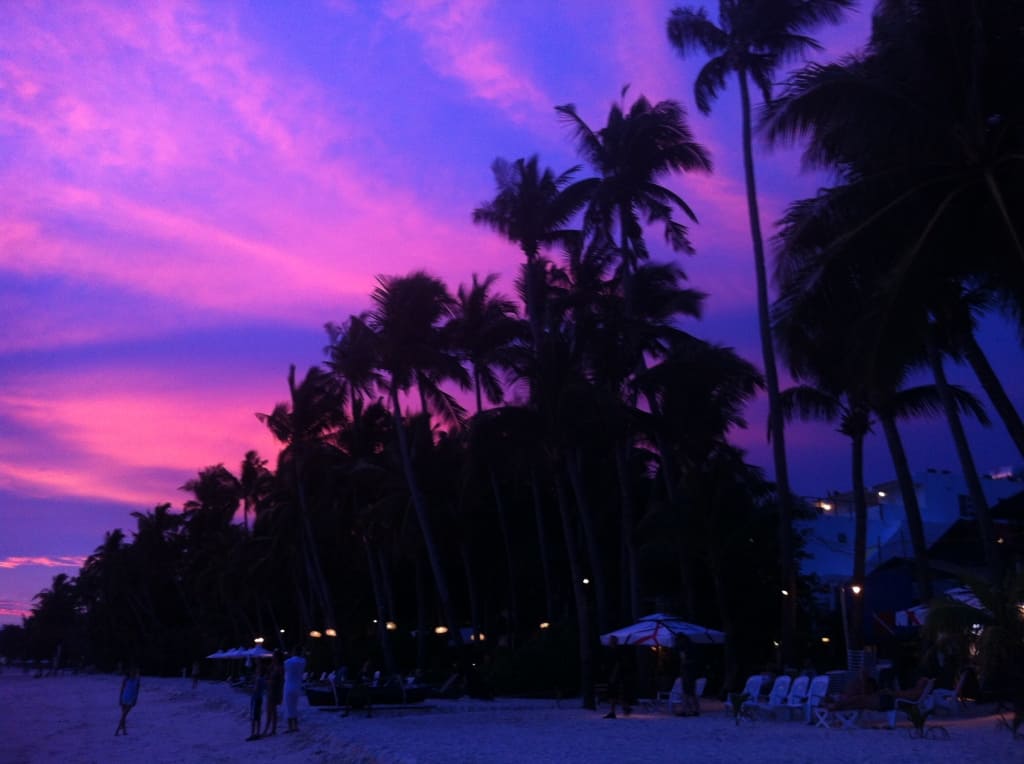 HIGHLIGHTS
Amazing people. Filipinos are always so friendly, helpful and open towards foreigners. They remind me of Thais whom I love dearly, but people from the Philippines are more polite and dutiful. Whenever we ordered something at a restaurant, they always repeated the order to make sure they didn't make any mistakes. The overall service from airports, taxis, hotels and restaurants was top-notch.
In-cre-di-ble mango! Oh yes, the mango was by far the best I've ever tasted. So fresh, tasteful and ripe….. YUM!
Most things seem organized. For instance, when you get into a taxi from the airport or the ferry, you receive a piece of paper on which you can write a review about the driver and the ride. Both busses and ferries leave on schedule.
Great temperature, very windy. Even though this is Asia and the climate is tropical, I always felt a light breeze which made it seem less humid and hot.
Fixed price – most places have fixed prices which means you don't have to bargain when you're renting a scooter, buying a dress or hailing a cab. It also gave me the overall impression that they weren't out to cheat us.
It's very safe, probably the safest country I've been to! I would have no problem going there as a solo female traveler and it's very easy to travel with kids, too. Plus, everyone speaks English.
LOWLIGHTS
Our airline, Cebu Pacific, was delayed twice and did not reply to messages on twitter or Facebook. Really lousy customer service!
Typhoon Glenda. We had lots of water activities such as snorkeling and para sailing planned, but unfortunately Glenda had other plans.
The weather on Bohol wasn't really that amazing either. It was mostly cloudy and the sun only peaked out an hour or so each day.
MONEY SPENT
You can read my total breakdown in my post about it here.
Accommodation: $ 659
Food: $286
Transportation: $159.7
Entertainment: $50.3
I spent $1.115 during my 2 weeks in the Philippines = $79,6 per day.
More posts from the Philippines you might like