Sarnath temple: An important Buddhist pilgrimage site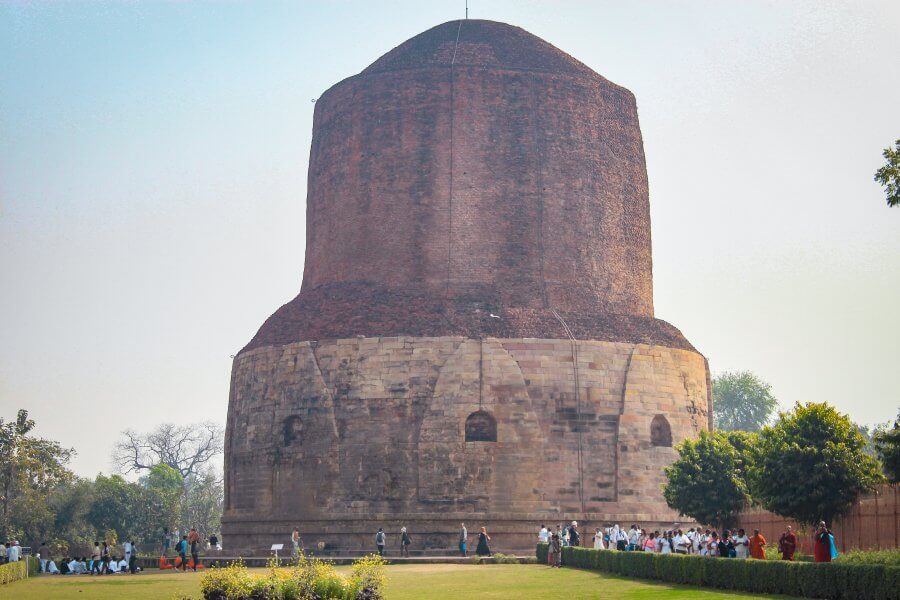 Looking for an easy day trip from Varanasi? Sarnath temple is a peaceful place, and you don't have to be a Buddhist to enjoy it. 
Sarnath is one of the four most important Buddhist pilgrimage destinations in the world. It's fairly small, but it has a special meaning for Buddhists around the world because it's the place where Buddhism was born. 
This post contains referral links for products I love. Adventurous Miriam earns a small commission at no extra cost to you if you make a purchase through my links. Thank you for your support ♡ Learn more
History of Sarnath temple
In 528 BCE, a young prince named Siddhartha Guatama was born. He lived a sheltered life, and by the age of 30, he ventured into the world where he encountered illness and death. Moved by suffering in the world, he decided to give up his lavish lifestyle and search for liberation from suffering.
After years of searching, Gautama found enlightenment while meditating under a Bodhi tree. He realised that liberation comes from disciplining the mind and he went to Sarnath to teach others how to achieve this spiritual state. In the deer park at Sarnath, he shared his newfound wisdom and Four Noble Truths with five people who were so impressed that they became Buddha's first disciples.
How to get to Sarnath temple
Sarnath temple is located just 13 kilometres from Varanasi. It takes 30-40 minutes to get there.
By tuk-tuk – From Varanasi, you can reach Sarnath by taxi and tuk tuk which are easily available in the town.
By Air – Varanasi airport is located 24km from Sarnath and connects to the rest of the country.
By Railway – Varanasi cantonment Railway Station is connected to all over the country.
Read next: Things to do in Varanasi
When to visit
Best time to visit – The best time of year to visit Sarnath temple is from October – March when nights are cold, days are pleasant and showers are quite rare. The temperature ranges between 5 and 15 degrees C in the winter season. Plus, there are many religious festivals and celebrations.
To visit Sarnath temple without worrying about crowds of people in your photos, it pays to arrive as early as possible.
Time required – You'll need an hour or two to visit Sarnath temple, plus travel time from the city.
Places to visit in Sarnath
Chaukhandi Stupa
Chaukhandi Stupa was built by Mughal emperor Akbar in 1589 AD to commemorate his father Humayun's visit to the site. It stands atop a rectangular plinth and is topped by a relatively new octagonal Mughal tower.
The stupa marks the spot where Buddha met with his five disciples.
Buddha statue
Right next to the Chaukhandi Stupa is the world's tallest Buddha statue (24,3m). The statue was made from sandstone in 1997-2011 as a friendship project between India and Thailand. It's said to be a symbol of protest against the destruction of Buddha statues around the world.
Dhamek Stupa
The most remarkable structure in Sarnath, India is Dhamek Stupa. It's a massive cylindrical structure measuring 28m in diameter and 43,6m in height. It marks the place where Buddha taught the Four Noble Truths and it's been enlarged on six occasions since its origin in 500 CE.
The front stone bears floral designs of the Gupta period and the wall of the stupa is covered with beautiful figures, geometric design and swastika signs. The word Dhamek is a distorted form of Dharma Chakra that means "turning the wheel of the Dharma". Buddha's first sermon was on the "Wheel of Law", which might be the reason for the name.
Read next: What to expect from a Ganga Aarti in Varanasi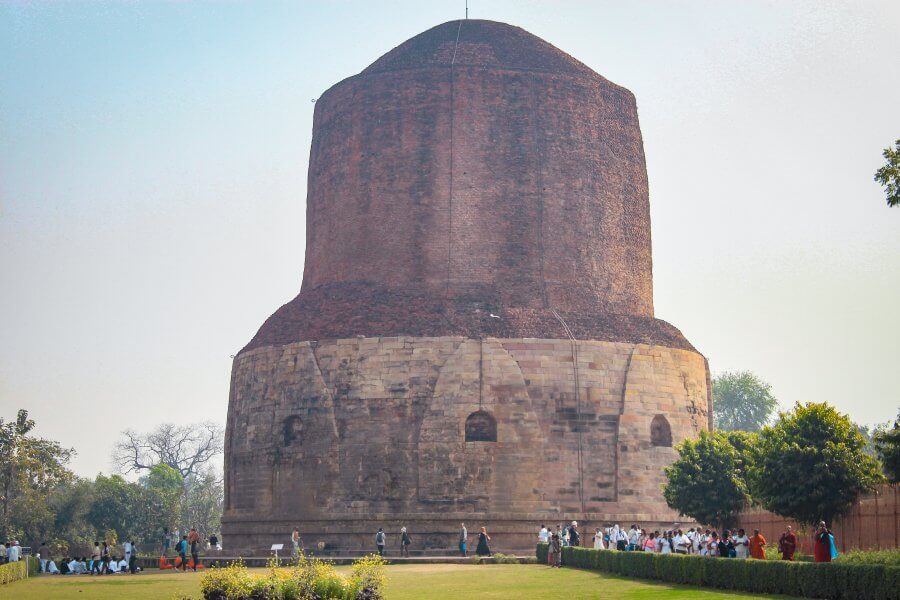 Dharmarajika Stupa
Dharmarajika Stupa was also built by Ashoka in the 3rd century B.C. Only the foundations of the stupa and monasteries are visible today. Nearly 3,000 monks lived there during the Gupta period.
Monks, pilgrims and tourists visit Sarnath to sit near the ruins and meditate or worship. You'll notice that Tibetan Buddhists walk around the nearby Dhamek Stupa chanting the mantra Om mani padme hum.
Chinese Temple
In Sarnath, there's also a Chinese temple, which is worth visiting. Inside, you'll find a sitting Buddha statue.
Sarnath Archaeological Museum
Open from 9 am to 5 pm. Friday Closed.
Sarnath museum contains remains of excavation of Sarnath. A total of 6,832 sculptures and artefacts are displayed in five galleries, including the esteemed Lion Capital of Ashoka Pillar, which is also the National Emblem of India.
Respect
Remember to dress appropriately. Cover up your shoulders and ankles to show respect for the sacred nature of the site.
Walk around the stupas in a clockwise direction.
Be respectful of worshippers.
Don't climb the statues or other sacred objects.
Visiting Sarnath temple? Ask me anything in the comments!
More posts from India you might like
Pin it!