Adventurous Miriam uses affiliate links, which means that if you make a purchase through my links, I may earn an affiliate commission.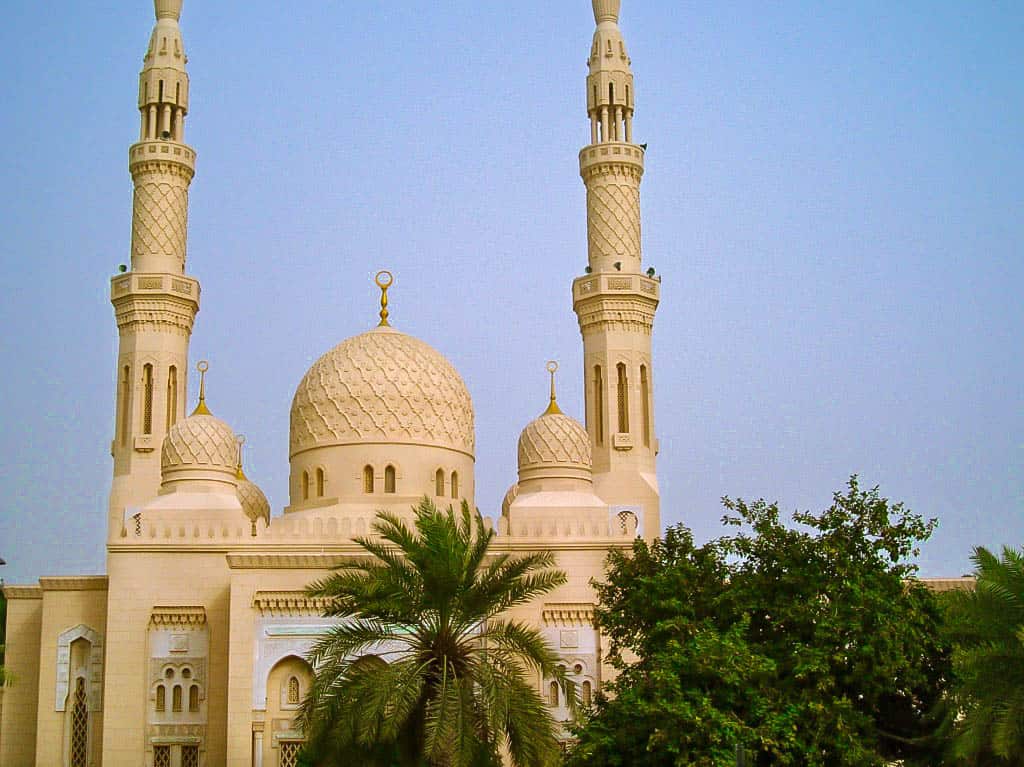 Dubai is one of the seven emirates that make up the United Arab Emirates. The country has become symbolic for its man-made islands, largest shopping malls in the world and sky-rise buildings such as the Burj Khalifa and Mall of Emirates. As of 2012, Dubai is the 22nd most expensive city in the world and the most expensive city in the Middle East. Traveling to Dubai will definitely set you back money-wise.
On the bright side there are many things to do in Dubai, from dune bashing and camel riding to shopping and discovering the delicious Middle Eastern cuisine.
Read next: Where to stay in Dubai – including the best areas
TOP THINGS TO DO IN DUBAI
Explore the city. By bus, metro or taxi you can get around the city in 2-3 hours depending on traffic. Some of the popular places are the Jumeirah mosque and the old part of town.
Visit Burj Al Arab. Designed like the shape of a ship and being the world's fourth largest hotel, this is great sight – seen from the outside. It costs between $7,000 and $18,000 per night.
See Al Khalifa, the largest building in the world at 829,8 meters.
Shopping. The Mall of the Emirates are one of the biggest malls worldwide, and it features an indoor ski resort at 22,500 square meters.
Discover the other Emirates. Since none of the Emirates are large in compass, you can easily make a trip to one of the others.
Go dune bashing. This is an adrenaline pumping experience where you drive through the desert landscape in high speed, causing the car to slide over the sand. Prices start from 100 Dirham up to 400 Dirham for a 6-7 hour trip.
[/fusion_builder_column][/fusion_builder_row][/fusion_builder_container]
BEST TIME TO GO
Dubai is best visited between February and April, which is the mild season with temperatures in the twenties. This, however, is also the most expensive period, so visiting outside this time will give you some bonuses. Just be prepared for sizzling hot days.
Also, consider the timing of Ramadan in your planning. It usually lasts 30 days and during this time everything shots down. All non-muslims are prohibited to eat, drink or smoke in public during daylight hours and many cafés or restaurants close during the day. In 2014, the Ramadan will begin late June.
VISA
At arrival you will get a 30-day visa free of charge. If you wish to stay longer, you can get 30 days more at an additional charge. Many nationalities don't need a visa, but some do. You can check out the list here.
STAY SAFE
Although it might seem very westernized and modern, Dubai is still a muslim country and it is run by Sharia Law. Not too long ago, a 24-year old Norwegian woman was raped and sent to jail for reporting the crime. Unfortunately, this is not an isolated case, so please be careful.
Here's what not to do in Dubai:
Drinking. Avoid drinking alcohol or being drunk in public. It is not tolerated and can lead to jail time.
Drinking. If you're a smoker, avoid smoking in public as it can lead to fines.
Affection. Kissing, holding hands or being cozy with your significant other can lead to arrest and imprisonment.
Sex outside marriage. Having sex with someone you're not married to can lead to severe criminal sanctions. In 2010, a British couple were jailed for a month for kissing in public.
Homosexuality is illegal.
Swearing and the such can lead to punishment.
Swimwear. Don't wear swimwear outside the beach, and in general you should keep it modest.
COSTS
Dubai is expensive, so prepare to pay! However, if you're not looking to spend a fortune on your Arabian adventure, you can find cheaper hotels and restaurants as well. Budget to mid-range travelers can get by for $50 to $100 per day.
How to save money
Take local transportation. A day pass for the Metro will only cost you 14 Dirham for all zones. You can hop on and off where you want to. Buses are cheap, too.
Eat locally. If you don't wish to eat like a sultan, opt for a local dish like Shawarma (only 4 Dirham).
If you're a lady, go out on Mondays. In Dubai, Monday is Ladies Night, and nearly all bars will have 2 free drinks or free drinks all night.
Shopping. Buy your souvenirs at Kamara instead of the pricy malls.
Pin to Pinterest