The perfect one day in Dubai itinerary
Wondering how to spend 1 day in Dubai?
Dubai is full of amazing sights that are perfect for a quick layover. With only one day in Dubai, you might find it difficult to know which sights to squeeze in. But don't worry, I have some great ideas – a Dubai itinerary that'll help you maximise your short stay in the Emirati state!
Let dig in.
Read next: A quick travel guide to Dubai
This post contains referral links for products I love. Adventurous Miriam earns a small commission at no extra cost to you if you make a purchase through my links. Thank you for your support ♡ Learn more
First, some facts about Dubai
Dubai is a city and one of the seven emirates (states) that make up the country called the United Arab Emirates (UAE).
Dubai has become symbolic for its man-made islands, the largest shopping mall in the world and sky-rise buildings such as the Burj Khalifa. As of 2012, Dubai is the 22nd most expensive city in the world and the most expensive city in the Middle East. On the bright side there are many things to do in Dubai, from dune bashing and camel riding to shopping and discovering the delicious Middle Eastern cuisine.
One day in Dubai itinerary
So, you've got one day in Dubai. I've had a few stopovers in Dubai on my way to Thailand and I can tell you first hand that it's the perfect place for a one-day visit.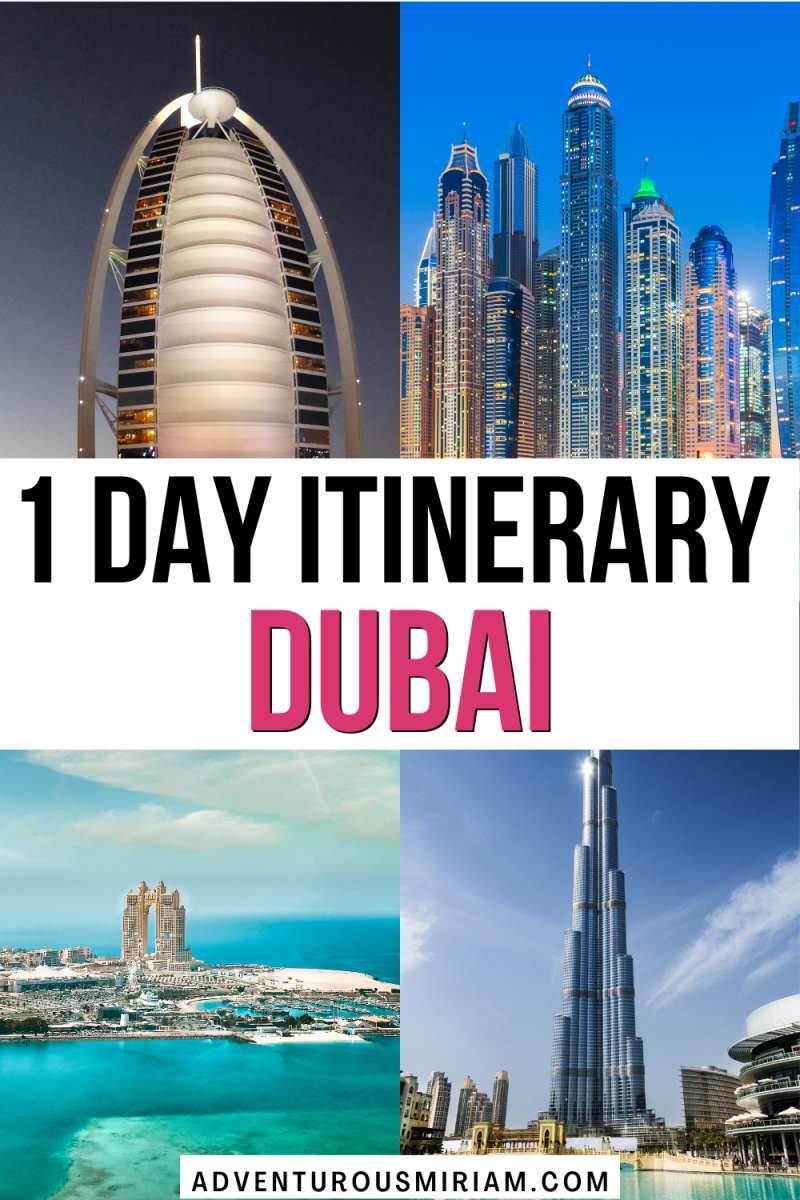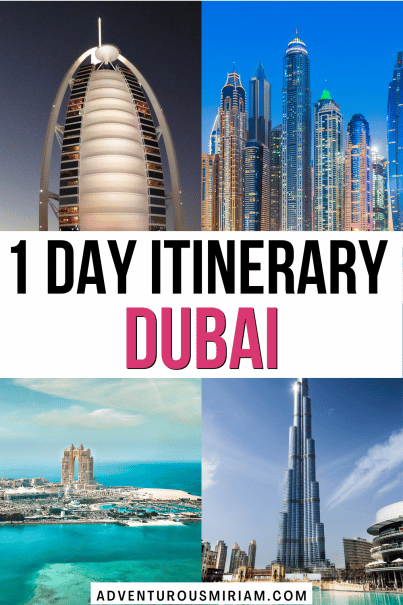 Whether you're here for business or on a stopover, Dubai has plenty to offer. Stay at a hotel near the airport or Metro and enjoy all the attractions via the Metro line.
Where to stay in Dubai
If you're spending the night, I recommend the Bur Dubai district, which is historic and home to the Grand Mosque. You can get a full overview of the best hotels in Dubai in my post about where to stay in Dubai.
A great hotel in Bur Dubai is FORM Hotel Dubai (⭐ 8.5. The breakfasts are some of the most delicious in the whole city, and each room comes with a massive TV and a Chromecast. There's also a huge menu at the restaurant, accommodating all tastes! Check the latest prices.
When to visit Dubai
Dubai is best visited between February and April, which is the mild season with temperatures in the twenties. This, however, is also the most expensive period, so visiting outside this time will give you some bonuses. Just be prepared for sizzling hot days.
Also, consider the timing of Ramadan in your planning. It usually lasts 30 days and during this time everything shuts down. All non-muslims are prohibited to eat, drink or smoke in public during daylight hours and many cafés or restaurants close during the day.&nbsp;</p>
Ramadan usually starts in mid/late March, but the date changes every year so make sure to check online before you go.
What to see in Dubai in one day
Hop-on-hop-off bus
A great way to begin your 1 day in Dubai is to get on a hop-on-hop-off bus.
An onboard guide will provide entertaining anecdotes, context and history of each point of interest. Most importantly, you'll get to see popular attractions like the Burj Khalifa, Dubai Mall, Bastakiya Historical Village, Al Fahidi Fort, the Old Souk Of Arabia, the Old Watchtower and Heritage Village, the gold and spice Souks, Dubai Creek, Atlantis The Palm, Souk Madinat, and Burj Al Arab.
Explore the souks of Dubai
Next, it's time to explore the iconic Spice and Gold Souks of Dubai.
Just grab the Metro to Al Ras Station – 400 meters from Deira – and you'll be surrounded by the most extravagant gold, mountains of herbs and spices, beautiful silk shawls, and more. Take the opportunity to barter for something special to take home. Visiting these souks should be at the top of your Dubai itinerary – you won't regret it!
Jumeirah mosque
Jumeirah Mosque is one of the few mosques open to non-Muslims in the UAE.
Take part in a guided tour conducted by the Sheikh Mohammed Centre for Cultural Understanding – you'll be treated to an hour of exploring the intricate details of the mosque, accompanied by pastries and a discussion session on Islam and Emirati culture. No need to book!
Modest clothing is required but don't worry – dresses and head scarfs can be borrowed here if you need it.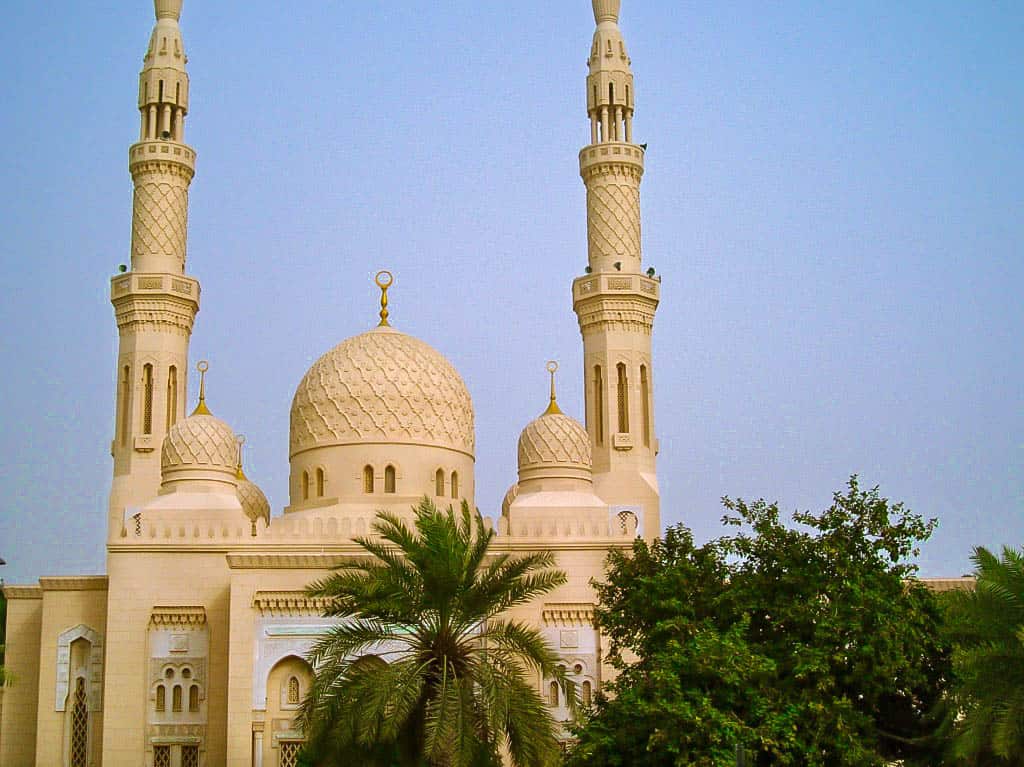 Visit Burj Al Arab
Get ready to be awe-struck upon visiting the Burj Al Arab! This iconic hotel, standing on an artificial island since 1999, was designed like the sail of a dhow and is just impressive.
Make sure to explore the luxurious lobby. The 590ft-high lobby is decorated in bright colours of red, blue, and green, complete with pillars draped in gold – tall enough to fit the Statue of Liberty inside
The Burj Al Arab is the world's 4th largest hotel and prices range between $7,000 and $18,000 per night!
See Burj Khalifa
Entry: AED 300 / US $81
Out of all the things to do in Dubai, seeing the Burj Khalifa is the best one. Burj Khalifa is the world's tallest structure at 2715ft (828m). It opened in January 2010 after six years of excavations. An incredible 13,000 workers worked tirelessly 24/7 to construct one new floor every three days.
Take the elevator up to the 124th where the first observation deck is located. There's another one at the 148th floor and a restaurant on the 122nd. The panoramic view of Dubai is breathtaking.
Enjoy the Emirati food
You might be hungry about now, and trust me: you're in for a treat!
The Emirati cuisine is an eclectic mix of Lebanese, Iranian and Indian influences, and you've got both vegetarian and non-vegetarian dishes that are healthy and delicious. Try the Meat Biryani (Indian rice and meat), Manousheh (Dubai pizza) or Chelo Kebab (see the photo below)!
Great restaurants in Dubai:
Ayamna (at Crescent Road, The Palm Atlantis)
Arabian Tea House Restaurant & Cafe (at Al Fahidi street)
Biryani pot (Opposite Saga World at Jumeirah Road)
Go shopping (and skiing)
What to do after lunch? Simple, go shopping.
The Mall of the Emirates is one of the biggest malls worldwide, and to top it off, it features an indoor ski resort at 22,500 square meters! With its 630 shops, Ski Dubai, community theatre and 24-screen multiplex cinema, this mall is like nothing else you've ever seen.
Enjoy an evening cruise
If you're wondering what to do in Dubai in the evening, this is it: a luxurious two-hour yacht cruise in the Dubai Marina.
Make sure to book in advance and hop onboard a glass-enclosed boat for an unforgettable experience on the waters. You'll get to sail past stunning monuments like Burj Al Arab, Palm Atlantis, and Palm Jumeirah islands and see them from the waterside.
If you have more than 1 day in Dubai
With more than one day in Dubai, you can explore the city within its limits and beyond. From dune bashing to discovering other Emirates, there are plenty of activities to try out. These are my two favourites:
Go dune bashing
This is an adrenaline pumping experience where you drive through the desert landscape in high speed, causing the car to slide over the sand. It's SO much fun!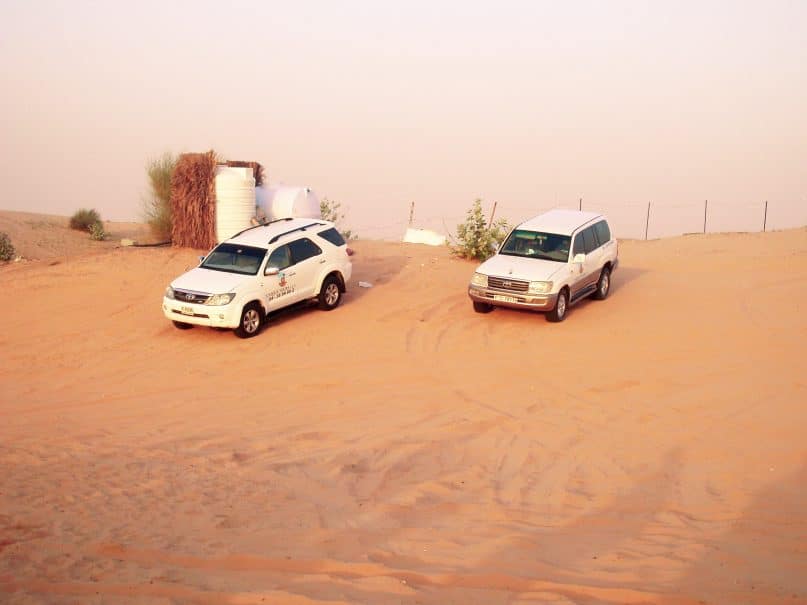 Discover Qatar or the other Emirates
Since none of the Emirates are very large, you can easily make a trip to one of the neighbouring states. For instance, take a day trip to Abu Dhabi or to Qatar to experience more of the area.
Got questions about your one day in Dubai itinerary? Ask away!
More posts about Dubai you'll love: