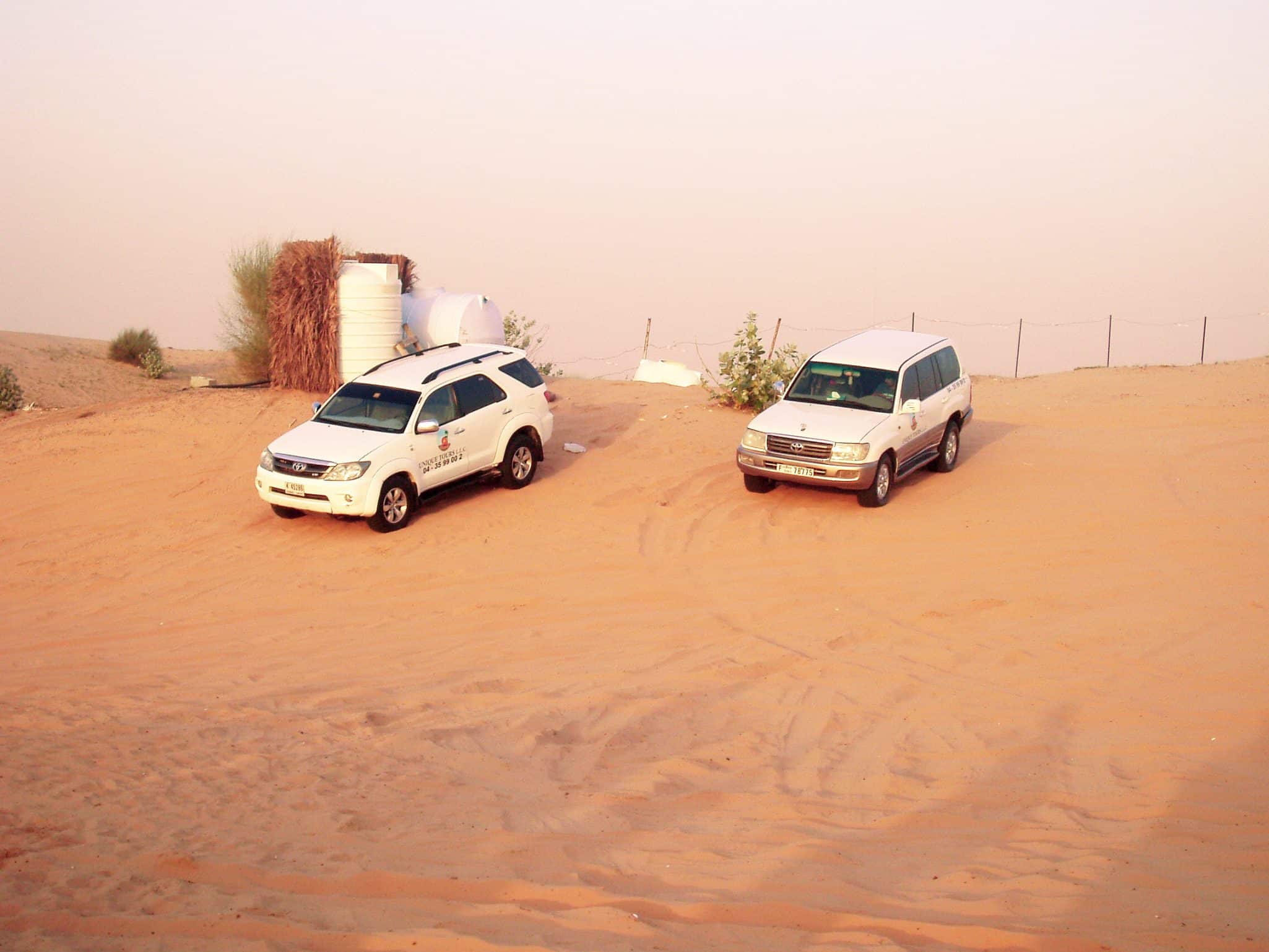 Welcome to Dubai
Dubai is unlike any other city on Earth. Though it's not actually the capital of the UAE (that title goes to its neighbour Abu Dhabi), it's certainly now the most famous modern city in the Middle East. A city defined by its luxury hotels, resorts, and restaurants, Dubai has some of the most unbelievable sights like the world's tallest building, islands in the shape of palm trees, and markets which sell solid gold products.
Amazing experiences in Dubai
The world's most luxurious country
The amount of wealth and luxury of Dubai knows no bounds. You think you know what to expect until you actually arrive and are suddenly daunted by the way it flaunts its wealth. Massive Rolex clocks in the airport are the first thing to greet you. Then there are the sports cars used by police, a 7-star beach hotel, the world's tallest tower, and markets that deal exclusively in gold.
Dune bashing in the desert
Taking a 4×4 out across the sand dunes is only one of the fun things you can get up to in the desert surrounding Dubai. And dune bashing is an excellent activity when you visit the world's most luxurious city. The dunes are so warm and dreamy that you can take dune buggies, 4x4s, or even sandboards across them and conquer the sands like a surfer conquers the waves.
Traditional and International cuisine
The food is AMAZING. Of course, for a luxurious International city there's a fantastic range of food from American to European and beyond. But the best foods are still the local foods. In the older and more traditional areas of the city, you'll find traditional Arabic foods and an lot of world-class Indian food. Dubai is full of traditional Indian restaurants!
Perfect for a stop-over
Dubai is fairly quick to conquer. You can see a lot of what Dubai has to offer in a weekend, making it the ideal place for a stop-over on to your next trip. It's often the place where people change flights from Europe to Asia, so make your change just that little bit longer, stay a night or two, and see all the magic of Dubai in a weekend stop-over.
Best sights in Dubai
Burj Khalifa
The world's tallest building is so impressive in its height that you can actually watch the sunset from the bottom, take the high-speed lift to the top, then watch the sunset again!
Burj al Arab
This iconic building is the world's fifth-tallest hotel, and many claim it to be 'the world's only 7-star hotel'. Though that is actually unofficial, it's nonetheless an incredible building!
Palm Jumeirah
The Palm Jumeirah is an artificial island designed in the shape of a palm tree. On the island are 5-star hotels and celebrity homes. There are boardwalks you can wander lined with street food.
Dubai Mall
A shopping mall of such a ridiculous size that it actually has a Sega theme park inside, on its second floor and a dry ski slope in its basement. This is more than a mall; it's an indoor city!
Bastakia (Old Dubai)
Also known as Al Fahidi Historical District, this is the old part of Dubai, home to traditional architecture rather than monumental towers, as well as markets and local eateries.
Desert (dune bashing)
The Dubai desert is expansive, and there's a lot you can do out on the dunes. From hot air balloons to desert safaris, camping under the stars to dune bashing in buggies and 4x4s.
How to get around
Dubai is fairly small. I recommend taking a taxi around town or using the metro.
Best time to visit
Dubai is a land of perpetual sunshine and blue skies. In fact, drivers in Dubai don't know how to cope with even a slight amount of rainfall (on the rare occasions it happens). In the peak of summer, temperatures hit 50 so it's definitely best to avoid July and August.
In the winter, it gets down to the low 30s, and in the best season to visit (spring and autumn), it sits in the 30s with a very dry heat. So just make sure to avoid peak summer.
Practical info
Language: Arabic
Currency: Dirham
Plugs: The UAE uses the type G plugs found in the UK, with three prongs at 140V. Make sure to pick up a universal adapter
Population: 3 million
Important telephone numbers: 999 for all emergencies
Visa: US citizens can fly to, and stay in, the UAE for up to 1 month, visa-free.
Rough Budget
Hotel:

$100-200

Food:

$20-50

Activities: e.g. $60 for a dune bashing tour
Transportation:

$5-10 for the metro
Arabic Phrases
Hello: Marhabaan
Thank you: Shukraan
Yes: Nem fielaan
No: La
Bye: Wadaeaan
Posts about Dubai