Review: A weekend at the Aloft Hotel Munich
I recently spent a weekend in Munich on my trip through Germany. I stayed at the new, cool Aloft Hotel Munich, which is located right across from the train station (Haubtbahnhof), next to a lovely local restaurant. The area around train stations can usually be shady, but not here in Munich. It's busy with lots of people coming and going, and close to busses and subways.
I spent two nights at Aloft Hotel Munich and fully enjoyed it. The room was comfortable, service was great and best of all were the little details like the selfie stick gift in my room and the self-service cafe. I really liked that last one.
Here is my review of the Aloft Hotel Munich.
This post contains referral links for products I love. Adventurous Miriam earns a small commission at no extra cost to you if you make a purchase through my links. Thank you for your support ♡ Learn more
Aloft Hotel Munich
Aloft Hotel Munich is a boutique hotel with a modern feel. The hotel features a self-service gourmet pantry, 24-hour fitness centre and a hip lobby. It follows the usual Aloft hotel character of music-inspired and modern interior. It feels fresh and young.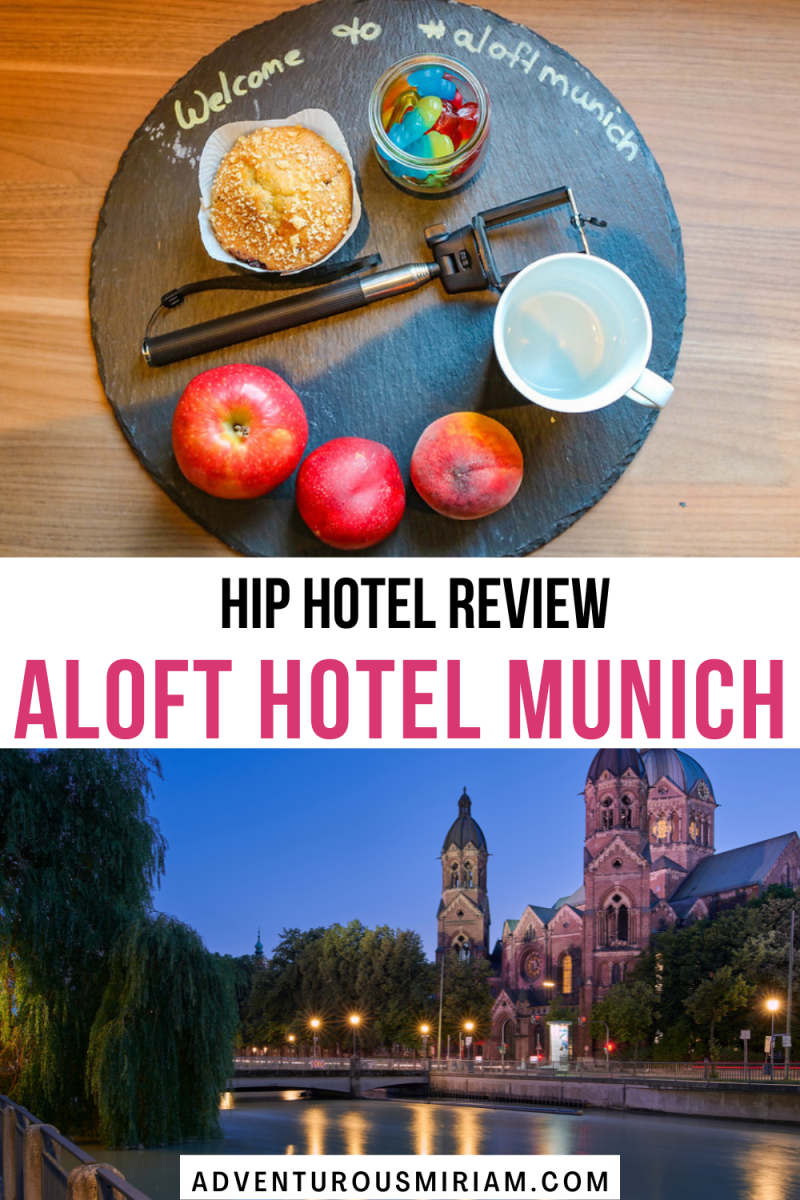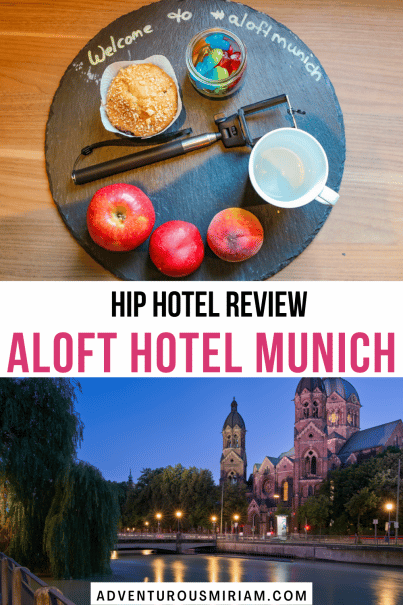 My Aloft hotel room
I was welcomed to Aloft Hotel by a friendly staff member at the reception. After checking in, I took the elevator to the 5th floor which would be my home for next two nights.
I pushed the door open and I gasped. This wasn't a room. It was a suite! A king size bed stood against the far wall, covered in the most soft and inviting bedclothes in simple white. On the other side was a sitting area with a large sofa and a couple of small tables. Next to it was a sac chair, calling my name.
On the table under the windows, I found a magazine with Justin Bieber and a welcome present from the hotel; fruits, a muffin, wine gums – and a selfie stick! The hipster-meter just exploded.
My room was a 30 m2 suite with a 40-inch TV, furnished methodically with modern furniture. The room was remarkably larger and more spacious in real life than on the website's photos so I was positively surprised. With a street view, I thought it would be noisy, but it wasn't at all. I didn't hear any noise from the city or neighbouring rooms.
The Bathroom
Right next to the entrance was the bathroom. A sink, a large table and mirror lined the left wall. It had a walk-in shower and one of those cool bowl sinks that sit on top of the table.
Hip lobby
The reception, lounge, café and bar is placed in an open-space room with high ceiling. The staff is there 24/7, which is comforting, and the interior and furniture is inviting and stylish.
Aloft Hotel also has an internet area for guests.
Local bands take stage at Aloft every Friday night, creating an atmosphere of youthful vibrancy that doesn't feel forced.
Re:fuel grab and go pantry
The cafe is a self-service area with a refrigerator, microwave, pretzels, a fresh newspaper and many other things that belong in a German kitchen. In the morning, fruits, oats, bread and beverages are served, and later in the day it's turned into a cafe. You can get fresh fruits, snack and coffee around the clock.
Aloft Hotel Munich doesn't have a restaurant. But since it's located in the city centre, you'll have lots of dining options right outside the door.
Final thoughts about Aloft Hotel Munich
I really enjoyed staying at Aloft Hotel Munich. The hotel is a classy choice with a young, hip vibe, perfect for business travelers and young travelers. The location is super convenient, opposite the train station and 1,5 km from the famous Marienplatz. I liked the cool interior and atmosphere, the room was lovely and the bed was sleep-inducing!
I only have one remark and it has to do with the internet connection. There was an issue with the WiFi connection for Mac computers, meaning I (as a Mac user) couldn't access the Internet during my two days in Munich. As a blogger who needs to be online more or less 24/7, that's impossible to work with. I really liked Aloft Hotel so I hope they'll look into it for future guests.
I was a guest of the Aloft Hotel, Munich, but all opinions are my own. 
More posts from Germany you'll love: