Psst! This post probably contains affiliate links, which means I earn a commission (at no extra cost to you) if you click through and make a purchase. As always, I only recommend products and services I trust.
Aah, Nuremberg Old Town, Germany. This beautiful German, medieval Old Town is home to a 1000 year-old castle, to the famous Nürnberger bratwurst and Franconian beer. Nuremberg is also the second-largest city in Bavaria and the unofficial capital of Franconia. I went there a few months ago and met the city's rich past, both dark and significant.
Read next: Amazing things to do in Munich
JOIN A GUIDED TOUR OF NUREMBERG GERMANY
If you're visiting Nuremberg, you probably want to see everything the town has to offer. I couldn't agree more and it's a beautiful town to visit. If you only have limited time in Nuremberg, taking a guided tour is a great way to maximize your time as the guide knows where all the sights are located and will give you the history and background behind the places.
This 2-Hour Tour through the Historical Old Town takes you around the best sights in town, including Albrecht Dürer's House, Nuremberg Castle and the Hauptmarkt with the pretty fountain and the Frauenkirche.
Book here: Nuremberg: 2-Hour Tour through the Historical Old Town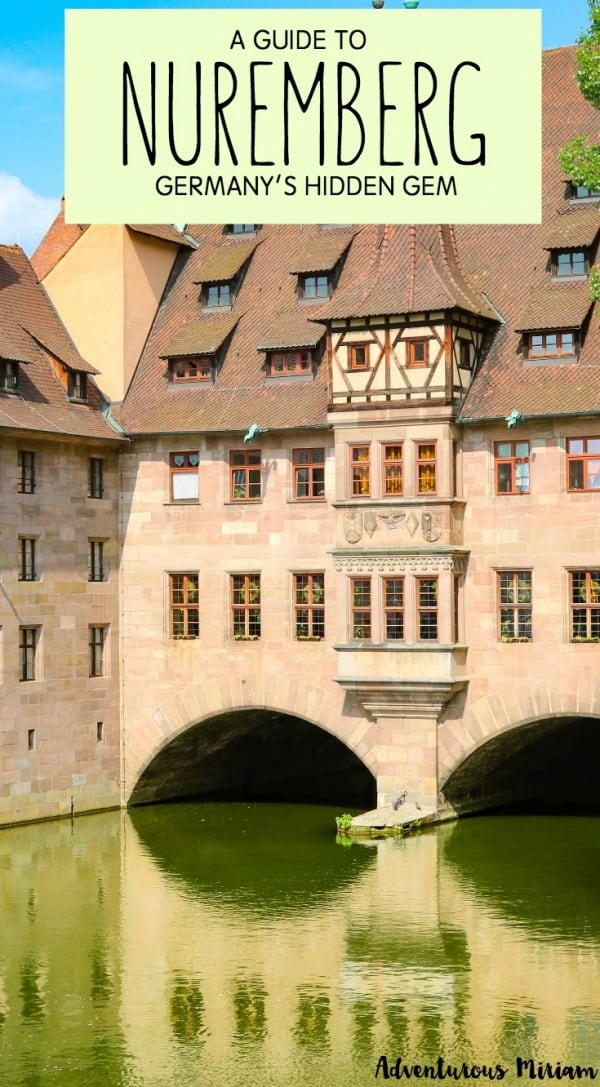 THE NÜRNBERG TRIALS & WORLD WAR II
Nuremberg has a long and complex history. It was here that the Nazi rallies were held and where the Nuremberg Laws denying German citizenship for Jewish people were passed. After World War 2, the Nuremberg Trials were held. The city has a dreadful burden of history to bear, but it bears it honestly and well. Some of the most important World War 2 sites and museums are located here:
Nuremberg's Palace of Justice – this is where the 1945 Nürnberg trials were held. It's possible to see courtroom 600 where 21 Nazi war criminals were tried and convicted.
Former Nazi Party Rally Grounds – a large stadium and parade ground. It was completed in 1933 and hosted 6 of Hitler's biggest Nazi Party rallies.
World War 2 Art Bunker – a former bunker transformed into an art gallery.
Kongresshalle – the headquarters of the Documentation Centre Nazi Party Rally Grounds, which was a meeting place of the Third Reich. Here, you can get insight into Nazi Germany and the Nuremberg Trials.
10 THINGS TO DO IN NUREMBERG OLD TOWN
Despite its dark past, Nuremberg has a quaint appearance and a captivating, charming Old Town – Altstadt. All the main sites are located in the Old Town along the walking street (Koenigstrasse) and I began my sightseeing from Frauentorturm across the train station and ended at the Imperial Castle. I had a Nuremberg Card, which gave me access to the main sights and unlimited free public transportation.
This is a list of my favorite things to see in Nuremberg Old Town:
Frauentorturm (at the beginning of the walking street)
Mauthalle (former customs house)
St. Lorenz / St. Lawrence church
Nassauerhaus (medieval tower)
Heilig-Geist-Spital (hospital of the Holy Spirit)
Main Market Square (across from Frauenkirche)
St. Sebaldus church
Weissgerbergasse
Tiergärtnertor / Albrecht Dürer House (right next to the Imperial Castle)
Nuremberg Imperial Castle (also see the Deep Well and Simwell tower)
Right next to the Old Town entrance, there's a small walkway to the Frauentorturm, which is part of the old city wall. I walked inside and found small shops, cafés and a green area. Like a little oasis in the city.
KOENIGSTRASSE & OPEN AIR MARKETS
Nuremberg Old Town is easy to get around. I simply followed the walking street, also known as Koenigstrasse and saw all the major sights. I especially liked the Heilig-Geist-Spital, which is located right next to the bridge on the right side (if you're coming from the train station).
Nuremberg, Germany is also known for its many open air markets, including the Christmas Market. When I was there in May, I went to a flea market and food market where they sold everything from truffles, fruits and Turkish food to old lamps, swords and paintings.
Read next: Neuschwanstein: Finding Sleeping Beauty's castle
NUREMBERG FOOD AND BEER
I came to Nuremberg intrigued by the famous Nuremberg sausage (or Nürnberger bratwurst to give it its proper German name). And it was outstanding. Think sizzling hot sausage – only 9 cm long and 25 grams – flavored with marjoram and spices. An absolute fat content of 35% – cooked this way the last 700 years. I went crazytown with the bratwurst; fried, boiled and pickled. I did not regret it.
Another great local dish is the Franconian Schäuferle – or pork shoulder. The meal is quite heavy so I'm glad I arrived hungry!
Where to eat traditional Franconian food:
Bratwursthäusle (across from St. Sebaldus church) – the best bratwurst in town
Albrecht-Dürer-Stuben (it's very popular, so make a reservation)
Goldenes Posthorn (also very popular)
Spiessgeselle
Alte Küchn
FRAUENKIRCHE, ST. LORENZ & ST. SEBALDUS CHURCH
One of the things I noticed about Nuremberg, Germany was how many beautiful churches there was within the walls of the Old Town. Along Koenigstrasse I found no less than three stunning churches: Frauenkirche, St. Lorenz church and St. Sebaldus church. They were super beautiful, both inside and out.
Read next: Beautiful things to see in Bamberg
NUREMBERG HISTORIC AREA
My favorite area in Nuremberg Old Town was around the Imperial Castle. This area is more historic with colorful buildings and houses, including the Albrecht Dürer house, which is a museum today. It's named after Albrecht Dürer (1471 to 1528), a painter, famous for being one of the first artists to do a self portrait.
I spent a lot of time wandering the streets and taking photos of the half-timbered houses, which were similar to the ones in France and Denmark. This is definitely the prettiest place in Nuremberg, Germany.
WEISSGERBERGASSE
A few streets from the castle, I found the beautiful Weissgerbergasse. You guys know me – sense of direction is not my strength, but eventually (and with help from Google Maps), I located it.
Isn't it pretty?
NUREMBERG IMPERIAL CASTLE (KAISERBURG)
Nuremberg Castle stands high above the Old Town and dominates the view. I got a really good view from the top and also went to the beautiful flower garden next to it. Nuremberg castle – or Kaiserburg – also includes the Sinwell tower and the deep well. They're both worth a visit.
CITY CANALS IN NUREMBERG, GERMANY
On my last day in Nuremberg Old Town, I went for a walk along the canals. I met many locals; people walking their dogs, moms with strollers, but I also saw homeless people. They seemed to live under the bridges, which is always sad to see.
HOTELS IN NUREMBERG
The best place to base yourself in Nuremberg is between the Old Town and the train station (bahnhof). This is where all the sights are located and it's close to restaurants and public transport.
I stayed at Sorat Hotel Saxx Nürnberg, which was perfect for my needs. The rooms are high standard and luxurious. And the hotel is located directly in the city centre at the main Market Square (next to the Old Town). If I revisit Nuremberg, I'd stay here again.
Click here to see the latest prices.
WHY YOU SHOULD VISIT NUREMBERG
All in all, I really enjoyed my trip to Nuremberg. Everyone I met was so nice and it was easy to find my way around town. What I liked most about Nuremberg is that it's not crowded – except on market days – and there's so much history.
In many ways, it's very different from its Bavarian counterpart Munich; it's cheaper, less metropolitan and more historic and quaint, plus the bratwurst is different (and in my opinion sehr better). It was interesting to visit both Nuremberg and Munich, the two largest cities in Bavaria. They're so close, but really quite different.
Thanks so much to Nürnberg Tourismus, and Tatjana in particular, for hosting and taking good care of me in Nuremberg. All opinions and über-excitement is my own.
So, what do you think about Nuremberg Old Town? Would you visit?