A spectacular one day in Lauterbrunnen itinerary
Is one day in Lauterbrunnen all you've got? I'll help you make the most of it! In this post, I've shared the best things to do in Lauterbrunnen in one day.
Plan your trip to Lauterbrunnen
👩🏻 Best guided tours in Lauterbrunnen
🏡 Where to stay in Lauterbrunnen
Lauterbrunnen is possibly one of the most beautiful places in the world.
This picturesque little valley town is located in the Bernese Oberland – the heart of the Swiss Alps. With its towering mountains, lush valleys, and 72 cascading waterfalls, Lauterbrunnen is one of those places that will take your breath away.
In this guide, I'll show you how to make the most of your one day in Lauterbrunnen and experience all the magic this valley has to offer.
Let's dig in.
Read next: 12 dreamy things to do in Lauterbrunnen in winter
This post contains referral links for products I love. Adventurous Miriam earns a small commission at no extra cost to you if you make a purchase through my links. Thank you for your support ♡ Learn more
Lauterbrunnen itinerary
One day in Lauterbrunnen
So, on to the big question: is one day in Lauterbrunnen enough?
Yes you can visit Lauterbrunnnen in one day and see the main sights. You can explore the waterfalls, go hiking and even try some of the extreme sports if you make sure to start your day early.
However, I recommend spending 2-3 days in Lauterbrunnen if you can. That way you can fully experience everything it has to offer.
🚞 If you're exploring other places in the Jungfrau region, make Lauterbrunnen your base! There are good train connections here.
Where is Lauterbrunnen, Switzerland?
Lauterbrunnen is nestled in the heart of Central Switzerland. The U-shaped valley is surrounded by jagged peaks and flanked by cascading waterfalls.
Fun fact: Lauterbrunnen means "loud springs" in German, which you'll understand when you get there and hear the 72 waterfalls that fill the valley with life and sound.
How to get to Lauterbrunnen
The easiest way to get to Lauterbrunnen is by train. And you're in luck, because train travel in Switzerland is the best: it's precise, comfortable and reliable.
From Interlaken, take the 20-minute train to Lauterbrunnen train station. The train ride itself is a scenic journey through the mountains and valleys, so be sure to sit by the window!
🚞 Get the all-in-one Swiss Travel Pass!
With the Swiss Travel Pass you'll get unlimited rides on trains, buses, and boats throughout Switzerland!
Simply show the Swiss Travel Pass on your smartphone and you're ready to explore Switzerland.
Best time to visit Lauterbrunnen
Lauterbrunnen is gorgeous all year round because each season changes the scenery. Weather-wise, it's best to visit Lauterbrunnen from May-September.
🌸 Lauterbrunnen in spring
The best time to visit Lauterbrunnen is in late May. That's when I visited, and it was perfect! The flowers were in full bloom, the weather was nice and not too warm (about 23 degrees), and there were hardly any tourists there.
☀️ Lauterbrunnen in summer
The peak tourist season in Lauterbrunnen is during the summer months (June to August) when the weather is warm and sunny, and all the hiking trails are open. It's also the busiest time of the year, though, so expect crowds and higher prices.
🍂 Lauterbrunnen in autumn
Autumn is a beautiful time to visit Lauterbrunnen as the landscape changes colours. Be aware that hiking trails and other activities close down by late autumn.
❄️ Lauterbrunnen in winter
If you're interested in winter sports like skiing or snowboarding, then you should visit Lauterbrunnen in the winter months (December to February). The town transforms into a winter wonderland, and there are plenty of winter sports activities to try.
🌼 Things to do in Lauterbrunnen
1. Explore Lauterbrunnen valley
Once you arrive in Lauterbrunnen, start walking through the valley. You'll be surrounded by towering mountains, lush meadows and Swiss alpine cows, so it's the perfect place for a walk.
I went to Lauterbrunnen in May, when all the dandelions were blooming. Every field as far as the eye could see was filled with flowers and it looked like an endless sea of yellow.
Tip: You can also stop by the local tourist office to grab a map and get some recommendations for hiking trails and other activities.
2. Visit the waterfalls for jaw-dropping views
Lauterbrunnen is home to 72 waterfalls, so you should visit at least a few of them. Most of the waterfalls are visible from the main road, but others are hidden inside the mountains.
The most beautiful waterfalls are Staubbach Falls, which is the largest free-falling waterfall in Europe. Mürrenbach Falls and Trümmelbach Falls are also worth visiting.
Read next: 7 Lauterbrunnen waterfalls you can't miss
3. Explore the cemetery
Even the cemetery is magical in Lauterbrunnen. It's located beneath a towering waterfall – so pretty.
4. Take a cable car to Mürren for more spectacular views
One of the things I love about Lauterbrunnen is its location. There are several cute and picturesque villages located within hiking or cable car distance, so they're easy to visit.
Mürren is probably the most popular village to visit, and it's an easy 4-mile hike or a quick cable car ride. You'll see dreamy pastures full of happy cows and majestic alpine views on your way up.
🐮🔔 If you have more than one day in Lauterbrunnen, I highly recommend visiting Gimmelwald or Wengen, too.
5. Hike to Stechelberg (an easy walk)
The hike distance is 6,7 km and it takes 1 hour and 45 minutes.
My favourite thing to do in Lauterbrunnen was hiking. The hike to Stechelberg is a super easy hike because the road is wide and flat. You'll see the best views on your way there.
I've done a lot of hiking in Switzerland, Austria and Slovakia, but Lauterbrunnen is one of my favorite hikes. What did it for me was the alpine meadows, the sound of the Swiss cow bells, the gorgeous waterfalls and the enclosing cliff walls.
Walking on the road to Stechelberg on a warm spring day reminded me that this little world we live in is mindblowingly fantastic. Just call me over-enthusiastic or nuts, but it made me happy.
👟 TIP: The Jungfrau area is ideal for hiking and walking a lot, so I suggest packing reliable sneakers or sturdy hiking boots. These are my all-time favorite travel sneakers, but if you've got other outdoor adventures in Switzerland or visit during winter, I would bring a pair of hiking boots.
6. Visit the Trümmelbach Falls (UNESCO World heritage)
The most impressive waterfall in Lauterbrunnen is Trummelbach Falls – a series of ten waterfalls located inside a mountain.
The waterfalls are accessible by a lift and a short walk, and the experience is unique! That sound of the waterfalls roaring through the mountain is one-of-a-kind.
7. Go paragliding and see Lauterbrunnen from above
Lauterbrunnen is the perfect place for extreme adventure activities, and you'll find lots of outdoor activities in the area, from paragliding to base jumping.
Paragliding in Lauterbrunnen is the best way to see Lauterbrunnen and the mountain peaks! You don't need any prior experience to try paragliding, and you'll fly tandem, which means you'll be in safe hands.
8. Walk around Lauterbrunnen town
The small town of Lauterbrunnen is the first and last place you'll see when you arrive. You'll find restaurants and accommodation here.
Make sure to wander around town and just enjoy the feeling of being in a valley surrounded by so many waterfalls. It's truly unique.
Where to stay in Lauterbrunnen
If you're staying the night in Lauterbrunnen, these are the top picks:
Valley Hostel (⭐ 8.9) – a cheap option with free WiFi, a garden and shared kitchen. It has free parking and a swimming pool. Click here to see the latest prices.
Hotel Oberland (⭐ 8.4) – Quaint rooms with balcony and a magnificent view of the waterfalls. It's definitely worth splurging for the view here. Click here to see the latest prices.
Where to eat in Lauterbrunnen
Lauterbrunnen has a decent selection of cafes and restaurants so make sure to get a good meal at one of these places:
Airtime Lauterbrunnen (⭐ 4.5/5) – check reviews on Tripadvisor
Hotel Oberland restaurant (⭐ 4.5/5) – check reviews on Tripadvisor
Restaurant Sulwald-Stübli (⭐ 5/5) – check reviews on Tripadvisor
Where to next in Switzerland?
So, after your magical visit to Lauterbrunnen, you're probably wondering where you should go next?
Well, this area of Switzerland is particularly stunning and you will have plenty of choices. Here are some amazing things to do near Lauterbrunnen in the Jungfrau Region.
🚞 Jungfraujoch – Top of Europe
No trip to the Jungfrau region is complete without visiting Jungfraujoch – the highest train station in Europe!
The best part? At the summit, you can explore an Ice Palace, see the Sphinx Observatory, and enjoy magnificent views of the most beautiful region in the Swiss Alps. On a clear day, you can even see all the way to France, Italy and Germany.
The train ride itself is an experience, with stunning views of the mountains and valleys along the way.
Jungfraujoch is the perfect day trip (or a half-day trip at the very least) and it's a unique experience. See for yourself → Why you should visit Jungfraujoch – Top of Europe
How to get from Lauterbrunnen to Jungfraujoch:
To get there, take a train from Lauterbrunnen to Kleine Scheidegg, which takes around 20 minutes. From Kleine Scheidegg, transfer to the Jungfrau Railway, which will take you up to the summit of Jungfraujoch.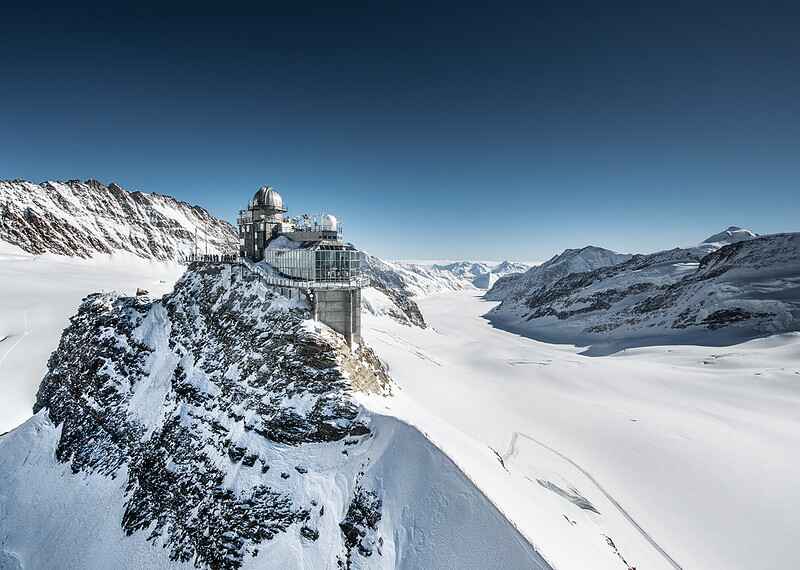 🏂 Grindelwald
Grindelwald is a lovely little alpine town, not far from Lauterbrunnen. The town is surrounded by towering mountains, including the famous Eiger, and you can do all sorts of outdoor activities such as skiing, snowboarding, and hiking.
Whether you're looking for a Swiss Alps getaway or an action-packed adventure, Grindelwald is the perfect destination.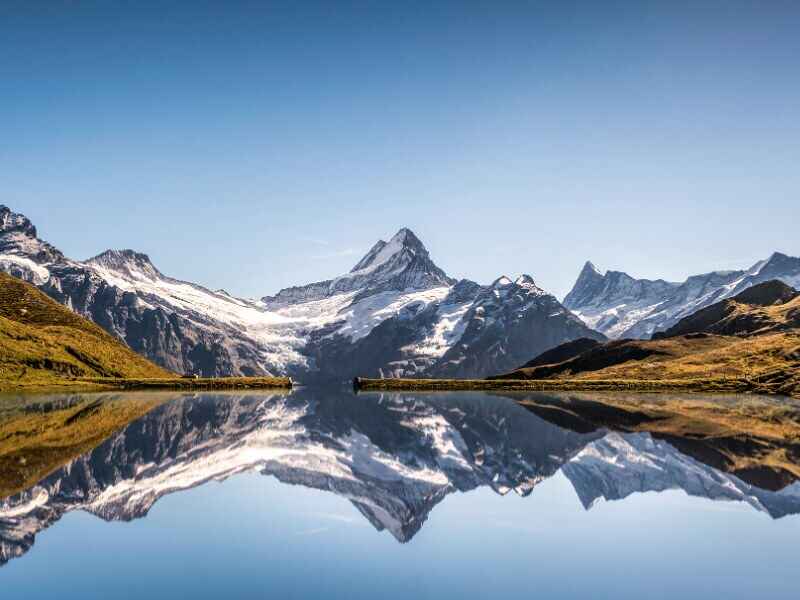 🏰 Lake Thun
Another beautiful nearby place is Lake Thun.
Lake Thun is exactly what I pictured when I first thought of Switzerland. Think mind-blowing views of the world-famous Swiss Alps, surrounded by alpine lakes and fairytale castles.
There are two castles that you definitely should visit on the lake: Oberhofen Castle and Spiez Castle. Oberhofen Castle is a romantic castle with one of the towers actually in the water, while Spiez Castle is surrounded by vineyards in what is said to be the most beautiful bay in Europe.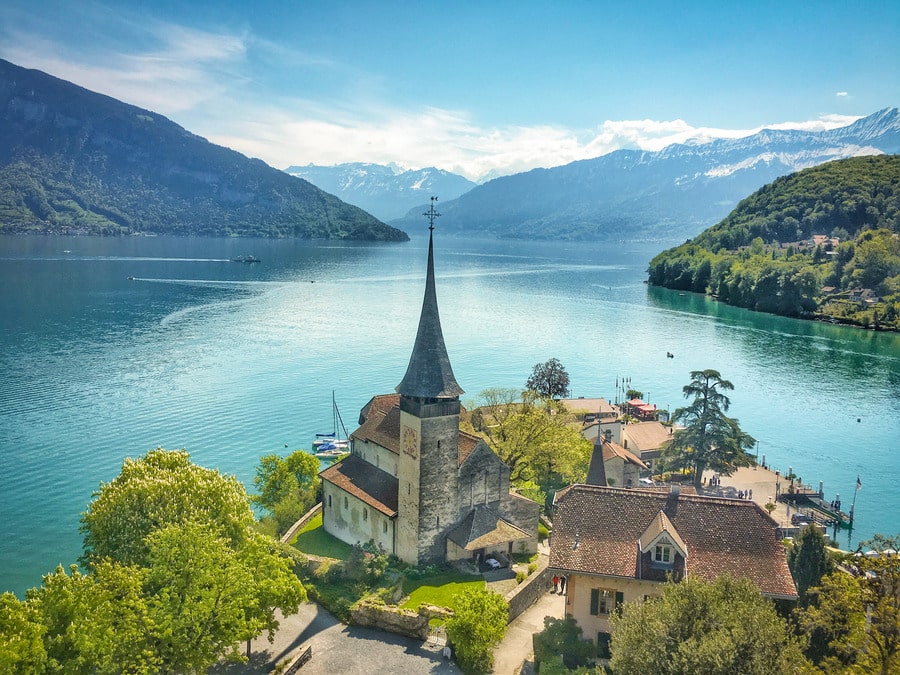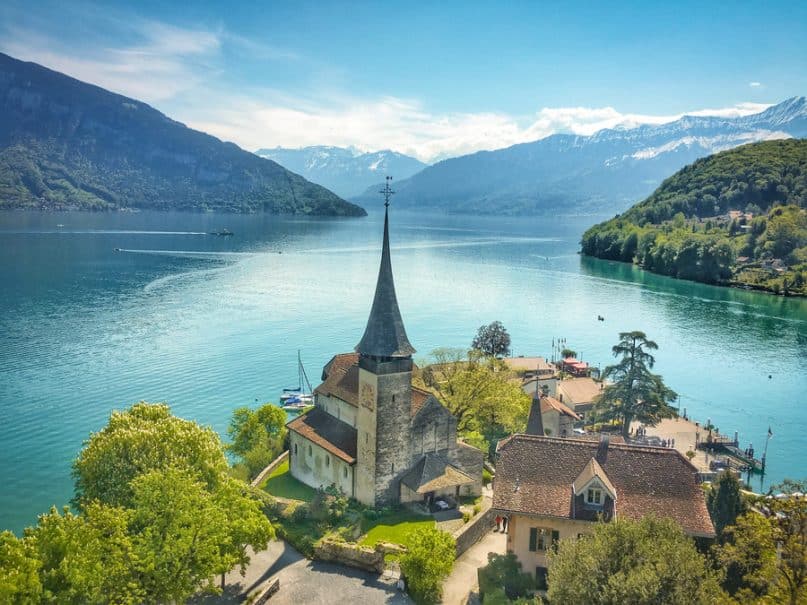 FAQ about Lauterbrunnen
Is Lauterbrunnen worth visiting?
YES! I have been to many places in my life, but Lauterbrunnen valley is one of the best. It's like a tiny piece of heaven, just a swooning train ride away from bigger cities like Bern and Lucerne.
If you're in Switzerland and only have time to visit one place, choose Lauterbrunnen and go chase waterfalls. You won't regret it.
Why is Lauterbrunnen famous?
Lauterbrunnen is famous for its 72 waterfalls, towering mountains, and lush green valley. It's also known for its outdoor activities, including hiking, skiing, and paragliding.
Is it better to stay in Interlaken or Lauterbrunnen?
Lauterbrunnen, definitely, if you ask me. But it ultimately depends on what you're after.
Interlaken is a larger town with more hotels, restaurants and transportation options, while Lauterbrunnen is smaller and much more scenic.
Here's a Lauterbrunnen vs Interlaken overview:
Lauterbrunnen
Interlaken
Population: approx. 2,300
Population: approx. 5,700
Highlights: Staubbach Waterfall, Trümmelbach Waterfalls, Wengen, Mürren, Stechelberg, Kleine Scheidegg, Jungfraujoch
Highlights: Harder Kulm viewpoint,
Lake Thun and Lake Brienz
The perfect base to explore the Jungfrau region
The perfect base to explore larger cities and the lakes
More beautiful scenery
More indoor and outdoor activities
Wooden chalet-style hotels
4 and 5-star hotels
Can I do Interlaken and Lauterbrunnen in one day?
You can, but I wouldn't recommend it. There's simply too much to see in Interlaken and Lauterbrunnen to experience both places in one day. Instead you should spend at least one day in each town to discover all that they have to offer.
Which language is spoken in Lauterbrunnen?
The most commonly spoken language in Lauterbrunnen is Swiss German, which is very similar to German but with a few differences. However, most people also speak English.
Which currency is used in Lauterbrunnen?
The currency used in Lauterbrunnen, as well as throughout Switzerland, is the Swiss Franc (CHF).
Why visit Lauterbrunnen Switzerland?
There are lots of reasons to visit the beautiful valley of Lauterbrunnen. Here are the five best reasons:
It's jaw-dropping: Lauterbrunnen is surrounded by towering mountains, lush green valleys and waterfalls.
Waterfalls: Lauterbrunnen is home to 72 waterfalls, each unique. Some are even hidden inside caves, which you can visit.
Outdoor activities: From hiking and skiing to paragliding and mountain biking, Lauterbrunnen gives you a lot of choices for outdoor activities.
Swiss culture: Lauterbrunnen is the perfect place to experience the Swiss Alps culture with traditional wooden houses, local cuisine, and friendly locals.
Read more posts from Switzerland
Save it!