12 dreamy things to do in Lauterbrunnen in winter
If you're planning a winter trip to the most magical place in Switzerland, I've rounded up all my favorite things to do in Lauterbrunnen in winter. Plus I've included some helpful tips for traveling to this picturesque alpine town.
Plan your trip to Lauterbrunnen
👩🏻 Best guided tours in Lauterbrunnen
🏡 Where to stay in Lauterbrunnen
Lauterbrunnen is one of my favorite places in Europe.
This picturesque small village is set in a valley dotted with 72 waterfalls and surrounded by stunning Alpine peaks.
While it's beautiful year-round, winter turns the valley into a magical snow-covered wonderland. And though some trails and outdoor activities are closed, there are still lots to experience in this fairy tale village.
Here's a list of the 12 most popular things to do in Lauterbrunnen in winter.
Read next: 1-day Lauterbrunnen itinerary in the summer months
This post contains referral links for products I love. Adventurous Miriam earns a small commission at no extra cost to you if you make a purchase through my links. Thank you for your support ♡ Learn more
Lauterbrunnen winter
How is the weather in Lauterbrunnen in winter
In the winter months, temperatures hover between 0°C and 10°C during the day. You'll see a good amount of snow, especially in January and February.
Days can be short and often cloudy, but there are sunny moments.
Pack warm!
| Month | High / Low (°C) | Chance of rain or snow |
| --- | --- | --- |
| December | 7° / 2° | 41% |
| January | 6° / -3° | 40% |
| February | 10° / 0° | 36% |
lauterbrunnen switzerland
Things to do in Lauterbrunnen in winter
1. Winter hiking in Lauterbrunnen
When winter hits the valley of Lauterbrunnen, there's snow everywhere – on rooftops, trees, mountains, you name it.
Just walking around Lauterbrunnen village, you'll spot these wooden Alpine houses and the church that gives it character.
Most of the hiking trails are closed due to snow and safety, but you can still walk around town and take in the stunning views of frozen waterfalls, snowy meadows, and the surrounding Alps.
Some winter walking paths will be open.
2. Skiing and snowboarding
If you're up for winter sports, Wengen, Grindelwald, and Mürren are the go-to ski areas.
Wengen has the Lauberhorn race slope if you're up for a challenge, while Mürren's Schilthorn area offers extensive runs and a panoramic view.
The local train and cable car systems are pretty efficient, so it's easy to get from A to B.
3. Jungfraujoch – Top of Europe
One of my favorite experiences in Jungfrau is visiting Jungfraujoch.
It's one of those unique experiences you'll never forget.
You'll board the Jungfrau Railway and head up to the highest train station in Europe.
Once you reach the top, the views are breathtaking, and there are ice sculptures, the Sphinx observatory, a viewing platform, and snow activities on the glacier.
Book your tickets 👉 From Lauterbrunnen: Roundtrip Train and Jungfraujoch Ticket (⭐ 4.1/5)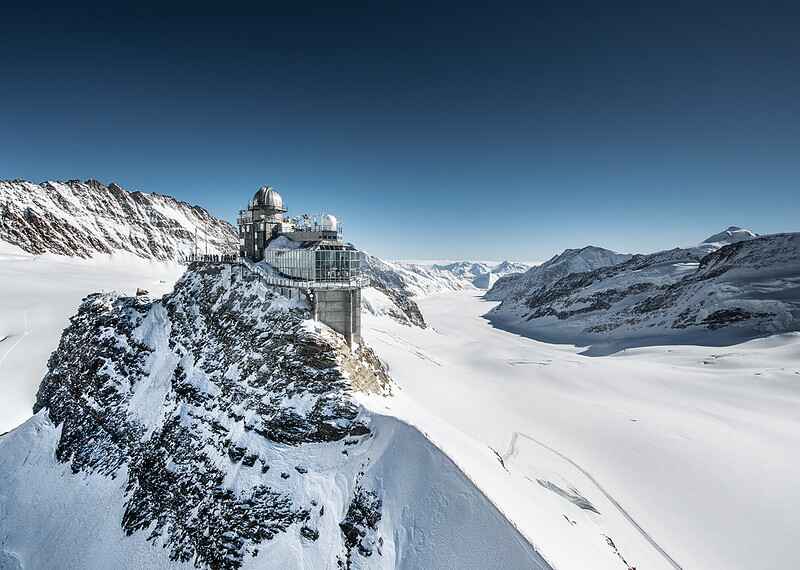 4. Try snowshoeing
Want to experience Lauterbrunnen in winter differently? Try snowshoeing.
Rent a pair of snow boots and head out on your own, or if you prefer some guidance, you can book a 4-hour snowshoe tour here.
The tour includes equipment rental and transport, and you'll visit snow-covered landscapes and traditional mountain villages near the Eiger, Mönch, and Jungfrau peaks.
Book the tour 👉 Snowshoe Tour Isenfluh (⭐ 5/5)
5. Have fun with sledding
Another fun thing to do in winter is to rent a sled.
A popular pick is the run from Sulwald, which you can get to by cable car. On a clear day, you can glide all the way down to the village.
You can rent a sled right at the cable car station.
6. Ice climbing if you're adventurous
If you're up for an adventure, try ice climbing in the designated ice-climbing areas with a local guide.
Even if you've never tried it, local spots like The Lauterbrunnen Wall is a hit.
7. Visit the beautiful Staubbach Falls
Even in winter, this iconic Lauterbrunnen waterfall is an awe-inspiring sight, with its frosty cascades.
It's worth a visit if you're nearby. Simple as that.
8. Go tandem speed riding over the valley
During winter in Lauterbrunnen, you can try tandem speed-riding.
You'll get to fly through the mountains with a pro guiding you. You can relax with paragliding or amp it up with speed-riding on skis or speed-flying launched by foot.
And the best part? They've got a high-res camera rolling, so you'll have epic footage of your flight.
Book your tickets 👉 Private Speedriding Tandem Experience in Switzerland (⭐ 5/5)
9. Helicopter Tours
One of the most memorable things to do in winter is to see the Lauterbrunnen Valley and other famous peaks with a scenic helicopter ride.
You'll be up close with the mighty Jungfraujoch, the "Top of Europe", and spot the famous Schilthorn from James Bond.
You'll glide by the imposing Eiger and then over Interlaken, nestled between the turquoise Lake Thun and the icy-blue Lake Brienz. As you're soaking in the views, your pilot will share cool facts about the area.
It's an epic peek at Switzerland's most iconic spots from the sky.
Book your tickets 👉 Swiss Alps helicopter tour over snow covered mountain peaks and glaciers (⭐ 5/5)
10. Enjoy a spa day
After a cold day outside, relax and rejuvenate at one of the local spas or wellness centers in the nearby towns and resorts.
If you're up for a Thai massage, go to TARA MASSAGE. You can also treat yourself to a spa day at the Victoria-Jungfrau Hotel. Both places are located in Interlaken, which is only a short train ride away.
11. Try a Swiss cheese fondue cooking class
Cheese Fondue isn't just a dish; it's a Swiss legacy! It's been around for ages and is still a big deal in Switzerland.
Sure, you can order it in restaurants, but at a cooking class, you're diving deep. You'll start from the basics – grating cheese, adding wine and spices, and prepping the veggies.
This class is all about getting that authentic Swiss fondue experience.
Book your tickets 👉 Swiss Cheese Fondue: Cooking Class Experience (⭐ 5/5)
12. Visit the traffic-free village of Wengen or Murren
The two mountain villages of Wengen and Murren are just a quick cogwheel train ride from Lauterbrunnen.
No cars are allowed, so it's all peace and quiet.
The most popular hikes are closed until late spring, but you'll find some beautiful winter trails where you can soak in the area's stunning scenery.
Winter in Lauterbrunnen travel guide
FAQ – Lauterbrunnen in winter
Is Lauterbrunnen worth visiting in winter?
Yes, definitely!
Lauterbrunnen in the winter season is a snowy wonderland with magical views and lots to do.
If you like fairy tale settings, some of the highest free-falling waterfalls, and snow activities, you'll love winter in Lauterbrunnen.
What is the best season to visit Lauterbrunnen?
The best time of year to visit Lauterbrunnen depends on what you're after:
Summer (June to August): For hiking, paragliding, and green valley views.
Winter (December to February): For skiing, snowboarding, and a winter wonderland vibe. January is the coldest month.
Either way, this Swiss town is stunning year-round, so it's about your preference!
How many days in Lauterbrunnen in winter?
For a Lauterbrunnen winter visit, 3-4 days are ideal.
This gives you enough time to explore the Swiss village, experience nearby ski resorts, visit iconic spots like Jungfraujoch, and try winter activities such as tobogganing and snowshoeing.
If you're a skiing or snowboarding enthusiast, you might want to stay longer to make the most of the surrounding resorts.
Read next: Jungfrau itinerary: 20 things to do in Jungfrau region
Is it worth going to Jungfraujoch in winter?
Absolutely, there are many good reasons to visit in winter!
Jungfraujoch in winter is a unique experience. Known as the "Top of Europe," it offers stunning snow-clad panoramas, ice sculptures, snow activities, and a surreal feeling of being amidst the high Alps.
Plus, you'll get panoramic views on the train ride!
Just dress warmly and be prepared for high-altitude conditions!
Book your tickets 👉 From Lauterbrunnen: Roundtrip Train and Jungfraujoch Ticket (⭐ 4.1/5)
More posts about Switzerland you might like
Save it!