10 best Cappadocia travel tips
Cappadocia has been on my bucket list for years.
I remember the first time seeing pictures of hot air balloons flying over those otherworldly rock formations and wondering where it was. When I found out it was Turkey, I almost didn't believe it because for most Danes, Turkey is a beach destination. Certainly not a fairytale land with pink lakes, magical turquoise pools on snow-white cliffs and unreal volcanic rock formations.
Then recently I got the chance to visit Turkey with my best friend and my oldest son, Theo. Of course, Cappadocia was first on our itinerary.
In this post I've shared all the best Cappadocia travel tips with you. I'll write separate posts about things to do, the best hikes and much more soon, but for now, here is everything you need to know to plan the perfect trip to Cappadocia.
This post contains referral links for products I love. Adventurous Miriam earns a small commission at no extra cost to you if you make a purchase through my links. Thank you for your support ♡ Learn more
Cappadocia travel tips and guide
Planning a trip to Cappadocia requires planning.
I remember having a lot of questions when I planned our trip, in particular where to stay, what to see and what to wear. Like, would it be cold (it is in the mountains after all) and what footwear should I bring?
I'll answer all that and more in this Cappadocia travel guide. Let's dig in.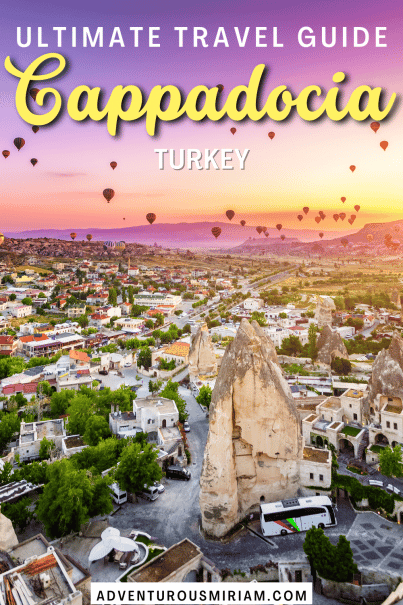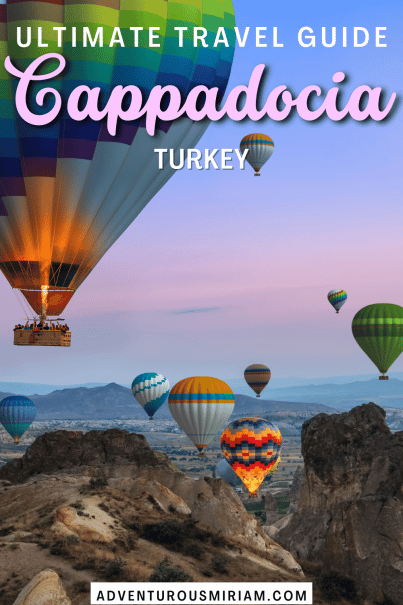 Introduction to Cappadocia
First, let's take a look at what Cappadocia is:
Most people think that Cappadocia is a city, but it's actually not. It's a region, located in Central Turkey. Some of the major cities in Cappadocia are Göreme, Ürgüp and Uchisar, which is where the hotels are located.
Cappadocia is also an UNESCO World Heritage Site because of its lunar-like landscape, with whimsical fairy chimneys and peculiar rock formations, which were shaped by volcanic activity over 60 million years ago.
The soft volcanic rock made it easy for people to build houses by digging into the rocks. So, you'll see underground cities, caves and rocks where people have lived for thousands of years.
Why visit Cappadocia?
So, to recap… You should visit Cappadocia because of:
The unique landscape and fairy chimneys
The hot air balloon rides
The cave hotels
The Aladdin vibe (especially in Göreme)
Its UNESCO status
The hiking trails
Cappadocia travel guide
1. How to get to Cappadocia
Getting to Cappadocia is both easy and inexpensive. You can either fly, take the bus or drive yourself. Flying is the quickest option, with regular flights to Kayseri Airport, which is just a short drive from the major towns of Ürgüp and Göreme in Cappadocia.
If you're looking to fly here, there are two airports:
Kayseri (60 minutes from Goreme)
Nevsehir Kapadokya (40 minutes away)
Kayseri is the larger of the two, with more flight options and cheaper fares – but either way you need to book your airport transfer in advance. You can get great deals online for both shared and private transfers which start at $12.50.
Airport transfer
Airport pick-up
WIFI in the car
Aircondition
2. When to go
You can visit Cappadocia all year round, but I recommend autumn and spring, where you'll get pleasant temperatures compared to the summer heat and winter cold.
We visited in October, and it was perfect! Skies were clear, temperatures were around 20-23 (though cold in the morning), and the autumn colours just made the landscape even more beautiful. I highly recommend visiting in autumn!
Cappadocia gets very hot in the summer and it snows here in the winter. If you visit between November and February, you have a chance to fly over snow. BUT just know that flights may be more irregular because of the weather.
3. How many days to stay in Cappadocia?
The highlights of Cappadocia are the hot air ballon rides and the fairy chimneys (that's the rock formations). If you want to experience both, you'll need 3-5 days.
Most tourists don't know that the hot air balloons won't fly on windy days because it's not safe. So, if flying or seeing the balloons in the morning is a priority (and it should be), you'll need to factor this in, because the weather is unpredictable.
It's best to stay 3-5 days so that you'll be able to get up and enjoy a flight, as well as explore some of the amazing hikes this area has to offer.
4. Where to stay
The most popular places to stay in Cappadocia are these three cities: Göreme, Uchisar and Ürgüp. We stayed in Göreme and loved it!
One of the unique experiences in Cappadocia is staying at a cave hotel. These hotels are carved from the soft volcanic rock and often provide luxurious decor. They come in various price ranges, so definitely try to stay in one!
Göreme
Göreme is a picturesque village, located in the heart of the valley. It's the perfect place to stay if you don't have a car, as most of the attractions such as the Göreme Open Air Museum and other valleys are within walking distance. Here you can find budget and mid-range hotels and lots of cafes and restaurants. We stayed at Lunar Cappadocia Hotel and absolutely loved it!
Ürgüp
In Ürgüp, you'll also find restaurants, cafes, shops, and even nightlife options – all within reach! It's a larger town compared to other areas in Cappadocia, and there are plenty of luxury hotels available if you're looking for a more upscale experience. Find the latest prices here.
Uchisar
Uchisar is the highest point in Cappadocia, so you'll get spectacular views from many of the hotels here. It's more tranquil than Göreme, and also secluded: Find the latest prices here.
5. Things to do in Cappadocia
Now to the fun part of my Cappadocia travel tips! You've got a million things to do here from hiking to hot air balloon riding and taking day trips, so let's take a closer look at the best activities.
Hiking
The number one thing to do in Cappadocia is hiking. Even if you're not an experienced hiker, you can simply walk, stroll, and take it in your own pace, when you explore the valleys.
Cappadocia is suitable for all ages and fitness levels. I brought my 5-year old and he had a blast.
Cappadocia has many valleys with underground cities and fascinating fairy chimneys, and they're all quite different. You can find my Cappadocia itinerary with the best valleys here.
Hot air balloon
Another must-have experience in Cappadocia is the hot air balloon ride! At sunrise, you'll fly above the valleys with views of the distinctive rock formations, also known as fairy chimneys. It's also amazing to see the balloons from the ground, so make sure to get up early (just before sunrise) to see them rise in the air.
Hot air balloon trip
Smaller baskets
Light breakfast and champagne
Free pickup and drop-off
ATV tour
A fun way to explore the valleys are on a quad bike. Take a two-hour tour during sunset through the Swords, Rose and Red Valleys. You can stop and take photos of the scenery along the way.
ATV tour
Driving equipments (helmet etc.)
Driving guide
Select a pick up place
Underground cities
Centuries ago, people in Cappadocia made entire underground cities. One of them is called Derinkuyu and was once home to over 20,000 people!
Tours in Cappadocia are divided into colours (red, green and blue). On the Green Tour, you can explore Derinkuyu underground city and dive down to five levels below the ground. Book the tour here.
Salt lake tour (Lake Tuz)
If you've already seen the valleys and the experienced a hot air ballon ride, I highly recommend this day tour to Lake Tuz – one of the off-beat Cappadocia travel tips. Not many people know about it yet.
Starting at 9am, you'll be picked up from your hotel and taken to Tatlarin Underground City. After that, you'll visit the Ağzıkarahan Caravanserai, a 13th century traveler's inn before heading to Lake Tuz.
Lake Tuz is a large salt lake and it's pink!
Salt lake tour
Small group
Lunch, tea and water incl.
Unique sights
6. Getting around
Cappadocia is a large area, but you've got several ways of getting around. If you're staying in Göreme or Ürgüp, you'll have restaurants and taxis nearby, so the only thing you'll need transportation for are the valleys.
Hire a driver or taxi
We hired a taxi for several of our hikes and activities, and I highly recommend it. It's very affordable and you can follow your own itinerary. This is an ideal option if you want to visit several sights in one day.
Hire a driver
Affordable
Fuel and parking included
English-speaking driver
Join a tour
Joining a tour is the most popular thing to do in Cappadocia. There are lots of activities and tours to choose from such as quad biking, hot air balloon rides, or traditional walking tours to get the best view of the region.
Private tailored tour
Private tour
Tailor your own itinerary
7-8 hours
Scooter
Renting a scooter is another way to get around Cappadocia. Rates usually range from 150-200 Turkish Lyra ($30-40 USD) per day.
Walk
If you're staying in Göreme, it's possible to simply walk to the nearby valleys. Several of them are located in walking distance so you can explore them without a vehicle. I do recommend getting a taxi, though. They're quite cheap.
7. Where to eat
Turkish food is one of my absolute favourite cusines! It's a delicious fusion of Central Asian, Middle Eastern, Eastern European, Armenian and Balkan flavours.
If you're in Göreme, you should visit Dibek for their testi kebab (also known as pottery kebab). It's slow-cooked kebab with vegetables and nuts in a sealed clay pot. Once it's ready to be served, the waiter will break open the pot with a hammer in front of you. Sometimes there's also a little fire show, we saw that in Istanbul and really enjoyed it!
8. Find the best views
Cappadocia has a lot of beautiful viewpoints! The best one is from a hot air balloon ride, but there are several decent ones from the ground as well.
The sunset spot in Red valley
From atop Uchisar castle
Pigeon Valley
From some of the cave hotels in Göreme and Uchisar
9. Is it safe to travel to Cappadocia?
Cappadocia is a safe destination, and I felt perfectly safe here. There's something about the locals here, they are welcoming and friendly. Very down to earth.
Cappadocia, especially, is ideal for both families, friends and solo female travelers, as it's very tourist-friendly and many locals speak English.
10. What to pack for Cappadocia
You'll be spending most time outdoors in Cappadocia, so pack accordingly: Jacket (depending on the season), sneakers or good walking shoes, jeans or shorts.
If you're visiting Turkey during the winter, make sure to pack warm and dry clothes along with comfortable shoes for hiking. Don't forget to bring an umbrella and a raincoat so that unpredictable weather doesn't ruin your plans.
During the summer months, opt for light materials that will keep you cool in the intense heat. Remember that Turkey is a Muslim country, so respect local customs by dressing appropriately when visiting mosques.
More posts from Turkey you'll love