How to best enjoy the sunset at Tanah Lot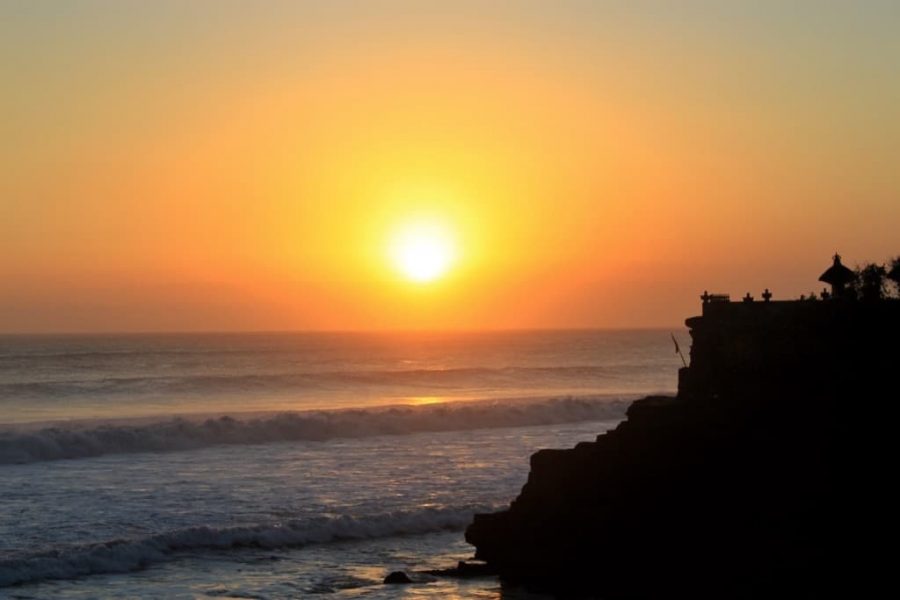 Want to experience the sunset at Tanah Lot? In this post, I'll share the best way to do just that!
Pura Tanah Lot is a popular spot in Bali to experience a beautiful sunset, perhaps even the most popular. Perched on a rock near the coast, two temples appear to be floating on the sea during high tide, which is what makes the Tanah Lot sunset so unique.
In this post, I've shared what to see at Tanah Lot Bali, as well as how to get there, entrance fees and much more.
Let's dig in.
This post contains referral links for products I love. Adventurous Miriam earns a small commission at no extra cost to you if you make a purchase through my links. Thank you for your support ♡ Learn more
Introduction to Tanah Lot
Tanah Lot is a sea temple located on the southwestern coast of Bali, Indonesia. The temple was built in the 16th century by a monk named Dang Hyang Nirartha who is said to have been one of the first people to bring Hinduism to Bali.
Long ago, Nirartha traveled along the south coast of Bali. While looking over the spectacular view, he felt an urge to stop and rest at the rocky island. He was soon convinced that it was a sacred place, so he asked a group of fishermen to build a temple there for the Balinese sea gods.
That's how Tanah Lot was created. Translated to "Land in the sea" in Indonesian, it's one of the seven sea temples built along the coast of Bali.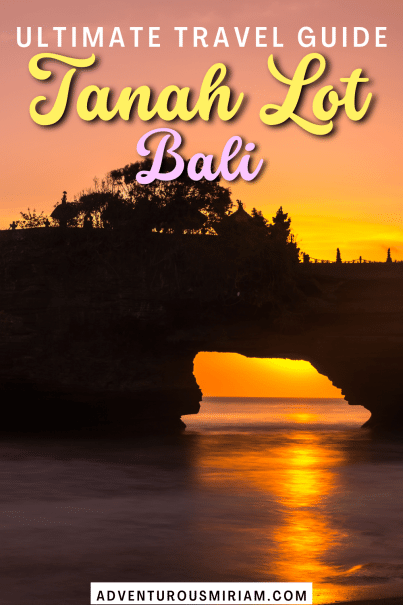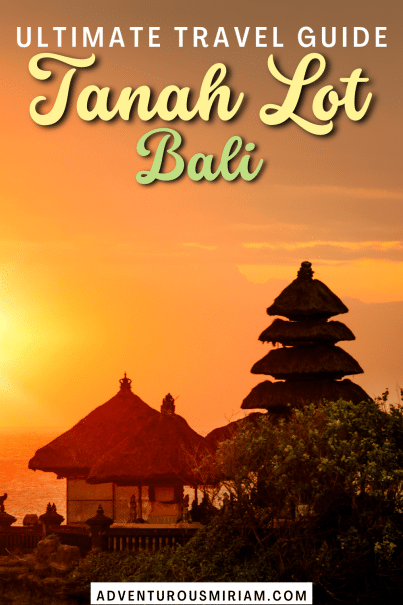 Reasons to see the sunset at Tanah Lot
Tanah Lot is an amazing place with a dramatic view of the Indian Ocean. It's surrounded by lush greenery, a black volcanic beach, rocks and two temples that you can admire while the sun sets at Tanah Lot.
It's no hidden gem, so you'll see many other people there. But I experienced a calmness, actually even awe from everyone there. So, it didn't feel crowded and my experience wasn't affected by the crowds.
Tanah Lot is easy to visit from nearby cities like Uluwatu, Denpassar or Canggu. I had a private driver take me from Ubud, which was super easy and convenient.
Tanah Lot temple tour
So, about transportation..
I had been on an island tour around Bali, and seeing the sunset at Tanah Lot was last on my itinerary. In my opinion, it was the perfect way to do it.
You might want to only see the sunset, and that's certainly possibly, too. Lots of people do that. Whether you rent a scooter and drive there yourself or join an organised Tanah Lot temple sunset tour is up to you. Below, I've listed some of your best options.
How to get there
Tanah Lot is located just 20km from Denpasar, and can be reached in 30-45 minutes from Kuta, Legian, Seminyak, or Ubud.
Once you reach Kediri, there's a large sign along the main highway that marks the turn off towards Tanah Lot.
When you arrive, you'll need to walk through a series of pathways lined with souvenir stalls before reaching the beach and the temple itself.
Tanah Lot sunset time
The sunset Tanah lot temple timings are between 6-7 pm depending on what time of year you visit. You can find the precise sunset timings here.
Entrance fee and opening hours
My advice is to arrive well in advance. Many people come just for sunset at around 6 pm. You should be there two hours before (at 4-4.30 pm), which gives you time to explore the area and find a good seat.
Tanah Lot opening hours: 7 AM to 7 PM.
Tanah Lot entrance fee: 60k IDR ($4 USD) for adults and 30k IDR ($2 USD) for kids
What to experience at Tanah Lot
There's more to see than the sunset at Tanah Lot! You can explore a sacred cave inhabited by a mythical snake (and real snakes), see a lava beach and more. Here are just some of the things you can experience when visiting Tanah Lot.
Tanah Lot temple
The main draw is the Tanah Lot temple. It's located just 20 meters from the coastal lip and is thought to be one of the oldest temples in Bali.
Inside the actual temple compound itself, you'll find tiered shrines.
Batu Bolong temple
Just north of Tanah Lot lies Batu Bolong, another temple located on an unusual rock formation.
It's often confused with the main temple itself. But the Batu Bolong is located on a rocky outcrop in the middle of the ocean, while Tanah Lot is located further inland on a cliff overlooking the sea.
The Batu Bolong Temple was built in honour of the Balinese Monarch Nirartha while Tanah Lot was built by his successor, Danghyang Nirartha.
The holy snake
When the tide is low, you can walk across the causeways to Tanah Lot to view the cave where the mythical guardian snake resides.
According to legend, the cave is inhabited by a mythical snake that guards and protects the temple. It's said that anyone who visits the cave will be protected from bad luck. It costs a small fee to enter.
The snake myth
The guardian snake at Tanah Lot is a representation of the deity Barong. According to legend, Barong visited Tanah Lot when the temple was first built and left behind his divine protection in the form of a giant snake. The snake is said to guard the temple from intruders and evil spirits.
There are also real snakes here, believed to have protective powers. The snake species in question is a Malayan krait: an extremely venomous snake with distinctive black and white circular rings on its body. I heard that the snakes at Tanah Lot will not bite, buuuut I'd still keep my distance if I were you.
The volcanic sand
In low tide, make sure to head down to the beach. It's made of volcanic sand from eroded nearby volcanoes. The black sand contains traces of sulfur, iron and other minerals that are thought to have healing properties.
It's also just really cool that it's made from lava! Just like Reynisfjara in Iceland.
The Tanah Lot sunset
The sunset at Tanah Lot is the best in Bali because it offers views unlike any other.
The sunset point at Tanah Lot is the Tanah Lot Sunset Terrace. You'll find it north of the temple where you'll get the best views of the sunset. Simply walk along the pathway and you'll find it. There's grass where you can sit and some benches. There's also a restaurant.
What to wear at Tanah Lot
Normally, when you visit temples in Bali, you're required to a wear a sarong, scarf or sash tied around the waist.
However, there's no dress code at Tanah Lot for that simple reason that you're not allowed to enter the temple.
Safety advice
A few things you should be aware of on your Tanah Lot tour:
Where to stay near Tanah Lot
While Ubud was my favourite place in Bali, staying by the ocean is a close second. You'll find lots of ocean-view hotels and resorts located around the area that offer great vistas of the sunsets.
You can find more amazing Bali hotels in my post, but these two hotels have an insanely beautiful ocean view:
Legends Beachfront Resort (⭐9.2): Located on the beachfront in Uluwatu, this beachfront resort has absolutely incredible views and stunningly designed rooms with excellent facilities. Each with a private balcony. Book here.
Ecozy Dijiwa Canggu (⭐9.2): Another option is Dijiwa in Canggu. From swimming pools to stylish rooms, you can rest in luxury while being surrounded by nature. There's even a personal butler, which is amazing at that price! Book here.
Other beautiful temples in Bali
Bali is the island of temples, and it's kinda mandatory to visit at least one, if you ask me.
From ancient lake temples to lush garden temples, here's a list of the most iconic temples in Bali that you should definitely visit!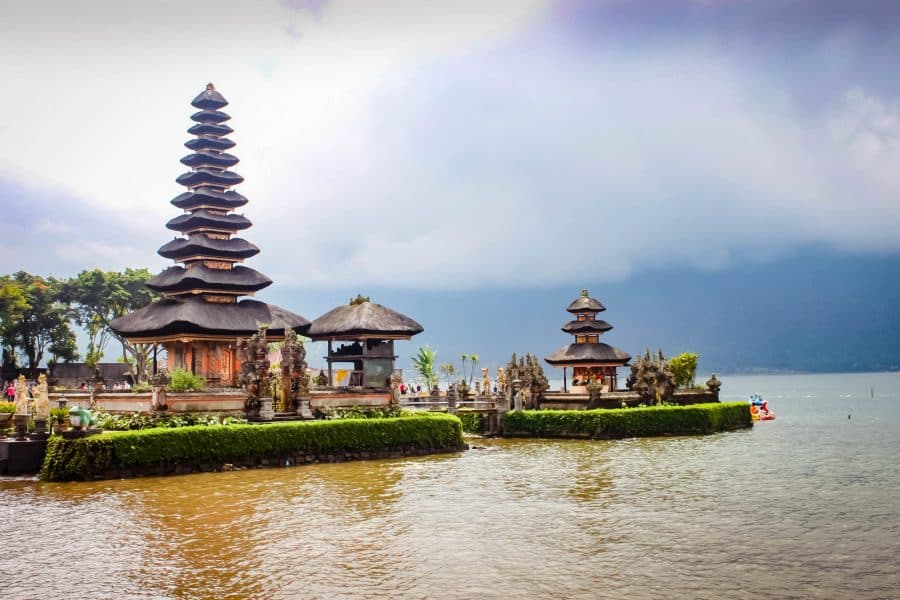 More posts from Bali you'll love