How to create your own DIY yoga retreat in Bali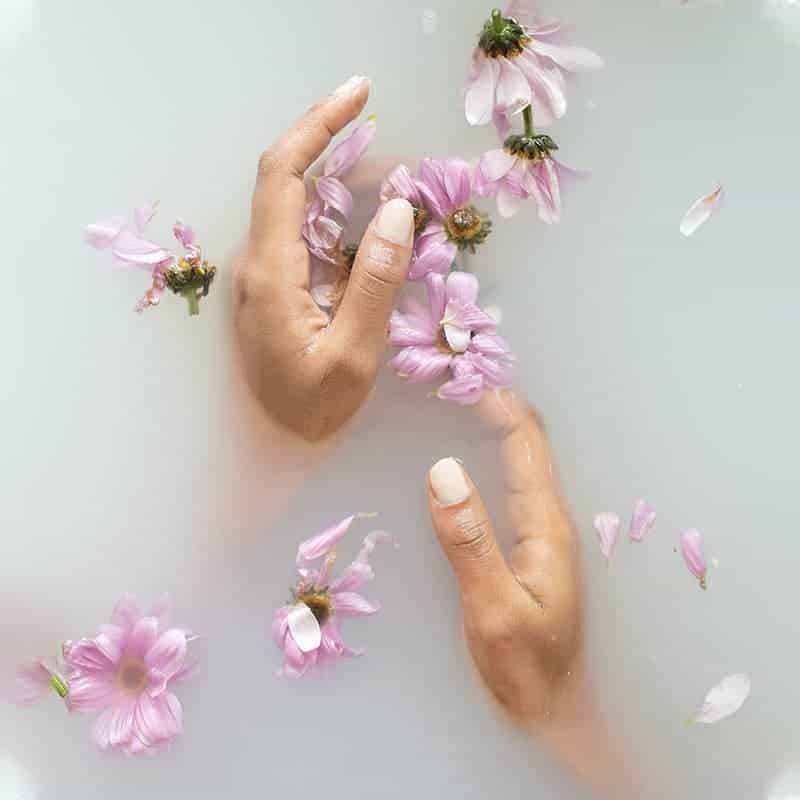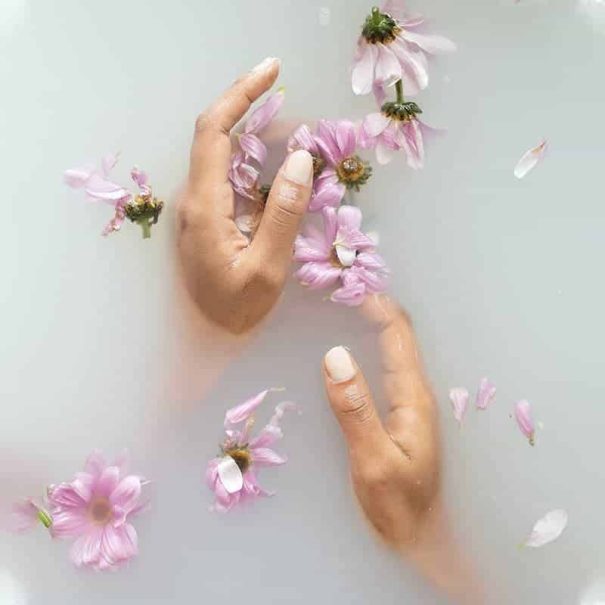 Yoga retreats in beautiful Bali are undoubtedly some of the best in the entire world. But if you ask me, sometimes the itineraries can be a little too fixed and expensive.
With a DIY yoga retreat in Bali, you can create your own program. Your schedule is flexible, so you can choose the classes and courses you like and make the best of your experience both as a yogi and traveler.
In this post, I'll share how you can create your own DIY Bali yoga retreat for a fraction of the cost. I planned my own yoga retreat in Bali and have included all my tips.
I'll also share where to stay, eat healthy food and get the best spa treatments.
Namaste!
This post contains referral links for products I love. Adventurous Miriam earns a small commission at no extra cost to you if you make a purchase through my links. Thank you for your support ♡ Learn more
Why you should create your own yoga retreat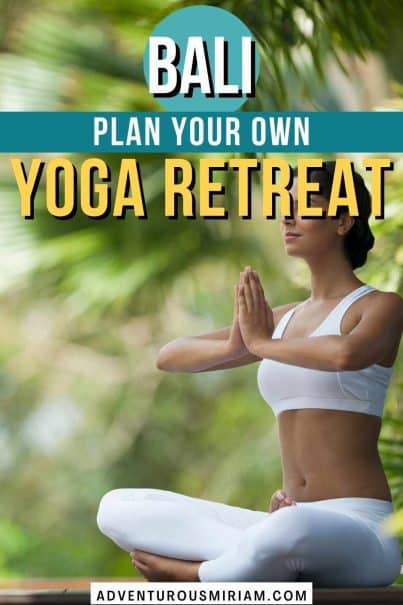 How to plan your yoga retreat
Planning your own DIY yoga retreat in Bali is not as difficult as you might think. With affordable accommodation and plenty of yoga options and healing traditions in Bali, Indonesia, it basically comes down to finding the right yoga studio and hotel.
Here are some tips to get you started:
Find the best town and yoga centre
Bali is a treasure trove for yoga lovers. While Ubud is the obvious choice for a retreat, there are other towns on the island of the gods that might be a better fit for you.
These are the three best places for yoga and meditation retreats in Bali:
Find accommodation nearby
You can stay at home-stays, hotels, hostels and private rentals around Bali. Anything will do, really, as long as you just make sure to stay close to your yoga centre. You don't want to have to walk 2-3 km each time there's a class.
Choose your yoga and meditation style
Anyone can join a yoga retreat in Bali and there are both beginners and advanced classes.
The types of yoga and meditation vary from class to class and it's an excellent idea to try something new while you're there. You might even improve your skill levels.
I've practiced meditation for many years, but was surprised to find out how many different kinds of meditations there actually are. I tried out several classes and it took my meditation practice to a whole new level.
When you are choosing what style of yoga you want to do, have this in mind:
Choose a teacher and style you love
Pick a focus that speaks to you
Choose a yoga style that matches your current fitness level, your personality and goals for practicing yoga. E.g. do you like spiritual yoga sessions like kundalini tantra yoga or would you rather focus on the psychical aspect like in yin yoga classes?
Do you prefer challenging or gentle yoga? E.g. Ashtanga (challenging), Bikram (challenging), Hatha (gentle), Viniyoga (gentle) and so on. You can ask and read about the classes at the centres.
Read next: The one day in Ubud itinerary you don't want to miss
Book flights
Now, all that's left is to book your flights to Bali, and you're all set. There's only one airport in Bali, and it's located in Denpasar. You can pre-book an airport transfer for an easy and stress-free arrival. That's what I always do.
Have a healthy skepticism
When it comes to spiritual practices, meditation practices and self-development, we expose ourselves and become vulnerable in order to grow and learn.
Whether you believe in spirituality, alternative treatment or not, you need to take good care of yourself and make sure you're doing this in a safe environment with a trained teacher or practitioner.
In the spiritual field, there are people taking advantage of this vulnerability. I'm not saying that you should second guess everyone's motives, but you should develop a healthy skepticism towards spirituality and everything it entails.
Make room for asking questions, and don't participate if it gets too much. You should take care of yourself first and foremost; that's what you're here for.
DIY yoga retreat in Bali
Yoga retreat in Ubud
Ubud is the perfect place to improve your yoga practice and experience the Balinese culture. This small town, situated in a beautiful location among lush tropical forests and terraced rice paddies, has long been known as a spiritual hub of Bali.
Ever since Elizabeth Gilbert published her iconic memoir Eat Pray Love, she put Ubud at the top of my list for a Bali yoga retreat. With various spiritual retreats to choose from, I'd say this is the best place for a soul-searching holiday and peace of mind.
Yoga studios in Ubud
As a spiritual centre, Ubud has several great yoga studios. The Yoga Barn is one of the first, largest and most popular yoga studios in Southeast Asia.
With more than 15 classes and workshops available each day, ranging from traditional Hatha and Vinyasa Flow to Power Pranayama, yoga nidra, Iyengar, yin yoga and Aerial yoga to meditation and even Ecstatic Dance and sound healing – the Yoga Barn is a great choice if you're looking for variety.
The best and most economical way to do a yoga and meditation retreat is to buy a class card. Most of the studios offer a class pack (e.g. 10 classes valid for 6 months) or days pass (e.g. 30 day unlimited class card), which is a great option.
You can also get an unlimited class card or a monthly pass if you're looking at long retreats.
These are the best yoga retreats in Ubud: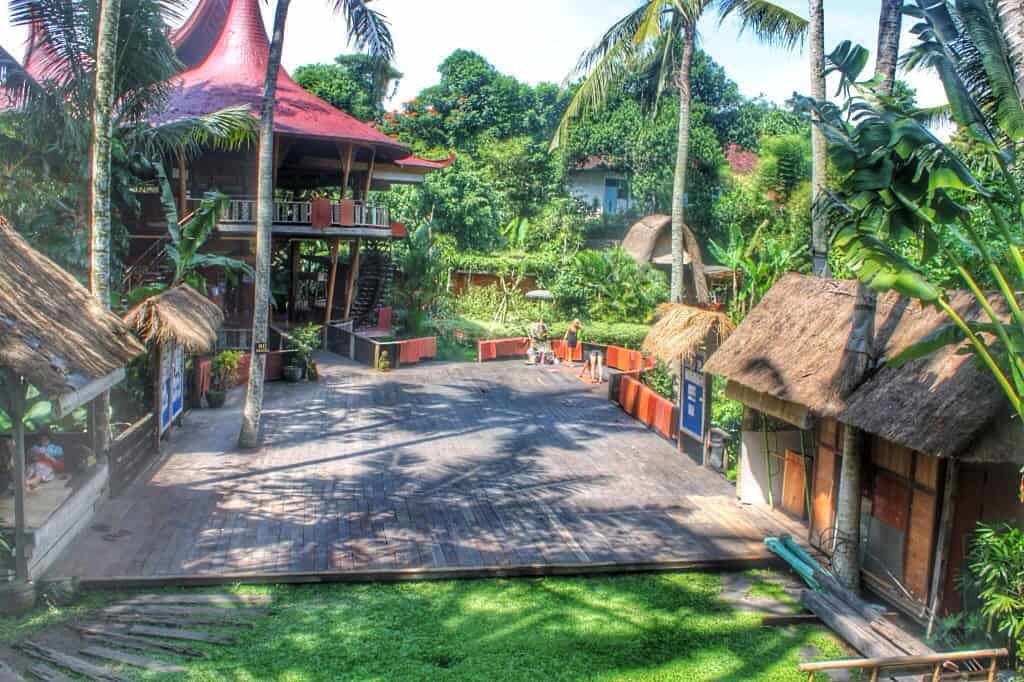 Where to stay
I recommend staying at Ulun Ubud Resort (⭐9.0). While you can find cheaper options, this hotel will just complete your stay with its modern Balinese-style rooms and private balconies. It has an outdoor swimming pool where you can relax after a hot day with views of the rice fields.
There's also a lounge bar & library, free scheduled shuttle service to Ubud Center, and free afternoon tea daily. Check rates here.
Healthy food
Ubud is a mekka for healthy food lovers, and raw food, vegan, macro and vegetarian food can be found everywhere. Here are some of the best restaurants you should definitely visit:
Kafe
Clear
Down to Earth
Alchemy
Spa treatments
Speaking of taking good care of yourself… Creating your own yoga retreat in Bali is more than the exercise. It's also about relaxing and unwinding.
You'll find balinese massages and spas all around Ubud, but if you want excellent treatment (as in the-best-you've-ever-had), I recommend splurging a little by going to one of these places – Taksu is my personal favourite (ask for Jero).
Taksu (try the lomi lomi massage)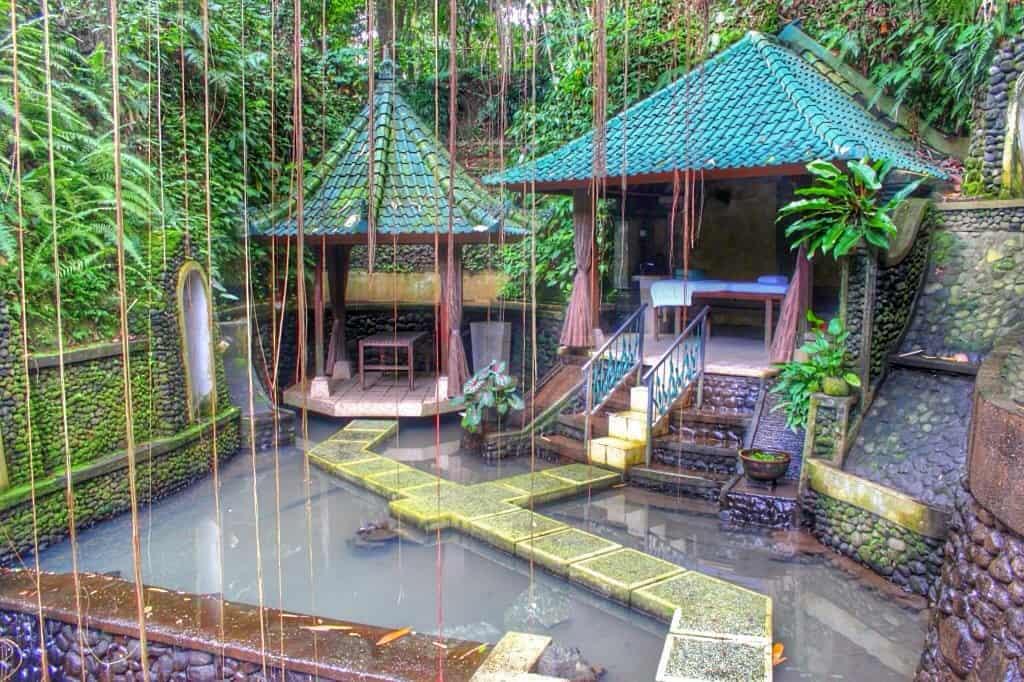 DIY yoga retreat in Bali
Yoga retreat in Uluwatu
Uluwatu lies on the south-western tip of Bali's Bukit Peninsula, and it's another ideal place for a week-long retreat. From its stunning views to amazing cultural attractions like Pura Luhur Uluwatu Hindu temples, this spot has something for everyone.
Uluwatu is also considered one of the top surfing destinations in the world! So, if you want your DIY retreat to include surfing, then Uluwatu could be perfect for you.
Yoga studios in Uluwatu
While Uluwatu has several beautiful vistas, the Aylan Yoga School at The Istana takes first place. This is a luxury yoga retreat.
With daily yoga classes perched on cliffs overlooking the spacious ocean, The Istana offers unique Istana Vinyasa and Jivamukti Yoga with music classes and meditation sessions.
Additionally, there are yoga teacher training and Tantric-Hatha fusion classes to help you feel empowered as well.
Where to stay
I recommend staying at Uluwatu Cottages (⭐9.0) to experience Uluwatu in a unique way – from atop a cliff.
Located about 1 km from the Aylan Yoga School and retreat center, these cottages overlook the sea and landscaped gardens for an ahhh-mazing view. You can enjoy lounging around the outdoor infinity pool or opt for a relaxing Balinese massage. Find the latest rates here.
Healthy food
The café culture and fine dining movement in Uluwatu is booming – and it's no wonder why! From healthy vegan diet eats in Bingin to award-winning menus from world-class chefs, there are plenty of delicious food and fresh fruit smoothies here.
These are the best restaurants and cafes in Uluwatu:
The Cashew Tree
Kelly's Warung
Drifter Surf
Spa treatments
If you like pampering (who are we kidding, of course you do), you'll love Uluwatu.
Whatever you're looking for – from a mani-pedi or tanning session to a relaxing massage or full-body scrub – the Bukit has lots of spas to choose from. These are the best ones:
The Istana
Spa Alila at Alila Villas Uluwatu
The Asa Maia
DIY yoga retreat Bali
Yoga retreat in Nusa Lembongan
Looking for a peaceful escape with an island vibe? Then you'll like Nusa Lembongan.
Located south of Bali, this small island is the perfect place to find balance and relaxation. Enjoy all it has to offer – from surfing and diving to snorkelling and lazy days – and add a little yoga into the mix.
Check out Dream Beach for its secluded atmosphere and breathtaking views, or head over to the Blue Lagoon with its mesmerizing turquoise waters.
Yoga studios in Nusa Lembongan
Nusa Lembongan offers world-class yoga studios with daily classes, workshops, retreats, and private lessons. This is where you can find the best yoga sessions from power yoga to vinyasa yoga:
Yoga Bliss
Serenity Yoga
Yoga Dunia
Where to stay
The Bay Shore Huts (⭐8.9) is located on Tamarind beach. Here, you can experience air-conditioned rooms with a terrace/balcony with views of the garden, pool or sea – perfect for watching beautiful sunsets every evening! Find rates here.
Healthy food
Mhhm, the Balinese food should definitely be included in your yoga adventures in Nusa Lembongan. You'll find it easy to get fresh and healthy dishes in these highly rated restaurants:
Ginger & Jamu
Bali Eco Deli'Bali Eco Deli
Kayu Lembongan
Ombak Zero Waste Cafe
Spa treatments
From cheap and cheerful massages to luxurious multi-hour rituals, a spa day here is guaranteed to be an amazing experience! Enjoy complete serenity in one of these spas:
Spring Spa and Sanctuary
Tonic Body & Soul Spa
Indiana Kenanga
Practical info and tips
A yoga mat is free to use at the centres, but you can buy your own anywhere in Bali.
Buy a class card. Not only is it cheaper, but it will work as a motivation for you.
There's no need to buy a yoga retreat package or stay at the centre. Planning it yourself is your cheapest option.
Bring a good book and preferably something you don't normally read. Focus on learning something new.
Write a journal and describe what you experience and learn.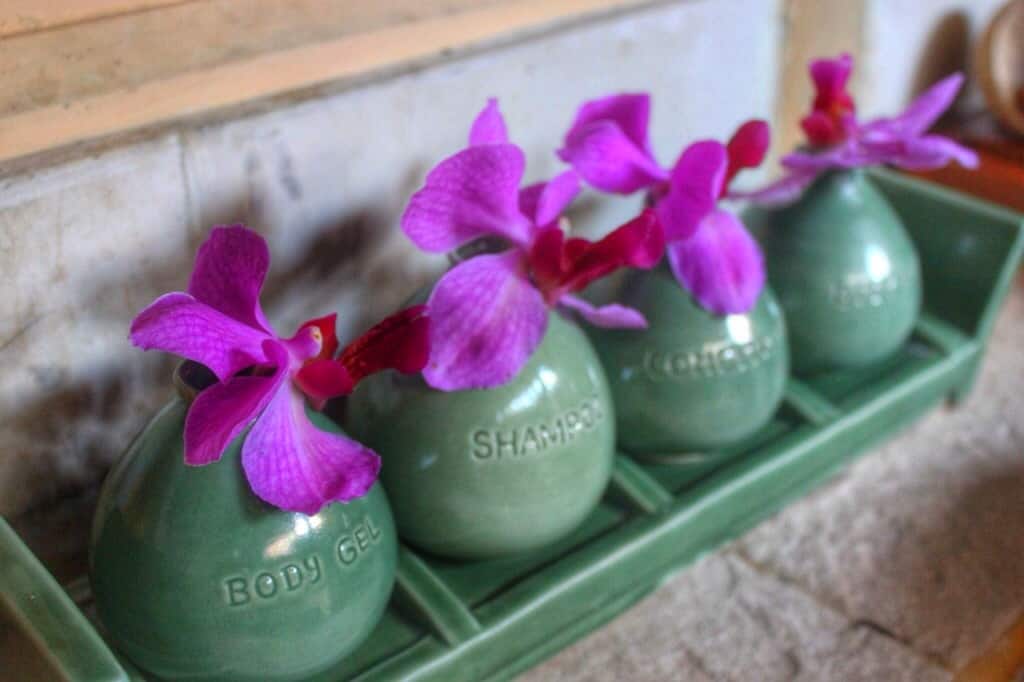 Packing list for a yoga retreat
Comfortable clothes: That ranges from yoga or workout clothing, to slacks and skirts, and everything in-between.
Layers, layers, layers: Everyone who's been to Ubud knows that it's warm in the day and chilly in the morning and evening. And that's a good reason to pack layers to ensure that you are comfortable no matter the weather.
Comfortable shoes
Water bottle
Sunscreen
A book
A journal
An open mind
Want to book a yoga retreat instead?
If you haven't found what you were looking for, I recommend looking at these two sites below. They're the best sites for finding yoga retreats around the world, although they only feature retreats, not classes.
BookYogaRetreats is the world's leading yoga travel site where you can book retreats for beginners and advanced yogis.
---
BookRetreats lets you book the best handpicked retreats all over the world.
More posts from Indonesia you'll love