The one day in Ubud itinerary you don't want to miss (2023)
Are you planning to spend one day in Ubud? I've handpicked all the best things to do, based on my month in Ubud.
Ubud is the creative and spiritual hub in Bali. So, if you're looking for yoga classes, rice fields or Hindu temples, then you have to visit Ubud.
Ready to dive in?
Here is my one day in Ubud itinerary & all the reasons why you must visit.
This post contains referral links for products I love. Adventurous Miriam earns a small commission at no extra cost to you if you make a purchase through my links. Thank you for your support ♡ Learn more
Is one day in Ubud enough?
Well, you can see all the highlights of Ubud in one day. But honestly, the atmosphere is what you'll love about Ubud, so you'll probably want to hang around for longer.
This Ubud itinerary is packed. Because when I travel, I want the full experience so I pick the best parts and maximise my time.
You should leave out whatever you don't want to see if it doesn't interest you or you feel rushed. But this 1 day Ubud itinerary is doable if you start your day early.
Looking for the best day trip to Ubud?
If you're staying in Seminyak, Canggu, Nusa Dua or other places in Bali, you can take a day trip to Ubud.
This Full Day Tour with Viator (⭐ 5/5) takes you to the best of Ubud, including the famous rice paddies, Tirta Empul Temple, the Bali Swing, Tegenungan waterfall, Monkey Forest and much more.
You'll experience the highlights of Ubud in an air conditioned minivan with pick-up and drop-off at your hotel. Check rates and availability here.
Where is Ubud
Ubud is located in the heart of Bali, Indonesia. It's about an hour's drive north of the island's capital, Denpasar.
Morning in Ubud
Tegalalang rice terraces
The best place to begin your one day in Ubud is the Tegalalang Rice Terraces. They're just a short drive from the centre of Ubud and a great way to experience Bali's iconic rice paddies.
One of the reasons you should visit in the early morning is that it quickly gets crowded and hot.
Go for a walk through the terraced landscape and get a taste of Balinese culture. You'll see men and women working in the fields, and there's even a jungle swing here.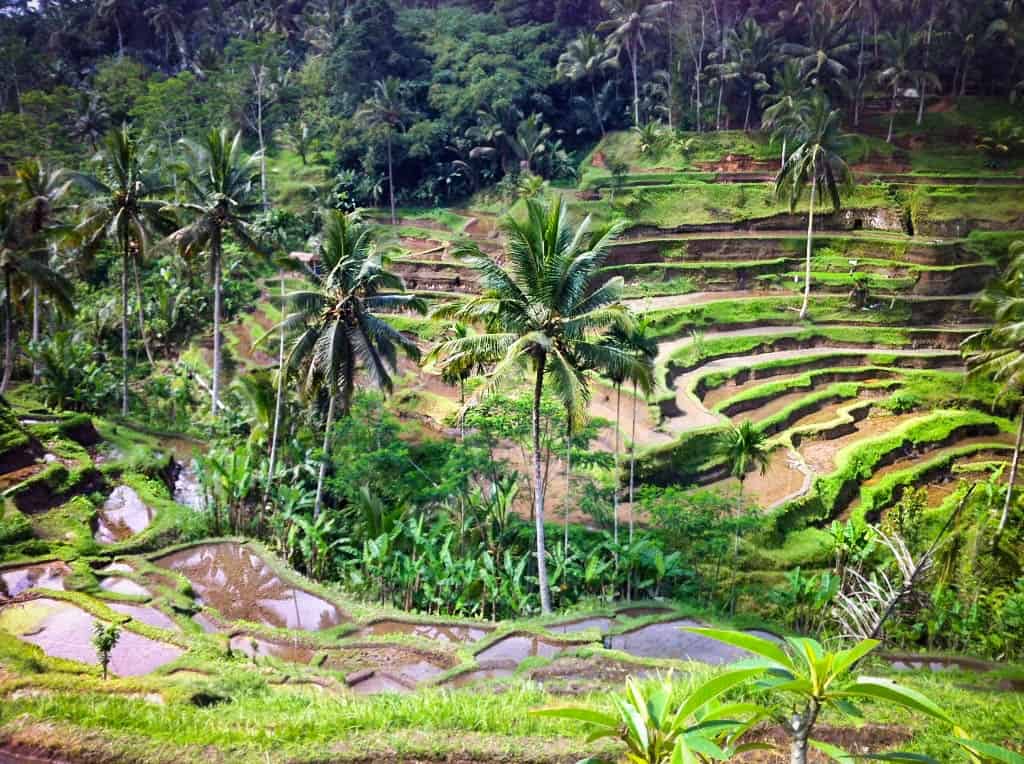 Saraswati temple (Ubud Palace)
After Tegalalang, head to the beautiful Saraswati Temple. This Hindu temple is dedicated to the goddess of wisdom and knowledge.
The temple is surrounded by a large pond filled with lotus flowers, which adds to the peaceful and serene atmosphere. It's definitely worth a visit if you're in Ubud.
There's no entrance fee but it's important to dress modestly out of respect. I always bring a sarong to temples to wear around my waist. Many temples let you borrow one at the entrance.
Free entrance
Opening hours: 07:00 – 17:00
Goa Gajah
Make time to visit Goa Gajah, also known as the Elephant Cave, before your morning in Ubud is over.
As you wander around the temple grounds, you'll see some impressive rock carvings, fountains, and pools. The highlight is the cave, where you'll find a statue of Ganesha, the Hindu god of wisdom and success.
Entrance fee: 15,000 IDR ($1.15)
Opening hours: 8 a.m. to 4:30 p.m.
Afternoon in Ubud
Campuhan ridge walk
Take a break from the hustle and bustle of Ubud and go for a walk along the Campuhan Ridge Walk in the afternoon.
This 2-kilometre path is surrounded by lush jungle and you'll get stunning views of the landscape.
It's an easy walk, so you don't need hiking shoes. Just take your time and enjoy the peaceful atmosphere.
Ubud Monkey Forest
Another must-visit attraction on your 1-day itinerary in Ubud is the Ubud Monkey Forest, also known as the Sacred Monkey Forest Sanctuary.
The jungle is home to over 700 long-tailed macaques that run around, some relaxing while others want to grab your sunglasses. So, keep loose valuables in your purse or pocket.
Opening hours: 8:00 – 6:00
Entrance fee: 80,000 IDR for adults / 60,000 IDR for children
Ubud art market
After meeting the cheeky monkeys, head over to the Ubud Art Market for some shopping.
After all, Ubud is the creative hub on the island of Bali.
At the Art Market, you'll find wood carvings, art and crafts made by local artisans, so it's perfect for souvenir hunting.
🔥 Tip: Don't forget to bargain for the best prices – it's a common practice at this market.
Evening in Ubud
Take a yoga class
The town of Ubud is all about unwinding and reconnecting with yourself and nature. That's why you'll see so many yoga studios and retreat centres around town.
It doesn't matter if you're a seasoned yogi or a beginner, you'll find classes that fits your level.
Practicing yoga in Ubud is the perfect way to enjoy the peaceful surroundings and tap into the spiritual and wellness-focused atmosphere.
Read next: 12 spiritual things to do in Bali
Traditional Balinese massage
And now to the best part: a Traditional Balinese Massage at one of the local spas.
Balinese massage is amazing! I had one almost every day during my month in Ubud, and it's so relaxing. They use acupressure, reflexology, and aromatherapy to help you relax and relieve any tension. The perfect way to end your one day in Ubud!
You can find massage places around town or book this highly rated spa experience (⭐ 5/5) with Viator.
Dinner at a local restaurant
Ubud is one of the best places for amazing Indonesian food. So much so that I dedicated an entire post about the food in Ubud.
Try mouth-watering local dishes like Nasi Campur, Sate Ayam, or Gado Gado, and don't forget to end your meal with a traditional Indonesian dessert like Pisang Goreng.
I recommend Alchemy and Clear Cafe.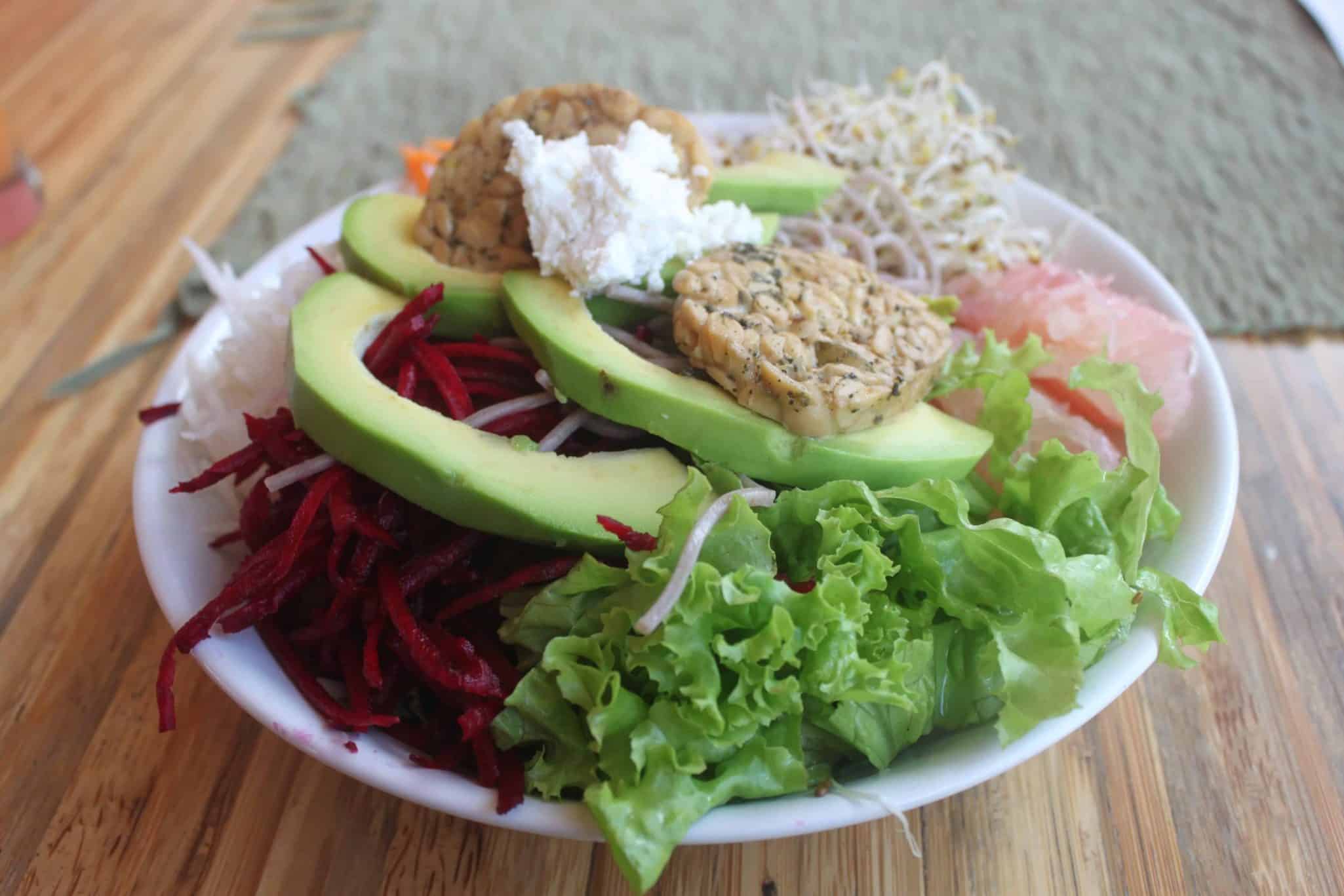 Watch a Kecak show
If you have enough time and any energy left, go watch a kecak show. It's a great way to experience Balinese culture.
Kecak is a traditional dance and music performance that tells the story of the Ramayana using human voices instead of musical instruments. The performers sit in a circle and chant "cak" repeatedly, creating a unique sound.
Where to stay in Ubud
If you're looking for a place to stay during your 1-day itinerary in Ubud, you'll find plenty of options to choose from.
Mid-range: Jati Cottage (⭐ 9.0)
Stay in the heart of Ubud while enjoying the outdoor pool, in-house restaurant and a spacious, air-conditioned room. There's a 24-hour front desk with a very supportive staff. Great for solo travelers. Find the latest prices here.
Luxury: Wana Bucu Villas (⭐ 9.2)
Dreamy, romantic bed, outdoor bathtub, private pool – this place has it all. It's the perfect escape, yet at walking distance to everything. Find the latest prices here.
How to get around
Ubud is a small town so you can walk around to most of the places on this 1-day Ubud itinerary. However, a few places are located out of town.
Rent a scooter
If you prefer to be in control of your travel plans, renting a scooter is a fun and adventurous way to explore Ubud. Do be careful, though. Bali is notorious for careless driving.
Join a day tour
I've mentioned this already, but if you're visiting from another town, you can join a day tour to Ubud. This is the highest rated Ubud day tour with Viator and you'll get to see the highlights.
Rent a private driver
You can also choose to rent a private driver for a few hours. It's more affordable than you'd think, so maybe this is the solution for you.
One day in Ubud FAQ
Is 1 day in Ubud enough?
While you can visit Ubud in one day, I recommend staying for at least a couple of days or a week if you want to take in the healing atmosphere.
Since Ubud is located in the middle of Bali, it's the perfect base for exploring the island.
Is a week in Ubud too long?
Not at all! I spent a whole month in Ubud!
The great thing about Ubud is that it's located perfectly to explore the rest of Bali. So, use it as a base as you discover Canggu, Nusa Penida and Northern Bali.
Can you do a day trip to Ubud from Canggu?
Yes, absolutely! This day trip with Viator (5/5 ⭐ based on 4754 reviews) is the best rated tour and also the 2023 winner, so you're basically guaranteed a fantastic experience.
More posts from Ubud you might like
Save it!