10 important Ubud Monkey Forest tips
Looking for epic Ubud Monkey Forest tips? Get them right here.
The Monkey Forest in Ubud has quite the reputation.
I've read gruesome stories about people getting attacked, bit, jumped and mugged by these cheeky Bali monkeys. To be honest, I'd been dreading to visit Ubud Monkey Forest, but going there is almost an essential rite of passage for travelers in Bali. So, on my second day in Ubud, I chose to walk down there and see what the fuss was all about.
If you've never heard of Ubud Monkey Forest, I've shared the lowdown in this post. You'll get all the information you need about visiting Ubud Sacred Monkey Forest, so you can have a fun and carefree experience (without any bite marks).
Let's dig in.
Read next: The one day in Ubud itinerary you don't want to miss
This post contains referral links for products I love. Adventurous Miriam earns a small commission at no extra cost to you if you make a purchase through my links. Thank you for your support ♡ Learn more
Ubud Monkey Forest Tips
First of all, let's take a look at what the Ubud Monkey Forest is exactly:
Monkey Forest is a sacred forest in Ubud town. It's home to over 600 monkeys that are divided into six groups. Each group has its own territory of the forest and they usually don't mingle with each other – if they do, they'll inevitably end up fighting.
The monkeys are macaques.
Oh, and a word about macaques… They might look all cute and innocent carrying their babies around, but they have knife-like teeth designed to catch and hold food – or a finger. So, make sure to follow the rules below for a safe experience for everyone.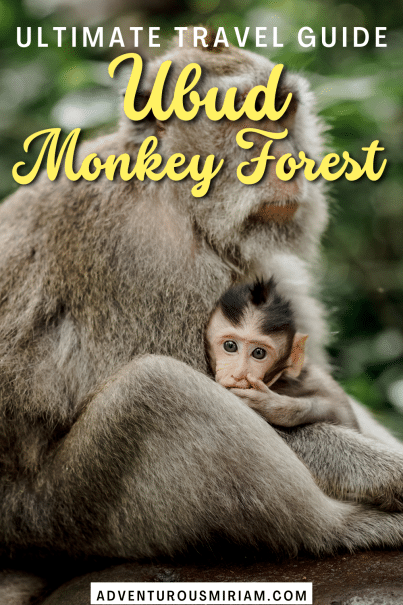 1. Where is the Ubud Monkey Forest?
The Ubud Monkey Forest is located in the south part of Ubud. It's about 15 minutes walk from The Yoga Barn and 2.3 km from the Campuhan Ridge Walk.
Use the map below to zoom in, so you can find out how to reach the forest. Simply click the + sign in the right corner to zoom in and the – sign to zoom out.
2. How to visit the Ubud Monkey Forest
If you're staying in Ubud, you can easily walk or drive there on your own. Simply buy a ticket at the entrance and take a look at the map inside. You can also find the top things to see in this post.
However, if you're staying in Canggu, Seminyak or somewhere else on Bali, the easiest and most convenient way to visit is on a tour or by hiring a private driver, which isn't at all as expensive as it sounds. I did it several times as a solo traveler and can highly recommend it.
On an organised tour, you'll see several sights, while you can create your own itinerary with a private driver – including if you only want to visit the Monkey forest or the town of Ubud.
I've found some of the best tours for you below. I hope one of them will fit your needs.
3. Entrance fee and opening hours
Opening hours: 8.30 AM – 6 PM. Entrance closes at 5.30 PM.
Ubud Monkey Forest entrance fee: The ticket price for adults is IDR 80,000. ($5.5) and IDR 60,000 ($4) for children.
And in case you're wondering, it's perfectly safe for kids to visit the Ubud Monkey Forest. Make sure to explain the rules below and help them understand how to be respectful of the monkeys.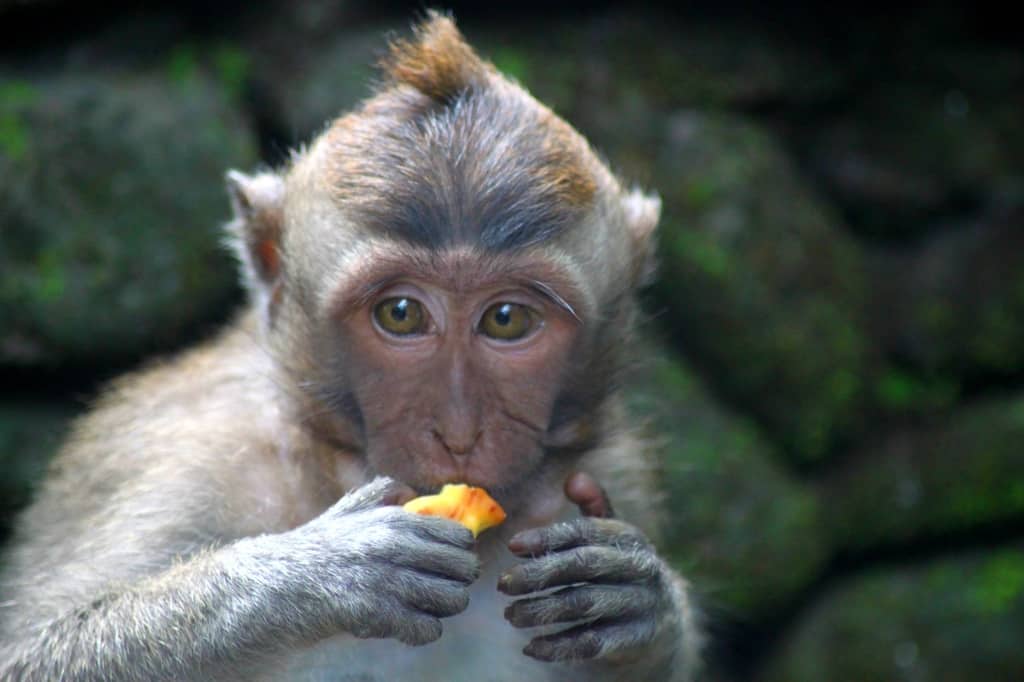 4. What NOT to do in Monkey Forest
The Ubud Monkey Forest has a guideline for visiting. It's at the entrance and on their website. Make sure to follow it to stay safe and ensure the monkeys are unbothered. Here's the takeaway:
DON'T TOUCH the monkeys. Especially watch out for the baby monkeys as the mother or father will be extra protective and territorial.
DON'T PANIC if one of the monkeys jump on you. Simply walk away slowly and it will jump off.
DON'T LOOK MONKEYS IN THE EYE or tease them. The monkeys really don't like this and will see it as a sign of aggression.
DON'T RUN if they approach you. Instead try to stay calm so you won't frighten or upset them.
DON'T BRING FOOD. Not even in your bag. Monkeys are clever and they will try to find it.
DON'T FLASH YOUR VALUABLES. Keep your camera, wallet, jewellery and sunglasses out of sight. The monkeys will try to grab them.
DON'T BRING PLASTIC BAGS. The monkeys will inevitably try to steal it because they think there's food in it. Then they toss it in the forest.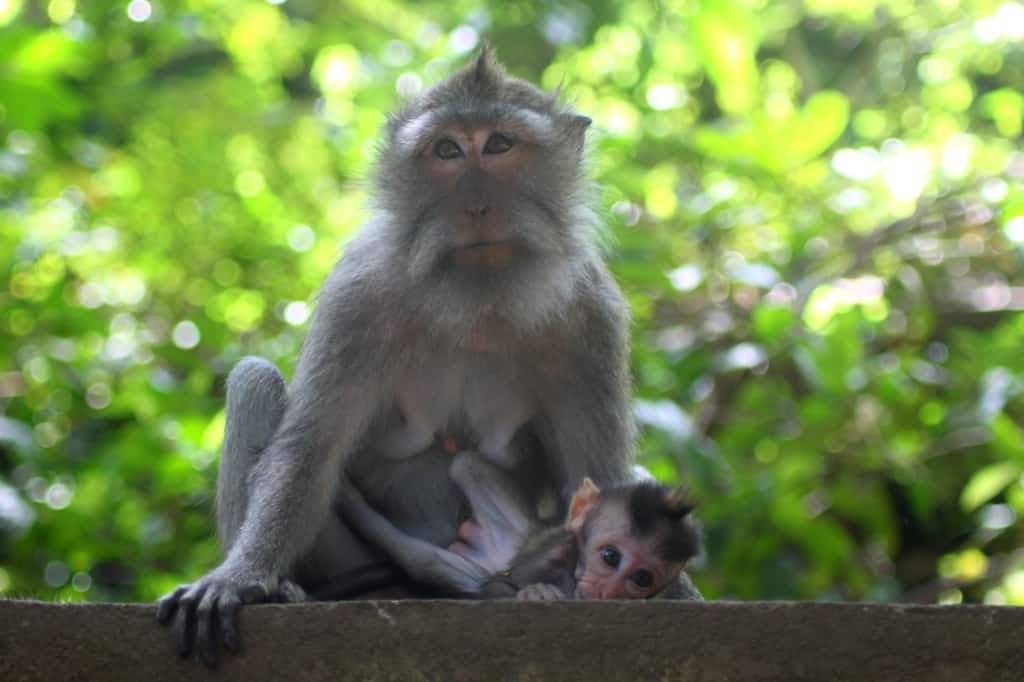 5. Do the monkeys bite?
You might be wondering, is Ubud Monkey Forest safe? Do the monkeys bite?
And I'll be honest with you here: Yes, sometimes the monkeys bite. But if you follow the guidelines above, you can have a safe experience!
When I visited, I suddenly had a huge macaque sitting half a meter from me, getting ready to jump. I'm sure if he had, I would have fallen over – it was that big. On the inside, I got super scared, but I tried not to show it. Instead, I looked away and walked in the opposite direction – and surprisingly it helped. The alpha macaque backed off and ran.
Whew!
If you're unlucky and do experience a monkey bite at the Ubud Monkey Forest, it's important not to panic. Notify one of the caretakers immediately who will take you to the Monkey Forest First Aid. The clinic staff will clean your wound with alcohol and provide antiseptic cream.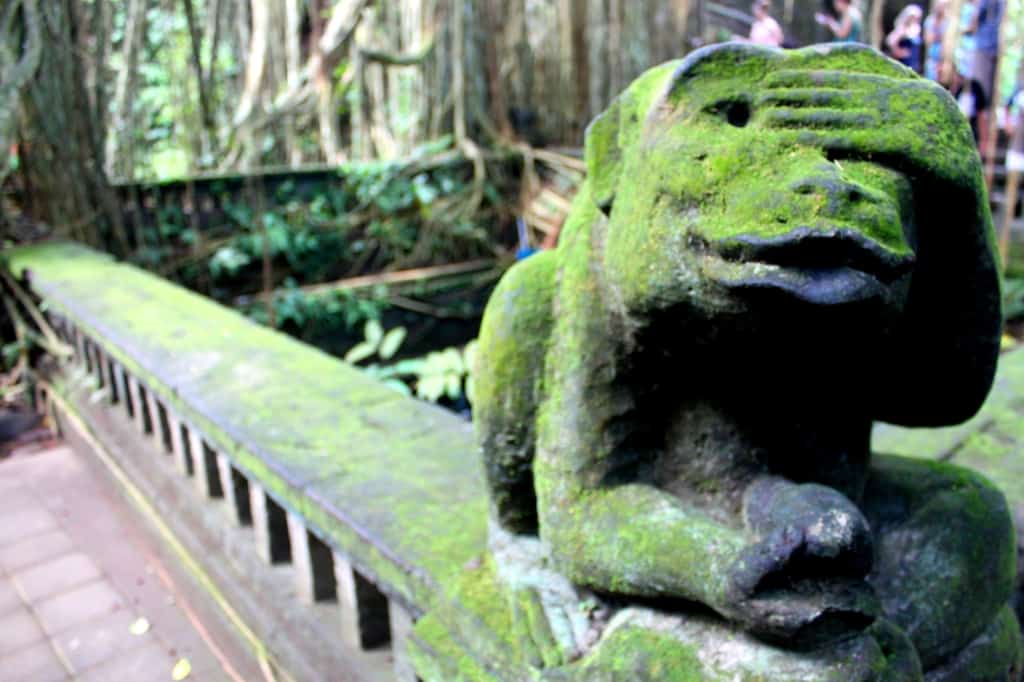 6. Do the monkeys have rabies?
No, the monkeys at Ubud Monkey forest do not have rabies.
First of all, the monkeys are monitored by the Primate Research Center of Udayana University to ensure they're healthy.
Second of all, Dr. Agustin Fuentes from the Department of Anthropology, University of Notre Dame, USA concluded from 14 years of research that there were no cases of rabies in monkeys in Bali.
If you do get bit, I recommend talking to your doctor at home for guidance on what to do. Although research says there's no rabies at the Monkey Forest Ubud, you might want to be on the safe side. They'll know what to do.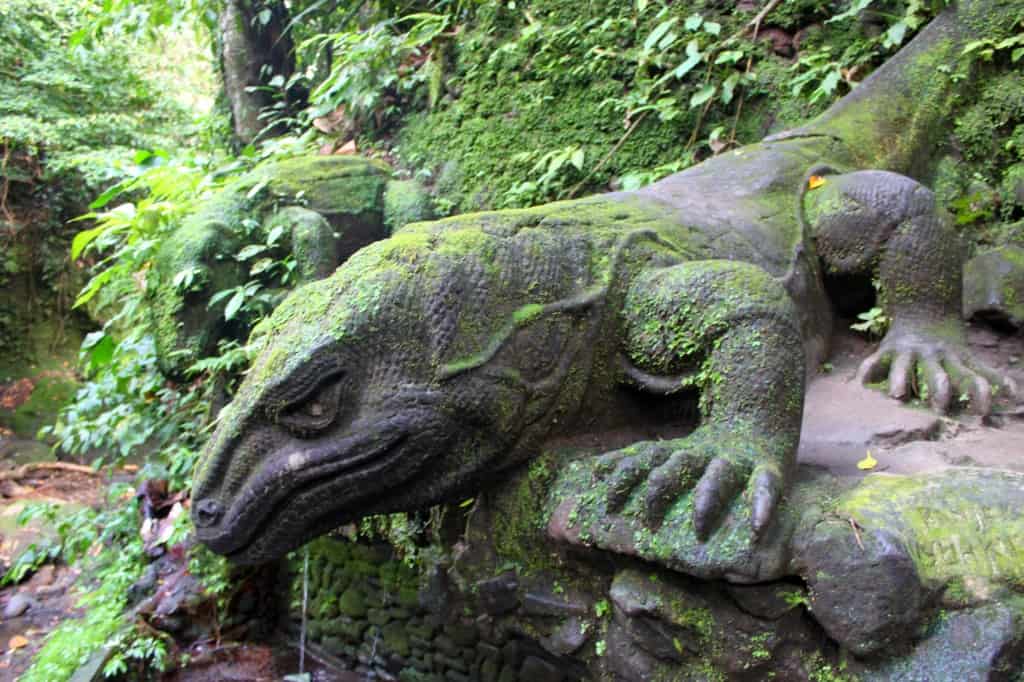 7. How long do you need at Monkey Forest Ubud?
You can easily spend a few hours here. I spent around 2 hours in Monkey Forest Ubud and it was enough to see the monkeys, the forest and the various temples (and photograph it all).
Nice to know 
There are five restrooms inside the Monkey Forest, and it has two entrance and exit points.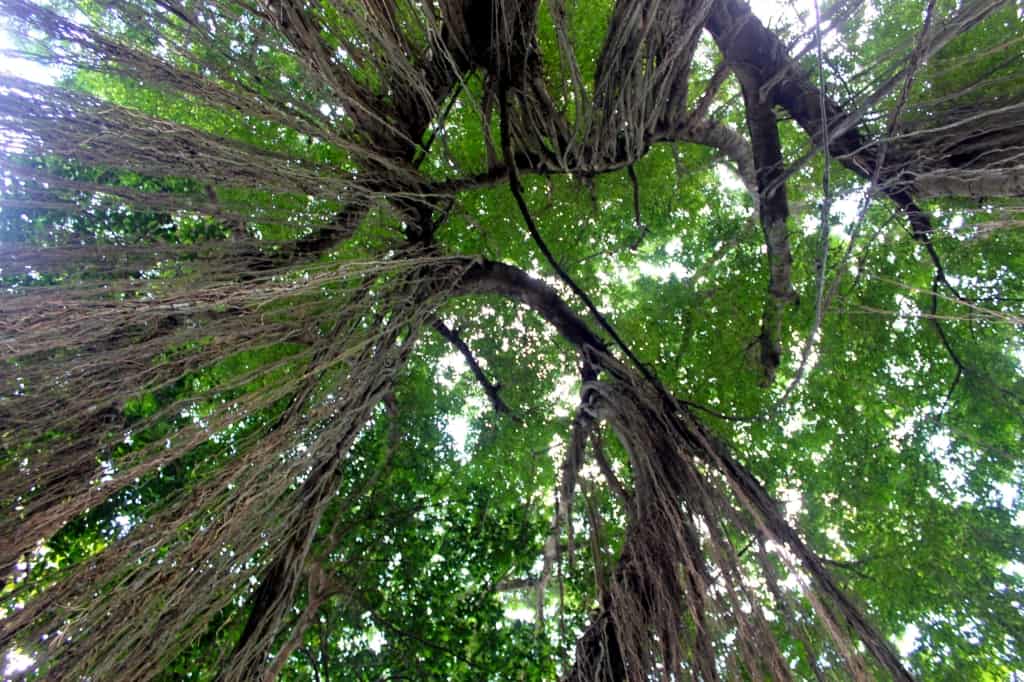 8. Things to do at Ubud Monkey Forest
There's plenty to see around the forest, including a small waterfall, flowers and the – not to miss – Indiana Jones atmosphere.
Around the forest, the staff will make sure the monkeys (and visitors) behave, and I personally found it comforting to know that they were there. You can follow the path around the forest and explore the grounds that way.
The three temples
There's a total of three Hindu temples and a cremation site inside the forest. You've got the main temple, the holy spring temple and the cremation temple. Walk around and take pictures, the ambience is beautiful thanks to the lush surroundings.
Dragon bridge
My favourite spot in the Monkey Forest Ubud was the Dragon bridge. If you've seen photos from the forest, it's most likely of this particular bridge showing two moss-covered Balinese dragons.
The whole place has an Indiana Jones vibe that's just really intense. This bridge was actually the main reason I wanted to visit, and although it was crowded, it did not disappoint!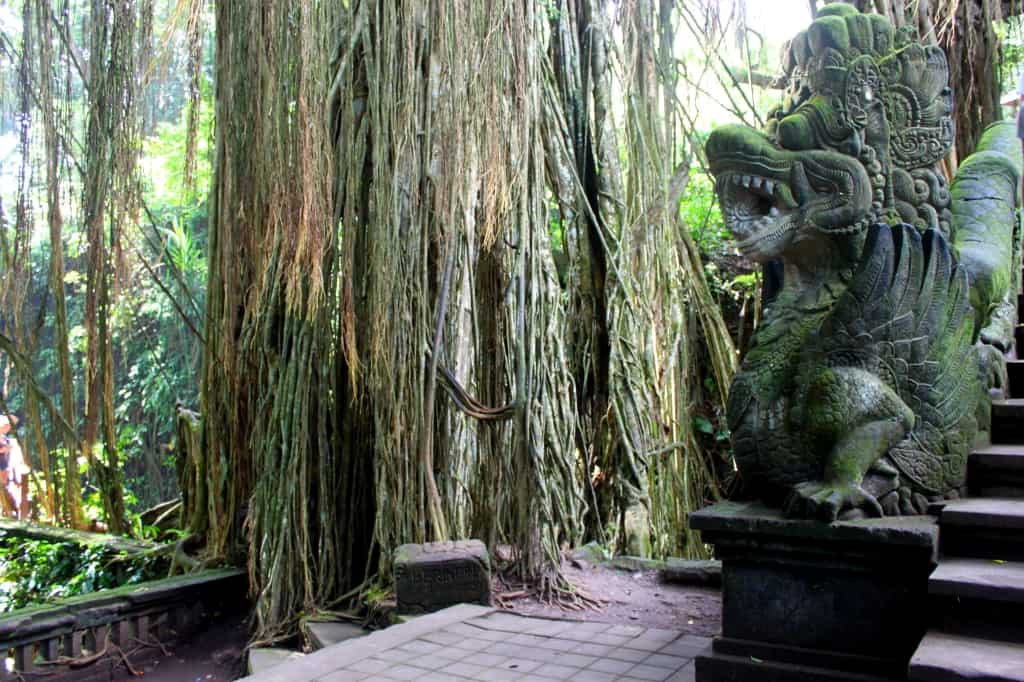 The statues
A fun thing to do while walking in the forest is to discover the many statues. Look closely and you'll see statues of monkeys (obviously), dragons, Balinese gods and komodo dragons. I'm glad it weren't the real ones (no thanks to meeting one of those guys in the jungle).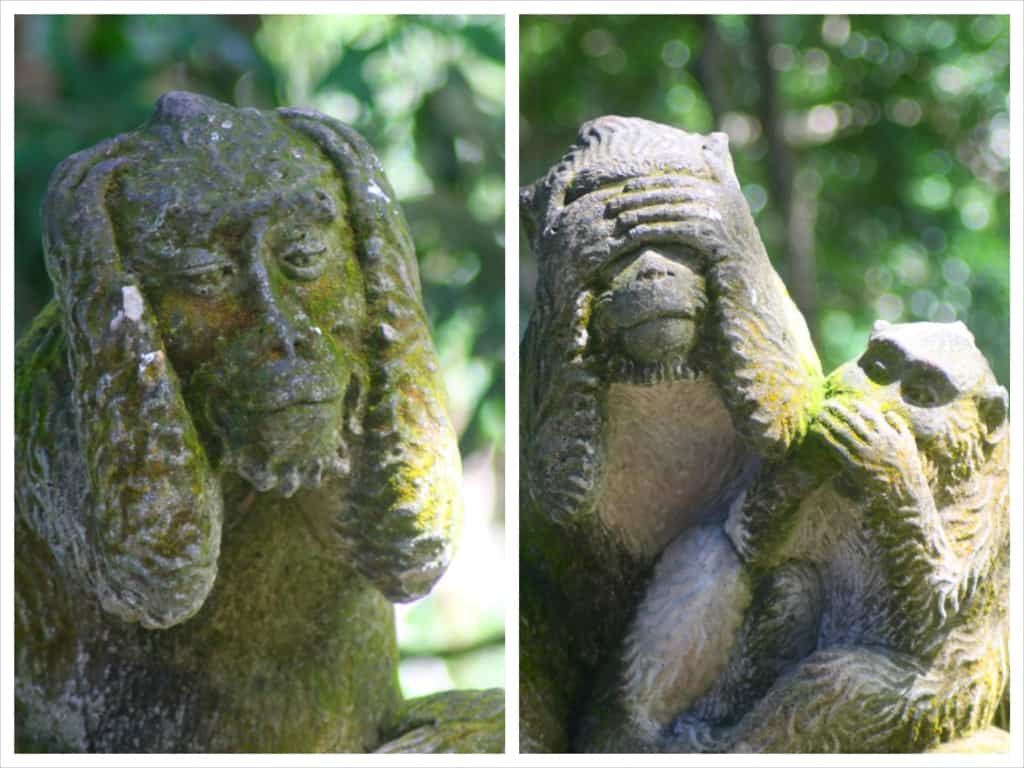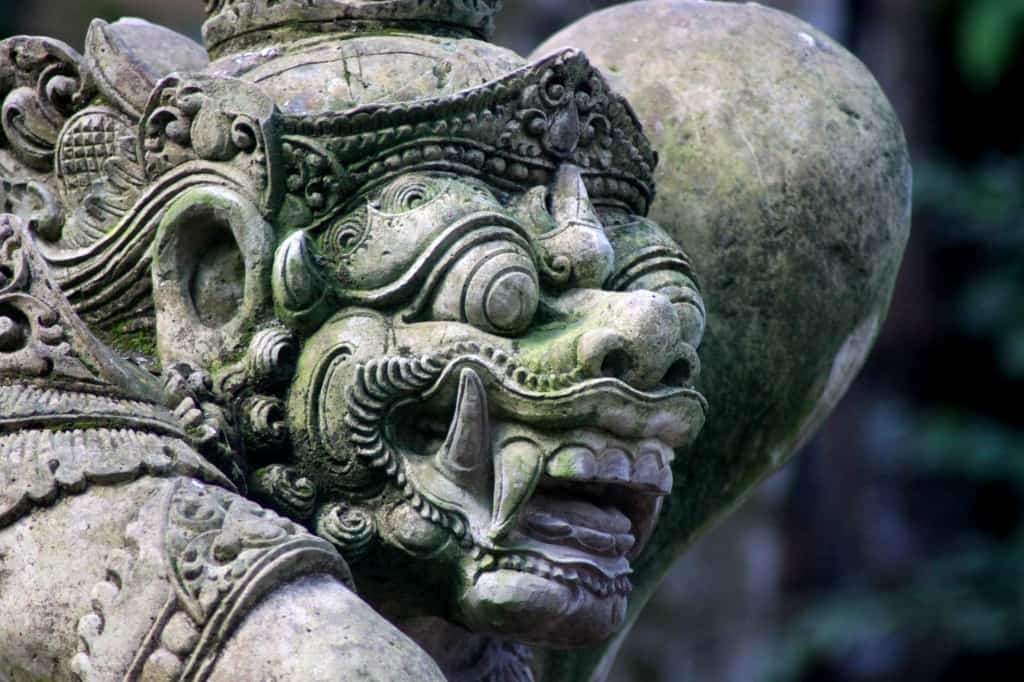 9. What to wear to Monkey Forest Ubud
When visiting the Ubud Monkey Forest in Bali, you're free to wear whatever you like. However, there are temples inside the forest, where you should wear appropriate clothing out of respect.
Try not to wear anything too revealing – tank tops and T-shirts are the ideal choice. To cover your legs, simply bring a sarong, or wear a skirt or loose-fitting trousers.
10. Is Ubud Monkey Forest worth it?
Yes, absolutely!
I hope these Ubud Monkey Forest tips have convinced you that it's safe and fun to visit the Bali monkeys that roam around in the forest. If not for the monkeys, come for the atmosphere. It's really something.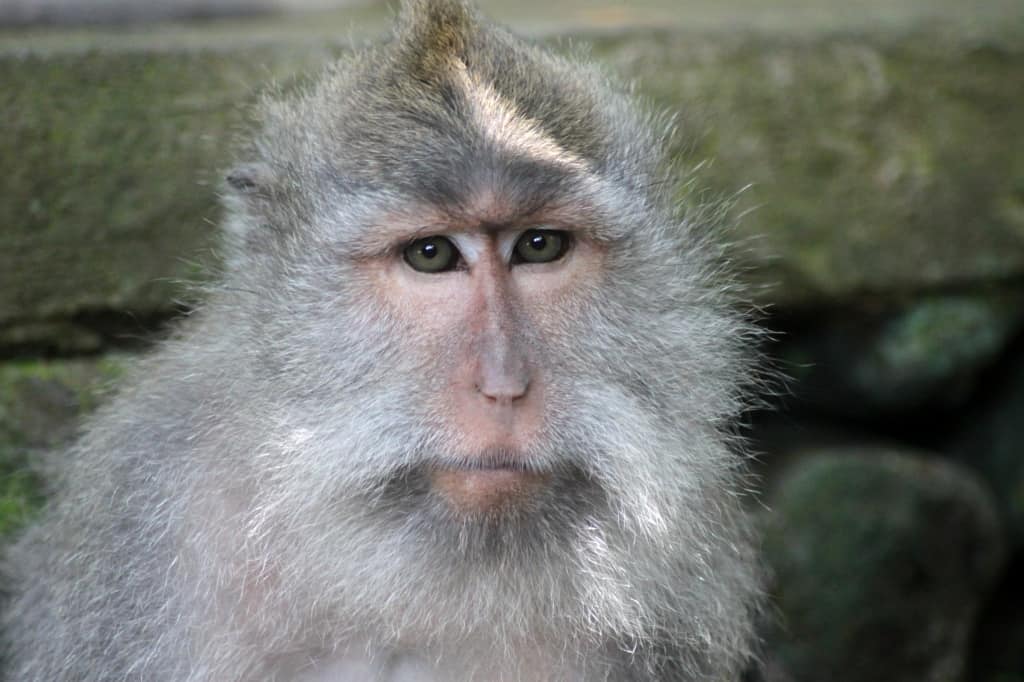 Where to stay in Ubud
If you decide to stay in Ubud, great choice! I stayed for a month and LOVED it. Whether you're looking to splurge, keep it low key or stay on a tight budget, you'll be able to experience that unique Balinese comfort and style.
Budget: Bale Bali Inn
If you're looking for a cosy atmosphere, air-con and an outdoor swimming pool at a very affordable price, Bale Bali inn is it. It's located in the city centre, just a five minute drive from the market. Find the latest prices here.
Mid-range: Jati Cottage
Stay in the heart of Ubud while enjoying the outdoor pool, in-house restaurant and a spacious, air-conditioned room. There's a 24-hour front desk with a very supportive staff. Great for solo travelers. Find the latest prices here.
Luxury: Wana Bucu Villas
Dreamy, romantic bed, outdoor bathtub, private pool – this place has it all. It's the perfect escape, yet at walking distance to everything. Find the latest prices here.
Got any questions to these Ubud Monkey Forest tips? Let me know in the comments.
More posts from Indonesia you'll love