Adventurous Miriam uses affiliate links, which means that if you make a purchase through my links, I may earn an affiliate commission.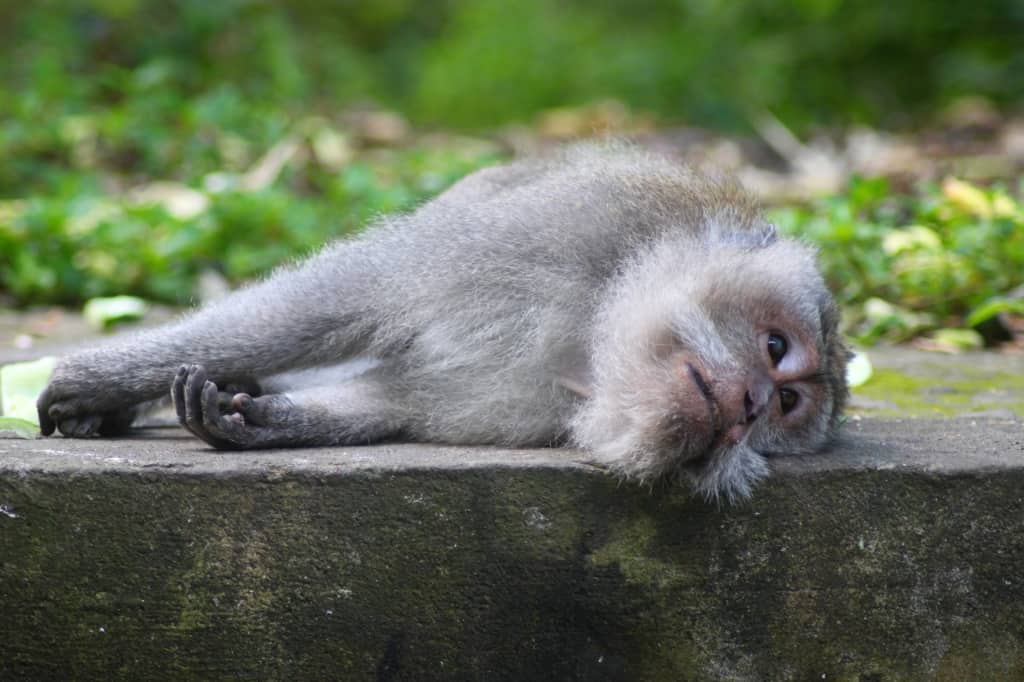 I heard screams in the distance.
As I approached the entrance to Ubud Monkey Forest, the trees were more intertwined and a forest soon came into view. On my right side I saw statues of monkeys; some friendly and some looked outright devilish. At the gateway to the forest, I went through the narrow path and before I knew it, there was a monkey standing right in front of me.
Read next: Where to stay in Bali
I held onto my camera and got into attack stance – I knew these monkeys were cheeky and not at all in a good way – I had read gruesome stories about people getting attacked, bit, jumped and mugged by these spoiled and sometimes aggressive monkeys. I didn't have to walk far before I saw at least 20 monkeys sitting on the pavement, zipping around, swimming in the pool and perching on rocks.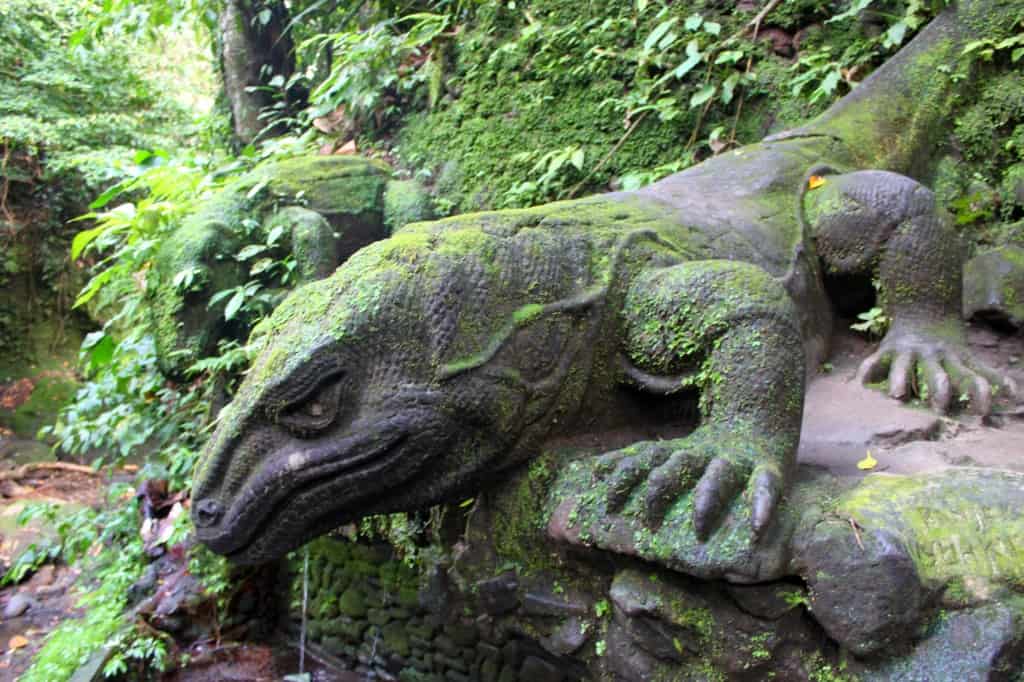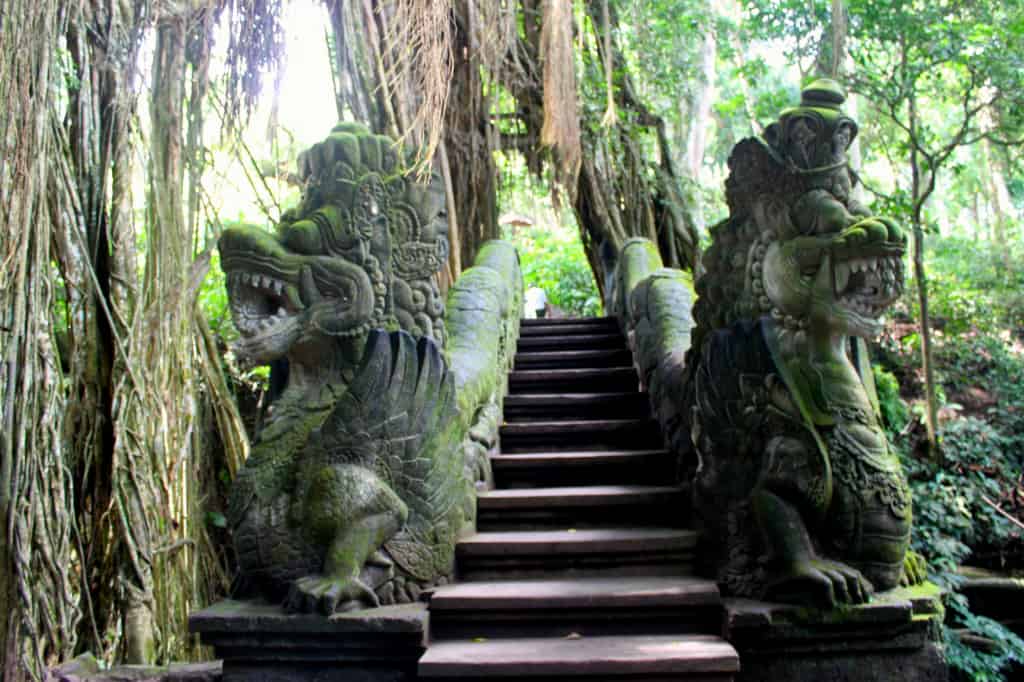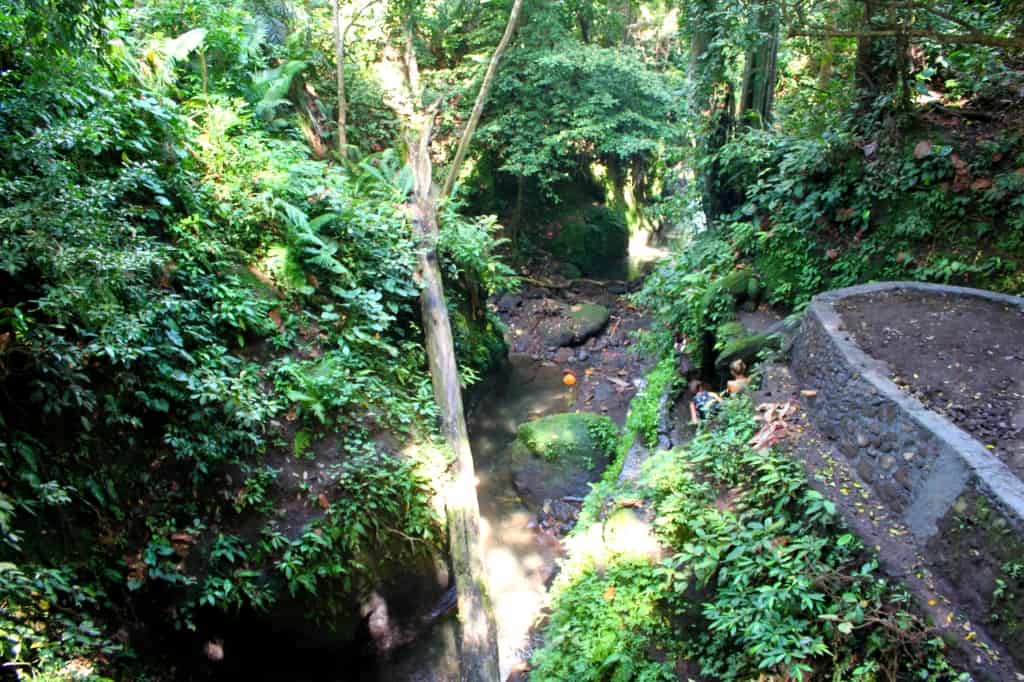 UBUD MONKEY FOREST
To be honest, I've been dreading to visit Ubud Monkey Forest, but going there is almost an essential rite of passage for travelers in Bali. So, on my second day in Ubud, I chose to walk down there and see what the fuss was all about. If you've never heard of Ubud Monkey Forest, here's the laydown:
Monkey Forest is a sacred forest in Ubud town. It's home to over 600 monkeys, and they are divided into 4 groups. Each group has its own territory of the forest and they usually don't mingle with each other – if they do they'll inevitably end up fighting.
The monkeys are macaques. Oh, and a word about macaques… They might look all cute and innocent carrying their babies around, but they have knife-like teeth designed to catch and hold food – or a finger. And, in Bali there's another thing to consider: rabies, which is carried by monkeys. The disease is quite serious, and if you don't receive treatment immediately, you will die.
Are you beginning to see why I wasn't thrilled about going there?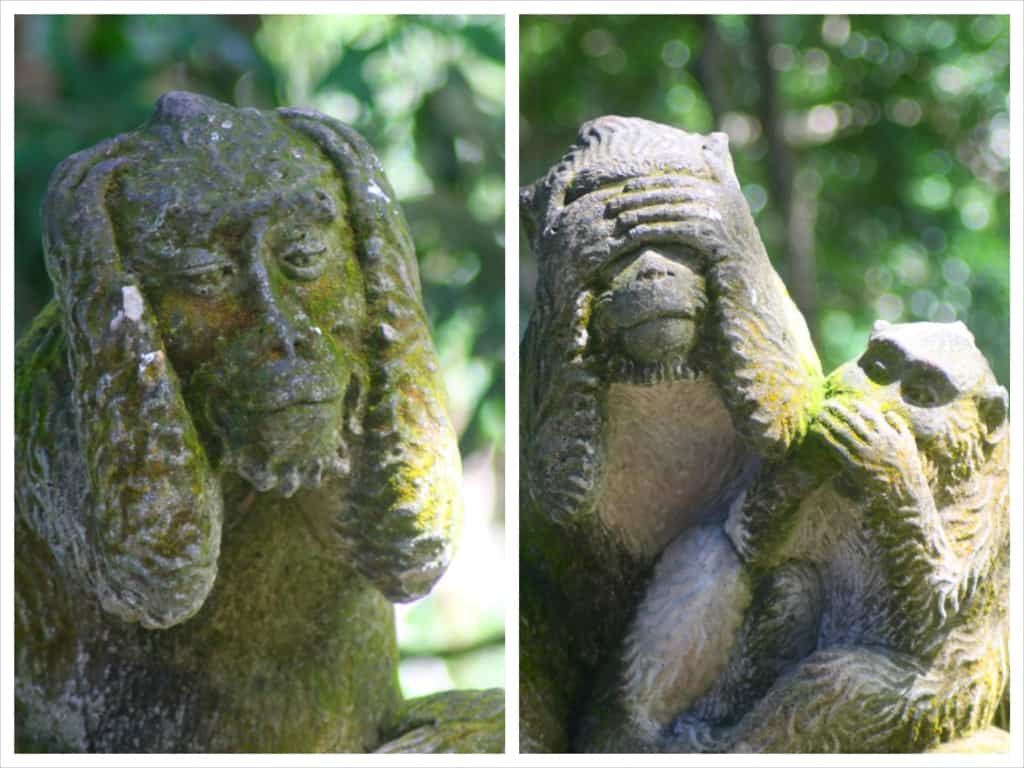 Cute, huh? Wrong! They will jump you first chance they get!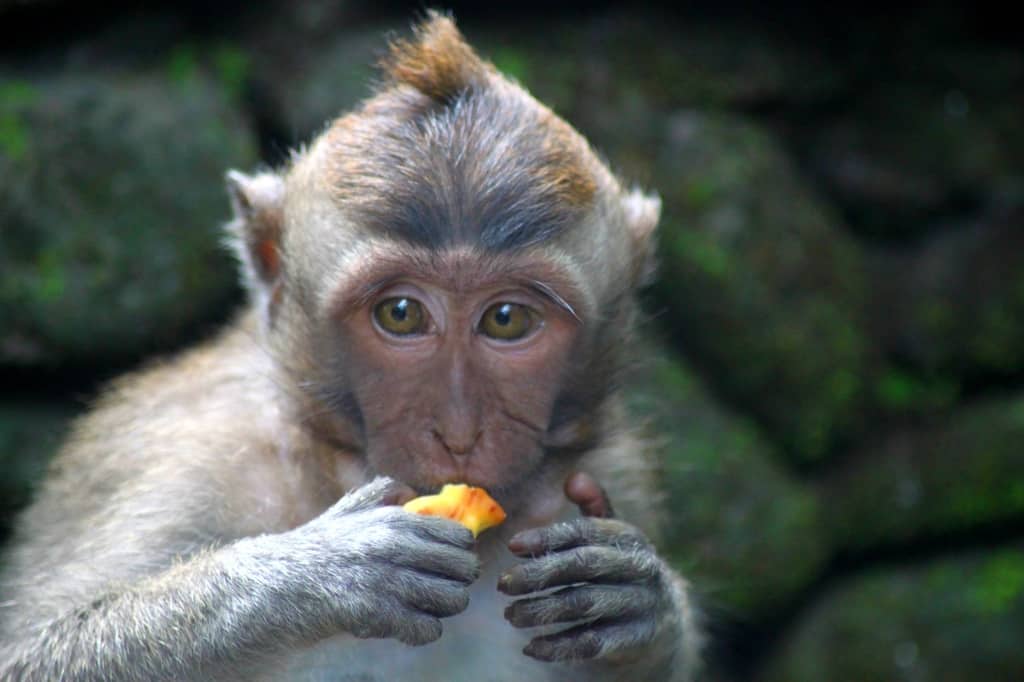 Here's the movie I shot while walking through the forest: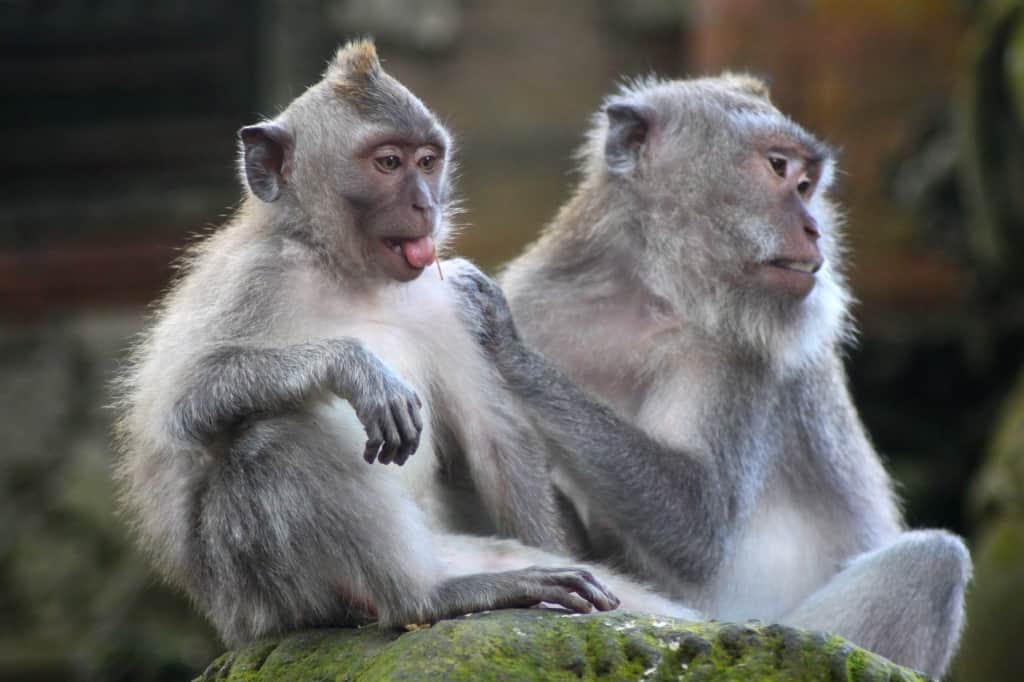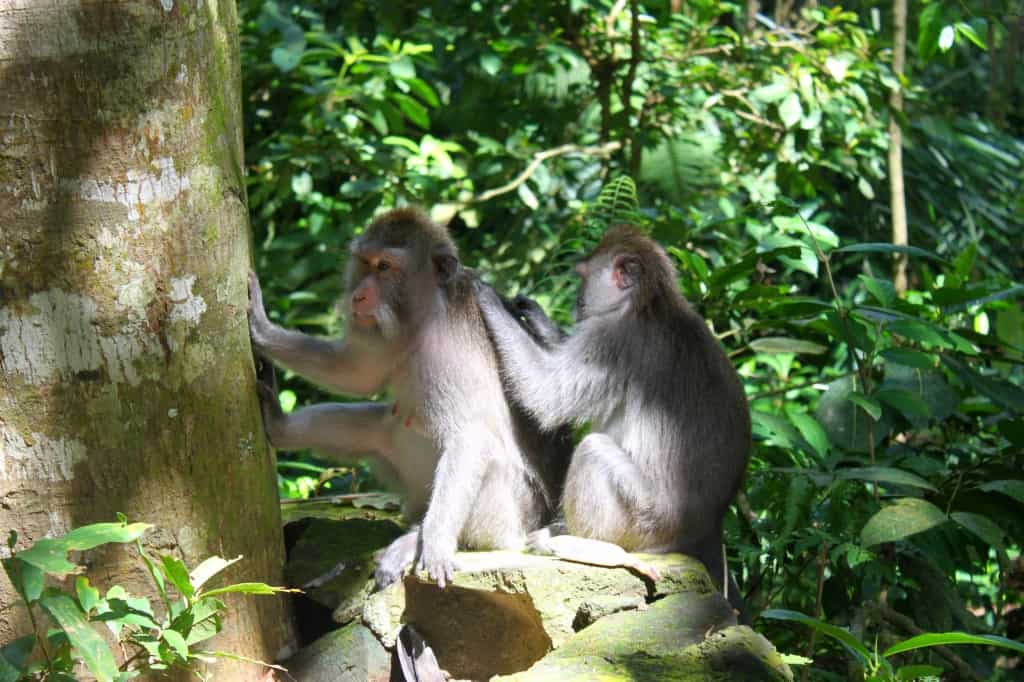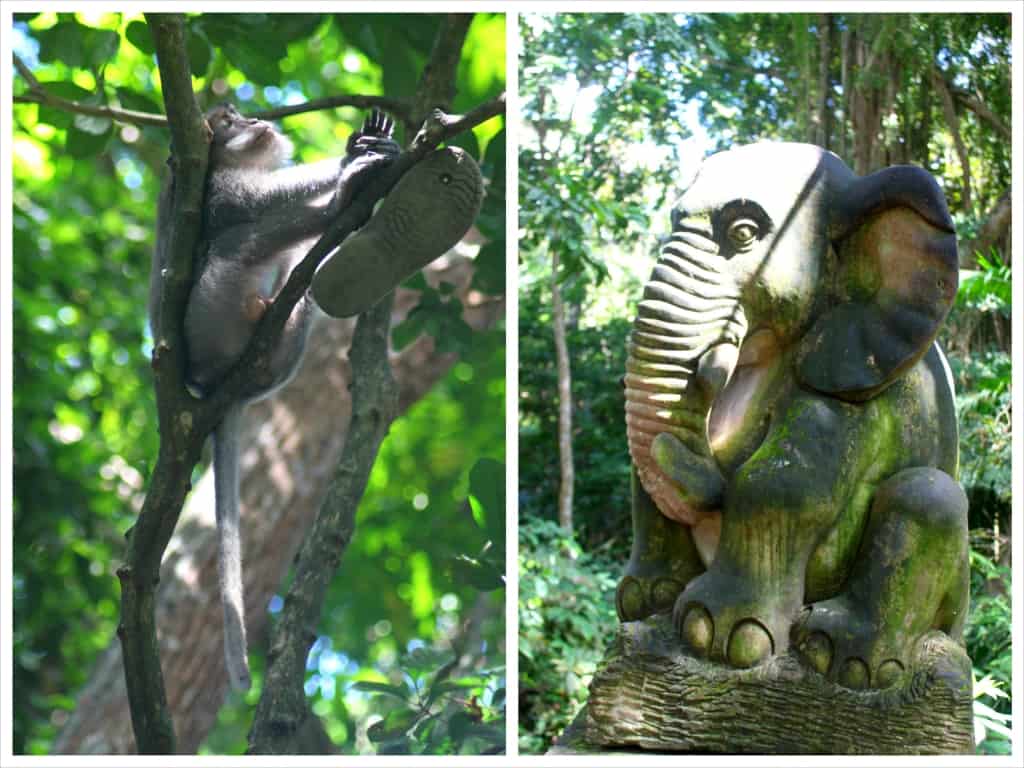 A monkey stealing a shoe and clearly enjoying it. Just look at that smirky grin.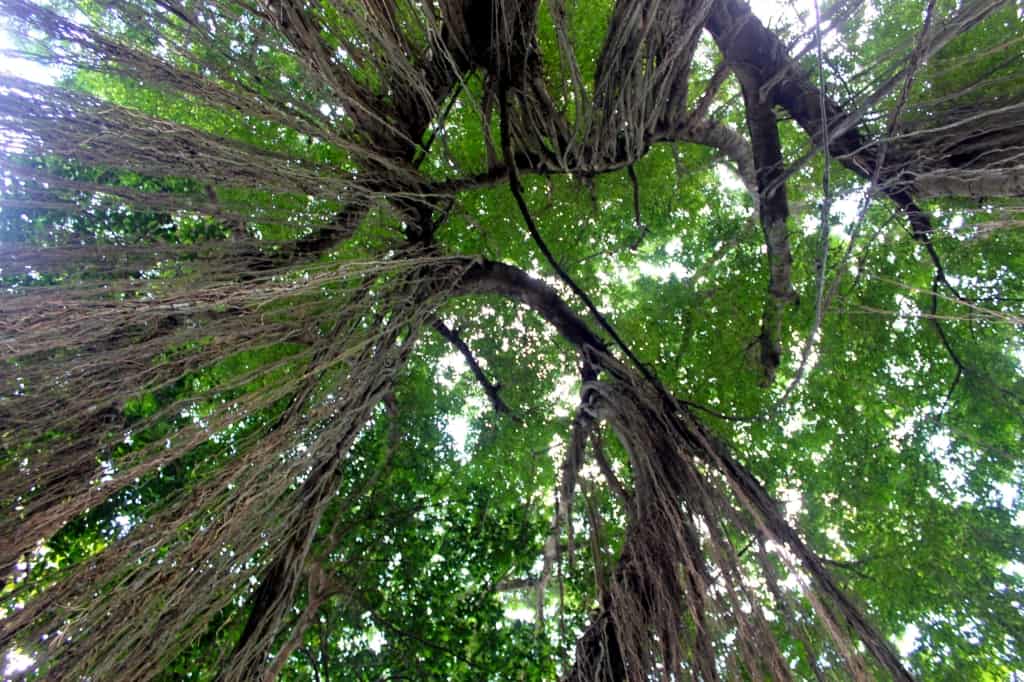 After paying the entrance fee of $3, I walked around Ubud Monkey Forest and explored the different temples. There's a total of three temples and a cremation site, too. Around the forest, I saw guards that (tried to) make sure that the monkeys behaved, and it was a comfort to know that they were there. I stayed on the path all the time and made sure to follow other tourists. At no point was I alone.
On my way to the exit, I sighed of relief and thought to myself that Ubud Monkey Forest wasn't that bad at all. For one second, and it was really just one second, I let my guard down and bowed to take a photo of a young monkey. I snapped the picture and that's when I felt it…
You know that feeling you get when you're being stared at? When the hair on the back of your neck stands on end and you get goose bumps all over… I was having that now.
I quickly turned to my left and there it was. A huge macaque sitting half a meter from me, getting ready to jump. I'm sure if he had, I would have fallen over – it was that big. "Go away!" I hissed loudly, waiving with both arms and trying to look awfully dangerous. And surprisingly it helped. The alpha macaque backed off and ran – so did I towards the exit sign.
Whew!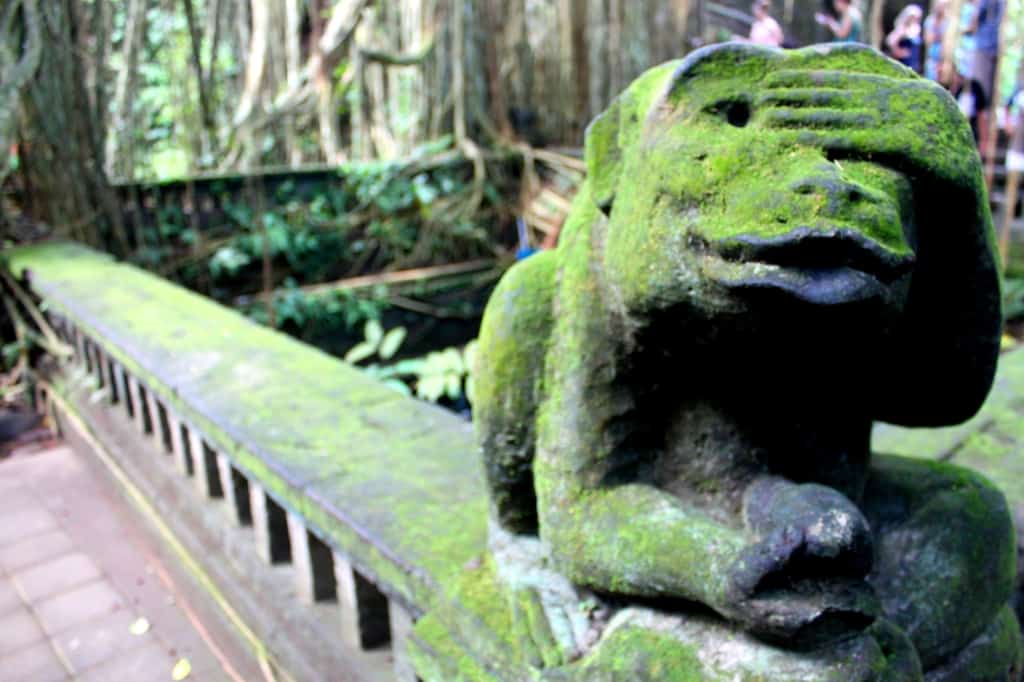 [/fusion_builder_column][/fusion_builder_row][/fusion_builder_container]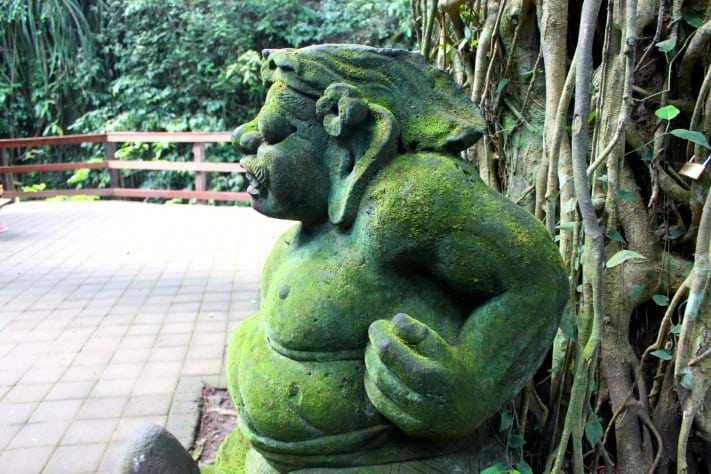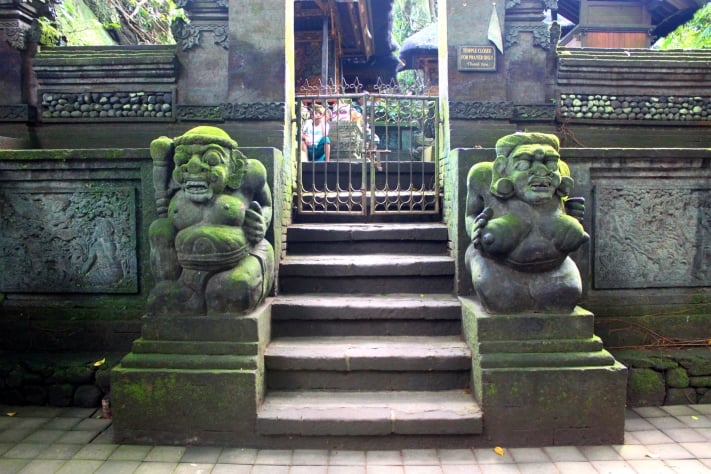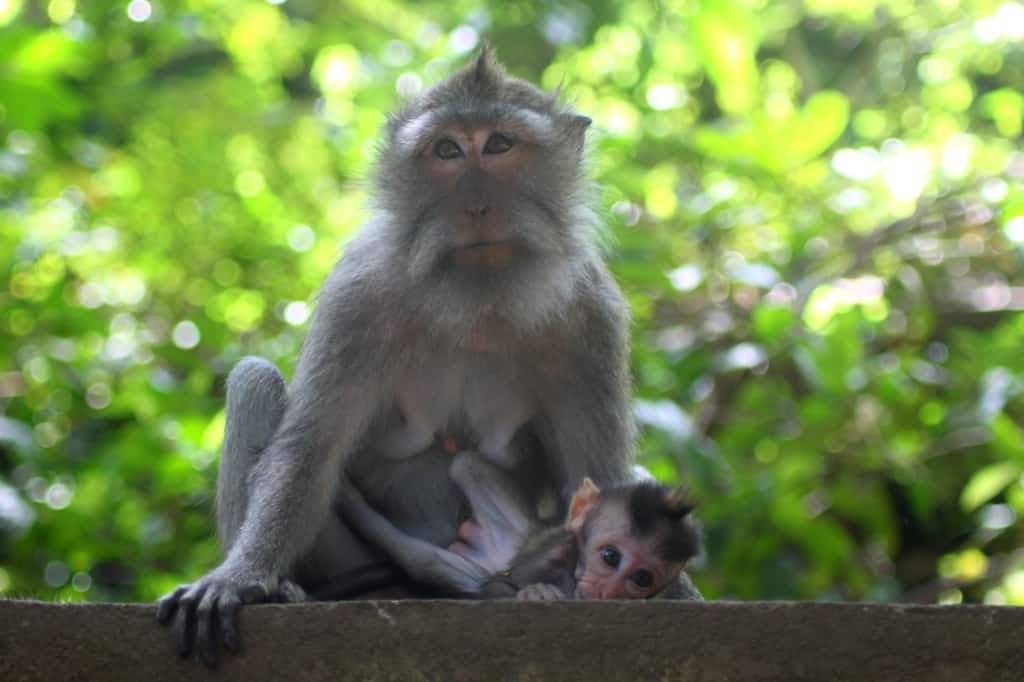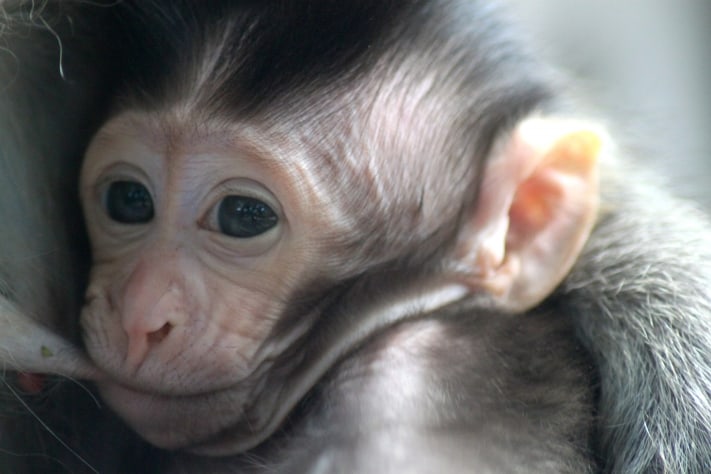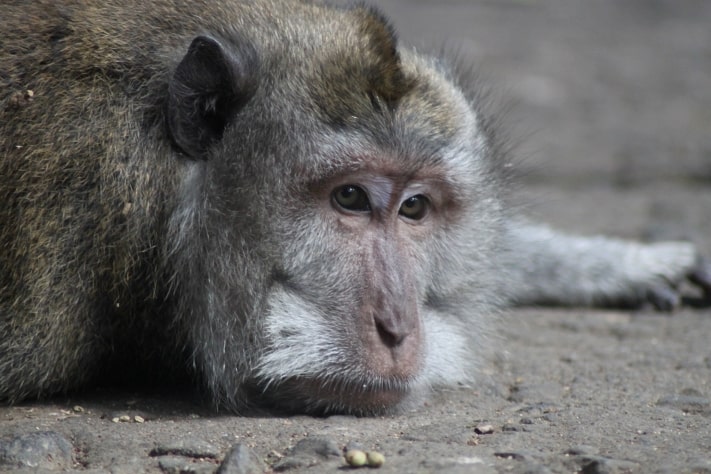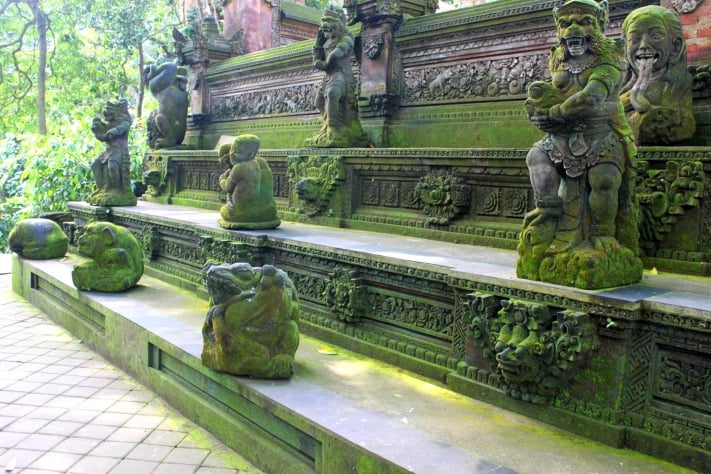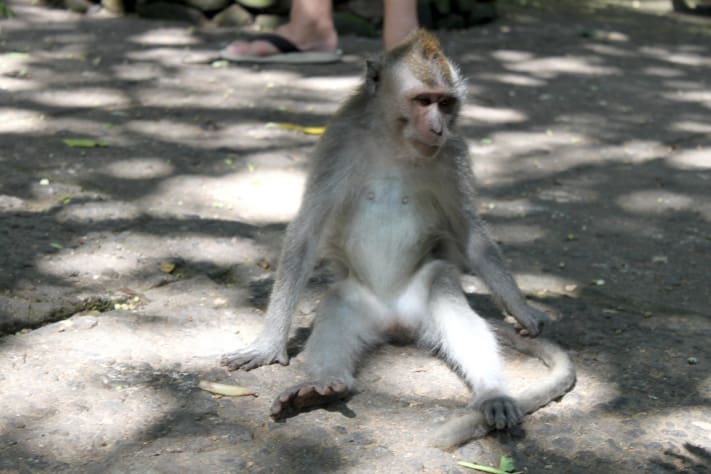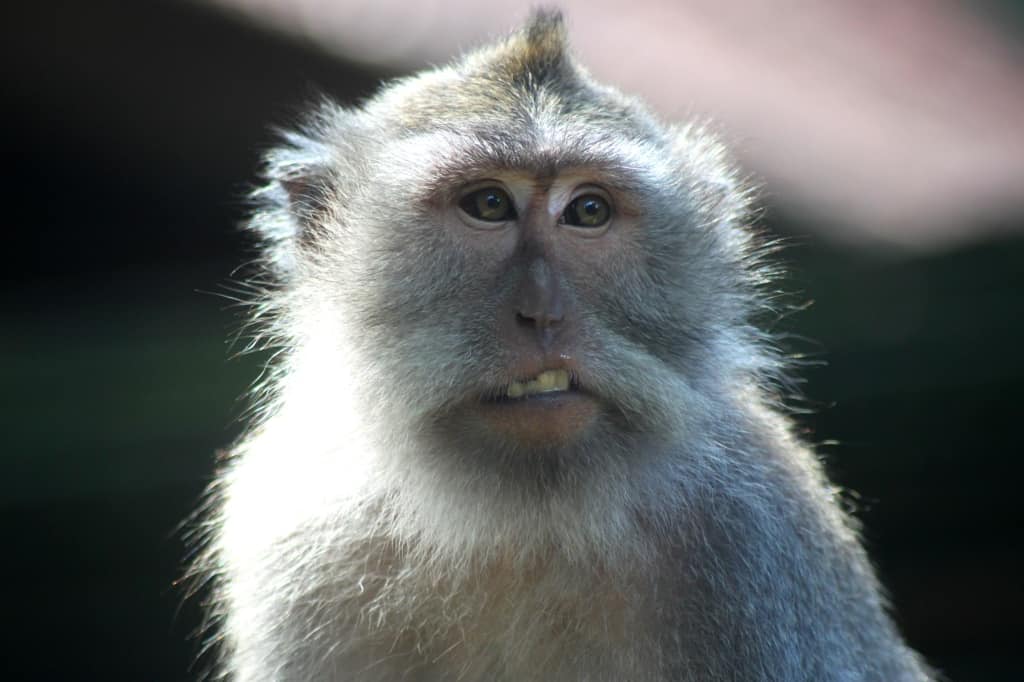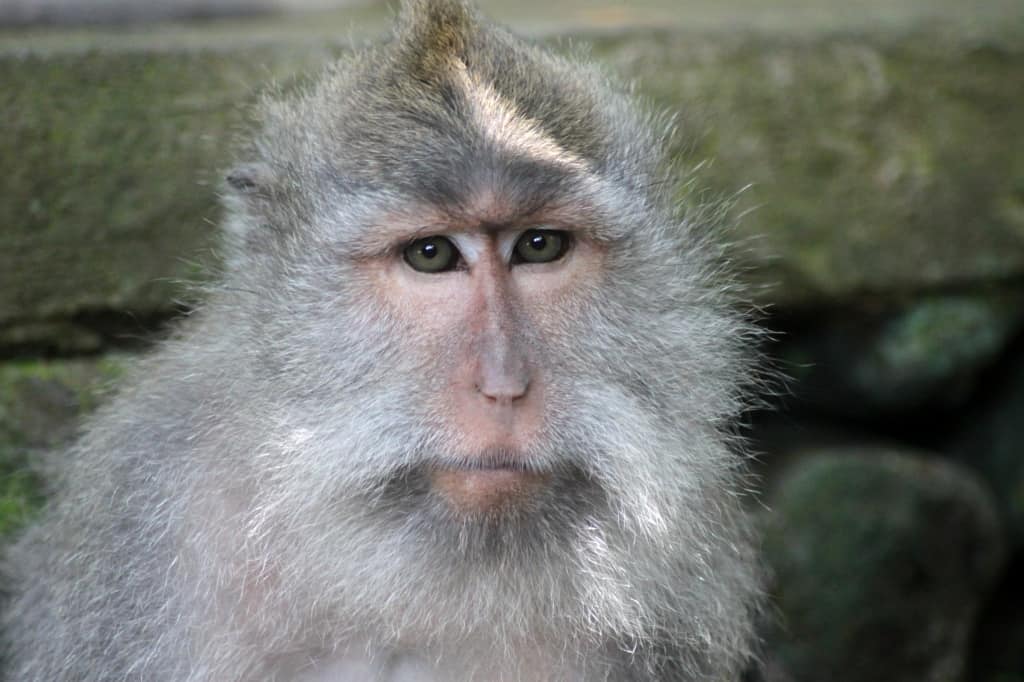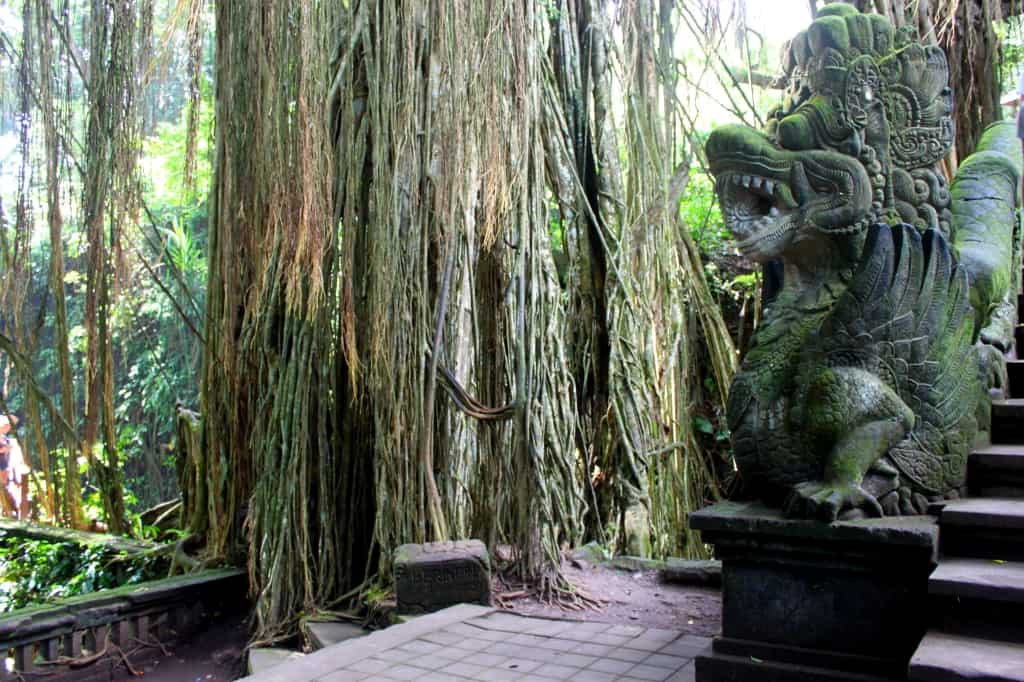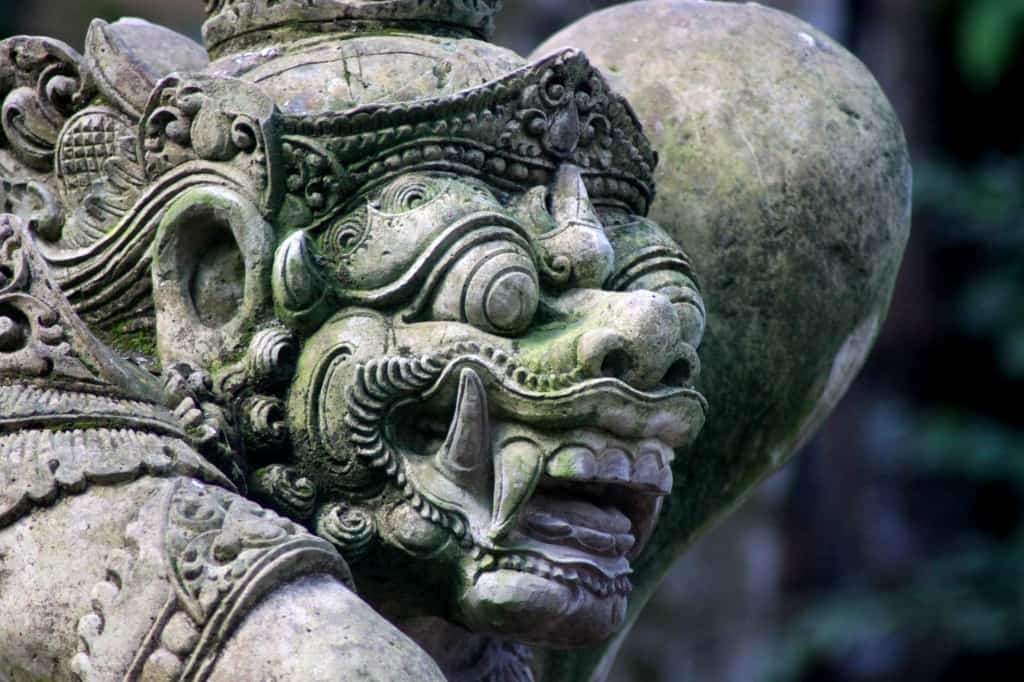 WHAT TO SEE
There's plenty to see around the forest, including a small waterfall, flowers and the – not to miss – Indiana Jones atmosphere. It's a great place to visit if you're in the area and it's something I would recommend. Even though it is safe enough, I highly advise you to be alert when you enter the forest.
HOW TO STAY SAFE IN UBUD MONKEY FOREST
Here's a few tips on how to stay safe:
Visit later in the day when there are more people.
Stay away from the baby monkeys – the mother or father will be extra territorial.
Don't flash your camera
Don't wear shining objects (ear rings, sunglasses, glasses)
Do not bring food into the forest
Beware of bending down to take pictures. Always be alert of your surroundings.
So, if I haven't scared you off – would you ever visit Ubud Monkey Forest?
Pin to Pinterest