12 best restaurants with healthy food in Ubud
If you're looking for the best food in Ubud, you won't have to look long.
With Bali's most famous babi guling warung and two of Indonesia's top fine-dining restaurants, you'll be spoiled for choices. In Ubud, you'll find a diverse food scene, offering everything from gourmet to vegan options.
It's so diverse that Ubud introduced me to whole new categories of food. I've made friends with Ayurvedic dishes, tasted fresh raw food, learned about macrobiotic diets and felt how they have affected my body and state of mind positively.
Ubud is a great place to stay if you're looking for healthy meals and inspiration for delicious new recipes. Personally, I've never been to a place – if we don't count Thailand – where I basically want to order everything on the menu. Seeing as I am one picky lady, that says a lot.
Read next: The one day in Ubud itinerary you don't want to miss
This post contains referral links for products I love. Adventurous Miriam earns a small commission at no extra cost to you if you make a purchase through my links. Thank you for your support ♡ Learn more
Where to find the best food in Ubud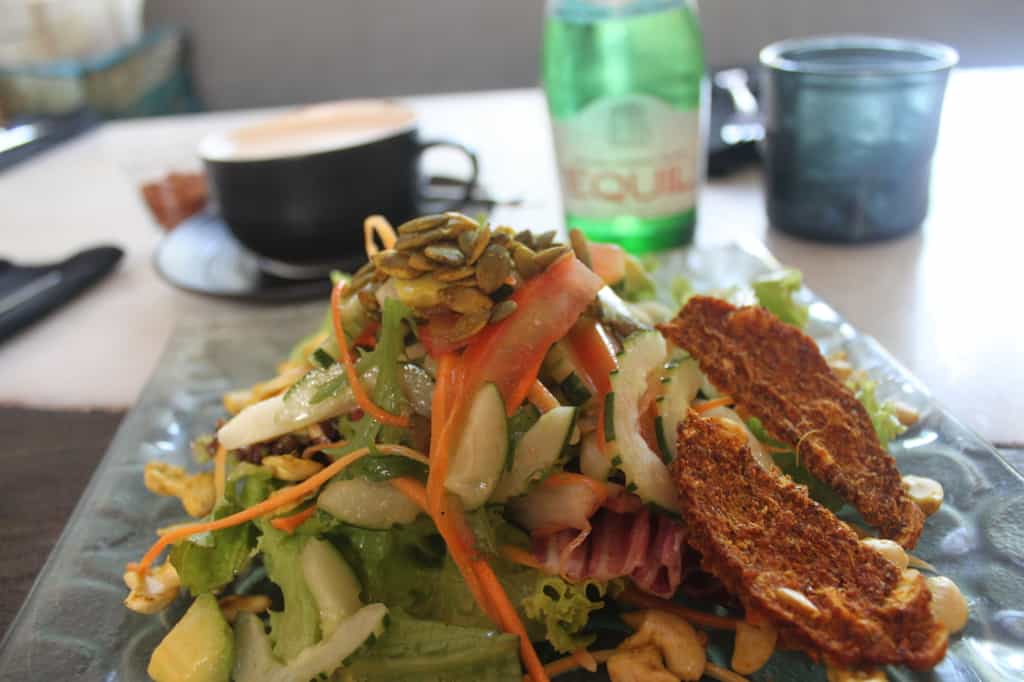 Best restaurant: Alchemy
Raw food is uncooked, unprocessed foods. A raw food diet does not contain homogenised, pasteurised or produced products with the use of synthetic pesticides and chemical food additives. In other words – it must be organic, raw and free of chemicals.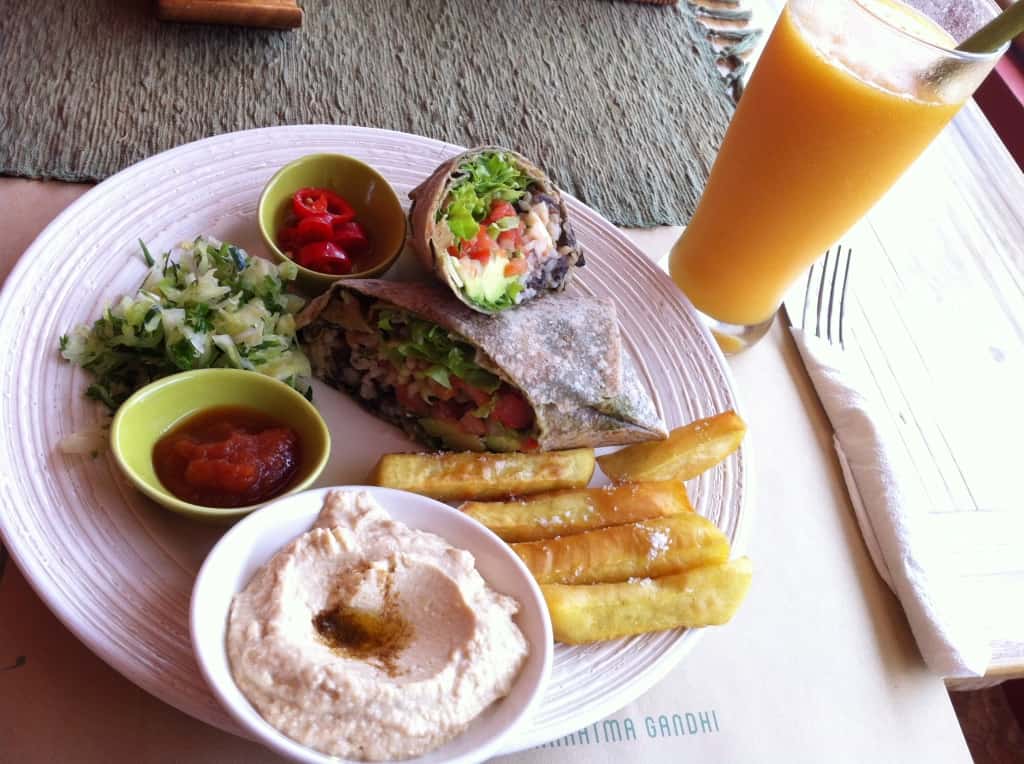 Best restaurant: Sage
Vegetarian food does not include meat or animal tissue products. To get the protein needed, vegetarian meals often include beans, tofu, tempeh and chickpeas. As I've recently learned, Indian and Middle Eastern cuisines have some great vegetarian dishes!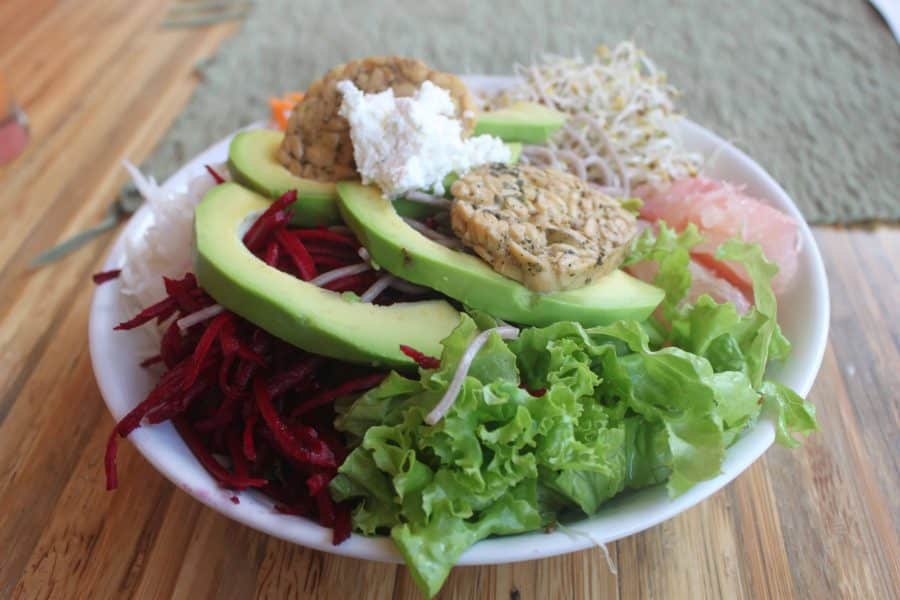 Best restaurant: Siboghana Waroeng
Vegan food is the same as vegetarian food only it contains no animal-derived foods or products. This means no dairy and eggs. Anything eatable that derives from an animal is no-no.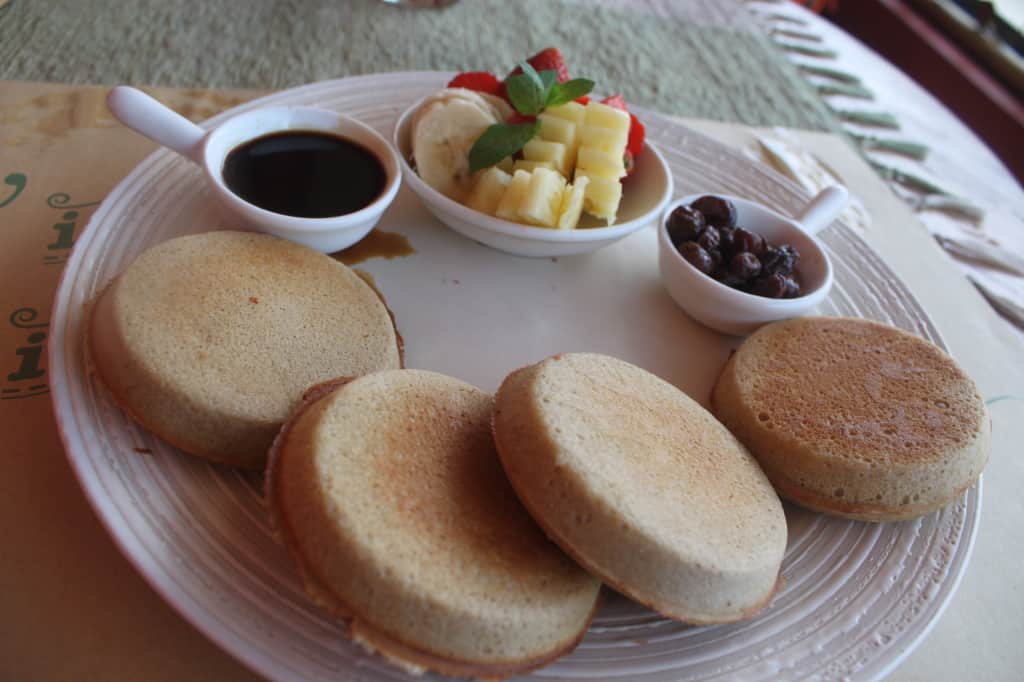 Best restaurant: Down to Earth
Macrobiotic food consists of grains and vegetables, avoiding the use of highly processed or refined foods. The main idea is that this diet affects health, well-being and happiness. A macrobiotic diet has often been suggested to help cancer patients although there is no scientific evidence to support such recommendations.
Healthy food and drinks
Bali is a paradise if you follow a vegan, vegetarian, conscious living, and yogic lifestyle. The food here is not only nourishing and wholesome but also fresh, organic and innovative. What's more, you get to enjoy it in naturally beautiful settings that add to the overall experience.
Food in Ubud is not the only delicious thing on the menu card. Healthy drinks are also easily available in the form of organic vegetable & fruit shakes and a wide selection of homegrown Balinese coffee.
In Ubud, you can find a vegetable or fruit drink for almost every desire – at Down to Earth they have drinks for abdominal pain, cough, young skin, anxious ease, party detox, and the list just keeps going.
In the nearby villages, you'll find the well-known Java coffee and highly expensive Luwak coffee also referred to as Civet Coffee, which is made from coffee beans digested by a civet. Don't order it, though. It's produced by civets held in inhumane and horrible conditions.
How much does food in Ubud cost?
In general, you can expect to pay around $6-8 per meal in Ubud. If you're on a budget, you'll find the lowest prices at the Warungs.
Warungs are small family-run restaurants that serve local cuisine. They can be found all over town, and you'll never pay more than a couple of dollars for dinner.
Healthy restaurants
Ubud is a haven for the health-conscious, spiritual-inclined, and inner-peace-seeking crowd, like yours truly. If you're into wellness spas and yoga retreats, Ubud is the perfect place to go.
In addition, dozens of healthy and vegan restaurants serve top-notch all-natural, local food. With fresh seafood, chemical-free meat, and lots of organic fruits and vegetables available, Ubud boasts its own distinctive "green" cuisine.
Bali is currently undergoing an organic growing revolution. Local farmers are becoming increasingly conscious of the impact and costs of using harmful chemicals, so they're returning to their traditional roots and farming techniques.
That's why you'll see so many exotic and healing fruits and vegetables available at incredibly affordable prices in Ubud and the rest of Bali.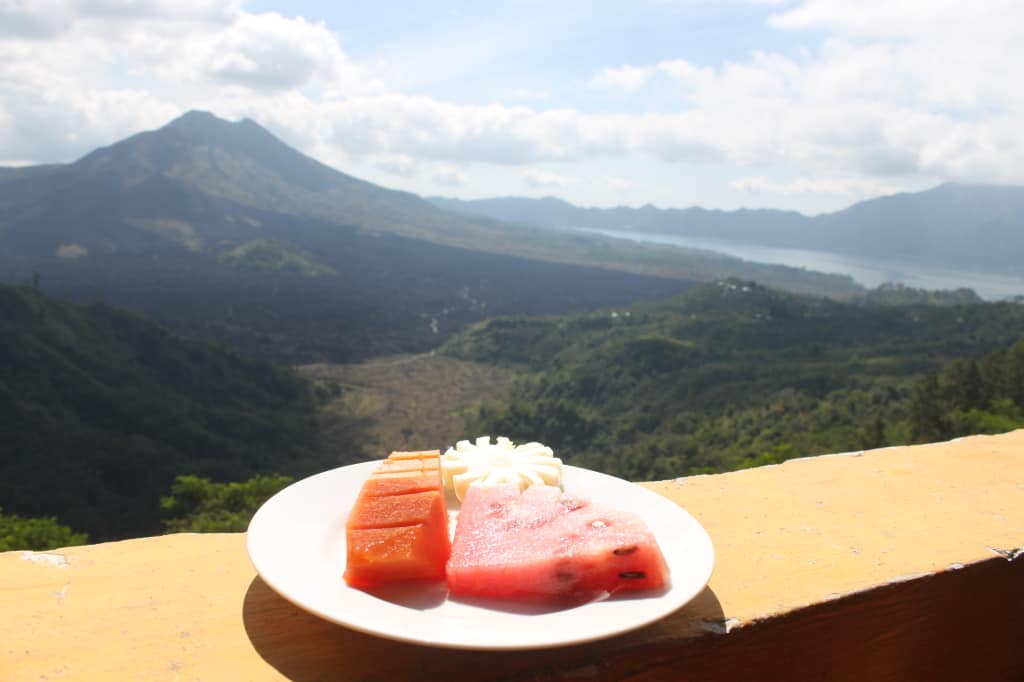 Ubud food tour
If you're planning a trip to Ubud and want to really dive into the cuisine, then you may be interested in going on a food tour or taking a cooking class.
I think it's the best way to get to know a new cuisine and also the culture in the country you're visiting.
This tour is the most popular food tour in Ubud. It has 5 out of 5 stars with 150 positive reviews. You'll go to a local market and then cook typical Balinese dishes that you get to eat afterwards. Check the rates here.
If you'd rather explore with a guide than do the cooking yourself, take a half or full-day authentic Ubud food tour with a local guide for $37.
Ubud food guide
Indonesian dishes to try
Food in Ubud is super-delicious. Especially if you have an unconditional love for rice since it's the most common staple food across the islands and all of Southeast Asia.
These are some of the dishes you should try in Ubud:
Trendy food
Buddha bowl
Smoothie
Smoothie bowl
Healthy juice with fresh fruit, veggies or berries
Yogurt bowl
Indonesian food
Nasi Goreng (fried rice with meat, vegetables and eggs)
Mie Goreng (fried noodles with vegetables and/or without meat).
Nasi Campur (the Balinese version of thali consisting of rice, small vegetable, tempeh, and tofu dishes with a spicy sambal)
Satay (skewered and grilled meat with peanut sauce)
Sambal (a chili-based sauce)
Gado-gado (salad with hard-boiled eggs, boiled potato, fried tofu and tempeh, and lontong, served with peanut sauce)
Tempeh (fermented soybeans with lots of protein)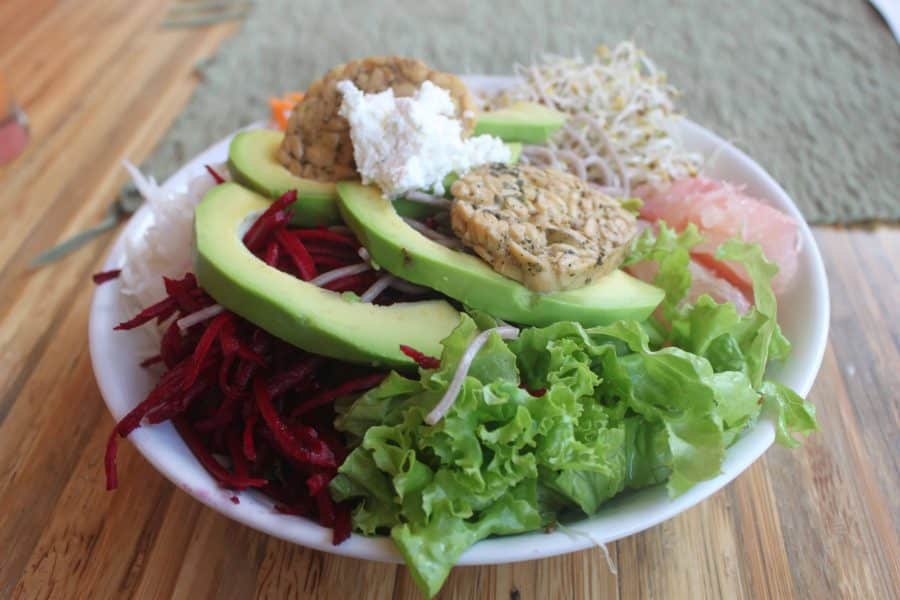 The best ubud food
12 best restaurants in Ubud
There's a wide range of restaurants in Ubud and every one I've been to has been top-notch! These 12 are my favourites and they have food for every taste buds.
Almost all restaurants in Ubud have free WiFi so you'll have no problems getting online during your visit.
1. Clear café Bali
With its temple-like interior, tranquil setting and a menu full of enticing elixirs, Clear cafe is one of the best places to indulge in raw food, vegetarian, vegan and gluten free dishes.
I loved the food, but it's also such a beautiful restaurant!
Find it here (Google Maps)
2. Down to Earth
Down to Earth is my favourite cafe in Ubud – it's the perfect place for a great meal!
Everything about this vegetarian restaurant is so thought through from the macrobiotic chef and all organic, delicious food to only using local organic farm supplies and supporting the community.
The meals are exceptionally tasty and beautifully presented, plus the attentive staff makes this the best Ubud restaurant. I give it 10 out of 10 stars.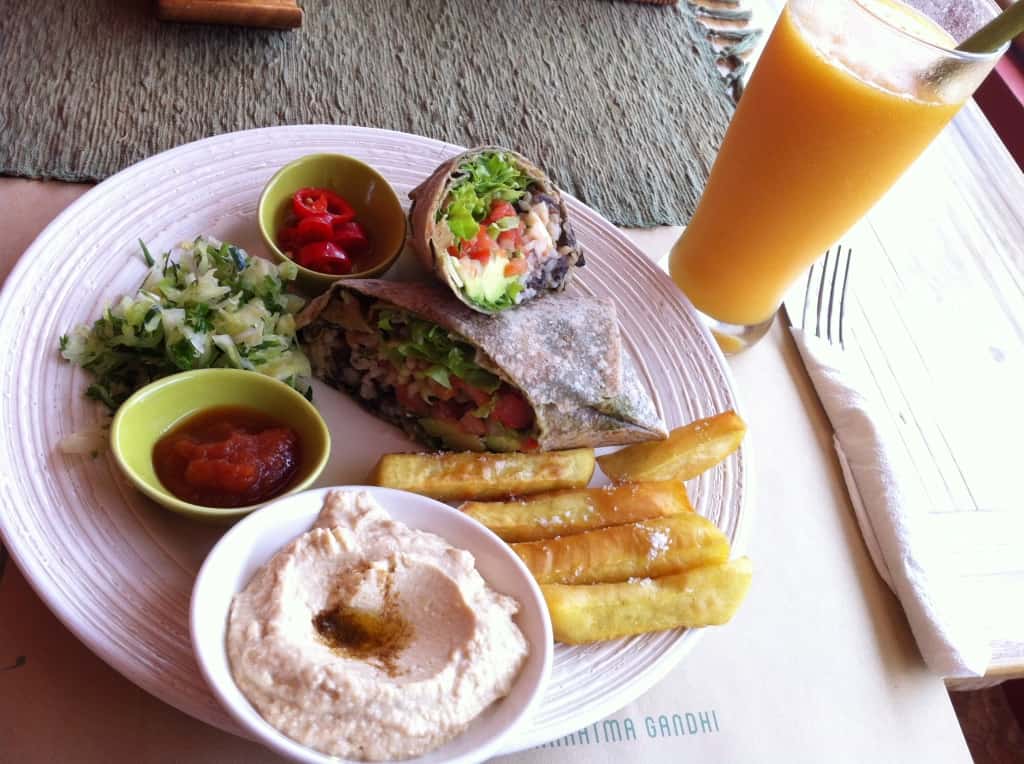 3. Alchemy
Alchemy is a raw food vegan cafe offering delicious organic meals, raw chocolate and amazing garden surroundings.
It's the perfect spot to taste enormous superfood salads or all-day smoothie bowls – their raw food goodness is unmatched.
While you're there, try the sugar-free ice cream Bounty bars – it's amazing!
Find it here (Google Maps)
4. Bibianu cafe
Right across from Ubud Monkey Forest, you'll find Bibianu. I found this great restaurant by coincident when I came out from the Monkey Forest, and it was a great place to have lunch.
Bibianu is a small cafe with view of the rice fields and there's a cute little turtle in the pond right next to where you eat. You can find both vegetarian and non-vegetarian meals here.
Find it here (Google Maps)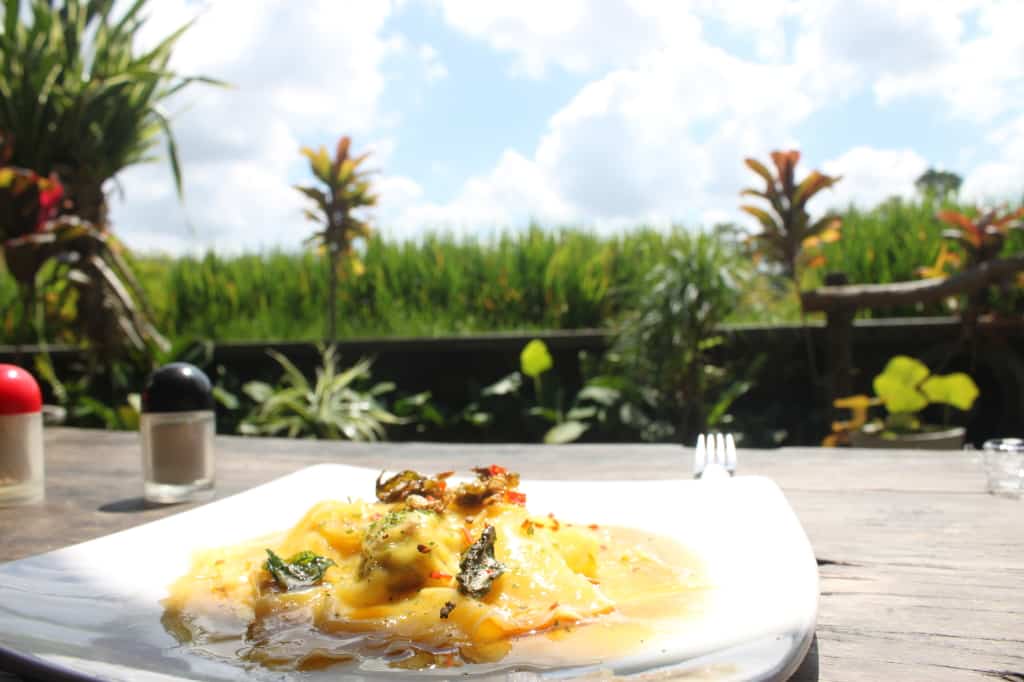 5. Dumbo
For the best pizza in Ubud (and possibly all of Bali), head to Dumbo, a modern Italian restaurant focused on vegetarian and earth-friendly creations.
Located alongside its sister restaurant, The Elephant, Dumbo offers delicious, great food that's sure to satisfy.
On Fridays, be sure to join the Vinyl nights and select your own soundtrack for the evening.
Find it here (Google Maps)
6. Ely's Kitchen Ubud
Tucked away in the Adiwana Unagi Suites, Ely's Kitchen is a hidden gem that you should visit! With its rustic yet tropical ambiance and impressive international menu, you'll find plenty of delicious dishes and quality food here.
Try their famous Nasi Goreng or explore dishes inspired by the most picturesque locations in Indonesia, Vietnam, and Thailand.
From Thai seafood curry to Tom Yum Talay, beef pho, and sate ayam, each dish is carefully crafted with exceptional attention to detail.
Find it here (Google Maps)
7. Mudra
Mudra is an Ayurvedic café that caters to conscious foodies.
The menu offers enlightened lunches and vegan treats, which pair perfectly with the outstanding small-batch coffee and selection of healthy leaf and kombucha teas.
Try the delicious dragon bowls or fresh Poke Poke for lunch.
All of this is served up in a laid-back, cozy interior adorned with feel-good knick-knacks and awesome artwork.
Find it here (Google Maps)
8. KAFE
KAFE, located just off of Jalan Hanoman in downtown Ubud, strikes a balance between a tropical canteen and a New York-style bistro.
This adorable spot is perfect for breakfast, lunch, and light meals. The menu features an array of vegetarian and vegan options along with a few meaty appearances.
Find it here (Google Maps)
9. Taksu terrace restaurant
This place…. I went here almost everyday while I was in Ubud because they offer the best massage in Bali! The healthy food served in lush greenery tastes just a little better after a massage. I can attest to that.
Go here for the vegan and vegetarian food. There are loads of choices!
Find it here (Google Maps)
10. Honey & Smoke
With a breezy 1920s-style interiors and travel-inspired interior, Honey & Smoke is one of a kind.
The restaurant is all about smoky flavours through cooking over charcoal and wood fire, and you'll get some of the best dishes in Ubud here.
While they do offer grilled meats, Honey & Smoke's menu features creative dishes from around the world, such as grilled scallops with chili butter, and sumac, and eight-hour slow-roasted lamb neck.
Find it here (Google Maps)
11. Warung Babi Guling Ibu Oka
If you're a meat lover, you'll love this place.
Warung Babi Guling Ibu Oka is a legendary local restaurant in Ubud. It's famous for its babi guling, the traditional Balinese dish of whole roast pork.
Conveniently located across from the Saren Royal Palace, this warung (traditional restaurant) is a must-try for lunch while you're in Ubud.
Find it here (Google Maps)
12. Mozaic Restaurant Gastronomique
If you like fine dining, a visit to Ubud is not complete without eating at Mozaic Restaurant Gastronomique.
This iconic fine-diner has topped the gastronomy list for over 20 years, and with a new menu and refined air-conditioned dining experience, now is the best time to visit.
You can get two six-course menus here – a seasons French-cuisine menu and a vegetarian Botanicals.
Find it here (Google Maps)
Food in bali
Eating fair, green and well
Ubud has something for everyone, but even though there were plenty of options, I found myself eating vegetarian food only at these best Ubud restaurants.
It simply tasted amazing and although I eat meat, the fresh Balinese dishes were so fantastic that I didn't miss it one bit during my month there.
Combining the food in Ubud with a bit of soul-searching, daily yoga & meditation classes and adventures in Bali is the perfect way do enjoy your holiday. It's one of the best things you can do for yourself.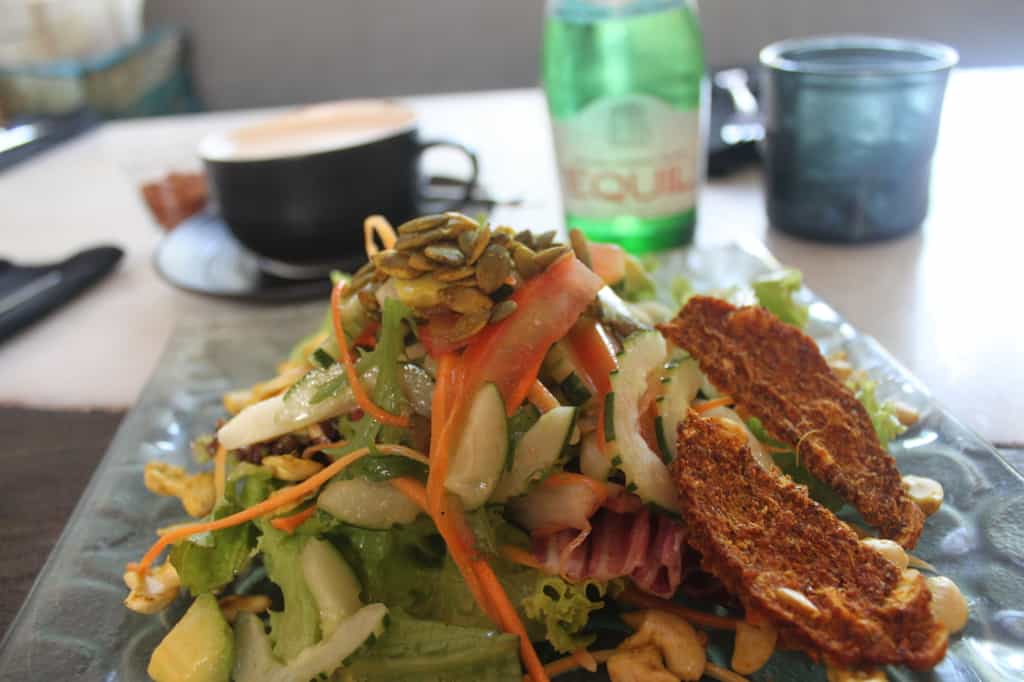 More posts from Indonesia you'll love