3 best tours: Snorkeling in Gili Trawangan
Few places in the world have underwater life like Indonesia. You can literally find anything beneath the sea here: untouched corals, colourful fish, sharks, sea turtles, shipwrecks and much more.
Snorkeling in Gili Trawangan will let you see all of the above, so if you're here for a holiday, make sure to go snorkeling.
A snorkel tour is a super fun activity for the whole family and you don't need training. I do recommend however, that you bring your own snorkeling gear although it's provided on the tours. In these times with Covid-19, it's best to be extra careful.
So, let's dive straight in (sorry, I couldn't resist!) and take a look at the best snorkeling in Gili Trawangan.
This post contains referral links for products I love. Adventurous Miriam earns a small commission at no extra cost to you if you make a purchase through my links. Thank you for your support ♡ Learn more
Snorkeling from the beach
One of the best things about snorkeling in Gili Trawangan is that you can easily explore the underwater world from the white sandy beaches. All you need is snorkeling gear.
The best snorkeling locations are on the East and North sides of the island. You'll find Turtle Point on the North-East part of the island.
However, if you want to be sure to see turtles and discover more snorkeling spots in a day, your best option is to join a snorkeling tour.
By joining a snorkeling trip on a half or full day trip, you can explore all three Gili Islands and decide for yourself which one offers the best snorkeling experience.
I did both, and I recommend you do the same. Going on a tour is the easiest and best way to discover the marine animals and turtles at Gili T.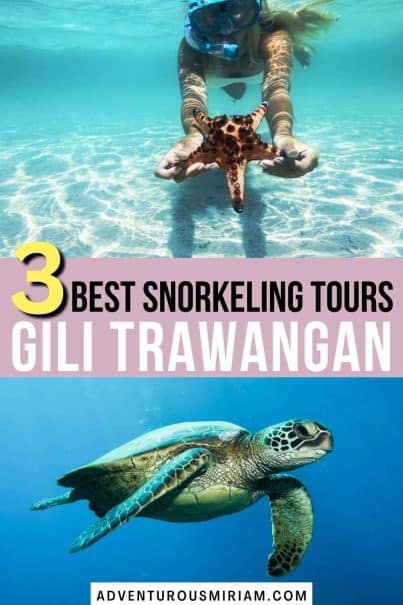 Quick guide: Best snorkeling in Gili Trawangan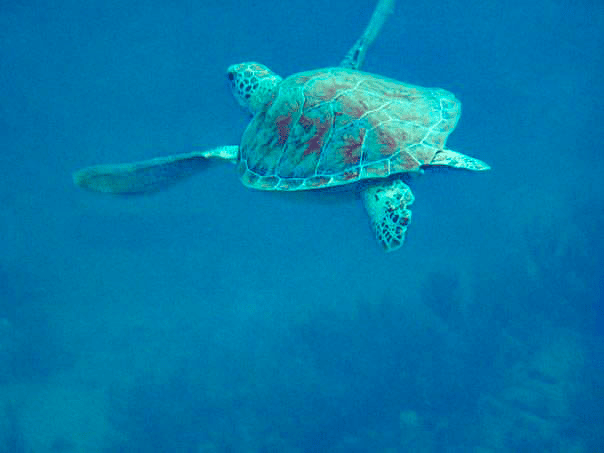 Best tours for snorkeling in Gili Trawangan
1. Private snorkeling trip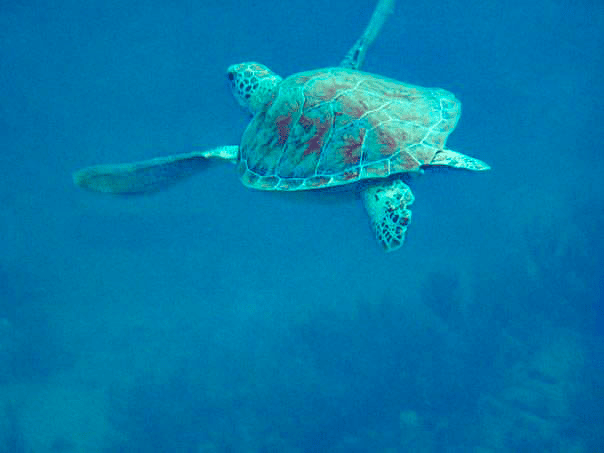 ⭐️ RATING: 5.0 from 93 reviews | ⏳ TOUR LENGTH: 4 hours |🤿 BOOK NOW
Are you ready for an underwater adventure?
Rated as the best snorkeling in Gili Trawangan tour, the private Full-Day Gili Islands Snorkeling Trip is definitely among the Gili islands tours you don't want to miss.
The private boat tour begins with a trip to the sunken Vespa scooters off Gili Trawangan.
You'll then sail to Gili Meno, where you will snorkle to see coral reefs and hundreds of vibrant fish.
Close by is the haunting beauty of Nest Statues Jason de Caires Taylor – a circle of eerie human sculptures encrusted with coral. You'll snorkel here before moving on to the main attraction and best Gili island experience: swimming with turtles!
Lunch is served at Gili Meno where you'll have time to see some of the island and discover the best beaches before you head back.
Snorkeling in Gili Trawangan
2. Snorkeling with glass bottom boat
⭐️ RATING: 5.0 from 41 reviews | ⏳ TOUR LENGTH: 4 hours |🤿 BOOK NOW
The Snorkeling Trip By Glass Bottom Boat by Gili Recommended is one of the best snorkeling tours in Gili Trawangan.
You can head directly to the meeting point on Gili Trawangan island, or request a pick-up from your hotel in each of the three Gili islands.
You'll start by checking out the underwater Vespa on Gili Trawangan before heading over to Gili Meno.
Here, you'll dive into crystal clear waters, which is the perfect place to see coral reefs, schools of tropical fish, and the underwater statues that help grow coral reefs. Perfect for a great Instagram photo!
This tour is similar to the first snorkeling tour. The main difference is that you'll be going with a glass-bottom boat to give you a glimpse of what's below. The glass is not the clearest, but it's enough to see and experience the fish below.
Snorkeling in Gili Trawangan
3. Private snorkeling tour
⭐️ RATING: 5.0 from 41 reviews | ⏳ TOUR LENGTH: 8 hours |🤿 BOOK NOW
This full day tour goes to the same four snorkeling spots as the other tours. There are a few differences, though.
First, the order.
It starts in the early morning at Gili Air's Fish Garden – a snorkeling spot with various colorful fish and turtles. You'll then head to the Turtle Sanctuary at Gili Meno for more green sea turtles (this is the highlight, if you ask me). The Gili Meno statue and Vespa point follow before you go for lunch in Gili Trawangan.
The tour lasts about 8 hours and includes lunch at one of the beach restaurants, a bottled water and the two admission tickets for snorkeling.
What to expect on a Gili islands snorkeling tour
Underwater Vespa scooter (Gili Trawangan)
These three snorkelling tours with Viator are similar, but have a few differences. They all include the underwater scooter spot.
You'll be pretty surprised to find a motorbike off the shores of Gili Trawangan. Along with a few Vespa scooters, it was placed there as a bio-rock sculpture by The Marine Foundation to help with the growth of new corals and making new reefs for marine life.
Underwater statues (Gili Meno)
Another unique snorkeling spot is the underwater statues created by world-renowned underwater sculptor Jason deCaires Taylor. It's actually an underwater sculpture park, named Nest, with 48 human figures in a circle that symbolises the connection between man and nature.
On a snorkel tour, you'll explore the eerie beauty of Gili Meno's underwater statues just off the shore.
Gili Meno
Depending on which tour you choose, you'll have some time to explore Gili Meno.
Gili Meno is a quiet and small island, so you can chill at its pristine beaches and crystal-clear waters – the perfect place to relax and unwind.
Snorkeling with sea turtles
Did you know that the Gili islands are called "the Turtle Capital of the World"?
Turtles can not only be found in the deeper waters but also in shallow water, which means you just need to put on your snorkeling mask and jump in the water. You might be lucky to see one from the beach.
On a snorkeling tour, you'll be sailed to the turtle spot, which has crystal-clear blue waters. This is the best spot in Southeast Asia to see wild turtles.
You can follow their graceful movements through the water. They seem so peaceful and undisturbed.
Seeing the turtles was definitely the highlight of snorkeling in Gili Trawangan.
Fish garden (Gili Air)
Gili Air is one of the best places for snorkeling, so there's a high chance of seeing more turtles as well as colourful fish and marine life like Nemo, squids and starfish around the coral reefs.
Where to stay in the Gili Islands
Gili Trawangan
Guava Garden (⭐9.2) The location is great, only 300 m from the beach, and it comes with a lush tropical garden. You can cool off in the swimming pool. Check the rates here.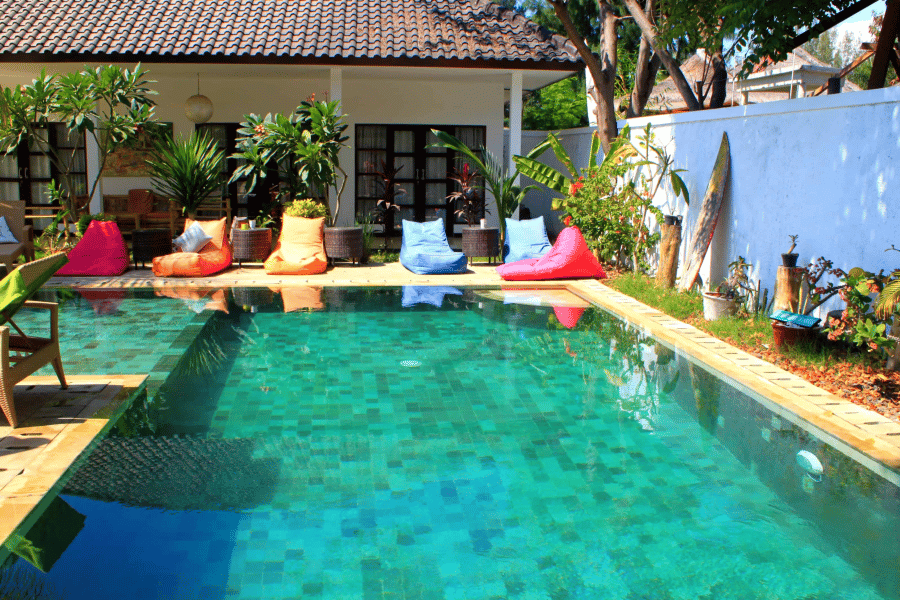 More posts from Indonesia you might like