How to plan your Angkor Wat itinerary, guide, and tickets (2024)
Are you wondering how to plan your Angkor Wat itinerary? Based on my two visits, this comprehensive guide to Angkor Wat Cambodia will give you the best tips on which temples to visit, how to get tickets, and more.
Plan your trip to Angkor Wat
👩🏻 Best guided tours to Angkor Wat
🏡 Where to stay in Siem Reap
Anyone who enjoys adventure will have a field day exploring these ancient temple ruins consumed by dense jungle – or even better – feeling like Angelina Jolie in Tomb Raider.
But if you think you can just valse in there and take one temple at a time, you're missing something.
Angkor Wat has over 1,000 temples and there are lots of things to be aware of, like when to go, prices, must-see temples, and the HUGE lurking spiders.
Just kidding.
In this post, you'll find a guide to Angkor Wat including my tips for making the most out of your visit.
Let's dig in!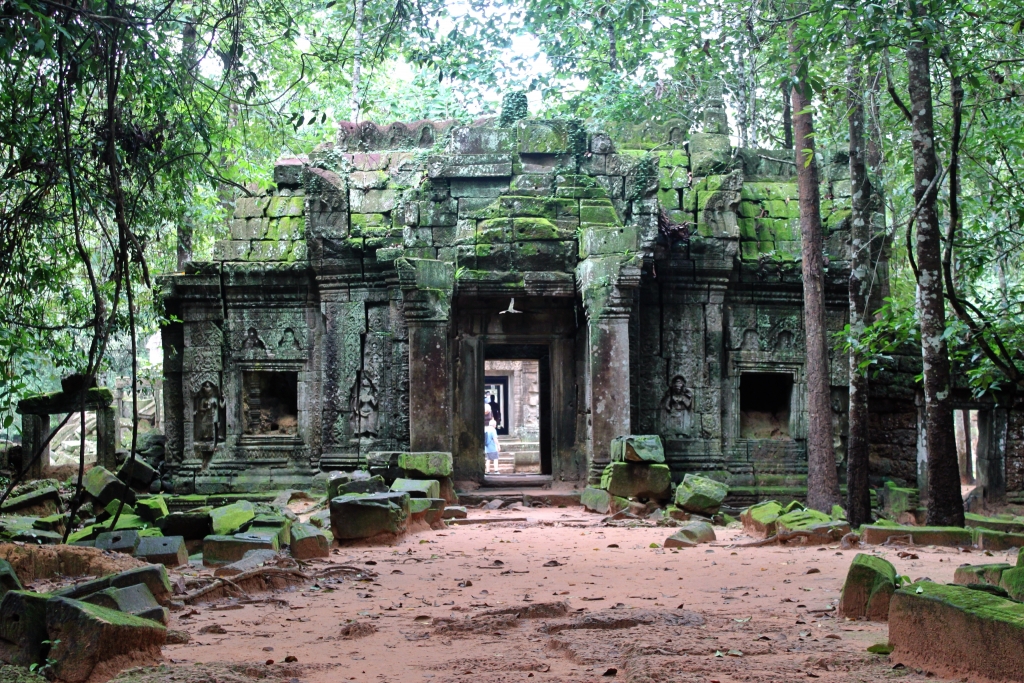 This post contains referral links for products I love. Adventurous Miriam earns a small commission at no extra cost to you if you make a purchase through my links. Thank you for your support ♡ Learn more
Angkor Wat itinerary
About Angkor Wat
Maybe you already know this, but Angkor is one of the most important landmarks in Asia and is considered the 7th wonder of the world.
It's also the largest religious monument in the world according to The Guinness World Records.
Angkor Wat contains the remains of the different capitals of the Khmer Empire from the 9th to the 15th centuries. And that has made it a UNESCO World Heritage Site.
When to visit Angkor Wat
You can visit Angkor Wat all year round. I've visited both during high season (in February) and low season (in July) and there were pros and cons of both timings.
The high season runs from November to March. In this period, you will get cool, dry days, but also lots and lots of people.
The low season runs from June to October. In this period, you can avoid the crowds, but you'll also get hot and potentially wet weather.
Avoid visiting in April: it's boiling hot.
Visit for sunrise or sunset
The best time to visit Angkor is for sunrise or sunset, and there are two reasons for that:
It's most beautiful
It's less hot
Angkor for sunrise
To catch the Angkor Wat sunrise, you'll need to be there in the early morning at 5 am – 5.15 am – depending on the season.
The ticket office opens at 5 am, which makes it impossible to buy a ticket and reach Angkor in time for sunrise. So, buy your pass the day before.
Angkor for sunset
For sunset, you'll need to be there between 5.30 pm and 6.30 pm, varying with the season. Most temples close entry at 5.30 pm, except for Pre Rup and Phnom Bakheng.
How many days at Angkor Wat?
I recommend spending 2-3 days at the Angkor temples.
The Angkor Wat complex is HUGE and there are more than 1,000 temples. Some of the temples cover a lot of ground.
This means you'll need to drive around in a taxi or with a tuk-tuk driver. And more importantly, you'll easily get templed out if you squeeze everything into one day.
I visited in one day and on my second visit, we spent 2 days at Angkor Wat.
2 days was perfect for me and we got to cover all the highlights and then some. But if you only see two or three major temples, don't beat yourself up. You're there to have a good time, not to force yourself through hours of temple-seeing.
How to book tickets to Angkor Wat
You have three options when buying a ticket to Angkor Wat: a 1, 3, or 7-day pass. I've listed the prices below (as of 2024):
My advice is to get the 3-day pass – even if you're not planning on spending 3 days at Angkor Wat.
One day is not enough, and opting for a 3-Day Angkor Pass is cheaper and more convenient than getting two 1-Day Passes. It also saves you a trip to the ticket office.
The best part? You don't need to use it on consecutive days. You can take a break in between.
Is it worth taking an Angkor Wat guide?
Okay, so first of all, you should get a guide. We got one the first day and then the next day we explored on our own. It was definitely better with a guide!
A guide to the ancient city of Angkor will not only give you the story behind the temples, but he will also show you the best spots for photographs!
You can join a private or small group tour from Siem Reap or get a guide at the entrance.
English-speaking tour guides cost about $30 per day.
Must-see Angkor Wat temples
As I mentioned, the Angkor temple complex consists of more than 1,000 ancient temples so obviously, it's impossible to visit them all.
You'd probably want to know which temples have trees growing into them, which ones have unique face carvings, and where you can watch the sunrise and sunset, right?
You'll find all that below.
| Temple | Why visit? | Image |
| --- | --- | --- |
| Bayon temple | Unique face carvings | |
| Baphuon temple | A state temple of King Udayadityavarman II | |
| Preah Khan | The ruins are overgrown by trees | |
| Ta Som | A huge tree growing into one of its doors | |
| Ta Prohm temple | From Tomb Raider | |
| Angkor Wat | The main temple with beautiful bas reliefs. Sunrise spot! | |
| Banteay Srei | Intricate carvings and delicate pink sandstone | |
Bayon temple
The Bayon temple is known for its special face carvings. The temple has 37 towers and almost every one of them has four carved faces.
This is one of the most photographed temples at Angkor Wat, and it's also one of my favorite temples.
Baphuon temple
The Baphuon was built as a state temple of King Udayadityavarman II. It is located close to Bayon temple in the old Khmer capital city Angkor Thom.
Preah Khan
Preah Khan is a monastic complex that originally served as a Buddhist monastery. Like Ta Prohm, many of the ruins are overgrown by trees.
Ta Som
Ta Som is a small, but not-to-be-missed temple. It is unique for the dense jungle surroundings, but also the huge tree growing into one of its doors.
Ta Prohm
You might recognize this temple from Tomb Raider. It's bound by massive roots of huge trees and is one of the most popular temples.
Angkor Wat
Angkor Wat is the centerpiece of any visit to the temples of Angkor. The three-tiered pyramid is crowned by five lotus-like towers rising 65 meters from the ground.
This is also where you should watch the sunrise – you'll find the spot outside in front of the big pond.
The Small Circuit and Grand Circuit Tour Routes
Angkor Wat has two main tour routes – the Small Circuit Tour and the Grand Circuit Tour.
Small Circuit Tour
A tuk-tuk for the day costs around $15 USD. You'll see top temples like Angkor Wat, Bayon, and Ta Prohm, plus a few more.
Prefer a car? It's about $40-50 USD, varying with time and group size. Or, rent a bike or motorbike for a self-paced adventure.
Grand Circuit Tour
The Grand Circuit Tour is priced at around $20 USD.
It takes you deeper into the Angkor Archaeological Park to quieter temples like Ta Som and Preah Khan. If time allows in Siem Reap, try both tours – each temple is a unique experience!
How to get to Angkor Wat and around
The Angkor Wat covers an area of 400 km2 so walking around is out of the question. I've tried tuk-tuks and taxis and I personally prefer tuk-tuks.
Bicycles: $3 per day
Motorbike taxi: $10 per day
Tuk-tuk: $15-20 per day
Taxi: $30 per day
Dress code at Angkor Wat
Since these are temples, there's also a dress code, so make sure to dress modestly. Long, loose pants or leggings, scarves, and hats help guard against the sun as well as local sensibilities.
How to take the best photographs
Here are a few tips for taking great photos of the Temples of Angkor:
Timing
The best time for photographing the temple of Angkor Wat is sunrise and sunset. Some of the other temples like Bayon and Ta Prohm are covered by dense jungle so they're best photographed in the afternoon.
Great spots
You'll find lots of hidden spots for photography all over the temple site. Make sure to ask your driver or guide for his advice. You will find great spots at Bayon and Ta Prohm.
Use people to add a sense of scale
To show how big a temple is in a photo, have a person in the frame. Make sure they're as far from you as the object, or further away. If they're closer to you than the object, they'll look bigger compared to it.
Photograph the temple with the light behind you
For the best photos, approach temples from the side where the sun is behind you. This lights up the stones nicely and keeps too many shadows from ruining your shot.
Safety at Angkor Wat
If you're going to Angkor Wat, there are a few safety things to keep in mind, which I've outlined below.
Angkor Wat Scams
When you're in Siem Reap, keep an eye out for common scams, especially around Angkor Wat.
Be careful with tuk-tuk drivers who might change their fares last minute. A good tip is to book your ride through your hotel. That's what we did.
If you rent a bike, watch out for phony parking fees, and always lock it.
And remember, your Angkor Pass covers all temple entries, so don't fall for anyone asking for extra entrance fees.
Steep steps
Angkor Wat is ancient and some of the structures are in poor condition. Watch out on the steps – they're steep, narrow, and slippery.
Landmines
According to locals, there are no landmines at Angkor Wat but stay on marked paths just to be on the safe side.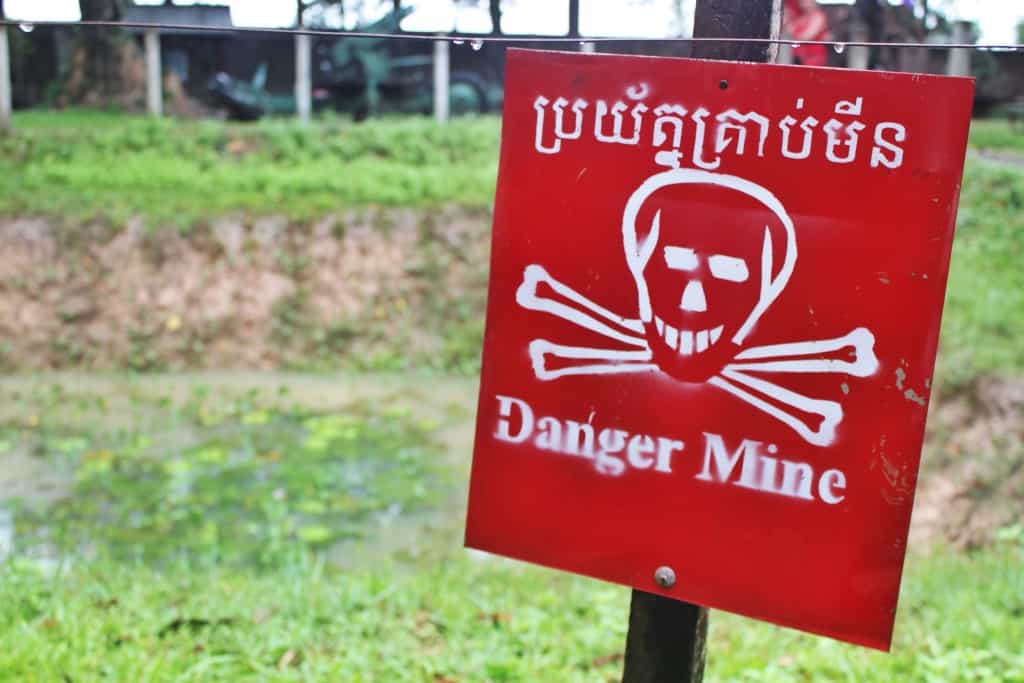 Health issues
All travelers should get these vaccines: Hepatitis A and B and Typhoid Fever. Beware of Japanese encephalitis and Dengue fever.
Read next: Your travel vaccine checklist before traveling abroad
Bring water and sunscreen
It gets scorching hot and humid at Angkor Wat so remember to bring sunscreen and plenty of water (1,5 – 2 liters).
Children selling souvenirs
Avoid buying postcards, etc. from child vendors. This is organized begging controlled by local criminal groups.

Traffic
Driving in Cambodia is chaotic at best so if you're touring Angkor Wat on bike or foot, beware of traffic.

FAQ – Angkor Wat itinerary
How many days do you need in Angkor Wat?
You'll need about 2-3 days to fully explore Angkor Wat.
Is 1 day enough for Angkor Wat?
One day is enough to see some of the main highlights of Angkor Wat, but it's a bit rushed. You'll have to prioritize the key temples and sights.
How do I plan a trip to Angkor Wat?
To plan a trip to Angkor Wat, book a hotel in Siem Reap, get an Angkor Pass for temple access, plan your Angkor Wat itinerary, arrange transportation (like a tuk-tuk or bike), and consider hiring a guide for better insights.
What is the best route around Angkor Wat?
The best route around Angkor Wat typically starts with the main temple at sunrise, followed by Angkor Thom and the Bayon Temple, then Ta Prohm.
This route covers the major sites while avoiding the largest crowds.
Can I fly a drone at Angkor?
You need a permit from the APSARA National Authority to fly a drone at Angkor. It's tough to get this permit, so don't fly your drone there without one.
More posts from Cambodia you might like
Save it!