The ultimate guide to Angkor Wat
Need a guide to Angkor Wat? Anyone who enjoys adventure will have a field day exploring these ancient temple ruins consumed by dense jungle – or even better – feeling like Indiana Jones in the Temple of Doom. But if you think you can just valse in there and take one temple at a time, you're missing something. Angkor Wat has over 1,000 temples and there are lots of things to be aware of, like when to go, prices, must-see temples and the HUGE lurking spiders.
Just kidding.
In this post you'll find a guide to Angkor Wat including my tips for making the most out of your visit. If you think spending more than 2 days is overkill, check out my other post about how to visit Angkor Wat in 2 days.
This post contains referral links for products I love. Adventurous Miriam earns a small commission at no extra cost to you if you make a purchase through my links. Thank you for your support ♡ Learn more
ANGKOR WHAT?
Maybe you already know this, but Angkor is one of the most important archaeological sites in South-East Asia. It contains the remains of the different capitals of the Khmer Empire from the 9th to the 15th centuries. Plus, it's a UNESCO heritage site and considered the 7th wonder of the world.
HIRE A GUIDE
Okay, so first of all, you should consider hiring a guide. We rented one the first day and then the next day we explored on our own. A guide to Angkor Wat will not only give you the story behind the temples, he will also show you the best spots for photographs! If you don't want to pay for a guide, ask your driver for advice. He might have some tips.
An English-speaking guide costs $20-$30 per day.
MUST-SEE ANGKOR WAT TEMPLES
As I mentioned, Angkor Wat consists of more than 1,000 temples so logically it's impossible to visit them all. You'd probably want to know which temples have trees growing into them, which ones have unique face carvings, and where you can watch the sunrise and sunset, right? You'll find all that below.
Note: This is a temple site so make sure to dress modest. Long pants or leggings, scarfs and hats help guard against the sun as well as local sensibilities.
Bayon temple
The Bayon temple is known for its special face carvings. The temple has 37 towers and almost every one of them has four carved faces. This is one of the most photographed temples at Angkor Wat.
Baphuon temple
The Baphuon was built as a state temple of King Udayadityavarman II. It is located close to Bayon temple in the old Khmer capital city Angkor Thom.
Preah Khan
Preah Khan is a monastic complex that originally served as a Buddhist monastery. Like Ta Prohm, many of the ruins are overgrown by trees.
Ta Som
Ta Som is a small, but not-to-be-missed temple. It is unique for the dense jungle surroundings, but also the huge tree growing into one of its doors.
Ta Prohm
You might recognize this temple from Tomb Raider. It is bound by massive roots of huge trees and is one of the most popular temples.
Angkor Wat
Angkor Wat is the centerpiece of any visit to the temples of Angkor. The three-tiered pyramid is crowned by five lotus-like towers rising 65 meters from the ground.
PHOTOGRAPHY TIPS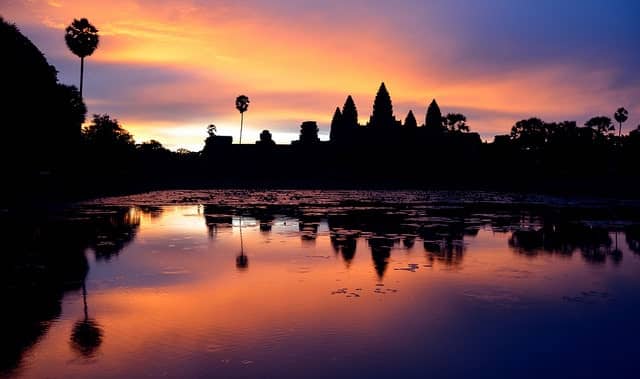 Timing
The best time for photographing the temple of Angkor Wat is sunrise and sunset. Some of the other temples like Bayon and Ta Prohm are covered by dense jungle so they're best photographed in the afternoon.
Great spots
You'll find lots of hidden spots for photography all over the temple site. Make sure to ask your driver or guide for his advice. You will find great spots at Bayon and Ta Prohm.
WARNINGS & DANGERS
Steep
Angkor Wat is ancient and some of the structures are in poor condition. Watch out on the steps – they're steep and narrow.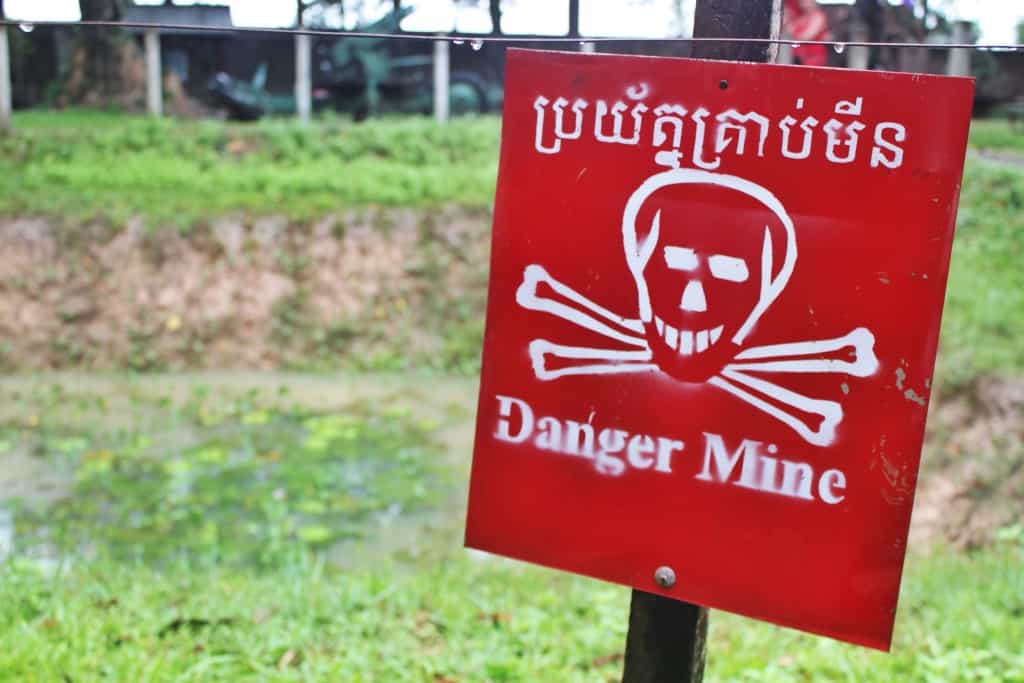 Landmines
According to locals, there are no landmines at Angkor Wat, but stay on marked paths just to be on the safe side.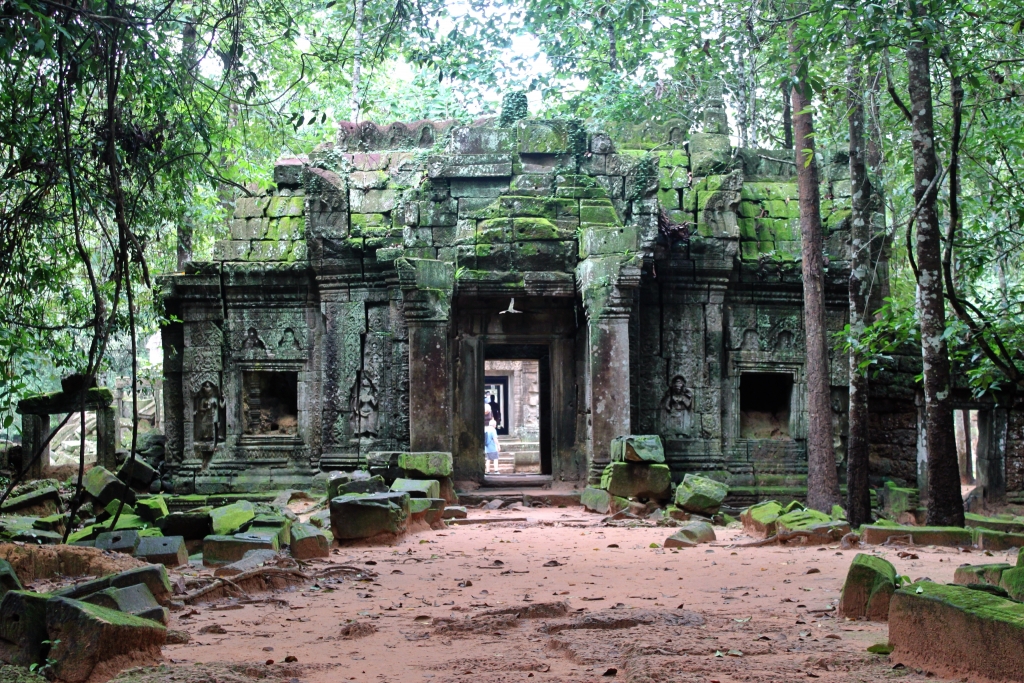 Health issues
All travelers should get these vaccines: hepatitis A and B and typhoid fever. Beware of Japanese encephalitis and Dengue fever.

Bring water and sunscreen
It gets scorching hot and humid at Angkor Wat so remember to bring sunscreen and plenty of water (1,5 – 2 liters).

Children selling souvenirs
Avoid buying postcards, etc. from child vendors. This is organized begging controlled by local criminal groups.

Traffic selling souvernirsa
Driving in Cambodia is chaotic at best so if you're touring Angkor Wat on bike or foot, beware of traffic.
PRICE GUIDE TO ANGKOR WAT (2018)
If you're planning on staying more than 1 day, I'd advise you to buy a multi-day pass. These are your options:
One day: $37
Three days: $62
One week: $72
Note: Although Cambodia has its own currency, most things are shown in US dollars. You can withdraw US dollars from the ATMs.
HOW TO GET AROUND
The Angkor Wat covers an area of 400 km2 so walking around is pretty much out of the question. I've tried tuk-tuks and taxi and I personally prefer tuk-tuks.
Bicycles: $1 to $3 per day
Motorbike taxi: $6 to $10 per day
Tuk-tuk: $10 to $15 per day
Taxi: $20 to $30 per day
WHEN TO GO
You can visit Angkor Wat all year round. I've visited both during high-season (in february) and low-season (in July) and there were pros and cons of both timings.
High season runs from November to March. In this period, you will get cool, dry days, but also lots and lots of people.
Low season runs from June to October. In this period, you can avoid the crowds, but you'll also get hot and potentially wet weather.
Avoid visiting in April: it is boiling.
HOW NOT TO BE TEMPLED OUT
Divide it over several days. What worked for me was visiting Angkor Wat in 2 days. But if you only see two temples, don't beat yourself up. You're there to have a good time, not to force yourself through hours of temple-seeing.
Have some fun and check out the monkeys while you're at it. They're found on the road to Angkor Wat.
Have you been to Angkor Wat? Do you have any tips?
More posts from Cambodia you might like
Save it!