Happy People at the Sangam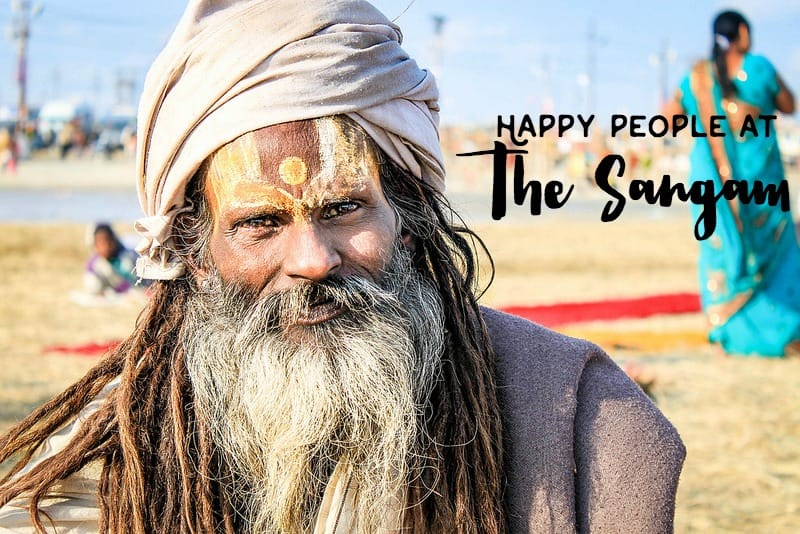 The Sangam is the most holy place at the River Ganges as it stipulates the place where three holy rivers meet; Ganges and Yamuna (physical rivers) and Saraswati (mythical river). At Kumbh Mela, people come to the sangam to bathe and thereby be purified of their sins and bad karma.
The Sangam was about 5 kilometers from our camp, and the crowds on the roads made the walk last 1,5 hours. It was possible to get a tuk-tuk too, but walking amongst the crowd of pilgrims just made the walk more appealing.
This post contains referral links for products I love. Adventurous Miriam earns a small commission at no extra cost to you if you make a purchase through my links. Thank you for your support ♡ Learn more
I shot a short video at the Sangam. You can watch it here (Pernille is telling me that she got a necklace from one of the sadhus):
HAPPY, HUGGING PILGRIMS
One of things I was most surprised about was how happy everyone was, and how they walked around hugging complete strangers. I got hugs from several sadhus, random men and women on the bathing grounds, and most of them asked us to take pictures of them. At first I thought it was because they wanted to see themselves on camera, but they didn't care for that. They just wanted their joy to live on in pictures, and it certainly has. I get in a good mood every time I look at them.
* FYI: A fellow traveler told me to be careful of getting my picture taken by Indian boys, as many of them post it on social media and showcase you as their girlfriend. I made sure to either say no or always have a male friend in the picture with me.
Read next: How to experience the Kumbh Mela
Although everyone was splashing around having fun, we didn't take any chances. As I had just written an article about the Ganges, I knew exactly how polluted and toxic it was. We did dip a toe and agreed that it would have to suffice. I talked to a sadhu later that day and he told me that he didn't want to bathe either as, I quote: the water is filthy.
THE SADHUS
The sadhus are Kumbh Mela's beating heart, and they are to be found everywhere at the Kumbh. The painting in their forehead shows which order they belong to. The naked men are called naga sadhus, and they can be recognized by, well, not wearing a thread.
Read next: Getting blessed by a naked naga sadhu
Even though the majority of pilgrims were happy and joyous, the minor children weren't so chipper when being dipped in the cold river. There were lots of kids kicking and screaming, but the parents didn't seem to mind much.
Read next: Things to do in Varanasi
I was blown away by the energy and countless impressions at the festival, and I will most definitely attend the next Kumbh Mela in Ujjain, 2016. If you're going, let me know so we can meet up. You don't have to be religious to attend.
Have you been to the River Ganges before?
More posts from India you might like
Pin to Pinterest