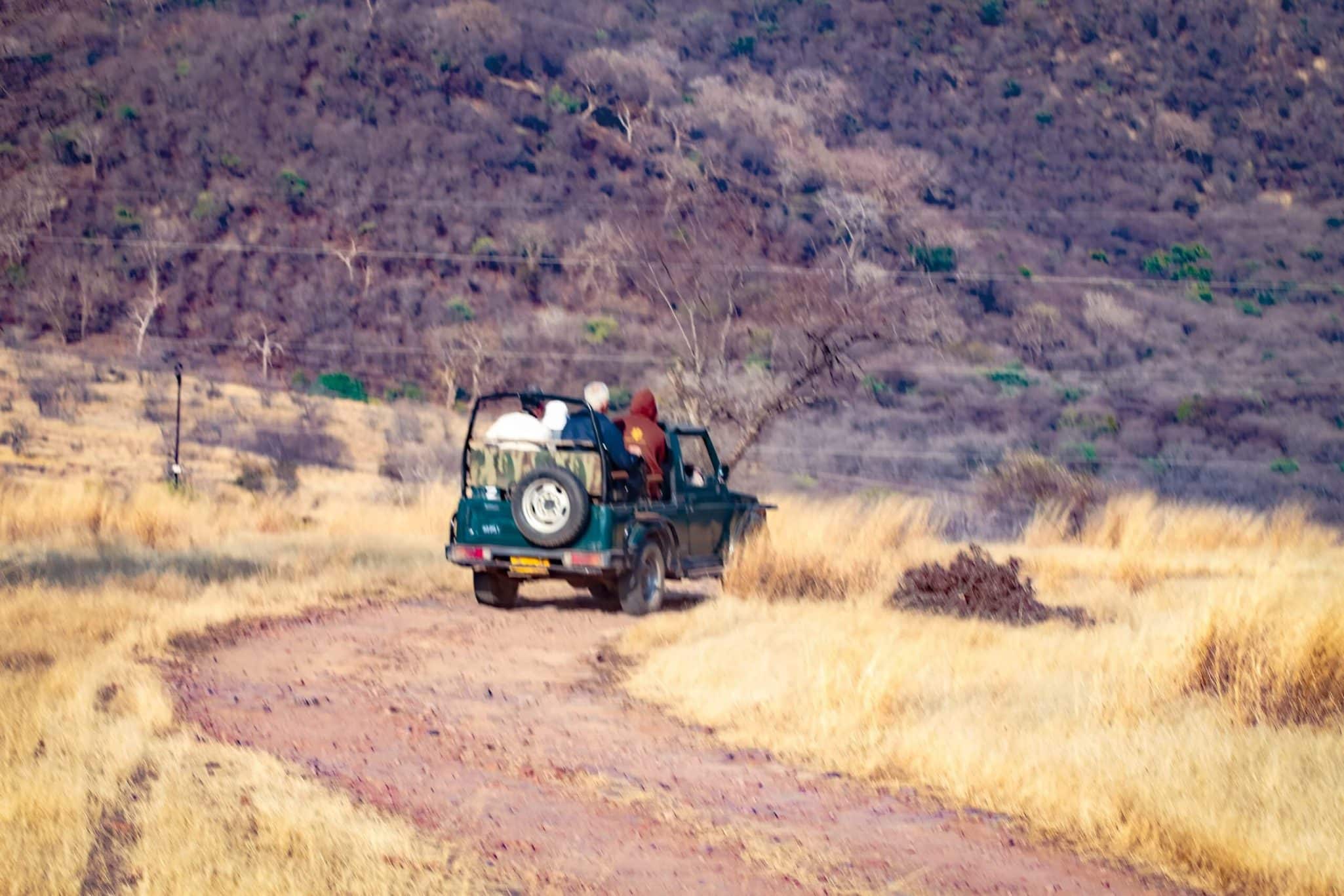 Wondering if you should book a Ranthambore tiger safari? Here's how to do it and why you should or should not go.
Ranthambore tiger safari in Sawai Madhopur is named one of the best places to spot tigers in India. Since we were visiting the Golden Triangle, and Ranthambore is rather close, we went there with hopes of catching a glimpse of India's national animal – the Bengal tiger.
Logically, with only about 50 tigers on nearly 400 square km, odds were not in our favour, but I chose to hope that we'd be lucky.
Read next: How to plan a camel safari in Pushkar
This post contains referral links for products I love. Adventurous Miriam earns a small commission at no extra cost to you if you make a purchase through my links. Thank you for your support ♡ Learn more
Best time to visit Ranthambore safari
Ranthambore tiger reserve is open from October to the end of June. It's closed for visitors the rest of the year due to the monsoon.
The best time to visit Ranthambore tiger safari and spotting tigers is just before the rainy season, from April to June. Be aware that it can get very hot – 40°C – but the lack of water encourages animals out into the open.
Avoid October if you can.
Ranthambore in winter
We visited in Ranthambore in winter (February) and it was chilly. Mornings are cold, so make sure to bring a warm jacket and a scarf as you'll be sitting in an open jeep.
Getting to Ranthambore tiger safari
Ranthambore tiger safari is located in Sawai Madhopur, Rajasthan. It's about 400 km from Delhi and 180 km from Jaipur, the capital of Rajasthan.
From Delhi
I recommend taking the train. It's faster, cheaper and takes 5 hours (book in advance). By car, it takes about 7 to 8 hours.
From Jaipur
By train and car, it takes 3,5 hours from Jaipur to Ranthambore tiger reserve, but the road isn't that great. So again, I recommend taking the train.
We had a bit of a rough journey coming from Pushkar to Sawai Madhopur. We had pre-booked a taxi as it would be faster, and to make a very long story short: the driver got lost in the fog, and the trip that was supposed to last 3-4 hours ended up lasting 11 hours. At one point when passing through a small village in the middle of the night, the driver stopped in front of a group of local men and suggested us to stay there until the fog lifted.
This happened just a month after the terrible gang rape and murder of local girl in Delhi. So, no way we were stopping! I was not about to risk getting attacked, and he certainly didn't seem like he'd care if I did, so I firmly told him to KEEP MOVING. I didn't get any sleep that night as I was making sure that he didn't stop somewhere he wasn't supposed to.
We arrived at our hotel 6.30 in the morning – ready for the Ranthambore tiger safari at 7 a.m. I was knackered and in no mood to go anywhere than to bed and sleep. I did manage to get a few minutes sleep, though, before the tour guide came to our room and said: "Let's find some tigers!"
Ranthambore safari booking
Ranthambore national park timings
Ranthambore safari is open from 1st October to 30th June.
You can join two safaris a day. Each safari lasts about three hours, and you're best off going on the morning tours as tigers are more active during these hours.
Two safaris a day: 6am and 2pm
Duration: 3 hours
Ranthambore safari cost
The Ranthambore safari price is INR 3700 per passenger ($46) for a 6 seater shared jeep. We booked it through tourmyindia.com, but you can also book it directly through the
Ranthambore national park animals
In Ranthambore National Park, you can see many beautiful bird species. Flamingos, flycatchers, sarus cranes, grey hornbills and serpent eagles are just some of the birds that call this park home.
You will also see deers. And tigers, if you're lucky.
Enter at your own risk
Before entering the park, we had to sign a statement, basically saying that a) if we got attacked by a tiger, we could not sue Ranthambore tiger safari, and b) if we were eaten by a tiger, it was at our own risk.
Got it.
Best zone for tiger sighting in Ranthambore
The park is divided into 10 zones, and zones 1-5 are the core zones with zone 2 and 3 being the best zones to spot tigers. Zone 3 is most popular because there are three lakes here. This is believed to be the best habitat for tigers of Ranthambore as they'll go here for water.
We didn't know this at the time, but it wouldn't have mattered much as you don't have any say in which zone you're going to. This is entirely managed and decided by the Ranthambore Tiger Reserve management.
My experience at Ranthambore tiger safari
Driving into the park was really exciting, and I paid attention the every tiny leaf moving, ready to shoot tons of pictures.
"LOOK!….." the guide said with an excited tone. We all turned our heads synchronically, following his pointing finger. "There's a deer." Everyone were snapping photos, aawing and oohing.
An hour went by, and when countless of deers had entered the spotlight, people were beginning to get annoyed by the guide's enthusiastic (and slightly misleading) tone whenever a new deer showed up in the bushes.
By the time we'd seen deer number one-million, and the guide got ready to say: "LOOK! There's a de…", the guy in the seat behind me roared with a thick English accent: "Oh, shut up for heaven's sake!" People were cheering while the guide clammed up.
After that, we didn't see any more deers, and the tigers stayed off the paths, too. Unfortunately, this was the case on both of our tours, so we didn't get to see any at all. I'd lie if I said I wasn't disappointed. It would have been nice to see a wild tiger in Ranthambore tiger safari, but I know myself well enough to know that this won't be the last time I'll be chasing tigers. Not by a long shot.
Should you visit Ranthambore tiger safari?
It's a tough question.
Since we didn't spot any tigers and that I haven't met anyone who has, I'm prone to say no. However, lots of stories on the Internet will tell you otherwise.
Obviously, your chances of seeing a tiger increases the more safaris you take, and if you're lucky to get in the best zones, your odds are definitely in your favour.
Like with anything else, just remember to adjust your expectations. Don't go on a Ranthambore safari, expecting to see tigers running around every corner, because you won't. You might be lucky, but in either case it's a chance to take. If you can accept those odds, I'd say go for it!
Stay at the Tiger safari resort Ranthambore
While we didn't see any tigers, we were beyond happy with our hotel in Ranthambore national park.
The Tiger safari resort Ranthambore had a nice pool, great rooms and extremely helpful staff. We'd ordered a taxi to Agra in the evening (with the same company as before), but this time the driver didn't show up at all.
Sawai Madhopur is somewhat in the middle of nowhere, so getting to Agra seemed almost impossible as time was not on our side. The manager of the hotel was very understanding and before I knew it, he picked up the phone and said that his nephew could drive us and that it would cost us less than we would have paid with the other company (and that was quite cheap).
We ended up having a super great and comfortable trip to Agra, and I was so grateful for the manager's help. So, as you can imagine, I only have praises for this hotel.
We paid $43 to stay at the Tiger Safari Resort.
Planning to visit Ranthambore tiger safari? Ask me anything in the comments!
More posts from India you might like
Pin it!