Discover the impossibly cute and royal Møgeltønder
Dial the fairy tale factor up to 10 in Møgeltønder. Here's why you should visit the idyllic village and its royal Schackenborg Castle.
When most foreigners describe Denmark, they use adjectives like: minimalist, quality, innovative and of course the unpredictable weather. But when I think of my home country, I think of fairy tales, hygge and colourful quaint houses.
Today, I'll take you on a journey to one of our fairy tale villages (it even has a castle ghost and a prince).
We're going to Møgeltønder, almost as south as you can get in Denmark. Just 5 km from the Danish-German border. 
This post contains referral links for products I love. Adventurous Miriam earns a small commission at no extra cost to you if you make a purchase through my links. Thank you for your support ♡ Learn more
Møgeltønder (a quick history lesson)
Møgeltønder, as we know it today, has been around since 1650. Although it actually goes back way further, just under slightly different names.
The first time Møgeltønder is mentioned in the books is in 1215, where it's called Tundær. In 1216, it goes as Tunder and in 1288 Mykæltyndær, which has more of less the same pronunciation as Møgeltønder, just with an über German accent. The thing about Southern Denmark and Northern Germany (Schleswig, Holstein) is that for centuries, Germans and Danes both wanted this area badly.
So, we fought. And fought. And fought.
In the end, Germany won, and in 1920 we drew the final border. This means that some of the people who live in southern Denmark are German, and a minority of German nationals south of the border identify as Danish. Both German and Danish is widely spoken or at least understood in this area.
Møgeltønder castle street
The main street in Møgeltønder (Danish: Slotsgaden) with its old cobbled road, the idyllic houses and the linden trees is known as the most beautiful street in Denmark. It's unique because of its unusually many thatched cottages from 1700-1800.
The castle street runs between Møgeltønder Church and Schackenborg Castle. In the older part of town, you'll find even older houses, like thatched farms. They're so idyllic.
Read next: 12 reasons to visit Ribe – the oldest town in Denmark
Schackenborg Castle – the royal residence
At the eastern end of Slotsgaden is Schackenborg Castle. This is where the youngest of our princes live (on and off) with his family.
Schackenborg Castle, originally known as Møgeltønderhus, can be traced back to the 13th century. Commander Hans Schack renamed the castle in 1661, and for 11 generations Schackenborg remained in the Schack family.
Prince Joachim got the keys to the property in 1978 and managed it from 1995 to 2014. With the castle goes a beautiful baroque garden, which was renovated as a wedding present from the people of Denmark for Prince Joachim and Princess Alexandra (his first wife) in 1995. You can actually get a tour of the garden once or twice weekly during summer.
The south wing of the castle is the private residence of Prince Joachim, Princess Marie and their children. When they're at the castle, the royal flag will be waving.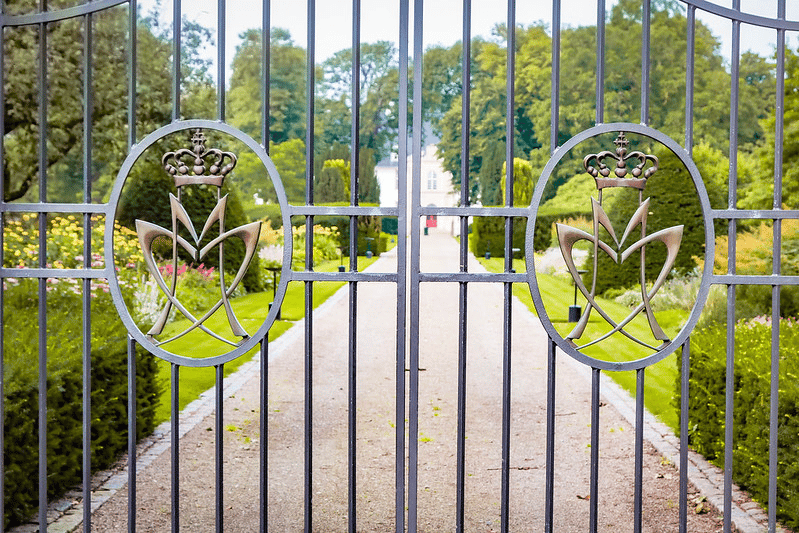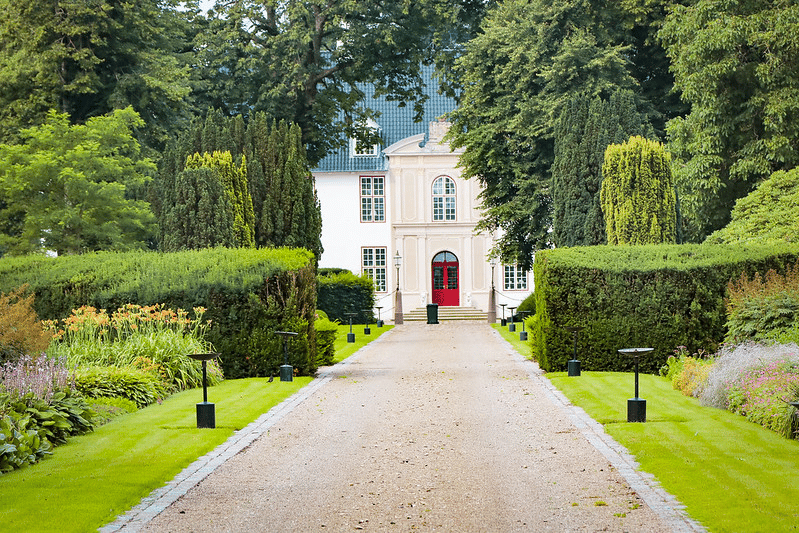 Oh, I almost forgot… the castle is haunted!
According to legend and prince Joachim himself, the castle is said to have several ghosts. Some have seen them, while others have said that they've felt someone staring at them.
*shivers*
The most notorious ghost is "The White Lady", an evil countess who once ruled the castle. Story has it that she tied her lazy housemaid to the stove and when she came back, only the maid's skeleton remained. It ran up the stairs and left a burn mark that you can even see today.
Fun place to stay, huh?
Møgeltønder Church
At the opposite end of Slotsgaden is Møgeltønder church. It's worth a visit to experience the frescos, ceiling drawings and very colourful paintings. You'll also find the oldest functioning church organ in Denmark from 1679. But that's not the only thing that's antique. The Romanesque nave goes back to 1180, the baptismal font is from 1200, and the tower is from the 1500s.
Make sure to peek inside if you're in Møgeltønder. It's even got a crypt!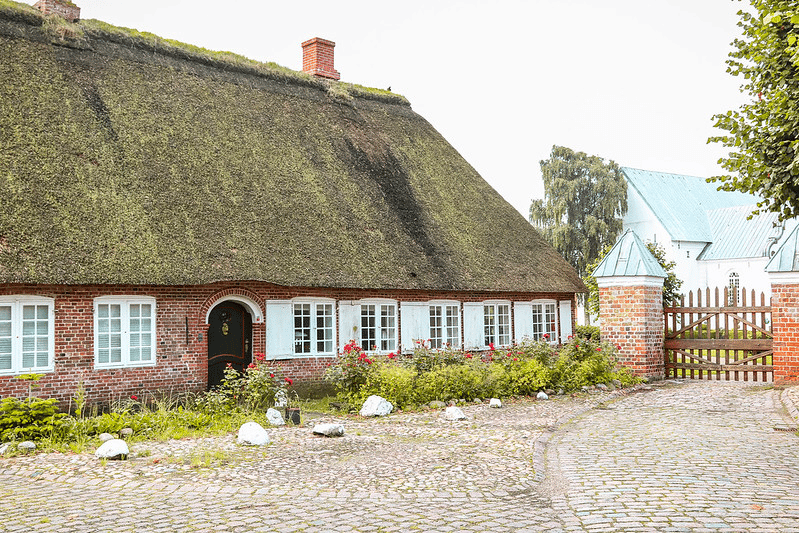 The Golden Horns of Gallehus (Guldhornene)
Denmark is a super old country with a long history. From time to time, locals or archeologists have found relics, religious sites or artefacts from Denmark's ancient past, like the Grauballe Man, the world's best preserved bog body. They're now kept in museums around the country.
One of the most famous finds are the Golden Horns. The two horns were found in Gallehus, a few kilometres from Møgeltønder. The first in 1639, and the second in 1734. The horns are from 400 AD and were probably used as part of a religious ceremony. They were eventually stolen from the Royal Treasury in Copenhagen and melted down.
Today, you can find memorial stones in Gallehus where the Golden Horns were found. And you can see 3D copies of the horns at the nearby Tønder Museum.
Once you're done chasing castle ghosts and ancient relics, the best place for hygge, cake & a cup of coffee is Mormors Lille Café.
This cute little thatched house is surrounded by outdoor tables and flowers where you can taste traditional Danish lagkage (layer cake) or kiksekage (layered biscuit cake with yummy chocolate).
Read next: 20 amazing dishes you must try in Denmark
The beautiful forest and Sønderhaven
Møgeltønder is surrounded by a beautiful forest with lots of deer and other animals, including a lone wolf or two, if you're lucky. They have recently been spotted around Denmark for the first time in 200 years. They keep to themselves and are not considered to be dangerous, though.
Also, right across from Schackenborg Castle is Sønderhaven, which used to belong to the castle. Today, the former rococo garden has less symmetry, but it's still worth a visit.
Where to stay in Møgeltønder
Møgeltønder is an idyllic, not to mention romantic, place to spend the weekend or even a week for total relaxation. If you'd like to either spend the night or eat at the Inn (Schackenborg Slotskro), you should make reservations well in advance. It's quite popular!
Schackenborg Slotskro – The best place to stay in Møgeltønder is at the beautiful Schackenborg Slotskro, which is co-owned by Prince Joachim. Each room is named after Danish castles in preserved, renovated buildings. The 300-year old inn serves both gourmet seafood and French country rabbit & pigeon + more at very reasonable prices. Find the latest prices here.
Møgeltønder Camping & Cottages – If the outdoors and a pool sound more like your thing, this is where to stay. Choose between the camping site or a cute little cottage. You'll get free parking, WiFi and – if you're traveling with family – a fun playground for the kids while you relax. Find the latest prices here.
Nearby amazing sights
Whether you plan to stay for a while or just travel though, there are other nearby sights worth a visit. Like Ribe, the Wadden Sea or Dybbøl Mølle in Sønderborg.
Ribe
Ribe is not only the oldest town in Scandinavia, it's also easily one of Denmark's loveliest spots to soak up some history. Its charming half-timbered 16th-century houses are overseen by the country's oldest cathedral. Definitely worth a visit.
The Wadden Sea
In the Wadden Sea (in Danish, Nationalpark Vadehavet), the North Sea floods the mud flats with seawater twice a day. When the tide is low, you can drive or take tractor-bus rides to offshore islands and watch harbour seals on the sandbanks. Don't miss it.
The iconic Dybbøl Mølle
Dybbøl Mølle is a mill museum and national symbol of Danish bravery. This was the final battle field during the war in 1864, when Denmark went from being a large nation to a very small nation.
Planning to visit Møgeltønder, Denmark? Ask me anything in the comments!
More stuff you'll love:
Save for later