The ultimate 7 day Turkey itinerary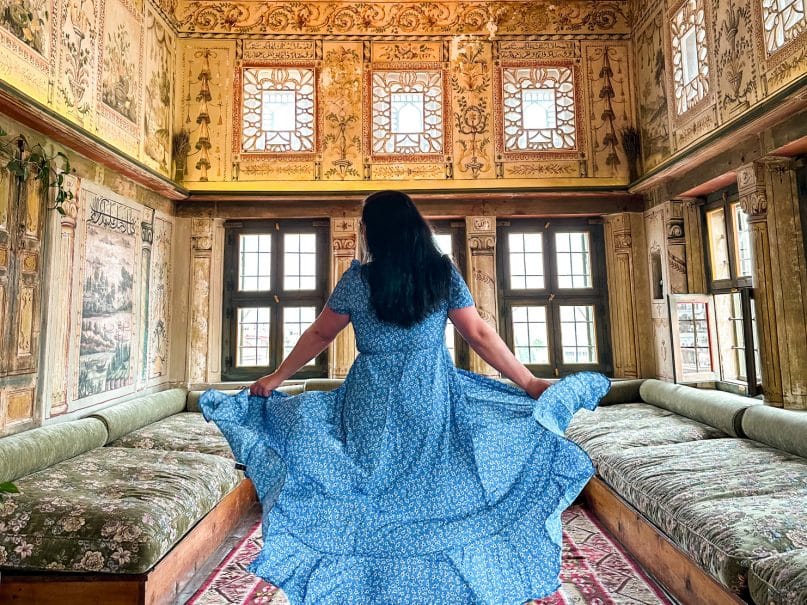 I recently went to Turkey for a week and had one of the best trips in years. So, I created this guide so you can plan your own 7 day Turkey itinerary.
Where I come from, people flock to the well-known places in Turkey: Istanbul and the Turkish Riviera with incredible holiday destinations like Alanya or Marmaris.
But let me tell you, dear countrymen and beloved readers: there's much more to explore!
I managed to squeeze in as many sights and experiences as possible in this Turkey itinerary, and I promise, it's packed with the best that Turkey has to offer in 7 days.
Let's dig in!
Read next: The ultimate Istanbul Cappadocia Pamukkale itinerary
This post contains referral links for products I love. Adventurous Miriam earns a small commission at no extra cost to you if you make a purchase through my links. Thank you for your support ♡ Learn more
My Turkey travel itinerary for 7 days
Turkey is huge. So, if you have any ambitions of following the Turkey itinerary I've laid out in this post, you'll need to fly domestically. While there are busses, it's much faster and actually quite cheap to fly in Turkey.
We flew from Izmir – Kayseri (US $61 one way) and Kayseri – Istanbul (US $66 one way). Flights were on time and the trips went smoothly. I'd pick flying over busses any day!
One more thing – We flew from Denmark to Bodrum and departed Turkey from Istanbul. My best advice is to set your itinerary based on whatever works best with the flights you can find.
It might be cheaper to fly to and from Istanbul and then take a domestic flight from there. Try out different connections and see what makes sense.
Turkey itinerary 7 days:
How many days in Turkey?
The big question: how many days in Turkey is enough?
Ideally, you should spend 2-4 weeks to get the full experience of what Turkey has to offer. Because you know what? Turkey is enormous. It's more than twice the size of Germany!
So, you need time to get around and experience both the large cities like Istanbul, the small towns like Sirince and the natural wonders such as Pamukkale or Cappadocia.
To answer the question about how many days you need, I'd say at least seven. 7 days is the minimum.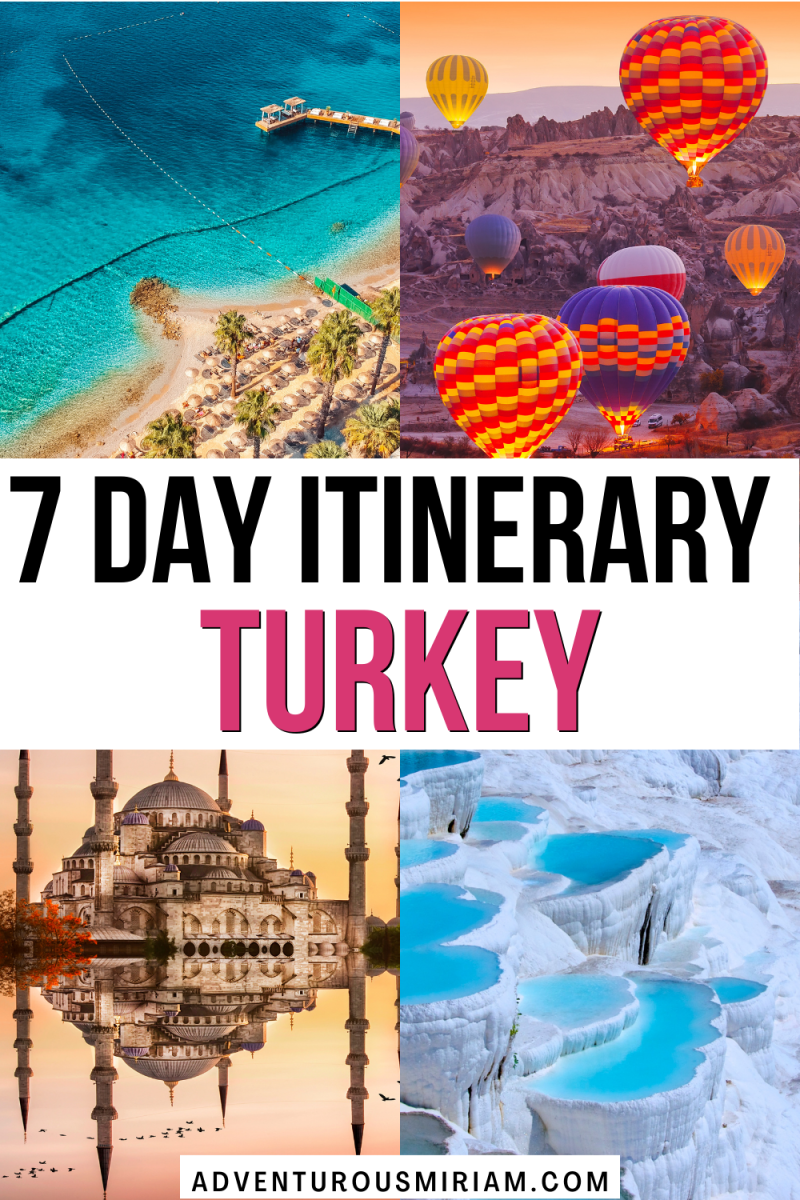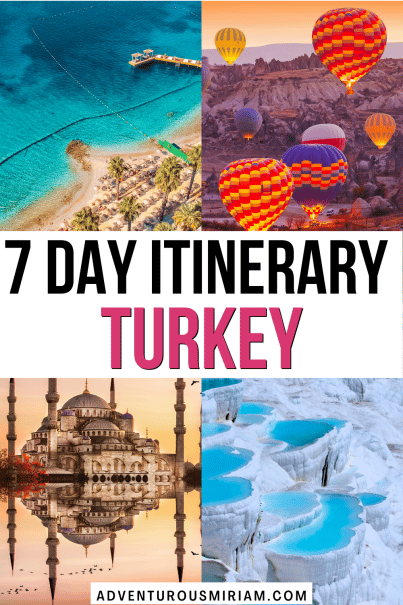 7 Day Turkey Itinerary: Bodrum
Since we started our Turkey trip in Bodrum, let's start the itinerary there.
Bodrum is a coastal town, known as the unofficial 'Saint Tropez' of Turkey. Come the summer months it seems like half of Turkey relocates here to enjoy the infinity pools, luxury hotels and beach clubs.
Bodrum is a pretty small city, which makes it easy to explore on foot. What I really liked about it is that it's not a mass tourism destination like Antalya. It's really charming.
Where to stay in Bodrum
Bodrum has a wide selection of boutique hotels, all-inclusive resorts, and historic inns, but when you're choosing the best hotel, it really comes down to this: Do you prefer convenience or view?
Hotel with a view: Manastir Hotel (⭐ 8.4) The view from this hotel is amazing (see below photo). On top of that, you get two pools and a restaurant.
Hotel downtown: Su Hotel – Bodrum (⭐ 9.0) If you prefer to stay downtown near the marina, I recommend Su Hotel. It's a charming hotel in the heart of the city, close to restaurants and beaches.
FYI: Some hotels shut down during the off season. We went in October and almost had the hotel to ourselves.
Lake Salda
Next up on your 7 day Turkey itinerary is Lake Salda.
Known as the "Maldives of Turkey", it's not hard to tell why. The colours and crystal-clear water make it look like a tropical beach! Lake Salda is located 1.5 hours drive from Pamukkale, and I highly recommend visiting.
At the moment, only selected parts of the lake are open to the public. In 2020, The Turkish Ministry of Environment and Urban Development decided to close the most popular part of the lake to protect the white beach and eco-balance in the lake.
I asked the guard onsite when they expected it to reopen, and we're looking at at least another year, which is by the end of 2023.
Read next: How to visit beautiful Salda Lake – the Turkish Maldives
Pamukkale
After Lake Salda, head to Pamukkale – one of Turkey's natural wonders.
If you've never heard of Pamukkale before, brace yourself – this place is mind-blowing!
Pamukkale is unique for its mineral-rich thermal waters that flow down the bright white terraces of a steep valley side. You can swim in the water and it's warm. Next to this is Hierapolis, an ancient Roman spa city founded around 190B.
We booked a driver who picked us up in Bodrum in the morning, drove us to Lake Salda and Pamukkale and then dropped us off in Izmir in the evening.
It was a super convenient way to travel. If you don't mind driving yourself, it's cheaper to rent a car. 
Read next: One day in Pamukkale thermal pools is all you need
Where to stay in Pamukkale
Pamukkale Whiteheaven Suite Hotel (⭐ 9.5) Prices are generally lower in Pamukkale, so you really get value for your money here. Located in walking distance (500 m) from Pamukkale travetines, this is the perfect place to stay when you're visiting. There's a pool, restaurant, snack bar and the customer service is exceptional. Book here.
Hot air balloon ride
If you're spending the night in Pamukkale, rise early and go on a hot air balloon ride for unbeatable views of the area. You can book a hot air balloon trip here.
Swim in Pamukkale's thermal pools
The name Pamukkale means "Cotton Castle" in Turkish because the terraces look like cotton. They're made from travertine, a type of limestone that is deposited by hot springs.
Bring your swimsuit. Although the pools are shallow, you can still sit or float in the water. Most people visit from 10 am – 4 pm daily. Do yourself a favour and stay for sunset, it's really pretty because the sun and all its colours reflect in the many pools.
Read next: Is Pamukkale worth visiting? Everything you should know
Swim in Cleopatra's pool
Right above the terraces, you'll find Cleopatra's pool. According to legend, this artificially sculpted pool was a gift from Marc Anthony to Cleopatra.
The water hovers around 36 degrees celcius, which is comfortable without being too warm. The best time to visit the pool is in the early morning before groups tours start to arrive. The pool opens at 9 am and stays open until 7 pm.
Visit Hierapolis
Next to Cleopatra's pool, you'll find Hierapolis. Make sure to visit the amphi theatre – it's incredible.
Hierapolis is an ancient city that dates back thousands of years – to the 2nd century BC, when it was founded as a thermal spa by Eumenes II of Pergamon. Hierapolis was also home to St. Philip the Apostle, who is said to have been martyred here in 80 AD.
Cappadocia
Now, it's time for magical Cappadocia. And yes, it's every bit as lovely in real life.
Cappadocia is a region in Turkey, famous for its amazing hot air balloons and the unique rock formations that were formed over millions of years into all sorts of amazing shapes. Most of all, though, Cappadocia reminded me of Aladdin's fairy tale.
There's so much One Thousand and One Nights ambience here, I don't even know where to begin.
We spent 2 days in Cappadocia, BUT if I could go back, I would spend 3 days here instead. I'd rather miss a day in Istanbul and have one more day in Cappadocia – we didn't want to leave. Cappadocia is unique and like nothing else you'll ever see.
Read next: 10 best Cappadocia valleys you should visit
Where to stay in Cappadocia
Lunar Cappadocia Hotel (⭐ 9.4) This magical hotel in Göreme is carved into the rock! From the balcony, you'll get an amazing view of the hot air balloons in the morning. I loved staying here.
Visit the valleys
If you've ever seen photos of the strange and surreal fairy chimneys of Cappadocia, you probably had a similar reaction to the one that I did:
What on earth is that? I want to visit!
Cappadocia is an area comprised of many valleys, each quite unique. While you can join day tours to see different areas and valleys, you'll need several days to experience them all.
Unfortunately, you don't have that luxury on a 7 day Turkey itinerary. Luckily, I found a much better way to experience the highlights of Cappadocia's valleys, and that is to book a taxi driver for the day.
We drove with Ahmet Sariyürek from Maccan Taksi, an English-speaking driver who took us to several hidden spots because he knew the area like his own back pocket. We paid only US $40 in total for 4 hours. You can call him at this number: 0535 557 70 83, or ask the reception at your hotel to call him if you're more comfortable with that.
Ahmet also took us to Red valley for sunset the evening after (a popular sunset spot). These are the most-see valleys:
Uchisar castle
Zelve Valley
Devrent Imagination Valley
Pigeon Valley
Hot air balloon ride is a must on your 7 day Turkey itinerary
Looking for an unforgettable experience? Try a hot air balloon ride over Cappadocia.
Cappadocia is known for its fairy chimneys – tall, cone-shaped rock formations that were created by volcanic eruptions and erosion. A hot air balloon ride is the perfect way to see these unique geological wonders from above.
Book your hot air balloon ride here.
Stay at a cave hotel
If you want the full experience of visiting Cappadocia, you simply have to spend the night at a cave hotel. It's an unforgettable experience. The rooms have been carved out of the rock, and some are even underground.
I'm telling you, it's a unique experience that you won't find anywhere else in the world.
As mentioned above, we stayed at Lunar Cappadocia Hotel and it was fantastic!
Istanbul
Istanbul was the final stop on our 7 day Turkey itinerary.
As the only city in the world, it straddles two continents: Europe and Asia, and at the same time it offers a unique mixture of the traditional and modern. Think bazaars, beautiful mosques, hip designer shops and delicious Turkish food.
With a population of 15 million, Istanbul is the largest city in Europe. There's a lot to see and do, but if you follow my itinerary, you'll be able to see it all in 3 days.
Read next: How to spend amazing 3 days in Istanbul
Where to stay in Istanbul
Hotel Amira Istanbul (⭐ 9.4) We stayed in the Sultanahmet district (my favourite part of Istanbul), which is where the major sights are located. At this boutique hotel, you can enjoy a lounge terrace with sweeping Sea of Marmara views and a modern Baroque décor.
Visit the Hagia Sophia
Sultanahmet is the old part of Istanbul. This is where you'll find the extraordinary Hagia Sophia and the Blue Mosque.
To me, Hagia Sophia was the biggest draw in Istanbul. I can tell you a lot about how it's a UNESCO World Heritage site and how it's been converted from Muslim to Christian and back again since 537 AD. But that's not why you should visit.
You should visit because of the feeling you get once you enter the doorstep to the mosque. You look up, and you're instantly struck by the dark interior embellished with frescoes, statues and the eight, huge wooden panels with calligraphy bearing the names of Allah, Mohammed and his grandsons.
It's like stepping into a time capsule. It's serene and overwhelming at the same time, and you'll be lost for words.
It's an absolute must-visit.
Read next: 12 most famous mosques in Istanbul you should visit now
See the Blue Mosque
Right next to Hagia Sophia is the Blue Mosque. This is one of the most famous mosques in the world, thanks largely to its blue tiles.
It's under construction at the moment and will be for at least another year, but you can visit part of the mosque. It's a real masterpiece, so make sure to go.
Explore the Grand bazaar and Spice bazaar
I love visiting markets when I travel in the Middle East. And I have to say that the Spice bazaar is one of the best I've visited over the years. Istanbul has many markets, but the Spice Bazaar and the Grand Bazaar are the major ones.
The Grand Bazaar is one of the oldest and largest indoor markets in the world. It's a maze of streets and alleyways, lined with shops selling all sorts of souvenirs, handicrafts, and rugs. The Spice Bazaar is newer, and mostly offers spices.
Take a boat ride on the Bosporus
Most travelers stay on the European side of Istanbul. But on a boat ride on the Bosporus, you get to see the Asian side, too.
The Bosporus strait separates Europe and Asia, and runs right through the city. From the boat, you'll get to see most of the main sights, including the Blue Mosque, Hagia Sophia, and Topkapi Palace. Book your cruise here.
Devour Turkish cuisine at local restaurants
One of the top 3 things I loved about Turkey was the food.
It's delicious!
There are so many types of kebab that it's impossible to keep track. I tried to taste as many as possible and can't get over how different they tasted. The classic lamb skewers are my favourite, though.
When you travel around Turkey, make sure to try some different traditional dishes. These Turkish dishes are the best ones:
Pide (boat-shaped pizza)
Lahmacun (thin pizza)
Lamb shish kebab
Turkish tea! (ask at any restaurant and they often offer it complimentary after the meal)
Kofte
Börek
Testi kebab (try it in Göreme)
Turkish food is one of the most delicious in the world. Definitely try it.
Ask me anything about your 7 day Turkey itinerary!
Before you go – don't miss this