The ultimate Istanbul Cappadocia Pamukkale itinerary (2023)
Planning a trip to Turkey and looking for the best Istanbul Cappadocia Pamukkale Itinerary? Whether you're spending one week, 10 days, or two full weeks, I guarantee this Turkey trip travel guide will be extremely helpful!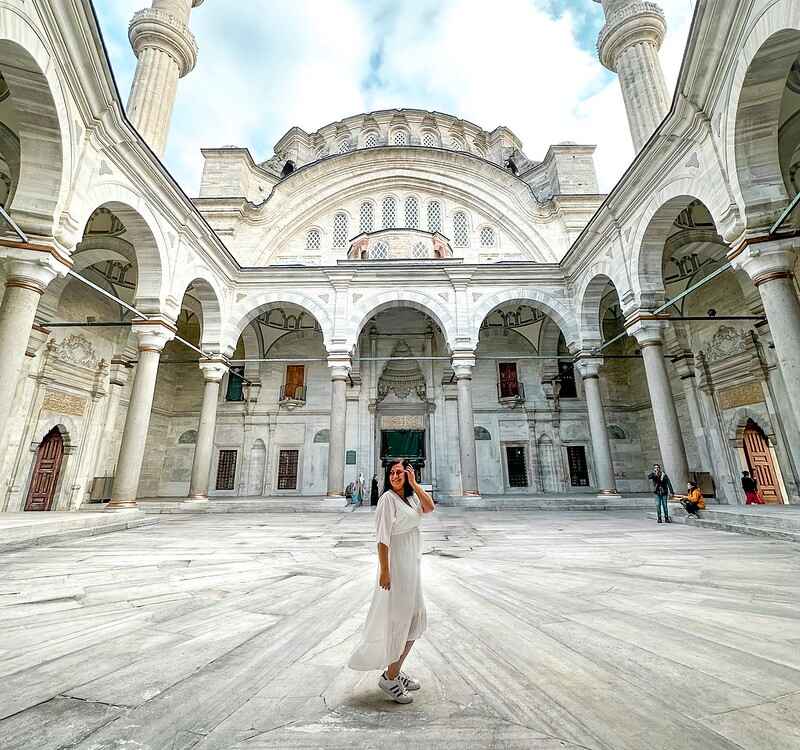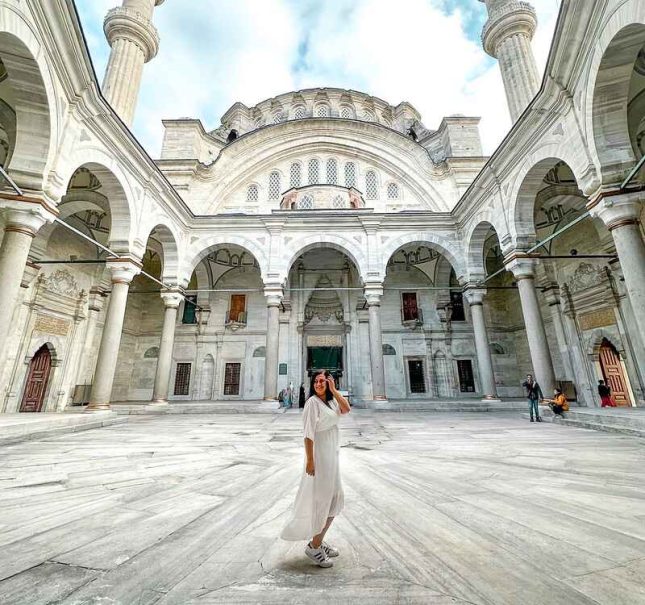 Turkey is one of the most beautiful and magical places in Europe, and I guarantee that it will be a journey you won't forget.
Ancient mosques, fairy tale landscape, turquoise pools cascading down the mountainside, and hot air balloons floating around during sunrise. Turkey really has something for everyone.
Personally, I travelled through Turkey for 8 days with my 5-year old son and friend. While I could easily have spent much longer in Turkey since there's SO much to see, a week was perfect in order to experience Istanbul, Cappadocia and Pamukkale.
In this post, I will be taking you through some top tips about transport options for travelling around, which hotels to book, safety in Turkey, and the best things to do.
Now, without further ado, let's begin!
This post contains referral links for products I love. Adventurous Miriam earns a small commission at no extra cost to you if you make a purchase through my links. Thank you for your support ♡ Learn more
Best Istanbul Cappadocia Pamukkale tour
I'll go through your options of getting around in Turkey below, but if you're looking for a quick, easy and comfortable way to explore Istanbul, Cappadocia and Pamukkale, this tour might be for you.
💸 8-day Istanbul Cappadocia Pamukkale tour
On these two highly rated tours, you'll get to visit Istanbul, the ancient ruins of Ephesus, Cappadocia and Pamukkale for 8 days.
All flights and accommodation are included. You'll even get to stay in a cave hotel in Cappadocia (major highlight)!
Pick between a small-group tour or a private tour, both of which are rewarded with Viator's Badge of Excellence:
This Istanbul Cappadocia Pamukkale itinerary
Alright, let's dive into my guide for this extensive Turkey Itinerary!
The way I've set up this 8-day itinerary is that it's all focused on Istanbul Cappadocia and Pamukkale.
But one thing I think is important about traveling around Turkey is avoiding checking in and out of hotels every couple days! That's why I've put a minimum of 2+ nights in each place, and you'll get a better feeling for the area.
The full itinerary is down below, but here's an overview of my recommended route so you can start planning!
Istanbul (3 days)
Cappadocia (3 days)
Pamukkale (1 day)
Travel days: 1-2
What are the best months to visit Turkey?
The best time to visit Turkey is April, May, September, and October.
These months are pleasantly warm with temperatures ranging from 20°C to 30°C, which means you can visit without melting and without the crowds.
I went in October and it was perfect for both Istanbul, Cappadocia and Pamukkale.
Read next: 18 magical things to do in Istanbul in winter
Is Turkey a dangerous place to visit?
No! Istanbul, Cappadocia and Pamukkale are completely safe to visit, and I've honestly never felt like I was in any danger during the time I've had there!
There have been terrorist attacks in Istanbul during the years (you can see an overview of when the attacks happened here), and it's understandable that you might be concerned about your safety.
However, I can say that I personally feel no more at risk there than I do in many major cities in the USA. The tragic attacks in Istanbul have caused 179 deaths in the last 10 years. But it's important to keep in mind that gun homicides in the USA claim more than 30 lives every day on average.
It's a difficult decision to make: should we avoid traveling to Turkey and react the way the terrorists want us to? Or should we continue to visit despite the risks?
Ultimately, the decision is yours. For me, I choose not to let fear dictate my travel plans. However, I understand that others may feel differently, and that's okay, too.
Best Turkey trip travel insurance
While I never travel anywhere without travel insurance, this is absolutely essential for all visitors to Turkey!
💸 Turkey travel insurance
I highly recommend having travel insurance because let's be real — the last thing you want on your trip is for accidents to get in the way.
I recommend Safety Wing — they offer affordable prices, great coverage, and a reliable 24/7 on-call service.
How many days in Turkey?
To get the most out of your visit to Pamukkale, Cappadocia and Istanbul, I recommend spending 7-10 days.
This gives you enough time to explore the highlights of the country and really enjoy the rich culture and history.
How to get around
The fastest way to get around is by air. Flights go daily and it's super easy.
If you're on a tight budget, taking a bus or train is a cheaper option, but it will take much longer to get around.
You can also take a multi day tour that covers the entire Istanbul Cappadocia Pamukkale itinerary. This is by far the most convenient way to get around Turkey and see the highlights, plus someone else will take care of all the planning.
Another option is by car, which is a great option if you like road trips. There's a lot to see in Turkey so you can find many great stops along the way.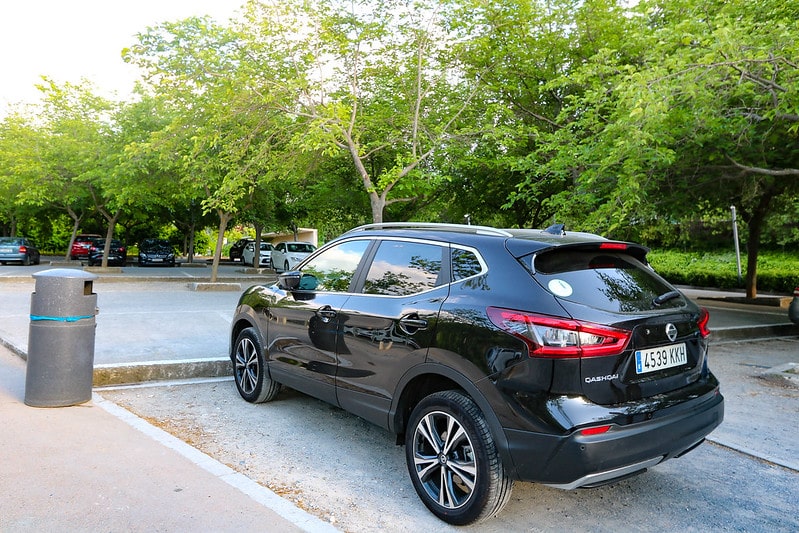 Best Car Rental Company:
DISCOVER CARS
When booking your car rental online, I recommend Discover Cars. They compare prices at car rental agencies all over the country to get you the best deal.
Istanbul Cappadocia Pamukkale itinerary
Istanbul
Day 1: Arrive in Istanbul
Chances are, you're flying in to Istanbul Airport. After a long flight, you might want to get to your hotel and relax before going sightseeing.
I suggest pre-booking an airport transfer to avoid the scamming taxi drivers (speaking from bitter experience). Turkey is notorious for haggling drivers, and Istanbul has the worst of the lot.
Once you've settled in at your hotel, get ready to discover Istanbul. I spent 3 days in Istanbul and it was perfect because we had time to see everything we wanted.
With its unique blend of Europe and Asia, East and West, and old and new, Istanbul is a melting pot of cultures. It's like nowhere else on earth!
You'll find yourself wandering through ancient markets and bazaars, gazing at stunning mosques and palaces, and enjoying the city's modern, cosmopolitan vibe all at the same time.
If you have time, go visit Basilica Cistern or Taksim on your first day. Make sure to taste lots of the amazing Turkish food!
Where to stay in Istanbul
Hotel Amira Istanbul (⭐ 9.4) We stayed in the Sultanahmet district (my favourite part of Istanbul), which is where the major sights are located. At this boutique hotel, you can enjoy a lounge terrace with sweeping Sea of Marmara views and a modern Baroque décor.
Istanbul itinerary Day 2
Visit the Hagia Sophia
Are you ready to step back in time? Sultanahmet is the old part of Istanbul, and it's where you'll find one of the city's most extraordinary sights: I'm talking about the one and only Hagia Sophia.
This beautiful mosque is a UNESCO World Heritage site with a fascinating history that dates back to 537 AD. It's the most incredible mosque I've ever seen and it honestly felt like stepping inside a time machine.
The dark interior is adorned with frescoes, statues, and 8 huge wooden panels with calligraphy bearing the names of Allah, Mohammed and his grandsons.
It's an absolute must-visit and the one thing you cannot miss in Istanbul!
🕌 Hagia Sofia is free to visit, but there's a seriously long line. Consider getting skip-the-lines tickets with a private guide so you can get all the insights. The tour takes 50 minutes and has been rated 5/5 stars from 135 reviews.
The Blue Mosque
Located right next to Hagia Sophia, is one of the most famous mosques in the world: The Blue Mosque.
The mosque is known for its stunning blue tiles, which are a truly unique.
While the mosque is currently under construction and will be for at least another year, you can still visit part of it. And trust me, it's worth it!
Read next: 12 most famous mosques in Istanbul you should visit now
Topkapı Palace
Also nearby is The Topkapı Palace, which was the main residence of the Sultans who ruled the Ottoman Empire. Today, it's a fascinating museum with grand buildings, courtyards, and gardens.
Don't miss the highlight: the well-decorated imperial harem. You'll need to buy a separate ticket for it at the entrance or you can join a guided tour where it's all included.
The palace also has collections of art, cultural relics, and riches from the Ottoman Empire, which makes it a great place to learn more about the region's history and culture. Be sure to add it to your Istanbul itinerary.
The Spice bazaar and Grand bazaar
If you're a fan of local markets, then you'll love Istanbul! The city is home to many markets, but the Spice Bazaar and the Grand Bazaar are the two major ones you won't want to miss.
The Spice Bazaar is the best, in my opinion. It's actually the best market I've visited over the years in the Middle East.
Here, you'll find all sorts of spices, from exotic blends to everyday staples. And most importantly, the vendors are so friendly, not pushy at all.
The Grand Bazaar is a little different. It's one of the oldest and largest indoor markets in the world, and it's a maze of streets and alleyways lined with shops selling everything from souvenirs to handicrafts to rugs.
Istanbul itinerary Day 3
Dolmabahçe Palace
The Dolmabahçe Palace became the centre of Ottoman rulers in 1856, after they grew tired of Topkapı Palace.
Dolmabahçe is located on the banks of the Bosphorus and designed in Baroque Rococo and Neoclassical styles with Ottoman influences.
The palace is split into two sections, the Harem and the Selamik. I recommend paying for both sections to see the Blue Hall, Crystal Staircase, and Grand Ceremonial rooms.
Join a guided tour to see the best sections, including skip-the-lines ticket. This tour also includes a visit to Balat (my favourite area in Istanbul), Rustem Pasha mosque and the Spice Market – all in a Mercedes minivan.
Balat and Fener
Fener, the former Greek neighborhood, and the nearby old Jewish quarter Balat are the most vibrant areas in Istanbul.
The antique shops and houses are painted in bright, vibrant hues, making it a must-visit destination for photography enthusiasts.
We spent 1-2 hours wandering around the neighborhoods, trying to locate some of the iconic buildings that put Fener and Balat on the UNESCO World Heritage List.
To learn more about the area's history, I recommend going on a guided tour.
Ortaköy Mosque
Ortaköy is a charming Istanbul neighborhood located beside the Bosphorus, and it's a popular place to hang out, especially on weekends when the local streets fill with markets.
The Ortaköy Mosque commands the most ostentatious position on the river and is a must-see attraction!
Its intricate façade has two rows of windows that illuminate the dome ceiling covered in pink mosaics, shimmering against the Bosphorus.
Visit a Turkish hammam
Once you're done sightseeing, it's time for pampering in a hammam!
A Turkish hammam is a traditional bath in Istanbul where you can enjoy a wash, massage and relaxation.
This Turkish bath experience takes place at one of Istanbul's best hammams. It's over 600 years old and designed by the architect who built the Topkapi Palace. The experience is rated 5/5 stars based on 161 reviews, like this one:
Take a Bosphorus cruise
Taking a boat ride on the Bosporus strait in Istanbul is a great way to see the city from a different perspective.
As the boat cruises along the water, you'll get a chance to see some of Istanbul's most famous landmarks, like the Blue Mosque and Hagia Sophia, from a unique angle.
These are the most popular ways to go:
Istanbul Cappadocia Pamukkale itinerary
Cappadocia
Ah, Cappadocia…
This place is out of this world. You'll feel like you've stepped into a fairy tale with all those magical valleys and hot air balloons floating around during sunrise. It's definitely a must-visit in Turkey.
I recommend spending at least three nights in Cappadocia because there's so much to do and see. And make sure to stay in a cave hotel, which is part of the experience in Cappadocia.
Where to stay in Cappadocia
Lunar Cappadocia Hotel (⭐ 9.4) This magical hotel in Göreme is carved into the rock! From the balcony, you'll get an amazing view of the hot air balloons in the morning. I loved staying here.
Day 4: Istanbul to Cappadocia
Cappadocia is a magical place with many valleys, each with its own unique charm. While you can join day trips to explore different areas and valleys, you'll need several days to experience them all.
Getting from Istanbul to Cappadocia is pretty straightforward. You can either fly there directly, that's what we did and it's super simple. You can also take the bus, which is an overnight trip.
If you've got a rental car, it'll take you around 8 hours via Ankara.
5/5⭐: You can also join this 8-day tour that covers Istanbul, Cappadocia, Pamukkale and Ephesus. This is a great option if you want everything taken care of – from flights and hotels to food and a local guide. Check rates and availability here.
Day 4-5: Cappadocia
Watch the hot air balloons
Get up at the break of dawn to watch the hot air balloons take off over the valleys. If you're staying at one of the cave hotels, you'll be located higher and therefore have the best view.
This photo was taken at our cave hotel, which was amazing!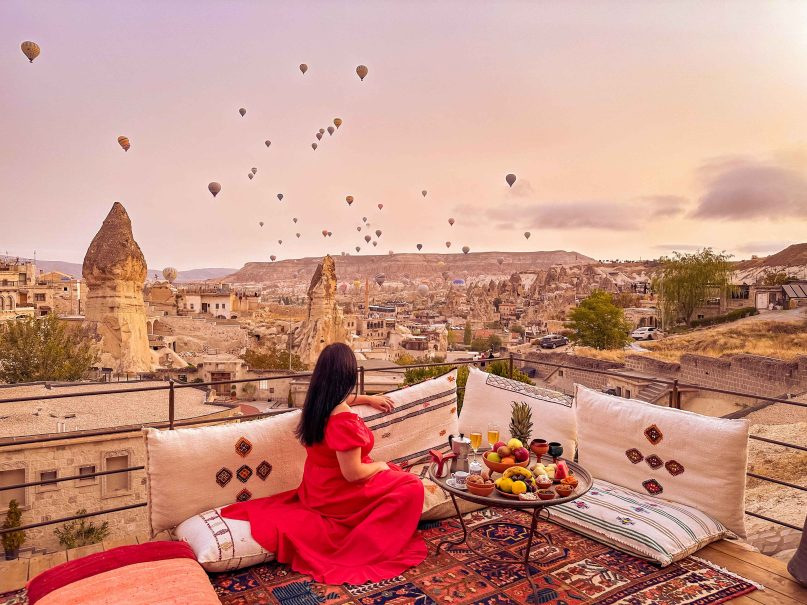 Explore the underground cities
Next, I recommend exploring the ancient villages and underground cities that are scattered throughout the region.
Derinkuyu Underground City is an ancient multi-level city considered the deepest in Cappadocia, and it's a fascinating glimpse into the past.
The extensive network of tunnels and passages includes wells, chimneys for air circulation, water tanks, stables, and even areas where the dead could be placed until conditions on the surface allowed for proper disposal.
You can either drive yourself, if you have a rental. Or you can take a guided tour like this popular Cappadocia tour: the Green Tour. It covers Derinkuyu Underground City, the beautiful Ihlara valley and Pigeon valley. You'll also get to visit the ancient rock-cut churches at Selime monastery. Check rates and availability here.
Day 6: Cappadocia
Hot air balloon flight
Are you ready for an unforgettable experience? Today, you're taking a hot air balloon ride over Cappadocia.
Cappadocia is known for its magnificent fairy chimneys, which are tall, cone-shaped rock formations that were created by volcanic eruptions and erosion. And what better way to see these unique geological wonders than from the sky?
A hot air balloon ride is the perfect way to take in the stunning views of Cappadocia. So make sure to book your ride and get ready for an adventure you'll never forget.
Explore the valleys of Cappadocia
There are more than 200 valleys to choose from in Cappadocia, but luckily I've made a list of the 10 best valleys so you can narrow it down.
I highly recommend visiting Red valley, Rose valley and Love Valley (among others). Each of these valleys has something special to offer, from stunning rock formations and remains of rock-cut churches to ancient cave dwellings.
You can spend 2-3 days just exploring valleys, and you can either do it with a rental car or a personal driver, which is what we did, it's very affordable.
You simply hand the driver your itinerary and he'll take care of the rest. Our driver even had a few ideas on what to see.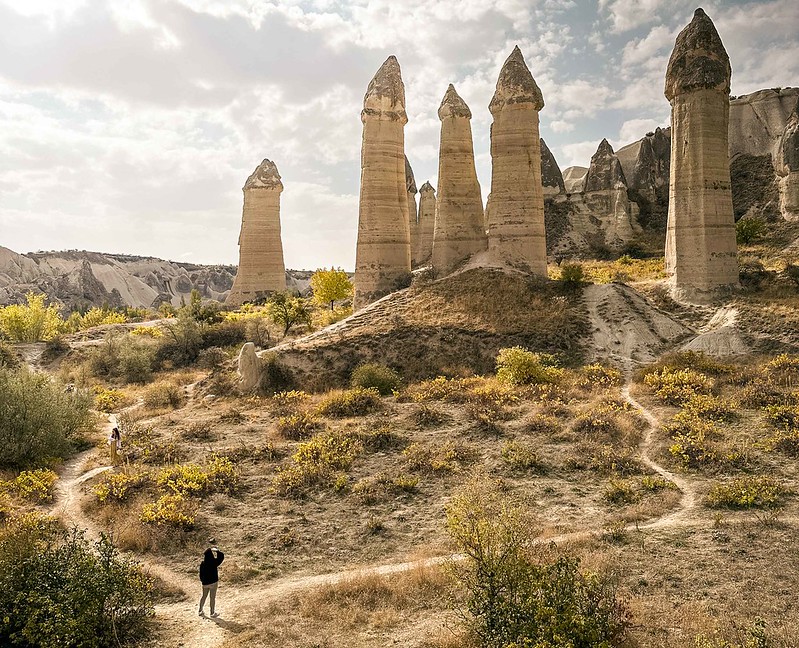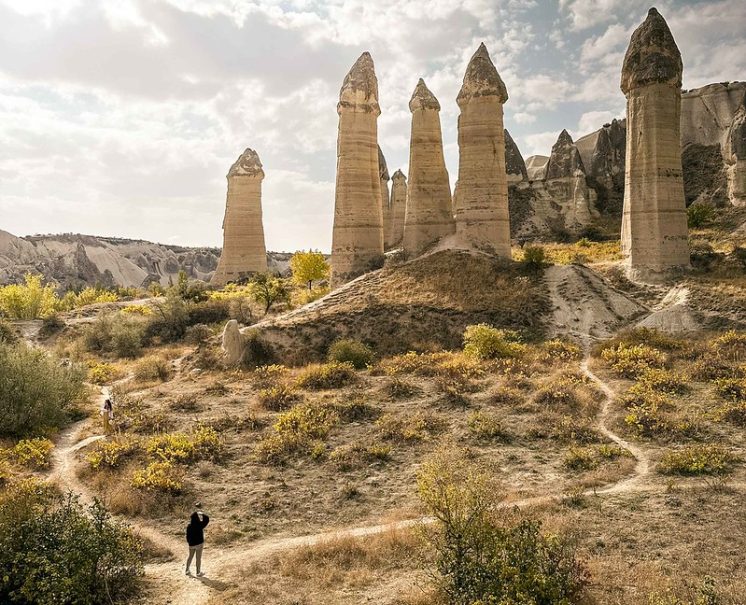 Watch the sunset over the red valley
Watching the sunset over the Red Valley in Cappadocia is an experience you won't want to miss.
Maybe you've been here already during the day (you totally should). But in the evening, the sky turns into a beautiful canvas of warm colours, casting a golden glow over the fairy chimneys and rock formations in the valley.
So grab a comfortable spot, bring a camera, and enjoy the breathtaking view.
Read next: The perfect 2 day Cappadocia itinerary you'll want to steal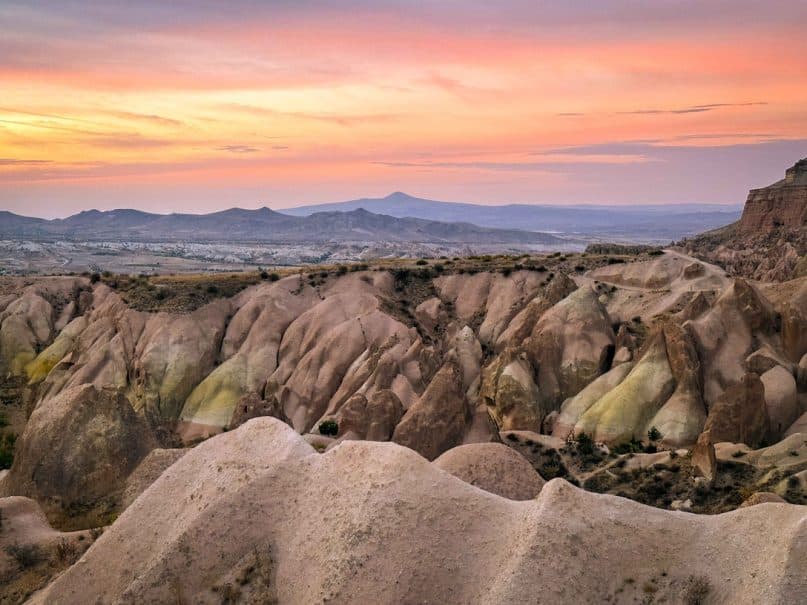 Istanbul Cappadocia Pamukkale itinerary
Pamukkale
Pamukkale is simply mind-blowing!
The pure white landscapes of Pamukkale Cotton Castle with mineral-rich thermal waters that flow down the bright white terraces of a steep valley side. It's like nothing you've ever seen before.
Most people visit on a day trip from either Bodrum, Izmir or Alanya, but you can stay the night here, too. It's a 3-4 hour drive from the coast so if you're not in a hurry, I do recommend staying the night.
Where to stay in Pamukkale
Pamukkale Whiteheaven Suite Hotel (⭐ 9.5) Prices are generally lower in Pamukkale, so you really get value for your money here. Located in walking distance (500 m) from Pamukkale travetines, this is the perfect place to stay when you're visiting. There's a pool, restaurant, snack bar and the customer service is exceptional. Book here.
Day 7: Pamukkale
Hot air balloon ride
If you're spending the night in Pamukkale, rise early and go on a hot air balloon ride for unbeatable views of the area.
On this tour (⭐ 4.5/5) with Viator, you'll enjoy amazing views of the thermal pools as the sun rises, and you'll also be served breakfast and champagne. How's that for a great start to the day!
Read next: Is Pamukkale worth visiting? Everything you should know
Swim in Pamukkale's thermal pools
The name Pamukkale means "Cotton Castle" in Turkish because the terraces look like cotton.
They're made from travertine, a type of limestone that is deposited by hot springs.
Bring your swimsuit. Although the pools are shallow, you can still sit or float in the water. Most people visit from 10 am – 4 pm daily.
Do yourself a favour and stay for sunset, it's really pretty because the sun and all its colours reflect in the many pools.
Read next: One day in Pamukkale thermal pools is all you need
Swim in Cleopatra's pool
You can also take a dip in Cleopatra's Pool. Yes, you read that right – Cleopatra, the Queen of Egypt, once swam in this antique pool. How cool is that?
Cleopatra antique pool is located right above the terraces.
The water hovers around 36 degrees Celcius, which is comfortable without being too warm. The pool opens at 9 am and stays open until 7 pm.
Visit Hierapolis ancient city
Next to Cleopatra's pool, you'll find the ancient city of Hierapolis. Make sure to visit the amphi theatre – it's incredible.
Hierapolis is an ancient city that dates back thousands of years – to the 2nd century BC, when it was founded as a thermal spa by Eumenes II of Pergamon.
Hierapolis was also home to St. Philip the Apostle, who is said to have been martyred here in 80 AD.
FAQ
How many days do you need for Istanbul and Cappadocia?
To fully experience Istanbul and Cappadocia, I recommend spending 6-7 days in Turkey. This will allow you to explore the highlights of both destinations and enjoy your trip to the fullest.
Is Pamukkale closer to Cappadocia?
No, Pamukkale is not closer to Cappadocia. The distance between Pamukkale and Cappadocia is about 650 kilometers or 404 miles.
The travel time between the two destinations can take up to 11-13 hours by long-distance bus, which includes a change at Denizli Bus Station.
How many days are enough for Pamukkale?
I-2 days is enough to experience Pamukkale. Many people visit on a day trip from Bodrum, Alanya or Izmir.
More posts from Turkey you might like
Save it!