Perfect 1 day Istanbul itinerary: 12 best places to visit
Looking for a 1 day Istanbul itinerary? Discover the best things to do in Istanbul in 24 hours.
Istanbul is one of the most unique cities in the world. Straddling two continents and having been the capital of two powerful empires, you will find a wealth of history in its mosques, oriental bazaars and palaces.
Obviously, one day in Istanbul won't be enough to see everything – but this itinerary is great for first-time visitors or if you have a stopover in Istanbul and want a list of the must-see sights.
Here are my tips to the best 12 things to do during your 1 day in Istanbul Türkiye.
🧿 Read next if you have more than a day: How to spend amazing 3 days in Istanbul
This post contains referral links for products I love. Adventurous Miriam earns a small commission at no extra cost to you if you make a purchase through my links. Thank you for your support ♡ Learn more
1 day Istanbul itinerary
Even if one day is a short visit, you'll still have time to experience the rich culture, taste the local cuisine and have a good time in one of the world's great cities.
Visiting Istanbul in 1 day gives you time to explore the top attractions on the European side:
Hagia Sophia
Topkapi Palace & Harem
Blue Mosque
Basilica Cistern
Grand Bazaar
Nuruosmaniye mosque
Süleymaniye mosque
The Spice bazaar (the Egyptian bazaar)
Rustem Pasha mosque
The Golden Horn
Galata Tower
Fener and Balat
Where to stay in Istanbul
If you're visiting Istanbul for the first time, the best place to stay is Sultanahmet. Sultanahmet square is home to the main landmarks and local restaurants in Istanbul, such as the Hagia Sophia, so you'll be right in the city center.
Hotel Amira Istanbul (⭐ 9.4) is a lovely boutique hotel right in the heart of Sultanahmet. Think lounge terrace with sweeping Sea of Marmara views and a modern Baroque décor – this place is amazing.
Map of Istanbul
Below is a map of Istanbul with the tourist attractions in this post. I've numbered them in the same order as they appear here. Simply start by clicking number 1 to see the attraction.
Click the + and – in the corner to zoom in or out.
When to visit Istanbul
The best time to visit Istanbul is from March to May and between September and October. This is when temperatures are between 15-22 degrees C, accommodation prices are average and crowds less.
Summer: During peak season, from June to August, temperatures climb up to 29 degrees and room prices also increase due to higher demand.
Winter: Istanbul is cold during winter! Expect down to 3 degrees C and snow. Accommodation is cheaper, though, and attractions are not nearly as crowded.
How to get around Istanbul in one day
The best way to get around Istanbul when you're on a tight schedule is to walk. Istanbul continue to top the list of cities with worst traffic congestion, so in rush hour it's almost impossible to get anywhere.
🔥 I recommend walking between the nearby attractions in Sultanahmet district and Fatih and then taking the tram for attractions that are a little further away.
🚋 Tram
The tram line T1 is perfect for your 24 hour itinerary in Istanbul – it runs from Zeytinburnu through Aksaray and Sultanahmet before crossing the Galata Bridge and going up to Kabataş, which means it has plenty of sightseeing stops along the way.
The tram runs every five minutes but can get crowded during peak times – you'll need to purchase either a journey token (jeton) or an Istanbul Card before being able to access it.
The Istanbul Card: A convenient travel pass that can be used throughout the public transport system in Istanbul – trams, metro, buses and ferries. You simply swipe it at the entrance machines at each station of tram, metro, or public ferry boat. It can be used for 5 or 10 rides depending on the option you book. Pick up your Istanbul Card at the airport or have it delivered to your hotel.
🚕 Taxi
Taxis in Istanbul are bright yellow and have the word "taksi" written on a sign on the roof. You can hail them in the street or look out for taxi ranks. Make sure to agree on a price before you get in the car.
Save time & skip the line at top attractions
The Istanbul E-Pass is a great way to save both time and money – it gives you access to over 60 of Istanbul's top attractions, including Galata Tower and Topkapi Palace.
I recommend buying your digital pass online before arriving in Istanbul so you can get started as soon as possible.
🕌 Things to do in Istanbul in 1 day
Your 1 day Istanbul itinerary includes the 12 best things to do in Istanbul. Make sure to start early to be able to see it all. Have fun!
1. Hagia Sophia
Begin your day at the most important highlight in Istanbul: The Hagia Sophia.
The 1.500 old Hagia Sophia is the most impressive attraction in Istanbul, it's like a time capsule, which explains the extensive line you'll see outside.
You can visit the mosque on your own, but if you'd like the history and background behind the plethora of mosaics, gold details and ancient architecture, you'll need a guided tour.
This tour with Viator comes with skip-the-line access, which is a huge bonus because the line is looooong. It's a popular attraction.
Opening hours: Open 24 hours
Entry: Free
Women: Bring a scarf to cover your head
2. Topkapi Palace & Harem
When you're done exploring the Hagia Sophia, walk 3-400 meters to the Topkapi Palace.
From 1463 and 1830, Topkapi was the court of the Ottoman sultans and their concubines, and it's worth visiting if you like beautiful architecture and history.
Topkapi Palace is huge, so you'll be spending two-three hours here. The Harem costs extra to visit, but it's the highlight so make sure to visit!
Opening hours: 9am-6.45pm Wed-Mon Apr-Sep. 9am-4.45pm Oct-Mar.
Entry: Adult/child under 8yr $18/free. Harem adult/child under 6yr $5.5/free
Book tickets online with skip-the-line access and guide
3. Blue Mosque
Now, walk back past Hagia Sophia and you'll reach The Blue mosque, also known as the Sultan Ahmed mosque). You'll see its beautiful cascade of domes and six slender minarets from afar!
The Blue mosque has been closed for renovation for the past year and won't be fully open until at least another year (2024). We were able to visit a small part of the mosque so we did manage to see the thousands of blue tiles that the mosque is so famous for.
Make sure to visit in-between prayer times, as it's not permitted to enter during prayer.
Opening hours: 09:00am to 18:00pm daily – except Fridays
Entry: Free
Book a guided trip to the Blue mosque and Hagia Sophia
Women: Bring a scarf to cover your head
4. Basilica Cistern
Hidden beneath the city lies the Basilica Cistern, and it's a must-see if you're looking for something off the beaten path amongst all of Istanbul's mosques. There's a really cool "Game of Thrones" atmosphere down there.
Initially built to provide water for the Great Palace, the underground cistern was abandoned and forgotten after the fall of Constantinople. It wasn't revived and opened to the public until 1987.
Opening hours: From 9am-5.30pm Nov–mid-Apr, to 6.30pm mid-Apr–Oct
Entry: Adult/child under 8yr ₺20/free
Buy tickets online to avoid the long lines.
5. The Grand Bazaar
One of the best things to do in Istanbul is visiting the Grand Bazaar.
It has more than 4.000 stalls with handicrafts, food, lamps, spices, bags and much, much more so make sure to stop by. It's a great place to find a souvenir and to experience a Turkish market.
Remember to haggle – never pay full price!
Opening hours: From 10am to 6pm daily
Entry: Free
6. Nuruosmaniye mosque
Just across the street from the Grand Bazaar is the Nuruosmaniye mosque.
The dome of the mosque is one of Istanbul's largest, and the polygonal courtyard is just as impressive.
Opening hours: From 9am-6pm daily, but closed at prayer times
Entry: Free
Women: Bring a scarf to cover your head
7. Süleymaniye mosque
Another beautiful mosque is the Suleymaniye mosque. It's perched atop one of Istanbul's seven hills, so there's a view of the Golden Horn from the top.
Make sure to visit the cemetery, too.
Opening hours: From 09:00 to 18:00 for visitors (check prayer times here)
Entry: Free
Women: Bring a scarf to cover your head
8. The Spice bazaar (the Egyptian bazaar)
Next up is the Spice bazaar, one of my favourite places in Istanbul. You can literally smell the exotic scents of spices and herbs before you even enter.
The vendors here are super friendly, not pushy at all, so I really enjoyed visiting. They'll offer you complimentary tea and spice samples as you walk past them. You should try some.
Opening hours: 10am to 6pm
Entry: Free
9. Rustem Pasha mosque
Right next to the Spice Bazaar is the blue Rustem Pasha mosque. We almost didn't find it, so I recommend using Google Maps. You can find the location here.
Opening hours: From 9am-6.30pm daily
Entry: Free
Women: Bring a scarf to cover your head
10. The Golden Horn
Head down to the iconic Galata bridge, connecting Istanbul's modern centre to its historic counterpart.
As you cross the Golden Horn, you'll walk past fishermen and see boats sail by. On the opposite side of the bridge, you'll discover a different part of Istanbul.
11. Galata Tower
Galata Tower is next on your list. Originally built in 1348 as a watch tower, it stands 63 meters above the ground and there's an amazing panoramic view from the top! It's the best in all of Istanbul.
There's a museum inside and an elevator that you can take to the top so you don't have to climb the 9 floors.
Opening hours: From 08:30am-11pm daily
Entry: $9.5
12. Fener and Balat
Last order of business today is the absolutely stunning neighbourhoods of Fener and Balat. They're a UNESCO world heritage site.
The houses are painted in bright colours, and the antique shops and buildings just add to the charm.
You can spend an hour or two wandering around the area or opt for a guided tour to learn the history and avoid getting lost.
Make sure to stop by the rainbow stairs!
Do you have more than 1 day in Istanbul?
If you have more than one day in this ancient city, check out my 3-day Istanbul itinerary, which gives you enough time to do a Bosphorus cruise, food tours and much more in this historic city.
Three days is the perfect amount of time to spend in Istanbul, and you'll have time to experience the highlights, the culture and the amazing Turkish food.
If you'd like to experience more of Turkey (and you totally should), make sure to read my 7-day Turkey itinerary first.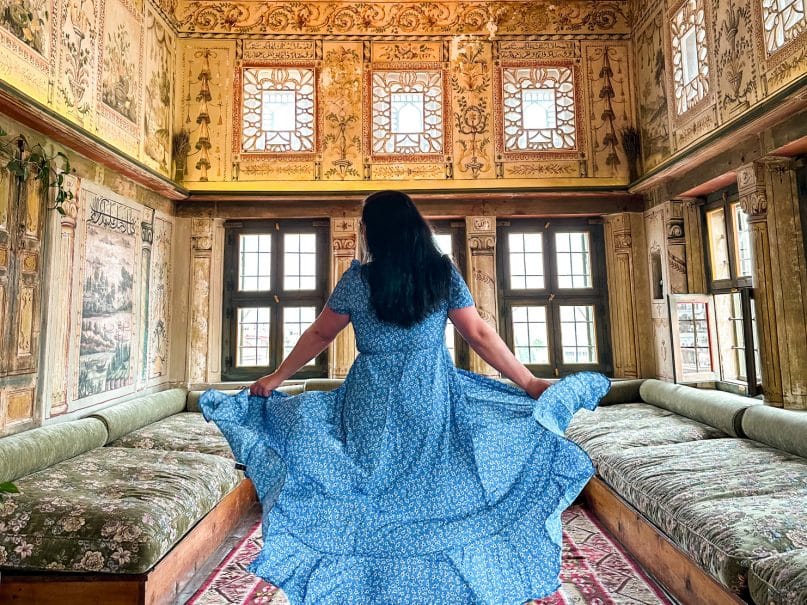 🙋‍♀️ FAQ
Can you do Istanbul in 1 day?
Yes, you can explore Istanbul in 1 day! You won't see all the highlights, but you can see some of the best ones.
What to do in 24 hours in Istanbul?
With a carefully planned itinerary, you can see much of Istanbul in 1 day.
Start your day at the impressive Blue Mosque, then explore Hagia Sofia and Topkapı palace. After that, head to the Grand Bazaar and Spice market for some shopping and bargaining. Next, take a boat ride down the Bosphorus strait to admire the city's skyline from the water.
Stop off at Galata Tower and then Taksim square (Istiklal street) where you can find restaurants serving traditional Turkish cuisine. End your day with a visit to Fener and Balat – the two most colourful neighbourhoods in Istanbul.
With some careful planning, it's possible to fit all of this into 24 hours in Istanbul!
How can I see Istanbul in a day?
With careful planning and time management, it is possible to experience the best of Istanbul in one day.
Start your day early and use taxis and public transportation options such as the tram and ferry to quickly reach the attractions.
I wouldn't necessarily recommend the hop-on-hop-off bus as the traffic is horrible, so it will take too long. If you're looking for a guided tour of Istanbul, check out this tour.
Can I leave the airport during a layover in Istanbul?
Yes, you are allowed to leave Istanbul airport during a layover in Istanbul as long as you will have a valid visa. You can check this site to see if you're required to have a visa to enter Turkey.
🛂 Most European countries are exempted from visa and can visit for 90 days. If you're from the United States, you do need a visa, which you can apply for here.
Don't miss these posts about Turkey
Save it!