Interlaken itinerary: 1-3 days in Interlaken Switzerland
Tempted to hurl yourself off a mountain? You've come to the right place. This 3 days in Interlaken itinerary includes the best heart-stopping and unforgettable adventures.
Tucked between two beautiful lakes, Lake Thun and Lake Brienz, and surrounded by the snow-capped Swiss Alps, Interlaken is truly blessed with spectacular views.
Almost a million travelers visit the small town every year – and rightfully so because the mountainous area around Interlaken is one of the most beautiful and adventure-packed in Europe.
I went to Interlaken for 3 days in May to do some hiking, look for waterfalls, ride the Jungfrau trains (which is an activity in itself) and tons of other fun adventures.
In this post, you'll find the best things to do in Interlaken in 3 days, including top nearby sights.
Let's dig in.
This post contains referral links for products I love. Adventurous Miriam earns a small commission at no extra cost to you if you make a purchase through my links. Thank you for your support ♡ Learn more
1, 2 or 3 day Interlaken itinerary
Interlaken has a population of 5,719 (as of 2020), so it's a small town. Most people come to Interlaken to seek thrills, whether it's river rafting, paragliding, hiking or looking for waterfalls.
You'll find most sports activities around Interlaken (not in the city itself), so it's mostly used as a base for eating and sleeping.
If you're not into throwing yourself out of a cliff, there are plenty of other fun things to do in Interlaken. My favourite activity in town was chocolate making.. and eating, and I'm sharing all the chocolaty details below.
This is a quick overview of how to spend 3 days in Interlaken:
1 day in Interlaken
Unterseen old town
Interlaken Monastery
Meet an Alpine Ibex
Sunset at Harder Kulm
Swiss chocolate workshop
2 days in Interlaken
Day 1
Unterseen old town
Interlaken Monastery
Meet an Alpine Ibex
Sunset at Harder Kulm
Swiss chocolate workshop
Day 2
Lake Thun
Paragliding or river rafting
3 days in Interlaken
Day 1
Unterseen old town
Interlaken monastery
Meet an Alpine Ibex
Sunset at Harder Kulm
Swiss chocolate workshop
Day 2
Lake Thun
Paragliding or river rafting
Day 3
Jungfraujoch
Lauterbrunnen
How many days in Interlaken are enough?
While Interlaken itself can be explored in a day, you'll find lots of activities in the surrounding area that require more time.
3 days is the perfect amount of time to spend in Interlaken.
This will give you enough time to visit the iconic Jungfraujoch, try adventure sports, cruise the serene Lake Thun and chase waterfalls in Lauterbrunnen.
🇨🇭 Read next: Jungfrau itinerary: 20 things to do in Jungfrau region
Map of Interlaken
Interlaken is located in the Bernese Oberland, 56 km from the city of Bern. It's small enough to get around on foot and it takes 5 minutes to walk from Interlaken Ost to Interlaken West.
The town has two stations, and Interlaken West is closest to the city centre. Most trains stop at both stations, except for trains to Luzern, Lauterbrunnen and Grindelwald, which stop only at Ost station.
How to get around in the Jungfrau region
Getting to and from Interlaken is relatively easy, thanks to the efficient Swiss train system that connects the towns and attractions.
Riding the train itself is an experience as you'll get stunning views of the mountains and valleys along the way.
🚞 Get the all-in-one Swiss Travel Pass!
With the Swiss Travel Pass you'll get unlimited rides on trains, buses, and boats throughout Switzerland!
Simply show the Swiss Travel Pass on your smartphone and you're ready to explore the country.
Where to stay in Interlaken
Mid-range: Hotel Interlaken (⭐ 8.6) Located just 5-minutes walk from Interlaken Ost train station and the city centre, this 4-star hotel has a great restaurant and a nice Japanese garden outside. Comfortable, clean rooms and good customer service! I loved staying here. Click here to see the latest prices.
Budget: Interlaken Youth Hostel (⭐ 8.4) a night for a single room with a shared bathroom, excellent location in the city centre. Great for solo travelers. Click here to see the latest prices.
💸 Switzerland travel insurance
I highly recommend having travel insurance because let's be real — the last thing you want on your trip is for accidents to get in the way.
I recommend Safety Wing — they offer affordable prices, great coverage, and a reliable 24/7 on-call service.
Interlaken itinerary
Day 1: Interlaken town
On your first day in Interlaken, you'll be exploring Interlaken town.
Visit the picturesque Unterseen old town
Unterseen is the charming and historic Old Town of Interlaken. Here, you'll find medieval architecture and old-world markets, surrounded by the mountains and flowing Aare river.
Make sure to walk around the old town where you'll see historic buildings, charming cafes, and unique shops.
Also check out Stadtkeller– a quaint performing arts theater and restaurant, and the Tourismuseum– a museum dedicated to showcasing Interlaken's tourism history.
Höheweg and Höhematte park
In 1860, a group of hotel owners and citizens acquired a 14-hectare area from the Augustinian convent in the heart of Interlaken.
This space, now called the Höhematte Park, is a great example of foresighted town planning. The park has the Höheweg avenue and Kursaal, surrounded by flowering hotels, including the 150-year-old Victoria Jungfrau Grand Hotel.
Interlaken monastery and castle
Interlaken's former Augustinian monastery features a 14th-century bell tower, Gothic cloister, and remnants of a chapel from 1452, with the church itself offering a variety of window designs.
In the past, the monastery was an essential hostel for the pilgrims who visited the St. Beatus caves above Lake Thun. When the state acquired the property during the Protestant Reformation of the 16th century, it lost its role as accommodation.
Admire the beautiful Japanischer Garten
Right next to the Interlaken Hotel, you'll find the Garden of Friendship also called Japanischer Garten Interlaken.
The garden was a gift from the Japanese twin town of Ōtsu and shows various examples of Japanese influence. Enjoy the lovely scent of flowers, the calming sounds of a waterfall, and the beauty of the pavilion and pond, which reflects the surrounding mountains.
Weissenau Castle
Weissenau Castle is a historical stronghold in Interlaken dating back to the 13th century. It stands tall on the Swiss Heritage Sites of National Importance.
Though it's currently in ruins, you can still see part of the castle like bedrooms, towers, and curtain walls. The castle ruin is open 24-hours daily and free to enter. Get there in a short 8-minute drive along the Aare river.
Meet an Alpine Ibex
Before coming to Switzerland I'd never seen an ibex. I've seen pictures of them, but never met a real one.
Ibexes are a rare breed in the Alps, and for that reason the Interlaken Alpine Game Park was built to save them. I was fortunate to be invited inside and meet the ibex flock, including the youngest who was just 1 week old.
I was really surprised to see how curious and funny they were. One of them, his name was Sigurd, was a 5 year-old male who kept posing like a model and showing off his curved horns when I took pictures. So cute.
Hike or take the funicular to Harder Kulm
Now, it's time to see Interlaken from above! From the Harder Kulm viewing platform at 1,322 m, you have an amazing view over Lake Brienz and Lake Thun, the Eiger, Mönch, and Jungfrau.
You can get there on a quick funicular ride from the Harder Railway valley station (just a short walk from Interlaken-Ost railway station). It takes 10 minutes and there's a restaurant at the top.
Join a Swiss chocolate workshop (such fun!)
Price: 65 CHF (US $66)
One of the best things to do in Interlaken is joining a Swiss chocolate workshop at the Funky Chocolate club. Guys, it's SO much fun!
The course lasts one hour and you'll be introduced to the art of Swiss chocolate making while eating so much that you can hardly drag yourself home afterwards.
After a brief introduction to how it's made, you'll each got a bowl and some melted chocolate. I just stirred and stirred until it had just the right temperature, all while listening to yodeling music and laughing at with the chocolate assistant Vladimir.
Such fun!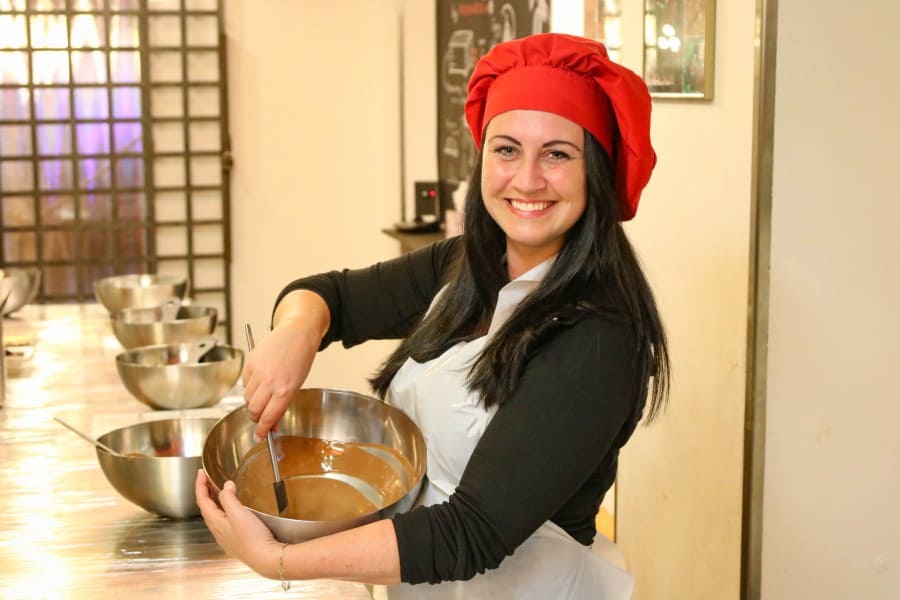 Interlaken itinerary day 2 – Adventures
There are quite a few action-packed hubs around the world. You might already know Queenstown in New Zealand (adventure capital of the world) or Innsbruck in Austria (super popular for winter sports).
Interlaken is the world's second largest adventure hub and it's a mecca for those who seek extreme sports and outdoor adventures.
So, if you're tempted to hurl yourself off a mountain, you've come to the right place! On your second day in Interlaken, you'll be visiting Lake Thun and then it's off to have some fun!
Take a boat trip on the beautiful Lake Thun
Lake Thun is a picturesque lake filled with stunning Alpine landscapes.
With its crystal clear waters and lush green forests, it's the perfect place for outdoor activities like swimming, fishing, sailing and hiking.
The best things to do at Lake Thun is visiting Spiez castle and Oberhofen Castle – these two medieval castles are so beautiful. It's like a postcard.
⭐ You can use your Swiss Pass to get here. It's super easy.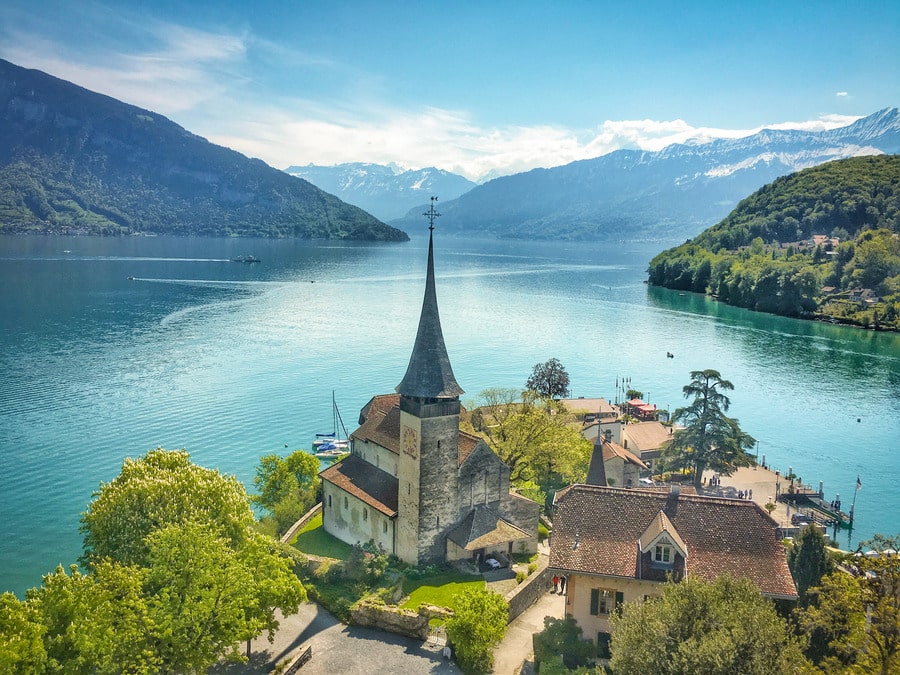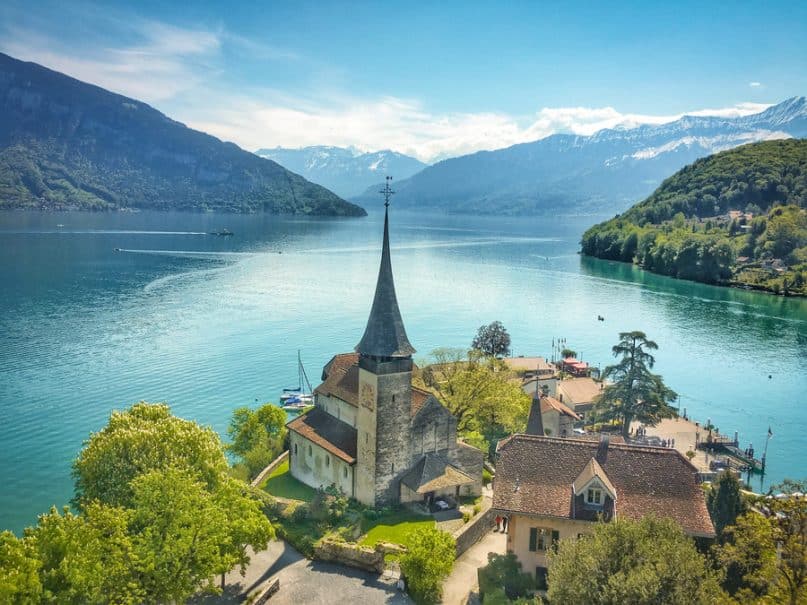 Go paragliding and see Interlaken from above
Interlaken is one of the most popular destinations for paragliding because it offers breathtaking views of the Swiss Alps and Lake Thun.
Once you return from Lake Thun, get ready for an adrenaline rush because you'll be soaring up to 16,000 feet above sea level with a professional instructors while seeing Interlaken from the skies. The trip takes 1 hour and 30 minutes.
White water rafting
River rafting in Interlaken is another adrenaline-filled adventure, perfect for anyone looking for a fun activity! An experienced guide will be there every step of the way to make sure your journey is safe and unforgettable.
🌊 The trip takes 4 hours, so you might not have time for both Lake Thun, paragliding and river rafting.
Interlaken itinerary day 3 – Day trip to the mountains
On your last day in Interlaken, you'll visit Jungfraujoch and Lauterbrunnen – two of the most unique places in Switzerland. Make sure to leave early in the morning to be able to experience both places and avoid the crowds.
Visit Jungfraujoch – the highest train station in Europe
Jungfraujoch is the highest train station in Europe and that's where you'll be going first!
The best part of reaching the summit is the Ice Palace at the top and the panoramic views of the Swiss Alps – considered to be one of the most beautiful regions in the world. On a clear day, you can even see as far as France, Italy, and Germany.
The train ride to the top is an adventure in itself, because you'll see the magnificent mountains and valleys on your way.
🚞 Jungfraujoch is an exclusive sight so you can't use your Swiss rail pass to get there. You'll need a separate ticket.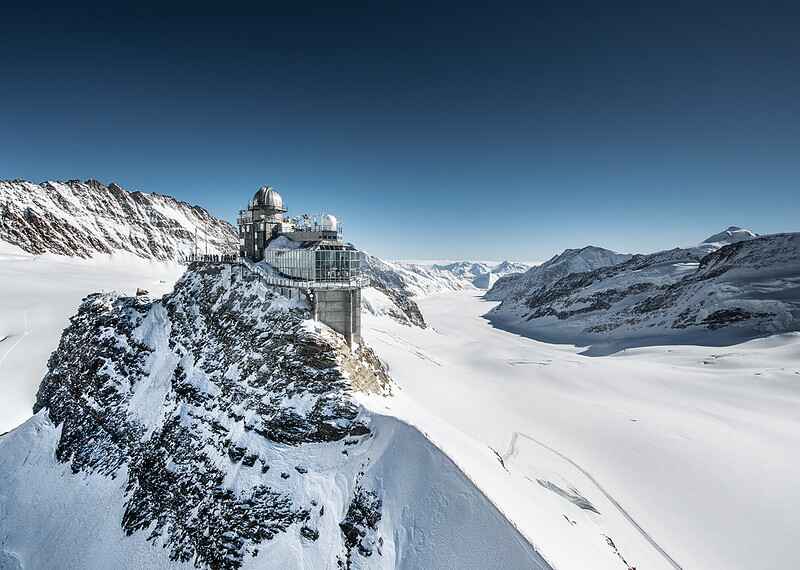 Chase waterfalls in Lauterbrunnen valley
On your way from Jungfraujoch to Interlaken you can choose to go via the charming town of Grindelwald or Lauterbrunnen.
Make sure you're heading to Lauterbrunnen – the valley of 72 waterfalls. You'll spend the rest of the day chasing waterfalls and relaxing in the world's most beautiful little village with views of the Jungfrau mountains. You can find the best waterfalls in Lauterbrunnen here, including the Trummelbach falls.
Read next: A spectacular one day in Lauterbrunnen itinerary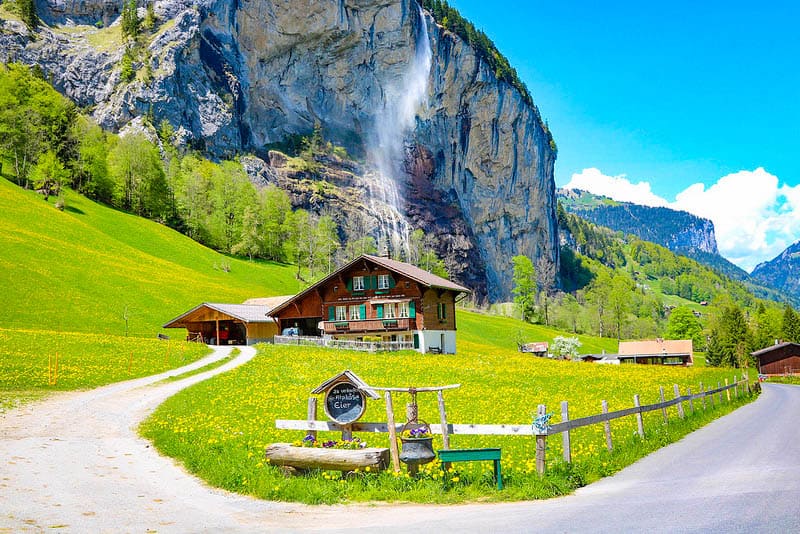 Many thanks to My Interlaken for hosting me in Switzerland. Whenever I travel, there will always be full disclosure about whether my stay was hosted by a tourism board. And even if I'm on a press trip, my view will never be swayed one way or the other.
Interlaken itinerary FAQ
Is Interlaken worth visiting?
Yes, Interlaken is definitely worth visiting if you're looking for adventure sports, stunning natural beauty, and a charming Swiss town.
Interlaken is located in the heart of the Swiss Alps, surrounded by snowcapped mountains, waterfalls, and crystal-clear lakes.
Here, you can do lots of outdoor activities such as hiking, skiing (only in winter), paragliding, and white-water rafting. The town itself is also very picturesque, with colourful chalets, traditional Swiss architecture, and a lovely pedestrian street lined with shops and restaurants.
Is 2 days in Interlaken enough?
Two days in Interlaken is doable, but 3 days is perfect.
In two days, you can take a scenic train or cable car ride to the top of a mountain, hike or bike through the stunning countryside, or enjoy water sports on the picturesque lakes. You can also explore the town of Interlaken itself, visit local museums and galleries or simply stroll around the picturesque streets.
What is Interlaken Switzerland known for?
Interlaken is known for its spectacular location in the heart of the Swiss Alps, surrounded by snowcapped mountains, glaciers, waterfalls, and crystal-clear lakes.
This town offers visitors a range of outdoor activities, including hiking, skiing and snowboarding (only in the winter months), paragliding, and white-water rafting.
One of the most famous train journeys is the Jungfrau Railway, which takes passengers up to the "Top of Europe" at Jungfraujoch, a UNESCO World Heritage site with the highest railway station in Europe.
Is it worth staying in Interlaken?
Yes, staying in Interlaken is definitely worth it!
There are many reasons to stay in Interlaken, from the range of outdoor activities on offer to the stunning scenery, the historic architecture, and the delicious local cuisine. Moreover, the town is very well connected by train and bus, making it an ideal base for exploring the surrounding area.
While Interlaken can be relatively expensive, there are plenty of budget-friendly accommodation options available, and the town itself has a laid-back and welcoming atmosphere that is perfect for a relaxing holiday.
Read more posts from Switzerland
Save it!