8 best hotels in Interlaken for all budgets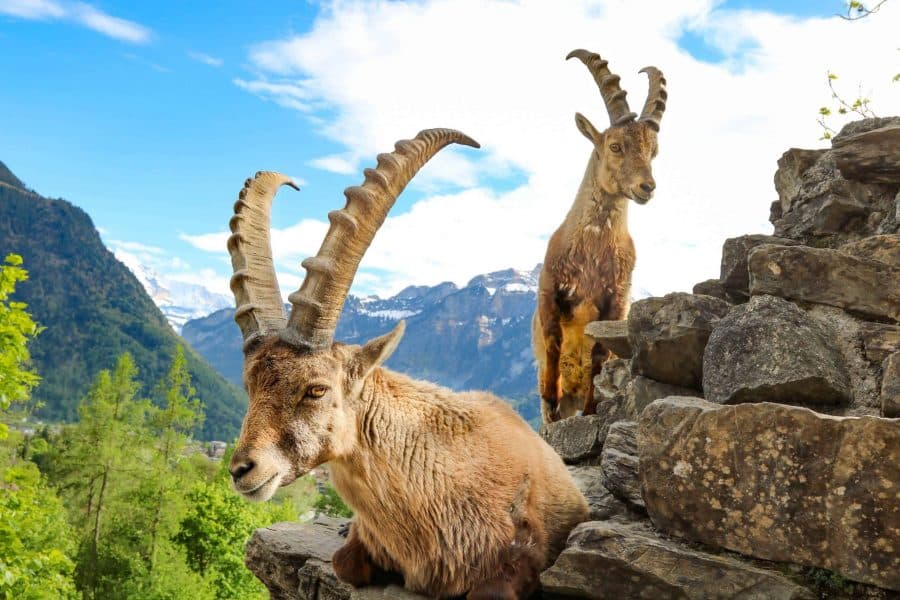 If you take a few seconds to imagine a Swiss alpine town, you'll probably think of Interlaken. This vibrant tourist destination in the Swiss Alps is quintessential Switzerland. It's got mountains, rivers, and lots of outdoor adventures!
Because of its popularity, Interlaken has every kind of hotel and accommodation you could ask for, from budget to luxury hotels.
In this post, I've round up the best hotels in Interlaken, including everything you need to know as you choose where to stay in Interlaken, Switzerland.
Let's take a look.
This post contains referral links for products I love. Adventurous Miriam earns a small commission at no extra cost to you if you make a purchase through my links. Thank you for your support ♡ Learn more
Quick overview of the best hotels in Interlaken
Most of the hotels listed here are in walking distance of the train station in Interlaken Ost or Interlaken West. From these stations, you can reach the best attractions, including Jungfraujoch, Lauterbrunnen and many more.
Let's take a look at the best places to stay:
Best budget hotels in Interlaken
Switzerland isn't cheap, but you can still find accommodation on a budget. I've handpicked the hotels below, because they're cheap, centrally located and close to the train station.
1.
Happy Inn Lodge

(⭐ 7.8)

The Happy Inn Lodge is the perfect place for young travellers on a budget. Especially those who are looking for little more than a comfortable bed and a lounge area to unwind in after a day of exploring Interlaken.

Popular amongst young backpackers and budget travellers, the lodge features big rooms filled with multiple bunkbeds, perfect for travelling mates.

But it offers family rooms as well, and even allows pets! This means prices range from $26 for a bed in a six-bed room, to $87 for a twin room with a private shower, great for couples.
2.
Interlaken Marco Hostel

(⭐ 7.2)

A hop, skip, and jump from Interlaken Ost train station, the Interlaken Marco Hostel is the ideal rest-stop for budget travellers. T

he building itself is a charming big cottage, and many of its rooms guarantee lovely views of Interlaken in winter through spring and beyond. There's a real charming wood aesthetic in the rooms. From the floor to the beds, encouraging a relaxed and rural atmosphere.

Interlaken Marco Hostel is proof that you can do budget travel and not have to slum it whatsoever. You can still have a relaxed and blissful time with friends, with a partner, or by yourself, without any of you breaking the bank.
3.
Downtown Hostel Interlaken
The best thing about the cheerful and affordable Downtown hostel Interlaken is its roof terrace. It not only includes long Viking benches for food-and-drink merriment, but also a huge leather corner-sofa that can seat twenty.
An idyllic space to while away the evening as you take in the scenery, getting a 360 view of Interlaken.
The rooms themselves offer generously sized single beds for backpackers who are by themselves or in a group. Several rooms offer kitchenette areas for cooking, and there are lockers for great security, so you never have to worry about feeling vulnerable. This hostel does everything right.
Best Mid-Range Hotels in Interlaken
If you're looking for a great hotel at a budget-friendly price, these are all great options. From homely and warm hospitality to unique Swiss artwork and delicious food, here are the best mid-range hotels in Interlaken.
4.
Hotel Toscana

(⭐ 7.6)

If you're looking for a luxury hotel at a mid-range price (and who isn't), Hotel Toscana is absolutely it.

This hotel, which offers twins rooms, double rooms, and triple rooms, features balconies which look across Interlaken, as well as a gorgeous dining room in which to enjoy breakfast (which is included). The rooms have a rustic cabin aesthetic but with all of the most convenient and top quality amenities you could need.

The rooms are particularly well-decorated with vibrant artwork that's tastefully applied. And there's a real emphasis on comfort at such an excellent price.
5.
Post Hardermannli

(⭐ 8.3)

The first thing you'll notice upon arriving at this Interlaken hotel is how stunning the architecture is.

Designed in a very traditional Swiss style, the Post Hardermannli offers stunning views of the area's natural beauty. It's an idea hotel for families and couples which also allows pets.

Its restaurant, which provides a generously-stocked breakfast buffet, has natural light streaming through.

And the lounge area is nothing less than a luxury lodge experience, complete with comfortable sofas and a roaring fire, allowing you to truly make yourself at home during your stay.
Best Luxury Hotels in Interlaken
At the high end of the scale, you'll find these luxury hotels offering the best of Swiss hospitality. Here are a few of my top recommendations for a relaxing holiday.
6.
Lindner Grand Hotel Beau Rivage

(⭐ 7.3)

Perfectly situated by the Interlaken Ost train station, this luxury Interlaken hotel provides some of the best views for miles and miles.

The Lindner Grand Hotel Beau Rivage's luxury is in its indoor pool and its outdoor dining area which sits at the river's edge. The lobby area is all shimmering marble, and the area which the hotel is nestled in is the most architecturally stunning in Interlaken.

The angel is in the details here, as well, with the smallest aesthetics in the hotel being as intricately decorated as its columns and its staircases.
7.
247 Concierge – Interlaken Apartments

(⭐ 9.3)

This Interlaken accommodation is a collection of luxury apartments, from which you can take your pick of the sizes – from one-bedroom to three-bedroom, making this the perfect place to stay for big families.

The 247 Concierge themselves are beautifully decorated with glass dining tables, huge and luxurious sofas, and incredible modern kitchen designs.

The space offered by these apartments is honestly massive and allows families to completely settle into the Interlaken area.
8.
Victoria Jungfrau Grand Hotel & Spa

(⭐ 8.9)

Looking its most grand during an Interlaken winter, the Victoria Jungfrau is truly the peak of luxury hotels in the area.

From a truly grand dining room to a well-stocked and stunningly-decorated bar, this Interlaken hotel is what relaxation truly means.

The indoor pool, which features columns rising from its water, and the incredible international cuisine on offer, reinforces this even further.

Different spa options, with focuses on couples' relaxation to health spas, are on offer, as well as rooms with a hot tub at the foot of the bed. Enough cannot be said about the luxury on offer at this incredible hotel.
Read more posts from Switzerland
Save it!