A complete guide to Red Valley Cappadocia (2023)
Did you know that there's a red valley in Cappadocia? It's one of the best valleys in the region and it's a must-visit!
You can escape from Göreme town into a rock oasis with all sorts of fairy chimneys and hidden sandstone caves in red colour.
Whether you want to watch the sunset, explore the valley and ancient cave churches or go for a hike, the Red Valley Cappadocia is the perfect place.
I've loved magical and unique places since I can remember. So I always search for places that are special and little visited. When I heard about Red Valley, I just had to check this place out for myself.
Here is a complete guide to Red Valley Cappadocia and how to visit this magical and other-worldly destination!
Read next: 10 best Cappadocia valleys you should visit
This post contains referral links for products I love. Adventurous Miriam earns a small commission at no extra cost to you if you make a purchase through my links. Thank you for your support ♡ Learn more
What is Red Valley Cappadocia?
Red Valley (Kizilcukur) is a valley in Turkey, named after its sandstone that becomes vibrant red during sunset. It's the most beautiful valley in Cappadocia and my personal favourite.
In Red Valley, you can find cave houses, Cappadocia's most beautiful sunset spot and several hiking trails.
A visit to Red Valley is simply a must on your Cappadocia itinerary!
Why is it called Red Valley?
Red Valley gets its name from the valley's distinctive red colour.
The red colour comes from iron oxide in the rock formations that are highlighted by the sun all through the day.
It's particularly red during sunset.
Read next: The perfect 2 day Cappadocia itinerary you'll want to steal
Red Valley map
Red Valley is located in Cappadocia, near Nevsehir. You'll find it between Göreme, Cavusin, and Urgup, right next to Rose Valley.
Since Red and Rose valley are connected, they're often mistaken for one another. But they're not the same. They look different and while Red Valley has red tones, Rose Valley is more pinkish.
Best time to visit Red Valley
You can visit Cappadocia year-round. However, the best time to visit is in spring and autumn when temperatures are milder and the weather is pleasant.
If you plan to visit in peak season (June to August), know that it's hot!
🍁 We visited in October, and it was perfect! Skies were clear, temperatures were around 20-23 (though chilly in the morning), and the autumn colours just made the landscape even more beautiful. I highly recommend visiting in October!
How to get from Göreme to Red Valley
Red valley is a 20 to 30-minute walk from Göreme and you can reach it in a few different ways. I'll describe your options below and share what we did.
Drive to Red Valley sunset point (above the valley). It takes 15 minutes from Göreme and it's an easy trip with taxi.
Drive into the Red Valley floor
Hike from Göreme to Red valley
We took the first and second option. On day one, we took a taxi to the sunset point in Red Valley and saw the entire valley from above. It was super beautiful and I highly recommend it! The day after, we drove into Red Valley and explored it on foot.
🔥 You should definitely see the Red Valley both from above (sunset point) and below!
History of the Red Valley
Red Valley is more than a thousand years old. It was created during the Byzantine period in 900-1100 AD.
The Byzantine Greeks developed the valley's agriculture and cave churches. They carved several kilometres of water channels, dug large cisterns, and terraced the valley floors.
Red Valley is part of the UNESCO World Heritage Site of Goreme National Park and home to the iconic fairy chimneys, historic cave dwellings, and expansive views of the vibrant red rock that gives the valley its name.
🔥 Read next: The ultimate Cappadocia travel guide
The 3 Red Valley hiking routes
Red valley is one of the best places to go hiking in Cappadocia.
You can hike just the Red Valley, add the Rose Valley (I recommend this) or/and add the Meskendir valley if you want a longer route.
I'll go through the thee different Red Valley hikes below so you can better decide:
1. The Red Valley trail
Duration: 3 hours
Difficulty: Easy
Distance: 5.8 km
Start your hike at the Red Valley trailhead, just past Kadost ATV Safari. From there, turn left onto the road leading up to the Exclusive Cappadocia ATV Tour.
You'll now see two trails.
The lower trail leads to Red Valley and the upper trail heads towards Rose Valley. Take the lower trail.
The path is mostly flat, with unique rock formations, caves, and tunnels along the way. After about 45 minutes of hiking, you'll reach the trailhead up the right side of the valley onto the ridge, which leads to the sunset viewpoint with spectacular views. This is the only way to get up.
At the top, you can relax in one of the swinging chairs or the benches. There's also a bar where you can buy water and refreshments.
Now, you can either head back the same way or continue on to hike Rose Valley.
2. Red valley to Rose valley hike
Duration: 4.5-5 hours
Difficulty: Easy
Distance: 7.8 km
If you want to see more along the way, adding Rose Valley to your itinerary is a great idea. It's one of the best hikes in Cappadocia!
You can head to Rose Valley after you've reached the sunset viewpoint, or you can start with Rose Valley and end in Red Valley. It doesn't really matter which route you choose since you'll end up the same place either way.
Now, to get to Rose Valley from the start of the trail, you'll need to go straight instead of right at the Kadost ATV Safari.
Rose Valley has two trails. The upper trail leads to the ridge and The Crusader Church, which is surrounded by cave dwellings. I suggest you take this path.
The lower trail leads to The Columned Church and Rose Valley viewpoint. The path then winds around the ridge towards the sunset viewpoint, where Red Valley and Rose Valley connect.
3. Rose Valley, Red Valley and Meskendir Valley
Duration: 5-6 hours
Difficulty: Easy
Distance: 10.4 km
If you'd like to extend your hike, add Meskendir Valley to your Red valley hike. The trailhead for Meskendir Valley is located at Kaya Camping Ground, across from Aynali Church.
This route adds only 2.7km to your hike, and it is mostly flat.
Along the way, you'll see beautiful rock tunnels and formations before getting to Red Valley. If you plan to hike all three trails, this route is a great option.
Take a tour of Cappadocia Red Valley
Another way to experience Red Valley Cappadocia is on a tour:
You can either take an ATV tour that goes through Red Valley Cappadocia or you can choose a private customisable day tour. A private tour is affordable and you can follow your own itinerary. This is an ideal option if you want to visit several sights in one day.
If you prefer a guided tour of several highlights in Cappadocia, you should be opting for the Blue Tour, which covers Red Valley, Kaymakli Underground City and more.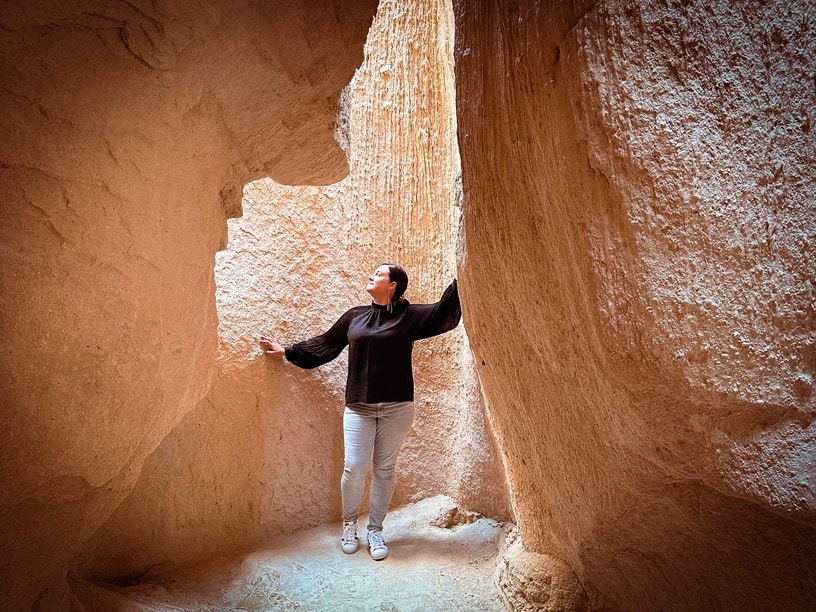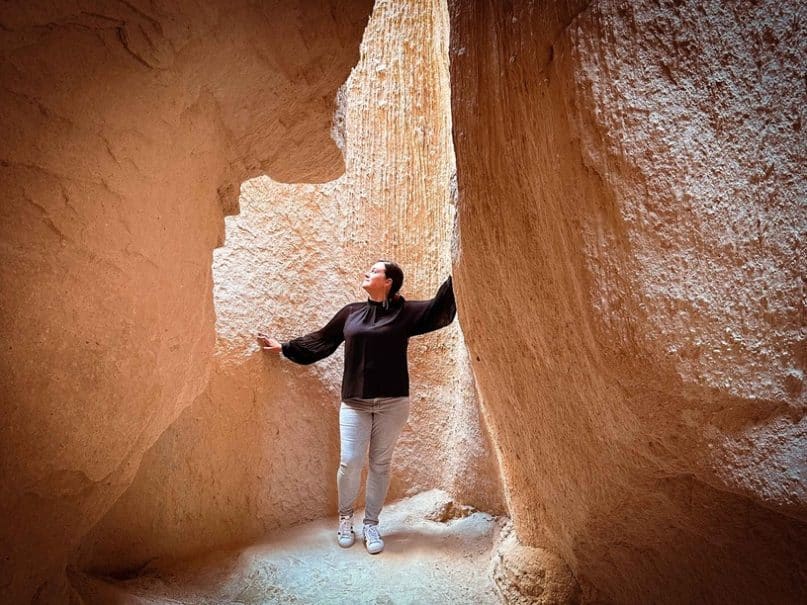 Private tour
Affordable
Fuel and parking included
English-speaking driver
Another fun way to explore Cappadocia's valleys is on a quad bike. Take a two-hour tour during sunset through the Love valley, Swords valley, Çavuşin Old Villages, Rose valley and Red Valley. You can stop and take photos of the scenery along the way.
ATV tour
Driving equipments (helmet etc.)
Driving guide
Select a pick up place
⛰️ More things to do in Red Valley
Red Valley is a true gem of Cappadocia and it has lots of activities and attractions for travelers of all ages and interests. Aside from hiking, here are some of the things to do in Red Valley.
Explore the cave houses and churches
One of the best things to do in Red Valley is to find the empty cave houses and rock-cut churches.
Actually, the two churches are located in Rose valley, but it's nearby so I've included them here. I mentioned the Crusader Church and The Columned Church above because they're both unique and really interesting to visit because of the original frescoes and Indiana Jones vibe.
In the city of Göreme, you'll find many cave houses, maybe you even stay in one of the cave hotels. They're literally houses or hotels carved into the rocks.
In Red Valley, the cave houses are deserted so you're free to walk around as you want. There are some really cool photo ops inside some of them (like the first photo in the post)
Climb up the rock formations
Like the Love Valley, you can also explore the rock formations from the outside or above. Watch your step if you climb some of the rocks. They're slippery and uneven.
The best place to see the valley from above is the sunset viewpoint. It has excellent views and is also the safest.
Catch a hot air balloon ride
The most unique way to experience Red valley is from a hot air balloon.
It's one of the most popular activities in Cappadocia, and for good reason.
The early morning views from the hot air balloon are simply stunning, as you float above the valley and take in the sunrise and many changing colours of the scenery from above.
This is one of the most popular hot air balloon tours (⭐ 5.0) with more than 3205 positive reviews. It's a reliable company and includes hotel pickup, a light breakfast and champagne.
The Red Valley sunset viewpoint
I loved exploring Red valley and the abandoned cave houses, but when the sun sets, the sunset viewpoint where you should be.
It's located at the top of Red Valley, and you can get there by walking or taking a taxi.
You'll have the best views of the entire Red valley and Rose valley as the sun sets and casts a warm, golden glow over the rocks. So beautiful! There's also a small cafe where you can get soft drinks and water.
Read next: How to visit the best sunset viewpoint in Cappadocia
What to bring to Red Valley
If you're visiting Red Valley and plan to do some hiking, it's important to bring a few essential items to ensure a comfortable and safe experience. Here are the things you should pack:
Where to stay in Göreme Cappadocia
Göreme is the most popular town to stay in Cappadocia, especially if you're staying in one of the cave hotels. Trust me, it's a unique experience!
We went to several cave hotels, but this hotel is my favourite:
Lunar Cappadocia Hotel (⭐ 9.4) This highly rated cave hotel has an amazing breakfast, great customer service and spacious rooms. Perched on top of a hill, you'll get beautiful views of the hot air balloons in the morning. Check latest prices here.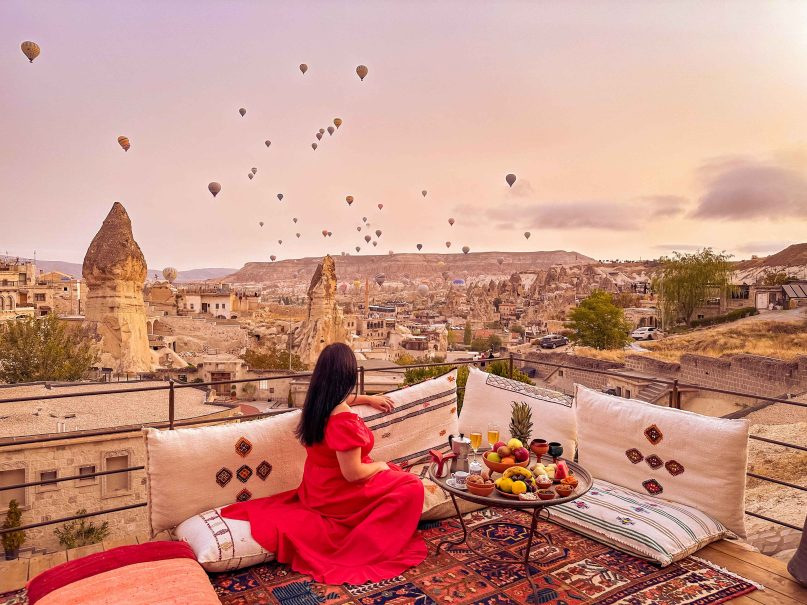 Safety in Red Valley
When hiking in Love Valley, you'll need to wear sturdy footwear and comfortable clothing. The terrain can be rocky, slippery and uneven, so sturdy shoes with good grip or a good pair of sneakers are a must.
You should also bring plenty of water and snacks to keep you hydrated and energised throughout the hike.
You should always be aware of your surroundings and stay on the trails. Some areas may be off-limits or dangerous, so be sure to follow the path.
Read next: Is Cappadocia safe to visit? Latest safety advice
Looking for more things to do in Cappadocia?
Cappadocia is a vast region filled with incredible rock formations, streets, and places to explore!
After you're finished at Red Valley, there are plenty more attractions in Cappadocia to enjoy.
Love Valley is one of the most popular valleys and from here you can see the iconic phallic-shaped fairy chimneys.
It's home to the several hiking trails through what looks like something from another planet.
Other great places you should check out in Cappadocia are: Zelve open-air museum or Goreme open air museum, Devrent valley, Pigeon valley and Ihlara valley. They're all worth seeing.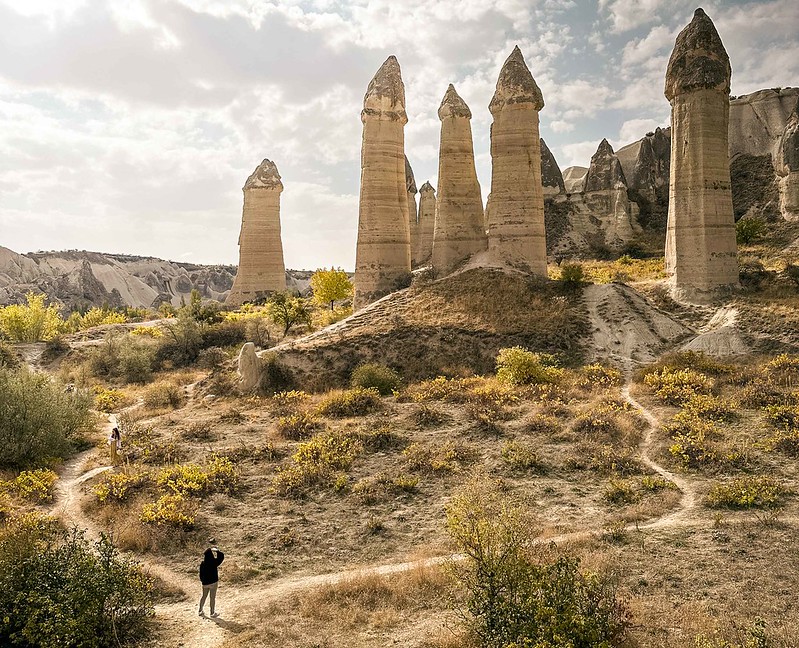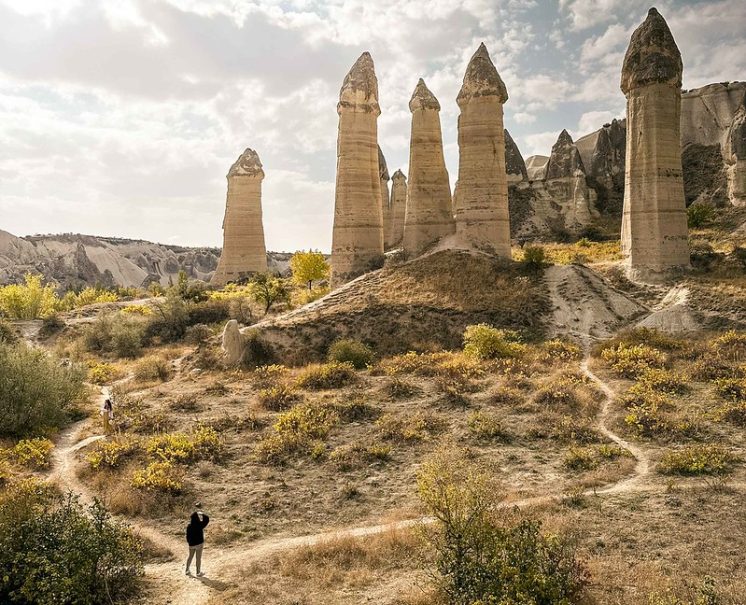 Red Valley Cappadocia FAQ
What is the most famous valley in Cappadocia?
Love valley (phallic shaped rocks) and Red valley (red colours) are the most famous valleys in Cappadocia.
Other popular Cappadocia valleys include Red Valley, Rose Valley, Pasabag (Monks) Valley, Zelve Valley, Devrent Imagination Valley, Pigeon Valley and Swords Valley.
What is the Red Valley?
Red Valley is located in the Cappadocia region of Turkey and it's known for its unique red rock formations.
You can take a scenic hike along the valley trail, explore the area on horseback, or try an adrenaline-pumping ATV ride during your visit.
How long does it take to hike Rose valley Cappadocia?
It takes about 2-3 hours to hike through Rose and Red valley Cappadocia.
Is Red valley the same as Rose valley?
No, they are two separate valleys in Cappadocia. Red Valley or Kizilcukur is known for its red rock formations with stunning views of Cappadocia's lunar-like landscape.
Rose Valley or Güllüdere is named after the pink-coloured roses that grow in the region, and its rock formations have a lighter and more pastel-like hue compared to the striking reds of Red Valley.
How much is the entrance to Rose valley Cappadocia?
It's free to enter Rose valley Cappadocia.
How to go to Rose valley from Göreme?
You can get from Göreme to Rose valley in several ways:
– Drive 15 minutes from Göreme town to the sunset viewpoint
– Drive to the Rose Valley Trailhead and start your hike from there
– If you want to take a longer route, drive to the Meskendir Trailhead and follow the trail to the Rose Valley.
More posts from Cappadocia you might like
Save it!