10 best Cappadocia valleys you should visit
Looking for the best Cappadocia valleys? I've handpicked the best ones with incredible lunar landscape for you in this post.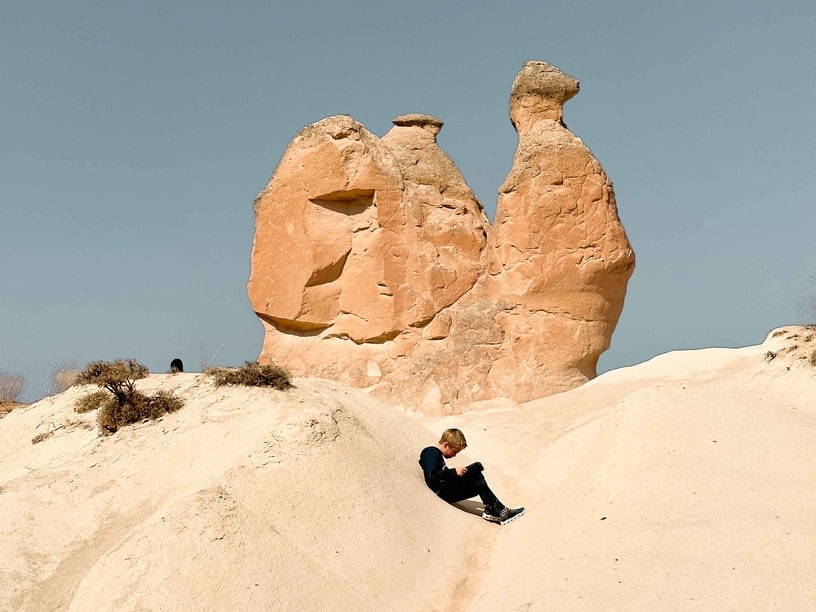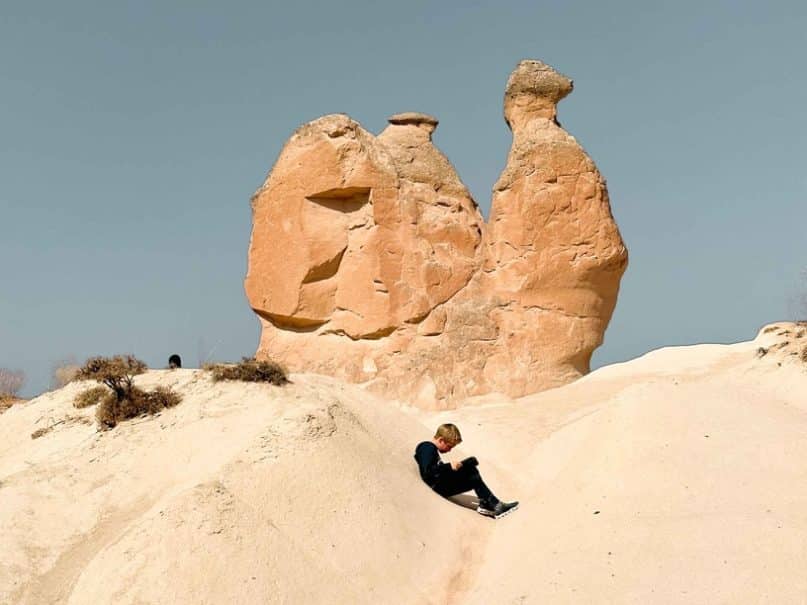 The valleys in Cappadocia are the main attraction.
Each valley in Cappadocia has a distinct charm – some are dotted with fairy chimneys and caves, while others are adorned with ancient, rock-carved churches or vibrant orchards.
But with more than 100 valleys to choose from, it can be overwhelming to know which ones to visit.
Like, how are they different, how to get around and what are the must-sees? Those were the questions I had myself before our trip.
So, I've made it easy for you and listed the 10 best Cappadocia valleys with photos, info and a map. That way you can better plan your trip and experience the best of the region.
Are you ready for some other-worldly landscape?
Let's get started!
This post contains referral links for products I love. Adventurous Miriam earns a small commission at no extra cost to you if you make a purchase through my links. Thank you for your support ♡ Learn more
The 10 must-see Cappadocia valleys
The valleys of Cappadocia look surreal and one of the most fascinating aspects is that they're so different.
Below, I've made a quick overview of the 10 valleys and their main features. I'll go through the separate valleys in more detail afterwards.
Here are the best valleys to include in your Cappadocia itinerary:
Valley
Highlight
Red Valley

– Red sandstone cliffs
– Hiking
– Best sunset viewpoint
Rose Valley

– Red and pink rock formations
– Hiking
– Crusader church + Columned church
Love Valley

– Phallic-shaped rock formations
– Hiking
– Great sunrise viewpoint
Pigeon Valley

– Unique pigeon houses
– Hiking
Zelve Valley

– Zelve open-air museum with ancient cave dwellings and Byzantine-era cave churches
– Hiking
Pasabag (Monks) Valley

– Mushroom-shaped fairy chimneys
– Hiking
Devrent Imagination Valley

– Surreal landscape with rock formations that look like animals and objects
Swords Valley

– One of the smallest valleys in Cappadocia
– 300 m long tunnel
– Rock formations look like swords
Ihlara Valley

– Deep river canyon
– Rock-hewn churches
– Hiking

Zemi Valley

– 6 km hike
– Fairy chimneys
– Ancient carvings
Cappadocia at a glance
Cappadocia is a region in central Turkey with a really unique landscape that's been recognised as a UNESCO World Heritage Site.
The area is famous for its odd-looking fairy chimneys and rock formations that were created millions of years ago by volcanic activity.
Because of the softness of the volcanic rock, people have been able to carve homes, churches, and even entire underground cities into the landscape.
It's pretty amazing to see these ancient dwellings and learn about how people lived in this region for centuries.
How to get to Cappadocia
Most people think that Cappadocia is a city, but it's not. It's a region. You can get there by flying, with bus or rental car.
If you're looking to fly here, there are two airports:
Kayseri (60 minutes from Goreme)
Nevsehir Kapadokya (40 minutes away)
Kayseri is the larger of the two, with more flight options and cheaper fares – but either way you need to book your airport transfer in advance. You can get great deals online for both shared and private transfers which start at $12.50.
Most people stay in Göreme, which is a small town in the heart of Cappadocia. It's the perfect base for exploring the many valleys this region has to offer.
Map of the best Cappadocia valleys
On this map, you'll find the location of the 10 Cappadocia valleys. They're listed with numbers like in this post, and you simply click the numbers to locate the valleys.
10 best Cappadocia valleys you should visit
1. Red Valley
Red Valley (also known as Kizilcukur) gets its name from the warm, red hues of its rock formations. It's one of the most beautiful valleys in Cappadocia, and also my favourite.
You can visit Red Valley from above where there's an amazing sunset point (the best in Cappadocia). You can also go to the valley bed and visit the cave houses and see the fairy chimneys up close.
Aside from the sunset viewpoint, the best thing to so in Red Valley is hiking. It should take you around 1.5 hours to hike through the valley unless you combine it with Rose Valley or/and Meskendir Valley.
🔥 Why visit Red Valley:
Red sandstone cliffs
Panoramic views
Hiking
Best sunset spot
2. Rose Valley
Rose Valley is located right next to Red Valley. Most people think they're the same, but they're not.
Rose Valley is more pink than red, and it also has more to offer in terms of cave houses and ancient cave churches with frescoes. The Column church and the Crusader church are definitely worth visiting!
The rose valley hike is incredible.
You can hike through Rose Valley in about 1.5 hour, but I recommend that you combine the hike with Red Valley to experience a different scenery.
🔥 Why visit Rose Valley:
Red and pink rock formations
Hiking
Crusader church and Columned church
3. Pigeon Valley
Pigeon Valley is a funny place.
You might guess from the name why it's called Pigeon valley – that's right, there are lots of pigeons.
What you'll also find here are several pigeon houses carved into its rock formations. There's a nice view of the valley from above and below.
At the top, there's an Evil Eye Tree that's worth a visit. You can feed the pigeons here and watch the valley from here.
🔥 Why visit Pigeon Valley:
Unique pigeon houses
Hiking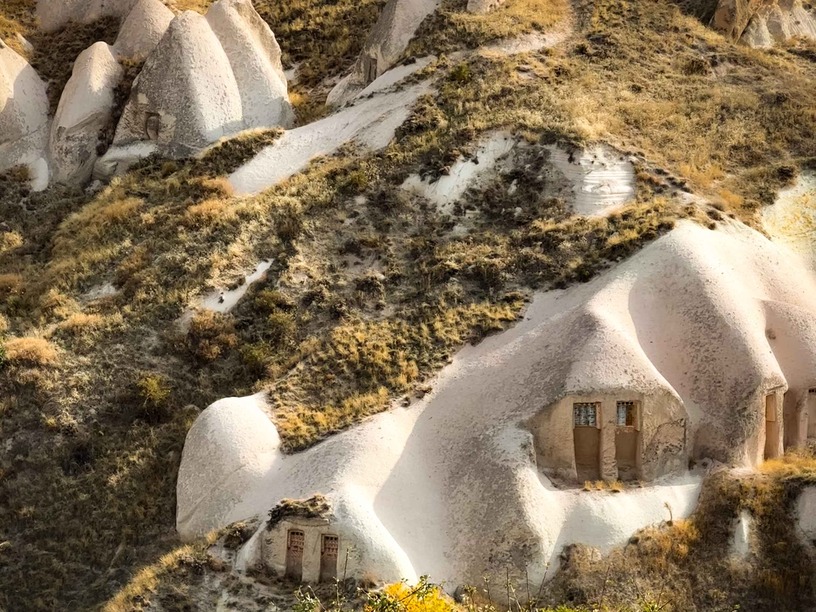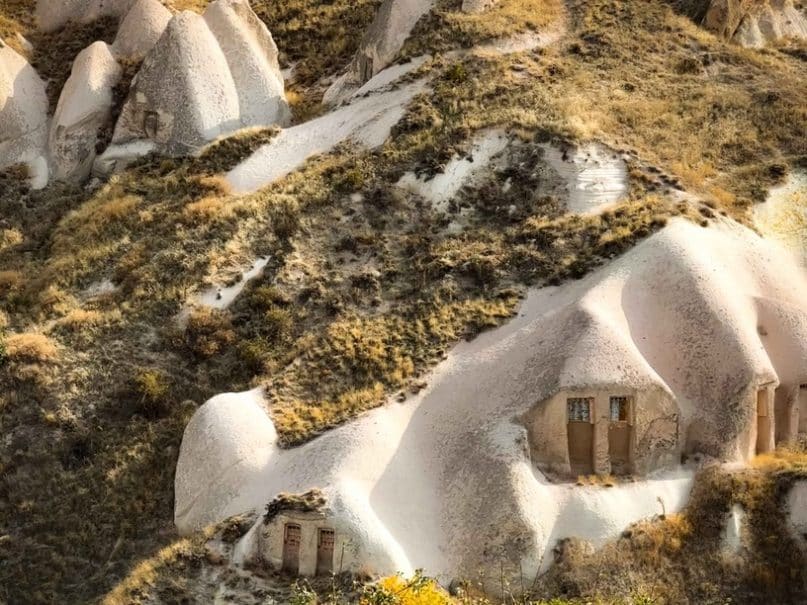 4. Love Valley
Love Valley is the most iconic of Cappadocia valleys. It's known for its phallic shaped fairy chimneys that are up to 40 metres high.
You can visit the valley from above where you'll get a beautiful view or from below where you can see the fairy chimneys up close.
I liked it best from below because you get a better look of the unique rocks. Plus, there are less below at the valley floor. At the top is a cafe with heart-shaped swings for Instagram, but you'll find some more natural settings below.
🔥 Why visit Love Valley:
Phallic-shaped rock formations
Hiking
Great sunrise viewpoint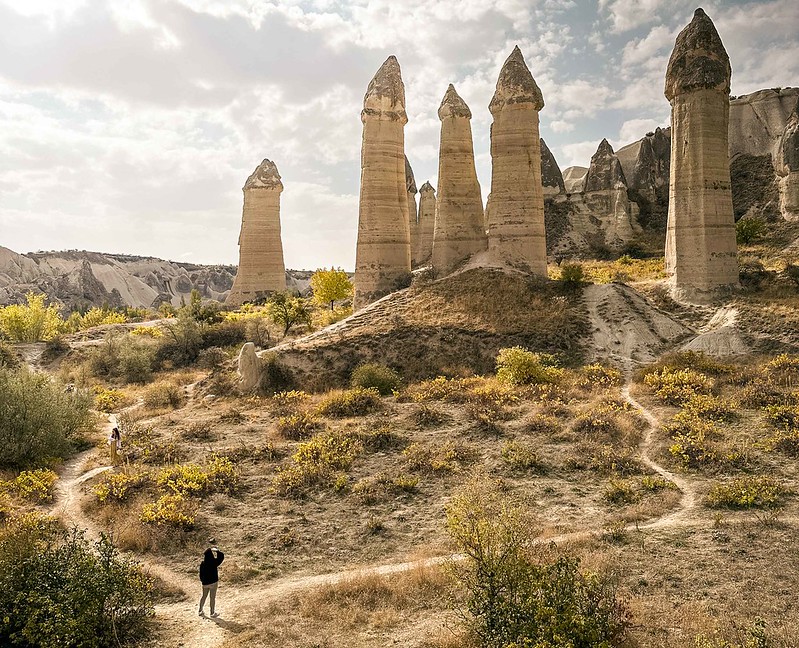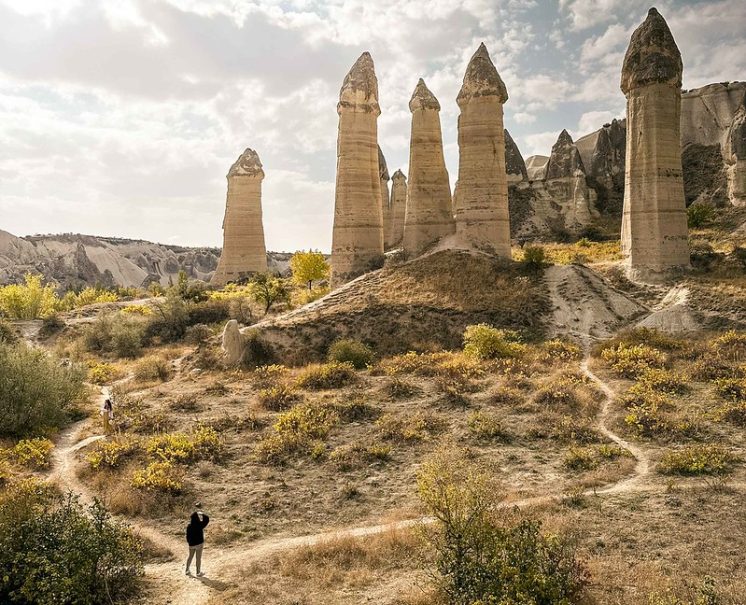 5. Pasabag Valley
Pasabag valley is also known as Monks Valley because it was once used as a retreat by the priests and monks.
For that reason you'll find several rock-cut churches, monasteries and chapels, as well as tunnels.
Pasabag valley is a great place to see the fairy chimneys and walk among the unique rock formations.
🔥 Why visit Pasabag Valley:
Mushroom-shaped fairy chimneys
Hiking
6. Imagination Valley
Devrent Valley, also known as Imagination Valley is unique because of its peculiar shaped rock formations. Take a look and see if you can spot any animals or objects.
I spotted a lion, a camel, a snake, seals, kissing birds and a dolphin.
I have to say though, that I had high expectations for Devrent valley and it didn't quite live up to the hype. It's quite small and it was also the most crowded of the valleys we visited. It felt touristy, if you ask me.
🔥 Why visit Imagination Valley:
Surreal landscape
Rock formations that look like animals and objects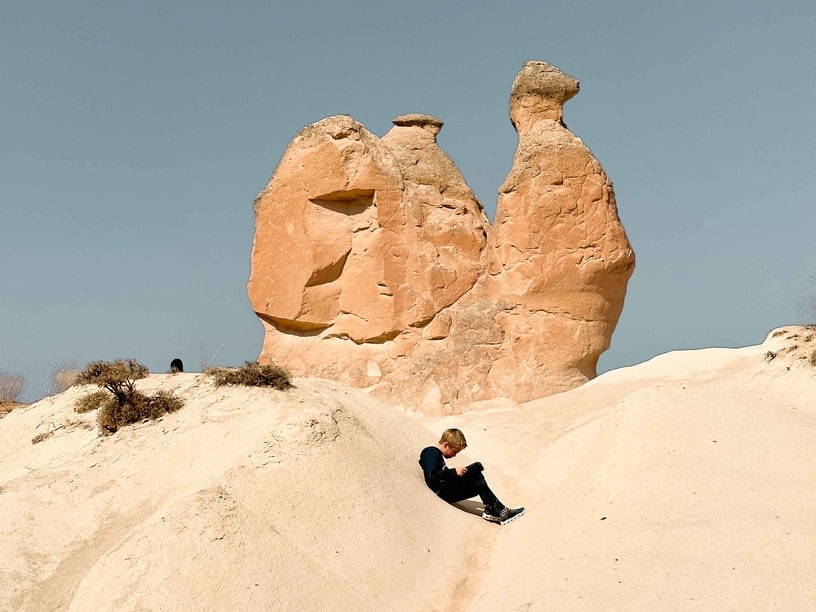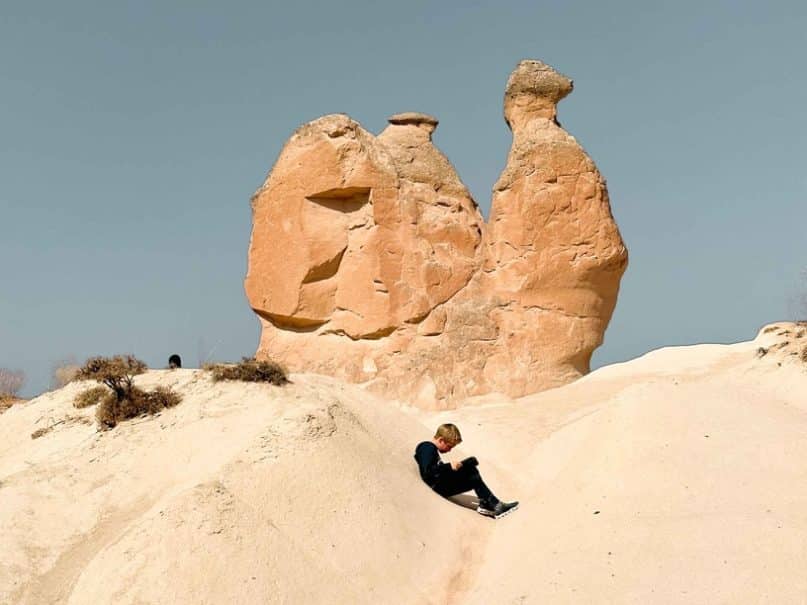 7. Ihlara Valley
Ihlara Valley is unique for its lush, green landscape, which is a contrast to the dry valleys in Cappadocia.
Ihlara still has cave dwellings and fairy chimneys that you can explore, but the best thing to do here is hiking the 10 km trail along the Melendiz Stream.
Make sure to visit the rock-carved Selime Monastery and taste some Turkish food at one of the floating restaurants.
The valley is beautiful and unique, but it's located quite far from Göreme (1.5 hour). With so many valleys around Göreme you might be better off exploring them unless you have enough time (more than 2-3 days).
One of the most popular ways to experience Ihlara valley is with a group tour (the Green Tour) that drops you off at one of the entrances. You'll then walk around 7 km before being picked up at a difference exit.
🔥 Why visit Ihlara Valley:
Deep river canyon with lush plants
Rock-hewn churches
Hiking
8. Zemi Valley
Zemi Valley stretches for 6 kilometres, starting from Göreme Open-Air Museum and eventually ending at the Nevşehir-Urgup highway.
You'll find caves, arches, and the 10th-century El Nazar Kilise church.
Although the church is carved from a cone-like rock and looks pretty from the outside, it's not that impressive on the inside. They valley still has some massive fairy chimneys that are worth seeing and it's only a short walk from Göreme town.
🔥 Why visit Zemi Valley:
6 km hike
Fairy chimneys
Ancient carvings
9. Zelve Valley
From the 9th to 13th century, Zelve was as a monastic retreat and home to one of the largest communities in the region. People lived there until the 1950s when erosion and earthquake damage made it too dangerous to stay in the valley.
You can explore Zelve Valley or Zelve Open Air Museum in a loop. We started on the right side and we took the left side back. From the right side, you'll see the empty cave town and you'll be able to go inside vacant rooms and churches that are carved into the hillside.
Goreme open air museum is often praised as a top attraction in Cappadocia, but I actually preferred Zelve. It feels more authentic.
🔥 Why visit Zelve Valley:
Zelve open-air museum
Ancient cave dwellings and Byzantine-era cave churches
Hiking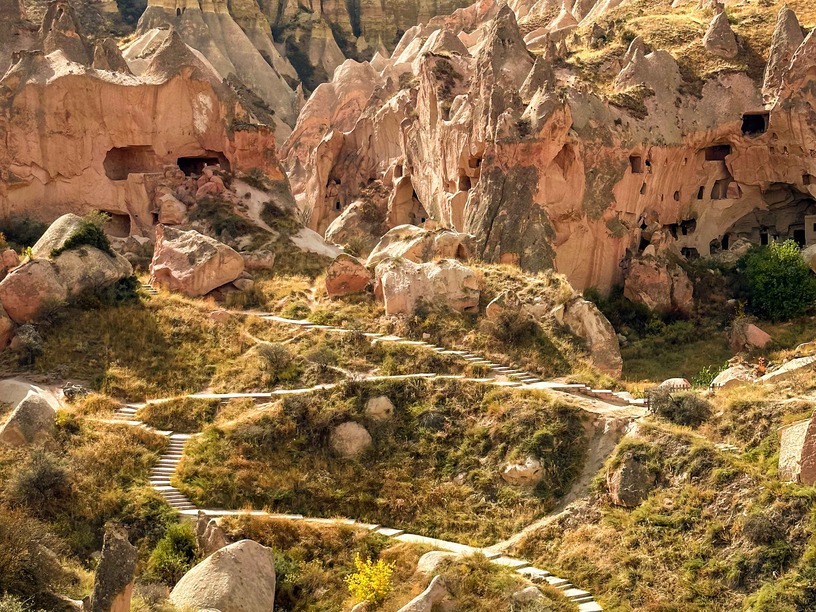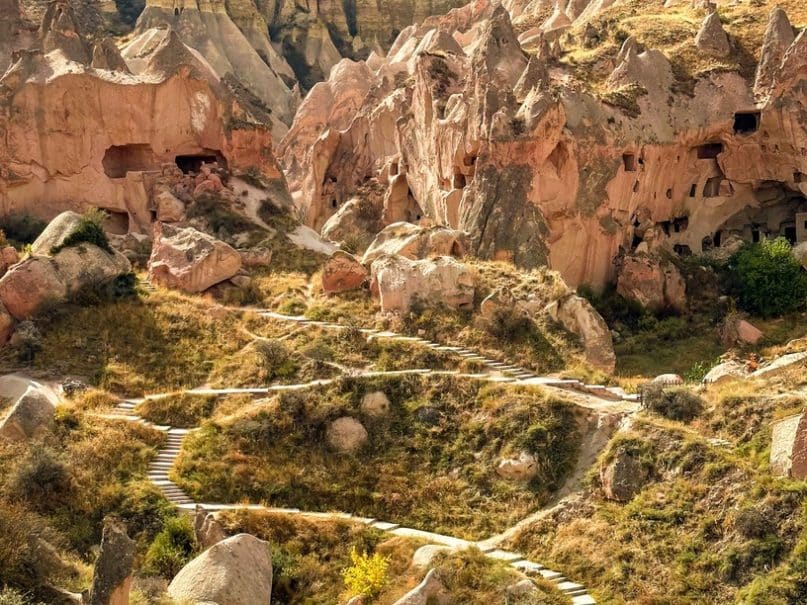 10. Swords Valley
Last but not least, there's Swords Valley. The name comes from the tall, sword-like rock formations you'll see throughout the valley.
Sword Valley is home to several cave churches, such as the Virgin Mary and Swords Church (Kılıçlar Church). The Swords Church features numerous frescoes that depict 33 scenes from the Bible.
A unique aspect of Sword Valley is a mysterious 300-meter-long tunnel leading to a cliff face. No one knows for sure why it was built, but it's thought to have been an entrance to an underground city.
🔥 Why visit Swords Valley:
One of the smallest valleys in Cappadocia
300 m long tunnel
Rock formations look like swords
Top things to do in Cappadocia valleys
There are tons of things to do in Cappadocia valleys and they're all outdoor activities. Here are the best suggestions that are suitable for most ages and fitness levels.
Hike through the valleys
The most popular thing to do in Cappadocia is hiking.
You'll experience the valley up close and can enter the ancient cave houses, rock-cut churches with frescoes and even climb some of the rocks.
The best hikes are Rose Valley, Red Valley and Zelve valley. They're easy to walk and there's lots to see along the way.
Visit Zelve Open Air Museum
I loved visiting Zelve Open-air museum. It's home to several rock-cut cave churches that show exquisite Byzantine frescoes and it gives a glimpse into Cappadocia's rich history and religious heritage.
As I mentioned earlier, I actually preferred Zelve over Göreme open air museum, which is more hyped.
Explore underground cities
This is a fun experience!
Cappadocia is home to large underground cities with a network of tunnels, chambers, and communal areas, all carved out of the soft volcanic rock. Thousands of people used to live here so it's quite unique to visit.
Discover cave churches
Apart from the churches in the Göreme and Zelve Open Air Museums, Cappadocia is dotted with several other ancient cave churches.
Visit the beautifully preserved Selime and Saint Simeon churches, famous for their rock-cut architecture and tranquillity. The Column church and Crusader church in Rose valley are also worth visiting.
Climb Uçhisar Castle
At 60-metre-high, Uchisar castle is the best way to see Cappadocia from above (without flying). This ancient castle once housed 1,000 people.
From the top of the castle, you'll see lots of fairy chimneys and the spectacular landscape of the entire region.
Experience hot air ballooning
One of the most popular things to do in Cappadocia is to take a hot air balloon ride (⭐ 5.0) in the morning to experience the enchanting landscape from above.
Cappadocia is world-famous for its hot air balloons. Imagine being high up in the sky, watching the sun rise over the fairy chimneys and enjoying a bird's eye view of the stunning rock formations.
If you're in Cappadocia, a hot air balloon ride should definitely be on your bucket list!
Read next: Is Cappadocia safe to visit now? Latest safety advice
Camel safari
If you're not into hiking or hot air balloon flying, how about a camel safari?
It's an eco-friendly and fun way to explore the beautiful valleys of Cappadocia.
ATV tour
For a more adventurous experience, you can opt for an ATV tour around the most beautiful valleys of Cappadocia.
An ATV tour allows you to see the best spots, capture breathtaking views while adding a rush of adrenaline to your visit.
Horseback riding
Horseback riding is another fun way to explore Cappadocia's unique landscape.
You can choose between short, guided tours and longer, more independent treks – there's something for everyone, regardless of your riding expertise.
Cappadocia valleys FAQ
What is the most famous valley in Cappadocia?
The most famous valley in Cappadocia is Love Valley because of its unique phallic-shaped rock formations.
The Rose valley and Red valley are also famous for their red-rose coloured rocks and ancient cave churches.
Where is the best place to see fairy chimneys in Cappadocia?
If you want to see the fascinating fairy chimneys in Cappadocia, Love Valley, Devrent Valley, and Red Valley are some of the best places to visit.
Love Valley is famous for its phallic-shaped fairy chimneys, while Devrent Valley is home to unique rock formations that resemble various shapes and animals.
Red Valley is known for its dreamy reds-coloured landscape and beautiful hiking trails.
More posts from Cappadocia you might like
Save it!