A complete guide to the Love Valley hike, Cappadocia (2023)
Planning a trip to Cappadocia and wondering how to do a Love Valley hike? Here are the most up-to-date, detailed instructions on how to hike Love Valley.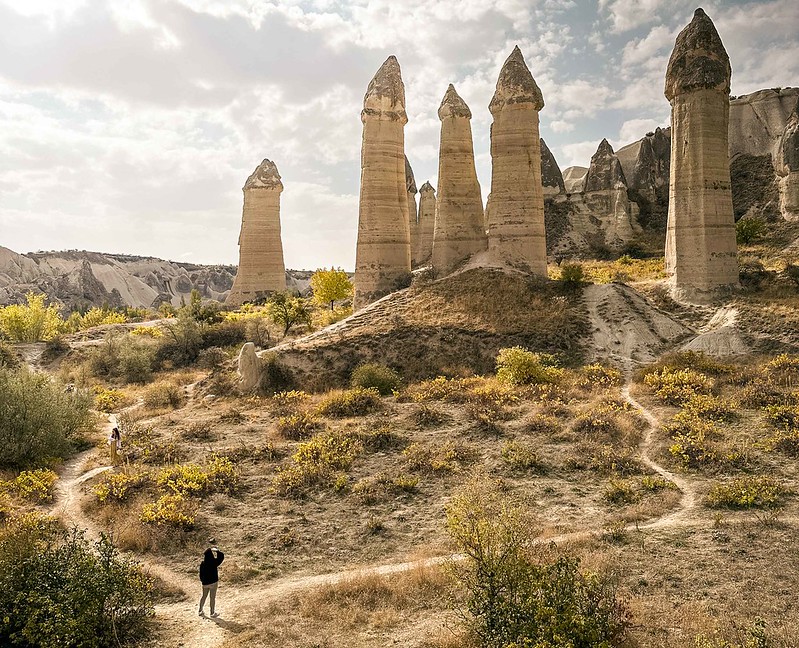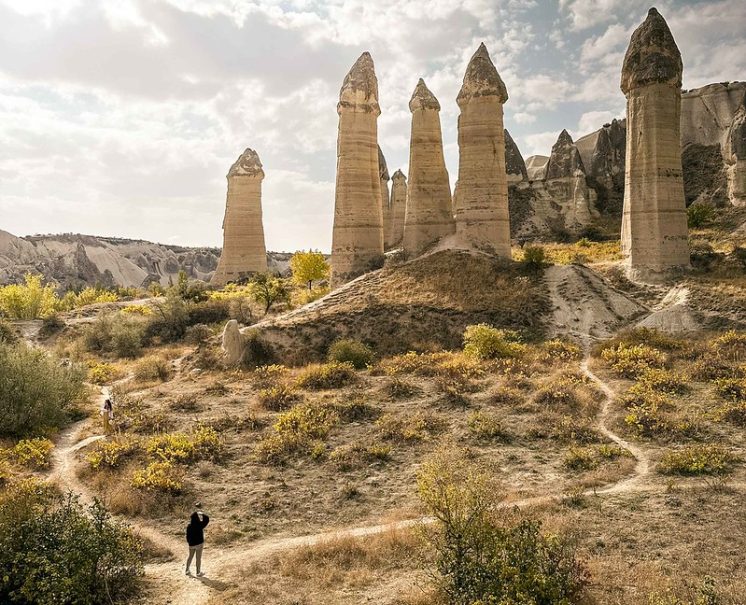 One of the prettiest places to visit in Cappadocia is the Love Valley.
It's a stunning location that is famous for its phallic rock formations, unique views and scenic hikes.
In a region of exceptional natural wonders, this is one of the most magical places to visit in Cappadocia. As it's so remote, it's like another world and it's the perfect place for a peaceful walk in nature.
In this post, I'll give you all the tips you need to make the most of your Love Valley hike. From what to bring and what to see to which trails to take.
Let's take a look.
Read next: 10 best Cappadocia valleys you should visit
This post contains referral links for products I love. Adventurous Miriam earns a small commission at no extra cost to you if you make a purchase through my links. Thank you for your support ♡ Learn more
Map of Love Valley hike
The Love Valley is in Cappadocia, which is located in east-central Anatolia, in the centre of Turkey.
The valley is close to Nevşehir, the unofficial capital of the Cappadocia region, and can be found in between the small towns of Göreme and Uchisar.
Many people visit on a scenic hike in the area, but you can easily drive to Love Valley, making it a popular tourist attraction.
Love Valley Cappadocia history
The Love Valley is ancient.
Millions of years ago, a nearby volcano erupted and spewed out thick ash that covered the land of Cappadocia. As time went by, this volcanic ash solidified into the soft rock that we see today in many of the valleys.
But what's really fascinating is how this rock has been sculpted by the elements.
The weather in Cappadocia can be pretty extreme, and over the years, the wind and rain have eroded the rock into these phallic shapes that have become the star attraction of Love Valley.
Why is it called Love Valley?
Love Valley is formally known as the Baglidere Valley.
But it's called Love Valley because of the phallic-shaped rock formations called fairy chimneys that dot the deep canyon.
The locals believed that these formations resembled male genitalia, hence the name "Love Valley".
Best time to visit Love Valley
You can visit Cappadocia all year round, but I recommend autumn and spring, where you'll get pleasant temperatures compared to the summer heat and winter cold.
If you plan to visit during peak season, which is from June to August, be prepared for hotter temperatures and more crowded trails.
You can visit Love Valley all day. But if you visit in the early morning, you can view the hot air balloons flying over the valley!
We visited in October, and it was perfect! Skies were clear, temperatures were around 20-23 (though cold in the morning), and the autumn colours just made the landscape even more beautiful. I highly recommend visiting in autumn!
🥾 The Love Valley hike
Difficulty:
Easy-moderate
If you're looking for a moderately challenging yet rewarding hike in Cappadocia, the Love Valley Hike is a must-do. There are a few different routes you can take, and your starting point can be: Göreme, Love Valley or Uchisar. You decide which way to go.
The classic scenic trails from Göreme to Love Valley and back or from Love Valley to Uchisar are approximately 5 km long and take around 2-3 hours to complete.
Here's what you can expect on this hike:
Göreme to Love Valley
To get to Love Valley from the small town of Göreme, start by walking down Bilal Eroglu street. It's a scenic walk along a road with nice views of Rose Valley on the right side.
After about 30 minutes/2.5 km, you'll come to a fork in the road – take the left fork. In about three minutes, you'll see a dirt road on the left-hand side with a large sign announcing "Baglidere Vidisi" and a map of the valley (remember, Baglidere is the official name for Love Valley).
Now, follow the arrow on the sign and take a left turn into the valley. Continue walking on the dirt road – some smaller paths may branch off, but stick to the biggest one. After about 10 to 15 minutes, you'll see the rock formations of Love Valley.
There's a small cafe here if you need refreshment, but it doesn't serve food. You can walk among the towering rock formations and even climb a small hill to get an aerial view.
Love Valley to Uchisar
When you're done exploring the valley, there are two ways to return to Göreme:
Backtrack the way you came
Continue hiking through the valley all the way to Uchisar Castle (the best hike)
It's as simple as putting Uchisar Castle into your GPS or walking straight through the valley until it leads you out the other side. The walk to Uchisar Castle is 5 km and takes about 1.5-2 hours.
Uchisar Castle
In Uchisar, I highly recommend that you visit Uchisar Castle, which is a fantastic lookout point.
This impressive castle was the main point of defence for the region in ancient times, thanks to its strategic position overlooking the surrounding area.
There's not much left inside the castle, but climbing to the top is totally worth it for the panoramic viewpoint of the nearby towns, valleys, and fairy chimneys.
After visiting the ancient castle, catch one of the buses every 30 minutes back to Göreme. The ride is 10 minutes, but if you're going in the afternoon or evening, confirm the bus schedule with your hotel to avoid missing the last one.
How to visit Love Valley Cappadocia
Although Love Valley is quite a remote area, it's really easy to visit.
You can get there by car, taxi or on foot from Göreme, which is located 3 km from the valley.
Here are all your options for visiting the Love Valley in Cappadocia:
Walk
One of the most popular ways to visit Love Valley is the Love Valley hike, which you can do in several ways.
If you didn't know, Göreme is Cappadocia's main town and most people stay here during their visit to the region. It's also a great stating point for a hike to either Love Valley or to Uchisar since it's located in the middle.
From Göreme, the Love Valley walk is only 3 km. It will take you around an hour or two to reach the valley and it's a great hike.
Driving to Valley of Love (rental car or taxi)
If you're traveling independently in Cappadocia, it's very easy to drive to Love Valley. You can rent a car and explore the area.
The easiest way, though, is to hale a taxi or a private driver that can take you all the way down to the valley. Ask the driver to stop at the upper viewpoint before you go into the valley.
You can drive into the valley as it has a dirt road that snakes right into it.
The beginning of the Love Valley trail is situated roughly 3 km outside of Göreme, and the journey by car should take around 10 minutes.
There is a car park at the start of the trail, and you can park your car there for free.
Tours of Cappadocia Love Valley
Many day tours don't include Love Valley on their itineraries. So, if you want to experience Love Valley on a tour, you have two options: Either go on an ATV tour that goes through Love Valley Cappadocia or you can choose a private customisable day tour.
A private tour is affordable and you can follow your own itinerary. This is an ideal option if you want to visit several sights in one day.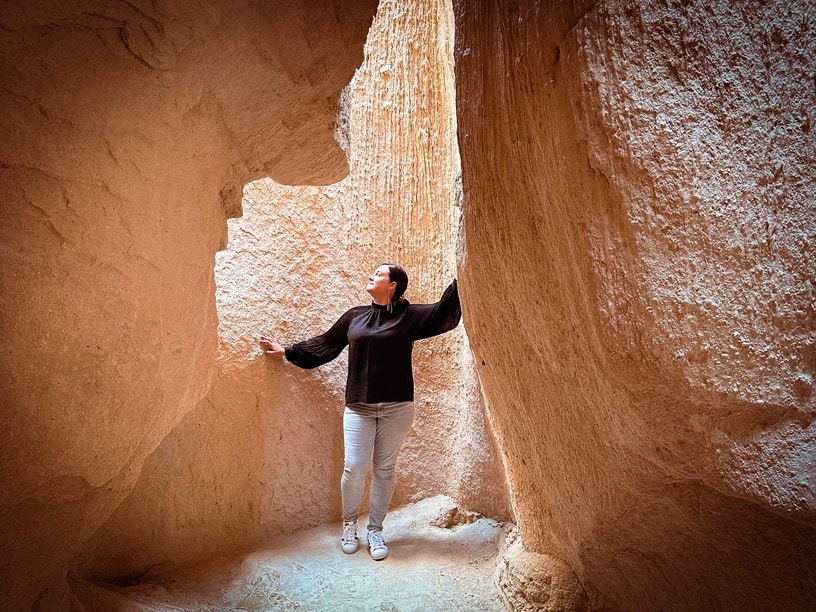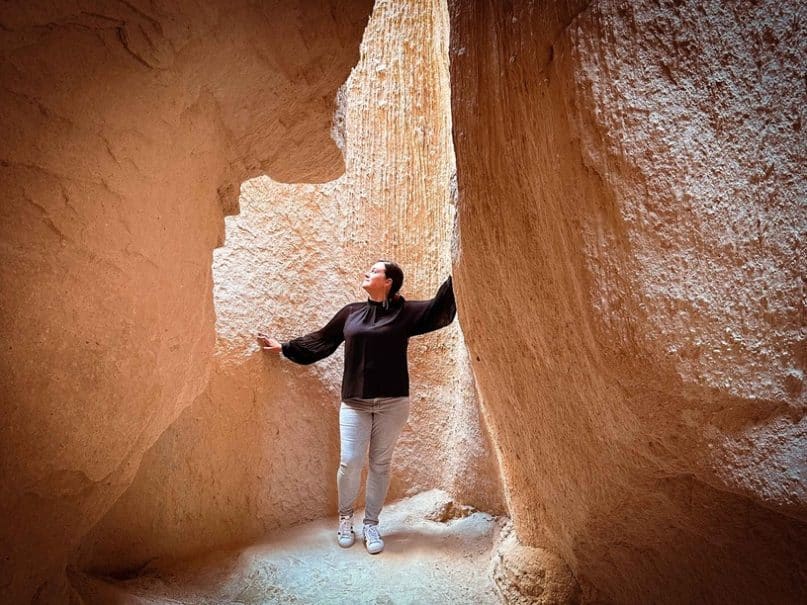 Private tour
Affordable
Fuel and parking included
English-speaking driver
Another fun way to explore the valleys are on a quad bike. Take a two-hour tour during sunset through the Love valley, Swords valley and Rose valley. You can stop and take photos of the scenery along the way.
ATV tour
Driving equipments (helmet etc.)
Driving guide
Select a pick up place
⛰️ More things to do in Love Valley
When you arrive at Love Valley, the spectacular views here will take your breath away!
There are many hills and rock formations in this valley, views of the landscape and paths to follow.
Here are all the things to do in Love Valley besides hiking!
1. Explore the incredible fairy chimneys
My favourite part of Love Valley is the fairy chimneys that gave the valley its name. They're a bit funny-looking, but they're also super cool to walk amongst – some of them can even reach 100 feet into the air!
When you're exploring this unique landscape, it feels like you're walking on the moon, with all the mushroom shapes and arid vegetation. Trust me, you won't want to miss out on this awesome experience!
2. Climb up the rock formations
Love Valley has plenty of hills and peaks for you to climb and explore. It's a geologist's paradise, with tons of unique rock formations to discover.
Just be careful when climbing any of the hills or rock formations in the valley – many of them have no safety barriers, and the paths can be steep and uneven.
When you find a great viewpoint, make sure to take your time and prioritise safety over anything else.
Read next: Is Cappadocia safe to visit? Latest safety advice
3. The two Love Valley viewpoints
In Love Valley, you'll find two main viewpoints: from above and below.
If you plot in "Love Valley" on your GPS or Google Maps, you'll be taken to the upper viewpoint where you can see the valley in its entirety. It's a beautiful sight so make sure to go here.
To see the valley up close, you'll need to walk or drive down to the valley floor. This is the most impressive way to experience Love Valley, and there will also be less people here.
What to bring on your hike in Love Valley
When packing for the Love Valley hike, it's important to bring a few essential items to ensure a comfortable and safe experience. Here are the things you should definitely pack:
Comfortable hiking boots with good grip
Sunscreen with high SPF
A hat to protect your head and face from the sun (this is my favourite cap)
At least 1 litre of water
Snacks to keep your energy levels up
A small backpack for your essentials
A map or GPS device to navigate the trail
Your camera or phone to capture the stunning views
A walking stick for extra support and balance
A light jacket or sweater for cooler temperatures
Remember to pack light and only bring what you need. Carrying too much weight can make your Love Valley hike more difficult and less fun.
Safety tips
When hiking in Love Valley, you'll need to wear sturdy footwear and comfortable clothing. The terrain can be rocky, slippery and uneven, so sturdy shoes with good grip are a must. You should also bring plenty of water and snacks to keep you hydrated and energised throughout the hike.
You should always be aware of your surroundings and stay on the trails. Some areas may be off-limits or dangerous, so be sure to follow the path.
Respect the environment
Love Valley is a beautiful and unique natural area, and it's important to respect and protect it. When hiking, be sure to stay on designated trails and avoid disturbing any wildlife or vegetation.
It goes without saying, but littering is a big no-no, so pack out any trash you bring with you.
Where to stay in Göreme Cappadocia
Göreme is a magical place in Cappadocia and I highly recommend staying in one of the cave hotels. Trust me, it's a unique experience! This is where we stayed (and we loved it!):
Lunar Cappadocia Hotel (⭐ 9.4) This amazing cave hotel is one of the best places to stay in Cappadocia. Perched on top of a hill, you'll get beautiful views of the hot air balloons in the morning. Check latest prices here.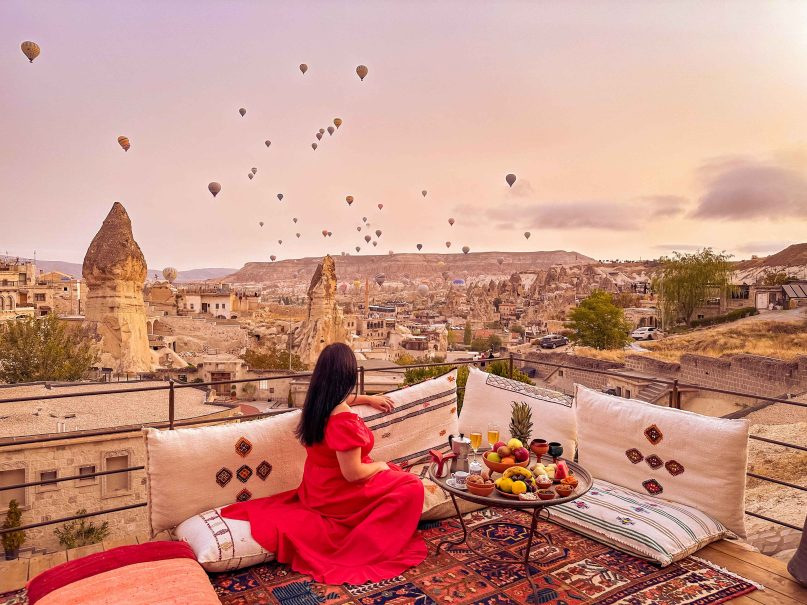 Love Valley FAQ
How long is the Love Valley hike?
Love Valley is 3 km from Göreme. The hike from Goreme to Love Valley and back takes about 2.5 to 3 hours on foot. If you also visit Uchisar, the hike takes a few more hours.
Is there an entrance fee to Love Valley?
No. It's free to visit Love Valley in Cappadocia.
Why is it called Love Valley?
Baglidere Valley is nicknamed "Love Valley" because of the phallic-shaped rock formations (called fairy chimneys) that dominate the landscape.
These rock formations look like phallic shapes, hence the name "Love Valley."
How do I get to Love Valley in Cappadocia?
Cappadocia has two airports. The main airport is Kayseri Airport, which is 70km/60 minutes away and takes slightly over an hour by van/bus to reach Goreme Town.
The other airport is Nevsehir Kapadokya Airport, which is closer to Goreme.
To get to Goreme from Kayseri or Nevsehir, you should pre-book your shuttle or be prepared for an expensive taxi. You can easily book your transfer online here, where shared, air-conditioned airport transfers cost around $10.
More posts from Cappadocia you might like
Save it!