How to spend two days in Rovinj – my favourite place in Croatia
Spending two days in Rovinj and wondering what to do? I've handpicked the very best things to do in Rovinj, based on my many visits to this wonderful town.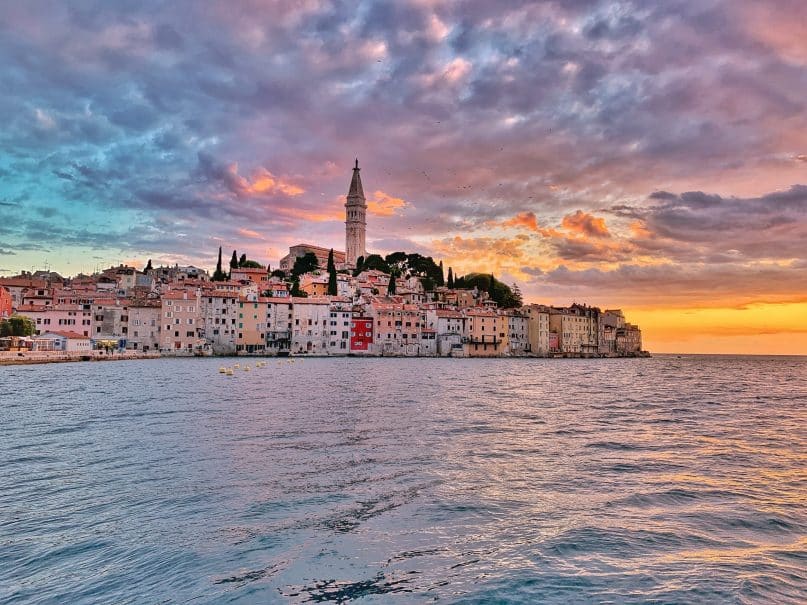 The little fisherman town of Rovinj won my heart on my very first time in Istria.
If you've never heard of Rovinj, you might be wondering what's so special about it.
Well, let me show you its charm and you'll understand. Prepare for romantic cobble-stone streets, amazing views and some of the best Croatian meals in the country.
Let's dig in.
This post contains referral links for products I love. Adventurous Miriam earns a small commission at no extra cost to you if you make a purchase through my links. Thank you for your support ♡ Learn more
Two days in Rovinj itinerary
Rovinj (pronounced 'Roh-veen') is a small coastal town on the Istrian peninsula in Croatia. The main sights are located in or around the Old Town and you can easily visit the main attractions and enjoy the city ambience in two days.
You can explore the city on your own or take a Rovinj walking tour where you're sure to see all the best places and viewpoints.
🐱‍👓 Read next: 15 unforgettable things to do in Istria
Where to stay in Rovinj
Lone hotel (⭐ 9.1) My visit to Rovinj was completed by staying at the super hip Lone hotel. This five-star design hotel is shaped like a luxurious ocean liner floating on a hillside and it's decorated with works from Croatian artists.
I stayed in a spacious standard room with bathtub, separate rain shower and a gigantic balcony perfect for relaxing with a good book. Lone was an amazing oasis to come back to after exploring Rovinj and Istria all day. Check availability and latest prices here.
Read about my stay at Lone Hotel here: Staying at the Hotel Lone Rovinj in Croatia
Day 1 in Rovinj
Oh, Rovinj. If you only visit one place in Croatia, this should be it. There's so much atmosphere and character in this town, and I promise: there's plenty of things to do in Rovinj. Here's your Rovinj itinerary for day 1.
Rovinj croatia itinerary
Wander through Rovinj Old Town
The old town of Rovinj is without doubt the most impressive and charming part of town. Aside from the smooth, marble cobblestone narrow streets and pastel-coloured houses, this part of Rovinj is renowned for its beautiful Venetian architecture.
The hilly old town used to be separated from the mainland by a canal, but in 1763 the two were connected.
Get to know the history
Rovinj was once part of the Venetian Republic (from 1283 to 1797) until Napoleon Bonaparte arrived and put an end to the millennium of Venetian power in the Adriatic and beyond.
When you wander the streets of Rovinj, you'll spot the Venetian lions everywhere, like on the Balbi Arch, the late-Renaissance clock tower and the wells.
I love how locals hang out their laundry to dry in the warm Mediterranean air. The clothes lines are connected between neighbors so they better stay good friends.
The town hall clock
In the Old Town, you'll find the town hall clock. The clock is from the mid-19th century and has a Venetian lion, a symbol of Serenissima, on the side.
You'll find it at the town square, (in the city centre) surrounded by lots of restaurants and cafes – perfect for enjoying while you grab a glass a wine.
Grisia Street
Grisia is a popular street leading uphill through the old town to St Euphemia. The cobbled street is lined with galleries and souvenir stores, and it's quite characteristic.
Church of St. Euphemia
When you visit Rovinj, the first thing you'll notice is the dominating church and bell-tower atop the hill. It's dedicated to the young girl, Saint Euphemia (290-303 AD), whose story made a deep impression on me.
When Euphemia was just 15 years old, she was arrested for refusing to give up Christianity.
After suffering various tortures, she was first thrown in the fire, which didn't kill her and later sentenced to be eaten by wild lions that eventually killed her but did not devour her body. Her relics are preserved in a sarcophagus here in this church.
Can you imagine being a teenager and already having that much dedication and faith? She must have been so scared, but she never wavered in her faith. I was very touched by her story and diligence.
Climb the bell tower
On the top of the bell-tower there's a statue of her that revolves around its axis depending on the wind. The saying goes that if the statue points towards the ocean, it will be sunny, and if it points at the town-side, it'll be rainy and cloudy.
From the 61 meter-high tower there's also a beautiful view of the town and you can even see the Alps on a clear day. However, the staircase is not for the faint of heart so keep that in mind before you enter. It costs 20 kuna ($3).
Go to the beach in Rovinj
Rovinj is not only beloved for its charming streets and architecture; it's also located by the Adriatic Sea which makes it popular for swimming and tanning.
Although it doesn't have white sandy beaches as in Thailand, the water is very clear and the cliffs serve as a great jumping spot and add a little drama to the scenery.
You'll find the best beaches in Rovinj here:
Find the most famous view points in Rovinj
Rovinj is one of those towns with a lot of beautiful view points. You've got the harbour, the hill, the other side of the harbour and inside the old town.
Basically anywhere in Rovinj is great, but the photos below are from the best view points.
Eat delicious Istrian food
Oh, don't get me started on Croatian food. If you've been following me for a while, you know that Croatian is one of my favourites!
You can read all about the delicious Istrian food right here, btw. Istria is one of those places where food & wine is actually part of the experience, so don't miss out on this.
Where to get the best meals: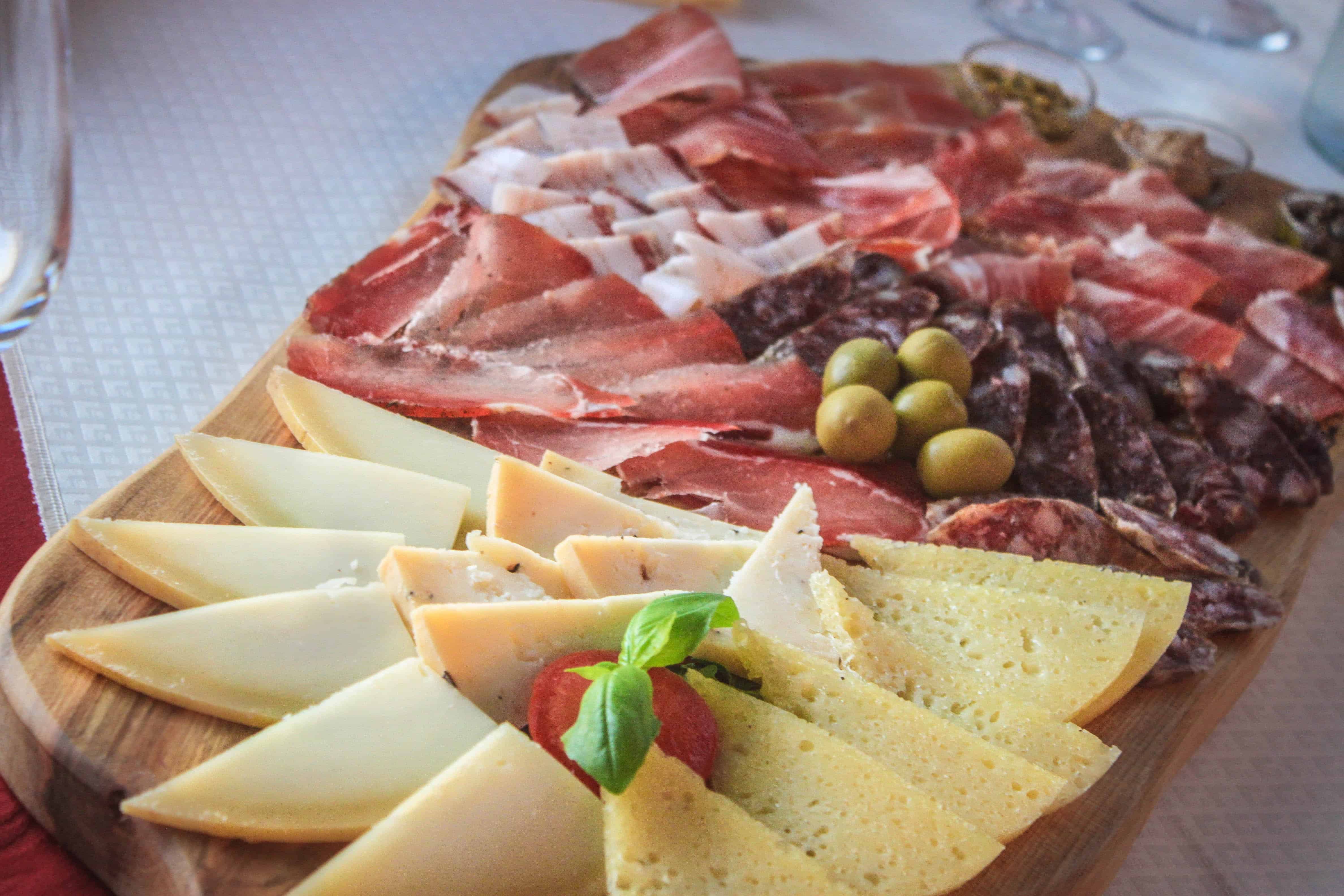 Watch the epic sunsets at Rovinj Marina
Sunsets in Rovinj are notoriously beautiful. If you're as devoted to sunsets as I am, you will LOVE Rovinj. Just look at these views.
The marina is the perfect place for sunsets so make sure to go here when the sun sets.
Day 2 in Rovinj
On your second day in Rovinj, you'll enjoy the ambience some more now that you've seen the highlights. You'll also explore the surrounding areas and sea.
Shop at Rovinj market
When I was in Rovinj the first time, I stumbled upon a market! It's right in the centre of town and it was so fun to just wander and see the different foods for sale.
We grabbed some truffles and olives, but there were also fresh flowers, cheese, and even some fish! Plus, they had these cute little souvenir stalls where we bought a few things for the kids last summer. It's definitely worth checking out while you're there!
Enjoy a glass of wine at the marina
Dining and wining is an absolute must when you're in Istria. Croatia has THE best wine in the world (next to Italy), and it's super cheap.
To get a thorough introduction to the best wines in Istria, I highly recommend a wine tour. At the very least you should order a glass or two at one of the cafes at the harbour while you watch the fishing boats. It's so relaxing.
Read next: Gourmet Food in Istria you just have to eat (and where to find it)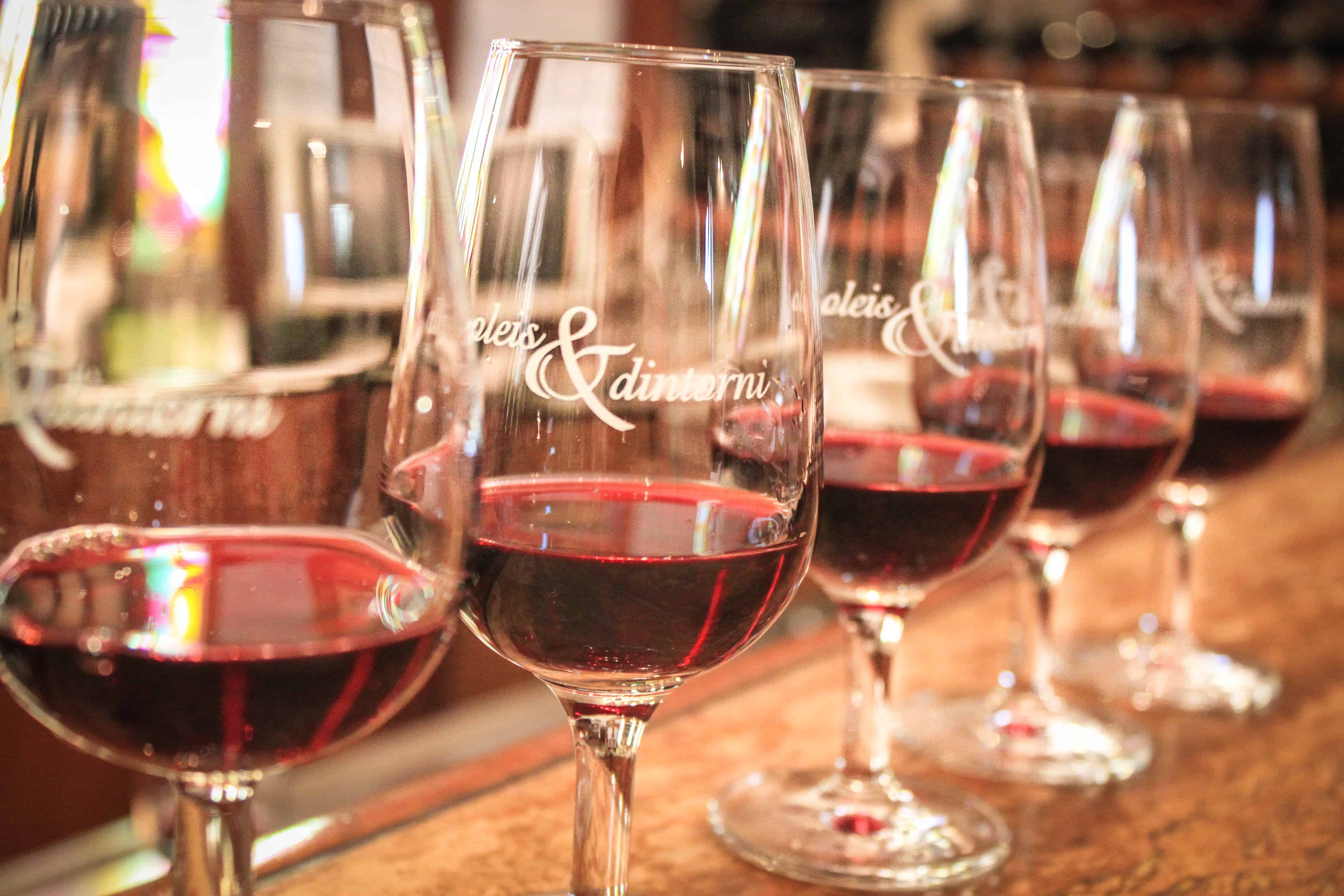 Day trip to Lim fjord
One of the more popular things to do in Rovinj is to take a day trip to Lim Fjord. It's really close (10-15 minutes), so if you've got a car, just drive there yourself.
Apart from being a beautiful place, and an easy stop-over if you're going south to Pula, you can also have fresh oysters here. You can also take a kayaking tour if that's more of your liking.
You can read more about Lim fjord and six other cute towns in Istria here.
Watch dolphins on a sunset cruise
On this sunset cruise, you'll get to to watch the sunset over the Adriatic Sea while looking for dolphins. A boat trip from Rovinj is the perfect way to end your two days in Rovinj and see the city from an entirely different perspective.
Best time to visit Rovinj
The best time to visit Rovinj is during May – June and September – October. During this time, the weather is mild, and the town is less busy, making it perfect for sightseeing and enjoying local cuisine.
I would avoid the high season (July-August) because it's hot and crowded with cruise ships.
Where to next?
Looking for more things to do in Istria? Here are some of the best places on the peninsula:
Motovun
Just a short drive away from Rovinj is Motovun, which is a scenic hilly area to explore in Istria. Although it's a small town, Motovun is as pretty as a postcard perched right on a hilltop.
Motovun and the surrounding hilltop towns have the nickname 'Green Istria' and it's easy to see why when you get here. You'll find lush landscape, valleys, rivers, and wine yards along with spectacular views.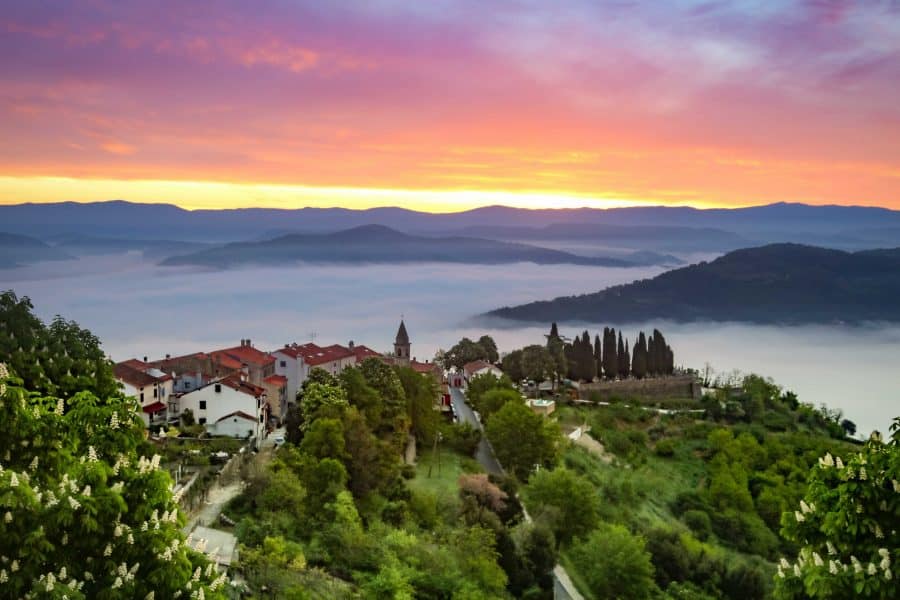 Porec, Pula and Kamenjak beaches
From Rovinj, you can also visit Porec, which is an ancient Roman town home to the Euphrasian Basilica (UNESCO world heritage site), roman ruins and other historic sites. You can also explore the amazing beaches in Kamenjak, south of Pula.
Istria is really spectacular and there are so many charming villages and places you can explore. That's why I keep going back.
Rovinj itinerary FAQ
Does Rovinj have nice beaches?
Yes, there are beautiful beaches in Rovinj. One of the best beaches is Vestar Beach.
What is Rovinj known for?
Rovinj, Croatia is known for its cobble-stoned old town, beautiful beaches, delicious local cuisine, museums, and cozy sea-side cafes. It's the perfect destination for a charming getaway in Istria!
How many days do you need in Rovinj Croatia?
1-2 days is enough time to explore Rovinj, but the great atmosphere is worth staying for. Rovinj is a great base for exploring the rest of Istria.
Is it worth visiting Rovinj?
Absolutely! Rovinj is the best town in Croatia, it's so charming and beautiful, so it's definitely worth visiting.
Which is nicer Rovinj or Poreč?
I prefer Rovinj, but I'm biased because I LOVE the city. Porec is a lovely city as well and also worth visiting for its UNESCO site and ambience. Rovinj is just more charming and beautiful, in my opinion.
Read more about Istria
Many thanks to Visit Istria for hosting me in Croatia. Whenever I travel, there will always be full disclosure about whether my stay was hosted by a tourism board. And even if I'm on a press trip, my view will never be swayed one way or the other.
Save it!