24 best things to do in Croatia (plus FREE Croatia itinerary)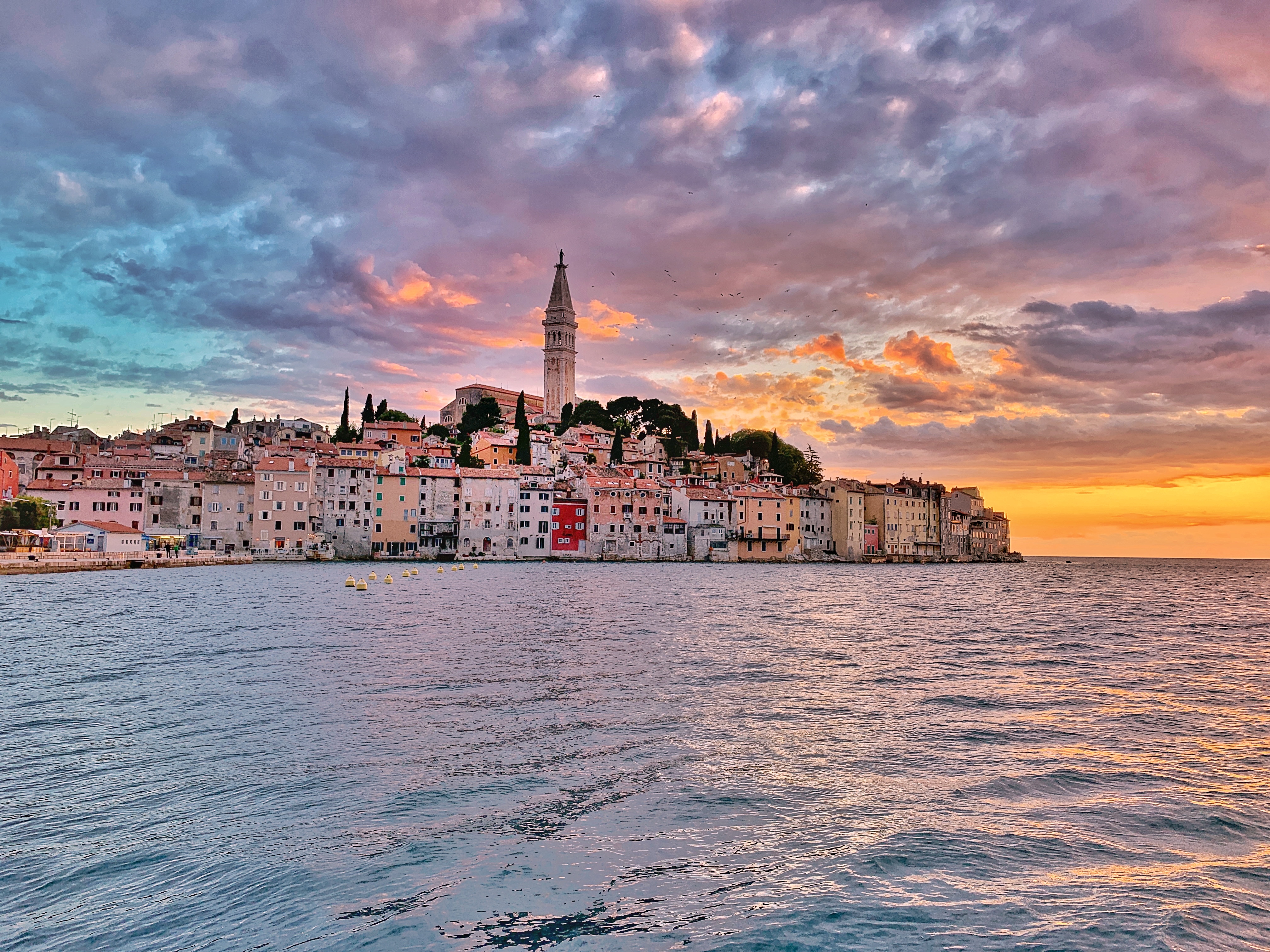 Croatia is one of my favourite countries in the world; it's such an amazing place. There are so many amazing things to do in Croatia!
From miles and miles of pure white beaches to snow-capped mountains and incredible Game of Thrones film locations – there's no end to the natural beauty of this Balkan country. Its cuisine and wine are the best in all of Europe.
So, let's take a look at 24 amazing things to do in Croatia during your holiday!
Oh, and if you're looking for some essential tips for your trip, including basic Croatian phrases, budget, how to get around and much more, you can find it right here in my extensive Croatia archive. I've spent a lot of time in Croatia over the years so you'll find a lot of tips here.
This post contains referral links for products I love. Adventurous Miriam earns a small commission at no extra cost to you if you make a purchase through my links. Thank you for your support ♡ Learn more
The best things to do in Croatia
1. Visit the Best Beaches in Croatia
Croatia has some of the best beaches in Eastern Europe (right after the Albanian Riviera), and there are so many great ones to choose from! Here are a few of the very best beaches in Croatia:
Zlatni Rat (on Brac island) – This beach reaches out from green mountains into the sea like a long golden tongue. It's one of the most unique and beautiful beaches you'll probably ever see (it's the one on the pin below).
Spiaza – The island of Susak is a desert island in every sense of the word. It's made almost completely of stunning beaches – the biggest and best one being Spiaza.
Queen's Beach – Found near Zadar, Queen's Beach is a long strip of golden sand which stretches on for miles and miles and miles.
Bacvice – In Split, the town where Meereen was filmed for Game of Thrones, there's a lively beach full of great cafes and bars.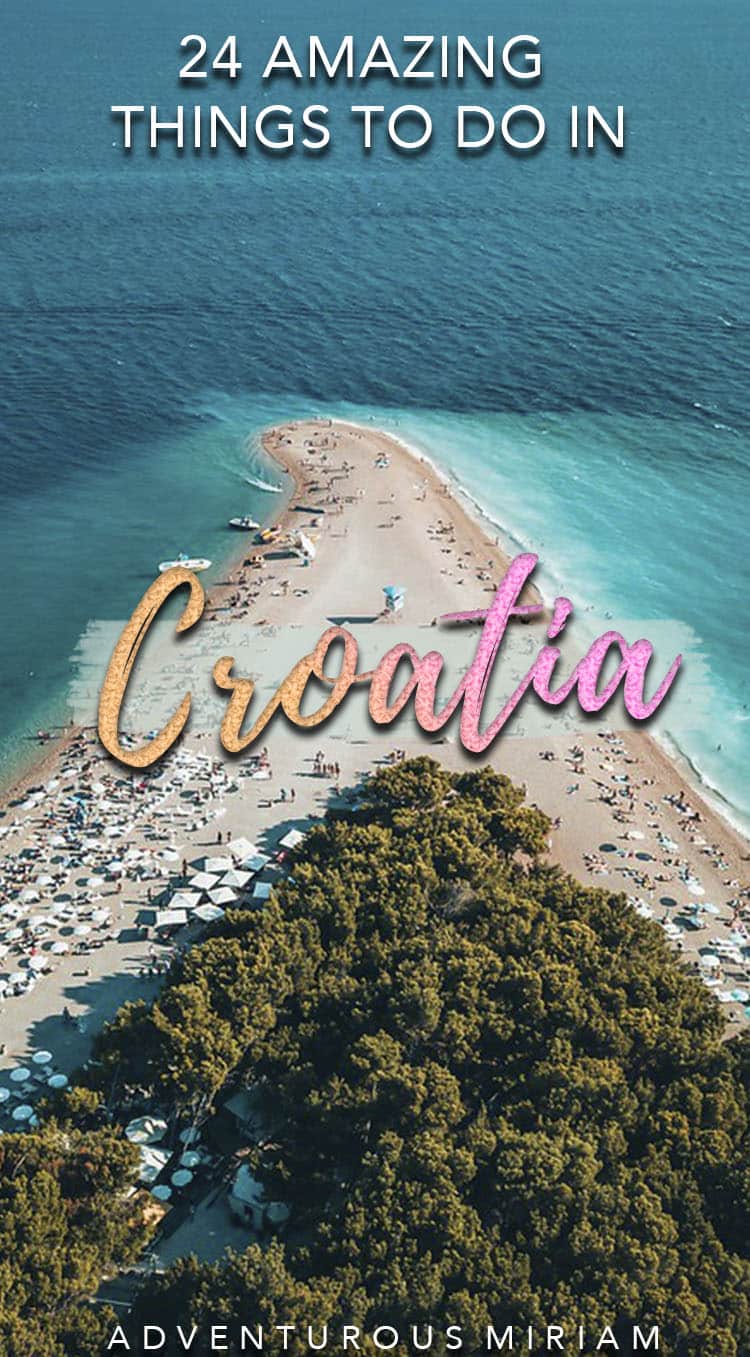 2. Go Island-Hopping
One of the coolest things to do in Croatia is hop between its islands. Take a week and explore each island slowly. Each one is beautiful. Hvar is a luxury island of celebrity homes; Vis is a former military base with hidden caves; Rab is a hub of traditional ancient Croatian culture. For one week, this is an ideal route to take:
Spend a night at the beautiful port town of Split

Head over to Brač for a night and visit its high mountain peak and Zlatni Rat

Move on to Hvar, the most exciting and lively island in Croatia – you can easily spend two nights here

Head to Korčula, legendary home of Marco Polo and a small island town of medieval architecture and a 14

th

century cathedral. Spend two nights here

Finish in Dubrovnik
3. Visit the Vineyards of Istria
Croatian wine is seriously the best. I've always been an Italian wine lover myself, but Croatian (especially the white wine) is just as good. So, for any fellow wine connoisseur, exploring the natural landscapes where all this lovely wine comes from is a must! Istria's landscape is gorgeous, and the area has some ancient villages to explore.
When you go, the Trapan and Roxanich wineries are the best to visit. Roxanich is getting famous across the globe for its orange wine. Orange wine is the big new thing in wine right now, and here you can taste it for yourself! The vineyards are a pleasure to explore, and wine tasting is always fun.
4. Try Istrian Food
While you're in Istria, try as much of the food as possible! Famous for its fresh seafood which is, in my opinion, the best in Europe (seriously!), Istrian cuisine also has a lot of truffles. You can even go hunting for truffles in Istria yourself while you're there!
And the best part: you can bring home lots of truffle products; like truffle honey, truffle oil, truffle wine and truffle sausage. On my last trip, my suitcase was so stuffed with truffles that I had to put some of it in my parents'. I'm such an addict.
Istria also has a fantastic local delicacy called prsut (major yum!), a kind of cured ham full of rich flavours, often served with cheese (perfect for snacking and a light lunch). Another must-try dish when you visit Istria.
Read next: Gourmet Food in Istria you just have to eat
5. Try Dalmatian cuisine
Croatian cuisine is so rich and diverse that you've got completely different styles of cooking from each beautiful region. After you've tried all the best Istrian food, move on to Dalmatian cuisine! Dalmatia is, after all, where the best prosciutto originates from. As well as prosciutto, you have to try:
Black risotto – named for the squid ink which dyes it black
Oysters and mussels – big, fresh, and wholesome
Dirty macaroni – a home-cooked dish named for the beef sauce slathered over it
Soparnik – a traditional street pastry filled with cheese, garlic, and parsley
Read next: Traditional Croatian food you should try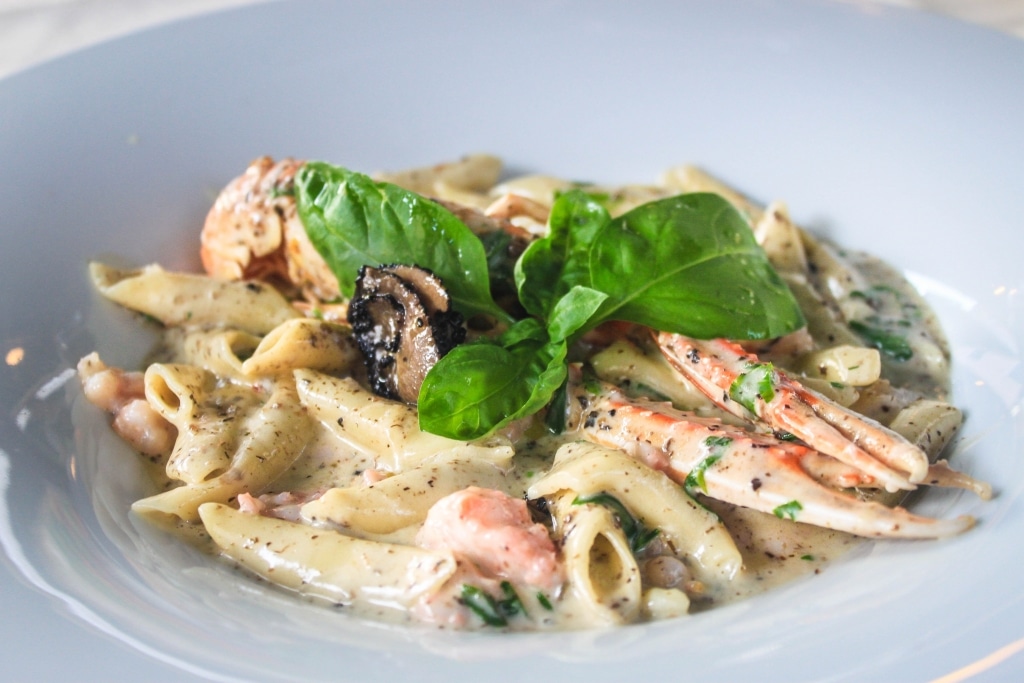 6. Visit Croatia's UNESCO World Heritage Sites
Croatia is also home to several UNESCO sites, all of which are incredibly stunning. Here's a list of them:
Euphrasian Basilica
A Roman Catholic basilica (Roman public building) found in Poreč. The building that stands today was built in 553CE and is one of the great historical sites in Croatia.
Dubrovnik Old Town
A mesmerising medieval city that's been perfectly preserved for hundreds of years. Dubrovnik juts out into the Adriatic Sea and was the filming location for King's Landing in Game of Thrones.
Historic City of Trogir
Connected to the mainland by bridges, this island is another walled medieval city and the next best thing to actual time travel.
Historical Complex of Split
Split is home to Diocletian's Palace, a preserved piece of Roman history which dates back to 200-300CE. It's one of the best pieces of Roman architecture left in Europe.
The Cathedral of St James in Sibenik
The most important gothic renaissance building in Dalmatia became even more iconic when it was used as the setting for the Iron Bank in Game of Thrones.
Stari Grad Plain
Found on the island of Hvar, this landscape was carved out by the greeks in the 4th century BCE and is still used today. It's one of the most jaw-dropping views in all of Croatia.
7. Game of Thrones film locations
This is the big draw to Croatia for so many people these days, myself included! And it speaks to what a beautiful, historic, and atmospheric place Croatia is that the most epic TV show ever made was filmed there. So, where can you go to see everything you want to see? That'll be Dubrovnik and Split.
Dubrovnik – The UNESCO World Heritage site of Dubrovnik's Old Town is the filming location for almost everything you see in King's Landing and is definitely the most sought-after place in Croatia. And one of the most gorgeous. Here's where you can find the Game of Thrones sights in Dubrovnik
Split – Meereen, where Daenerys spent much of her time before heading to Westeros, was filmed completely in Split. Specifically, the Fortress of Kliss. This amazing medieval structure on the outskirts of Split was the main filming location for Meereen. Here's where you can find the Game of Thrones sights in Split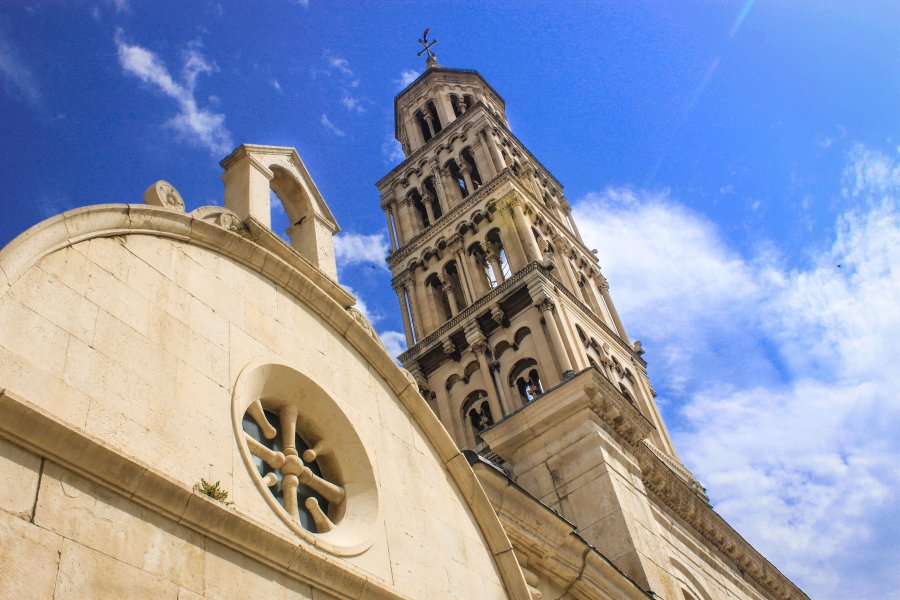 8. Go Sailing
It's hard to resist sailing in Croatia. The ocean waters offshore from its white beaches are the clearest and bluest you'll see in Europe (again, after Albania).
Popular sailing routes take you around the southern Dalmatian islands. You can sail out of Split and explore many of the islands for yourself, including the popular and beautiful island of Hvar.
With several wonderful islands to dock at and open seas to explore, Croatia is an amazing country to sail around.
9. Explore the National Parks
There are a handful of spellbinding national parks in Croatia, including Plitvice Lakes, Krka, and Paklenica.
Plitvice Lakes is perhaps the most beautiful of the lot. It's a UNESCO World Heritage site, and it's clear to see why when you go.
The entire are is massive, and overflowing with waterfalls, lakes, valleys, and hills. The water is shimmering crystal blue and flowing into the lakes from high up. It's a magical place, honestly. An unmissable trip during your travels to Croatia.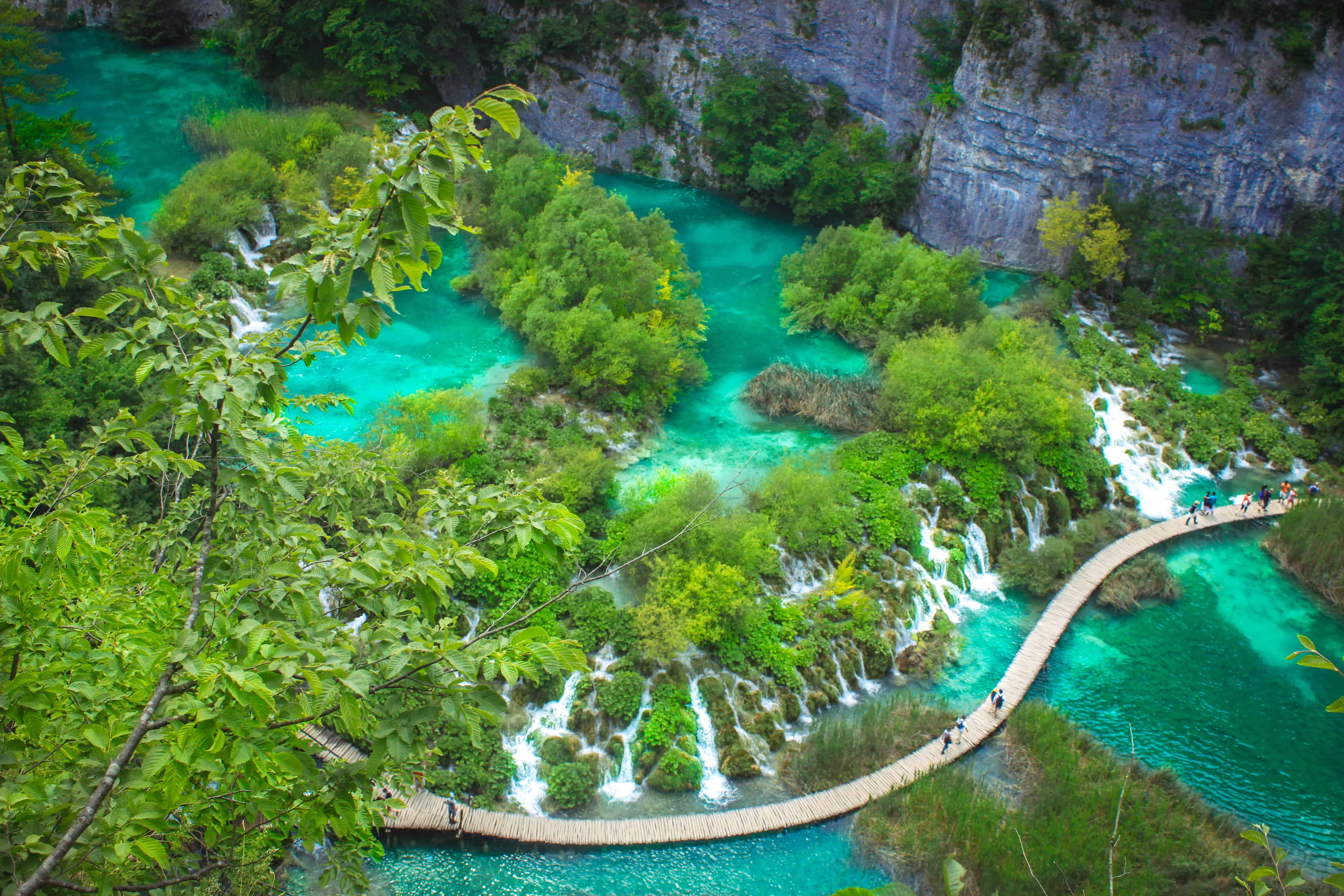 10. Truffle hunting in Istria
As I mentioned before, Istria is known for its heavenly delicious truffles, which you'll find in a lot of the local food. When you visit Istria, you can stop in Buzet, where you can organise a day of truffle hunting.
You can go out into the deep green forests of Istria and hunt for truffles for an afternoon. It's definitely one of the most unique and memorable experiences you'll have during your Croatia holiday!
11. Rent a villa
Croatia is packed full of incredible villas. Almost all of them are outside the cities and deep in the countryside. Staying in a villa is an absolute must if you want to see the more relaxed, rural, picturesque side of Croatia. Places like Villa Martina and Villa Babudri are huge homes made from stone, with wide open patios and outdoor pools.
Staying at a place like this means absolute peace and quiet, and a real rural Croatian experience but with all the comforts you could ever want from a 5-star hotel. And the scenery surrounding every single great villa is stunning. You'll be doing nothing but taking photos, drinking wine and watching the sunset for the whole of your stay.
12. Cooking class
I've already said so much about the amazing cuisines from Istria and Dalmatia, so why not learn how to cook some of their best dishes yourself?
Taking a cooking class is fun, it gets you deep into the culture you're visiting, and it means you learn something that you can take with you. You can keep what you learn forever, cook for your friends, and remember your holiday every single time you make your new favourite dish!
My favourite travel booking site, Get Your Guide, offers a fantastic cooking class in Dubrovnik. It's a five-hour class, complete with wine to enjoy and cook with, where you'll learn how to cook and prepare all the best Dalmatian dishes for yourself.
13. Walk the Old City Walls of Dubrovnik
The Old Town of Dubrovnik is flat-out gorgeous. It's a medieval town that has stood untouched for centuries. It was the setting for King's Landing, and it is surrounded by high walls that have stood for as long as the town itself. And you can walk along these walls, with the endless ocean on one side and the town itself on the other.
To get there, you have to buy tickets, which you can do right here or at the entrance.
There are a few different tour options, and many of them are Game of Thrones themed. You get a full experience that can last for up to three hours, where you'll learn everything there is to know about the Old Town, see all the best sights, and relive the best scenes from Game of Thrones.
Read next: Essential tips for walking the walls of Dubrovnik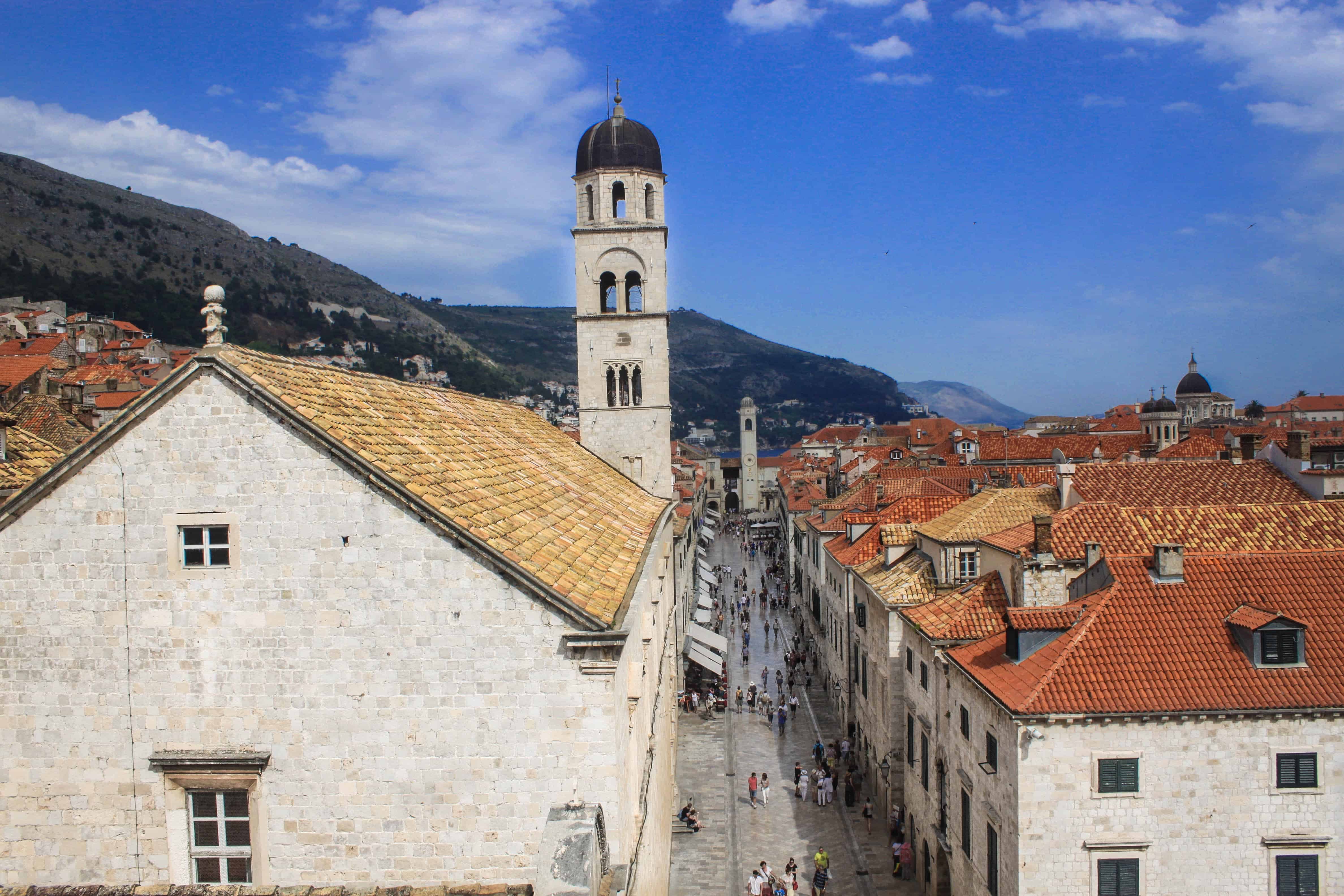 14. Taste Traditional Peka in Dalmatia
As I've mentioned, Dalmatian cuisine is one of the best reasons to visit Croatia, and one meal soars above the rest: peka. Peka is roasted lamb mixed with roasted vegetables, olive oil, and various local herbs and spices.
It's the Croatian version of a British Sunday roast, but way, way better. It can also be cooked with veal, octopus, or squid, so there's lots of variety to choose from (although the lamb peka is undoubtedly the best)!
When you visit Split, the best restaurant to try peka is called Konoba Varos (meaning tavern Varos). It's a delightful place serving all found kinds of peka, so you can have your pick of the bunch!
A small tip: You often need to make a reservation in advance – especially at the konobas. Not because it's crowded, but because it takes several hours to prepare.
15. Visit the Roman Amphitheatre in Pula
Usually called the Pula Arena, this massive amphitheatre is a perfectly-maintained ancient Roman relic. It was built in the first century BCE and it stands today in even better condition than the colosseum of Rome.
It was often used by the Romans for battles between convicted criminals and wild animals. Then later for more peaceful medieval fairs and tournaments between the Knights of Malta.
Read next: A tale of two ancient cities: Pula and Porec
16. Get Active in the Water!
So much of Croatia is exciting wilderness. Its mountains, caves, oceans, and lakes are begging to be explored. So, if you've got a thirst for water adventure you can try some of these amazing activities:
A 3-hour sea kayaking tour – You'll see Dubrovnik from outside its city walls and explore its hidden caves
A full-day kayaking tour in Dugi Otok – You'll swim in the open ocean, relax on the beaches, and kayak through narrow blue caves
Cetina river rafting and caving – This is river rafting along the Cetina River, diving and rock jumping, and swimming through ancient caves before bathing under waterfalls
Stand-up paddle-boarding in Split – Head out into the river or the open ocean at night on a paddleboard, illuminated by a magical neon glow
Canoe safari down the Cetina River – For three hours you'll canoe down the river and experience gentle rapids (great for first-timers)
17. Croatia Road Trip!
Renting a car in Croatia is easy, cheap, and fun. The drivers in Croatia are relaxed and you can enjoy a drive across the country with no stress. Driving across Croatia means seeing the country on your own terms. You get to experience Croatia exactly how you want to. You can spend as long as you want in each place, and see all the best mountain, river, and valley views for yourself while enjoying total independence!
Read next: How to Rent a Car in Croatia
For road trips, I always book through Sixt, And just a few weeks ago, we rented a car in Zagreb. They're my favorite because prices are low, customer service is really great and there are no hidden fees. In fact, you can save 10% on car rental in Croatia with this link.
18. Visit the world's smallest town (Hum)
Deep in the heart of central Istria is an old medieval town of ancient stone buildings known as Hum. It has a population of 30 people and is known as the smallest town in the world.
The town would be almost forgotten, surrounded by dense forests, if it wasn't for that amazing fact which keeps people coming back to rediscover it (myself included, I've already been there twice). Its cobbled streets, high Roman walls, and medieval church give plenty of reasons to visit Hum on your Croatia holiday.
Restaurant tip: Eat at Humska Konoba – it's a lovely tavern in Hum with great home-cooked food and an amazing view (see photos in the link below). I also recommend Rocka Konoba (in Roc, just a few kilometres from Hum), where I had THE truffle meal of my life (pasta with truffles)!
Read next: The best hill top towns in Istria
19. Explore the Loveliest Towns in Istria
Croatia's wine country is home to the loveliest, prettiest towns in the whole country, and here are the best ones that you should visit on your trip to Croatia.
Rovinj
In my opinion, Rovinj is the most amazing place in all of Croatia! The town is a peninsula jutting out into the ocean, giving you blue waters on three sides. The town is lively, abuzz with excitement at all times of day. The cathedral is epic to look at, and its restaurants are the best in the country.
Novigrad
This small coastal town is bright, colourful, and vibrant. In Novigrad, you can visit winemakers and taste great Istrian wine. It's also a culinary haven, with so much of the best Mediterranean food to be found all in one lovely small town!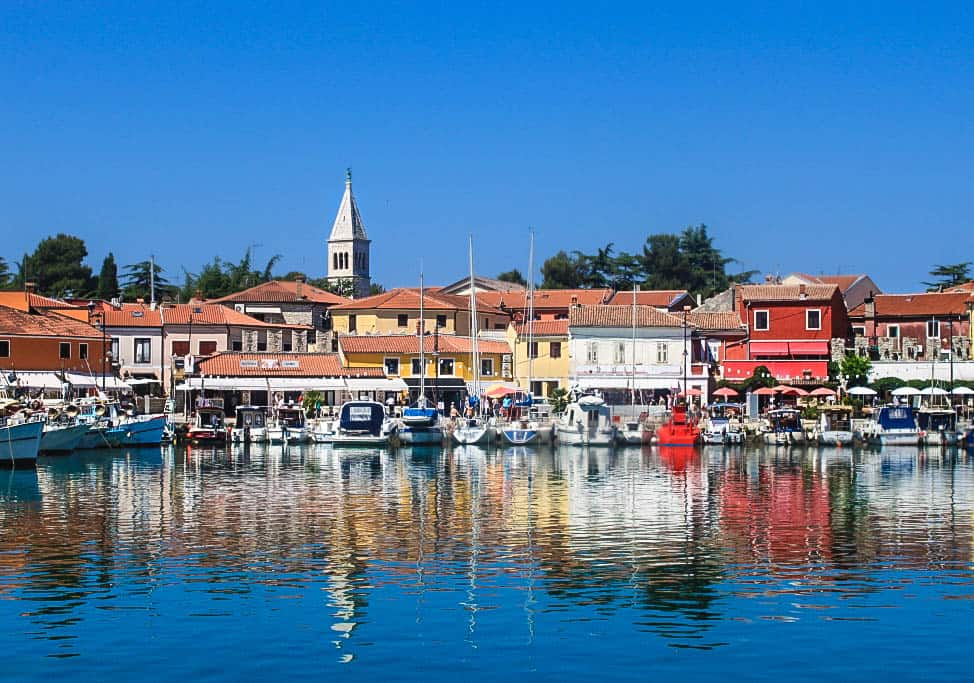 Pula
This is where you'll find the incredible Roman amphitheatre: the Pula Arena. The town attracts visitors from all over the world with its romantic atmosphere and charming architecture. It's the largest town in Istria, and in my opinion the one with the least charm. But the arena is definitely worth a visit!
Porec
In Porec, you'll find a UNESCO World Heritage site known as the Euphrasian Basilica. The town itself is over 600 years old and, besides its history, it's full of fantastic bars and restaurants to relax in and enjoy the atmosphere. Porec is perfect for the younger crowd.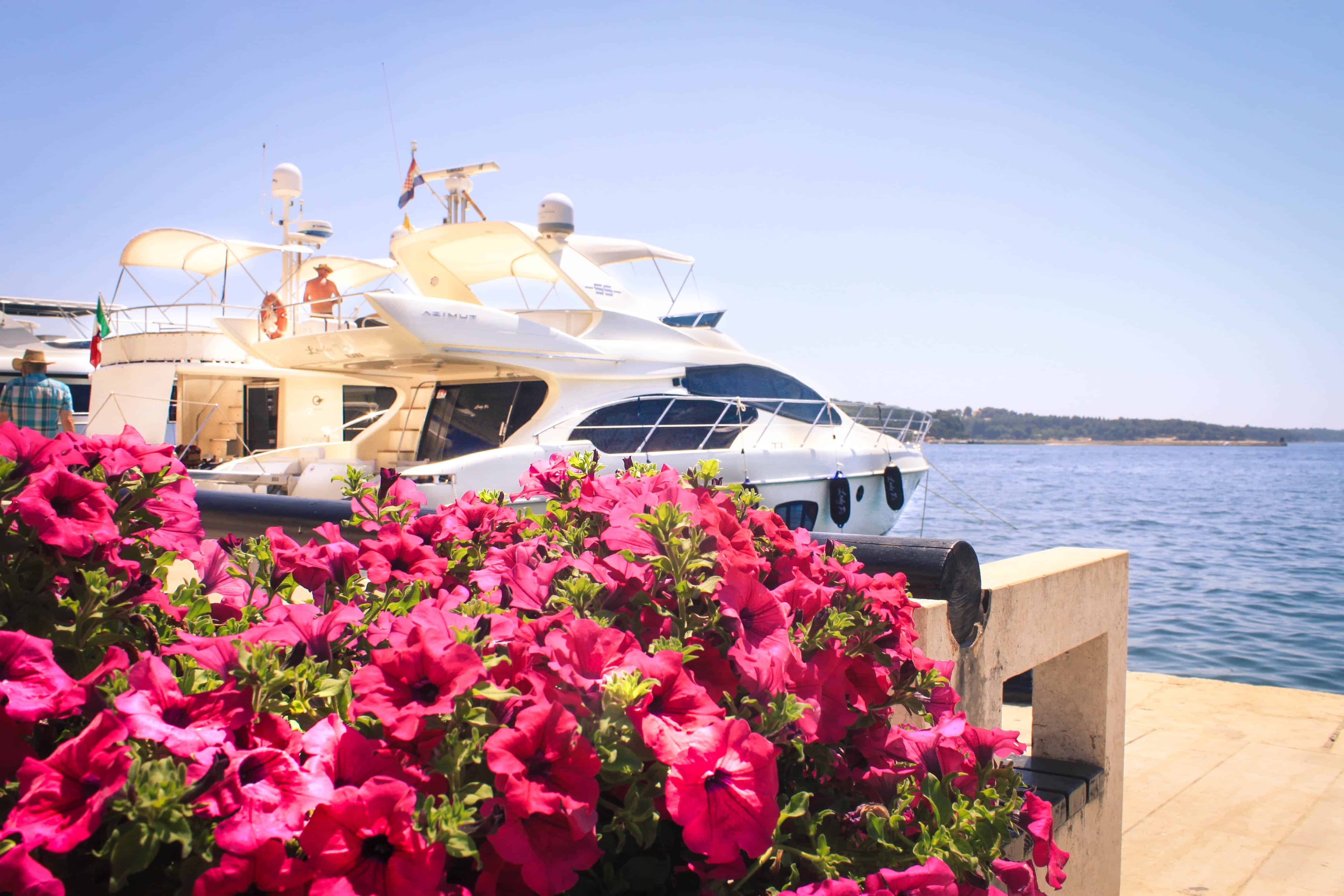 Labin & Rabac
What looks from above like a labyrinth atop a hill…. Actually, that's almost exactly what it is! Overlooking the surrounding countryside is the beautiful old town of artsy Labin where you can easily get lost in the most exciting way possible. Rabac, which is only a few km downhill from Labin, has some beautiful beaches.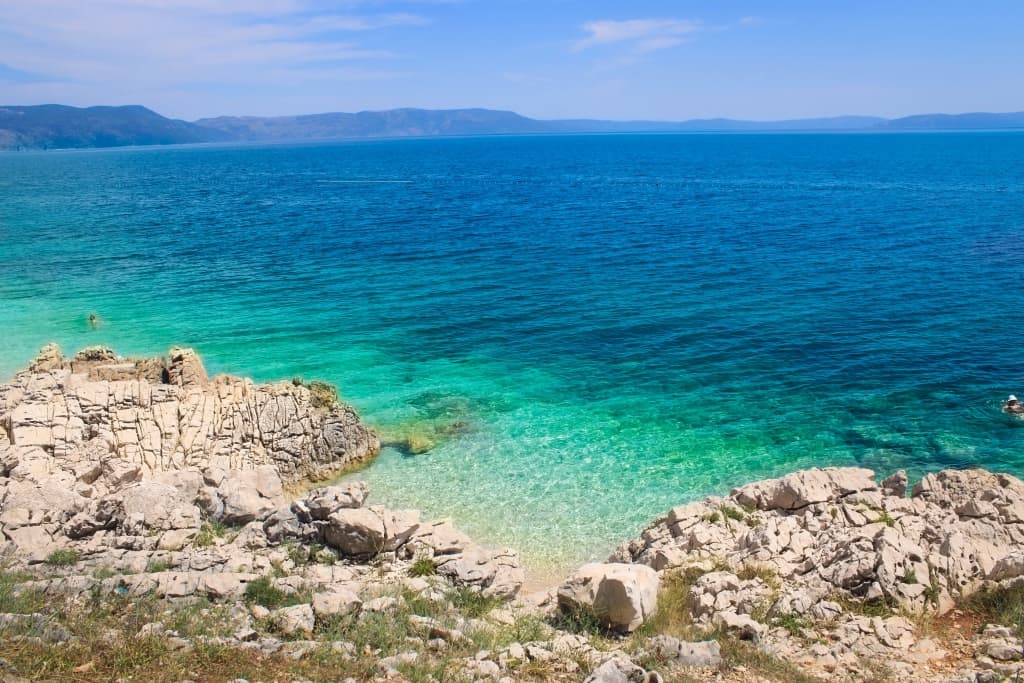 Bale
Bale is a town that few tourists know about, but local artists flock here! It has a 4km-long beach and hosts its own jazz festival! Bale has so much charm, and it has a great restaurant called La Grisa. It's worth a visit!
Vrsar
Vrsar is a real tourist hotspot. It's a gorgeous hillside town at the edge of the sea, overlooking nothing but blue as far as you can see. It's got several mesmerising beaches to relax at and markets to wander.
Vodnjan
Inland a little bit, away from the sea, is the quiet ancient town of Vodnjan. The town has real gothic charm, with some incredible medieval churches to find. As well as Istria's tallest tower and the best olive oil producers in the country (my favorite is Brist)!
Brijuni islands
Fourteen islands just off the coast of Istria make up a little paradise: The Brijuni islands. You can sail over and explore the islands for the day. There's even a theatre on one of the islands called the Ulysses Theatre. Combined, the islands make up one amazing national park.
Motovun
Motovun is a hill turned into a town – and, it's one of my favorite places in Croatia. At its peak is a fortress, and at its base is the Mirna River Valley. If Istria has one fairy tale town, this is it! There's nothing else quite like it, both inside and out. The sight of the town alone could inspire a hundred great stories.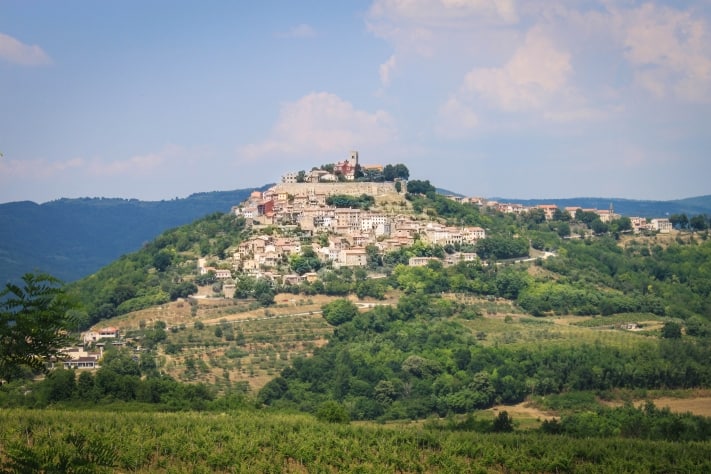 Fazana
Known as the pearl of the west coast, Fazana has always been home to farmers and fishermen. It's a real glimpse into the pure and honest history of Croatia, and it's the best connection to the Brijuni Islands.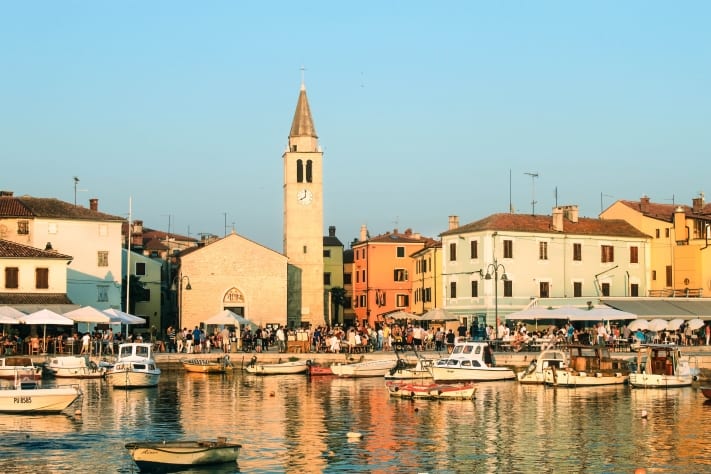 20. Day Trips from Croatia
If you're staying in one of the bigger cities in Croatia, like Dubrovnik, Zagreb or Split, there are still plenty of day-trips you can do to make the most of your experience in Croatia, including heading beyond the border to its neighbouring countries!
Ljubljana and Lake Bled – Lake Bled is the most stunning sight in Slovenia, and you can get there from Zagreb in Croatia. The trip takes a total of 11 hours and, in that time, you'll see some of the best bits of Slovenia!
Montenegro – From Dubrovnik it takes only one hour to get to Montenegro's coast. From here you have a day to explore the landscape and visit some of its most beautiful historic areas.
Plitvice Lakes National Park – This is a full day-trip where you'll explore the incredible and most majestic waterfalls in Croatia.
Kornati and Telascica Sailing Trip – Hop on a boat and explore two incredible archipelagos off the coast of Croatia. Take a full day to see everything the open ocean has to offer.
Krka Waterfalls – Krka National Park can be accessed from Split for a full day-trip. Here you'll swim in the open lagoon and explore another beautiful waterfall in Croatia.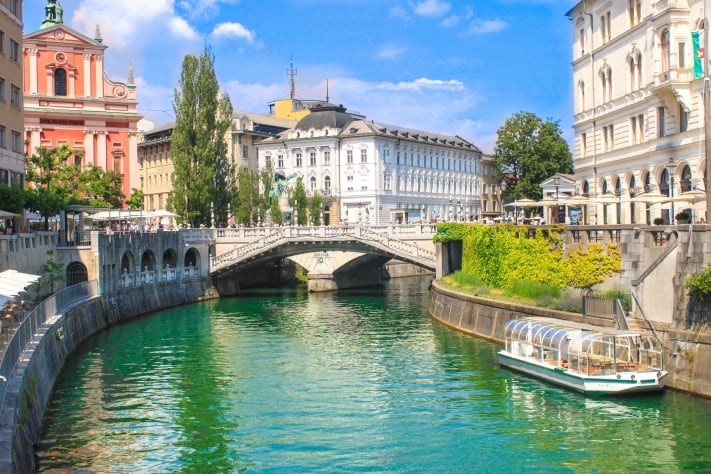 21. Explore caves (Zminj)
Near the small town of Zminj, you'll find the Festinsko Caves. A short tour will take you through the caves to see some incredible hidden natural beauty. It's an ideal tour if you have children as well: it's short, exciting, and absolutely beautiful.
Read next: 6 insanely cute towns in Istria you should visit
22. Go to a Festival
Croatia loves festivals, both traditional and modern! The Motovun Film Festival has been going since 1999 and is often described all over the world as the "Woodstock of film festivals". If you're a movie-lover, this festival is an incredible experience.
There's also the INmusic Ferstival at Lake Jarun, which attracts rock stars from across the globe, and Love International, a colourful dance and electro festival in Tisno.
23. Learn about history
Croatia might be the most historically rich country in the Balkans. Visiting the Pula Arena, the ancient walls of Dubrovnik's Old Town, or the world's smallest town of Hum.
All of this will teach you so much about the roman, renaissance, and medieval histories of a country that has managed to preserve so much of its ancient architecture, traditions, and food.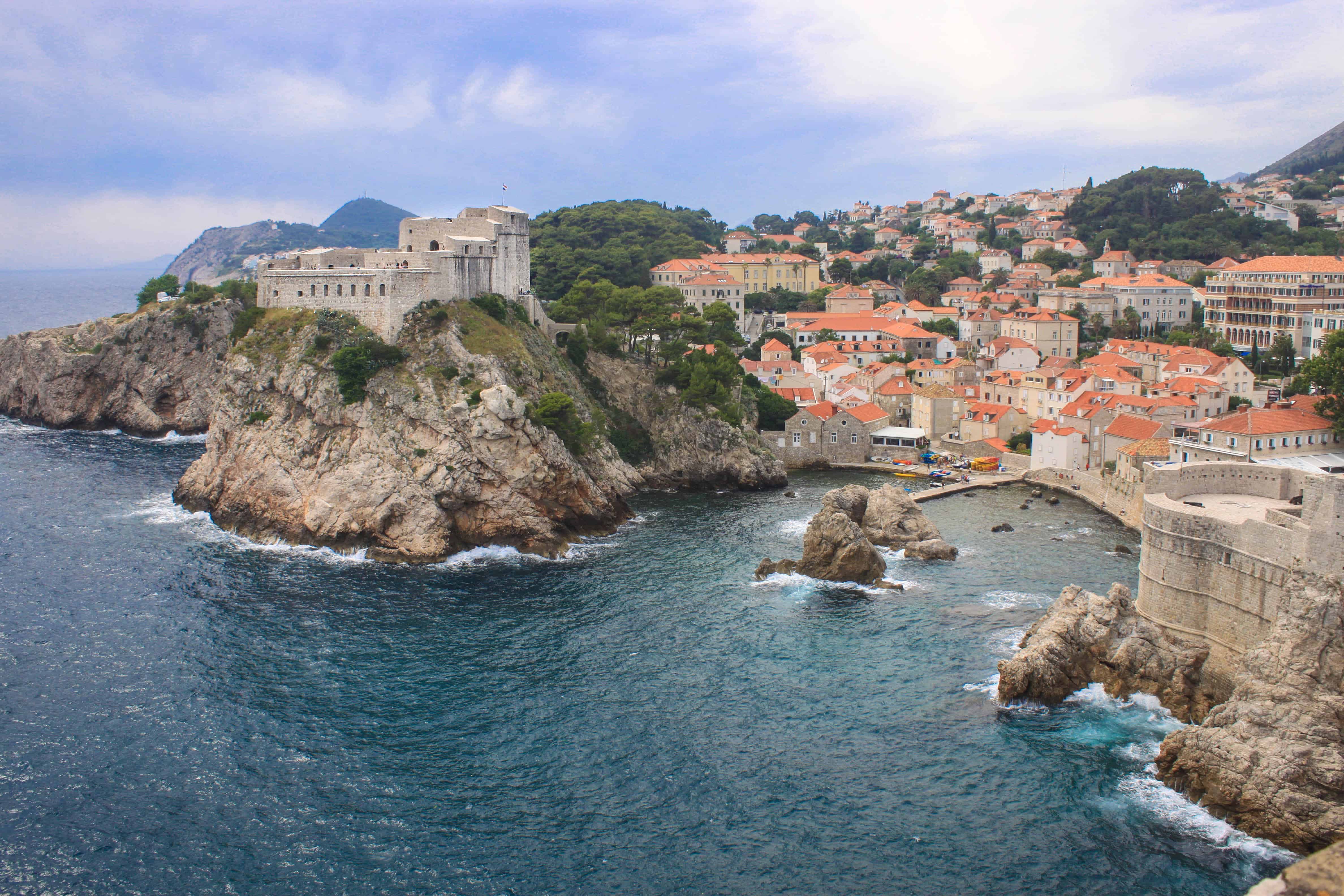 24. Visit the magical sun salutation in Zadar
This modern monument in Zadar was designed by local architect Nikola Bašić. It's a 22m-wide circle on the pavement which lights up with different neon lights.
They collect sunlight in the day and project bright colours during the night. A very unique and innovative Croatian experience!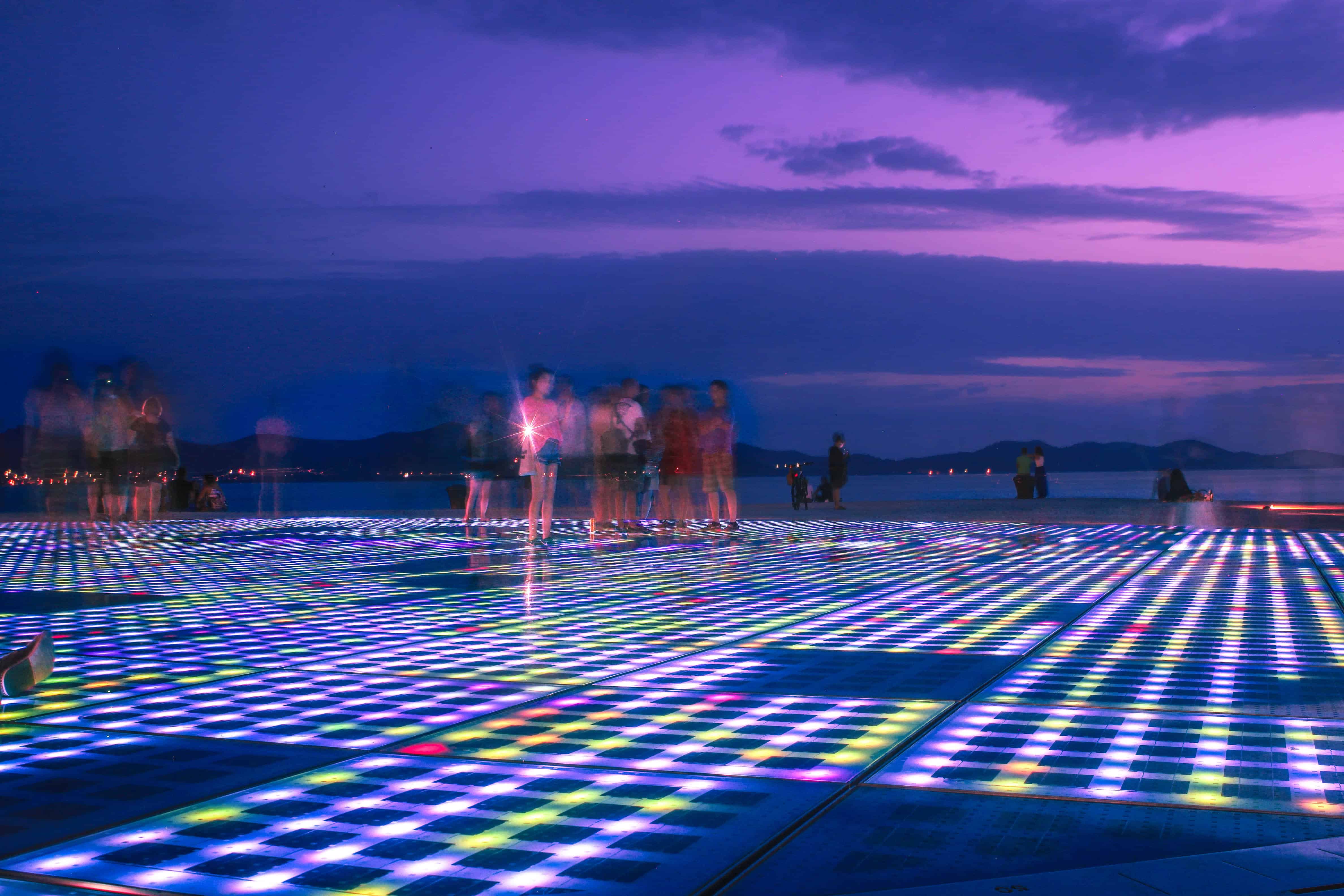 Croatia itinerary
When you visit Croatia, it's best to organise your time in Istria and Dalmatia. And these 7-day Itineraries are the best way to do that.
Istria itinerary (5-7 days)
Rovinj

(stay here half of the time)

Porec

Novigrad

Motovun

(stay here for a few days and visit Hum, Roc and Buzet)

Vrsar

Labin
Base yourself in Rovinj, and from here you can explore each of the best towns in Istria. Rovinj is the best place to stay, for its views and its electric atmosphere. From here, you can head out each day for a day-trip to each of these wonderful towns for wine-tasting, truffle-hunting, swimming, and more.
Dalmatia

(5-7 days)
Split

(stay here)

Dubrovnik

(day trip from Split)

Zadar

(stay here)

Plitvice Lakes

(1,5 hour's drive from Zadar)
Base yourself in Split for its ideal location in relation to Dubrovnik. In Split you can visit the Game of Thrones filming locations for Meereen. Then head out to Dubrovnik and its Old Town. After that, move on to Zadar and its Sun Salutation, and finally the Plitvice Lakes National Park.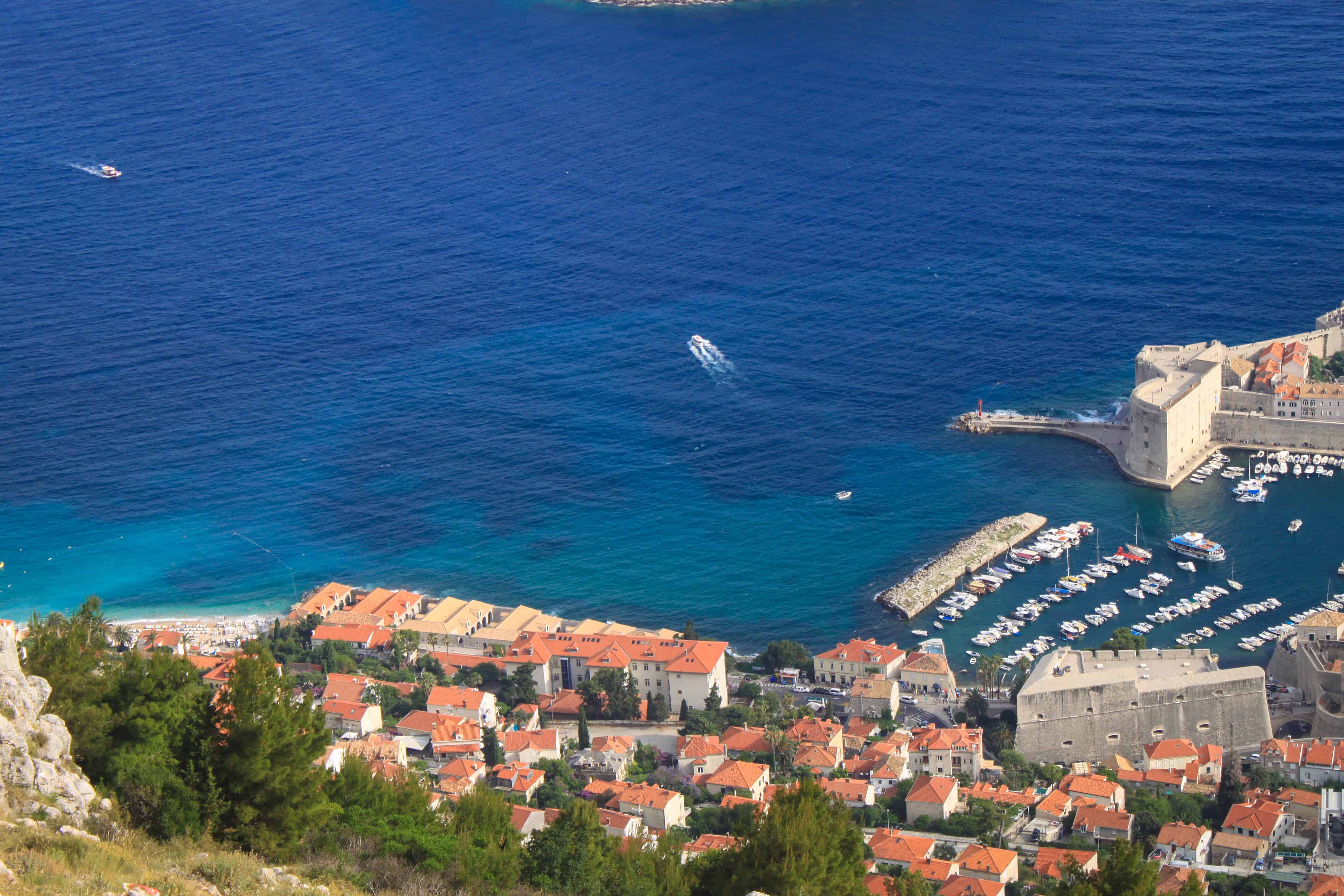 Where to stay in Croatia
For each of the best towns and cities in Croatia, let's take a look at the best hotels to stay in to make the most out of the perfect Croatia holiday.
Zagreb – Apartment Queen
A beautiful modern apartment where you will feel completely at home. Ideal for families or groups of friends.
Dubrovnik – Apartment City Getaway
A spacious apartment for two (great for couples). It has a traditional wood aesthetic and a completely relaxed atmosphere.
Zadar – Cicibela Apartment
A stylish, modern apartment with a huge TV and a comfy bed. This place is right in the heart of Zadar with everything at your fingertips.
Split – Apartment Belavista
An apartment for four with views of both the city and the endless coastline.
Plitvice – Donna Plitcive Lakes
A guest house with views of the countryside and rooms that offer total comfort.
Rijeka –Apartments InCenter
Gorgeous modern apartments with lots of space. Only 1km from the Croatian National Theatre and 3km from Trsat Castle!
Pula – Main Square Apartments
Quaint and cosy apartments in the heart of Pula, almost on the doorstep of the Pula Arena!
Porec – Apartments Gioia
Beautiful open apartments with a huge TV and a super-modern aesthetic. You also get a garden with a barbecue!
Rovinj – Lanterna Apartment
This apartment perfectly reflects the atmosphere and style of Rovinj. It's quaint, bright, wooden, and cosy.
Motovun – Villa Luna
An old stone villa with complete comfort in mind and views of rolling hills as far as you can see.
Rabac – Lemechi Casa Belfior Apartments
Bright white apartment with a balcony view of the hills, the coast, and the blue ocean beyond!
Vrsar – Apartment Vlado
A quiet apartment in a peaceful neighbourhood only a short walk from the town's famous Dusan Dzamonja Scuplture Park.
Novigrad – Lemon and Orange Apartments
Huge, spacious and comfortable apartment within walking distance of the harbour and all of Novigrad's best tourist attractions.
Are you going to Croatia? Let me know in the comments if you have any questions.