The 10 best beaches in Albania – a guide to the epic Albanian Riviera
What if I told you that you can find the most fantastic beaches in Albania, that are pristine, almost empty and cost absolutely nothing compared to other beaches in Europe?
You'd think there must be some hidden catch, right?
But there's not. It's totally real.
In this post, I'm going to walk you through the best beaches in Albania, step-by-step, with photos and links to all the resources you need.
Let's jump in…
This post contains referral links for products I love. Adventurous Miriam earns a small commission at no extra cost to you if you make a purchase through my links. Thank you for your support ♡ Learn more
Is Albania safe?
So, Albania, huh?
Fabulous holiday destination probably isn't the first thing that comes to mind, right? Let me guess.
You're a bit sceptical. You wonder, is it safe? Isn't it like a closed-off ex-communist country? With ruthless mobsters in old Mercedes?
Well, the truth is – no. It's not.
While you're right about the Mercedes part (they've got a gazillion), and that it was closed-off some 20 years ago, Albania is certainly safe to visit. Driving is crazy (I'll elaborate soon), but pickpocketing and random acts of violence are extremely uncommon.
In my limited time there, I found the people to be overall friendly and welcoming, particularly in Gjirokastër. And like I've said so many times before, I feel safer in the Balkans than most other countries in Europe.
Read next: Basic Albanian phrases and words you need to know
Albania beaches
Back to the beaches. Let's take a look at where to find them.
The Albanian Riviera is in the south of Albania, extending from Ksamil in the south to Vlorë in the north. The only cities along the riviera are Vlorë, Himarë and Sarandë, but there are several small villages along the road.
And you know what? This drive is one of the most stunning. Trust me on this. You'll be glued to the window all the way.
How to get to and around the Albanian Riviera
So, let's say you decide to visit Albania. Should you just book flights and get cracking?
Actually— no.
You need to do some planning ahead.
Since Albania was closed-off for many years, they've got a little catching up to do – especially when it comes to infrastructure and maintenance. Even if you follow the coast road, which is the newest, you'll encounter huge potholes, unpaved roads and more of less every farm animal you can imagine. It's an adventure alright.
How to get to the Riviera
You have two options:
Fly to Tirana and go from there. It will take you five hours drive to Sarande if you rent a car, or by what sounds like terrible public transport anywhere between 6 and 9 hours.
Fly to Corfu (Greece) and take a 30-min ferry to Sarandë. This is the easiest and what we did.
How to get around
Again, you have two ways of exploring the Albanian riviera:
Public transportation (mini busses)
Rent a car (what we did)
Getting around is not the easiest because public transportation doesn't always have a set schedule. So bottomline: You'll need a car, or lots of patience for public transport, to really see the riviera.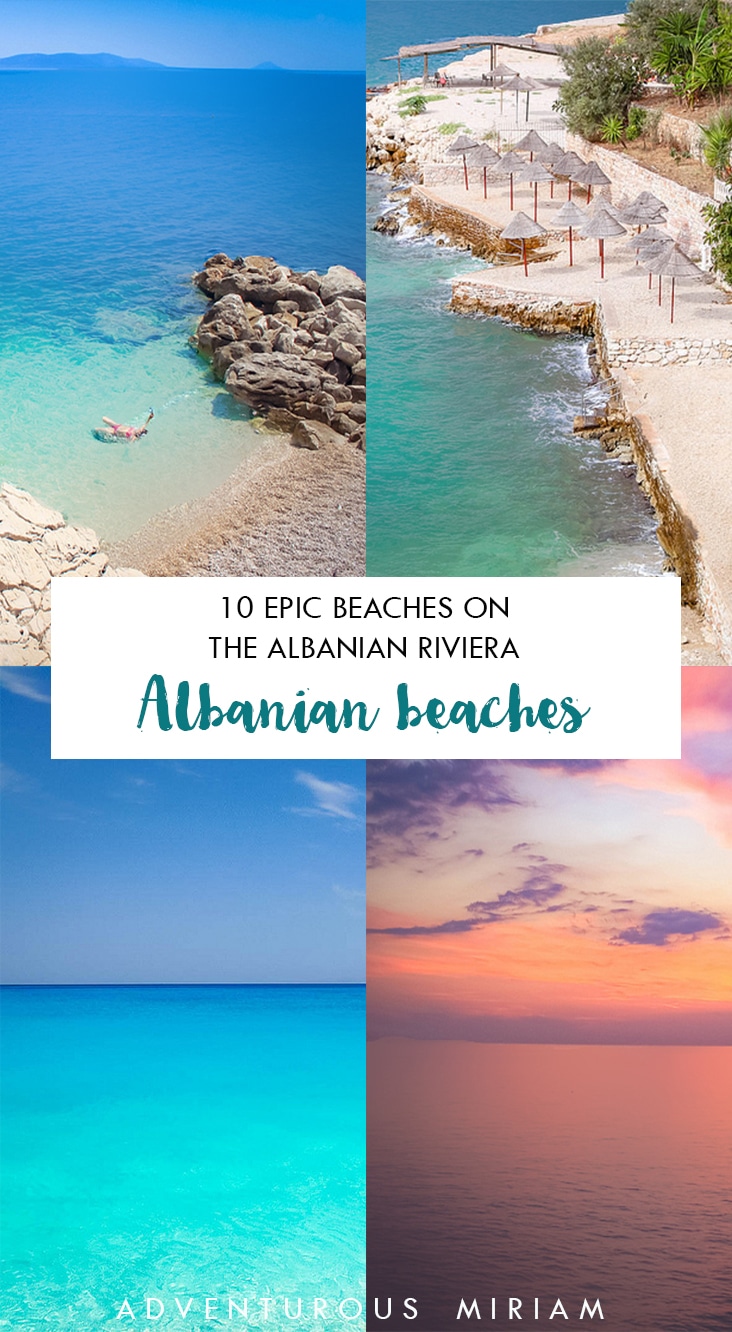 Car rental in Albania
If you're coming from Corfu, the easiest would be to take the ferry to Sarandë and pick up your car there. We rented a car through Sixt, because they got the best prices and really great support. The local Sixt man met us at the centre, right next to the port. In fact, you can save 10% on car rental in Albania with this link.
Easy, peasy.
1. Ksamil Beach, Albania
Tropical beach
Ksamil is a small village south of Sarandë with several little beaches and coves. The three islands in its turquoise bay are an easy swim or boat ride away. Ksamil can get really crowded in summer, particularly August, so go for June and September instead. The best beaches in Ksamil are Bora Bora and Lori beach.
Click here to find Ksamil beach on Google Maps.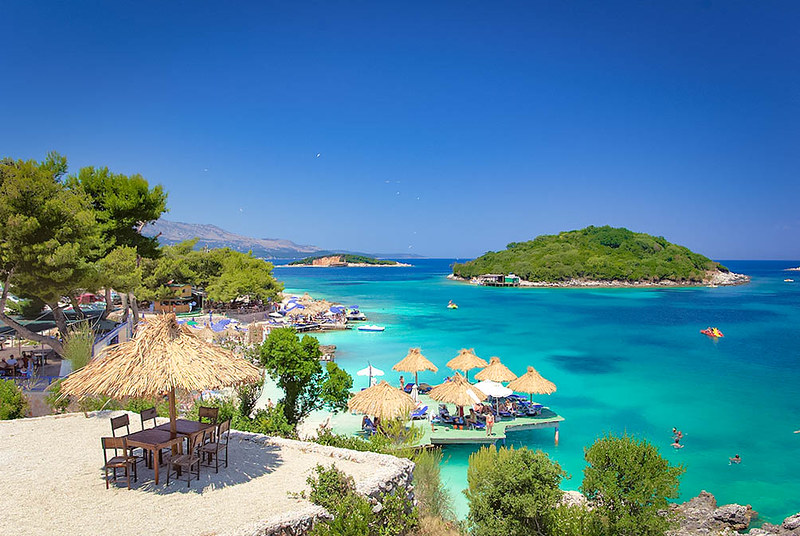 Ksamil Hotels
There aren't any luxurious hotels in Ksamil, which is why many visitors choose to base themselves in Sarandë. Mostly you'll find apartments and houses – like this one:
Villa A & A – Those cheap Albanian prices ($33 per night) makes this villa a bargain! It has an amazing view of the beach and islands, and the interior is modern! Click here to see the latest prices.
2. Pasqyrave (mirror) Beach
Hidden beach
Pasqyrave or Mirror beach is located between Sarandë and Ksamil. It's a bit off-road with a small steep gravel road leading up a hill side. The beach is located on the other side of the hill and not visible from the road. There aren't any signs so you'll need to use Google Maps.
Click here to find Pasqyrave beach on Google Maps.
3. Sarande
"Big" city beaches
Sarandë is the unofficial capital of the riviera and the port to Greece. The town itself is relatively bland and beaches aren't the best. Sarandë does however have a nice esplanade with some great restaurants and bars. And it's a great place to use as a base for visiting Butrint National Park, Ksamil, The Blue Eye and Gjirokastër. And the rest of the riviera, of course.
Click here to find Sarandë on Google Maps.
Sarandë Hotels
White Residence Apartments is my favorite place in Sarandë. I loved how super luxurious and neat is was – and that view! It's located 15 mins walk from the centre, but there are restaurants and supermarkets nearby. Click here to see the latest prices.
Bougainville Hotel is another great pick. This hotel is really unique with super cool rooms and several pools (incl. infinity pool with seaside and sunset view). Service is amazing and food is great, too. I'd definitely come back. Click here to see the latest prices.
4. Borsch Beach
The longest beach
Borsh beach is 7 km long, which makes it the longest beach in Albania. It's also one of the least visited beaches in the country. Listen to the waves and sleep away the day on a lounge chair (rent is 250 lek.) – there's plenty of room for stretching out without bumping into others.
Click here to find Borsh beach on Google Maps.
Borsch and Qeparo Hotels
5. Porto Palermo
Beach with a castle
If you want a medieval castle with your beach, you should head to Porto Palermo. It's located just a few kilometres south of Himarë, which makes it a great day trip.
Click here to find Porto Palermo on Google Maps.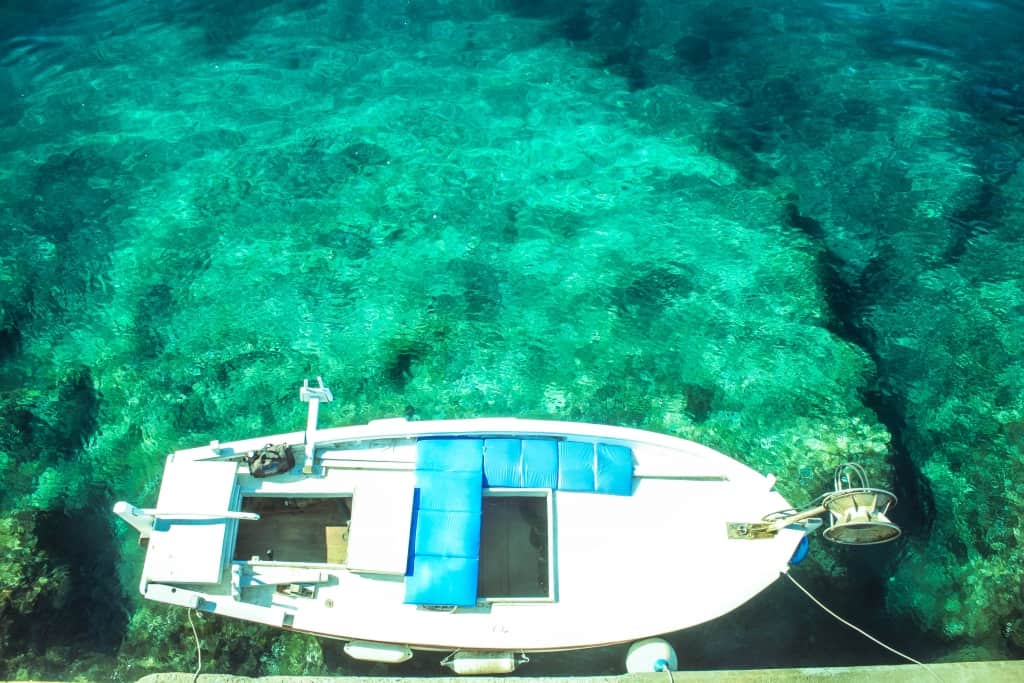 Porto Palermo Hotels
Panorma Bed and Breakfast is located in the small cove of Palermo. If you like homemade food and appreciate a gorgeous view, this B&B is for you. Click here to see the latest prices.
6. Llamani Beach (Himare)
Small beach
This little charmer of a beach is also located a few kilometres south of Himarë. It's not so big, but the crystal clear waters make it worth visiting.
Click here to find Llamani beach on Google Maps.
7. Livadhi Beach (Himare, Albania)
Base yourself here
The beach in Himara centre can be a bit crowded (for Albania). Instead, head to Livadhi, which is about 3km north of town. It's a white stone beach with hills nearby and great for swimming. Himarë is a great place to base yourself while exploring the riviera – it's close to the other beaches and it's got several stunning beaches in walking distance.
Click here to find Himarë on Google Maps.
Himare Hotels
Miamar Hotel – this five-star hotel is right on Livadhi beach with a small private beach section. Two outdoor pools and squeaky clean and ultra-modern rooms. Click here to see the latest prices.
8. Jala Beach
Crystal clear water beach
Jala beach is also referred to as "Glass Beach" for its crystal clear waters. Let's just say that it lives up to its name. It can get a little crowded for Albanian standards, but it still doesn't come close to what you'll find in Croatia or Greece.
Click here to find Jala beach on Google Maps.
9. Gjipe Beach
Albania's "The Beach"
If someone made an Albanian version of "The Beach", Gjipe would be it. This little hidden gem is really secluded, and you only have two ways of reaching it:
Hike 30-minute (3 km) down to the beach with spectacular views on the way.
Hire a boat from Dhërmi (be sure to arrange a return trip, too!)
Click here to find Gjipe beach on Google Maps.
10. Dhermi Beach
Upscale and luxurious beach
Dhërmi is one of the most popular beaches in Albania. There are lots of coves and smaller bays further along the beach (like the one below), including Gjipe and Jala.
Click here to find Dhërmi beach on Google Maps.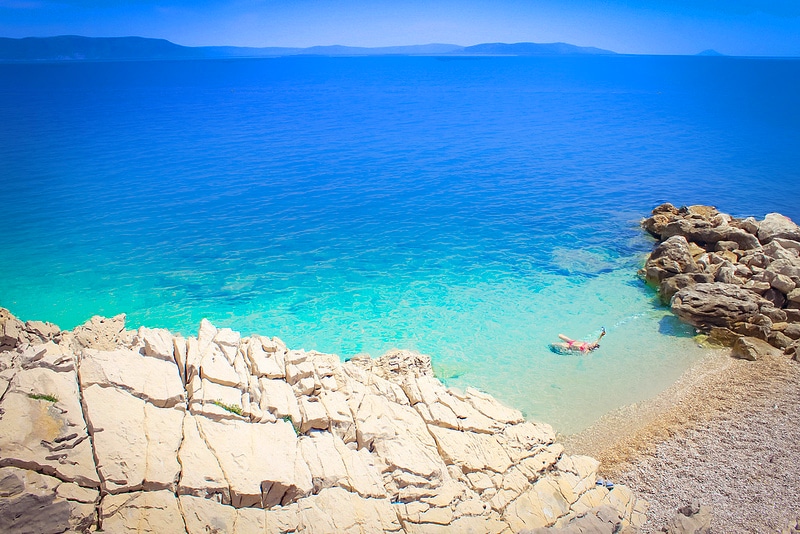 Dhërmi Hotels
Albanian food on the Riviera (Yuum!)
A trip to the Albanian riviera isn't really complete until you've indulged in seafood. And the best part? It's so incredibly cheap. A main meal is no more than $9, a bottle of wine $7 and beer is $1.7.
Here are a few great restaurants along the Albanian riviera:
Best time to visit the beaches in Albania
One last tip. Exploring the beaches makes summer the best time to visit the riviera, of course. However, if you want to enjoy the beaches without the "crowds", but don't want to be the only one there either – head for the shoulder seasons.
June, July and September are the best months to visit.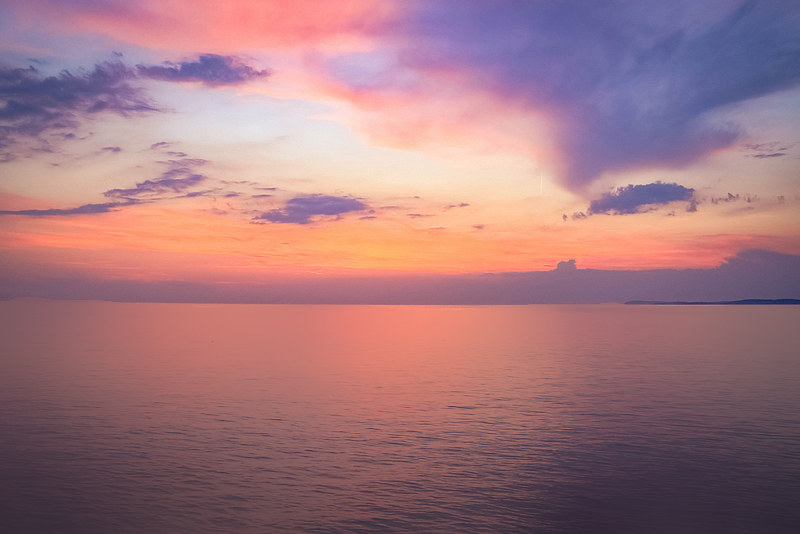 More on Albania:
Are you going to the Albanian Riviera? Do you have any questions?