10 great reasons to visit Poland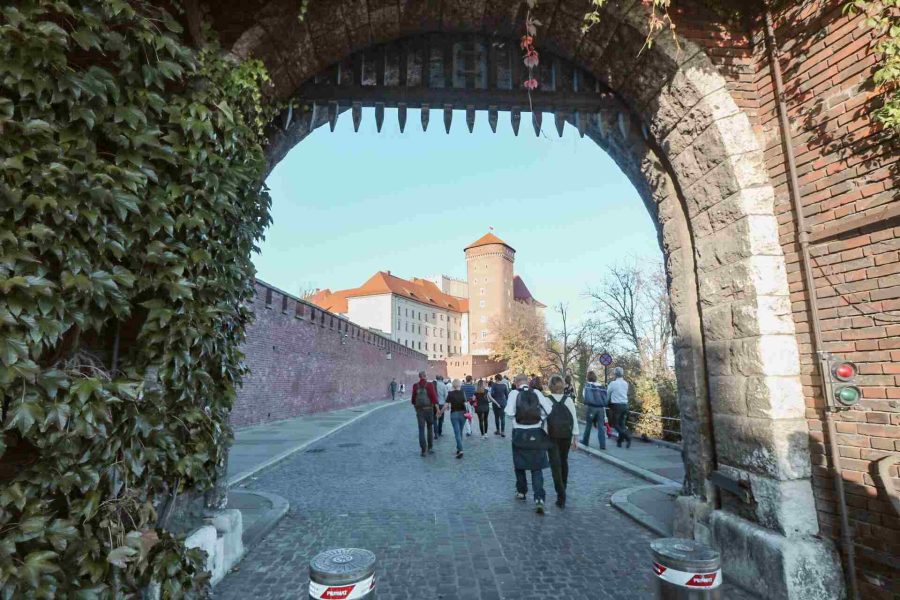 It may not be the first travel destination that comes to mind, but there are plenty of reasons to visit Poland!
With its breathtaking natural beauty, fairy tale castles and delicious cuisine, this Central European country is the perfect place for a weekend getaway, a skiing trip or a peaceful beach escape.
In this post, I'm sharing why Poland should be at the top of your travel wish list. If you need tips on how to plan your trip, check out my travel guide to Poland.
This post contains referral links for products I love. Adventurous Miriam earns a small commission at no extra cost to you if you make a purchase through my links. Thank you for your support ♡ Learn more
Reasons to visit Poland
If you're looking for an affordable travel destination with medieval towns and super-delicious food, you'll love Poland.
I still think back on my trip there and can't believe we didn't visit sooner. It's an amazing country.
I'll share all the reasons to go to Poland below, but first some facts….
Read next: 2 days in Gdansk – perfect itinerary for first-timers
What is Poland known for?
Poland is known for its mouthwatering pierogi, the former Pope John Paul II, and Europe's oldest primeval forest. Also, Poland is famous for:
The world's oldest castle (the Teutonic Order in Malbork)
One of the world's oldest salt mines (the 800-year-old Wieliczka Salt Mine)
The oldest restaurant in Europe ("Piwnica Swidnicka" 1275 in Wrocklaw)
Vodka was invented in Poland (1405, originally used as medicine)
Best time to visit Poland
The best time to visit Poland is between May and September, as the weather is usually at its best during this period. Spring means mild temperatures and blooming cherry blossoms, while summer brings warm days and stunning sunsets.
In Autumn, you'll get cooler temperatures, and eventually snow in the winter months when many ski resorts come alive. 
Remember to pack a little of everything.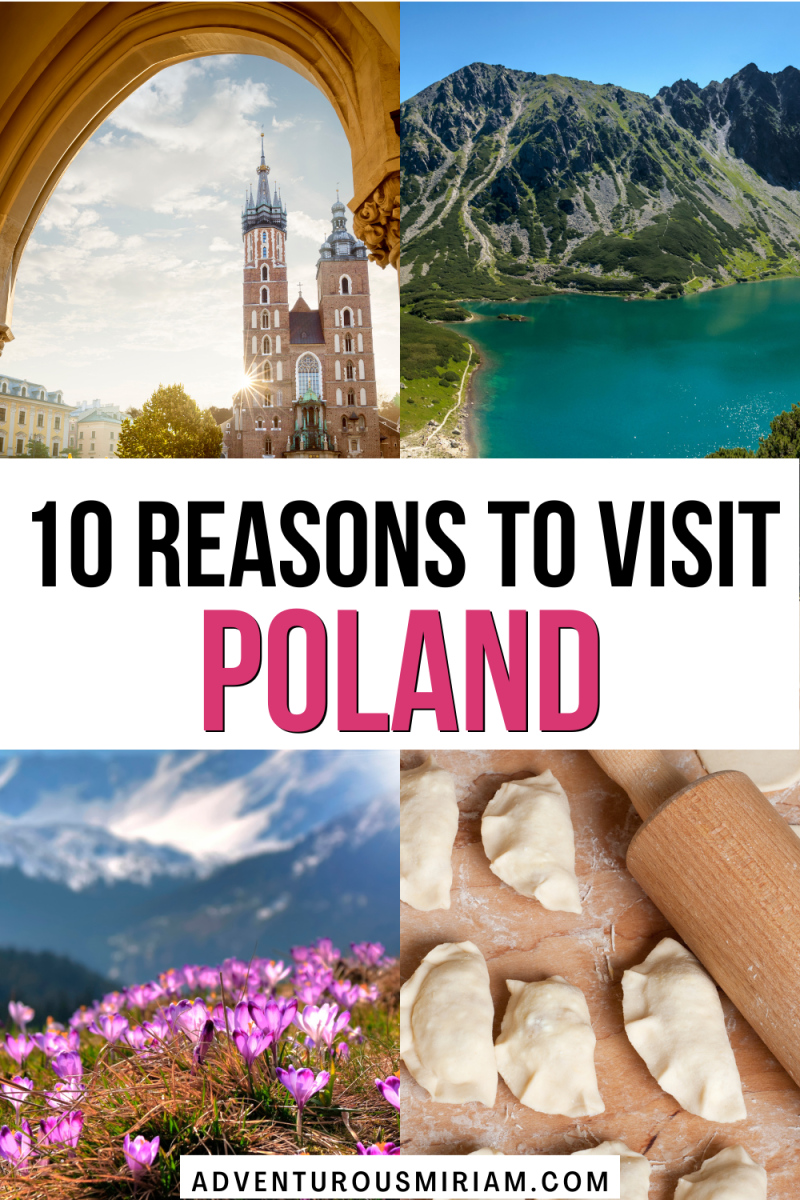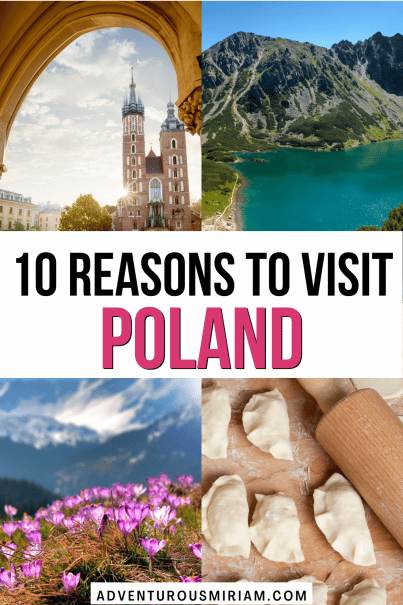 How to get around Poland
Exploring Poland is easy and convenient, as the country has an extensive and well-connected transport network.
From trains to budget airlines like Ryanair, LOT Airlines and Wizzair, there are plenty of ways to get around the country. Buses are a popular choice if you're traveling on a budget, and in the city, you can bike, walk or take the bus. 
Alright, let's get to business: Here are 10 reasons to visit Poland!
1. Poland has 15 UNESCO World Heritage Sites
Did you know that Poland is home to 14 UNESCO World Heritage Sites? Just to compare, the U.S. has 25 sites, but think of how much bigger the U.S. is.
Anyways, each of these UNESCO sites gives you a remarkable glimpse into Poland's past.
From the Bialowieza Forest – one of the last and most biodiverse old-growth forests in Europe and the only place where you can spot the rare European bison – to the atmospheric historic Old Towns of Gdansk, Warsaw, and Krakow, with their cobblestone streets and charming old architecture.
2. The mouthwatering cuisine
Pierogi….
Yuuum.
Gulasz. More yum.
If you're a foodie, you'll love Poland. Think pierogi dumplings, kielbasa sausages, and golabki cabbage rolls – all washed down with a cold pint of local craft beer.
3. The landscape is mindblowing
In the south of Poland, you'll find the beautiful Tatra Mountains – The Polish Alps. They stretch into Slovakia and they're incredible. Here, you can read my posts about my trip to the Slovakian Tatras.
Zakopane is the gateway to the Tatras where you can hike, bike or just enjoy the stunning landscape of the Tatrzanski National Park. It's also popular for skiing.
4. Poland is less touristy
Although Poland has plenty to offer all year round, it remains a mostly undiscovered destination.
While this means you'll get a more authentic experience where locals behave naturally (and not think about selling or trying to rip you off), it also means that you'll be rewarded with less crowded attractions.
Big win-win.
5. It's perfect for a weekend getaway
One of the best reasons to visit Poland is that it's so easy to get to from most other European countries.
You can take a weekend trip to Gdansk or Krakow or explore the Tatra mountains by flying into Krakow or Poprad/Tatry. It's the perfect short-trip destination.
Read next: 30 amazing things to do in Gdansk
6. Medieval towns
The thing I love most about Poland (aside from the pierogi) is the medieval old towns.
These picture-perfect old towns and villages, especially Krakow, Złotoryja, Gdansk, Poznań or Malbork, are teeming with history, charming cobblestoned streets, and a medieval fairy tale vibe.
7. It's affordable
Yes, Poland is still one of the most affordable European countries to visit, even with prices on the rise.
Take advantage of cost-saving measures such as flying with a low-cost airline, eating at Poland's iconic milk bars, and renting a bike or hostel for your accommodation to get the most bang for your buck.
8. A dragon once lived here
Legend has it that a dragon once lived in Krakow and terrorized the city until a brave man named Krak vanquished it.
The people of Krakow celebrated his heroic deed by naming their city after him, making Krakow one of the oldest cities in Europe (dating back to the 7th century).
The dragon's den lies beneath the grounds of Wawel Castle. In the summer, you can visit the legendary lair through an ancient well that leads 21 meters down into the depths below.
At its exit stands a colossal dragon statue carved in 1971 and steaming with fire every five minutes.
Read next: How to spend awesome 2 days in Krakow
9. Lots of history
If you're a fan of history, Poland is the perfect destination. From old synagogues and castles dotted around the country to the more than 400 dwarf statues inhabiting the city of Wroclaw.
A day trip from some of the major cities can take you to some of the most somber yet meaningful places in the world. Auschwitz stands as a harrowing reminder of the horrors committed by the Nazi regime, while the Wieliczka Salt Mines act as a timeless memorial to its 15 million-year history.
Carved out in medieval times, this UNESCO World Heritage Site is said to stretch from 64 meters to 327 meters deep.
10. Locals are super friendly
Last but not least – the people in Poland are super friendly and welcoming towards visitors.
When we arrived in Krakow, we were met by the nicest taxi driver and host. Everyone we met on our journey was helpful and kind, so I'm confident in saying that you can expect hearty hospitality and warm hearts as soon as you arrive in this beautiful country!
Need more reasons to visit Poland? Check out the posts below.
More posts from Poland you'll love