15+ traditional Romanian food: You'll be surprised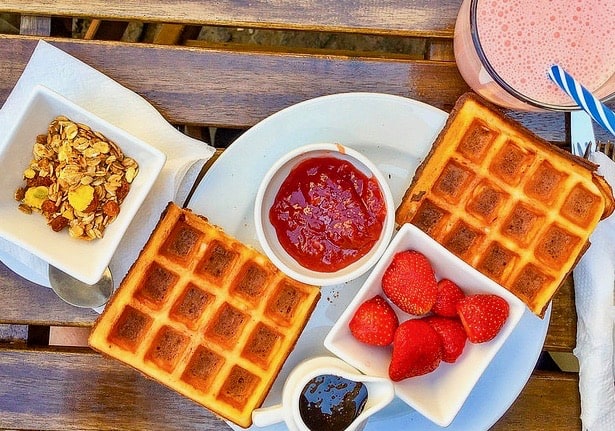 When I visited Romania, I had no idea what traditional Romanian food was or if I'd even like it. But now I know that:
despite various vampire myths, garlic is a main ingredient in many local dishes
pork is king, and..
they have some bizarre dishes for the adventurous souls only – I'll tell you more about that in a minute
Bon appétit… or poftă bună as they say in Romania.
Let's dive in!
This post contains referral links for products I love. Adventurous Miriam earns a small commission at no extra cost to you if you make a purchase through my links. Thank you for your support ♡ Learn more
So, what is traditional Romanian food?
Just like in Hungary and Slovakia, many Romanian dishes are influenced by neighbouring cultures, especially Turkish, Hungarian, German and Slavic. 
But despite these influences, Romanian cuisine has kept its traditional taste through recipes that have been passed from generation to generation.
Above all, home-cooked peasant food is the norm. While sour soup usually acts as the starter, mămăligă (polenta) with sarmale (cabbage rolls) is a typical main course. Romanians also like smoked bacon, known as slănina afumată.
Join a food tour in Bucharest
The best way to get to know Romanian cuisine is on a food tour.
On a food tour you get to taste Romanian food, get the history behind it and you'll visit gastronomic hot spots.
Check rates and availability on this food tour where you can try traditional Romanian peasant food like cheeses, cured meats, sausages and more.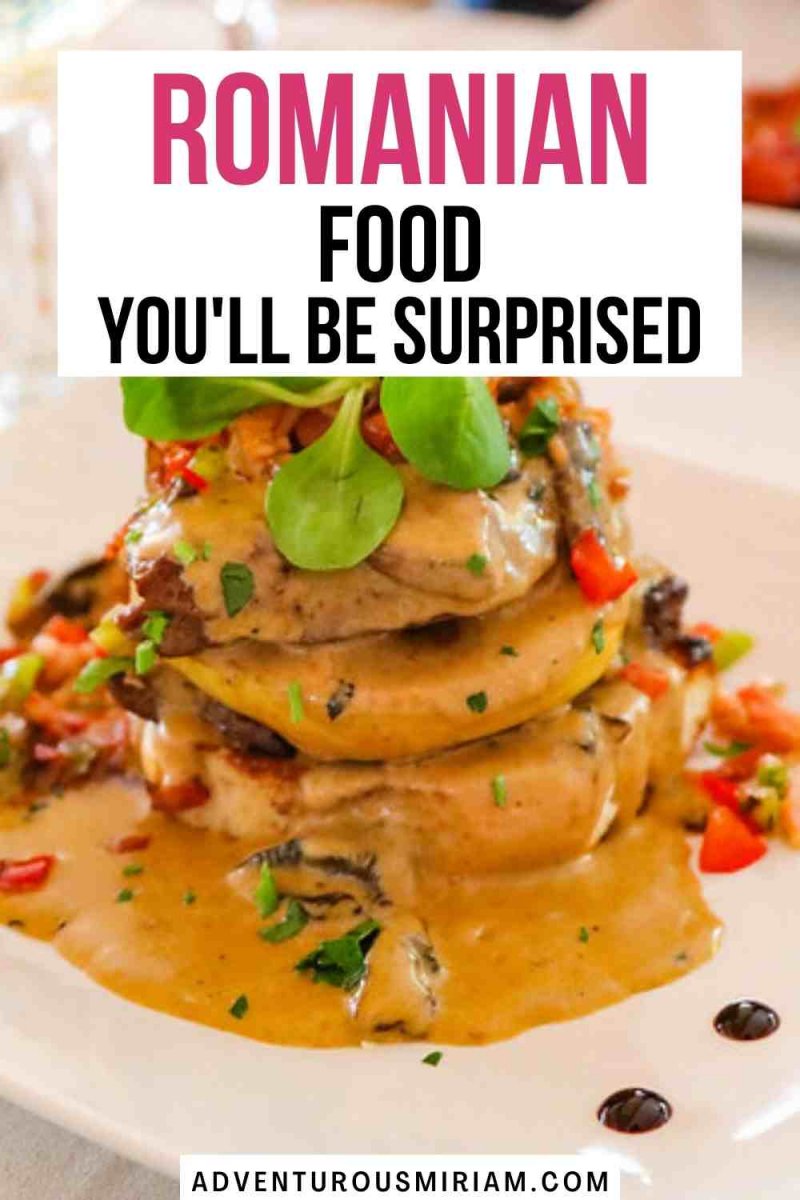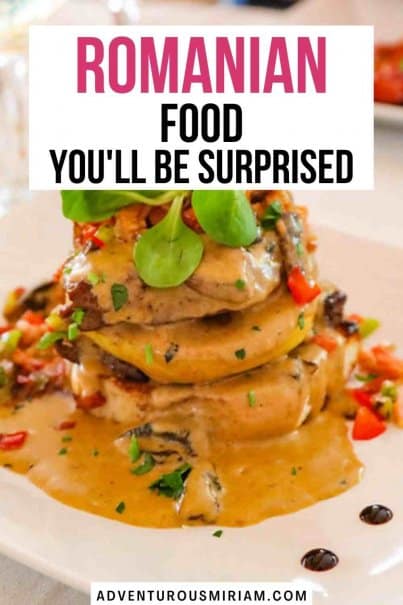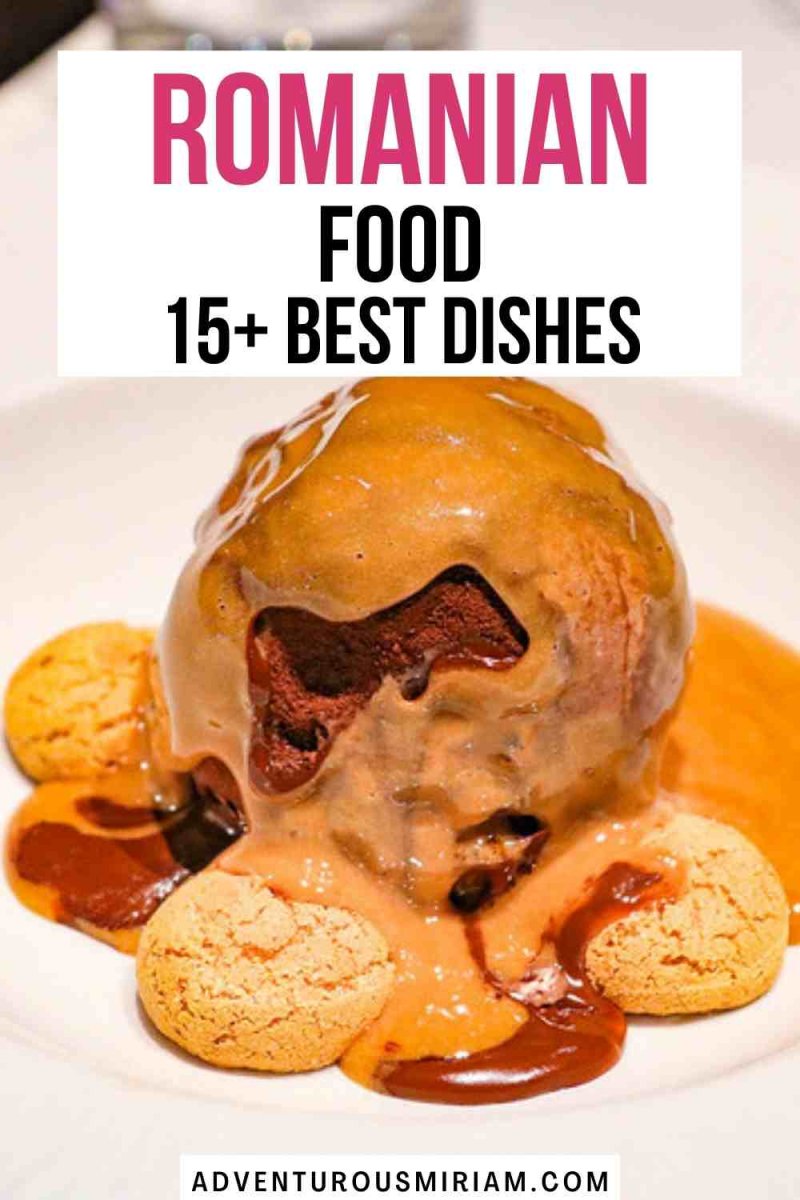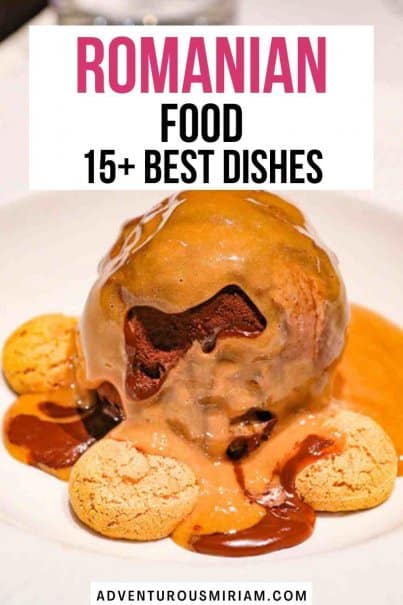 Romanian food you should try
Soups – the first one is interesting
Let's begin with the starters, which in Romania often is a soup.
Ciorba de Burta (tripe soup) is one of the most popular soups in Romania and considered the ultimate hangover remedy. The soup is made with the stomach of a cow (tripe), lots of garlic, sour cream, vinegar and served with hot chilli peppers.
Another popular Romanian soup is Ciorba de Perisoare (meatball sour soup). If you're a vegetarian, I recommend the Ciorbă Tărănească, a vegetable soup that comes with or without meat. And then of course there's the Goulash Soup, which is always a good idea. (check out the traditional Hungarian goulash)
Main dishes
You will come across chicken, beef and fish in Romanian cuisine, but there's no doubt who is king: Pork – and it comes in many forms. Don't be surprised to see all parts of the pig on the menu card, like tongue, liver, feet, ears, stomach and brain.
Pork stew
Often served with potatoes
Sarmale
Cabbage rolls made of minced meat, rice and spices, rolled into sour cabbage leaves and boiled for hours.
Mămăligă (Polenta)
Polenta is a common side dish in the Balkans. It's made from boiled corn flour and can be served as hot porridge, or baked, fried, or grilled.
Mici (Mititei)
Another traditional Balkan dish is mici; the closest thing you'll find to Romanian street food. They're small grilled minced meat rolls made from beef, lamb and pork mixed with lots of spices. They're VERY tasty.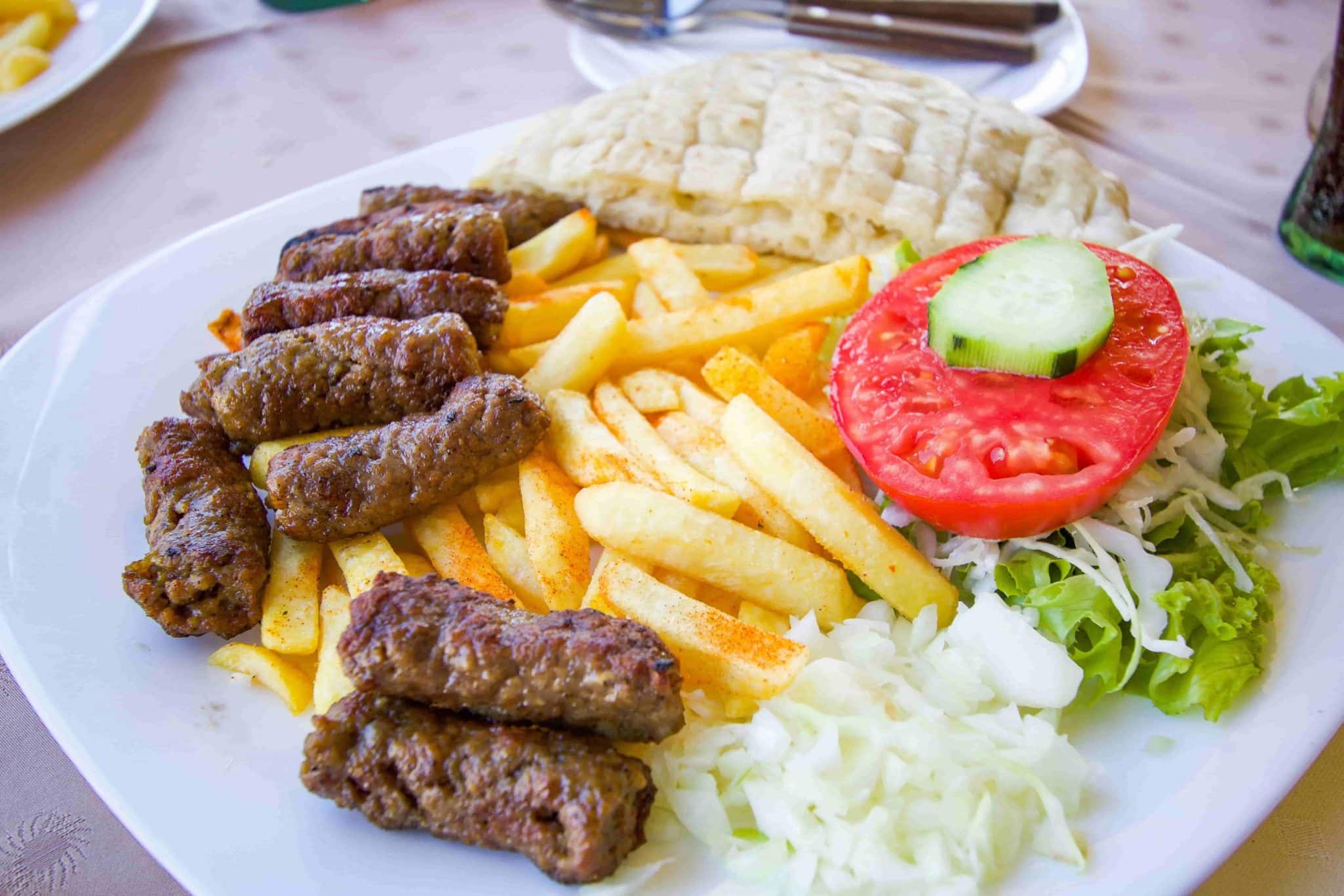 Modern Romanian Food
Traditional Romanian food is known not to be the healthiest and lightest of cuisines. However, I found contemporary meals to be more simplistic and also served with lighter side dishes rather than polenta, pickled vegetables or potatoes.
I found the best modern food in Brasov at a restaurant called Prato Restaurant. It's a great place and the food was amazing!
Deliciously good desserts
The desserts in Romania stole my heart right away. The more traditional ones include papanasi, which is cottage cheese rolled into a donut-like shape, filled with sweet cream and topped with jam or berries.
Another national treasure is the cozonac, a sweetbread filled with walnut paste or poppy seeds paste. One of the most well-known desserts is the fried dough pie, filled with sweet cow cheese and raisins.
Bizarre Romanian food (for the adventurous)
Romania has an interesting cuisine, but some of the dishes are quite bizarre. Here are the most unusual foods I came across:
Fried Brain (Creier Pane)
Tongue with Olives (Limba cu masline)
Liver Sausage (Caltabos)
Pork Rind (Soric)
Cow Stomach Soup (Ciorba de Burta)
Lamb Haggis (Drob de Miel)
Romanian Street Food
The most common Romania street food is covrigi, hot pretzels covered in sesame or poppy seeds, and gogosi, which are similar to doughnuts and served dusted with sugar or stuffed with fruit. My favorite is still Kürtőskalács, a delicious chimney cake with cinnamon and sugar.
More food-like dishes include mici, which is grilled meat rolls served with bread and mustard, and shoarma, a Romanian version of shawarma.
As you can see, I'm sticking to the snacky foods ↓
And International Food
As much as I like to try local food, I sometimes prefer a familiar meal. So I'm always happy to see International restaurants when I travel.
I saw a fair share of Italian restaurants in both Brasov and Sibiu, but Bucharest seemed to have it all when it came to International food. Especially around the Old Town, which is a great place to stay, I saw loads of options. There's also a variety of vegetarian & vegan restaurants, like Simbio, Arome and Barca.
So, what do you think? Is Romanian food something you'd try?
More stuff you'll love: