11 fang-tastic things to do in Sibiu Romania | The city with eyes
Sibiu Romania was voted Cultural European Capital in 2007 and named by Forbes as "Europe's 8th most idyllic place to live". But that's not why I came to Sibiu.
No, this city has something far more unique and interesting. First of all, it's based in Transylvania, the home of Count Dracula, and second of all: the houses have eyes. And they are watching you.
I'll tell you all about these paranoia inducing houses in a minute, but first let me give you a proper introduction to Sibiu.
This post contains referral links for products I love. Adventurous Miriam earns a small commission at no extra cost to you if you make a purchase through my links. Thank you for your support ♡ Learn more
Introduction to Sibiu Romania
The lovely town of Sibiu sits at the foothills of the Cindrel Mountains in Transylvania, some 215 km from Bucharest.
It's a medieval town. About 154,000 people live here and its history goes all the way back to the 12th century.
It's easy to see that the town is historic. Not because the houses are old and ramshackle, but they do look like they're from another time.
Take a guided tour of Sibiu
I wanted to see as much of Sibiu as possible so Sibiu Tourism Board kindly arranged a guided tour of the city to help me get to know its secrets. It was a really good way to get insight into the history.
You can take a guided tour of the city with Viator where you'll learn about the medieval walls, romantic squares, historical buildings, orthodox churches and much more. 
Where to stay in Sibiu
Hotel Casa Luxemburg (⭐ 9.2) A newly renovated charming hotel in the historical centre of Sibiu. Rooms are decorated in a unique medieval setting, and is one of the oldest buildings in the town.
👀 Things to do in Sibiu
Sibiu might not be the largest town in Romania, but it packs a punch when it comes to sightseeing, charming medieval buildings and history.
Most of the main sites are located in the historical centre, which includes the Big Square, Huet Square, the Small Square, Liar's Bridge and Goldsmiths' Square.
You can see all this and everything else in this post in less than 3 hours.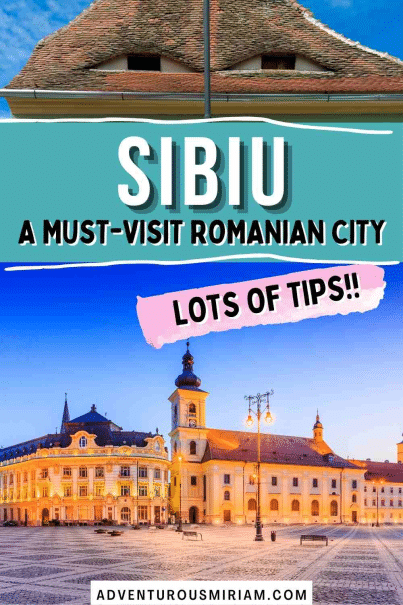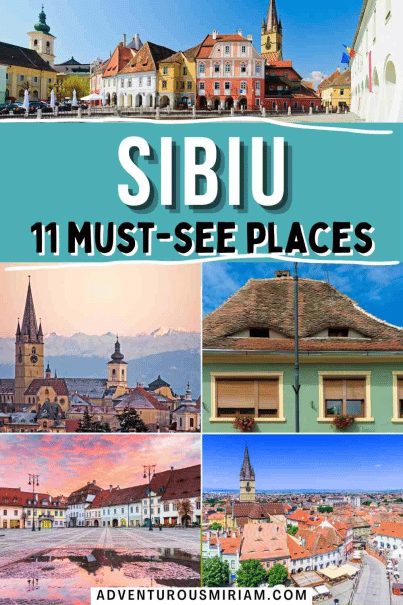 1. Learn the history (from Hermannstadt to Sibiu)
As I mentioned briefly above, Sibiu dates back to the 12th century.
Known in German as Hermannstadt, the city was built by German settlers and have been a centre for Romania's German minority since medieval times. They even have a German mayor.
2. The Evangelical Cathedral and Huet Square
First stop of our guided tour was the Evangelical Cathedral, which is located at Huet Square. Built in 1520, it stands at a massive 73 metres high and its Gothic structure with five-pointed towers is absolutely impressive.
Inside, we found ghastly stone skeletons, 17th century tombs and the largest organ in Romania. Even the son of Vlad Ţepeş (you might know him as Vlad the Impaler) is buried here.
The son's name was Mihnea Vodă cel Rău and he was murdered in front of the church in 1510.
The church has a clock tower and we climbed to the top for a great view of the city, all for $2.50.
3. Holy Trinity Cathedral
While the Evangelical Cathedral indeed is impressive, the real star of Sibiu is the Holy Trinity Cathedral.
The cathedral is dominated by Neo-Byzantine decorations and a massive gold chandelier, and it's so beautiful. In top of that, it's the second largest Orthodox cathedral in Romania.
4. The Large Square (Piata Mare)
Right next to the Lutheran Cathedral is the large square (Piata Mare), which has existed since 1366. It's the very heart of the old medieval city and it has a lively atmosphere with buzzing cafés and restaurants.
Besides being a nice place for relaxation and people watching, here you'll find:
Brukenthal Museum (with over 1,090 paintings)
The Roman Catholic Cathedral
Sibiu's only Art Nouveau building
A former Gestapo headquarters (the blue house)
A water fountain and lots of pigeons
5. The Hidden St. John of Nepomuk
One of the perks of being showed around by a local is that you'll see things others won't. Like for example this statue: Saint John of Nepomuk.
Today, it's placed inside a courtyard, but once upon a time it was standing proud in the Large Square for all to see. To save it from the communists who wanted to destroy it, it was hid here (right next to the Large Square).
Read next: Bran castle. Finding Dracula's castle in Transylvania
6. The Small Square (Piata Mica)
Our next stop was the Small Square (Piaţa Mică), which was just a few minutes walk away. One of the highlights of Sibiu is that its historic centre is quite small. It makes it so much easier to get around to see the main sites in short time.
I liked the Small Square better than the Large Square, mostly because it's smaller and cozier. It also has its fair share of cafés, and back in the day it was home to the town's most prestigious master craftsmen.
7. Liar's Bridge
In the middle of the Small Square is the peculiar-named Liar's Bridge from 1859. According to legend, the bridge will collapse if you say something that is not truthful.
As poetic as that sounds, the true story is that it was a misspelling of the German word Liegenbrücke, which means lying bridge (as in "to lie down").
8. Stairs' Tower and Journeyman's House
Next up, we walked to the Stairs' Tower – one of the best viewpoints in town. Right next to the stairs is the Journeyman's House, which was a guesthouse for traveling craftsmen.
I first thought it was a torture device (I had vampires on my mind), but the wooden pole outside was intended for the travelers to leave their mark with a chunky nail.
Say what you want, but it does look like a pole where townsfolk practiced how to stake a vampire.
9. The Upper and Lower Town
I didn't actually think about it until after, but Sibiu has a lower and an upper town. The Upper town is home to most of Sibiu's historic sights and used to be a place for the wealthy.
The Lower town however was for the peasants and is lined with colourful houses, the city walls and defence towers.
10. Potters Tower and The Old City Walls
A long time ago, Sibiu was one of the most powerful towns in Europe. Its original fortifications included 39 defensive towers, four gates and five artillery batteries.
Today, you can still see the thick fortified walls and towers, and the stretch along Strada Cetăţii is in particularly good shape.
11. The Eyes of Sibiu
While there are many things to see in Sibiu, one thing in particular caught my eye: the staring houses. They're always open and always looking. In the tall houses there are normally two eyes, but some of them have three, four or even five eyes.
In real-life the eyes are attic windows to keep the houses ventilated. But some say that they were created by the German occupiers so that any local who didn't obey their rules would feel that there were spies everywhere. True or not, the effect is striking.
Transylvania day trips from Sibiu
Corvin Castle – a classic Romanian castle (130 km)
Bran Castle – Dracula's Castle (140 km)
Peles Castle – also a typical Romanian castle. It's close to Bran and Brasov so you can combine these three on a day trip (187 km)
Brasov – a medieval larger city with beautiful buildings and history (144 km)
Sighisoara – Vlad the Impaler's home town and a UNESCO site (93 km)
Hiking in the Cindrel Mountains (16 kilometres from Sibiu)
ASTRA National Museum – one of the largest open air museums in Europe (3 km away – it costs 15 lei/3 EURO)
Sibiu Romania – FAQ
What is Sibiu known for?
Sibiu is known for its rich history, culture, and diverse architecture.
It's home to the iconic "houses with eyes" that gave Sibiu its nickname, and its historical centre is a UNESCO World Heritage Site.
Sibiu was initially a Daco-Roman city called Cedonia and was refounded by Saxon (German) colonists in the 12th century as Hermannsdorf (later Hermannstadt).  
Is Sibiu Romania worth visiting?
Yes, Sibiu is worth visiting! It's one of the most charming and picturesque cities in Romania, with a Gothic centrepiece rising more than 73m over the old town, tombs, and the largest organ in Europe.
Sibiu is often compared to Vienna, and it is not too touristy. 
How long to spend in Sibiu?
1-2 days is an ideal amount of time to spend in Sibiu. Because Sibiu is a small city, all the attractions are concentrated near the centre, and it's possible to visit most of them in two days.
However, if you want to explore the surrounding areas, you may want to spend an extra day in Sibiu.
Is Sibiu or Brasov better?
Sibiu and Brasov are both charming and picturesque cities in Romania, and it depends on what you are looking for.
Brasov is larger and more tourist-friendly, with more day trip possibilities and closer proximity to natural and architectural landmarks.
On the other hand, Sibiu is smaller, less crowded, and better preserved, making it an excellent option for a quick visit. Ultimately, the decision between the two cities depends on your personal preferences and interests.
A thousand thanks to Razvan Pop for showing us around Sibiu and to My Sibiu for hosting us. I was a guest, but all opinions are my own as always.
More stuff you'll love: