How to plan an impressive Riga Art Nouveau walking tour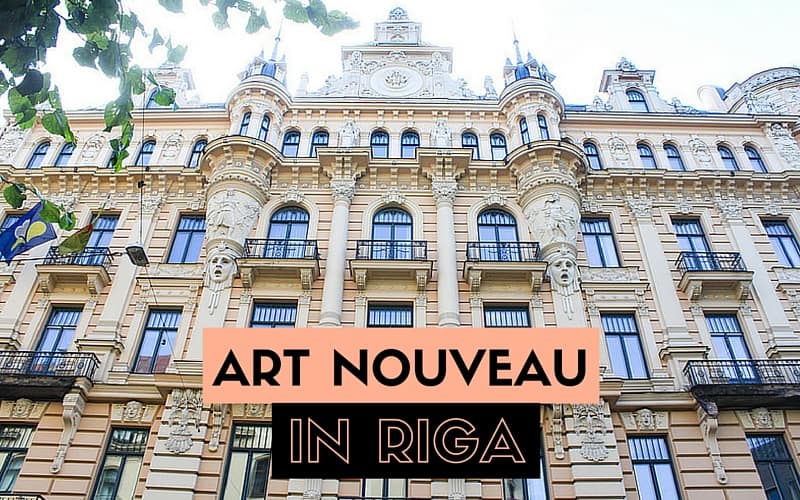 A Riga art nouveau walking tour is one of the highlights of things to do in Riga. It's absolutely stunning!
You can join an organised walking tour, which I'll explain more about in a minute. Or you can do it yourself. It's very easy to find and walk around.
I'll share both options in this article so you can decide for yourself.
Let's get started.
This post contains referral links for products I love. Adventurous Miriam earns a small commission at no extra cost to you if you make a purchase through my links. Thank you for your support ♡ Learn more
Riga Art Nouveau walking tour
Organized walking tour
If you'd like to explore the Art Nouveau district with a guide and learn about the history, this option is for you. A typical tour takes 2 hours and starts at 10 a.m. If you're staying in the Old Town, there's a free pick-up service. Otherwise, you meet with the guide on the spot.
Highlights include:
Some of the world's most beautiful art nouveau buildings
Exploring the famous and charming Albert Street and Elizabeth Street
I recommend this Riga Art Nouveau walking tour from Get Your Guide.
DIY walking tour
If you'd rather do your own Riga Art Nouveau walking tour, it's very easy. The Art Nouveau district is located 20 minutes walk from the Old Town. It's spread over a few parallel streets. You won't get hear the history behind the buildings while you're there, but you can read up on it before you visit.
What exactly is Art Nouveau?
Art Nouveau is an artistic movement that started in Western Europe and the U.S. from 1890-1910. It is characterised by decorative art, design and architecture and inspired by nature, women and symbols & the supernatural.
You can find it around several European cities and it adds a mystique and romantic layer to the concrete buildings you normally pass.
Intro to Art Nouveau in Riga
More than 40% of Riga's centre is built in Art Nouveau style. This is more than any other city in the world, which is one of the reasons why Riga has been included as a UNESCO site. You can find Art Nouveau around the city, but Riga Art Nouveau district has the highest concentration.
Most of Riga's Art Nouveau buildings date from 1904-1914 and can be divided into four different stages:
Eclectic
Perpendicular
National Romantic
Neo-Classical
Where to find Art Nouveau in Riga
There are more than 800 Art Nouveau buildings in Riga, which is only a little less than St. Petersburg (which has 1000). In Riga, you find the largest area of Art Nouveau on Albert Street and Elizabeth Street, which are parallel. Ps. In Latvia, street is called iela, so look for street signs that says Albert iela or Elizabeth iela.
Albert Street is about 20 minutes walk from the Old Town in Riga and it's easily reached on foot. You can also take the tram there. There's a stop close by and you can walk the rest of the way.
You can find other Art Nouveau buildings in the area around the Freedom Monument, including the embassies on Strelnieku street and on Raina Bulvaris.
Albert Street
Albert Street is the main street for art nouveau in Riga and the most beautiful street in town, too. Albert street boasts a series of magnificent art-nouveau buildings by architects Mikhail Eisenstein and Konstantīns Pēkšēns, who designed and lived in what is now a museum.
Riga Art Nouveau museum
At Alberta iela 12, you'll find the only museum in the Baltic States dedicated to the Art Nouveau heritage. The museum features an authentic interior of an Art Nouveau apartment and a modern digital exposition – it's worth a visit.
It's closed on Mondays.
Elizabeth Street
Elizabeth street signals your exit from the Old Town into the New Town where the Art Nouveau district is located. Its impressive buildings are designed by Mikhail Eisenstein and several other local architects.
Elisabeth Street is also home to some of the major hotels, embassies, the former Communist Party HQ and luxury designer shops.
Riga Art Nouveau highlights
These are some of the highlights in Riga's Art Nouveau district.
Faces of women
Notice the faces of women
Lions
Eclectic Art Nouveau
This eclectic art nouveau building has faces of women and lions. If you look closely at the photo, you might be able to spot a motif with three parallel lines with the middle one dropping lower than the others. This is a symbol of Tree of Life and it's very popular in Art Nouveau.
Eclectic art nouveau was the earliest form, dating back to 1905. These buildings display rhythmic façades, opulent decoration and floral elements. You can find this building at Albert Street, and although it's the most popular Art Nouveau building in Riga, it's not a typical for Riga.
Greek mythology
Here's one with lions on the roof and masks of Medusa from Greek mythology. This building has typical Art Nouveau features. See the windows?
Now, notice that they have different shapes – round, rectangular, T-shape. That's very typical for Art Nouveau.
Roman sculptures
This one is embellished with Roman sculptures.
Most popular Art Nouveau building in Riga
It was designed by Eisenstein and is located on Elizabeth Street.
National romanticism
Another type of Art Nouveau in Riga is called National romanticism and it's depicted on the brown building above. Look below the large windows and you might be able to spot the image of sun and fir-tree, which are common trees in Latvia.
Dragons
As you can see, most of the Art Nouveau in this area of Riga (Albert Street) is inspired by women, symbols & the supernatural. If you ask me, one of the coolest facades is found on Elizabeth Street and it depicts dragons. The dragon is a symbol for a long life and brings good luck to business and households.
You can find Art Nouveau dragons in Ljubljana, too.
Ask me anything about Riga Art Nouveau walking tour in the comments!
Before you go – don't miss this from Riga:
Pin to Pinterest