15+ amazingly unique things to do in St Petersburg Russia
Wondering what to see in St Petersburg, Russia? Find some of the best things to do in St Petersburg, including museums, churches and palaces.
When I first went to Russia, my knowledge was restricted to Stalin and Putin and Siberia and to vodka and politics and the fact that it's now illegal in Russia to tell kids that gay people exist. I had little idea what to expect from Russia so I went there with low expectations and a lethal dose of skepticism.
Luckily, it surprised me BIG time and even sparked my love for post Soviet countries. Hopefully, you will love it, too.
If it's your first time in Russia, St. Petersburg is a great place to start. It's a light version; influenced by the West and very tourist friendly.
Here's my St Petersburg travel guide. Let's take a look.
This post contains referral links for products I love. Adventurous Miriam earns a small commission at no extra cost to you if you make a purchase through my links. Thank you for your support ♡ Learn more
Introduction to St Petersburg
St. Petersburg was founded by Peter the Great in 1703 – hence the name Petersburg. The city was known as Petrograd from 1914–1924 and later Leningrad from 1924–1991.
St. Petersburg is the second-largest city in Russia and known as the cultural capital of Russia. Aside from some pretty impressive cathedrals and palaces, Saint Petersburg is home to the Hermitage, one of the largest art museums in the world and the Lakhta Center, the tallest skyscraper in Europe.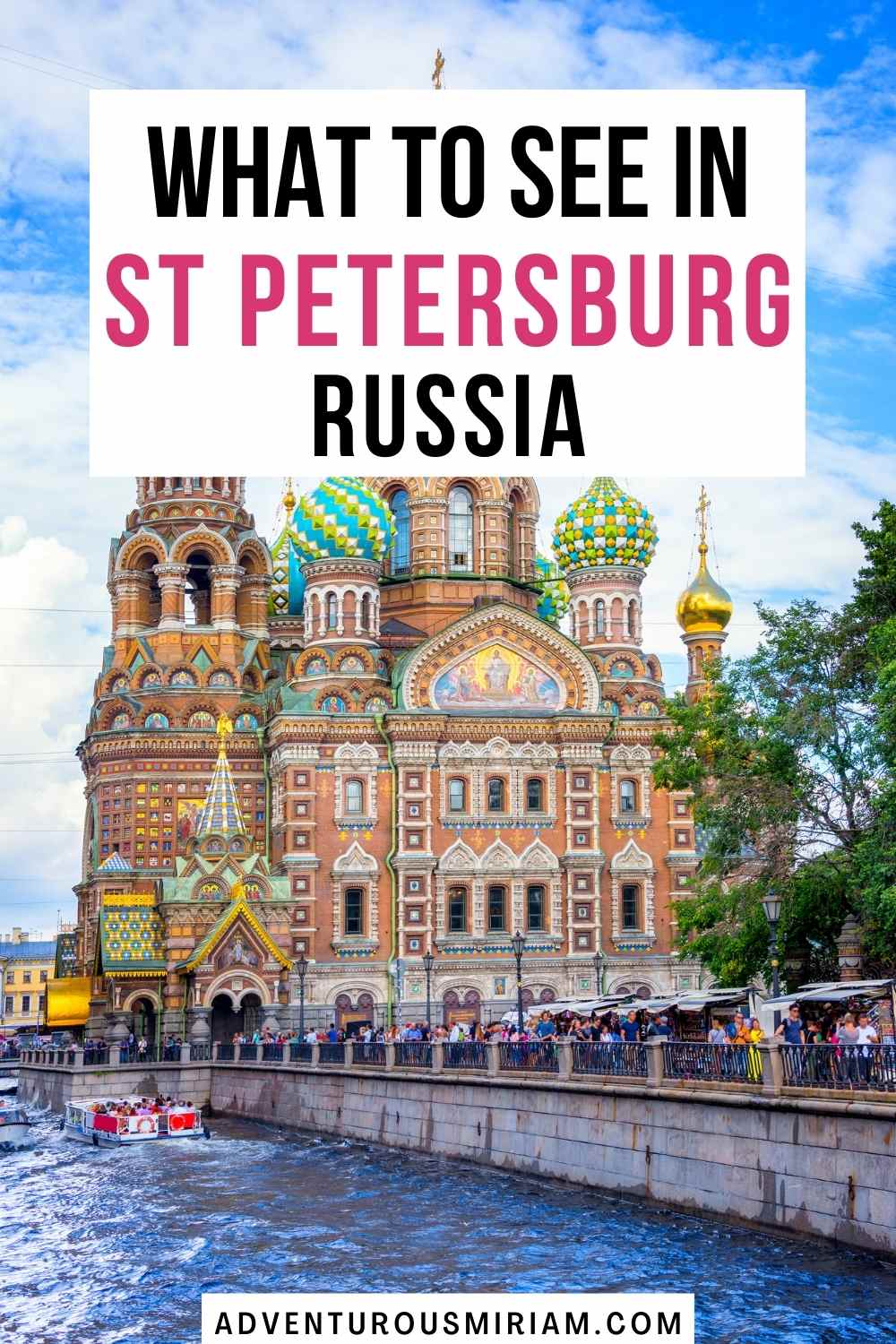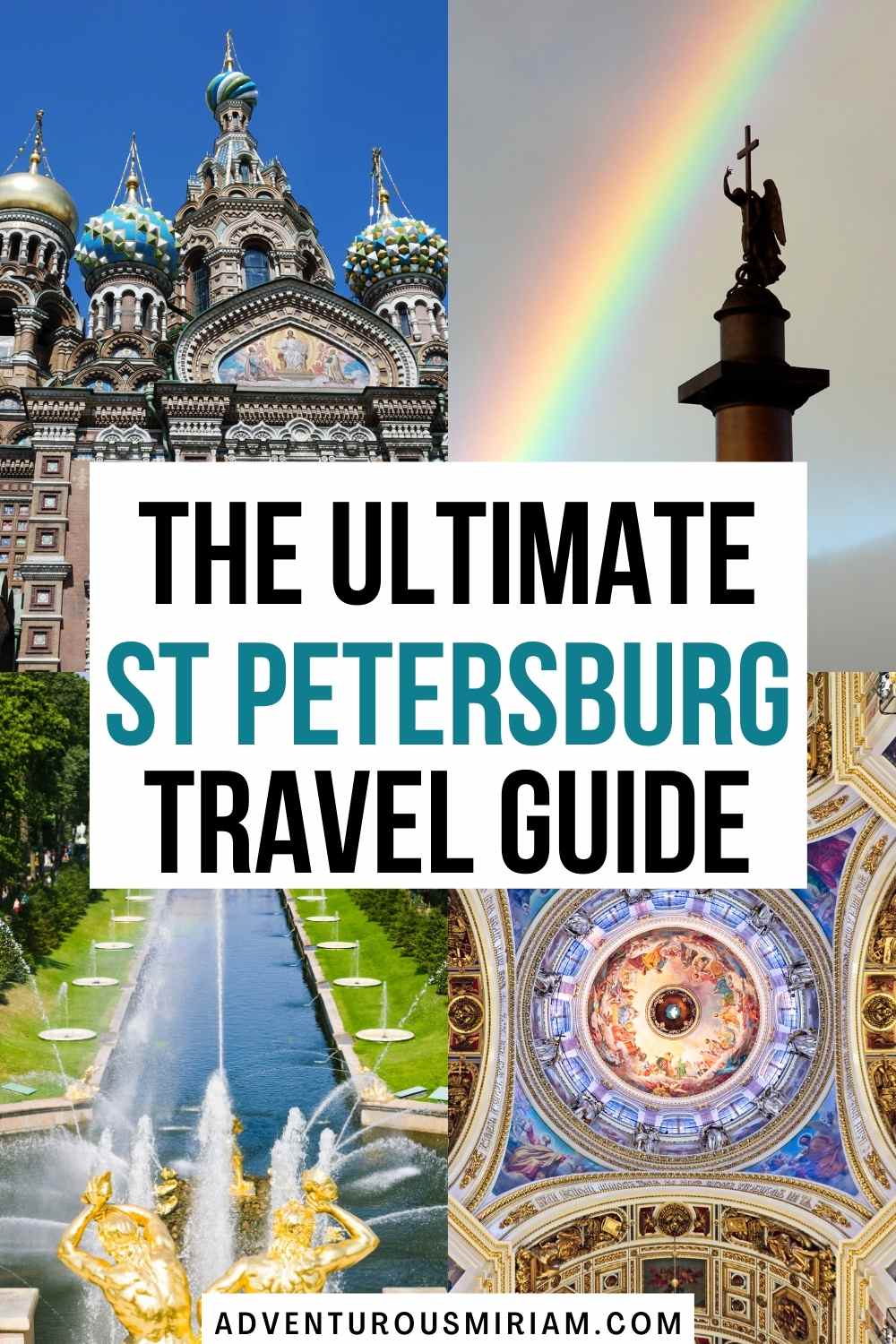 Understand Russian humour and culture
Saint Petersburg has many Peterburgets in it (5.4 million, which is a lot where I come from). Most of them are nice and open to foreigners like me, and many do speak English although they automatically think you're fluent in Russian after you've said Spasiba or Nasdarovje. Aside from the cleaning lady who stole my eye-liner, I only met well-mannered and charming people. Like this taxi driver:
One night when I was driving back to the hotel, he turned to me and said with a thick Russian accent (deep voice): You know thees building?
No, I said.
Is an institution. Mad meen here, they keell with axe. You next door.
He grinned: Get it?
A little morbid considering it was a murder institution and I was their neighbour. But he had a sense of humour. I'll give him that.
Things to do in St Petersburg Russia
You know how all countries have something they're known for – like a hallmark? Denmark has hygge, Switzerland has the Alps & the chocolate, and Romania has Dracula. But Russia, well Russia has the largest land area in the world (it's as big as the planet Pluto), it has Kalashnikovs, a long line of gruesome Tsars, it has communism, the Russian mafia, mail-order brides and Boris Yeltsin.
We also know Russia for its world-class literature, art, ballet and while we're at it: Tchaikovsky, Matryoshka dolls, black caviar and Fabergé eggs. Phew, let me just catch my breath.
The latter – the cultural side – is what you'll find LOTS of in St Petersburg. When it comes to historic and cultural things to do in St Petersburg, you will not be disappointed. From discovering palaces and cathedrals to exploring a man-made island and much more!
1. St. Isaac's Cathedral
One of my favorite things to do in St Petersburg is visiting the impressive St. Isaac's Cathedral.
St. Isaac's Cathedral is Saint Petersburg's largest Russian Orthodox church and the fourth largest cathedral in the world with a seating capacity of 14,000 people. It was built between 1818 and 1858.
I've been to large cathedrals before, like St. Peter's Basilica in Vatican City (awesome place, btw). But this was different. From the moment I walked through the sky-high doors I couldn't stop looking up at the soaring ceiling with religious drawings, stunning mosaics and gold.
2. Church of Our Savior on the Spilled Blood
Let's move on to the dead-seriously-named Church of Our Savior on the Spilled Blood. It has to be the most intense church name in history, which is odd considering its cheerful lollipop architecture and style.
The church was built by Bloody Nicholas as a tribute to his father Alexander II who was assassinated in 1881. It's similar to St. Basil's Cathedral in Moscow, which is even more saturated with rainbow colors, and was constructed under the reign of no other than Ivan the Terrible.
By the way, have you ever noticed the funny nicknames of the old Russian rulers? There are of course the nice ones, like Catherine the Great (1729-1796) and Yaroslav the Wise (1019 – 1054), but some of them are straight-out hilarious, like Sviatopolk the Accursed (1015 – 1019) and Ivan Moneybags (1304-1340) or Dmitry the Terrible Eyes (1322 – 1326) and Alexis the Quietest (1645 – 1676).
I'd be Miriam the Adventurous (1982- sometime in a distant future).
3. Narva Triumphal Arch
And then there's the Triumphal Arch.
You know the iconic Arc de Triomphe in Paris. It was built to celebrate France's victory in 1806 during the Napoleonic Wars. So, when Peter the Great of Russia defeated Napoleon in 1812 during the Patriotic War, he couldn't help himself. He built the Narva Triumphal Arch.
Touché, Russia.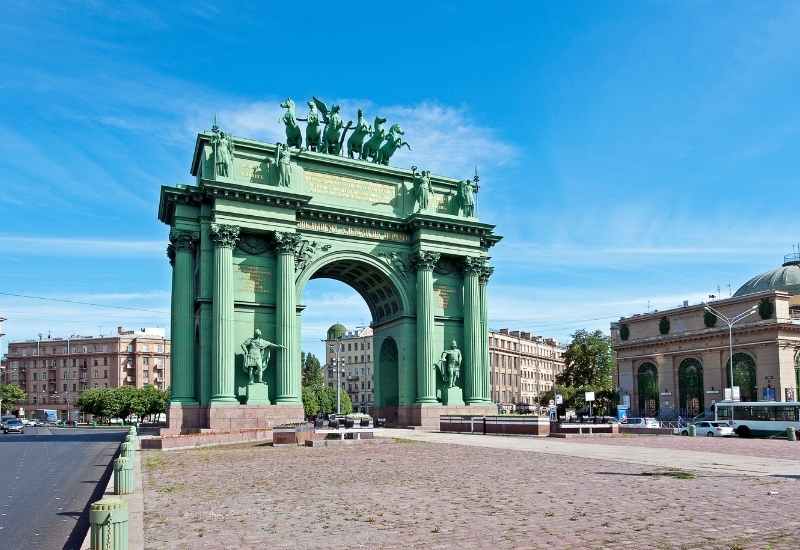 4. Fabergé museum
Fabergé eggs are as Russian as Boris Yeltsin. And at the privately owned Fabergé museum, you can see the world's largest collection of Carl Fabergé masterpieces.
It features nine Imperial Easter Eggs and over 4,000 other display items from Fabergé, like jewelry, home decor and fantasy-themed objects.
You can take a virtual tour here.
5. Smolny Cathedral
The sky-blue Smolny Cathedral is a must if you're going to St Petersburg.
This unrivalled masterpiece created by Bartolomeo Rastrelli is the centrepiece of a convent. It was built between 1748 and 1757 and features beautiful baroque details and classic onion domes typical of old Russian monasteries. Make sure to visit the 63m-high bell tower for a great view of the city.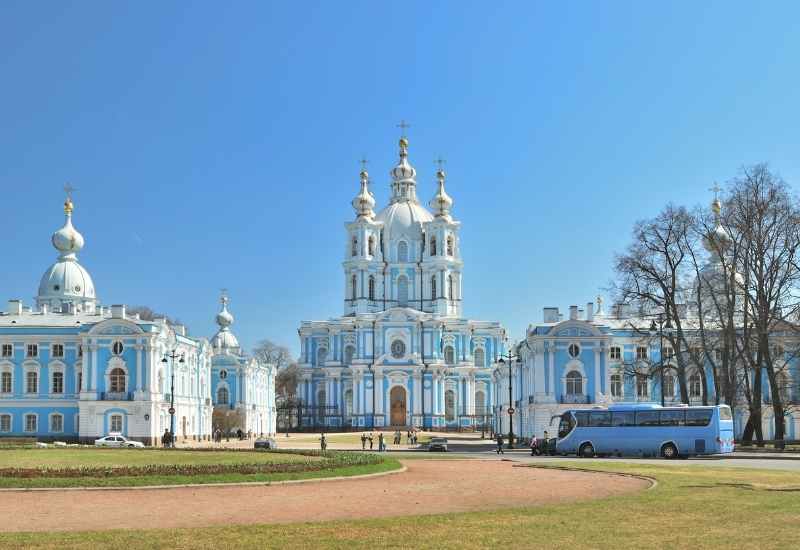 6. St. Nicholas Naval Cathedral
If baroque is your thing, you'll love St. Nicholas Naval Cathedral.
The cathedral was built in 1762 for the Russian Navy. The sky-blue façade is Rococo style, which was popular in St Petersburg in the mid-18th century. The domes look like the ones on Catherine Palace and Peterhof Palace.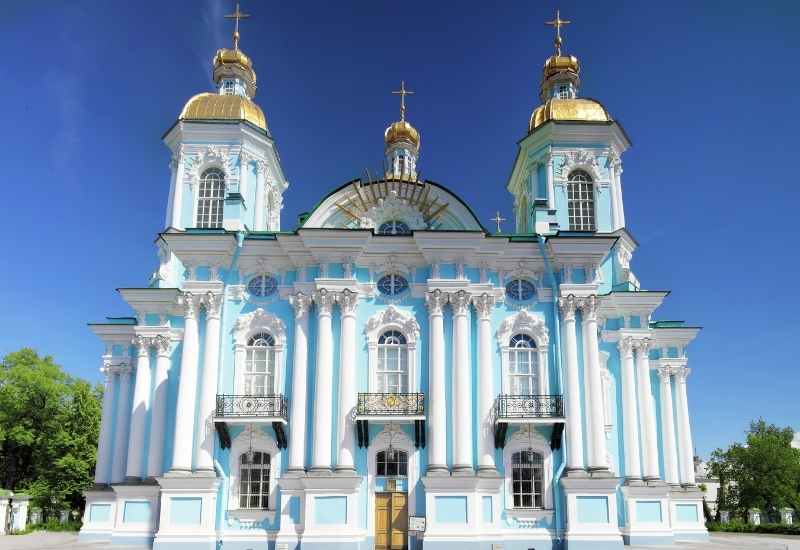 7. New Holland arch
New Holland is one of Saint Petersburg's more unusual historic landmarks. Peter the Great created this man-made island in 1719 as a naval port between the Kryukov Canal, the Admiralty Canal, and the Moyka River.
The 22,8m high Neoclassical archway marks the entrance to the island.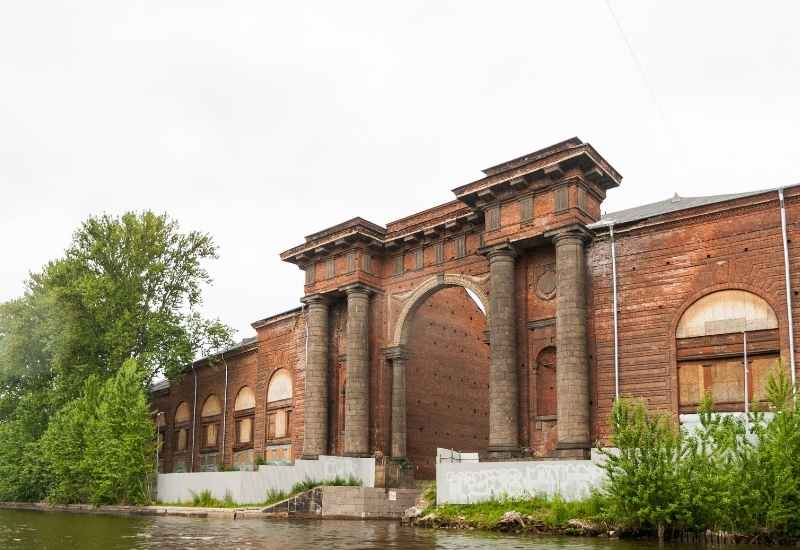 8. The Kunstkammer Museum
Peter the Great also commissioned the Kunstkammer Museum, also known as the Museum of Anthropology and Ethnography.
What started as a private collection of curios stuff – model ships and stuffed animals – became the first museum in Russia and one of the oldest in the world.
9. Rostral columns
The two Rostral columns on Vasilyevsky Island are landmarks of St Petersburg. Traditionally, a rostral column is a naval monument that commemorates a victory at sea.
On major public holidays, torches are lit on top of them.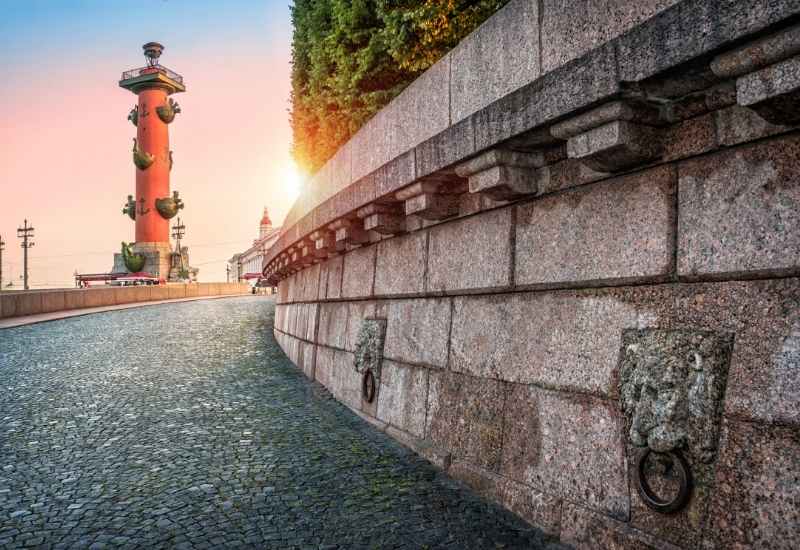 10. Peter and Paul fortress
From 1700 to 1721, Peter the Great was at war with Sweden. He built the Peter and Paul fortress in 1703 to defend his planned capital city, today's Saint Petersburg. It was the first building in St Petersburg and marks the birthplace of the city.
The fortress was never used for defence as intended, though. Instead it has served as a military base, the burial ground of the Russian Imperial family and a forbidden jail for more than 200 years.
11. Palace Square
The Palace Square is the nerve centre of the city.
It's a UNESCO World Heritage Site and home to important historical events like Bloody Sunday of 1905 or the October Revolution of 1917 and cultural monuments: The Hermitage Museum, the Guards Corps Headquarters, the General Staff Building and the Alexander Column.
The Palace Square is also where you'll find most sightseeing tours.
12. Go to the theatre
The Mariinsky Theatre is famous all over the world as the main theatre of St Petersburg. It's sort of a must when you're in town.
Tickets for ballet performances cost around US$33.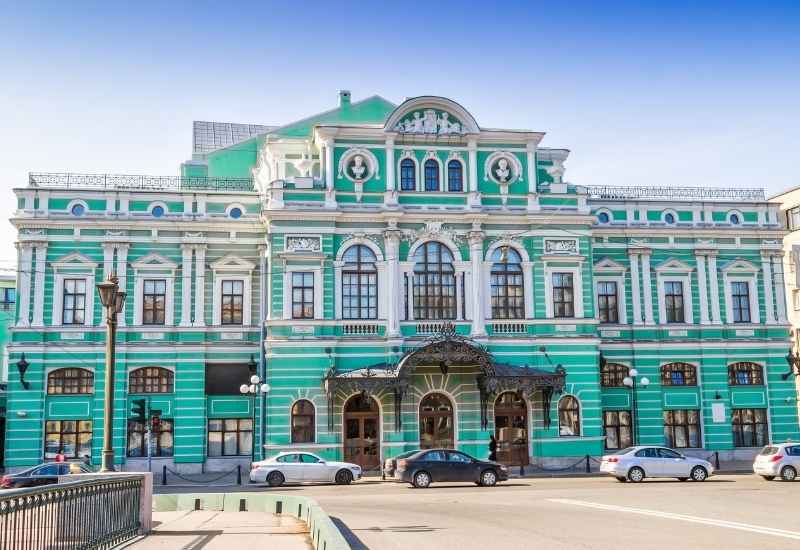 13. Go on a canal tour
By the end of April, a canal tour of St Petersburg is a must. The city has more than 300 km of canals and 800 bridges!
By taking a tour like this, you get to see much of the historic centre including New Holland island, the Mariinsky Theatre, Peter and Paul's Fortress and the mysterious St. Michael's Castle, just to name a few.
14. Visit a market
Visiting a market is a great way to experience some of the local culture in St Petersburg.
Udelnaya flea market lies near the Udelnaya metro station, and it's the largest market in St. Petersburg as well as one of the largest in Russia.
Kuznechny market is the best known food market. It's conveniently located in the city centre.
15. The Hermitage
The most interesting things to do in St Petersburg include a visit to the Hermitage!
The Hermitage is one of the largest and oldest museums in the world, and it was founded in 1764 by Catherine the Great (who was the longest-ruling female leader of Russia). It has more than three million items spanning the years from the Stone Age to the early 20th century. Quite a collection!
Read my post about The Hermitage here.
Where to eat in St Petersburg
To be honest, I didn't expect much from the food scene in Russia. As a picky eater, I feared I would have to live off Borscht and vodka, which would leave me hungry, drunk and unsatisfied. But my fears were overblown.
I have to give it to Saint Petersburg, because not only did I find lots of interesting restaurants both Russian, Asian and Western – but the meals were also dirt cheap.
Here are some of the best restaurants in St Petersburg:
Meat head: One restaurant in particular that could easily be the best in Saint Petersburg was Meat Head, which is right next to The Church of our Savior on Spilled Blood. I ordered magret duck breast with stewed pear and carrot puree with a glass of white wine. Incredible!
Khochu Kharcho: I looooooove Georgian food. If you haven't tasted it yet, try it here. It's amazing.
Severyanin: Try this restaurant for Russian food (dumplings and duck breast are great). Waiters speak English.
Where to stay in St. Petersburg Russia
You'll find lots of great hotels in St Petersburg! Of course, it all depends on how you're traveling and what you're looking for. In general, I'd say that Tsentralny is the best place to stay in St. Petersburg. It's in the city centre and you'll have everything nearby.
Akyan St.Petersburg: A great location and lovely, comfortable rooms is what I love about this hotel. It's located in the heart of St Petersburg, which means you have most of the main sights and great restaurants within walking distance. Find the latest prices here.
Day trips from St Petersburg
St. Petersburg is an absolute gem when it comes to cultural and historic heritage. If you have time to spare, venture outside the city to explore legendary parks, palaces, museums and churches where Russian Tsars spent their summers. All these three day trips are St. Petersburg UNESCO heritage sites:
Peterhof Palace
Peterhof Palace and Gardens are also known as the Russian Versailles. This impressive estate was built by Peter the Great to celebrate his victory over Sweden in 1703. Wander the majestic halls and symmetrical gardens where the imperial family spent their summers.
Peterhof is an easy day trip from St. Petersburg. Located just 28 km from the city centre, it's super easy to take the hydrofoil to Peterhof or join an organised tour. This tour includes a skip the lines ticket and gives you early entrance before the museum opens up to the public (HUGE plus in the high season!).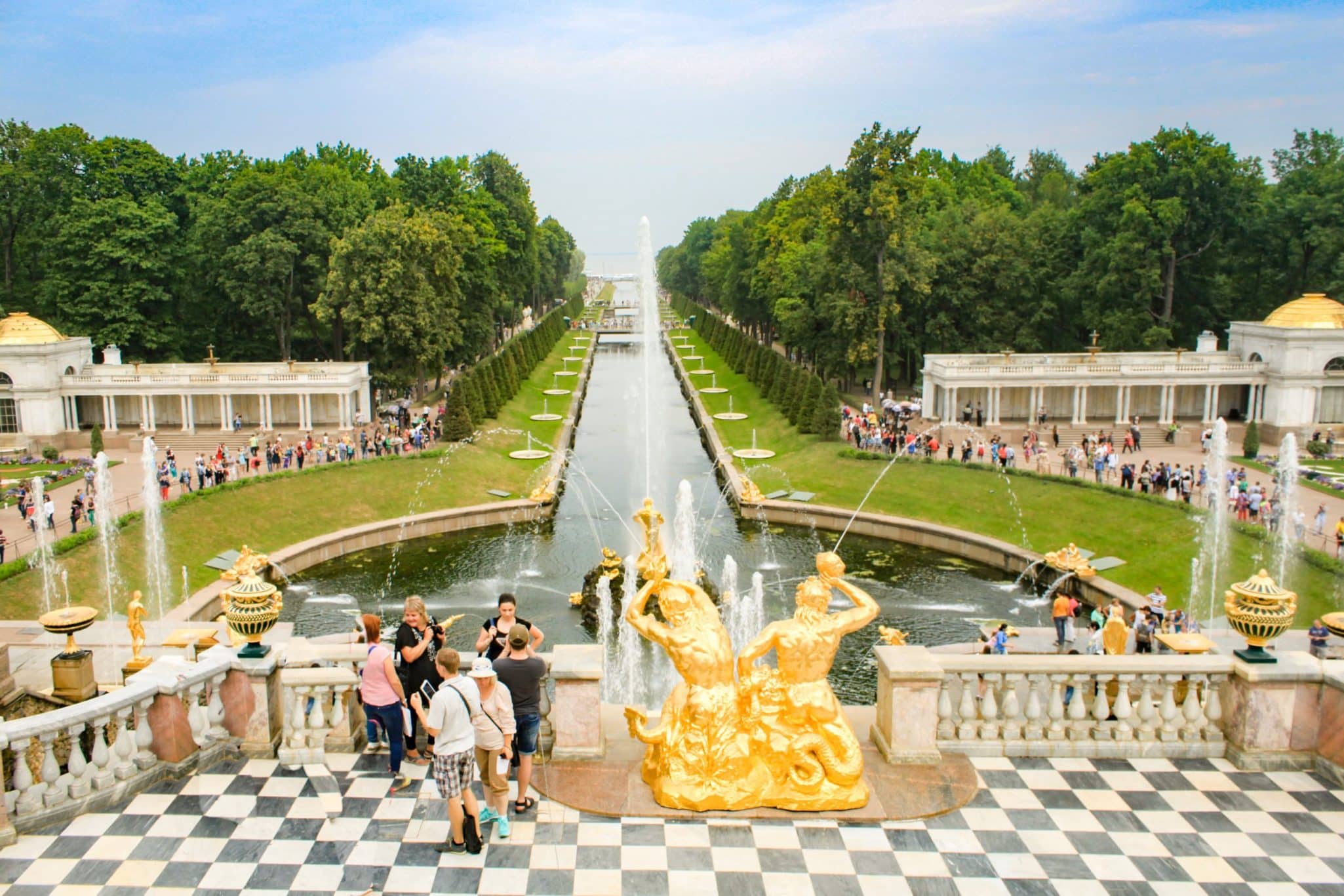 Kronstadt & Naval Cathedral
The Naval Cathedral of St. Nicholas – not to be confused with the St. Nicholas Naval Cathedral (from 1762) above – was built in Kronstadt between 1903 and 1913. It's the last and largest of the naval cathedrals of the Russian Empire.
This impressive cathedral was modelled after Byzantium's crown jewel, the Hagia Sophia and dedicated to the fallen seamen of the Russian navy.
Here's how to visit on a day trip.
Catherine Palace
Another popular day trip from St. Petersburg is Catherine Palace. Peter the great built it for his second wife, Catherine, in 1717. It later became a summer residence for other Russian tsars and royals, such as Catherine the Great.
Catherine Palace is a Rococco palace in Tsarskoye Selo (Pushkin), 30 km south of St. Petersburg, Russia. You can get there on your own or join a tour here.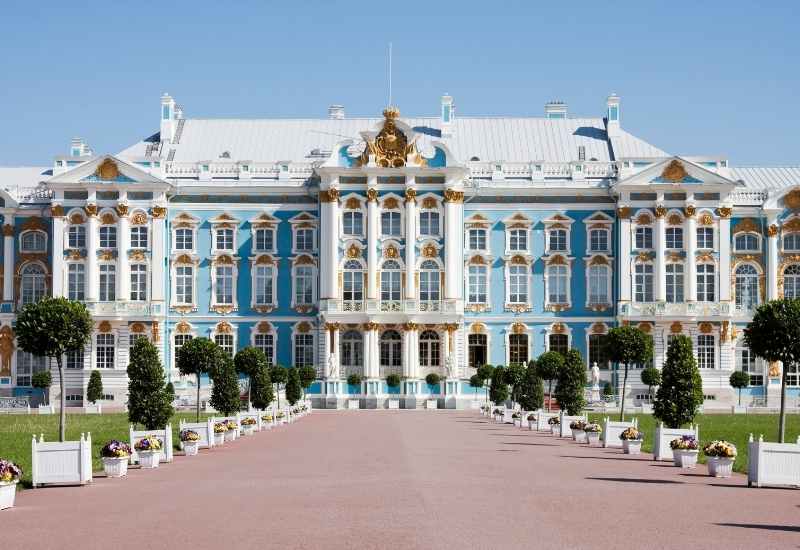 Ask me anything about things to do in St Petersburg!
More stuff you'll love: