Wondering what to see in St Petersburg, Russia? Find some of the best attractions in the Russian city, including museums, churches, palaces and food tips.
Saint Petersburg was never part of my travel plans to begin with. I was only supposed to visit Latvia, Estonia and Finland, but that was before my friend pointed out that Russia is only a slight detour from the Baltics. And that was all the convincing I needed.
Prior to this trip, I had never been to Russia so my knowledge was restricted to Stalin and Putin and Siberia and to vodka and politics and the fact that it's now illegal in Russia to tell kids that gay people exist. I had little idea what to expect from Russia so I went there with low expectations and a lethal dose of skepticism.
MORE RUSSIA TRAVEL TIPS: GET MAPS, ITINERARIES AND RUSSIAN PHRASES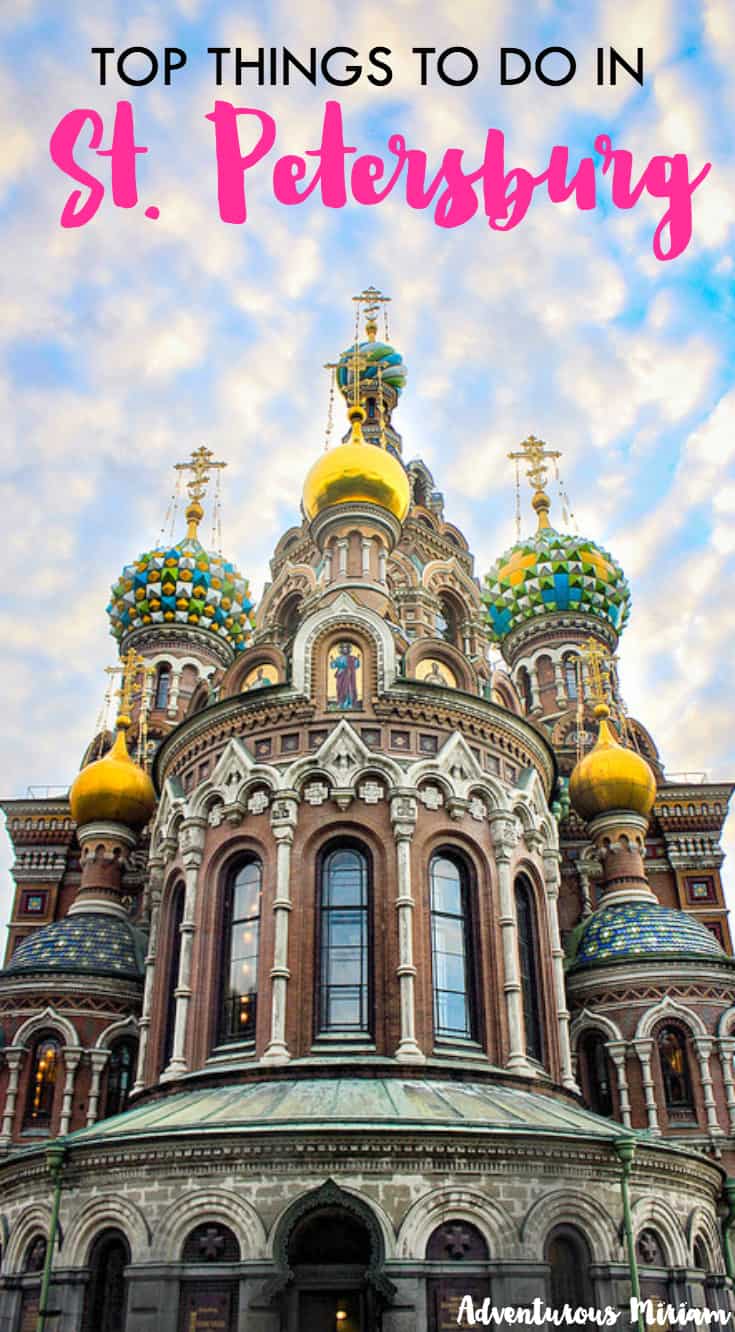 WHAT TO SEE IN ST PETERSBURG, RUSSIA
I arrived by bus from Tallinn and as we drove through the undeveloped, concrete outskirts of Russia, I got more and more "meh" about it. Could St Petersburg really be that different?
After dropping off my bags at the hotel, I got a taxi and asked the driver to take me to St. Isaac's Cathedral. The closer we got to the centre, the more shiny and golden the different buildings became. Churches, government buildings and golden domes and spires lit up the city and added a flashy touch to the grey Soviet housing blocks.
Look! I squealed ecstatically as I pointed out the window. The driver glanced at me out of the corner of his eye like, "Seriously though lose the drama."
But how could I? There were gold literally everywhere I looked.
ST. ISAAC'S CATHEDRAL
When I reached St. Isaac's Cathedral, I was ready to roll over and surrender. Yeah yeah I know, you're probably not interested in church interior – but something tells me you'd be impressed with this church in particular.
I've been to large cathedrals before, like St. Peter's Basilica in Vatican City (awesome place, btw). But this was different. From the moment I walked through the sky-high doors I couldn't stop looking up at the soaring ceiling with religious drawings, stunning mosaics and gold. Here's a small selection of the gazillions of photos I took because I can't help myself:
UNDERSTANDING RUSSIAN HUMOR
Saint Petersburg has many Peterburgets in it (5 million, which is a lot where I come from). Most of them are nice and open to foreigners like me, and many do speak English although they automatically think you're fluent in Russian after you've said Spasiba or Nasdarovje. Aside from the cleaning lady who stole my eye-liner, I only met well-mannered and charming people. Like this taxi driver:
One night when I was driving back to the hotel, he turned to me and said with a thick Russian accent (deep voice): You know thees building?
No, I said.
Is an institution. Mad meen here, they keell with axe. You next door.
He grinned: Get it?
A little morbid considering it was a murder institution and I was their neighbor. But he had a sense of humor. I'll give him that.
CHURCH OF OUR SAVIOR ON THE SPILLED BLOOD
Let's move on to the dead-seriously-named Church of Our Savior on the Spilled Blood. It has to be the most intense church name in history, which is odd considering its cheerful lollipop architecture and style.
The church was built by Bloody Nicholas as a tribute to his father Alexander II who was assassinated in 1881. It's similar to St. Basil's Cathedral in Moscow, which is even more saturated with rainbow colors, and was constructed under the reign of no other than Ivan the Terrible.
By the way, have you ever noticed the funny nicknames of the old Russian rulers? There are of course the nice ones, like Catherine the Great (1729-1796) and Yaroslav the Wise (1019 – 1054), but some of them are hilarious, like Sviatopolk the Accursed (1015 – 1019) and Ivan Moneybags (1304-1340) or Dmitry the Terrible Eyes (1322 – 1326) and Alexis the Quietest (1645 – 1676).
I'd be Miriam the Adventurous (1982- sometime in a distant future).
MATRYOSHKA DOLLS AND ALL THAT IS RUSSIA
All countries have something unique or a thing they are known for. Denmark has hygge, Switzerland has the Alps & the chocolate, and Romania has Dracula. But Russia, well Russia has the largest land area in the world (it's as big as the planet Pluto), it has Kalashnikovs, a long line of gruesome Tsars, it has communism, the Russian mafia, mail-order brides and Boris Yeltsin. We also know Russia for its world-class literature, art, ballet and while we're at it: Tchaikovsky, Matryoshka dolls, black caviar and Fabergé eggs. Phew, let me just catch my breath.
Russia is a lot of things. And that's why it's so fascinating.
THE HERMITAGE
Have you been to the Louvre? I have, once, until I was bored and went back outside. This was many moons ago and my interest for art haven't changed much. However, when I googled what to see in St Petersburg and found The Hermitage (an art museum) on the top of almost every single list, I felt obligated to at least give it a chance.
And then it went and impressed.
I found out that The Hermitage is one of the largest and oldest museums in the world, and it was founded in 1764 by Catherine the Great (who was the longest-ruling female leader of Russia). It has more than three million items spanning the years from the Stone Age to the early 20th century. Quite a collection!
Read my post about The Hermitage here.
RUSSIAN FOOD IN SAINT PETERSBURG
To be honest, I didn't expect much from the food scene in Russia. As a picky eater, I feared I would have to live off Borscht and vodka, which would leave me hungry, drunk and unsatisfied. But my fears were overblown.
I have to give it to Saint Petersburg, because not only did I find lots of interesting restaurants both Russian, Asian and Western – but the meals were also dirt cheap. One restaurant in particular that could easily be the best in Saint Petersburg was Meat Head, which is right next to The Church of our Savior on Spilled Blood. I ordered magret duck breast with stewed pear and carrot puree with a glass of white wine. Incredible.
AND OF COURSE… THE MIND-BLOWING SUNSETS
It wouldn't be true love without them. On my last day in Saint Petersburg, I caught this epic sunset through the taxi window while driving through town. I couldn't believe my own eyes, but at the same time it summed up pretty well how I felt about this city: it was majestic! I came with low expectations and left with great experiences. St. Petersburg practically blew me away with its culture, gold, history and colorful inputs.
As for the rest of Russia? I still have a lot to explore!
Heading to Peterhof? Read my post here: Peterhof Palace – how to plan your day trip
So what do you say? Would you go to Saint Petersburg?
Psst! This post probably contains affiliate links, which means I earn a commission (at no extra cost to you) if you click through and make a purchase. As always, I only recommend products and services I trust.