Psst! This post probably contains affiliate links, which means I earn a commission (at no extra cost to you) if you click through and make a purchase. As always, I only recommend products and services I trust.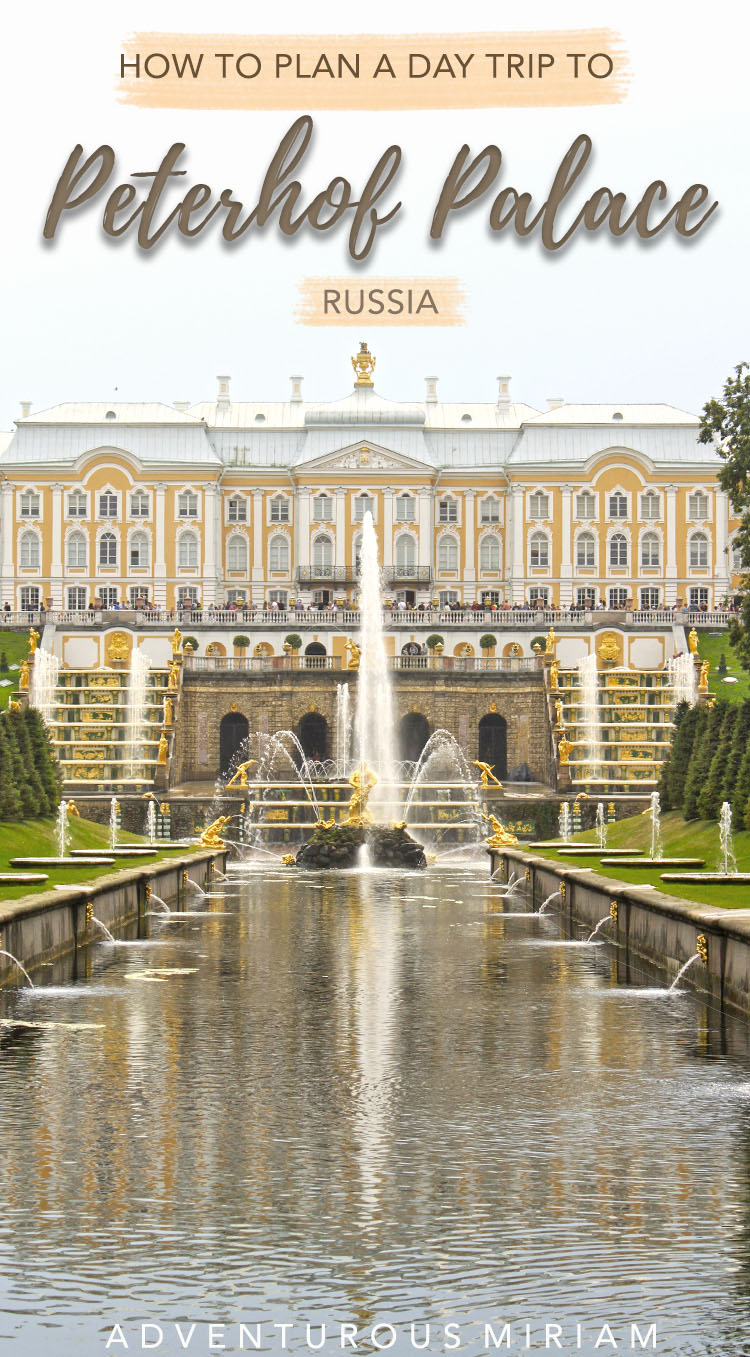 The beautiful Peterhof Palace is a must-see St Petersburg attraction. This series of palaces and gardens just outside of town, majestic and covered in gold, is often referred to as the "Russian Versailles".
St Petersburg, Russia is one of those cities that has so many beautiful sites that you have to pick and choose. Unless of course you have a whole month to wander around and explore the entire city. The thing about Saint Petersburg is that much of its uniqueness is in the details; like the churches with golden spires and saturated blue facades. Or something as simple as taking the metro, which is as ornate as the palaces of the Tsars!
And speaking of palaces.. I had already visited The Hermitage, which served as the official Tsar residence until the revolution in 1917, but I had one more palace I wanted to see before I left, and that was the spectacular UNESCO site: Peterhof Palace.
MORE RUSSIA TRAVEL TIPS: GET MAPS, ITINERARIES AND RUSSIAN PHRASES
TIPS FOR VISITING PETERHOF PALACE
If you ask me, Peterhof Palace is a must for anyone visiting Saint Petersburg. But you should set a whole day off since it will take you at least 2 hours in transportation and 3+ hours to explore the Peterhof estate and gardens.
Opening hours: Most of the areas are open from 9am to 8pm.
Entrance fee to the Lower Park, which is where you arrive with hydrofoil, is 1,000 Rubel (US $15)
Make the Grand Palace a priority – it's the most impressive palace and has around 30 rooms. The admission fee is 600 Rubel (US $9), and mind that in the summer the palace is very crowded and therefore rather claustrophobic.
Photography and video is NOT allowed inside the Grand Palace.
How to get there: From St. Petersburg, you can reach Peterhof Palace by train & bus (1,5 hours), minibus (about 1 hour) or by hydrofoil (45 minutes). The hydrofoil is the most expensive option, but it is also the most comfortable.
What to bring: Water and a warm sweater, even if you're visiting in the summertime. I went there in August, and when it suddenly started raining, it got SUPER cold.
There's a small cafeteria and a tiny kiosk right outside the Lower Gardens. But be aware that you have to pay entrance fee ($15) if you want back in.
When to visit: The best time to visit is from early May to early October when the fountains are open.
THE RUSSIAN VERSAILLES
Now, Peterhof is about an hour away from Saint Petersburg and it took me most of the day to visit. But before we get into all that, let's run through the history real quick.
Peterhof Palace was built in 1703 by Peter the Great (hence the name, which means Peter's court in German). Around that time, from 1700 till 1721, Russia was at war with Sweden, and a decisive battle in Ukraine in 1709 became the turning point of the whole war. The Tsar wanted to celebrate this victory so he dedicated Peterhof to the victory over Karl XII. He got the inspiration for the palace design during a trip to France where he saw Chateau de Versailles.
If you've been to Versailles, you can probably see the resemblance. However, one grand difference is the fountain complex, which is conceived on a much larger scale with gilded figures and several springs of sparkling water. To be fair, he did a darned good job!
GRAND PETERHOF PALACE IS A MUST
The main attraction in Peterhof is the beautiful Lower Park with 150 fountains and 4 cascades. I arrived at Peterhof from the waterside so I entered at the most impressive cascade called the Great Cascade. It's situated in front of the Grand Palace which was the gala summer imperial residence for 200 years.
After walking around the cascade, I went to stand in line for the Grand Palace. There are several palaces to check out at Peterhof Palace, but this is by far the most impressive. It's built in Baroque style and boasts regal facades and elegant ornate interiors, porcelain vases, beautifully decorated fireplaces and pompous parquet floors and large mirrors.
DON'T PAY ENTRANCE FEE TWICE
After touring the Grand Palace, I ventured to the Upper Gardens and had to learn the hard way that once you go out of the Lower Park, you have to pay entrance fee to re-enter. Even if you're only heading straight to the hydrofoil boat to get back to the city. So that was annoying, especially because there weren't any warning signs saying: "Hey foreigners, when you see a sign that says EXIT, it means you're ex-it-ing."
But the gardens were pretty. And surprisingly huge. So it was easy to spend an hour or so at the premises until I was ready to head back. In the end, I guess it was worth the extra entrance fee.
Have you been to Versailles or Peterhof? Which did you like the most?