10 best Bornholm restaurants for local food
Looking for the best Bornholm restaurants? In this post, I've gathered the best ones. You'll find everything from the world-renowned restaurant Kadeau, to natural wine bars, and a traditional smoke house.
Bornholm is bursting with quality restaurants serving local, organic and wild, seasonal ingredients.
Best of all?
This little food paradise is just a quick flight from Copenhagen or Billund.
Today, I'm sharing some facts about the local Danish food and a list of the best Bornholm restaurants. Let's take a look.
This post contains referral links for products I love. Adventurous Miriam earns a small commission at no extra cost to you if you make a purchase through my links. Thank you for your support ♡ Learn more
New Nordic Food on Bornholm
If you love Danish food, liquorice, organic produce and smoked herring, Bornholm is for you.
This Danish island in the Baltic Sea enjoys more hours of sunshine than anywhere else in the country, and the higher temperatures help grow fruit and berries that simply taste sweeter. To round things off, the low salt content of the Baltic Sea means herbs and other ingredients are tastier.
Bornholm has developed a culinary scene that's endlessly innovative, sustainable and has drawn top chefs to the island. This is partially thanks to an abundance of first-rate local producers and restaurants.
Bornholm has embraced and cultivated the New Nordic food wave from 2004. New Nordic food is known for its innovative approach to traditional Danish food along with a focus on health and an ethical production philosophy.
Michelin restaurants
Denmark has a total of 32 Michelin Stars and 25 star-studded restaurants. Bornholm is home to one Michelin star restaurant: Kadeau (2016). The newly opened Restaurant Det Røde Pakhus in Rønne was awarded a Michelin Plate Award in 2020.
Bornholm delicacies you should try
Sol over Gudhjem
Fresh-smoked herring from a smokehouse
A gourmet dinner at sunset in an exclusive restaurant
Exquisite homemade chocolate and hard candy
Delicious ice-cream
Johann Bülow liquorice
Local beer and juice
Krøllebølleis (an iconic ice cream pronounced with a Bornholmian dialect)
1. Kadeu
Baunevej 18, Vester Sømarken, Åkirkeby – Website
In 2007, Chef Nicolai Nørregaard transformed a beachside cottage to a Michelin-starred restaurant, which serves locally sourced seasonal produce on local-made tableware. Kadeu was the first restaurant to embrace the New Nordic food concept, which kickstarted Bornholm's food revolution.
Kadeu is among the most renowned Bornholm restaurants.
2. Christianshøjkroen
Segenvej 48, Aakirkeby – Website
At Christianshøjkroen, tucked deep in the woods, you can try modern Nordic cuisine that's fresh, seasonal, and a great value. The atmosphere is relaxed but they are serious about food here. We choose the whole shebang, taking us through all of the evening menu's six dishes of gastronomic delights.
Definitely one of the best Bornholm restaurants.
3. GSH – Green Solution House
Strandvejen 79, Rønne – Website
GSH – Green Solution House is part of the sustainability wave on Bornholm, which also involves self-sufficiency through solar and wind energy. GSH, which was named Building of the Year in 2015, is home to one of the island's best organic gourmet restaurants that also serves vegan and vegetarian dishes. GSH, a sister hotel to Fredensborg Hotel, is located in Rønne.
4. Râzapâz
Store Torvegade 29, Rønne – Website
Râzapâz is the Bornholmian word for a rascal or wild one ('vildbasse' in Danish). It's a relatively new restaurant, café and wine bar from 2020 where you can order lunch for dinner or dinner for lunch. Proprietor Patrick Hult wanted to create a fun eatery without any rules, and that's what makes it unique. His goal is to make it a zero-waste restaurant.
5. Svaneke Røgeri
Fiskergade 12, Svaneke – Website
Anyone who's lucky enough to visit Bornholm simply must experience a traditional smokehouse like Svaneke Røgeri. This is the place to try one of the island's most popular dishes, Sol over Gudhjem (literally Sun over God's home), which is smoked herring topped with raw egg yolk, radishes, and chives on rye bread.
At Svaneke Røgeri, I got this plate of smoked herring, salmon, cod, mackerel, shrimp and other smoked delicacies – a perfect lunch for two and a baby.
6. Fredensborg Hotel
Strandvejen 116, Rønne – Website
As Bornholm is surrounded by sea, it naturally has a long tradition of fishing. You'll find seafood at most restaurants, but the best selection and quality is at Fredensborg Hotel. Here, you'll experience the lavish seafood buffet of oysters, lobsters, soups, scallops, salmon, crabs, shrimps and much more at less than 500 DKK. There's also a great cheese and desert buffet included.
I've already acclaimed the Danish seafood many, many times before, so suffice to say: this seafood buffet is amazing and absolutely deserves the hype.
7. Svaneke Chokoladeri
Svaneke Torv 5, Svaneke – Website
In Svaneke, which was awarded Denmark's most beautiful town in 2013, you'll find Svaneke Chokoladeri. Here, Janne Lundberg and Daniel Mikkelsen make heavenly truffles from Belgian chocolate with spices and liqueurs from all over the world and local organic fruit. Try the gourmet flødeboller; a small, puffy, cream-filled and chocolate-covered treat.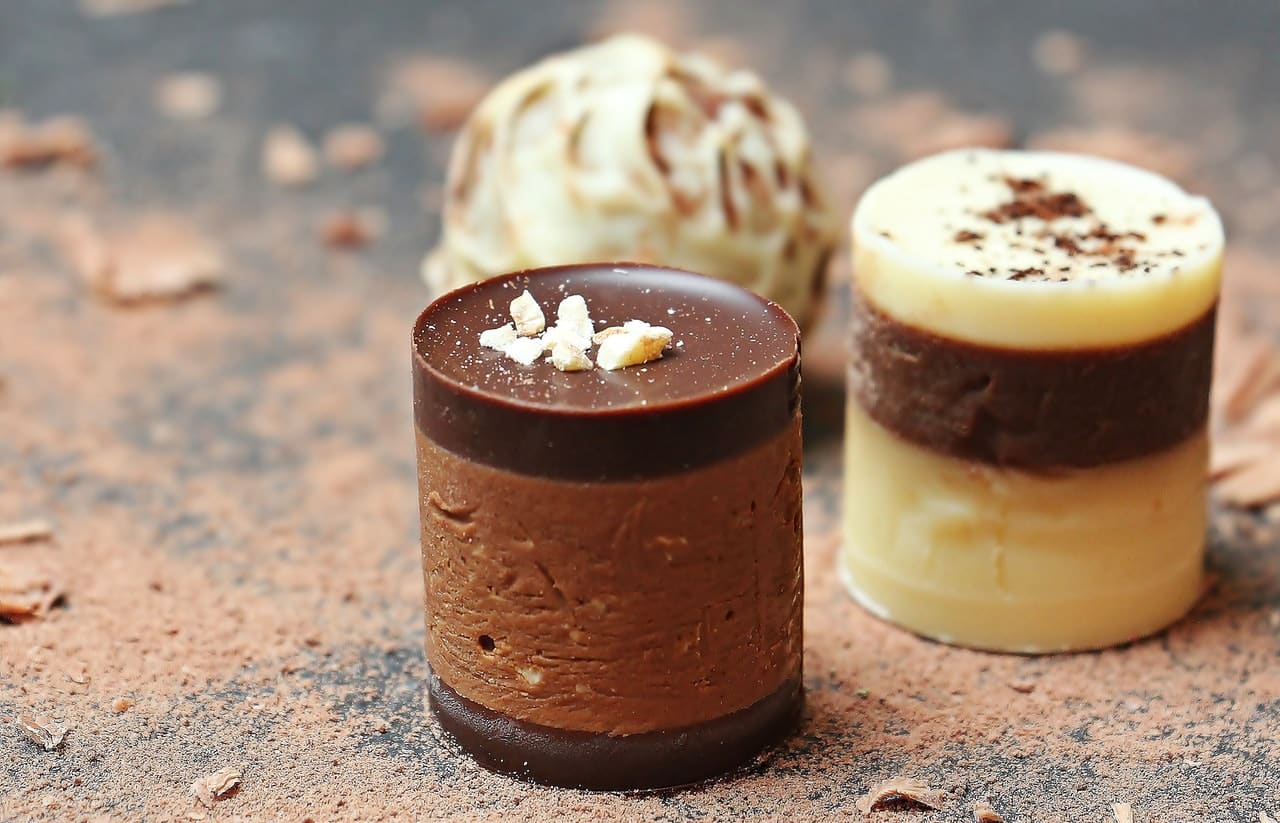 8. Vinøst
Svaneke Torv 8, Svaneke – Website
Vinøst is another amazing eatery in Svaneke that serves joyful wines and hearty, easygoing food. Classic French bistro dishes are revitalised with sustainable, local produce from Bornholm.
9. Det Gamle Posthus
Kirkegade 8, Allinge – Website
Great food in cosy surroundings in the old post office building from 1905. Find traditional Danish dishes like æggekage (omelet with flour and bacon) and herring made with local produce.
10. Johan Bülow Liquorice
Glastorvet 1, Svaneke – Website
If you've been following me for a while, you know that I absolutely LOVE liquorice. So it may come as no surprise that I'm including it in a post about Danish food.
Bornholm is home to Johan Bülow, Denmark's liquorice king who was born on the island. He makes not only the sweet kind and the salty one, but the whole spectrum of flavours from raspberry, passion, chocolate, coffee and habanero chilli. Today his sleekly packaged liquorice balls are sold at high-end boutiques in London and New York City.
Naturally, you can get the exclusive Johan Bülow liquorice all around Denmark, but at his store in Svaneke, they also serve liquorice ice cream, which is a definite must!
A thousand thanks to Bornholm Hotels for hosting me and making me feel at home in Bornholm. I was a guest, but all opinions are my own as always.
Ask me anything about Bornholm restaurants!
More stuff you'll love: