10 things to do in Seville, Spain (Star Wars and Game of Thrones locations)
Seville just has to be on our Spain itinerary, I told Thomas.
I was planning our road trip through Andalusia, and besides Granada and Ronda, I had my heart set on Seville ♥
It's not just that Seville has gained serious travel hype lately – especially since Lonely Planet's Best in Travel named Seville the best city to visit in 2018 (naturally I was dying to visit). But the city also got two major draws: It's the film location of Star Wars and Game of Thrones. As a major GOT fan, I knew I had to visit pronto!
This post contains referral links for products I love. Adventurous Miriam earns a small commission at no extra cost to you if you make a purchase through my links. Thank you for your support ♡ Learn more
THINGS TO DO IN SEVILLE, SPAIN
After having been there, let me just say this: Seville really is one of the highlights in Andalusia. There's a lot to do there. Some of the best things to do in Seville include flamenco dancing (or you could just watch 😉 ), the Gothic architecture, some of which are UNESCO sites, and tapas bar hopping. And let's not forget the mouth-watering churros.
What's great about Seville is that it's perfect for a weekend trip, but you could easily spend more time than that.
Read next: Where to stay in Seville
1. PLAZA DE ESPANA (STAR WARS LOCATION)
Free entrance
First off, we've got Plaza de España. This place is a must for two reasons: 1) its sheer scale and grandeur, and 2) it's where they shot a scene from Star Wars.
Remember Attack of the Clones? This is where Anakin Skywalker and Padmé (and R2-D2) take a walk on Naboo.
Plaza de España was built for the Ibero-American Exhibition of 1929. It has its own system of mini-canals and bridges, and you can rent small boats to row in the canal. It's actually the size of five football pitches so take your time to walk around the place. We spent around one hour there.
2. SEVILLE CATHEDRAL
Entrance fee: 9 EUR (includes the Giralda bell tower)
Be sure to visit Seville Cathedral, a UNESCO world heritage site. It's the third largest cathedral in the world and the world'd largest Gothic cathedral.
The cathedral took over 100 years to complete and features 80 chapels and the tomb of Christopher Columbus. It really is a piece of art.
For 16 EUR you can do a guided tour to the roof of the cathedral. There's a great view from the top.
3. CLIMB THE GIRALDA BELL TOWER
Entrance fee: 9 EUR (includes the cathedral)
One of the things that makes Seville Cathedral unique is that it's built on top of a mosque. All that remains of the mosque is part of its minaret, which is now known as the Giralda bell tower. If you go in, climb 34 sloping ramps to reach the top where you'll be rewarded with some pretty decent views of Seville.
4. METROPOL PARASOL
Entrance fee: 3 EUR (free to watch from the outside of course)
The Metropol Parasol is also worth visiting – if not for its oddly beautiful appearance. It's known locally as las setas (the mushrooms) and is said to be the world's largest wooden structure. To get in, you need to go down a level to find the lift to go up. There's a killer view from the top.
5. ALCAZAR (GAME OF THRONES LOCATION)
Entrance fee: 12.5 EUR (without the upper floor: 8.5 EUR)
The Alcazar – from the Arabic word al-qasr for castle – was my favorite thing to do in Seville. It's a UNESCO site and also a Game of Thrones film location.
Walking in the gardens and patios was like being in Dorne. And you know what, it's actually more magical in real life!
The royal palace dates back to 913 when the region was controlled by the Moors. So as you can imagine, it's got quite a history – and a complex one. Aside from the phenomenal extensive gardens, you'll find exquisite ceramic tiles, gold ceilings and fairy tale colonnaded patios from the Arabic period, the Middle Ages right through to the Renaissance and the Baroque.
This place guys, it's a must.
6. THE REAL MAESTRANZA BULLRING
Entrance fee: 8 EUR (includes a guided tour)
If you're up for a dose of Spanish culture, you'll get it at the Real Maestranza Bullring. There are guided tours spoken in both Spanish and English which last about 40 mins. The tour includes the bullring, several rooms with paintings and history info and a small chapel where the toreros (bullfighters) pray before entering the ring.
7. TORRE DEL ORO
Entrance fee: 3 EUR (free on Mondays)
The Torre del Oro is a defensive tower from the 13th century when Spain was invaded by the Moors. It's located by the river and is one of the hallmarks of Seville.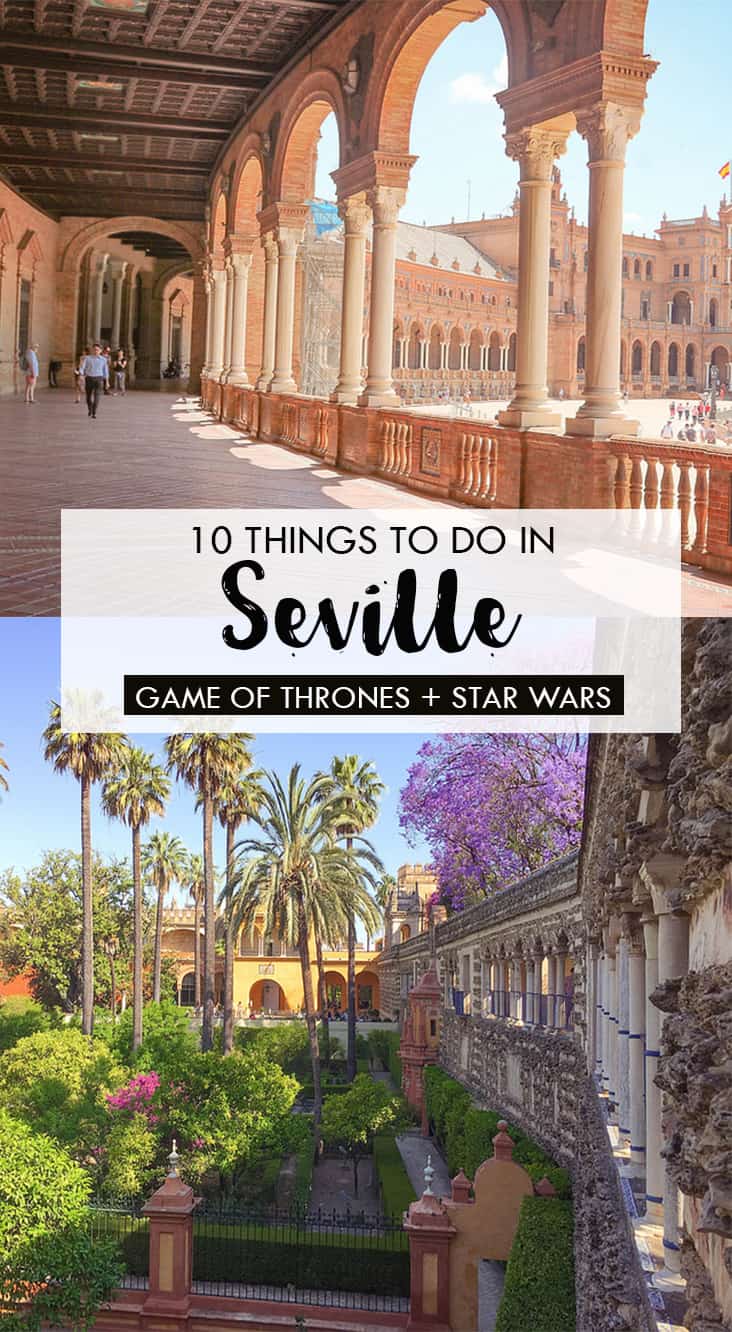 8. BEST TAPAS IN SEVILLE
You'll have the best tapas in Seville. Trust me. Tapas bars are everywhere – classic and modern, cheap and delicious. Yes, you can eat tapas all day long if you want.
La Eslava is said to have the best tapas in Seville – try the juicy pork cheeks or the truffle cake! You guys know how I feel about truffles ♥ La Brunilda is another great tapas bar with classic dishes at very budget-friendly prices.
9. ROMEO AND JULIET BALCONY
Free entrance
Ever been to a Romeo & Juliet sight? Well, the Plaza Alfaro is said to have inspired the balcony scene in Shakespeare's Romeo and Juliet. Whether it's true or not, it's easy to picture this as his inspiration. You can find it by following this map: Plaza Alfaro, Seville, Spain.
Since I didn't take a photo of the love balcony, I'll leave you with an image of the love of my life (at least one of the two) 🙂
10. SANTA CRUZ NEIGHBORHOOD
Free entrance
The most popular barrio (neighborhood) in Seville is Santa Cruz and with good reason. With its narrow cobbled streets and colourful houses and tapas bars, this is the perfect place to enjoy a glass of wine, go tapas bar hopping or just wander through the small alley squares lined with orange trees.
Santa Cruz is home to the Alcazar, Seville Cathedral and the Romeo & Juliet balcony.
WHERE TO STAY IN SEVILLE
Seville gets HOT hot hot in the summer so you'll want a hotel with air conditioning and swimming pool. Also, I recommend staying in the old town because it's in walking distance of most sights and attractions.
Here are a few of the best hotels:
Hotel Fernando III offers spacious rooms and a roof top terrace with seasonal pool. The hotel has a beautiful decor and very helpful staff. Click here to get the latest prices.
Vincci La Rabida – no swimming pool, but for one of the best views in Seville, this is the place to stay. The hotel is set in a charming mansion from the 18th century and it's located in the old town – perfect location. Click here to get the latest prices.
Hotel Bécquer comes with a lovely pool, view and location. The hotel is located in the old town, the heart of Seville and has nice rooms. Click here to get the latest prices.
Have you been to Seville? Doesn't it look amazing?
More Spain posts you might like