How to hike the legendary Liechtensteinklamm gorge (Austria)
Today I'm going to introduce you to a nature attraction in Austria. Think emerald-green water, mossy stones, vertigo-inducing cliffs, misty waterfalls and ancient legends. I'm showing you the gorgeous Liechtensteinklamm (or Liechtenstein gorge to use its English name).
Ready?
Okay, let's begin!
Travel update (2021): The gorge was closed for nearly 3 years due to a rock fall in May 2017, but has recently been reopened. Everything is renewed. Including the new spiral staircase "Helix", which stretches 30 meters, and the entrance fee (now €10 for adults). It can get crowded there, so remember to keep your distance and wear a face mask.
This post contains referral links for products I love. Adventurous Miriam earns a small commission at no extra cost to you if you make a purchase through my links. Thank you for your support ♡ Learn more
Introduction to Liechtensteinklamm
Opening hours: May-Sep: 9am-6pm / Oct: 9am-4pm
Entrance fee: €10 for adults (free parking)
Liechtensteinklamm is a narrow gorge, located south of the town St. Johan im Pongau (about 50 km south of Salzburg). It was named after Prince Johann II of Liechtenstein who generously funded the walkway in 1876.
Liechtenstein gorge is 4km long and has walls up to 300m, which makes it one of the deepest and longest gorges in the Alps. Only 1km is accessible to visitors, though.
You'll find several smaller waterfalls along the way and a large waterfall at the end, the Liechtensteinklamm wasserfall.
How to get to Liechtenstein gorge
The gorge is easy to find. And at the entrance, there's a restaurant, toilet and info about the gorge. You can reach Liechtensteinklamm by train or car:
By train & bus
Take the train from Salzburg to St. Johann im Pongau and catch bus 540 to Plankenau. Tell the bus driver that you're going to Liechtensteinklamm. You'll know when to get off because the bus has to reverse at this point. From there, it's a half hour walk to the gorge entrance (2 km).
Check the time table for trains here: reiseauskunft.bahn.de/
By car
You can also visit by car. Simply drive to St. Johann im Pongau and continue on Wagrainer Strasse. Take Hauptstraße to Liechtensteinklammstraße. It takes 5 minutes. You'll find parking lots at the entrance and they're free.
Hiking the gorge
When I visited, rain was coming down in buckets.
It wasn't ideal, but on the other hand, bad weather shouldn't stop you. Once you're inside the gorge, you'll be sheltered from the rain by the narrow cliff walls. Some of the steps might be wet and a little slippery (it's always wet inside the gorge because of the water), so always wear sturdy shoes.
You start at the entrance and follow the trail into the gorge. There's a fence so it's very safe.
After 20 minutes of hiking, there's barely any sunlight. All you'll hear is the thundering water below you as you feel the cold, wet air on the grotto-like pathway. Remember to stop and take photos of the rapids and the rays of light passing through the cliff walls.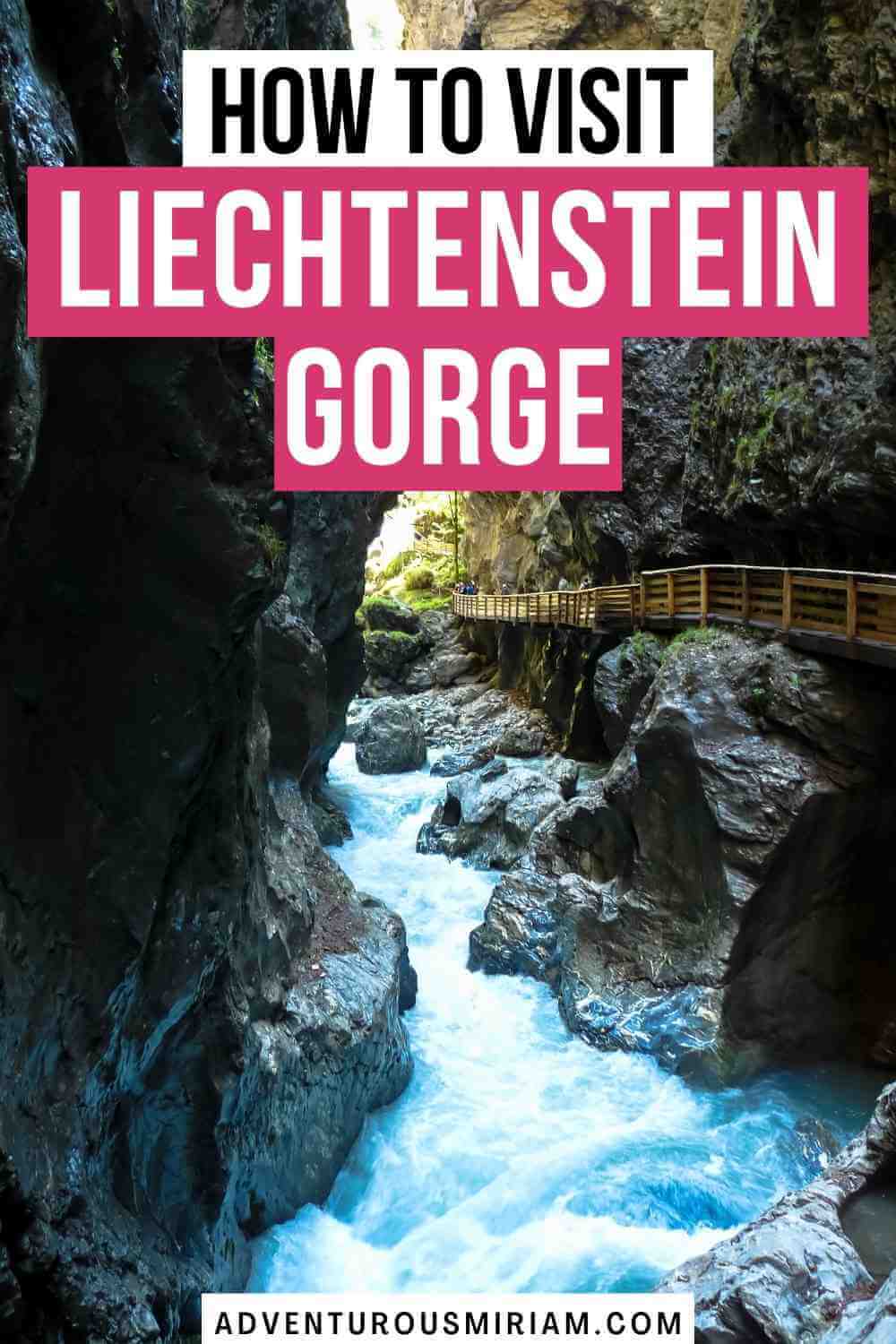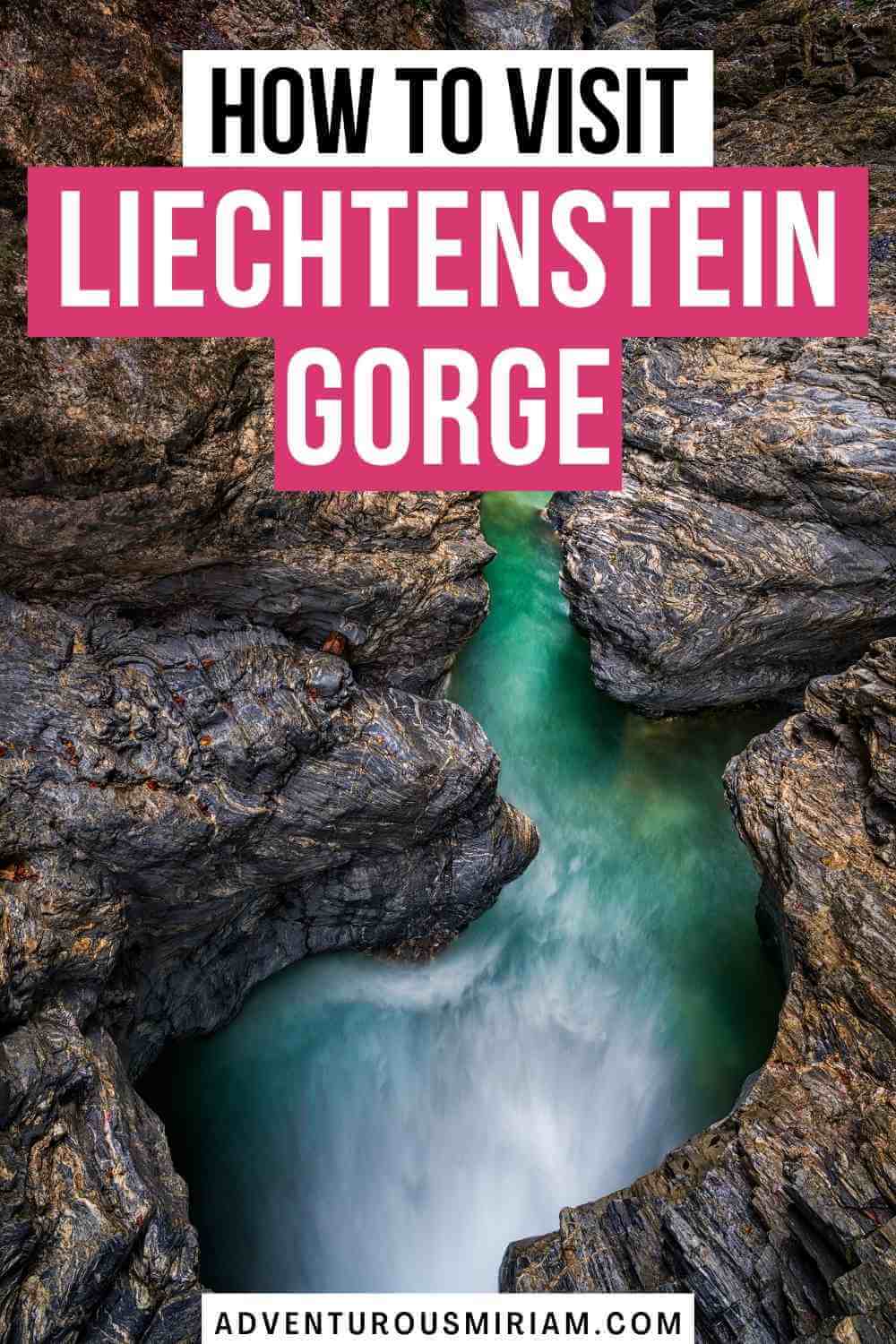 Legend of the Liechtenstein gorge Austria
Liechtensteinklamm is a beautiful place.
And you know, there's actually a myth connected with its genesis. According to legend, it was created when the devil full of anger over a failed plan, threw water onto the rocks and created the gorge. A moody creation myth, yes, but it sure has a mystic atmosphere that fits well with the location.
Legend also says that there are healing springs beneath the gorge. But it hasn't been possible to extract them.
Liechtenstein gorge waterfall
Height: 49m
By the end of the gorge, the cliffs widens and you'll spot a high waterfall. From afar, you will hear the thundering water rushing down the cliff and into the echoing gorge.
I don't know about you, but I LOVE waterfalls. In my world, they're the awesomest thing ever created and for some reason they make me feel like I've come home.
When to visit
It's best to visit the gorge in the early morning or late afternoon. It's the least crowded time, and it's best for photos. The busiest time is from June-August between 10am and 2pm.
Your hike through the Liechtenstein gorge Austria will take about 1.5 hours (roundtrip). It's the same way in and out.
What to bring
The path and bridges are regularly checked and can be walked on in any weather. I do recommend checking the weather forecast, though, because you might want to bring your rain coat.
Hiking boots or sturdy sneakers
Water
Snacks
Warm clothing (depending on the season)
Camera (plus tripod)
Face mask + hand sanitizer
Map of Liechtensteinklamm
Liechtensteinklamm is located in Salzburgerland, one of Austria's nine states. Find Liechtensteinklamm on the map by clicking the red pin. You can zoom in and out.
More stuff you'll love: