15 fascinating Schonbrunn Palace facts you probably didn't know
The impressive Schönbrunn Palace, or Schloss Schönbrunn in German, is one of the most famous landmarks in Austria. It's located in Vienna and has more than 500 years of imperial heritage, art and natural beauty.
If you're looking for some interesting Schonbrunn Palace facts, you've come to the right place!
Here are 15 of the most important and interesting things to know about the iconic palace in Vienna.
Sources: www.schoenbrunn.at/en/
This post contains referral links for products I love. Adventurous Miriam earns a small commission at no extra cost to you if you make a purchase through my links. Thank you for your support ♡ Learn more
1. It was initially a hunting lodge
Schönbrunn Palace was commissioned in 1696 by Emperor Leopold I. But the HISTORY of Schönbrunn dates back to the 14th century. Back then, the palace bore the name Katterburg and was used as a hunting lodge.
During the Turkish sieges it was nearly destroyed so a new palace – the one you see today – was built in 1696. However, the gardens and overall impressiveness was all Empress Maria Theresa who expanded the palace significantly from 1743-1780.
2. Public park since 1779
The lavish formal gardens and park was opened to the public in 1779 and since then has been a popular place to relax for locals and tourists.
3. Birthplace of Marie Antoinette
Do you know Marie Antoinette (1755–1793)? French queen, married to Louis XVI, lost her head to the guillotine during the French Revolution.
She was born an archduchess of Austria and this palace is where she spent her summers.
5. Modelled after the Versailles
The Versailles has been an inspiration to several royals who built their palaces to be on par with the French masterpiece – just look at Peterhof in Russia and Linderhof in Germany.
The Schloss Schonbrunn is also modelled after the Versailles hoping to mimic the palace politically, socially and in greatness (it didn't succeed, though).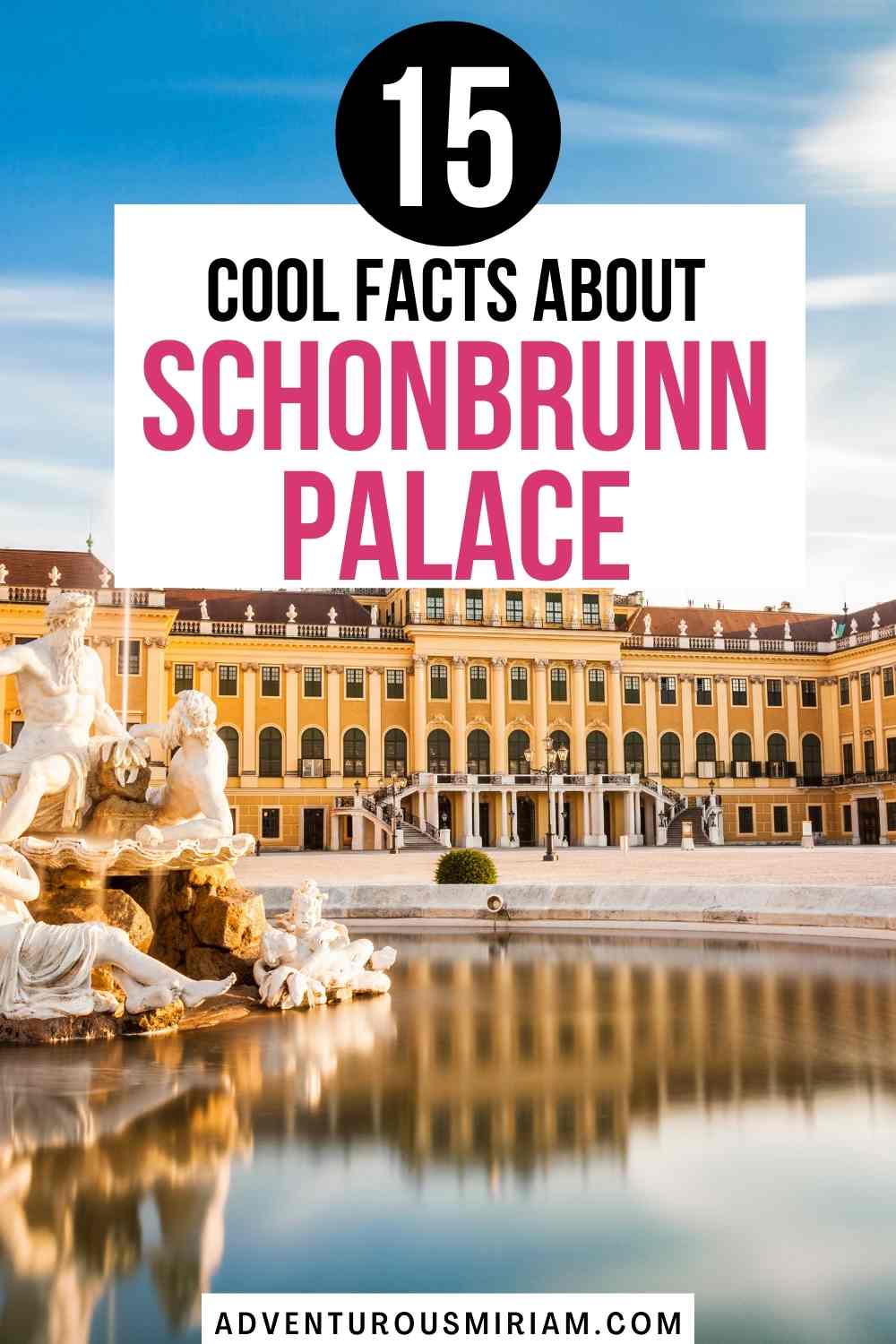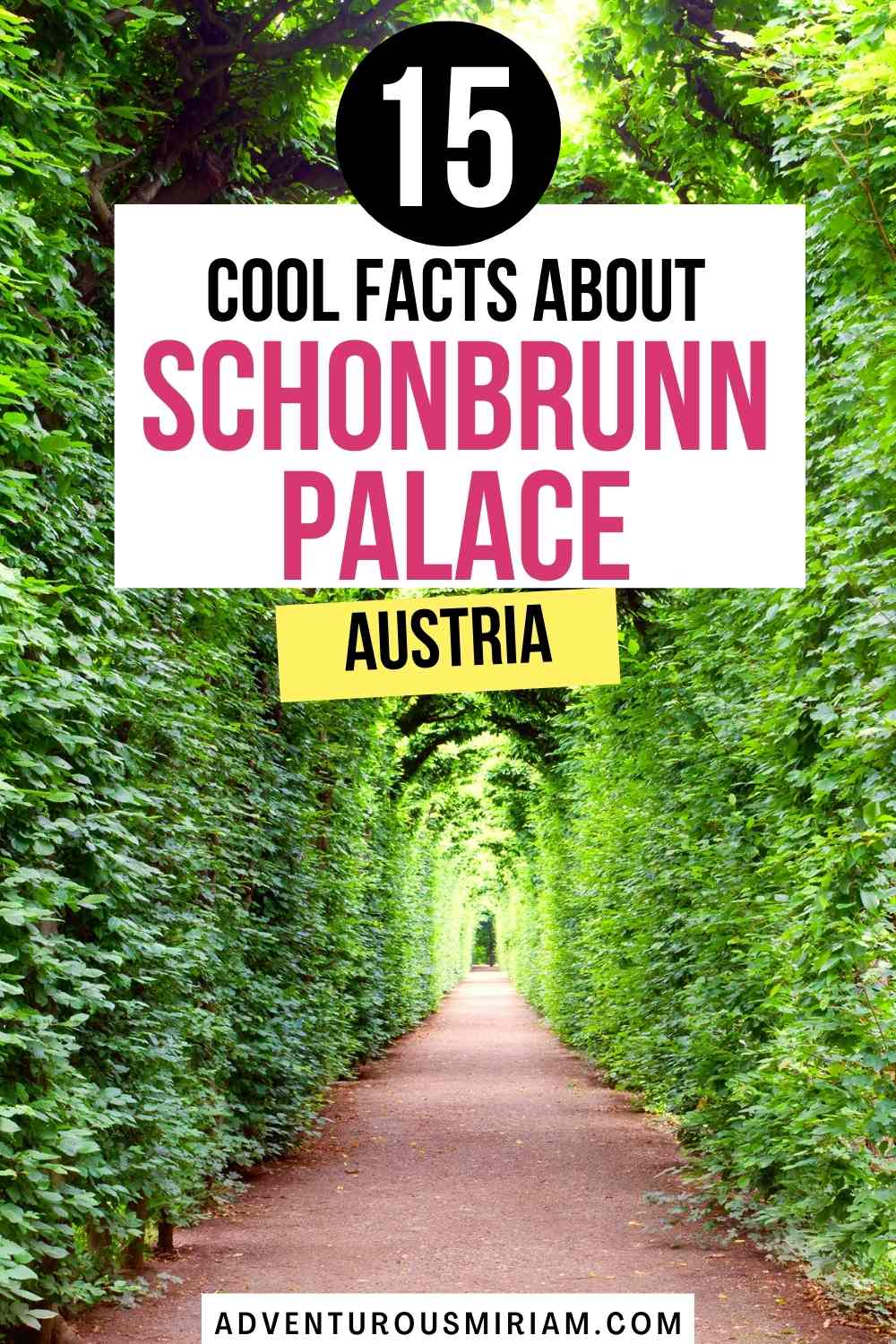 4. 1441 rooms
If you're wondering how big Schönbrunn is, I can tell you it's enormous. It has no less than 1,441 rooms of which only 45 are open to the public!
In comparison, the Versailles has 2300 rooms.
6. Schönbrunn means "beautiful well"
Schönbrunn means "beautiful well". It was named after the well where the court got their water.
7. A UNESCO site
The palace and Schonbrunn palace gardens illustrate the taste of the Habsburg monarchs, and most of it is kept as it was in the 17th century. For that reason, both the palace and gardens were added to the UNESCO World Heritage list in 1996.
8. The most famous resident was murdered
Schönbrunn Palace has a long line of residents. But Empress Elisabeth (1837-1898), also known as Sisi, is its most famous resident. Sisi was loved by the Austrian people, but was also one of the most miserable royals in history. She despised the snotty, formal Habsburg court and spent as much time as possible away from Vienna and her husband, the Emperor Franz Joseph. She died tragically by the hands of an anarchist in Geneva.
There's lots of history about Sisi and her family at Schönbrunn. Do get a brief introduction if you visit, it's very interesting.
9. Longest Baroque orangery in the world
The orangery is 189 metres long, which makes it the longest Baroque orangery in the world. Longer than the one at Versailles, which comes in a close second.
10. Furnishings are authentic
When you visit a historic site, the furnishings are usually reproductions. But not at Schönbrunn Palace! The Habsburgs commissioned most of the interior and it's left as it was when abandoned in 1918.
11. Rococo style
The design scheme of the palace is Rococo, also called Late Baroque.
12. Mozart performed a concert here at six years old
Yes, in 1762 when Mozart was six years old, he performed a concert for the royal family.
13. Napoleon used Schönbrunn Palace as his HQ
Napoleon has been here as well – twice actually. He used the palace as his headquarters in 1805 and again in 1809.
14. The Gloriette is a monument to Just War
The mighty Gloriette rests atop Schönbrunn hill. It was intended by Maria Theresa to a monument to engage in war to accomplish peace (however illogical it sounds). It stands as a memorial for those who died during the War of the Austrian Succession (1740–1748) and the Seven Years' War (1756–1763).
It's a bit of a walk (takes about 10-15 minutes uphill from the palace), but you'll be rewarded with a majestic view from the top.
15. Schönbrunn gets 8 million visitors per year
That makes it the most visited landmark in Austria. If you plan on visiting, try to get there in the morning when it opens to avoid most of the crowds.
Take a virtual tour
If you're interested in visiting Schönbrunn Palace Vienna, but unable, you can take a virtual tour here. The tour gives you an insight of the state rooms, including the ones of Maria Theresa and Franz Joseph & Sisi.
Tips for visiting Schönbrunn Palace
Schönbrunn Palace is not only historically beautiful and sehr, sehr schön. It also gives you an insight into the country's history and culture. It's only a few metro stops from the city centre so it's definitely worth going if you're in Vienna. Even if you don't plan to go inside the palace.
Schonbrunn palace tickets: There are several palace tours and tickets, and all tours come with an audio guide.
Schonbrunn palace hours: 8:30 am to 5:30 pm.
The gardens and Gloriette are FREE to visit.
Photography is not permitted inside the palace
Make sure to visit the Rose garden in the summer – it's beautiful!
More stuff you'll love: