Psst! This post probably contains affiliate links, which means I earn a commission (at no extra cost to you) if you click through and make a purchase. As always, I only recommend products and services I trust.
Ah Salzburg…! The city of Mozart and Sound of Music; famous for its mountainous backdrop and baroque UNESCO Old Town. There are so many things to do in Salzburg, the first stop on my trip through Austria. I was beyond excited to spend four days there.
Want the full Sound of Music experience while you're reading this post? Stop everything you're doing, follow this link to Youtube and listen to the song while you read. (More Sound of Music links below).
MORE AUSTRIA TRAVEL TIPS: GET MAPS, ITINERARIES AND GERMAN PHRASES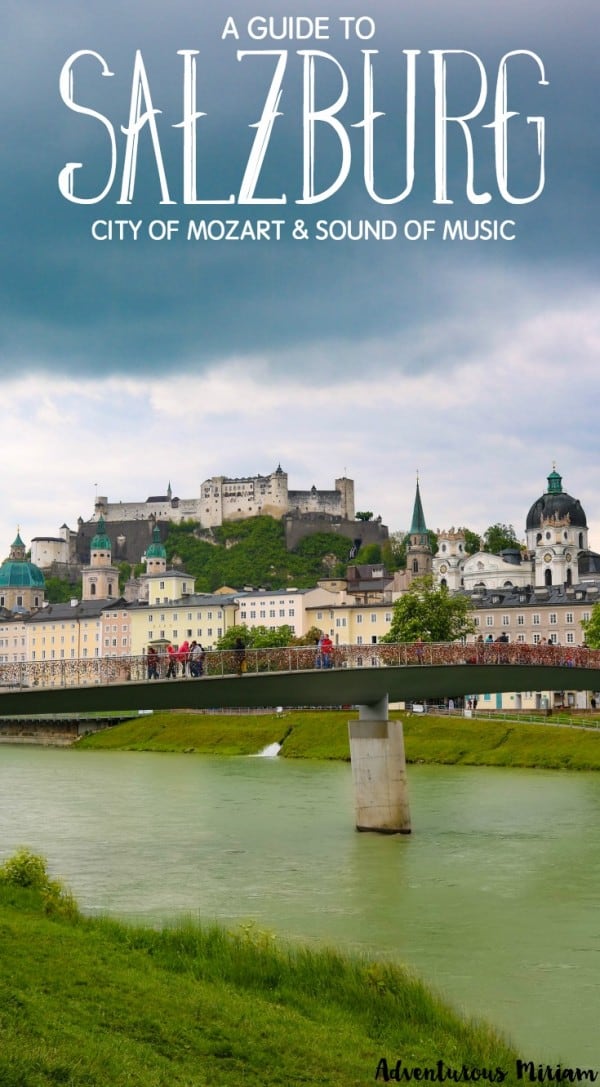 10 THINGS TO DO IN SALZBURG
Here's a brief list of the top 10 things to do in Salzburg, and it includes all the main sights. You can easily spend a week in Salzburg, but for the ten sights and attractions mentioned in this post, you'll only need a couple of days.
Love locks at Makartsteg Bridge
Salzburg Old Town (Altstadt)
Salzburg Dom and Kapitelplatz
St. Peter's Cemetery (Petersfriedhof)
Mozart's birthplace
Shopping: Getreidegasse and Linzergasse
Mozartkugel at Fürst Café
Mirabell Gardens and Palace
Hohensalzburg fortress
Must-see view points in Salzburg
1. LOVE LOCKS AT MAKARTSTEG BRIDGE
I stayed at a hotel near the Old Town in Salzburg. So far I've been to a few dozen old towns around Europe and while the ones in Tallinn, Strasbourg and Colmar were the most spectacular, Salzburg sure follows suit.
I entered the Old Town from Makartsteg bridge, a place where hundreds of lovers have announced their romance to the world with a padlock. The endless sea of love locks made me smile and think about Thomas. Oh, the magic that comes with falling in love.
2. SALZBURG OLD TOWN AND SOUND OF MUSIC
Salzburg Old Town (Altstadt) made a beautiful first impression. No wonder it was awarded a UNESCO world heritage site in 1997. As I entered the cobblestone streets, I passed street performers, musicians and old-fashioned Austrian houses with historic architecture. There were music everywhere and statues of famous musical composers.
3. SALZBURG DOM AND KAPITELPLATZ
Salzburg Old Town was such a beautiful place to wander around. Especially the area surrounding the Salzburg Dom where I got a clear sight of Salzburg Fortress (Festung Hochensalzburg).
I'd had "The hills are alive" song from Sound of Music stuck in my head for weeks. So I started looking around for film locations and spotted one right across Kapitelplatz.
Remember this place? It's the Residenz Fountain where Maria splashes around and sings: "I have confidence in me".
I walked through the gates and looked up at the towering Salzburg Dom, a 17th century Baroque cathedral, whose history dates back to 774. Inside, a young A Capella group filled the cathedral with music as I looked around at the majestic main organ and the baptismal font where Wolfgang Amadeus Mozart was baptized. So much history here.
4. ST. PETER'S CEMETERY (PETERSFRIEDHOF)
Right next to the cathedral is Petersfriedhof (or St. Peter's cemetery). Generally, I like to visit cemeteries when I travel because it can be informative and helps me understand what the surrounding community values.
This particular cemetery was unique for two reasons: 1) It dates back to 1627 and is the oldest in Austria. And 2) In Sound of Music, this is where the Von Trapp family hides from the Germans.
5. MOZARTS BIRTHPLACE IN SALZBURG
After wandering through the cemetery, I went to Mozart's birthplace, which is located on the busiest street in the Old Town: Getreidegasse. The Mozart family lived on the 3rd floor in the mid 1700s.
6. GETREIDEGASSE & LINZERGASSE
There are two main shopping streets in Salzburg. The most famous is the busy Getreidegasse in the heart of Salzburg Old Town; the less crowded is Linzergasse.
Getreidegasse is super charming and historic, but I personally preferred Linzergasse because it was longer and less touristy.
Salzburg was unlike any place I'd seen before. Why, you ask? Well, as if the city wasn't charming enough, it had medieval guild signs hanging over every shop. It made the city so quaint and charming. Even McDonald's had one ↑
The practice of guild signs began in the Middle Ages and has continued to this day. They are everywhere on Getreidegasse and Linzergasse.
7. MOZARTKUGEL AT FüRST
As a devoted cake-devourer, I'd heard about the world-famous Mozartkugel long before I arrived in Salzburg. This delicious piece of heaven is a powerful little ball of nougat, pistachio and marzipan, covered with dark chocolate. It's soooo good.
While you'll find Mozartkugels all around Austria, there can be only one original! I found it at Fürst café, which also served me a heavenly strawberry tart
8. MIRABELL GARDENS AND PALACE
Next stop was Mirabell Gardens and Palace. This is the place where Maria and the Von Trapp children sang "Do-Re-Mi".
The garden was crowded as could be expected, but with a little patience I got an almost clear shot of the Do-Re-Mi stairs ↑
This beautiful baroque masterpiece built in 1606 is the perfect place to get a great view of the Hohensalzburg Fortress.
I didn't go inside, but the gardens were more than enough to impress.
9. HOHENSALZBURG FORTRESS
I love castles so I took the funicular to Hohensalzburg fortress (€ 6.80), which is placed on a hill above town. Besides the castle, there was a torture tower and an amazing view of Salzburg to the north and mountains and meadows to the south.
10. GREAT VIEWPOINTS IN SALZBURG
Salzburg is one of those cities you just HAVE to see from above. And that is why it's on the list of things to do in Salzburg! I took the first photo from my hotel room and then I went more or less all around town to find other great spots to photograph Salzburg.
There's a really good view from the Salzburg fortress, but I preferred a skyline that included the fortress.
The best viewpoint is from the top of the Mönchsberg building which you can access by elevator. It's really great for sunsets. Also, I liked the Kapuzinerberg viewpoint, which can be found just off Linzergasse. It's quite hidden and overlooked by tourists so you'll have it almost to yourself – if you can find it. It took me some time. Other great viewpoints include the Mirabell Gardens and the walkway across the Makartsteg bridge.
All in all, I had a great trip to Salzburg and I'm happy to return someday. It's a beautiful city with lots of history and charm, and it's a great base for visiting nearby sights like Berchtesgaden, Liechtensteinklamm and Hallstatt.
Many thanks to Tourismus Salzburg for hosting me on this trip to Salzburg. As always, all opinions are my own.
Have you been to Salzburg? Would you go?