Psst! This post probably contains affiliate links, which means I earn a commission (at no extra cost to you) if you click through and make a purchase. As always, I only recommend products and services I trust.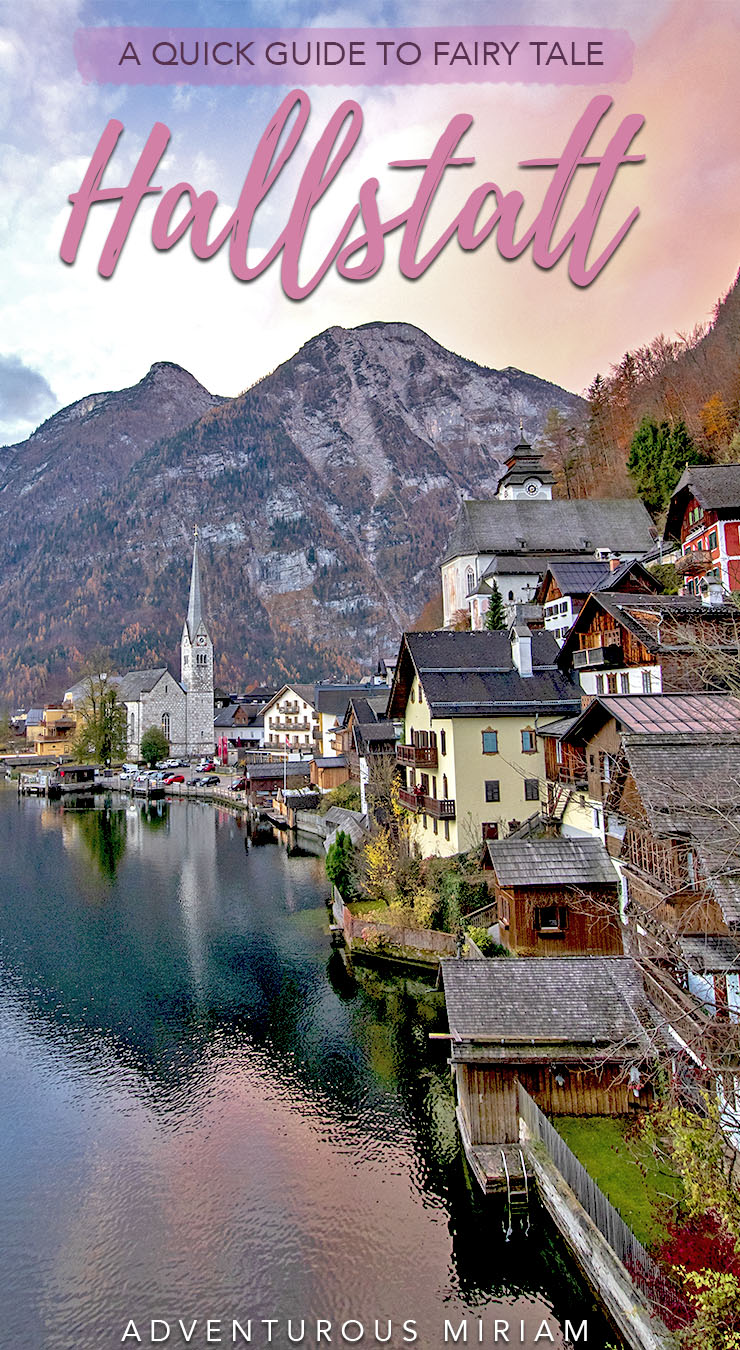 Hallstatt Austria, my dear readers and friends: I have found another fairy tale place in Europe, besides Lauterbrunnen, Colmar and Lake Bled. I'll spare you the cliches about how it's a hidden gem and let the pictures speak for themselves.
Aside from being the most beautiful lake town (and place) in Austria, Hallstatt is more than 7,000 years old. Sure, in the summer it seems to accommodate more visitors than locals (less than 1,000 call Hallstatt home). But that didn't bother me. I was looking for fairy tale destinations around Europe and I found it here in Hallstatt.
MORE AUSTRIA TRAVEL TIPS: GET MAPS, ITINERARIES AND GERMAN PHRASES
HALLSTATT AUSTRIA WON MY HEART
I went to Hallstatt on a day trip from Salzburg. From the train station, I took a ferry-boat across the lake and was met by this gorgeous view ↓
Sun was out and skies were blue. I couldn't have been happier, especially because it had been raining all day yesterday in Salzburg.
As soon as the ferry-boat docked at the tiny harbor in Hallstatt, I rushed in the opposite direction of the Evangelic church towards the most popular photo point.
Afterwards, I went the other way and followed the small alleyways through town.
Hallstatt, Austria is so charming and historical that it has been named a UNESCO world heritage site. The town square is really tiny and so, so cute. Think colorful houses, small cafés and a picturesque architecture.
AUSTRIAN SWANS AND OWLS
There are so many swans around the lake in Hallstatt. I also saw a swan mom with her babies.
And then there were the owls; on doors, on balconies and on the ground. They were everywhere. I love owls and we have four in our living room alone 
A fun fact: These swans (or their great-grand swan parents) were imported here in the 1860s by the Austrian Empress Sisi when she vacated here. She, like her cousin the Mad King Ludwig of Bavaria, was obsessed with swans. Remember I introduced you to Ludwig a few weeks ago? He loved swans so much that he named his favorite castle Neuschwanstein (New Swan Stone Castle).
THE BONE HOUSE
The most fascinating thing I saw in Hallstatt was the charnel house or 'Bone House' in St. Michael's Chapel. And yes, it's EXACTLY as weird as it sounds. The charnel house is filled with bones and human skulls.
Hallstatt, Austria is really, really old. In fact, it dates back to the early Iron Age (800-400 BC) and is considered the oldest still-inhabited village in Europe. And all these people who have lived here in later times, well, they obviously need a final resting place. They couldn't all be at the cemetery so the villagers built the bone house.
The bone house has an unusual collection of over 600 artistically painted skulls and even more bones. Most of the skulls were painted in the 18th century, but a few of them are from the 20th century.
Every skull was decorated with inscriptions and paint by the deceased family members. Depending on their relationship, the skulls were painted with names, leafs or initials.
HALLSTATT HAS THE OLDEST SALT MINE IN THE WORLD
When I left the bone house, I had spent three hours in Hallstatt already. Now, it was time for the salt mine! I took the funicular to the top to see the oldest salt mine in the world.
At the top, I first went to the large patio hanging 360 meters above Hallstatt, Austria. There's such a beautiful view from the top that even if I weren't going to the salt mine, I'd go here for the view!
WOW.
I then went to the salt mine where miners once did their heavy labour. In the mine was a salt lake and the finding place of the Mann in Salz (the man in salt); a well-preserved corpse of a man discovered in 1734 by miners.
I liked the idea of visiting the world's oldest salt mine, but the tour itself mostly consisted of videos and explanations. It seemed a super fun attraction for kids, but I wouldn't necessarily recommend it to fellow travelers – unless you're bringing the whole family or are very interested in salt mine history. For me personally, it was too much of a kids attraction.
HALLSTATT ISLAND
Before I headed back to the ferry, I went to Hallstatt island to see the town from a different angle. And it was the perfect place for it. I was the only one there, expect for a few local fishermen. I could have stayed for hours, but I had a ferry and a train to catch back to Salzburg.
As I looked back at Hallstatt from the ferry, I was a little sad that I didn't have more time there. It's one of those places I could have spent days exploring. Not because it's a big area because it isn't at all. But because it's so darn beautiful – that's why.
HOW TO VISIT HALLSTATT, AUSTRIA ON A DAY TRIP
Hallstatt, Austria is easy to visit on a day trip from Salzburg or Vienna. If you leave in the morning, you can get there in a few hours by bus, train and ferry. At first glance, it might seem complicated, but I promise, it's very easy.
From Salzburg: You can either take the bus all the way (2,15 hours) or by train (2,30 hours).
By bus: Take Bus 150 from Salzburg to Bad Ischl. Then change to Bus 542 or 543 towards Gosaumühle/Hallstatt.
By train: Take the train to Attnang-Puchheim. Then change to the train towards Hallstatt train station. At the train station, take the ferry to Hallstatt port. (I took this option and it was super easy).
From Vienna:
By train (3,22 hours): Take the train to Attnang-Puchheim. Then change to the train towards Hallstatt train station. At the train station, take the ferry to Hallstatt port.
Many thanks to Hallstatt Tourism Board for welcoming and providing me with an entrance pass to the salt mines in Hallstatt. All opinions are my own.
So, is Hallstatt super amazing or what?